St. Patrick's Day is a fun holiday for kids that can be celebrated in many ways.
One of the most memorable and enjoyable ways to celebrate St. Patrick's Day with your children is to share one of these St Patricks Day poems with them!
15+ Irish Inspired St. Patrick's Day Poems And Songs For Kids
From the famous Irish poet Oscar Wilde to the traditional Irish ballad "Danny Boy," here are 16 fun and festive poems that are perfect for any age.
You will be promoting the patron saint of Ireland and get your little Irish lads and lassies excited about the festivities.
Danny Boy By Frederick E. Weatherly
Oh, Danny boy, the pipes, the pipes are calling
From glen to glen, and down the mountain side.
The summer's gone, and all the roses falling,
It's you, it's you must go and I must bide.
But come ye back when summer's in the meadow,
Or when the valley's hushed and white with snow,
It's I'll be there in sunshine or in shadow,—
Oh, Danny boy, Oh Danny boy, I love you so!
But when ye come, and all the flowers are dying,
If I am dead, as dead I well may be,
Ye'll come and find the place where I am lying,
And kneel and say an Avé there for me.
And I shall hear, though soft you tread above me,
And all my grave will warmer, sweeter be,
For you will bend and tell me that you love me,
And I shall sleep in peace until you come to me!
The Leprechaun Song
Oh where did the leprechaun go on St Patrick's Day?
To find his pot of gold at the end of the rainbow!
He searched all over Ireland with his little hat so green,
Looking behind every bush and even in between!
He hopped and skipped and stumbled through fields of clover,
And sang all kinds of jigs as he walked over.
But when it came time for him to find his pot of gold,
He found it in a place that was much easier to behold –
It was right there in his pocket all along!
(Allow kids to reach into their pockets or pretend to reach into their pockets)
So he danced and sang until the break of dawn!
(Have everyone stand up and dance)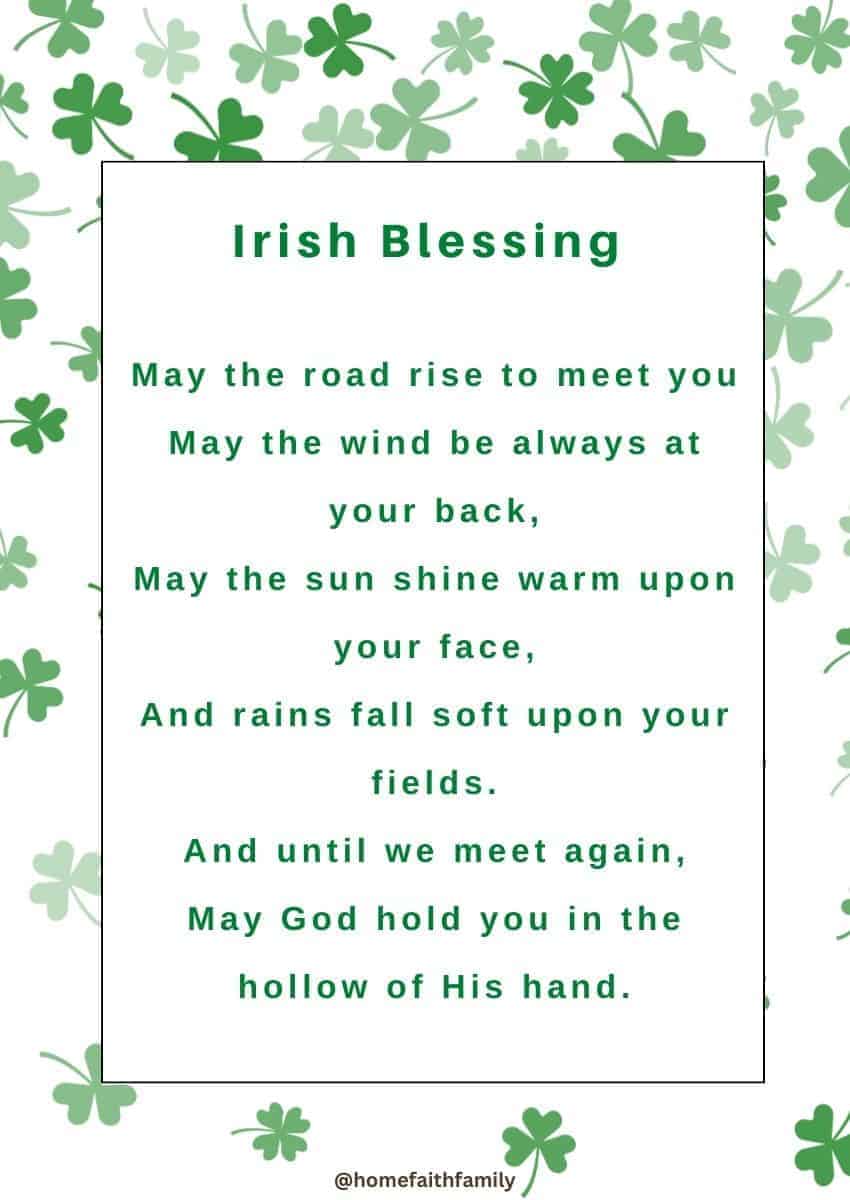 Irish Blessing
May the road rise to meet you
May the wind be always at your back,
May the sun shine warm upon your face,
And rains fall soft upon your fields.
And until we meet again,
May God hold you in the hollow of His hand.
St Patrick Was a Gentleman
Saint Patrick was a gentleman, he came from decent people
He built a church in Dublin town and on it put a steeple
His father was a Gallagher, his mother was a Grady
His aunt was an O'Shaughnessy and his uncle was a Brady
Success to bold Saint Paddy's fist he was a saint so clever
he gave the snakes and toads a twist and banished them forever.
The Wicklow hills are very high and so's the hill of Howth, sir
But there's a hill much higher still, much higher than them both, sir
From the top of this high hill Saint Patrick preached a sermon
Drove the frogs into the bogs and banished all the vermin
There's not a mile in Eireann's isle where dirty vermin muster
But there he put his dear forefoot and murdered them in clusters
The frogs went plop, the toads went flop, slapdash into the water
The snakes committed suicide to save themselves from slaughter
Nine hundred thousand reptiles blue he charmed with sweet discourses
And dined on them at Killaloe in soups and second courses
Blind worms crawling on the grass disgusted all the nation
Down to hell with a holy spell he changed the situation
No wonder that them Irish lads should be so gay and frisky
Sure Saint Patrick taught them that as well as making whisky
No wonder that the saint himself should understand distilling
His mother had a shebeen shop in the town of Enniskillen
O was I but so fortunate as to be back in Munster
I'd rebound unto that ground and nevermore should want, sir
There Saint Patrick planted corn, cabbages and praties
He had pigs galore, a gra a stor, altar boys and ladies
St. Patrick's Day By Jean Blewett
There's an Isle, a green Isle, set in the sea,
Here's to the Saint that blessed it!
And here's to the billows wild and free
That for centuries have caressed it!
One, Two, Three
Saint Patrick's Day is here, you see.
We'll pick some shamrocks, one, two, three.
We'll count the leaves and look them over,
And maybe find a four-leaf clover.
I'll sew green buttons on my best,
Green for Saint Patrick is the best.
I'll wear a green hat, very high,
And dance a jog – at least I'll try!
Lucky Four-Leaf Clover
'Tis the luck of the Irish,
The talk of the town,
The finding of Leprechauns
Hiding around.
A rare four-leaf clover
Found in a thick lawn.
It's "Happy St. Patrick's Day"
Starting from dawn.
Five Green Shamrocks
One green shamrock, in the morning dew,
Another one sprouted,
and then there were two.
Two green shamrocks, growing beneath a tree;
Another one sprouted,
and then there were three.
Three green shamrocks, by the cottage door;
Another one sprouted,
and then there were four.
Four green shamrocks, near a beehive
Another one sprouted,
and then there were five.
Five little shamrocks, bright and emerald green,
Think of all the luck
these shamrocks will bring.
Little Leprechaun
I'm a little leprechaun,
Short and fat.
Here is my shamrock,
Here is my hat.
If people try to catch me,
I will dive and duck,
The Irish say to everyone I bring good luck!
The Lively Leprechaun By Betsy Francs
I caught a lively leprechaun
With stubble on his face.
His promised loads of buried gold
And led me to the place.
But when I let him loose to dig,
He leaped and led a chase.
That lively laughing leprechaun
Had left without a trace!
Find A Gold Coin
I'm a little leprechaun,
Short and green.
I hide gold coins,
So they can't be seen.
Can you find them all?
Are you ready to play?
Good luck to you,
Happy St. Patrick's Day!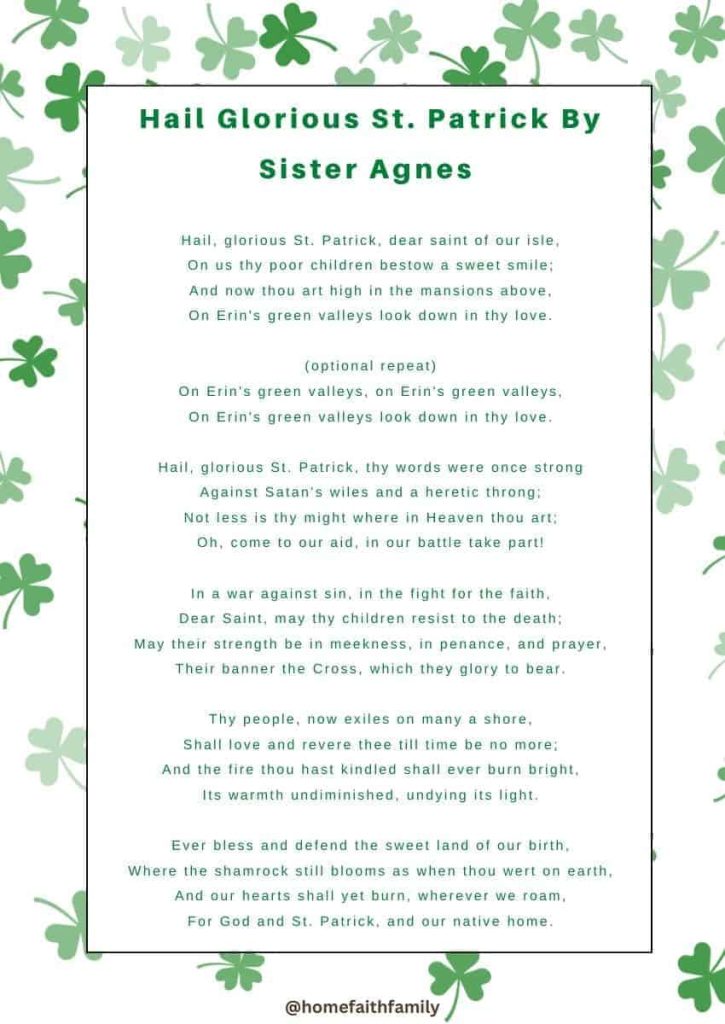 Hail Glorious St. Patrick By Sister Agnes
Hail, glorious St. Patrick, dear saint of our isle,
On us thy poor children bestow a sweet smile;
And now thou art high in the mansions above,
On Erin's green valleys look down in thy love.
(optional repeat)
On Erin's green valleys, on Erin's green valleys,
On Erin's green valleys look down in thy love.
Hail, glorious St. Patrick, thy words were once strong
Against Satan's wiles and a heretic throng;
Not less is thy might where in Heaven thou art;
Oh, come to our aid, in our battle take part!
In a war against sin, in the fight for the faith,
Dear Saint, may thy children resist to the death;
May their strength be in meekness, in penance, and prayer,
Their banner the Cross, which they glory to bear.
Thy people, now exiles on many a shore,
Shall love and revere thee till time be no more;
And the fire thou hast kindled shall ever burn bright,
Its warmth undiminished, undying its light.
Ever bless and defend the sweet land of our birth,
Where the shamrock still blooms as when thou wert on earth,
And our hearts shall yet burn, wherever we roam,
For God and St. Patrick, and our native home.
Down By the Salley Gardens By William Butler Yeats
Down by the salley gardens
my love and I did meet;
She passed the salley gardens
with little snow-white feet.
She bid me take love easy,
as the leaves grow on the tree;
But I, being young and foolish,
with her would not agree.
In a field by the river
my love and I did stand,
And on my leaning shoulder
she laid her snow-white hand.
She bid me take life easy,
as the grass grows on the weirs;
But I was young and foolish,
and now am full of tears.
Walking The Wicklow Hills Poem by Erin O'NeillBerg
Breezes of the ages whisper through the pines
While crystal droplets join in flow and tumble
Over the jagged edges and under the timeworn turf
Scented by the purple haze through fine mist and fog.
Stretching the eye and thought far and away through time,
The lonely beauty curls around the heart and nestles close
With hills and vales beckoning the spirit to come and share
When the wind has gone where its wildness hides.
The forty shades wander and wave round their stony enclosures
While the flash and streak of white and grey gallops away
And the small wooly bodies stroll and munch by the roadside
With gracefully careless concern and a mindless manner.
Lush forests quiet and dark stand like the guards of the night
As stars twinkle down their endless delight hidden
By curtains of soft grey sky-veils, as the small ones tread softly
Over pillows of green towards the safe embrace of home.
Ballyeamon Cradle Song Lullaby
Rest tired eyes a while
Sweet is thy baby's smile,
Angels are guarding
And they watch o'er thee.
Sleep, sleep, grah mo chree*
Here on your mamma's knee,
Angels are guarding
And they watch o'er thee,
The birdeens sing a fluting song
They sing to thee the whole day long,
Wee fairies dance o'er hill and the dale
For very love of thee.
*Grah mo chree means my love, my darling or my sweetheart in Irish Gaelic. It's the Anglicized form of the Gaelic "grá mo chroí" that literally means "love of my heart".
The Wearin' O' the Green
Today is the day fer the wearin' o' the green.
Today is the day when the little people are seen.
Today is St. Patrick's Day, so if ye'r Irish me lad,
Join the celebratin' fer the grandest time ta' be had.
Ya' put yer hand up in the air, the other hand on your hip.
Ya' tap yer toe, ya' tap yer heel, ya' bounce yer knee a wee bit.
Ya' prance 'n dance around the room, n' circle one two three.
The saints be praised, I must admit, ya' all look Irish ta' me.
We hope you enjoyed these festive St. Patrick's Day poems!
Whether you were looking for Irish blessings, witty St. Patricks day poems, or a pot of gold at the end of your rainbows, we hope you found the perfect poem to commemorate this special day.
What are some of your favorite activities to do with your kids on this holiday? Let us know in the comments below!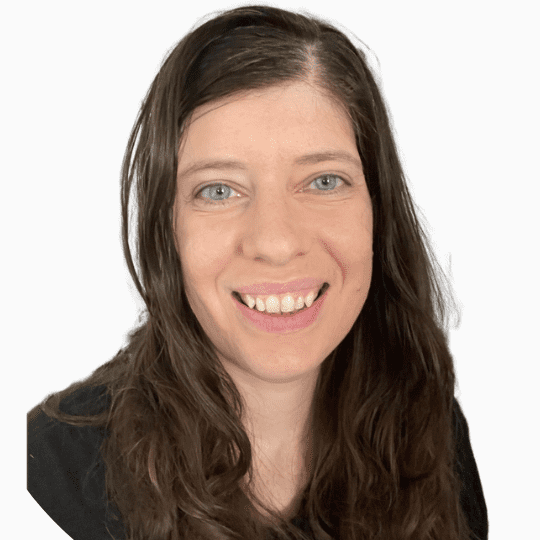 Micah Klug is a wife, homeschooling mother to five children, and author. She teaches time-tested solutions to help parents remember what matters most in life, including strengthening their home, faith, and family relationships. To learn how a child who grew up in an authoritarian home is now creating an environment of peace and joy in her own home visit this page. If you want to contact Micah, send her an email here or email [email protected].