The Elf on the Shelf is a popular Christmas tradition in many homes. And while saying goodbye to your elf at the end of the season can be bittersweet, it doesn't have to be. This free Elf on the Shelf goodbye poem is the perfect way for your elf to say goodbye to your child.
As the holiday season comes to a close, it's time to say goodbye to your Elf on the Shelf.
But before you pack up your elf for another year, be sure to give him or her a proper send-off with these free printable goodbye poems.
These fun poems from your elf says farewell to your child and thanks him or her for all the joy they created in your family throughout the holidays.
So whether your elf is headed back to the North Pole on Christmas Eve or just taking a well-deserved break, these goodbye poems are the perfect way to say goodbye.
Free Printable Elf on the Shelf Goodbye Poem
Another year is ending, it's time for me to fly
tonight I'll leave with Santa, I guess this means goodbye.
Please don't be upset at this news or scream, fight, or cry.
For I'll be resting from our fun until next July.
I know Christmas will return again in the blink of an eye,
So remember the rules of being good and don't tell a lie.
Next time we see each other, you'll be a little taller
I don't grow at all you see, but to you I might seem smaller.
I'll still watch over all you do, and make my notes all year
as time goes by real quickly, I'll soon reappear.
Even though you can't see me, and we are spending time apart
always keep the spirit of Christmas alive inside your heart.
You'll have loads of new adventures from school in September,
then bike races, swimming lessons, and wow it'll again be December.
Listen to your parents, and make sure you do your best
to be kind and generous, and always be nice…and well, you know the rest.
I've had so much fun again this year, I was really over the moon
I can't wait to come back and play again with you real soon!
Love from your favorite elf,
Short Elf on the Shelf Goodbye Poem
Today's my last day, so I must say goodbye.
Tonight I will go to the North Pole, where I will fly.
But Santa will be here with gifts and cheer,
and I'll be back for you next year.
So be good kids and take care of yourself,
Remember the fun times with your favorite elf.
Elf on the Shelf Goodbye Letter with Gift
It's time for me to say goodbye friend. I've had so much fun this year!
But before I go I have one thing, a gift, for you that is near.
It's a small trinket from me to you since you've been so good and kind.
Remember it's the small acts of love and kindness, such as this, is what blesses mankind.
So here's a little gift from me to you to help you remember our time together.
You can use this gift any time of year, or when you're feeling under the weather.
I can't wait to see you again next year where we will make more memories.
Oh the fun we're going to have with all our new play time activities!
Merry Christmas friend! And happy December!
Love,
Elf on the Shelf Goodbye Hug Letter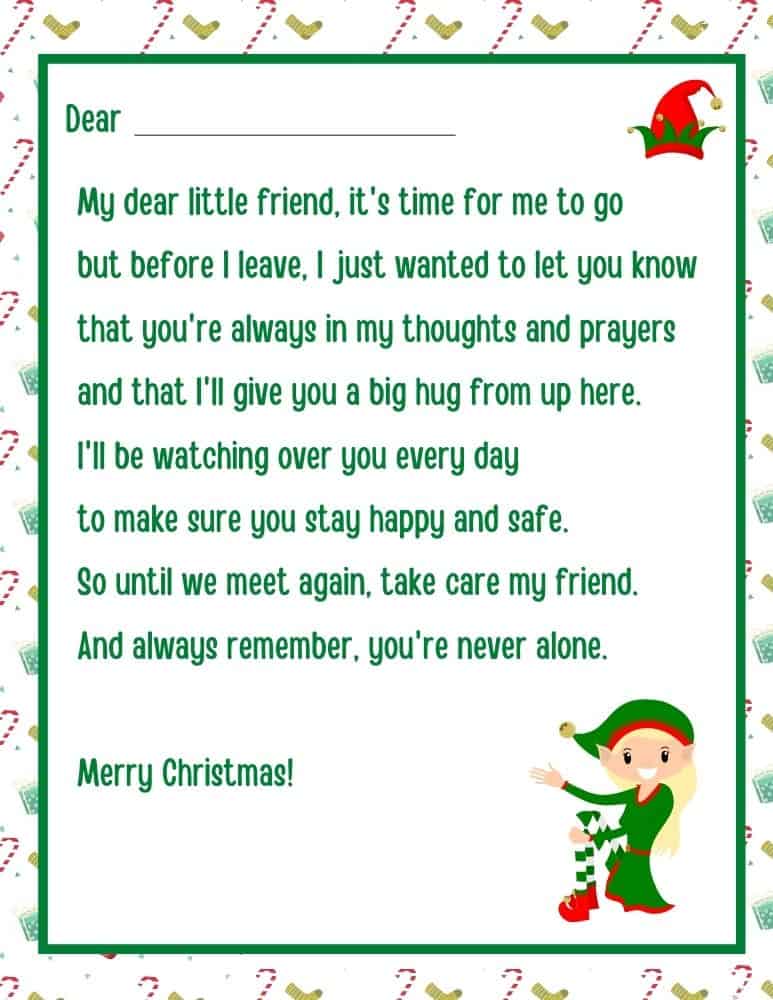 My dear little friend, it's time for me to go
but before I leave, I just wanted to let you know
that you're always in my thoughts and prayers
and that I'll give you a big hug from up here.
I'll be watching over you every day
to make sure you stay happy and safe.
So until we meet again, take care my friend.
And always remember, you're never alone.
Merry Christmas!
Love,
I hope you enjoyed these free Elf on the Shelf goodbye poems. Be sure to share them with others who might also enjoy them.
As always, I'd love to hear your thoughts and feedback. What was your child's favorite poem? Let us know in the comments below.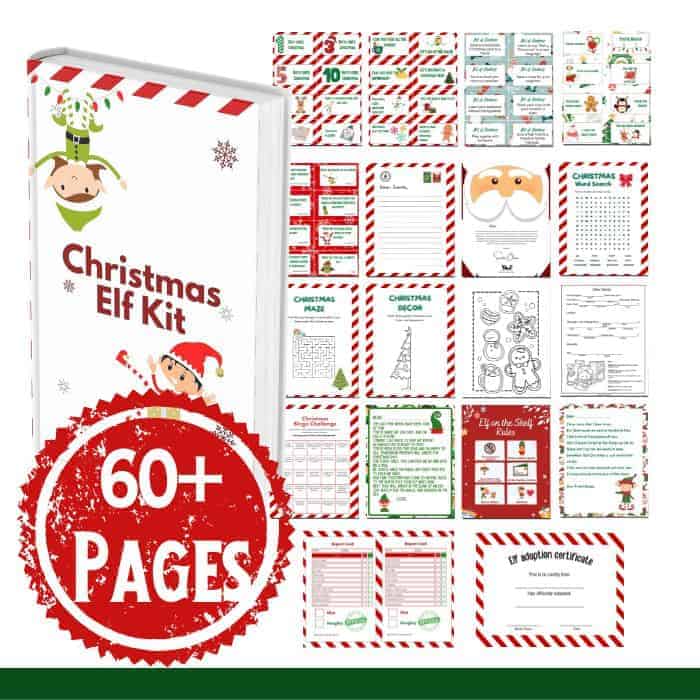 Save Your Sanity This Holiday Season & Grab Your Christmas Elf Kit Today!
What if you could FINALLY enjoy this holiday tradition without all the stress and hassle of having to come up with clever ideas?
How would it feel to know EXACTLY what your elf was up to for the entire month, and have all the printables you need in one convenient package?
We get it – that's why we created The Christmas Elf Kit.
Imagine having all the printables, activities, and ideas you need to make your elf's visit special for you kids.
Check Out These Other Elf On The Shelf Resources To Make This Christmas Easy Planning
Elf on the Shelf Bad Behavior Letter
Elf on the Shelf Goodbye Letters
Elf on the Shelf Welcome Letter
Elf on the Shelf Last Day Ideas
Elf on the Shelf Hot Cocoa Printable
Christian Elf on the Shelf Ideas
Elf on the Shelf Christian Alternatives
Last Minute Elf on the Shelf Ideas
Elf on the Shelf Cereal
Elf on the Shelf Reindeer
Elf on the Shelf Games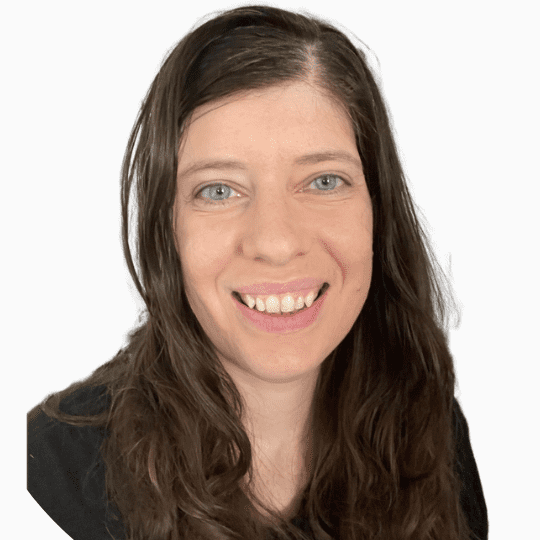 Micah Klug is a wife, homeschooling mother to five children, and author. She teaches time-tested solutions to help parents remember what matters most in life, including strengthening their home, faith, and family relationships. To learn how a child who grew up in an authoritarian home is now creating an environment of peace and joy in her own home visit this page. If you want to contact Micah, send her an email here or email [email protected].