The fourth of July holiday is an exciting day for most Americans in the United States.
It's a day to celebrate our country's independence, watch fireworks at all the backyard barbecues, wave our country's flag in our local city parade, and celebrate the freedom we have to be able to do that.
But in all of our celebrating, it's important to remember why we are celebrating independence day and what our liberties were truly bought with.
As we reflect on our nation's history and values, it's also a great time to think about the spiritual freedom that comes through the Lord Jesus Christ.
This real freedom from a sinful nature and our wicked ways brings us new life and hope.
The Bible has many verses that remind us of this freedom and the importance of following God's commands.
26 Patriotic 4th of July Bible Verses – Independence Day
We can take comfort in knowing that no matter what our situation is, we are always freed by the love and grace of God.
The following verses are some of the best 4th of July Bible verses to help you celebrate this holiday with a faith-filled perspective.
Galatians 5:1
"It is for freedom that Christ has set us free. Stand firm, then, and do not let yourselves be burdened again by a yoke of slavery."
This powerful Bible verse reminds us that we were once a slave of sin and our own desires.
However, through Christ, we have been set free from that bondage and can now live a quiet life that is pleasing to God.
This verse also challenges us to stand firm in our newfound freedom and not to let ourselves be pulled back into our old self and ways.
John 8:36
"So if the Son sets you free, you will be free indeed."
In this passage, Jesus tells us that true freedom can only be found in Him.
While worldly freedom is often fleeting, the freedom that comes from knowing Christ is eternal.
We can truly be free from the burdens of our past when we place our trust in Him.
2 Corinthians 3:17
"Now the Lord is the Spirit, and where the Spirit of the Lord is, there is freedom."
As believers, we are filled with the Holy Spirit, which allows us to experience true freedom in our daily lives.
We are no longer controlled by our own selfish desires but can live in accordance with God's will.
Romans 6:18
"You have been set free from sin and have become slaves to righteousness."
Through Christ, we have been set free from the power of sin and our own self.
We have been made righteous and free men and women in God's eyes.
This means that we are free to live a life that is pleasing to God, as we have been empowered to do so by the Holy Spirit and the will of God.
Isaiah 61:1
"The Spirit of the Sovereign Lord is on me, because the Lord has anointed me to proclaim good news to the poor. He has sent me to bind up the brokenhearted, to proclaim freedom for the captives and release from darkness for the prisoners."
In this passage, the prophet Isaiah prophesies about Jesus coming to bring freedom to those who are oppressed.
As believers, we have been recipients of this freedom, and we have a responsibility to share this message with others who are still living in captivity.
Jeremiah 29:11
"For I know the plans I have for you," declares the Lord, "plans to prosper you and not to harm you, plans to give you hope and a future."
The prophet Jeremiah is reminding us here that God has plans and purposes for each of us, which He desires to fulfill.
Heavenly Father knew the battle that would rage between Great Britain and its American colonies, and He had a plan for freedom.
This independent nation and its American citizens have been the beneficiaries of this plan.
We, too, are the beneficiaries of God's plan for freedom—the freedom to live a life that is pleasing in His sight and to walk in righteousness.
It is our responsibility to share this message of hope and freedom with those who do not yet know it.
May we never take our own freedom for granted but use it to glorify God and bring others from darkness into the marvelous light of His redeeming love.
Psalm 33:12
"Blessed is the nation whose God is the Lord; and the people whom he hath chosen for his own inheritance."
In the Declaration of Independence there are three references to God, and each one is different.
In one reference, Thomas Jefferson uses the term "Nature's God."
Later, he uses "Creator" and lastly "Divine Providence."
America is a free country with unalienable right bestowed by our Creator.
We are a blessed nation because we have a Heavenly Father who has chosen us to be His own inheritance.
Let us never forget that it is only through the grace and mercy of God that we live in freedom.
May we continue to honor Him with our lives and use our freedom to serve Him faithfully.
1 Peter 2:16
"As free, and not using your liberty for a cloak of maliciousness, but as the servants of God."
The freedom Christ gives us is not to be taken lightly or used in selfish ways.
Rather, we are called to use our freedom for good—to spread the Gospel and serve one another as God has commanded us to do.
Let us never forget that it is only through the grace and mercy of God that we have been given this gift of freedom.
John 8:32
"And ye shall know the truth, and the truth shall make you free."
The American Revolution was fought to gain political freedom from the oppressive British rule, but Jesus has already won our ultimate freedom—freedom from sin and death.
His truth sets us free, not only in the spiritual realm but also in the physical realm.
Let us use this freedom to glorify God and bring hope to those who are still trapped in darkness.
John 8:36
"If the Son therefore shall make you free, ye shall be free indeed."
We are a free people, and what a gift it is that we can use our freedom to serve and honor the Lord.
Let us never forget the source of our freedom—God Himself.
He has given us the gift of greater freedom in his Son and let us use it to bring glory and light into a world that is lost in darkness.
As we embrace the freedom that God gives us, may our lives be filled with love, joy, peace, and hope.
Psalm 118:5-6
"I called upon the Lord in distress: the Lord answered me, and set me in a large place. The Lord is on my side; I will not fear: what can man do unto me?"
This powerful message of freedom is one that we can carry with us at all times.
Let us never forget the price Jesus paid for our freedom and use it to bring glory to His holy name.
He has overcome sin, death, and darkness—let's go forth in the power of His truth and proclaim freedom for all!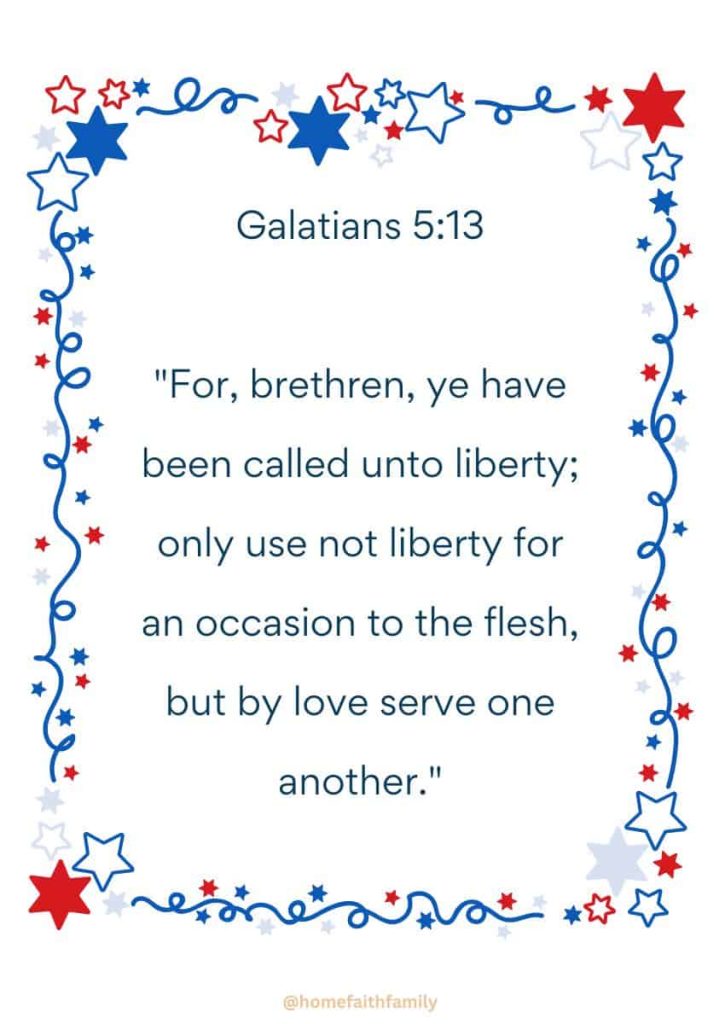 Galatians 5:13
"For, brethren, ye have been called unto liberty; only use not liberty for an occasion to the flesh, but by love serve one another."
We are each a permanent member of the family of God and have been given a great gift—the freedom to serve one another in love.
Let us use this privilege to bring joy, hope, and freedom to those around us.
By living out the truth of Jesus's victory over sin and death, we can be a witness of hope and light in this world.
Jesus Christ paid the ultimate sacrifice so we can be a faithful witness to him and to all who are in need of love, hope, and freedom.
Romans 6:6-7
"Knowing this, that our old man is crucified with him, that the body of sin might be destroyed, that henceforth we should not serve sin. For he that is dead is freed from sin."
Exodus 3:9-10
"Now therefore, behold, the cry of the children of Israel is come unto me: and I have also seen the oppression wherewith the Egyptians oppress them.
"Come now therefore, and I will send thee unto Pharaoh, that thou mayest bring forth my people the children of Israel out of Egypt."
The book of Exodus shows that God delivered His people before, and he will continue to deliver them today.
God has made the promise of freedom available to everyone who believes in Him.
We have been set free from sin by Jesus's death on the cross, and we can live in fullness of joy and peace with him.
Let us go forward
Deuteronomy 11:26-28
"Behold, I set before you this day a blessing and a curse; A blessing, if ye obey the commandments of the Lord your God, which I command you this day: And a curse, if ye will not obey the commandments of the Lord your God, but turn aside out of the way which I command you this day, to go after other gods, which ye have not known."
Psalm 119:45
"And I will walk at liberty: for I seek thy precepts."
Luke 4:16-20
And he came to Nazareth, where he had been brought up: and, as his custom was, he went into the synagogue on the sabbath day, and stood up for to read. And there was delivered unto him the book of the prophet Esaias. And when he had opened the book, he found the place where it was written,
"The Spirit of the Lord is upon me, because he hath anointed me to preach the gospel to the poor; he hath sent me to heal the brokenhearted, to preach deliverance to the captives, and recovery of sight to the blind, to set at liberty them that are bruised,
"To preach the acceptable year of the Lord.
"And he closed the book, and he gave it again to the minister, and sat down. And the eyes of all them that were in the synagogue were fastened on him."
Romans 6:23
For the wages of sin is death; but the gift of God is eternal life through Jesus Christ our Lord.
Romans 8:1-4
"There is therefore now no condemnation to them which are in Christ Jesus, who walk not after the flesh, but after the Spirit.
"For the law of the Spirit of life in Christ Jesus hath made me free from the law of sin and death.
"For what the law could not do, in that it was weak through the flesh, God sending his own Son in the likeness of sinful flesh, and for sin, condemned sin in the flesh:
"That the righteousness of the law might be fulfilled in us, who walk not after the flesh, but after the Spirit."
Romans 8:20-21
"For the creature was made subject to vanity, not willingly, but by reason of him who hath subjected the same in hope,
"Because the creature itself also shall be delivered from the bondage of corruption into the glorious liberty of the children of God."
John 3:16
"For God so loved the world, that he gave his only begotten Son, that whosoever believeth in him should not perish, but have everlasting life."
The Book of Mormon Verses About Freedom and Liberty
The following verses from The Book of Mormon, another testament of Jesus Christ, also emphasize the topic of freedom and liberty that is given to us by a loving Father in Heaven.
2nd Nephi 2:27
"Wherefore, men are free according to the flesh; and call things are given them which are expedient unto man. And they are free to choose liberty and eternal life, through the great Mediator of all men, or to choose captivity and death, according to the captivity and power of the devil; for he seeketh that all men might be miserable like unto himself."
2nd Nephi 10:10-12
"But behold, this land, said God, shall be a land of thine inheritance, and the Gentiles shall be blessed upon the land.
"And this land shall be a land of liberty unto the Gentiles, and there shall be no kings upon the land, who shall raise up unto the Gentiles.
"And I will fortify this land against all other nations."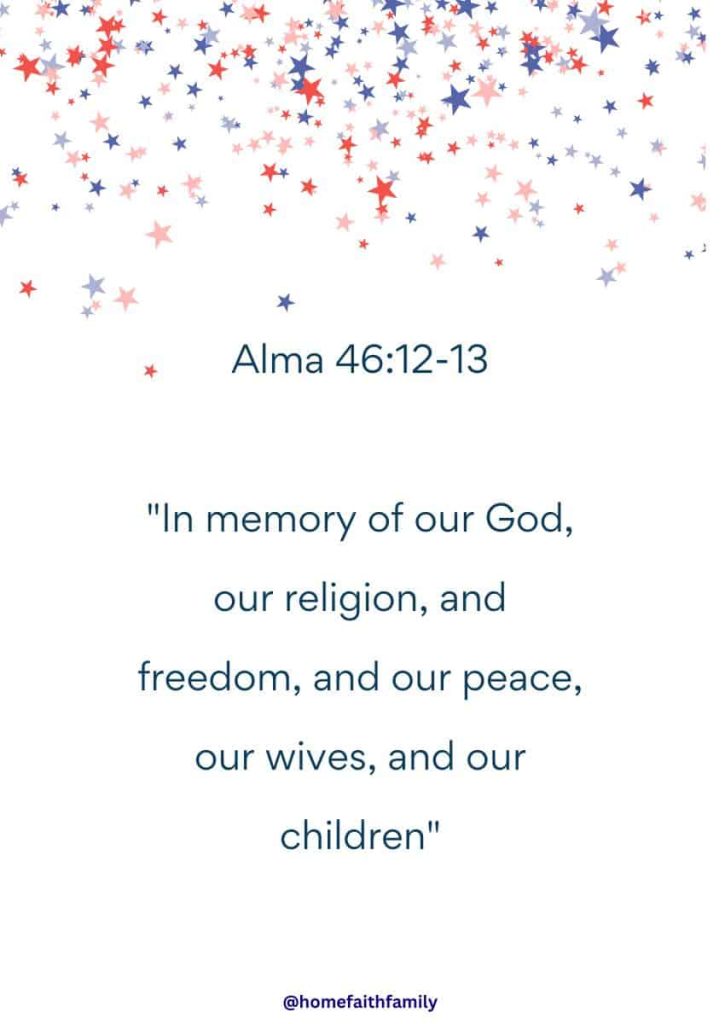 Alma 46:12-13
"And it came to pass that [Captain Moroni] rent his coat; and he took a piece thereof, and wrote upon it—In memory of our God, our religion, and freedom, and our peace, our wives, and our children—and he fastened it upon the end of a pole…and he took the pole, which had on the end thereof his rent coat, (and he called it the title of liberty) and he bowed himself to the earth, and he prayed mightily unto his God for the blessings of liberty to rest upon his brethren, so long as there should a band of Christians remain to possess the land"
Alma 46:16
"And therefore, at this time, Moroni prayed that the cause of the Christians, and the freedom of the land might be favored."
Alma 48:10-11
"And thus he was preparing to support their liberty, their lands, their wives, and their children, and their peace, and that they might live unto the Lord their God, and that they might maintain that which was called by their enemies the cause of Christians. And Moroni was a strong and a mighty man; he was a man of a perfect understanding; yea, a man that did not delight in bloodshed; a man whose soul did joy in the liberty and the freedom of his country, and his brethren from bondage and slavery."
Short Fourth of July Prayers You Can Say
"O Lord, we thank You for the liberty we enjoy in this nation. We honor and celebrate Your blessings of freedom that have been granted to us through Jesus Christ. Help us to use our rights and freedoms responsibly, and give us courage to defend the rights of all people. Amen."
"Our Father in Heaven, may we raise our hearts to you as we reflect upon our freedoms during this day of remembrance and celebration. As we raise the American flag this July 4th holiday, remind us to respect the sacrifices of those who went before us and worked to secure liberty for our nation. Amen."
"Gracious Father, we thank You for the foundations of freedom laid by our ancestors so many years ago. We remember with reverence their courage, faithfulness and determination in establishing a free nation under Your guidance. Help us to live up to their legacy and defend the rights and freedom we enjoy today. Amen."
"Dear God, may we always remember that with great power comes great responsibility. On this Fourth of July, may we honor the good deeds and good work of our Founding Fathers and the continental congress put in to securing independence and freedom for our nation. Help us to use our liberty responsibly and always strive for justice. Amen."
As we celebrate America's birthday, let's remember the men and women who gave up so much to ensure our country's freedom.
Let's pause in gratitude to remember God's grace and mercy that sustains us every day.
Incorporating these Bible verses into our Fourth of July festivities can help us to take a moment of reflection amid all the joy and fun.
Happy Independence Day, and God bless America!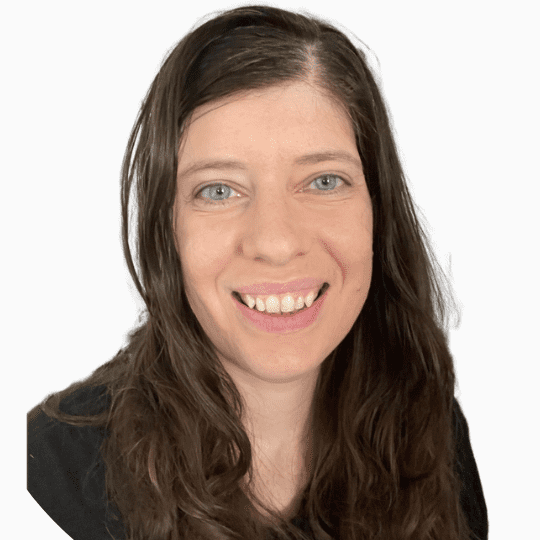 Micah Klug is a wife, homeschooling mother to five children, and author. She teaches time-tested solutions to help parents remember what matters most in life, including strengthening their home, faith, and family relationships. To learn how a child who grew up in an authoritarian home is now creating an environment of peace and joy in her own home visit this page. If you want to contact Micah, send her an email here or email [email protected].