The loss of a mother is a grief like no other.
It leaves a daughter feeling bereft and at times, lost in confusion.
However, even though death has removed her physical presence, her spirit lives on in the memories you share and in the love that she once showered on you.
Mother's Day is a great opportunity to cherish and honor the bond that you had with your mother, even in her absence.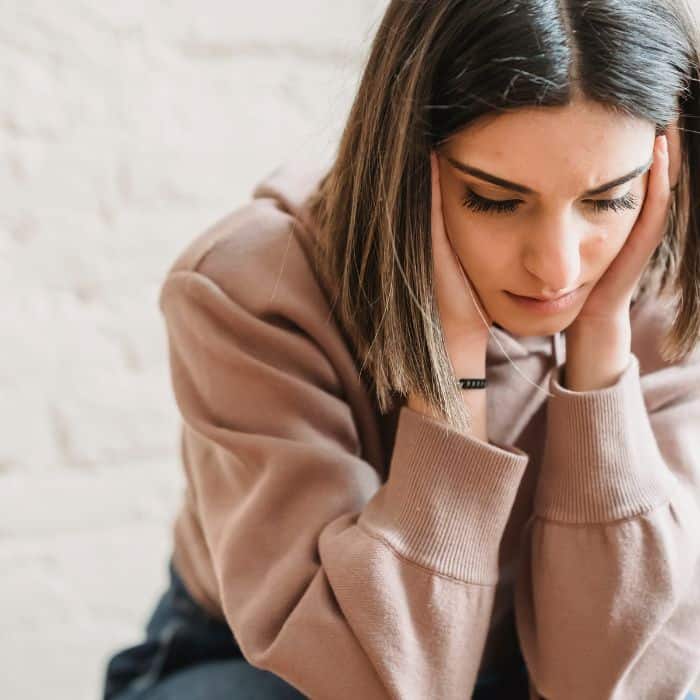 61 Touching Mothers Day In Heaven Quotes From Daughter
Here are some touching quotes that you can use to celebrate your mother's love and keep her memory alive this Mother's Day in heaven.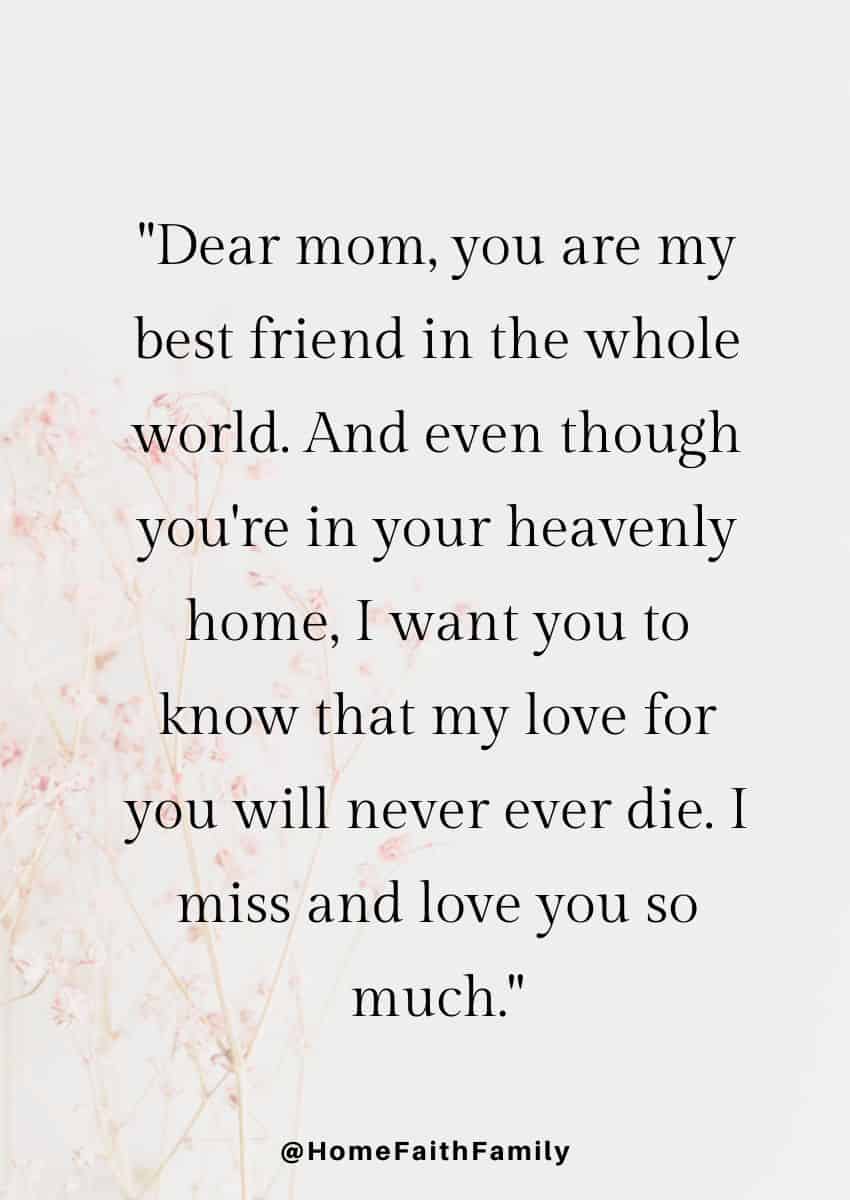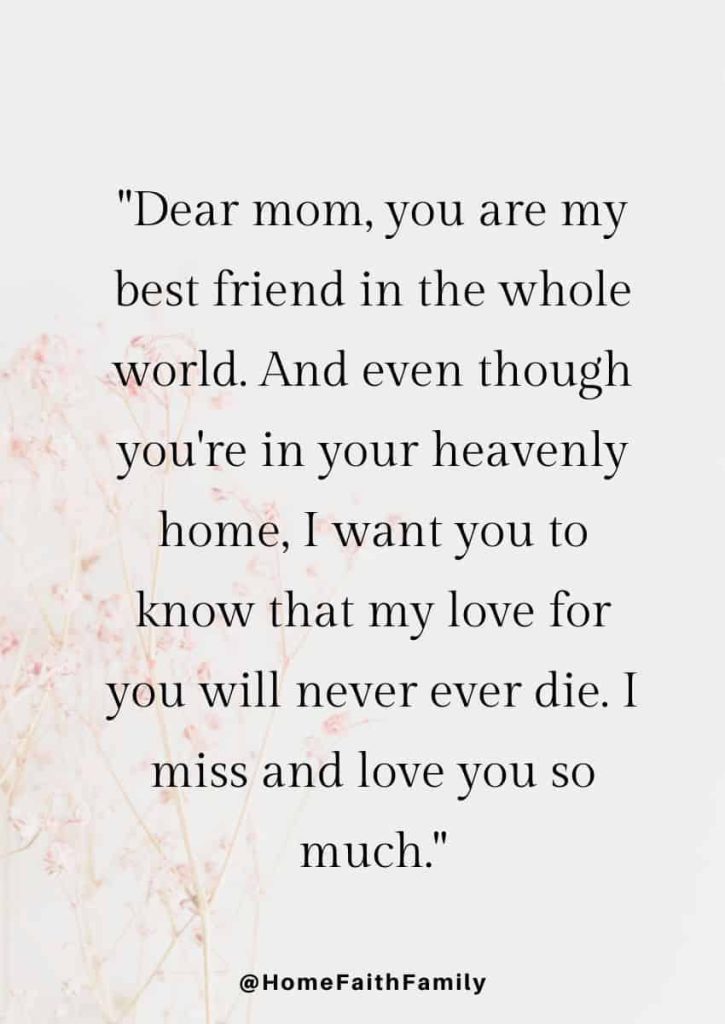 Mother's Day Quotes For This Special Holiday
1 – "Dear mom, you are my best friend in the whole world. And even though you're in your heavenly home, I want you to know that my love for you will never ever die. I miss and love you so much."
2 – "Mommy dearest, looking up at the stars in the night sky reminds me of the sparkle and shine of your beautiful eyes. I'll always remember your beautiful smile and the warmth of your gentle hug."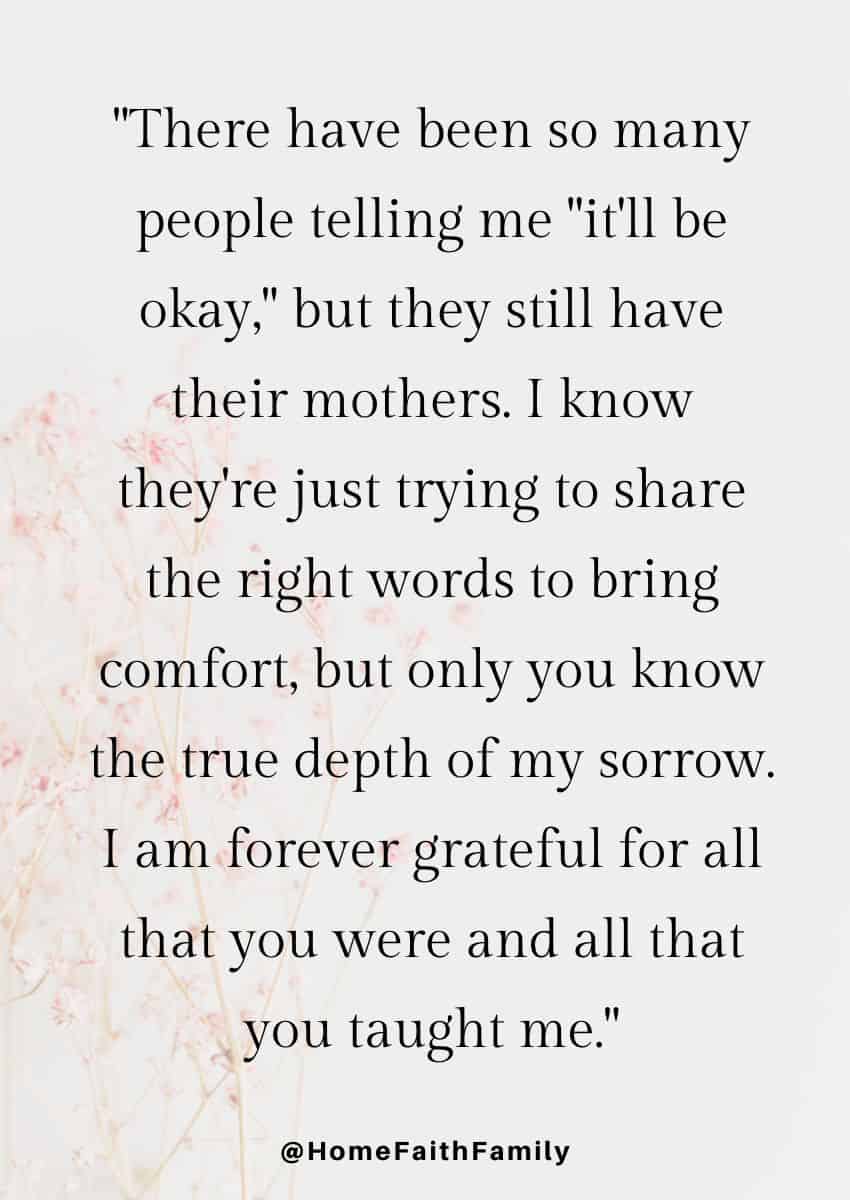 3 – "There have been so many people telling me "it'll be okay," but they still have their mothers. I know they're just trying to share the right words to bring comfort, but only you know the true depth of my sorrow. I am forever grateful for all that you were and all that you taught me."
4 – "My first mother's day without you is difficult, but your love still guides me. You were the light in my darkest days and I miss you dearly."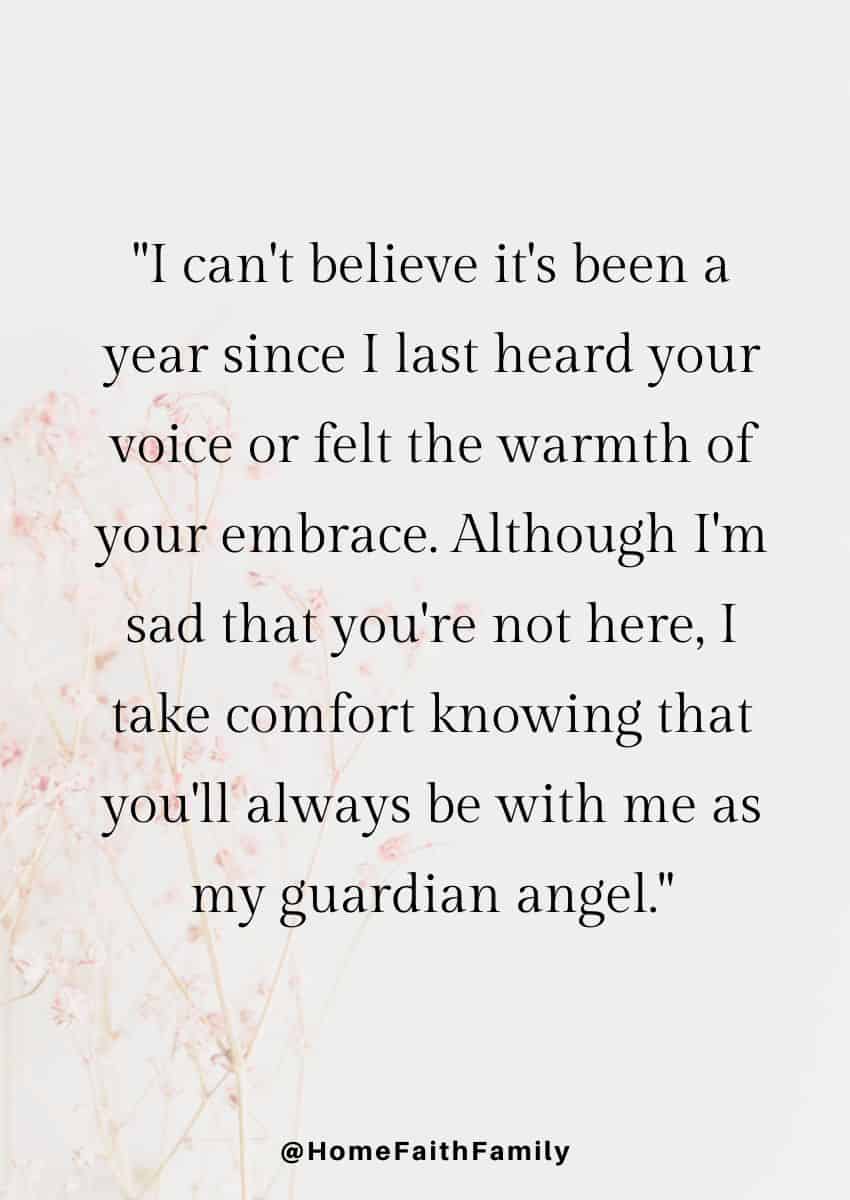 5 – "I can't believe it's been a year since I last heard your voice or felt the warmth of your embrace. Although I'm sad that you're not here, I take comfort knowing that you'll always be with me as my guardian angel."
6 – "A lot of people talk about the amazing mother-daughter bond, and I'm so lucky to have been blessed with you as my mom. You were always there for me no matter what, and your memory will forever live on in my heart."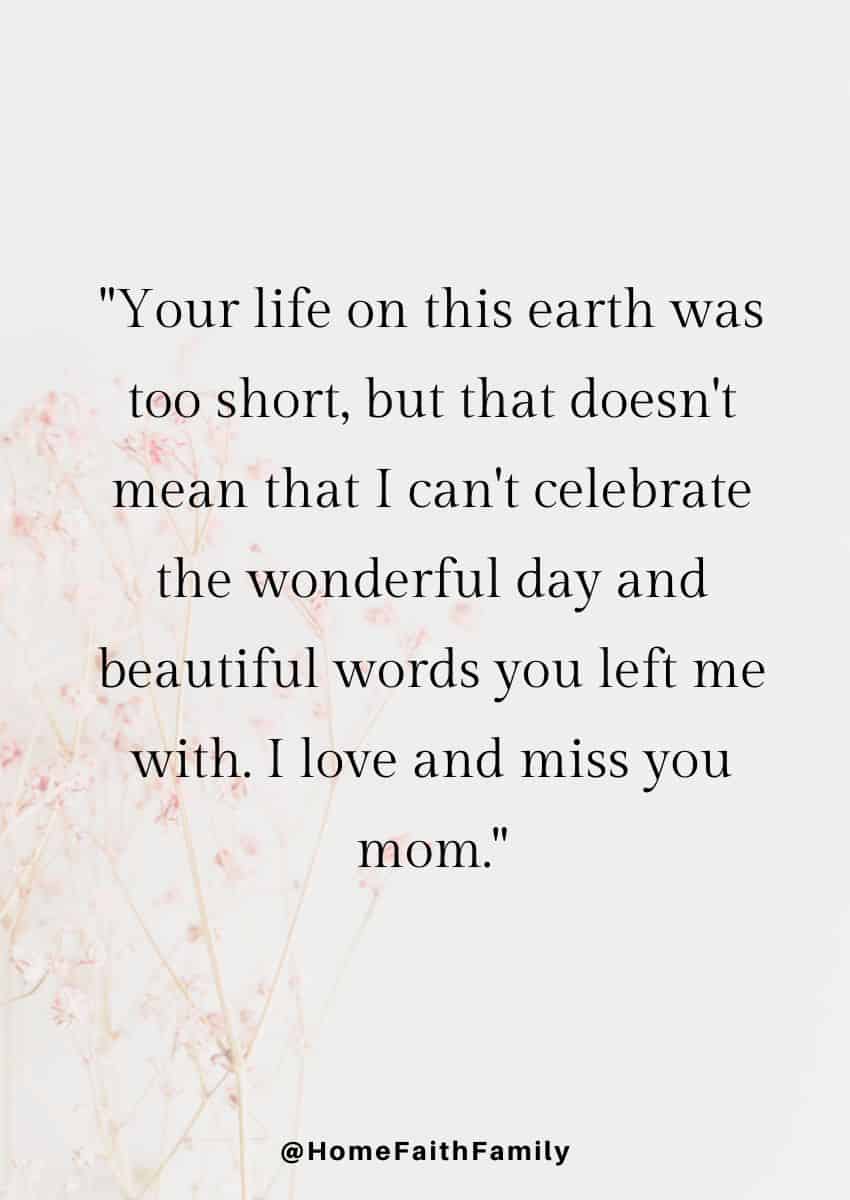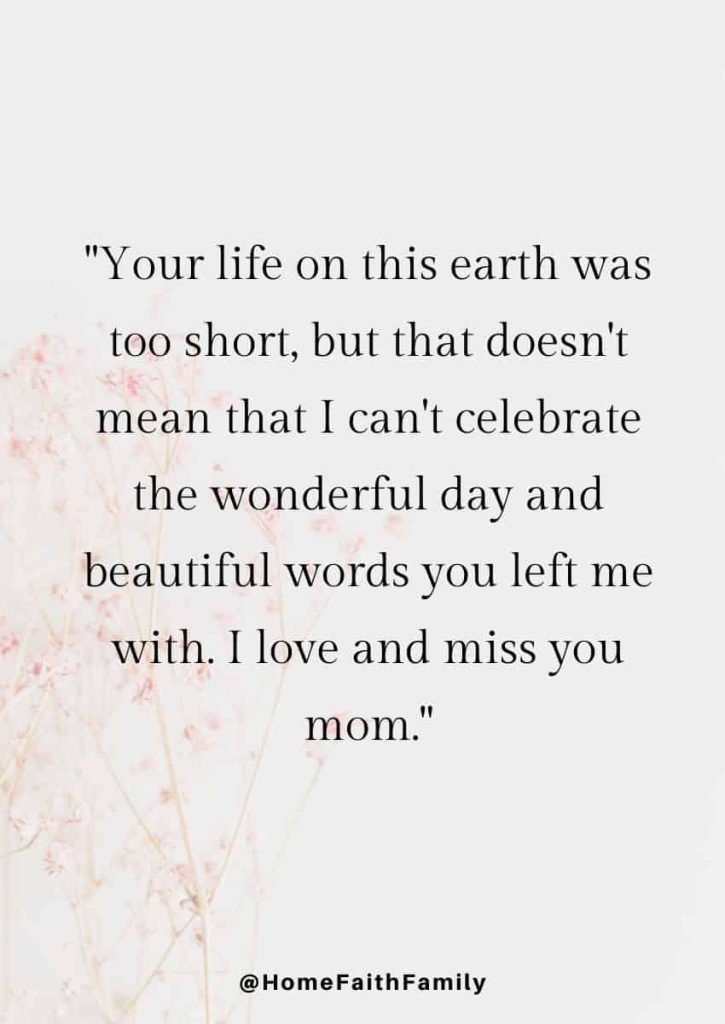 7 – "Your life on this earth was too short, but that doesn't mean that I can't celebrate the wonderful day and beautiful words you left me with. I love and miss you mom."
8 – "No one can ever replace you in my heart; the most special bond we shared was truly unique. You were not only my mother but a best friend, and I thank you for all the love you gave me. I'm sending you the loveliest wishes for a beautiful Mother's day in heaven."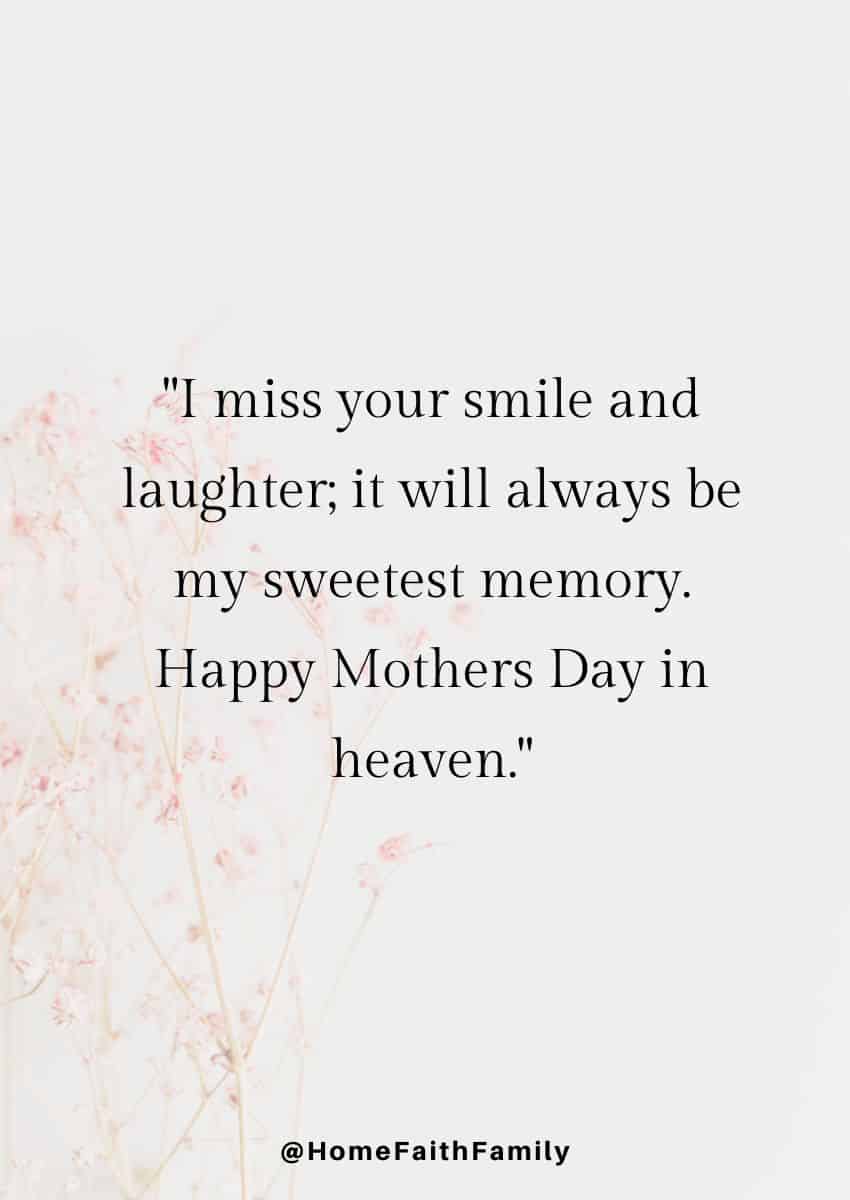 9 – "My days are brighter when I think of all the special moments we spent together, and I want to thank you for giving me a lifetime of beautiful memories. You are forever in my heart, mom."
10 – "I miss your smile and laughter; it will always be my sweetest memory. Happy Mothers Day in heaven."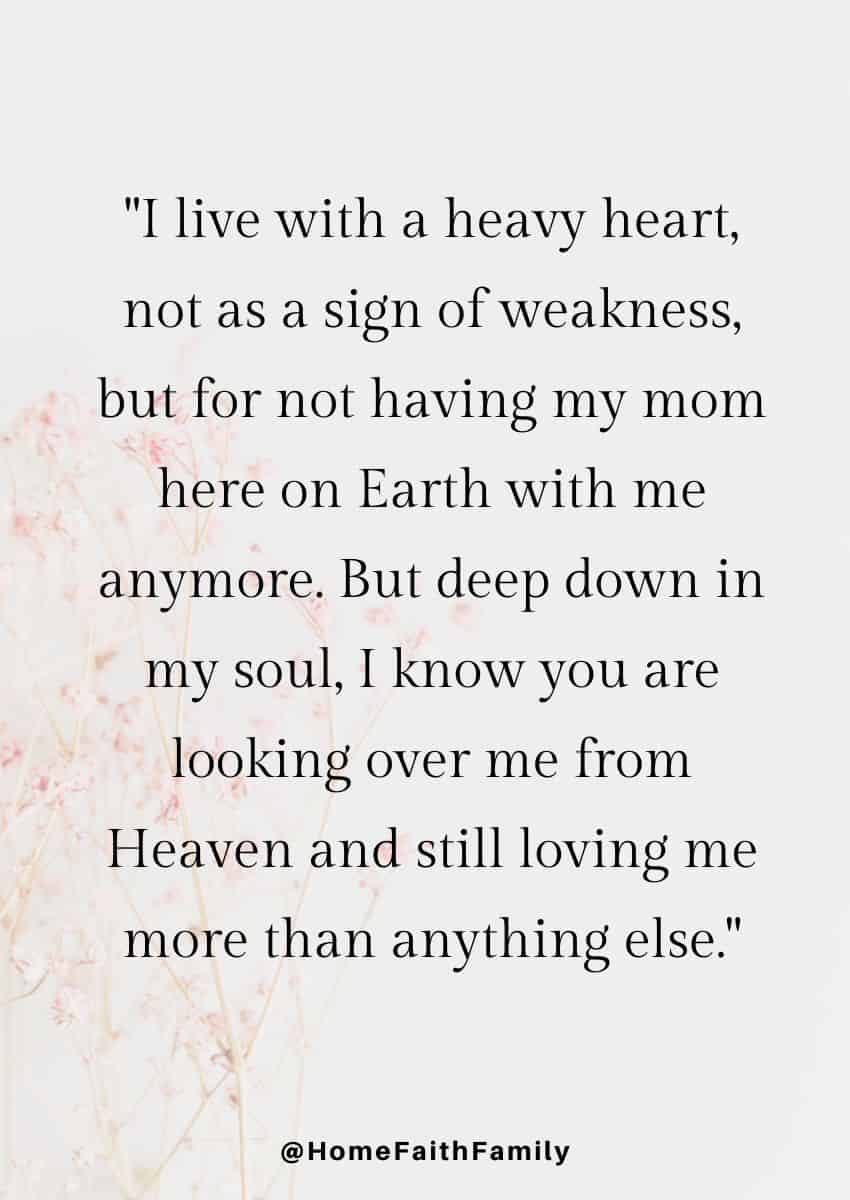 11 – "A sign of a pure heart is sorrow, but I will never forget the joy that you brought to my life. Happy Mother's Day in heaven."
12 – "I live with a heavy heart, not as a sign of weakness, but for not having my mom here on Earth with me anymore. But deep down in my soul, I know you are looking over me from Heaven and still loving me more than anything else."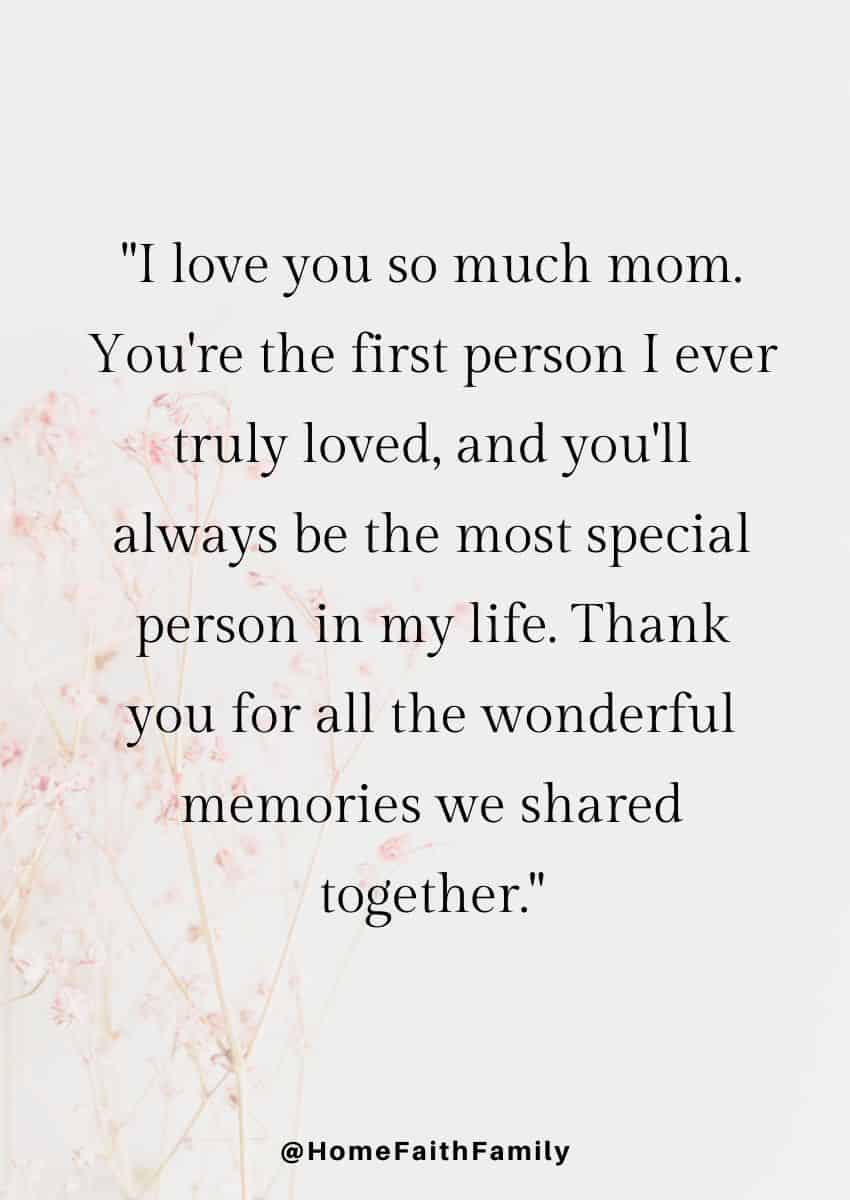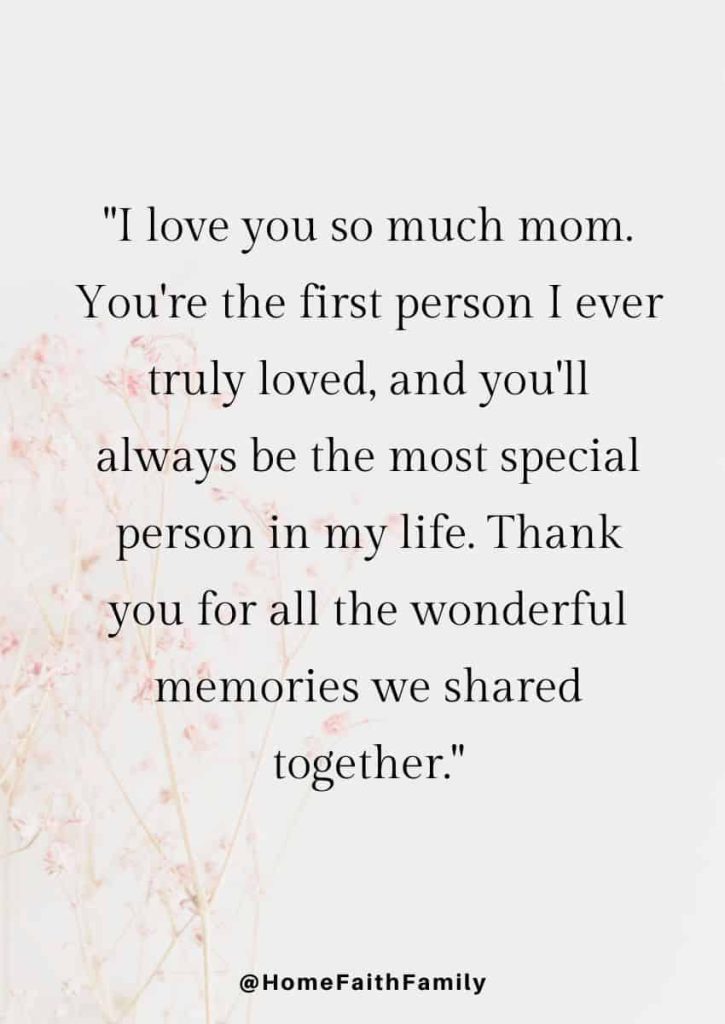 Mother's Day Messages Sharing Beautiful Memories
13 – "I love you so much mom. You're the first person I ever truly loved, and you'll always be the most special person in my life. Thank you for all the wonderful memories we shared together."
14 – "I still remember the way your smile lit up a room, how proudly you'd brag about me to everyone you met, and how kind and gentle your hugs were. I miss you more than you'll ever know and think of you with love."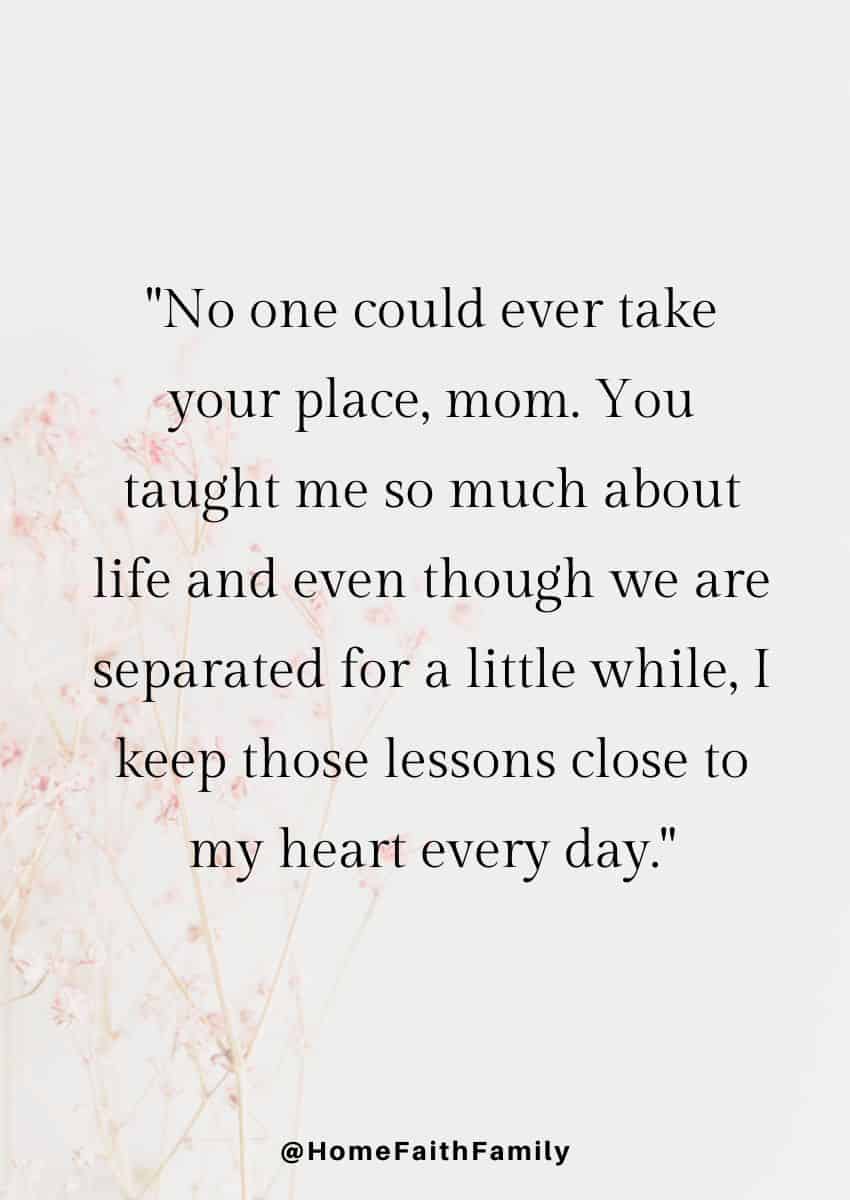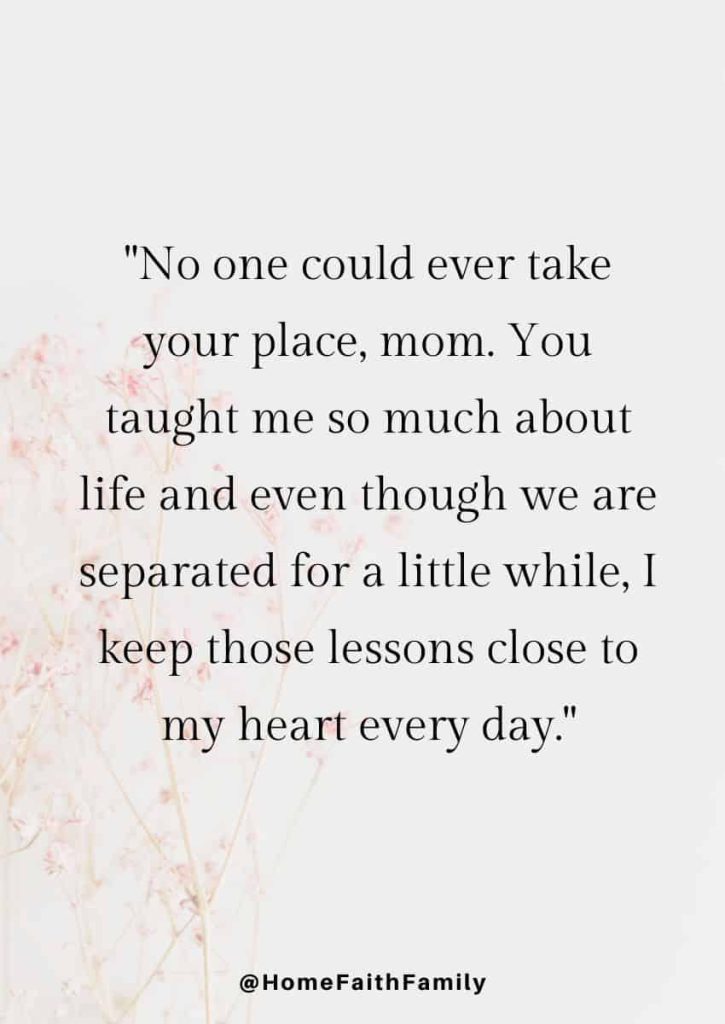 15 – "No one could ever take your place, mom. You taught me so much about life and even though we are separated for a little while, I keep those lessons close to my heart every day."
16 – "Your love was like a lighthouse, always guiding me to safety. You were the calm in the storm, and I miss you more than words can say."
17 – "Your life was a blessing, your memory a treasure. You are loved beyond words and missed beyond measure."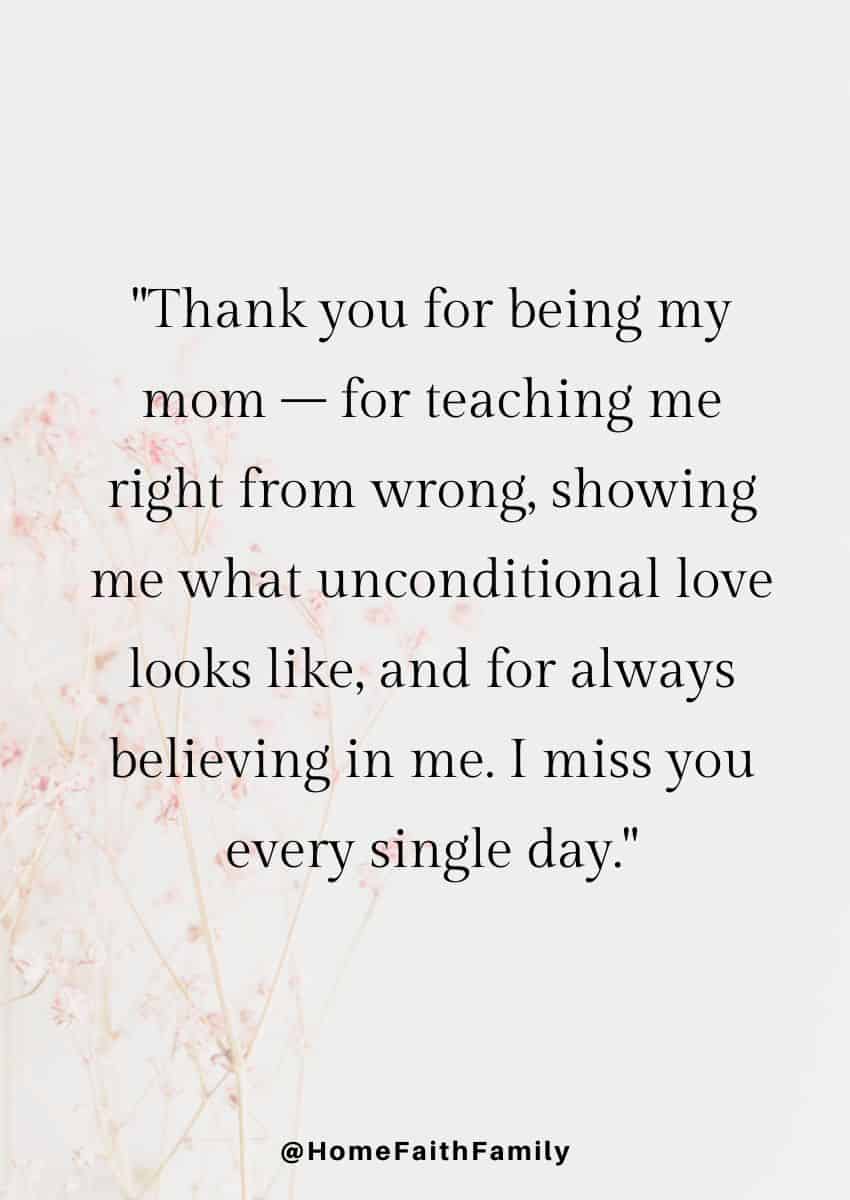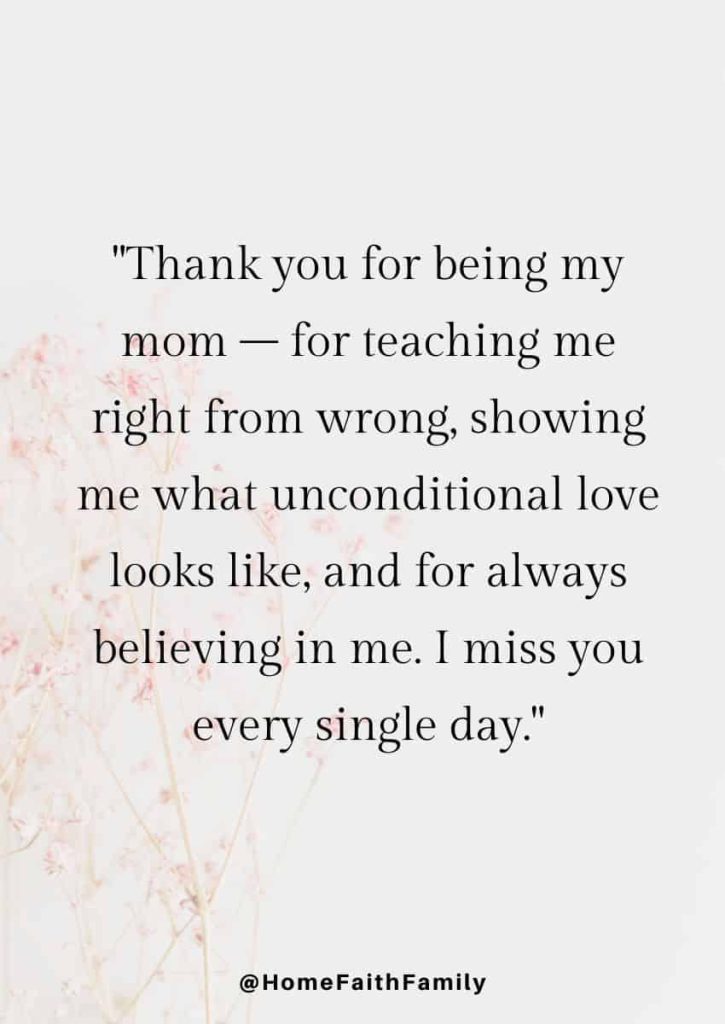 18 – "Thank you for being my mom – for teaching me right from wrong, showing me what unconditional love looks like, and for always believing in me. I miss you every single day."
19 – "Sometimes I feel like nothing more than a daughter missing mom, but then I think of the good times we shared and remember you're the best mother anyone could ever have."
20 – "Love is forever, and so is the bond between a mother and daughter. I'm so blessed to have had you in my life and I will cherish our memories always."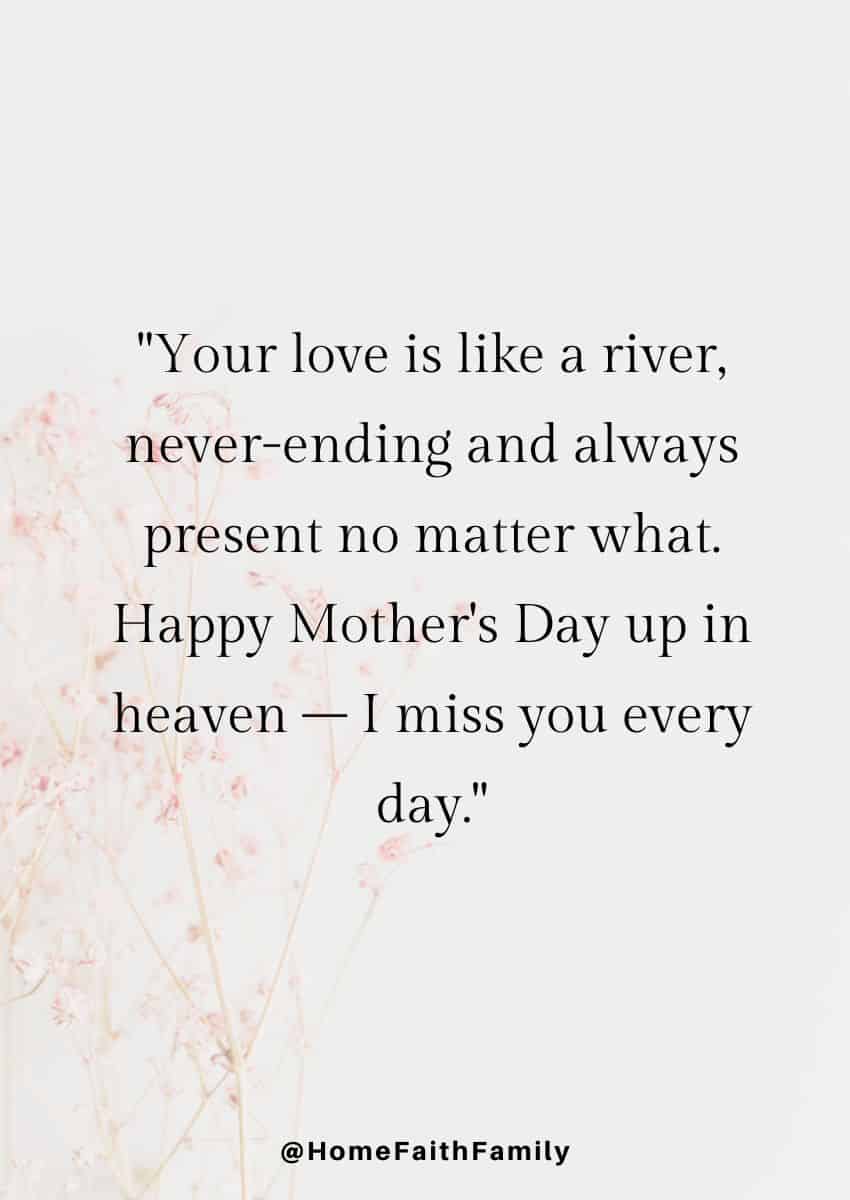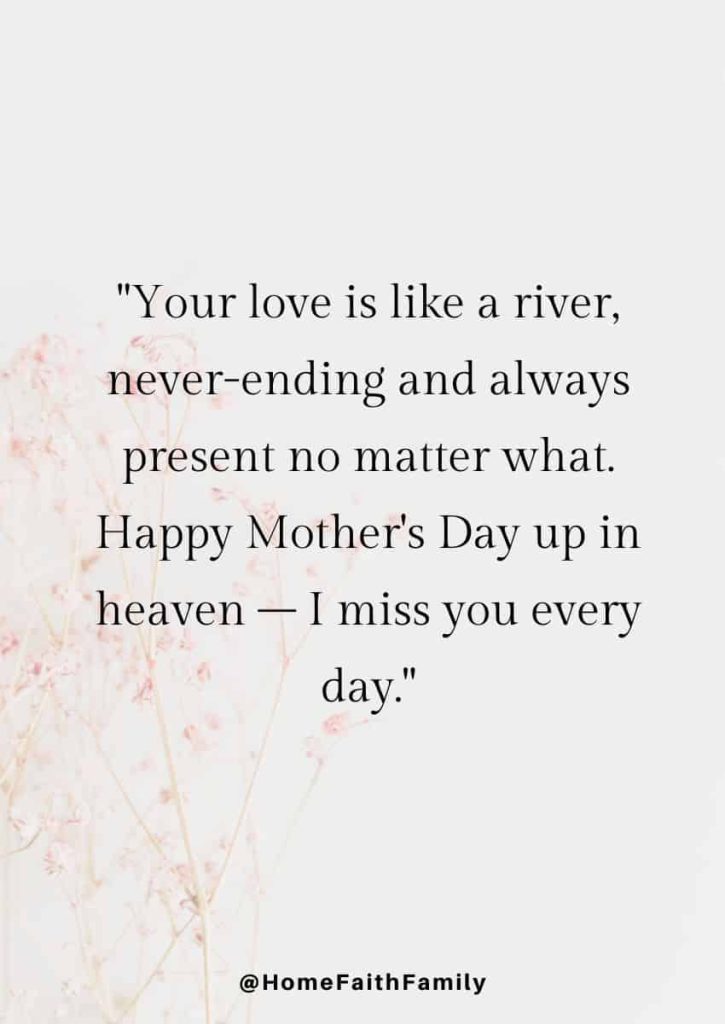 21 – "You've been in heaven for a long time, but I still feel your presence in my heart. You will always be the guiding light of my life and I thank you for that."
22 – "Your love is like a river, never-ending and always present no matter what. Happy Mother's Day up in heaven – I miss you every day."
23 – "I may not have thе chance to say it everyday, but I want you to know that I will always remember and cherish the wonderful times we spent together. You were my rock, my safe place, and my best friend. Happy Mother's Day in heaven."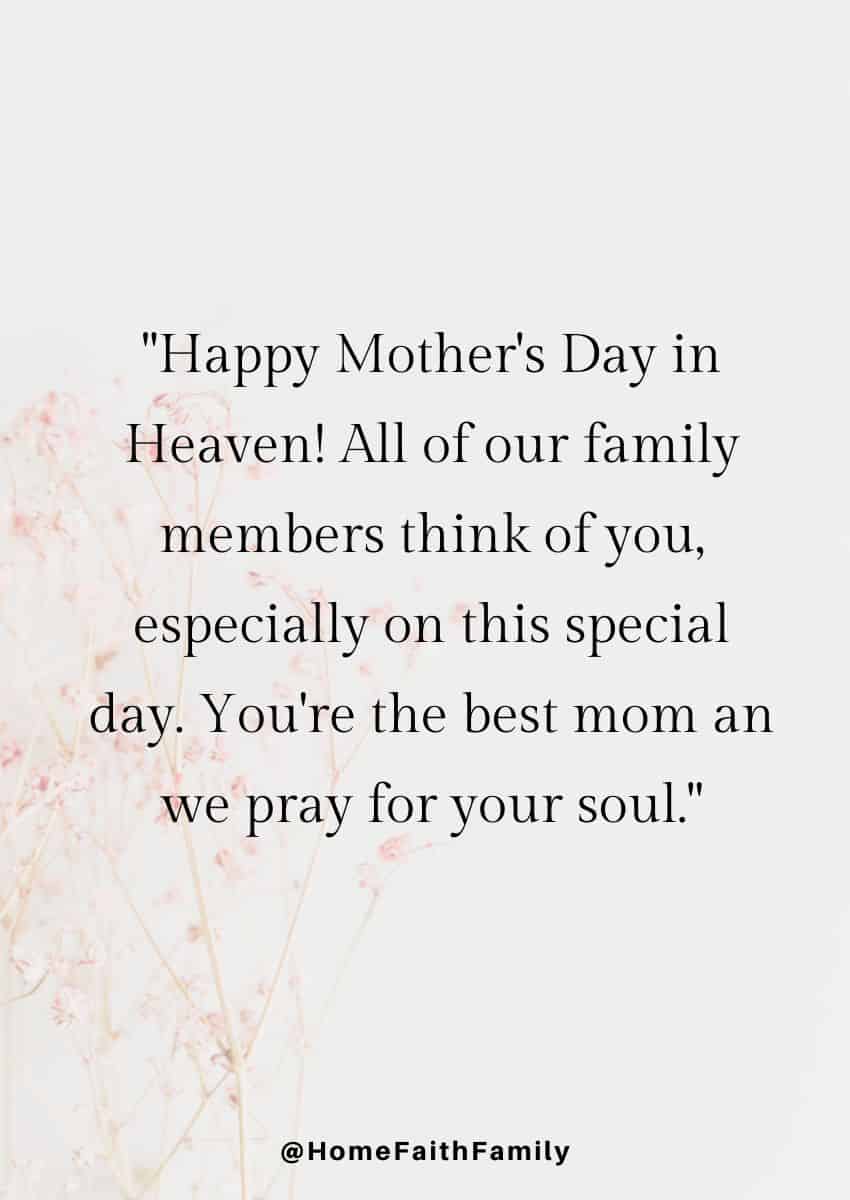 Happy Mother's Day Wishes For A Beloved Mother
24 – "The world changes, life goes on but the love I have for you will never be gone. Happy Mother's Day!"
25 – "Happy Mother's Day in Heaven! All of our family members think of you, especially on this special day. You're the best mom an we pray for your soul."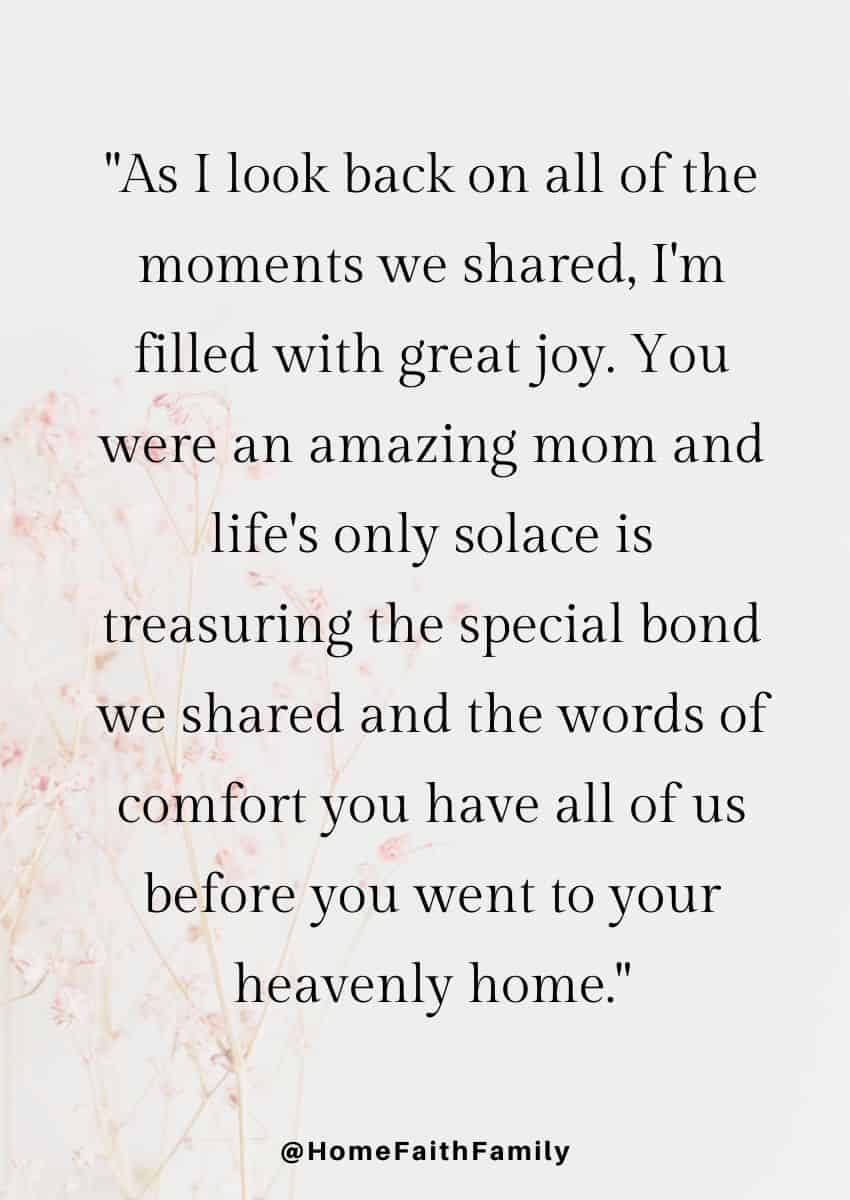 26 – "As I look back on all of the moments we shared, I'm filled with great joy. You were an amazing mom and life's only solace is treasuring the special bond we shared and the words of comfort you have all of us before you went to your heavenly home."
27 – "We all miss you dear mother, but we take solace in the fact that you are now our guardian angel watching over us from above. You will always be in our hearts and we love and cherish you forever."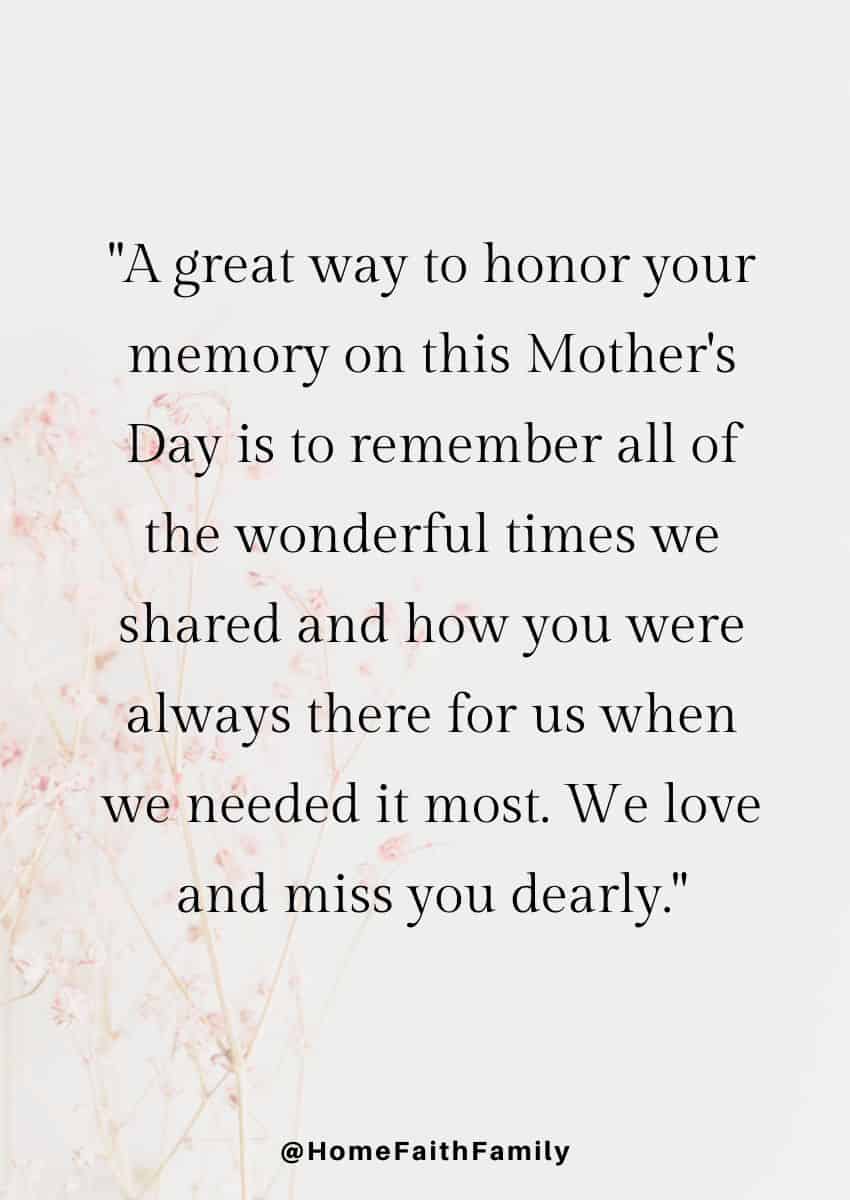 28 – "Though I can't see your face or feel your warm embrace, I still feel your presence with me as a never ending song of love."
29 – "A great way to honor your memory on this Mother's Day is to remember all of the wonderful times we shared and how you were always there for us when we needed it most. We love and miss you dearly."
30 – "The best gift my own mother gave me was a life filled with lots of love, an example of a strong woman, and I am grateful for that every day. Happy Mother's Day mom!"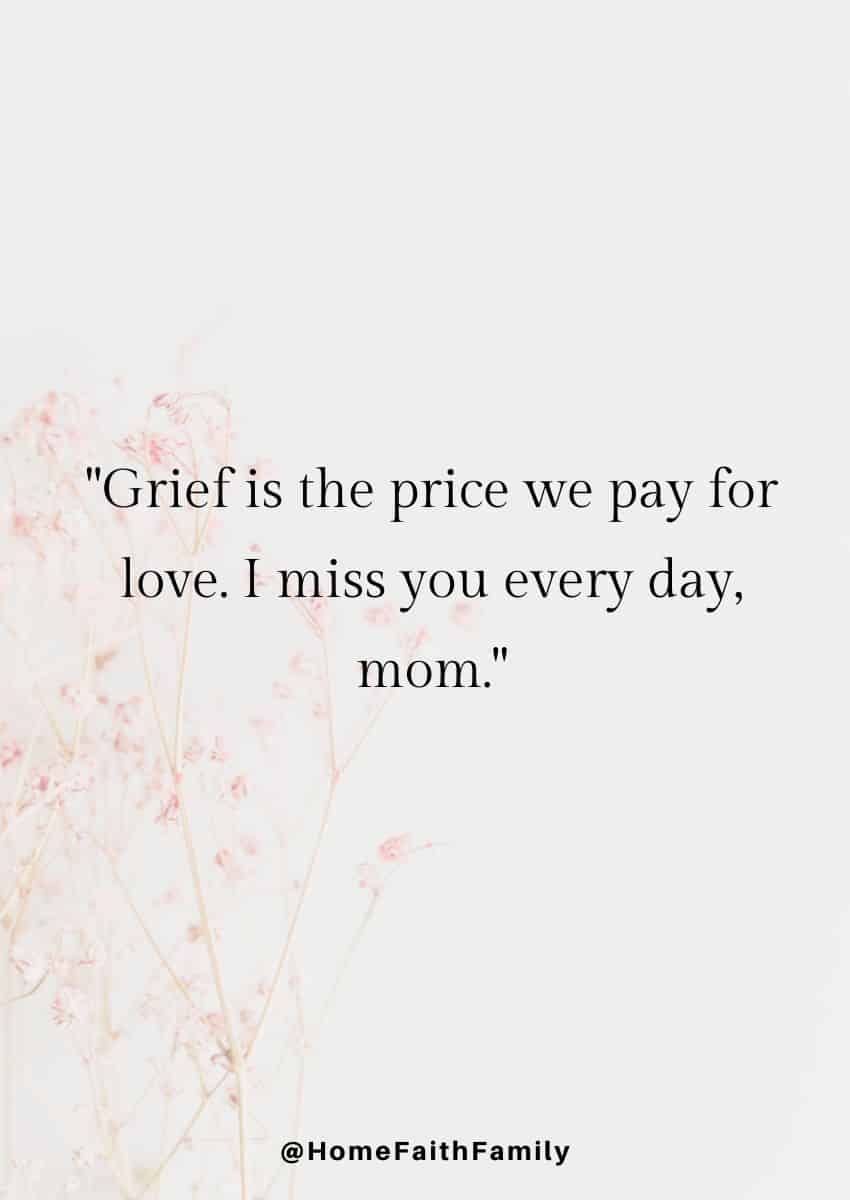 Loss of Mother Quotes During A Difficult Day
31 – "My mom's hand touched my heart, and I will always remember her love."
32 – "Grief is the price we pay for love. I miss you every day, mom."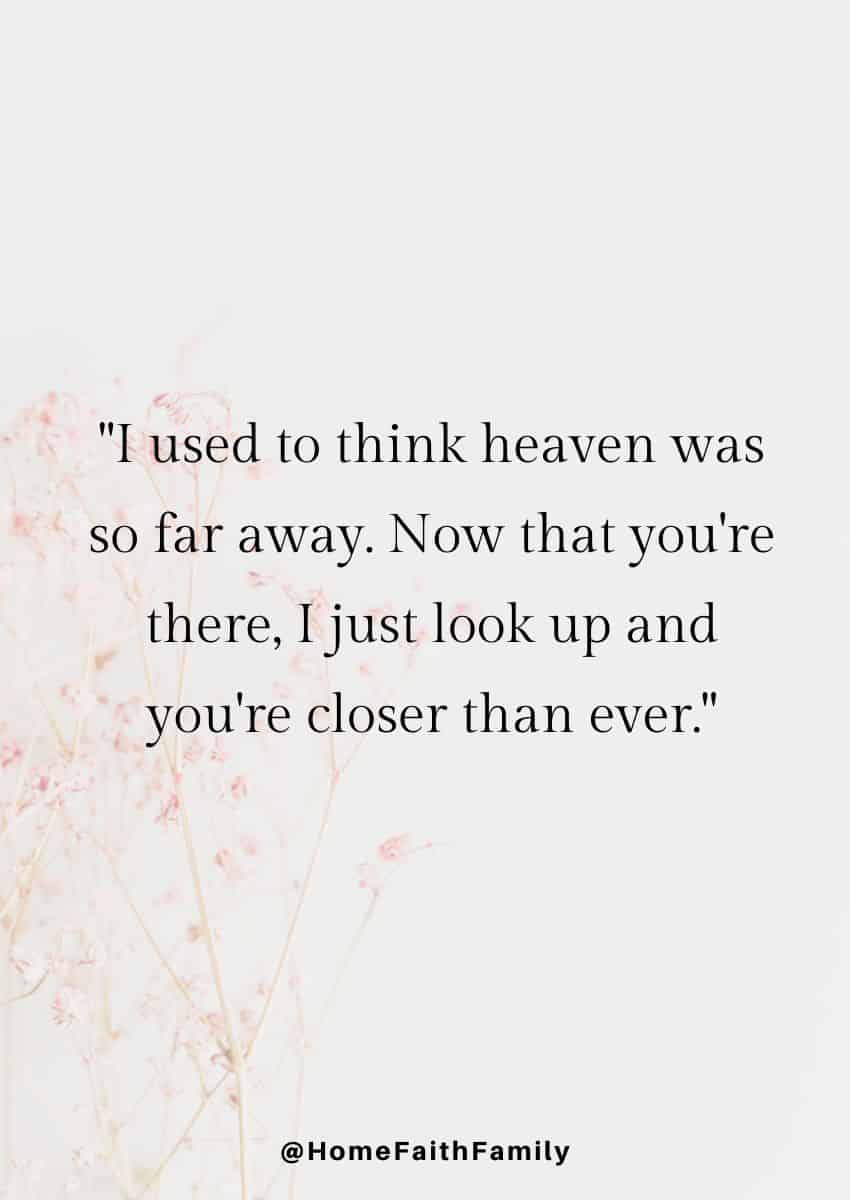 33 – "No matter how much time passes, the pain of your absence never gets any easier."
34 – "I used to think heaven was so far away. Now that you're there, I just look up and you're closer than ever."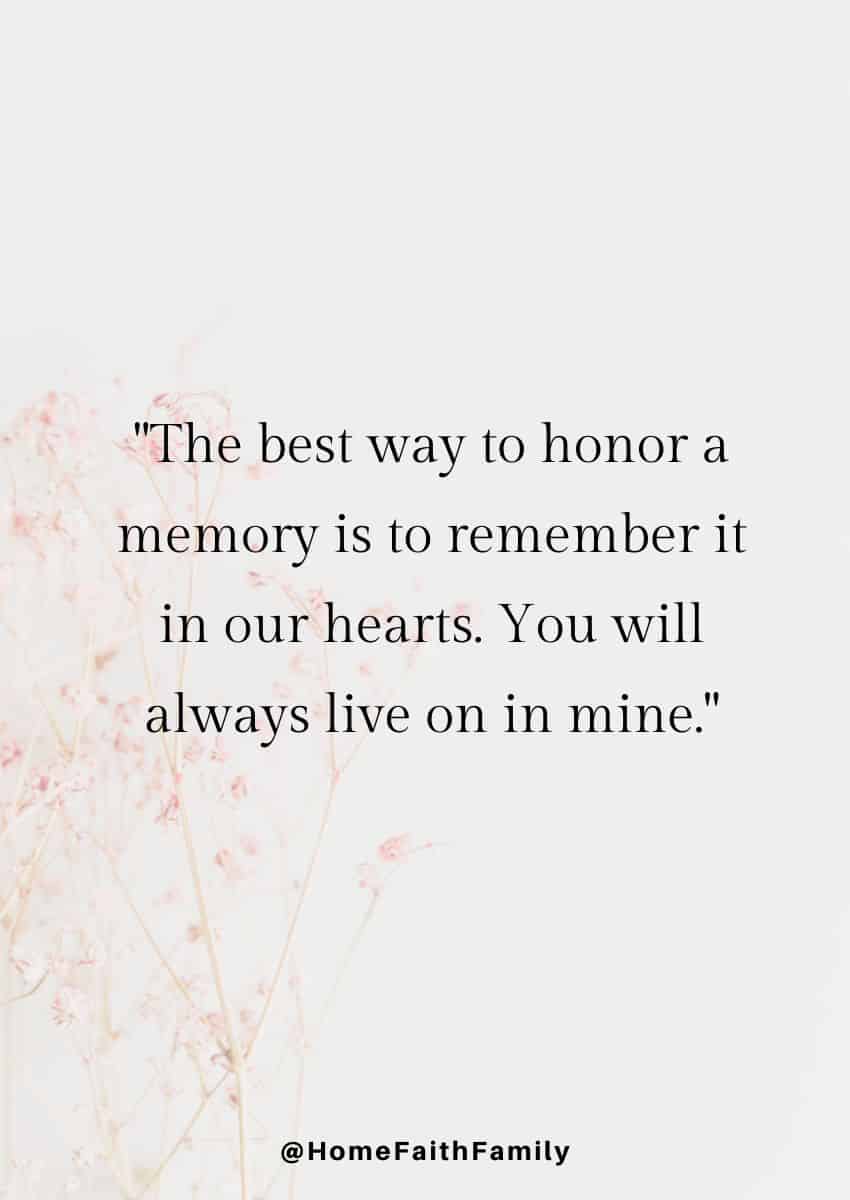 35 – "The only thing harder than saying goodbye is not having the chance to say it at all. I love and miss you every day, mom."
36 – "The best way to honor a memory is to remember it in our hearts. You will always live on in mine."
37 – "I miss you, mom. Not a day goes by that your memory isn't cherished and celebrated."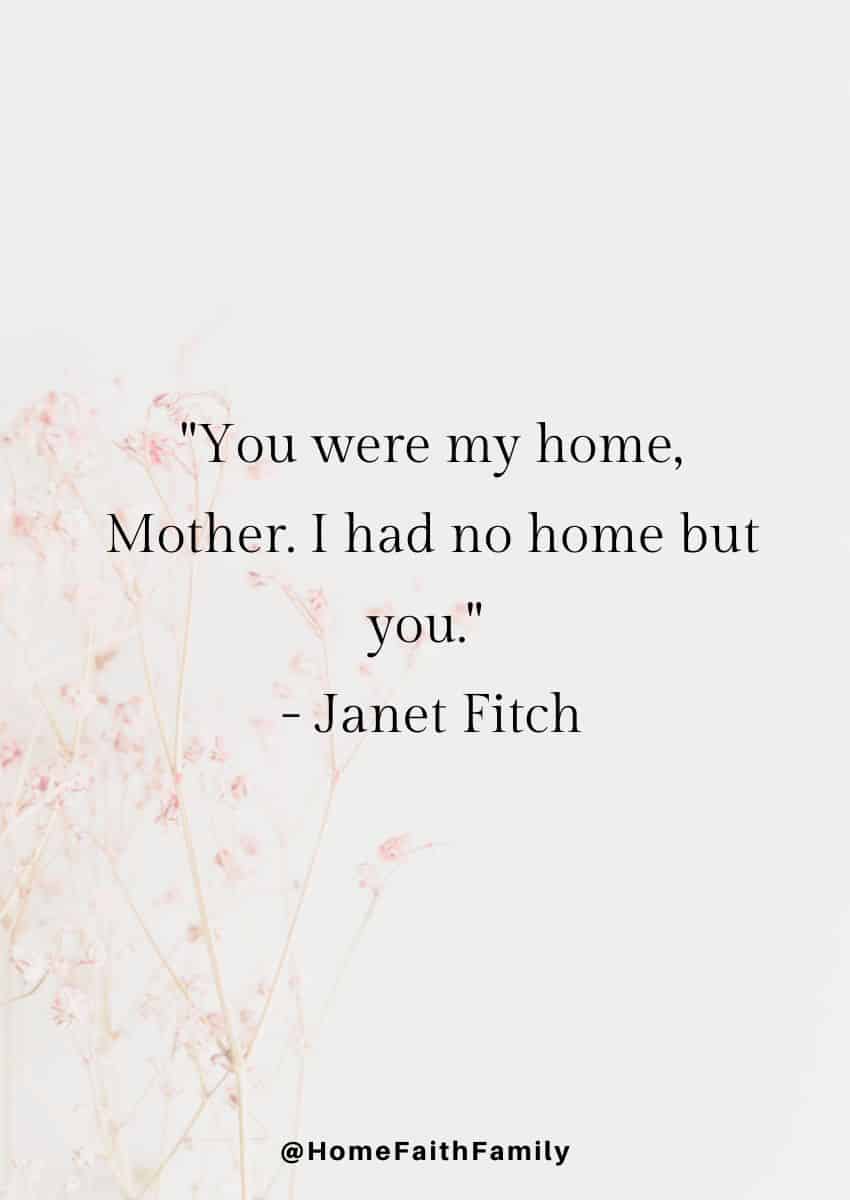 Best Missing Mom Quotes
38 – "You were my home, Mother. I had no home but you." – Janet Fitch
39 – "I guess by now I should know enough about loss to realize that you never really stop missing someone – you just learn to live around the huge gaping hole of their absence." – Alyson Noel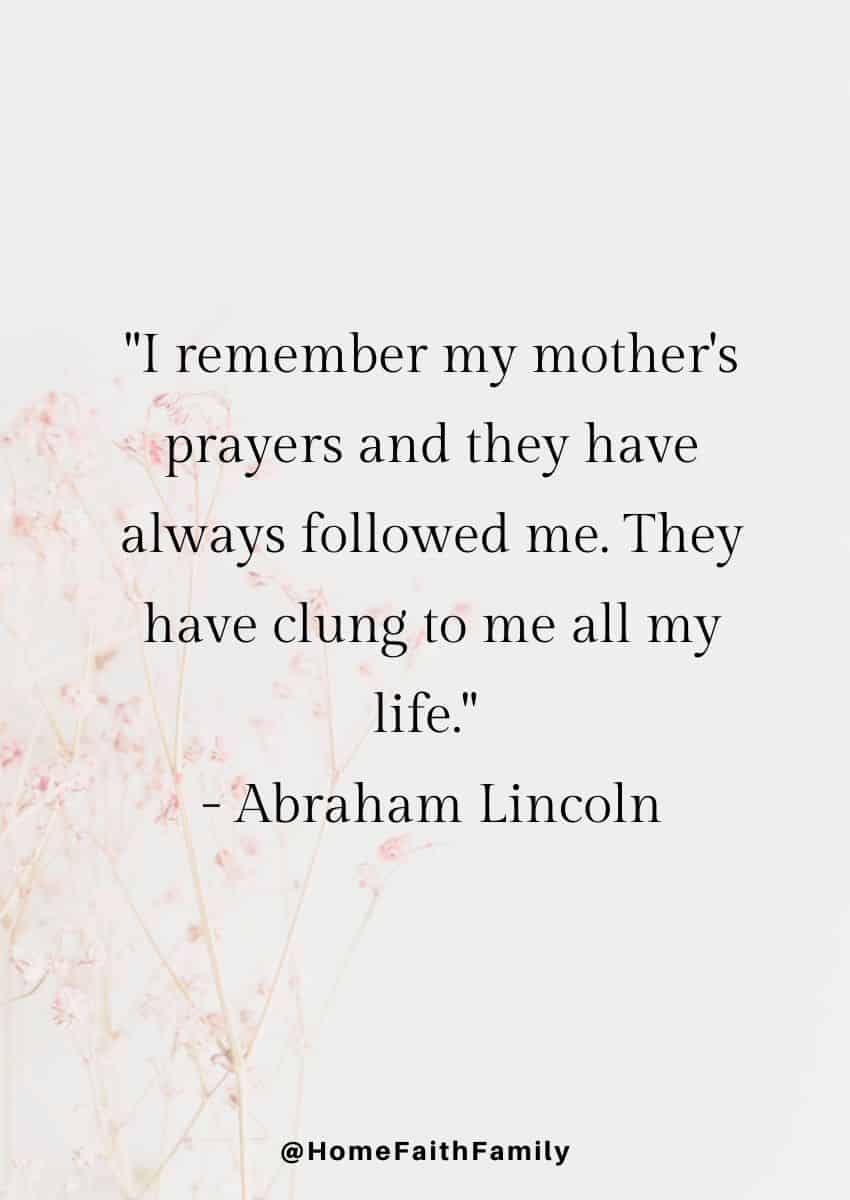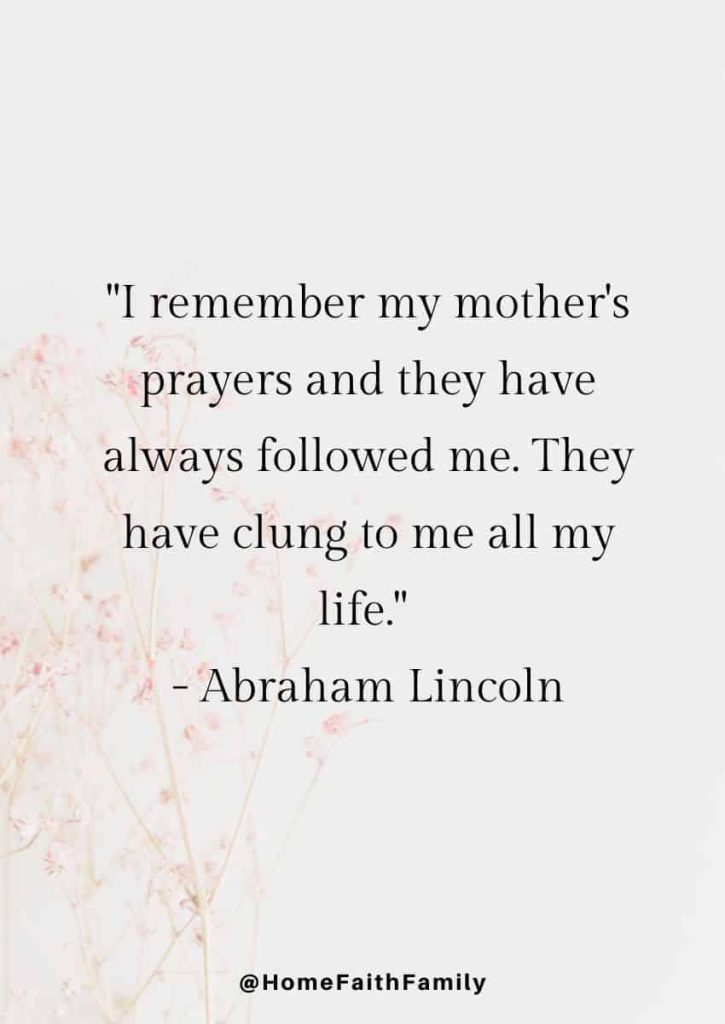 40 – "Grief and love are conjoined, you don't get one without the other. All I can do is love her, and love the world, emulate her by living with daring and spirit and joy." – Jandy Nelson
41 – "I remember my mother's prayers and they have always followed me. They have clung to me all my life." – Abraham Lincoln
42 – "What we have once enjoyed deeply we can never lose. All that we love deeply becomes part of us." – Helen Keller
43 – "I miss saying "Mom" out loud. I miss not being able to find that special card for you and then having found it, writing "To Mom" on it for yet another cherished Mother's Day." – Millie P. Lorenz
44 – "There is something about losing your mother that is permanent and inexpressible – a wound that will never quite heal." – Susan Wiggs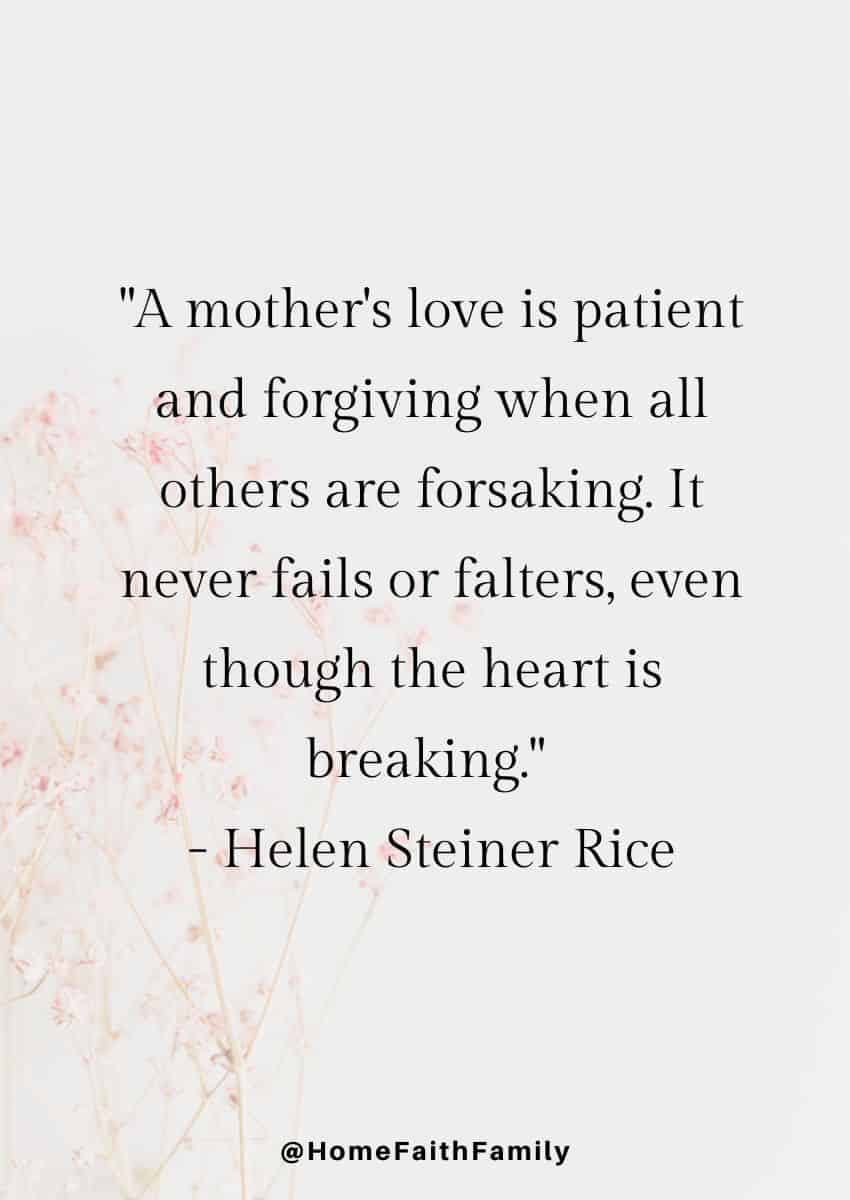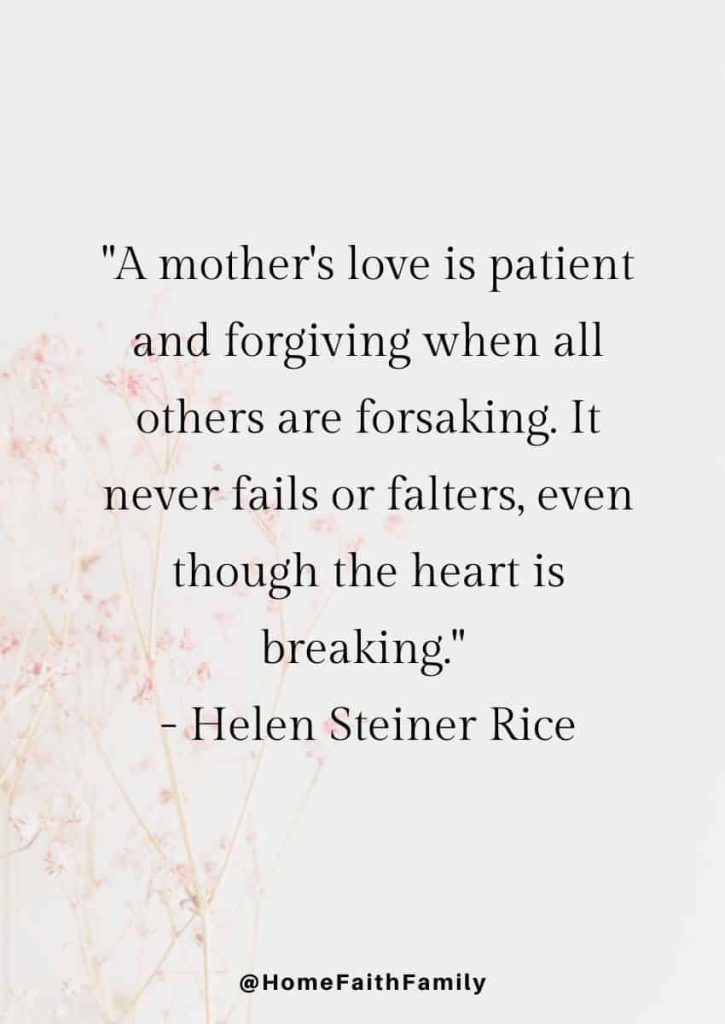 Inspirational Quotes About Mom
45 – "I couldn't imagine owning beauty like my mothers. I wouldn't dare." – Janet Fitch
46 – "Mom has a massive sunflower for a soul so big there's hardly any room in her for organs." – Jandy Nelson
47 – "A mother's love is patient and forgiving when all others are forsaking. It never fails or falters, even though the heart is breaking." – Helen Steiner Rice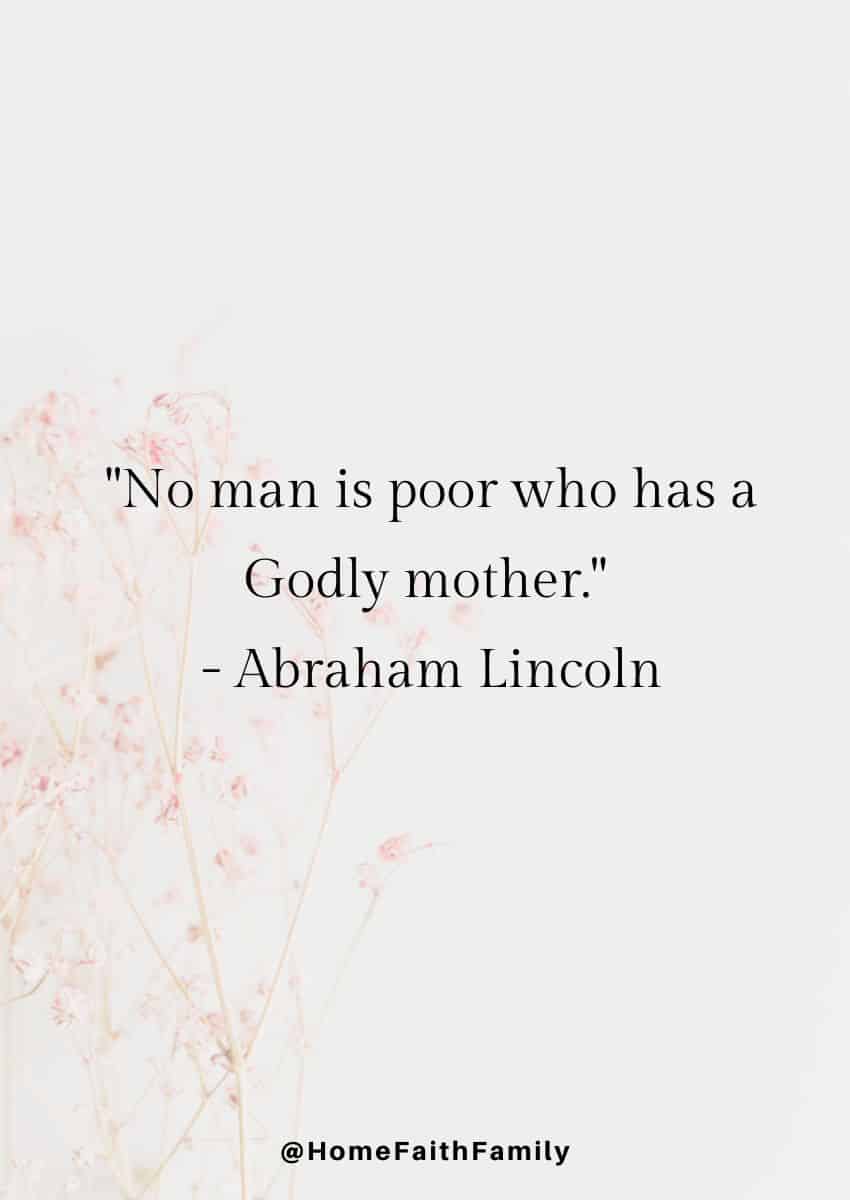 48 – "A mother is the truest friend we have, when trials heavy and sudden fall upon us; when adversity takes the place of prosperity; when friends desert us; when trouble thickens around us, still will she cling to us, and endeavor by her kind precepts and counsels to dissipate the clouds of darkness, and cause peace to return to our hearts." – Washington Irving
49 – "No man is poor who has a Godly mother." – Abraham Lincoln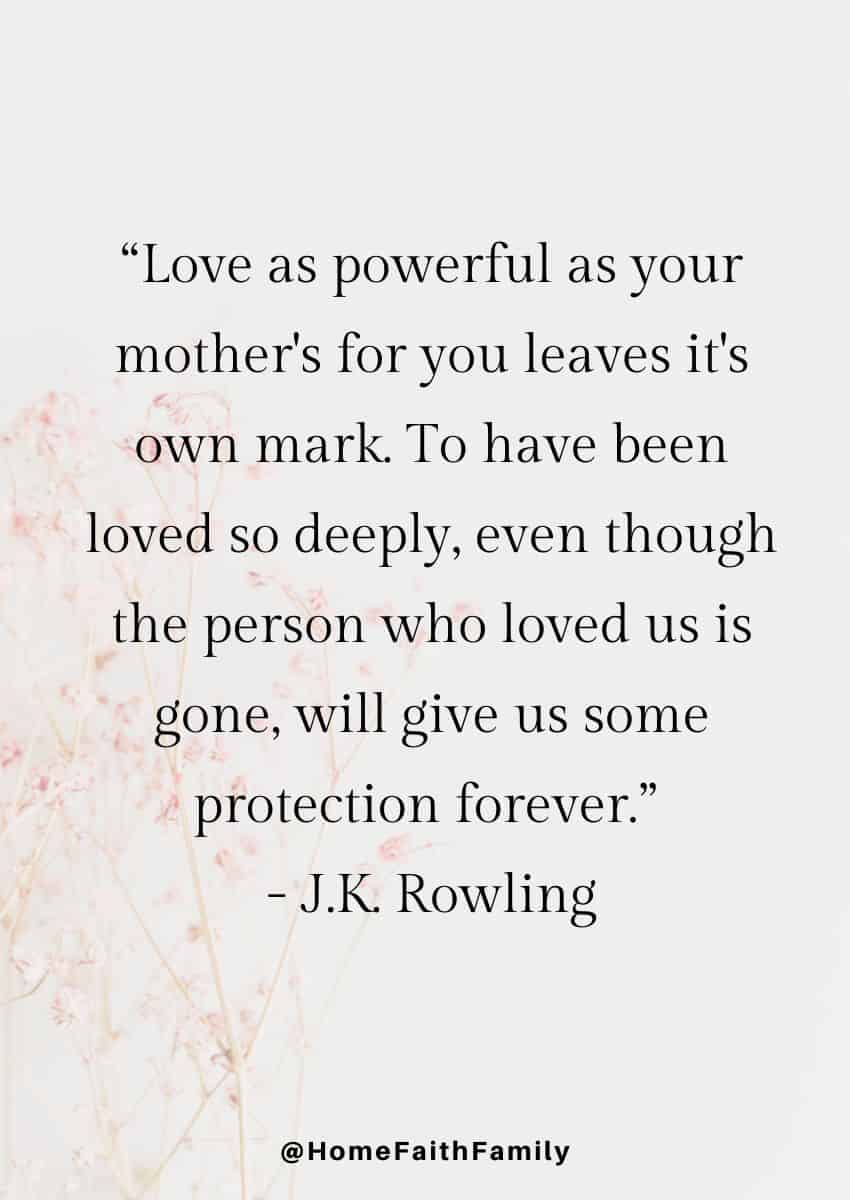 50 – "It is at our mother's knee that we acquire our noblest and truest and highest ideals." – Mark Twain
51 – "Love as powerful as your mother's for you leaves it's own mark. To have been loved so deeply, even though the person who loved us is gone, will give us some protection forever." – J.K. Rowling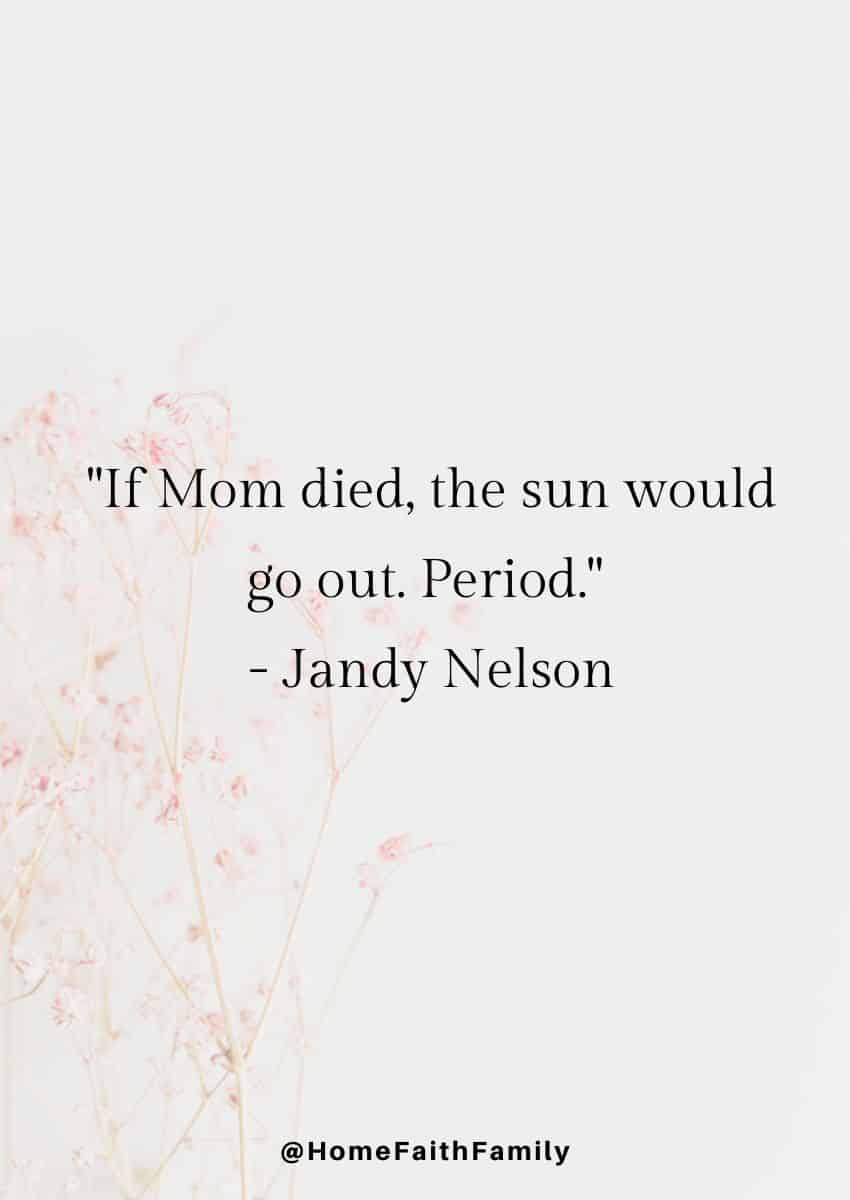 Famous Quotes To Share With Your Sympathy Messages
52 – "My mother is a never-ending song in my heart of comfort, happiness, and being. I may sometimes forget the words but I always remember the tune." – Graycie Harmon
53 – "If Mom died, the sun would go out. Period." – Jandy Nelson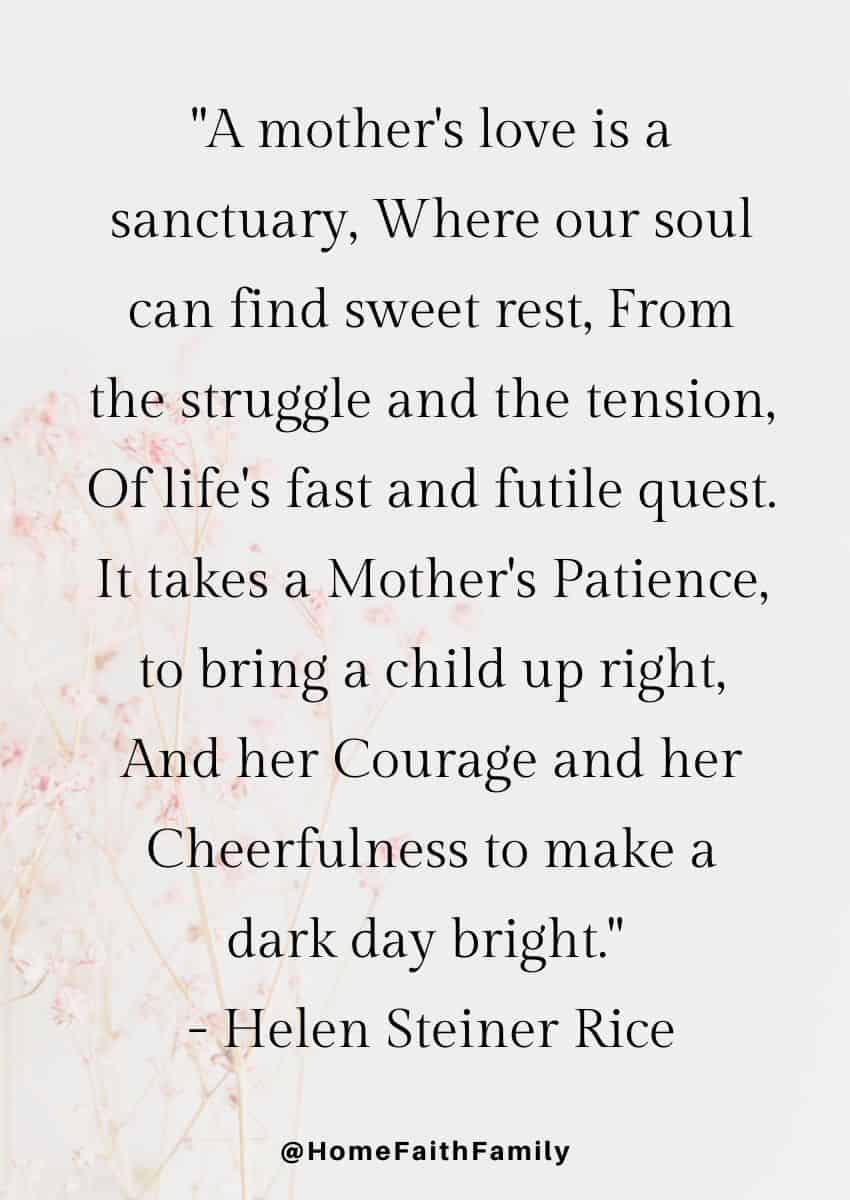 54 – "Mom, I am missing you today but I know that you will always be with me in my heart…I am who I am because f your loving hands. I have my sweet and compassionate soul from watching you and your generosity and kindness to others. I see the world full of wonder because of your imagination. I've learned to never give up seeing your drive and perseverance…I love you always and forever…" – Karen Kostyla
55 – "A mother's love is a sanctuary, Where our soul can find sweet rest, From the struggle and the tension, Of life's fast and futile quest. It takes a Mother's Patience, to bring a child up right, And her Courage and her Cheerfulness to make a dark day bright." – Helen Steiner Rice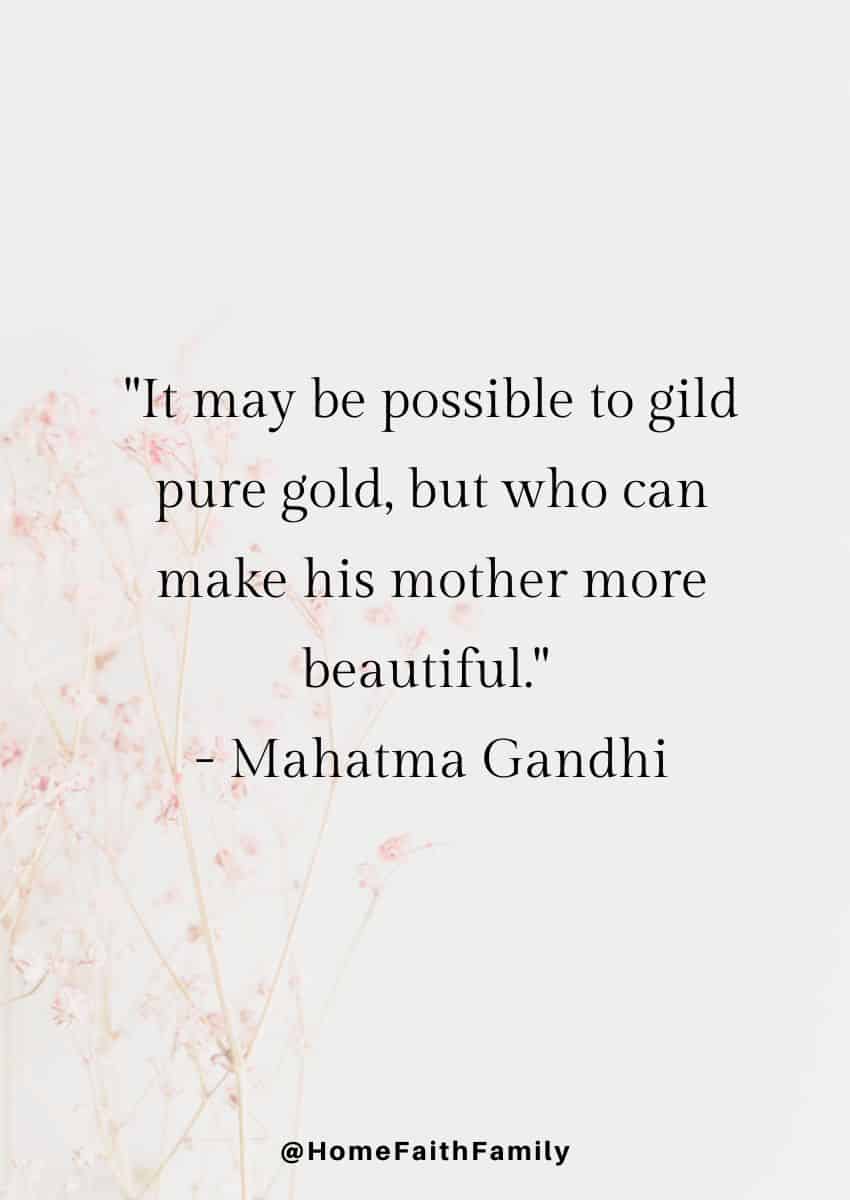 56 – "My mother had a great deal of trouble with me, but I think she enjoyed it" – Mark Twain
57 – "A mother is one to whom you hurry when you are troubled." – Emily Dickinson
58 – "My mother… she is beautiful, softened at the edges and tempered with a spine of steel. I want to grow old and be like her." – Jodi Picoult
59 – "It may be possible to gild pure gold, but who can make his mother more beautiful." – Mahatma Gandhi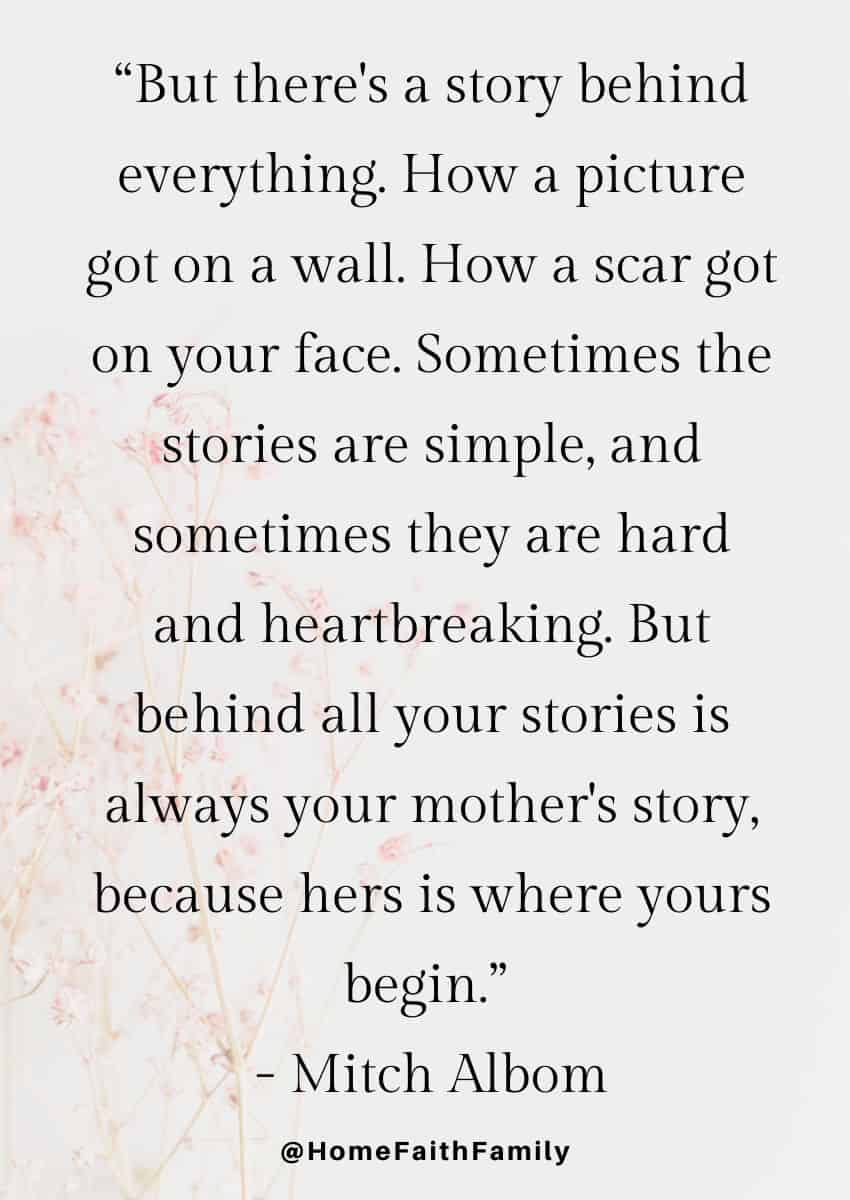 60 – "But there's a story behind everything. How a picture got on a wall. How a scar got on your face. Sometimes the stories are simple, and sometimes they are hard and heartbreaking. But behind all your stories is always your mother's story, because hers is where yours begin." – Mitch Albom
61 – "All that I am, or hope to be, I owe to my angel mother" – Abraham Lincoln
Mother's Day can be an emotional holiday, and honoring our mothers in heaven can be even more difficult.
These quotes celebrate your mothers' memories in a unique and special way.
For daughters who have recently lost their mothers, these quotes provide comfort to remember the truth and beauty of their relationship—no matter the distance between them in time or space.
Let these words help you remember the love of your mother, and draw strength from her memory.
No matter what, she will always be with you.
Happy Mother's Day.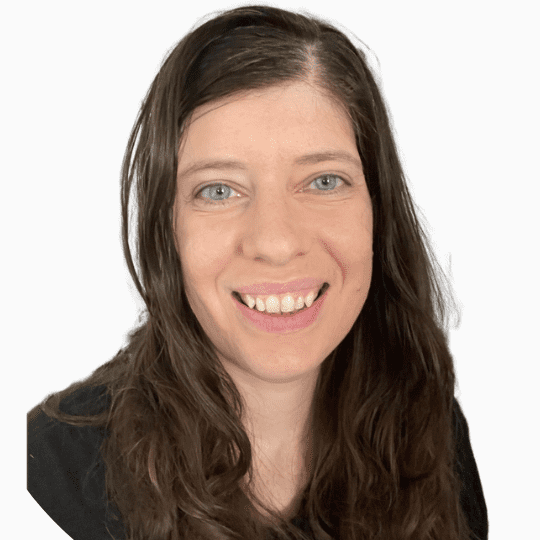 Micah Klug is a wife, homeschooling mother to five children, and author. She teaches time-tested solutions to help parents remember what matters most in life, including strengthening their home, faith, and family relationships. To learn how a child who grew up in an authoritarian home is now creating an environment of peace and joy in her own home visit this page. If you want to contact Micah, send her an email here or email [email protected].