Mother's Day is one of the most special days of the year where we get to celebrate how amazing our moms are.
While we are fortunate enough to shower our moms with love, affection, and presents on this special day, for some of us, our moms are no longer with us.
For those of us who have lost our moms, Mother's Day can be quite bittersweet.
However, we can still honor and celebrate our mothers in heaven by sharing Mother's Day in heaven quotes.
These quotes can provide comfort, and remind us of how much our moms mean to us, even if they are no longer physically with us.
77 Happy Mothers Day In Heaven Quotes For The Best Moms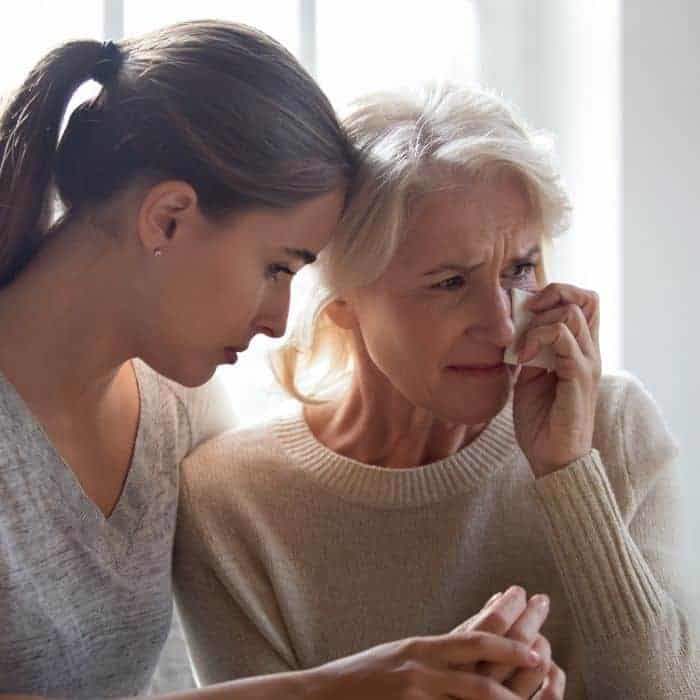 To My Mom In Heaven Poem And Quotes
1 – "Mothers never really die; they just keep the house up in the sky. They polish the sun by day and light the stars that shine at night, keep the moonbeams silvery bright, and in the heavenly home above they wait to welcome those they love." – Helen Steiner Rice
2 – "To a much missed mom on mother's day. A bouquet of beautiful memories sprayed with a million tears, wishing that God could have spared you if just for a few more years. We cannot bring the old days back when we were all together. The family chain is broken now but the memories live forever.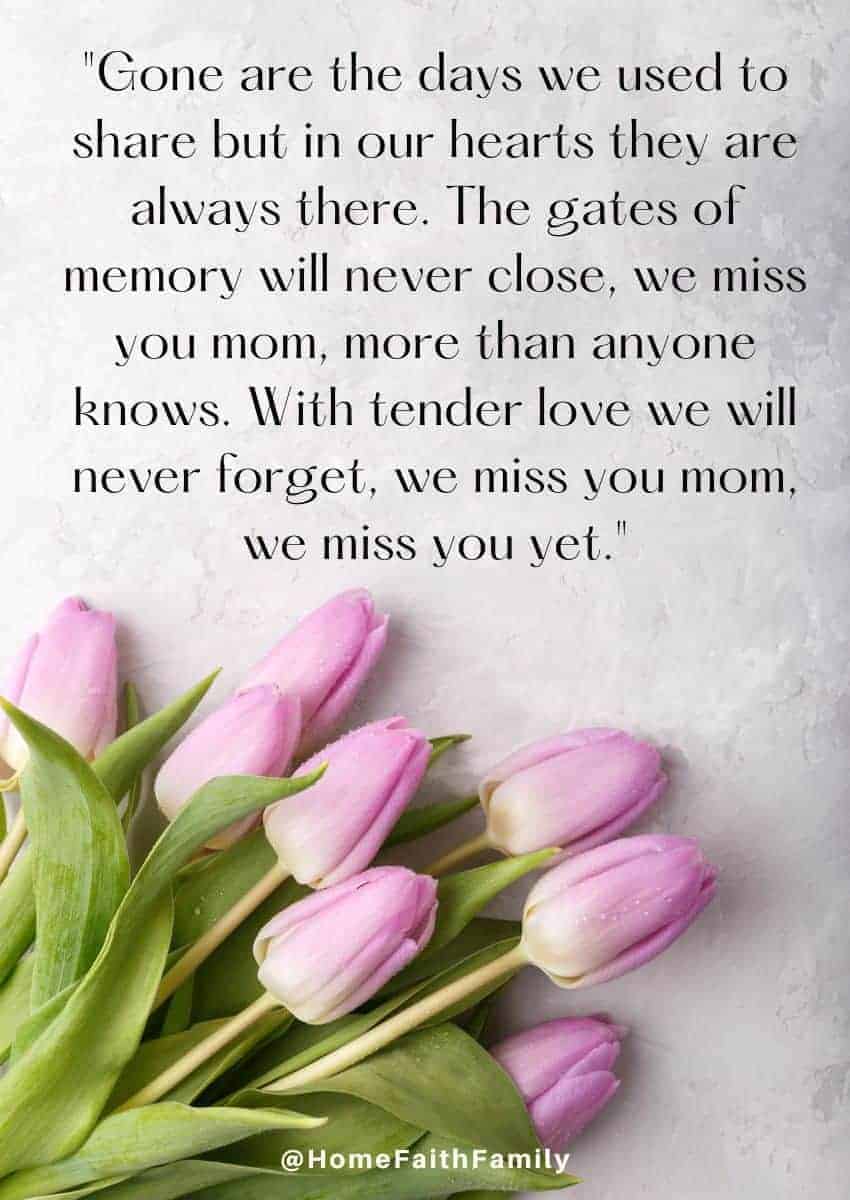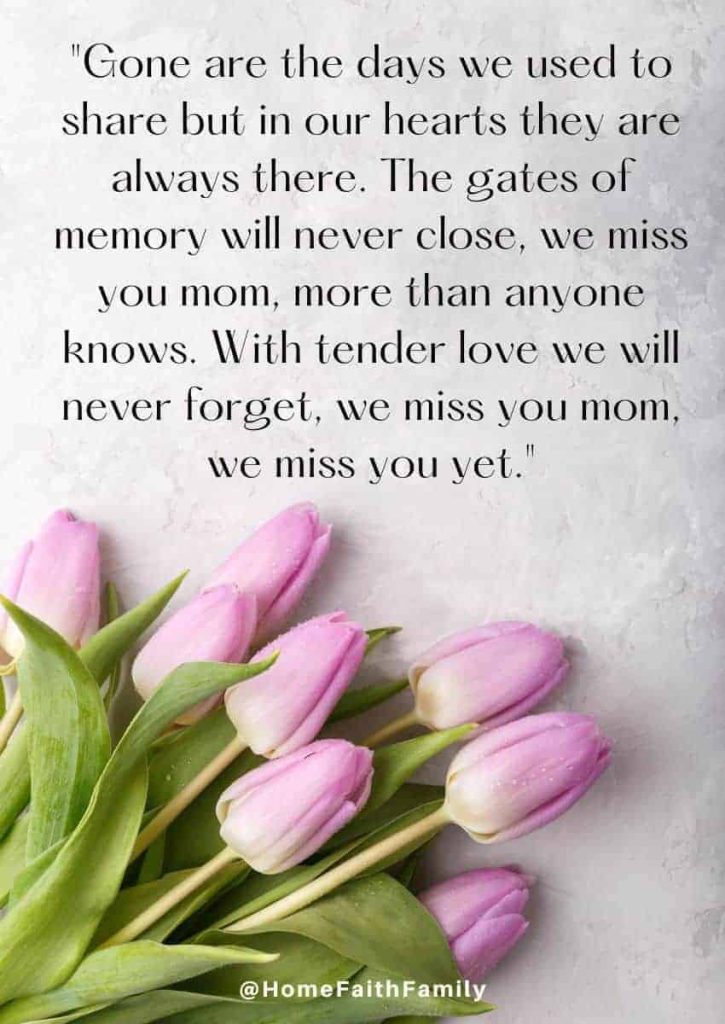 3 – "Gone are the days we used to share but in our hearts they are always there. The gates of memory will never close, we miss you mom, more than anyone knows. With tender love we will never forget, we miss you mom, we miss you yet."
4 – "Although I can't see you or be with you to celebrate this day, I want to thank you for everything and acknowledge how special you are. Always in my thoughts, forever in my heart."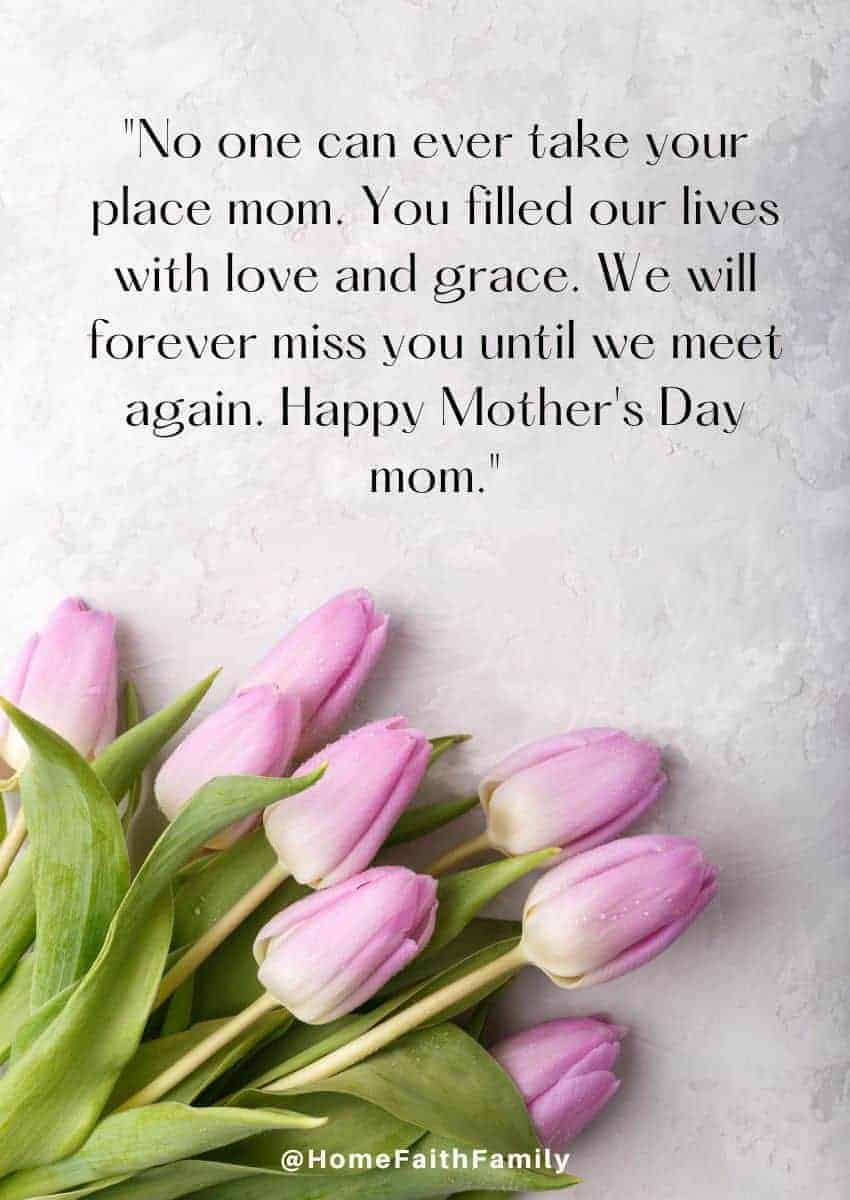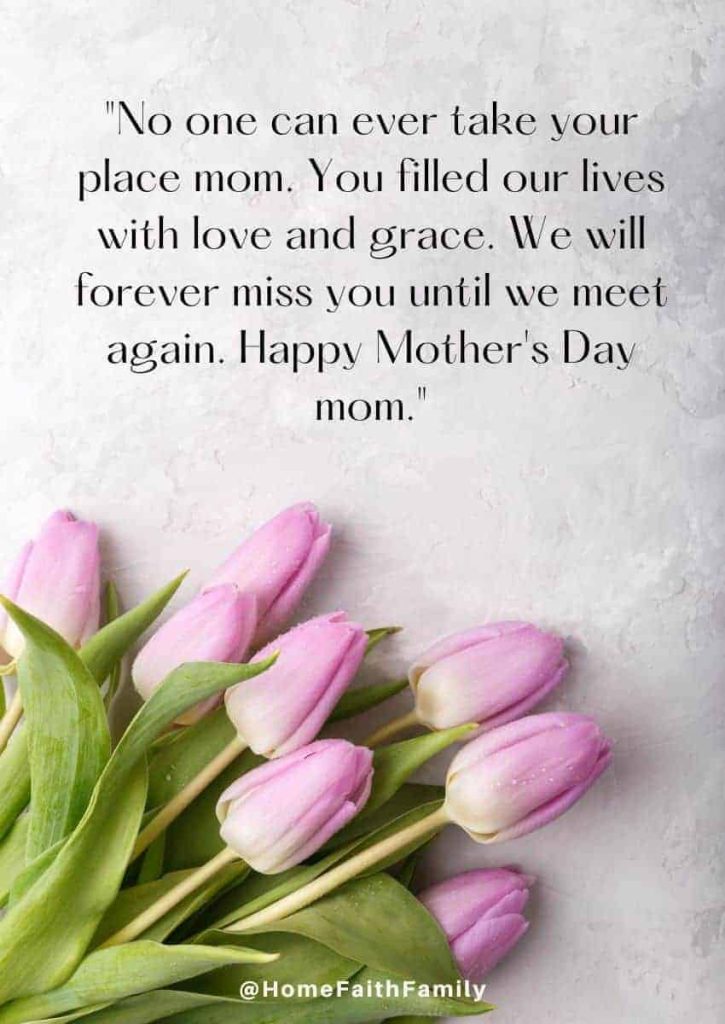 5 – "No one can ever take your place mom. You filled our lives with love and grace. We will forever miss you until we meet again. Happy Mother's Day mom."
6 – "Your life was a blessing, your memory a treasure, you are loved beyond words and missed beyond measure."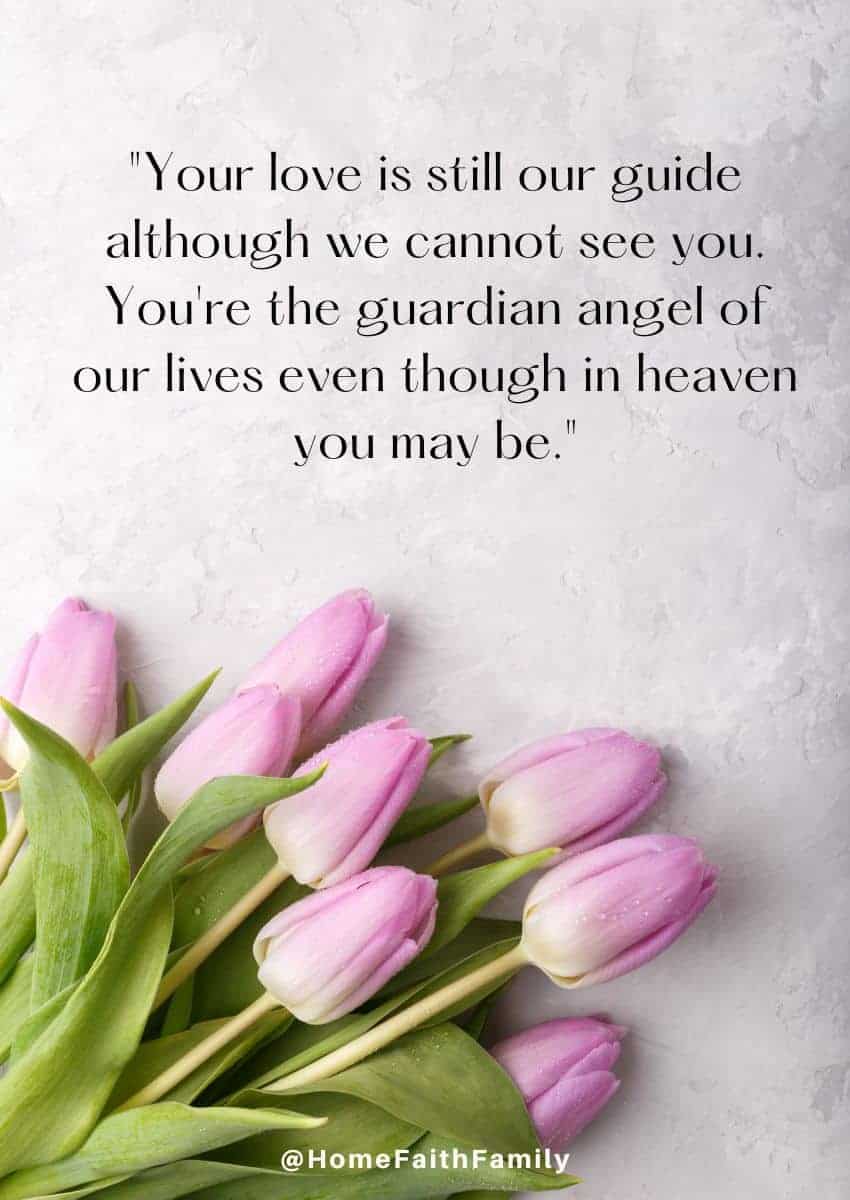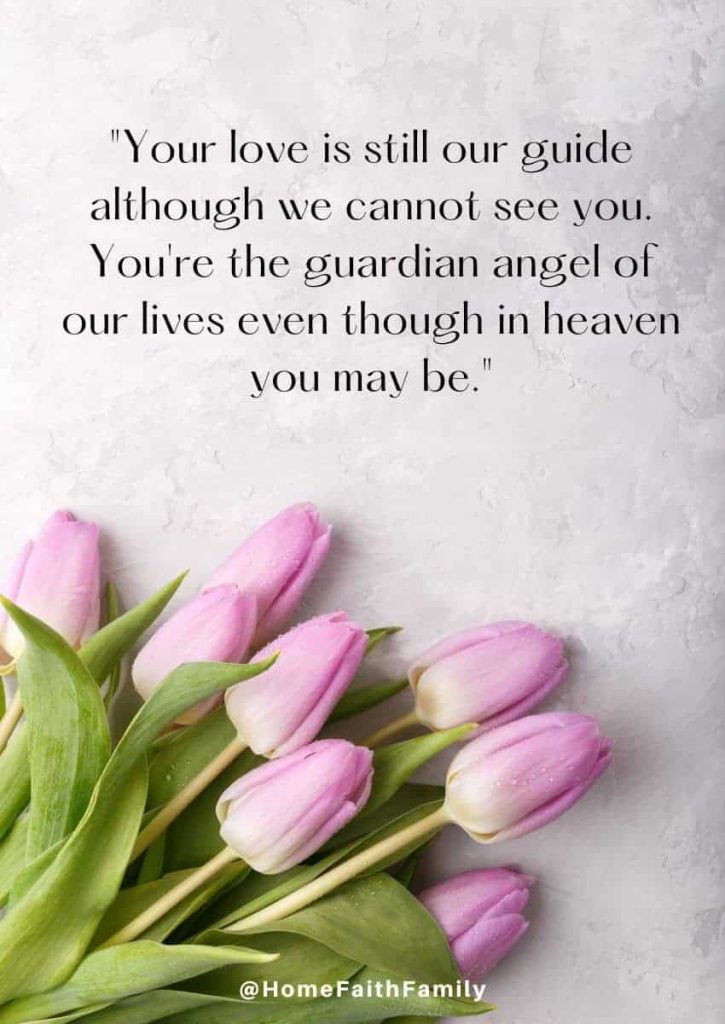 7 – "Mom, my heart is filled with so many things I wanted to say. So I whisper them to the stars and hope they reach you that way. Deep within my heart, you will always remain. Loved and remembered until we meet again."
8 – "Your love is still our guide although we cannot see you. You're the guardian angel of our lives even though in heaven you may be."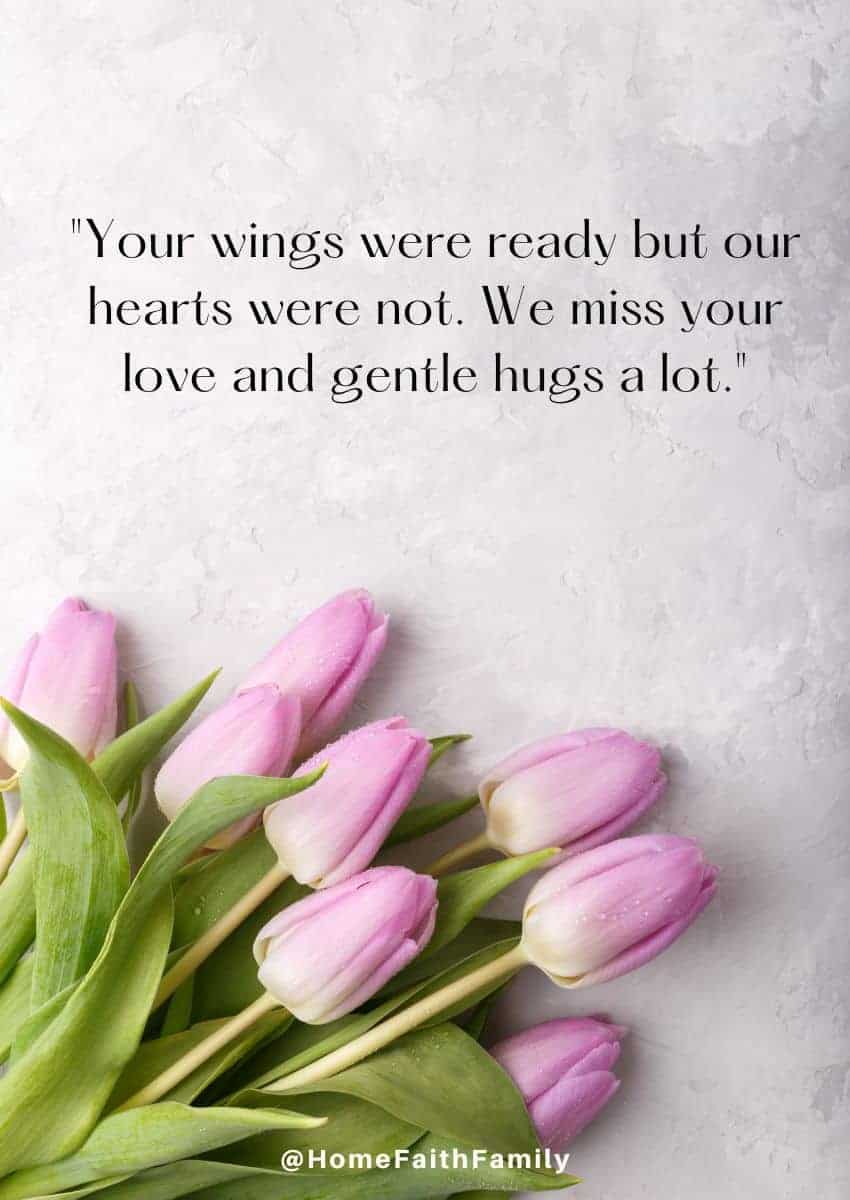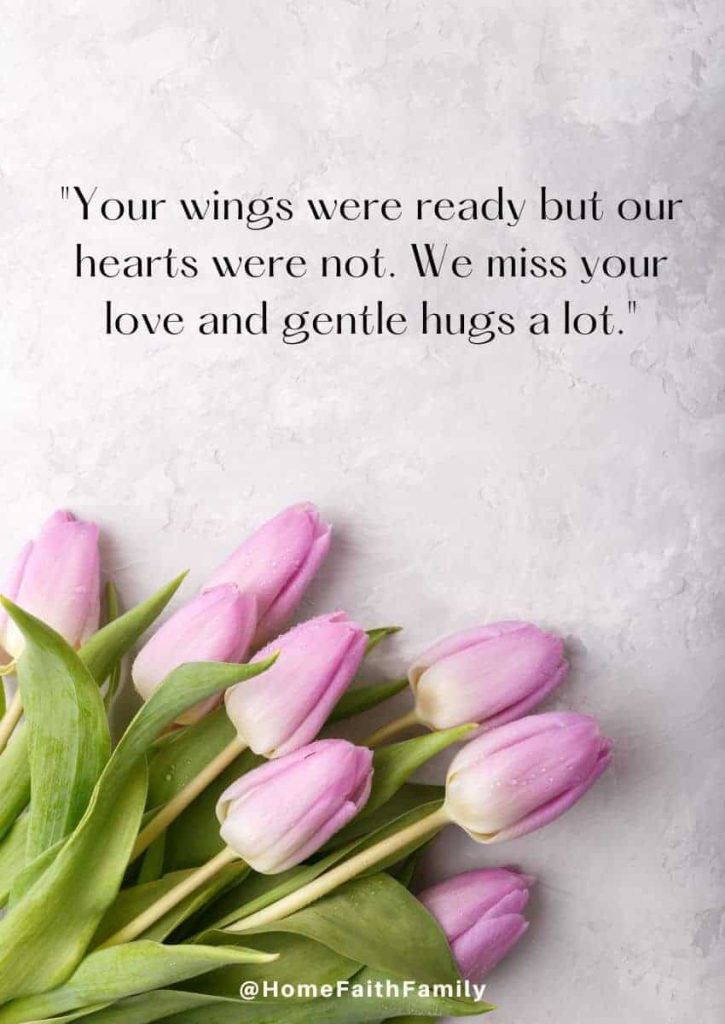 9 – "Dear Mom, you were so strong and brave. You knew how to make our hearts sing, even when we were afraid. We miss you dearly and will love you forever."
10 – "Your wings were ready but our hearts were not. We miss your love and gentle hugs a lot."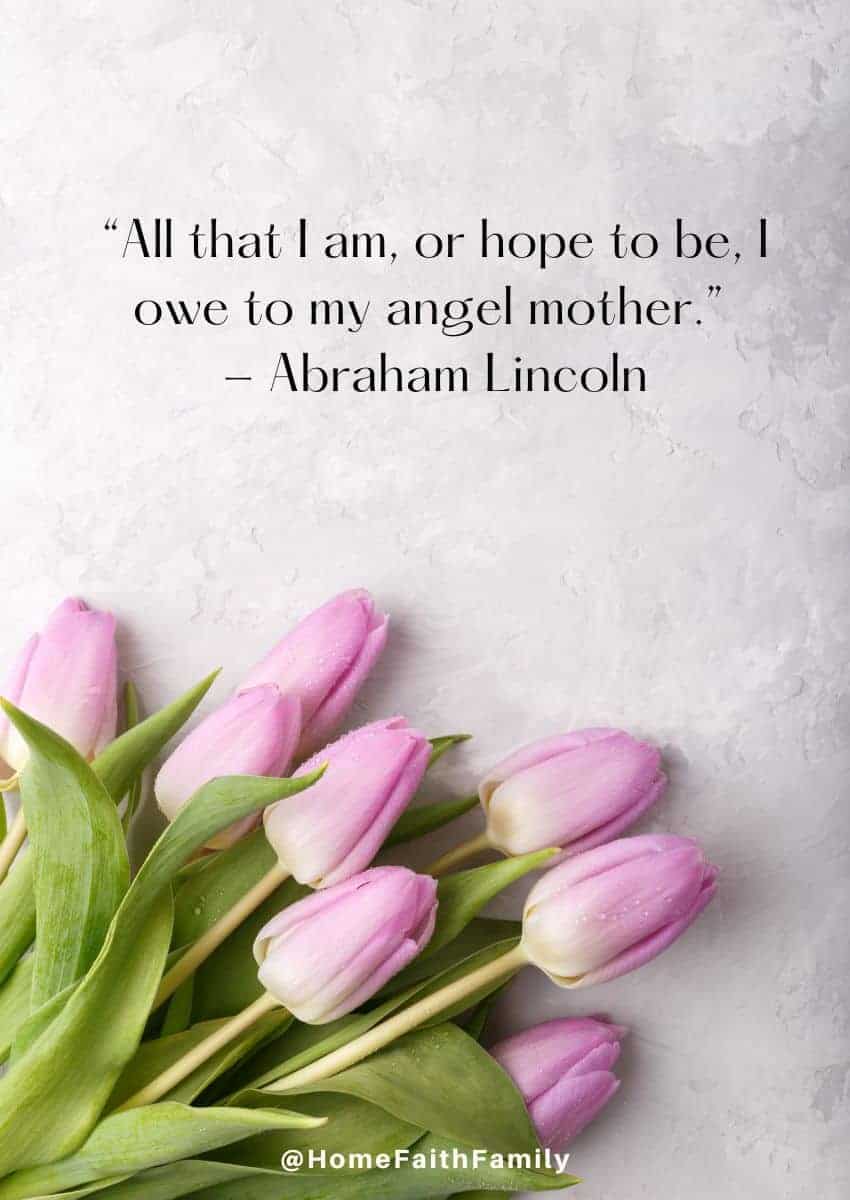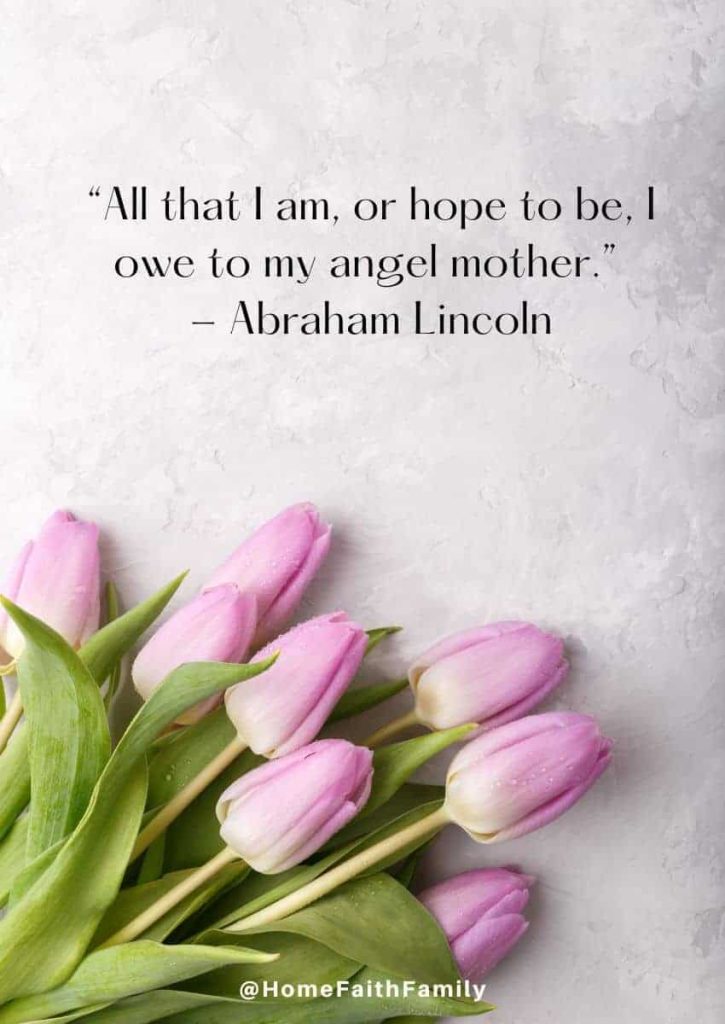 Inspirational Mother's Day In Heaven Quotes
11 –  "All that I am, or hope to be, I owe to my angel mother." – Abraham Lincoln
12 – "You were the best mother anyone could ever ask for. Your legacy will live on through me and all the people whose lives you have touched."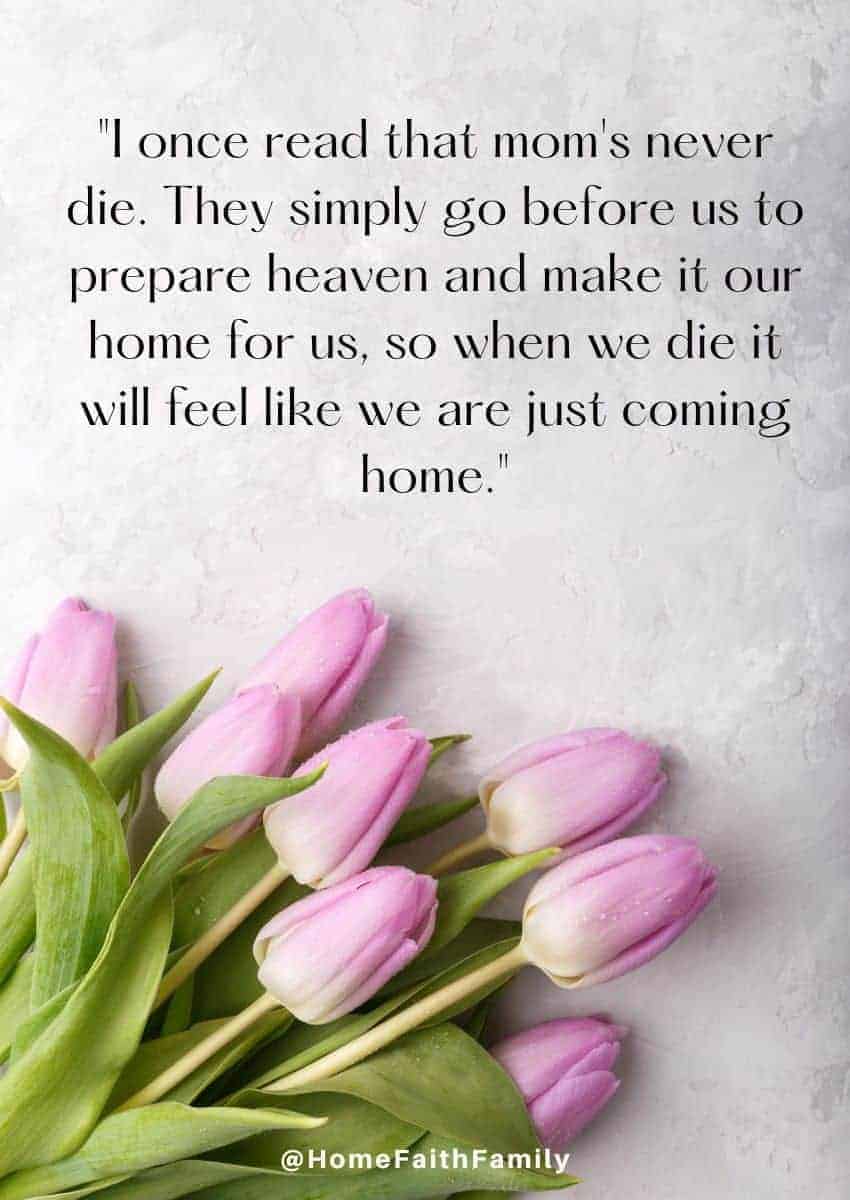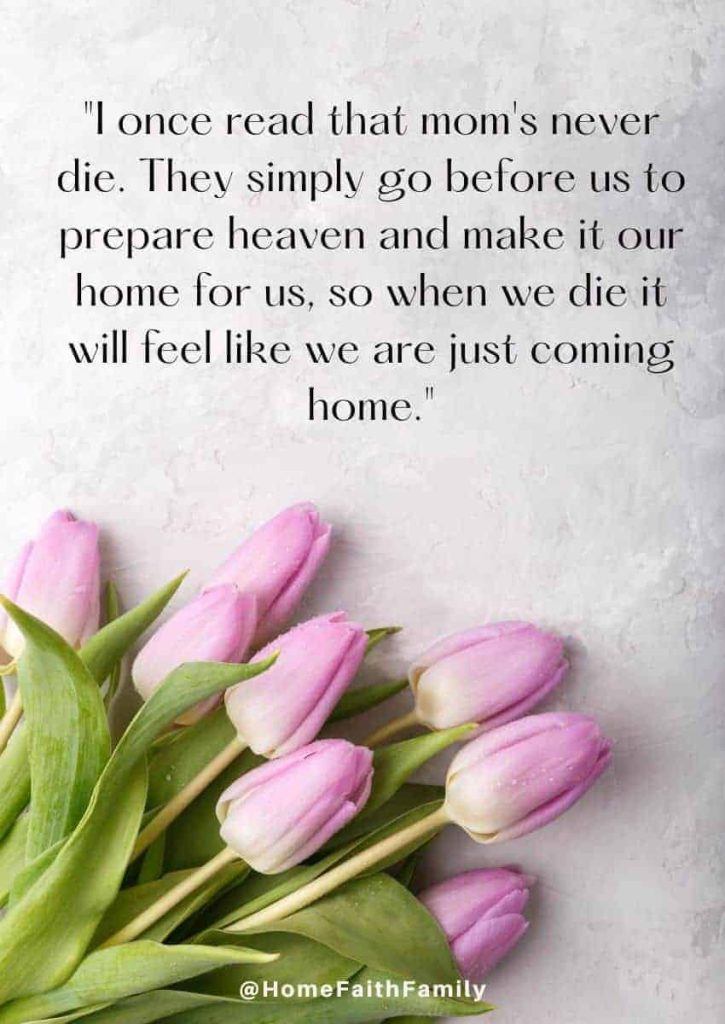 13 – "Heaven needed one more angel so God chose to bring you back home with him. I miss and love you more every second of every day. Happy Mother's Day to my mother up in heaven. I'm thinking of you today and always."
14 – "I once read that mom's never die. They simply go before us to prepare heaven and make it our home for us, so when we die it will feel like we are just coming home."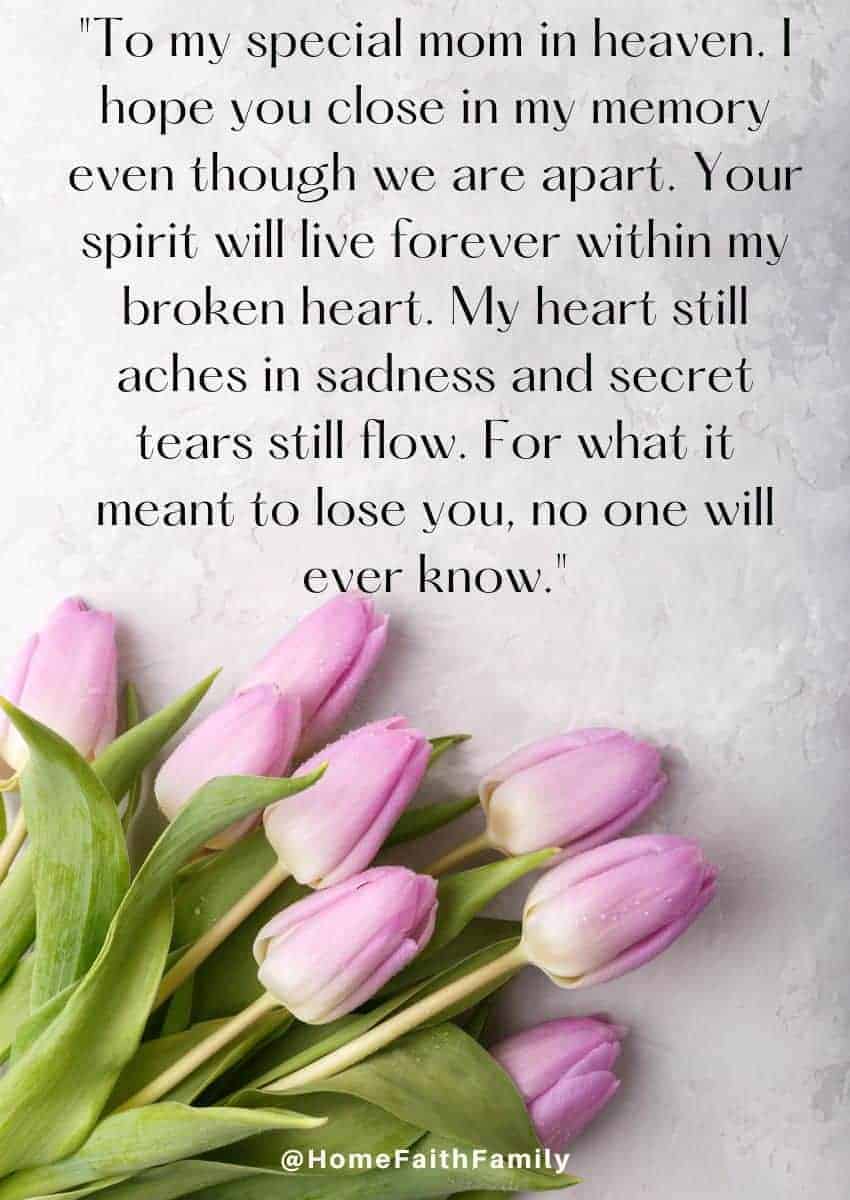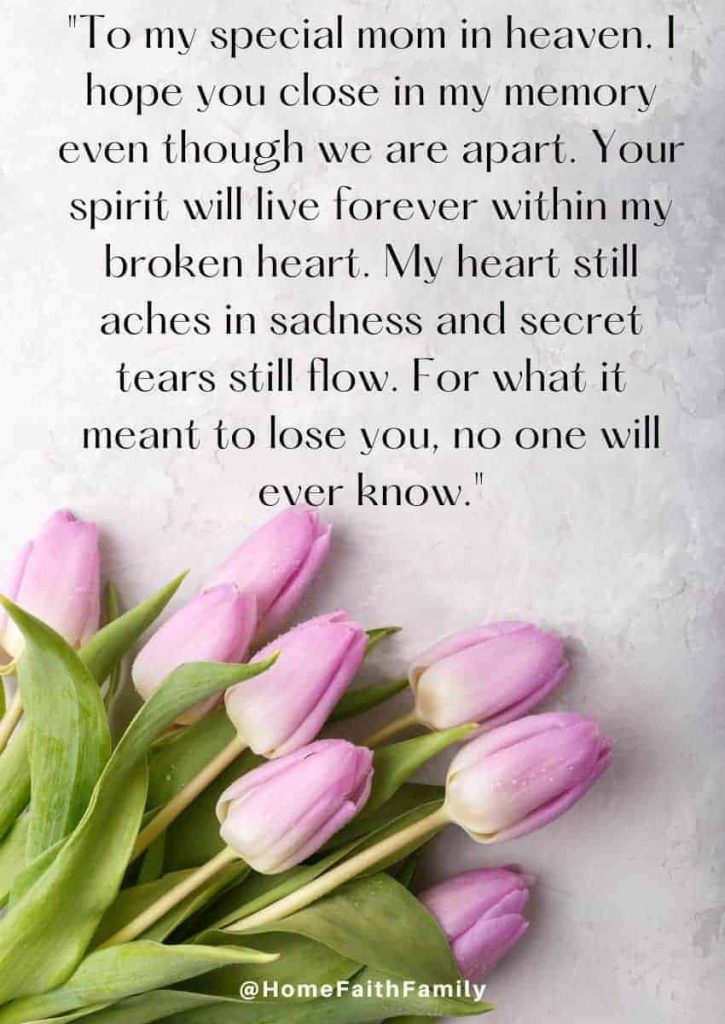 15 – "To my special mom in heaven. I hope you close in my memory even though we are apart. Your spirit will live forever within my broken heart. My heart still aches in sadness and secret tears still flow. For what it meant to lose you, no one will ever know."
16 – "In heaven we shall meet again where farewell is never spoken. We shall clasp each other hand in hand and the clasp will never be broken."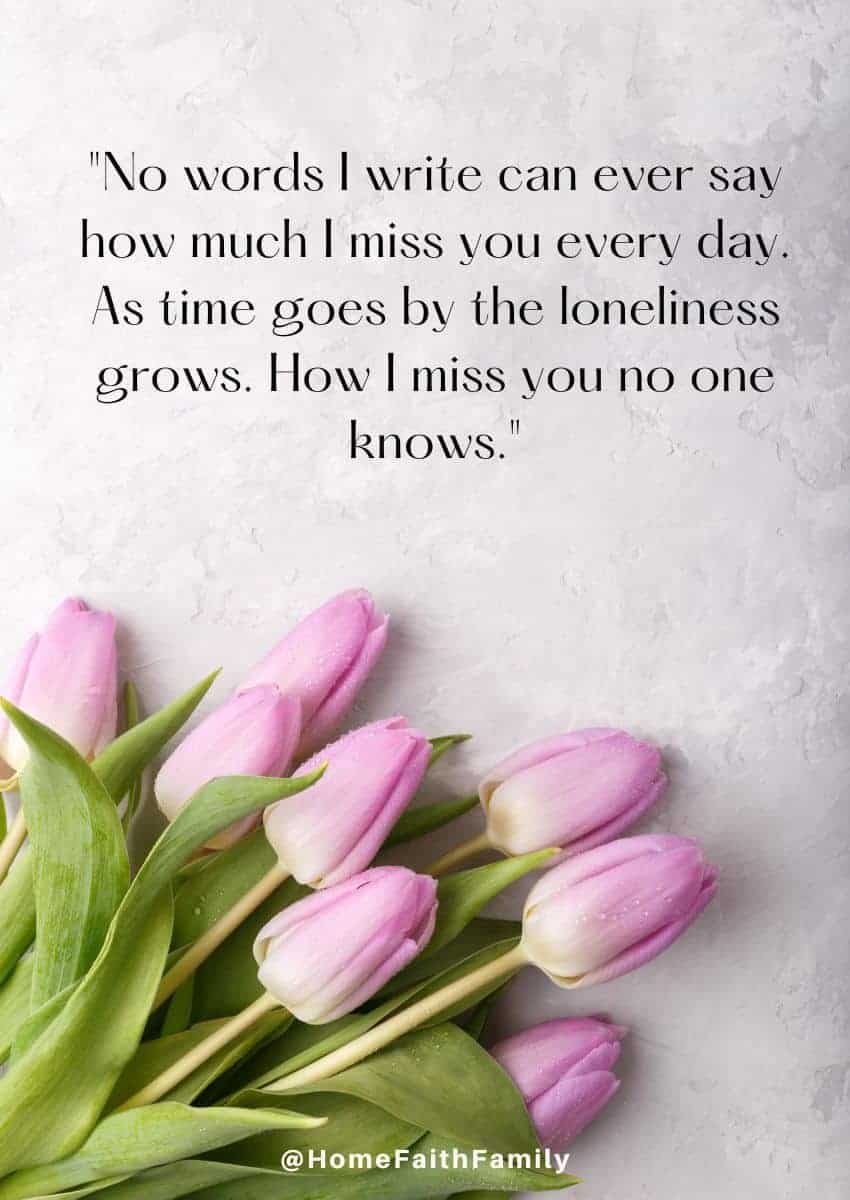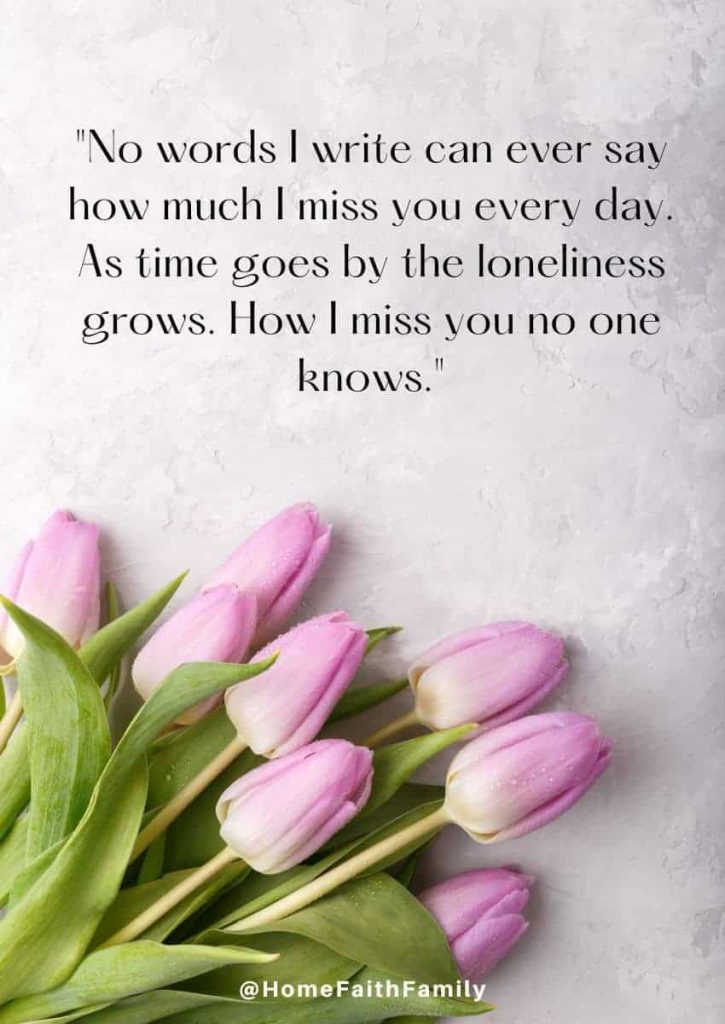 17 – "No words I write can ever say how much I miss you every day. As time goes by the loneliness grows. How I miss you no one knows."
18 – "Mama, I miss you more than words can say. You are in my heart forever and will never fade away. Happy Mother's Day in Heaven.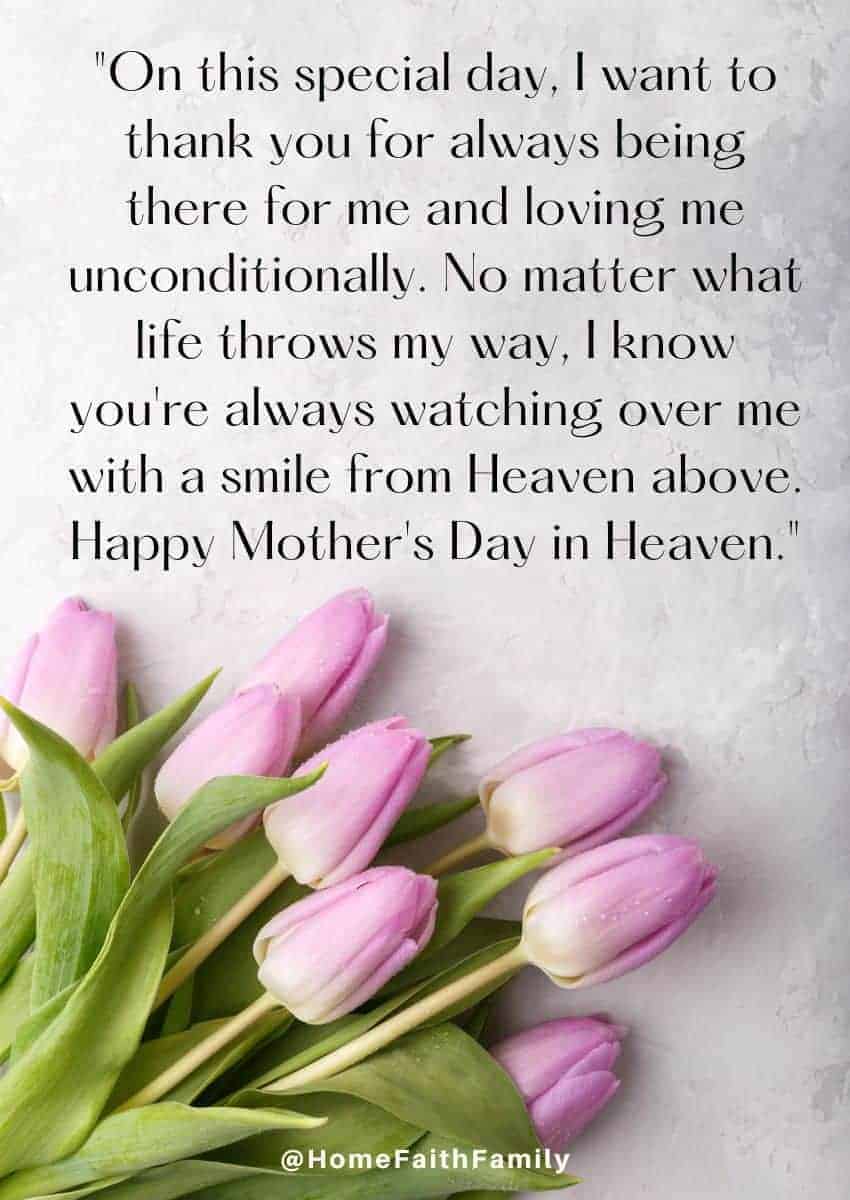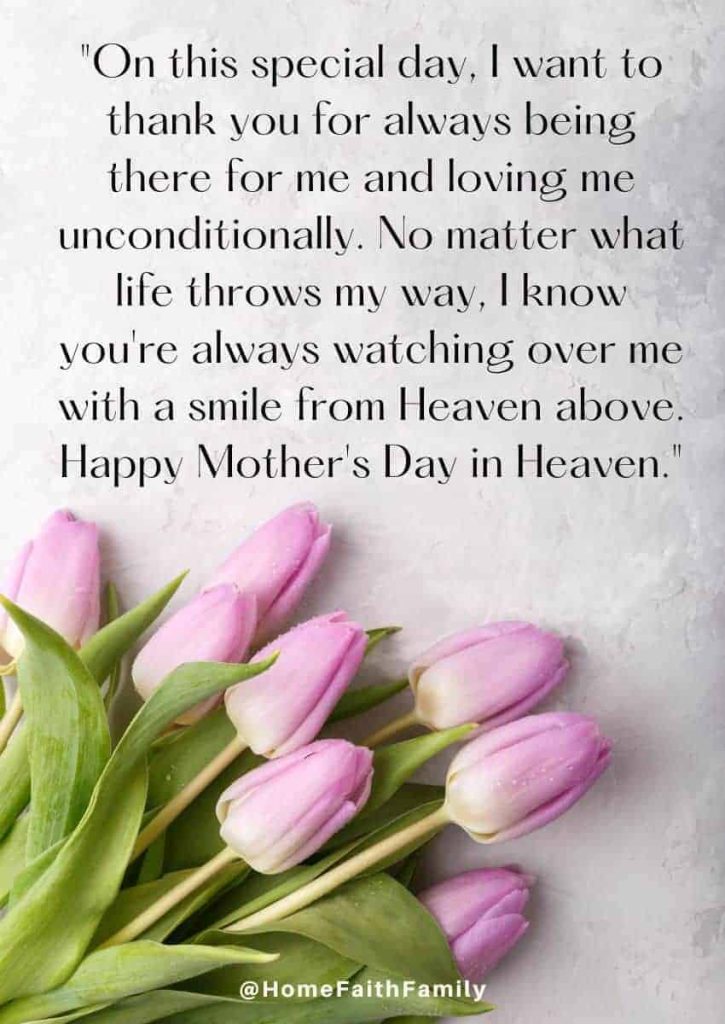 19 – "On this special day, I want to thank you for always being there for me and loving me unconditionally. No matter what life throws my way, I know you're always watching over me with a smile from Heaven above. Happy Mother's Day in Heaven."
20 – "You may be gone physically but you will be forever in our hearts and memories. We love and miss you Mom, now and always."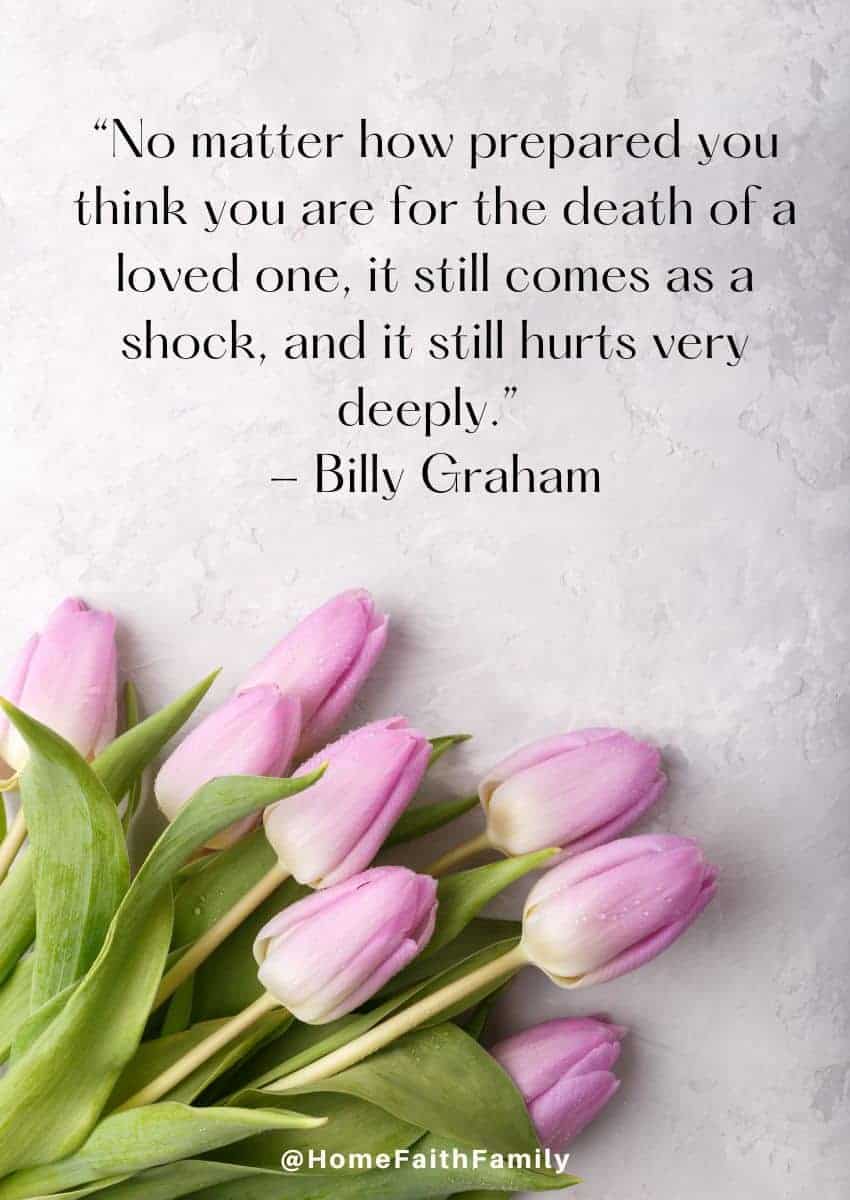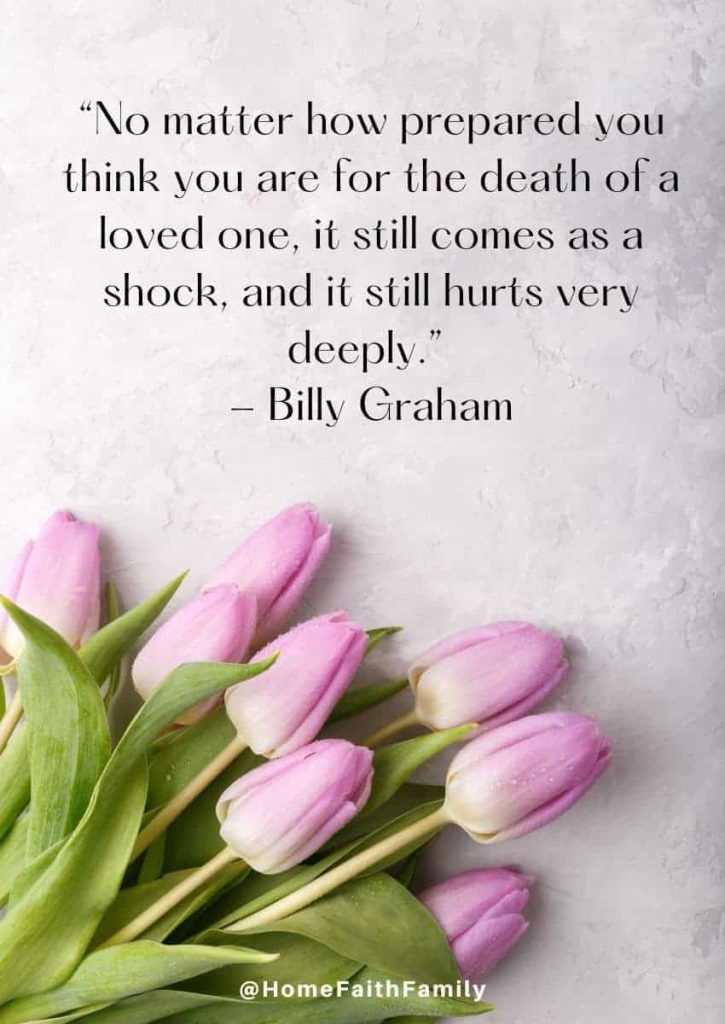 Sad Mother's Day In Heaven Quotes
21 – "I miss the warmth of your gentle hug and the love I felt when my arms were wrapped around you. I miss seeing your beautiful smile and the sound of your voice saying my name. I miss hearing you say, I love you and me saying, I love you in return." – Millie P. Lorenz
22 – "No matter how prepared you think you are for the death of a loved one, it still comes as a shock, and it still hurts very deeply." – Billy Graham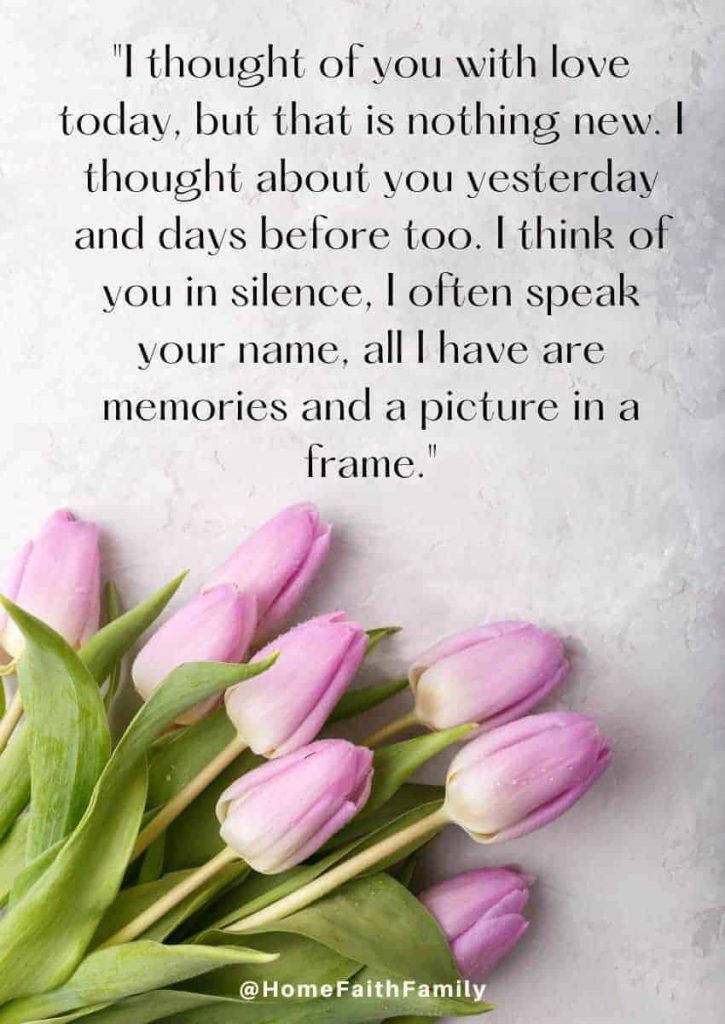 23 – "You are my best friend and beloved mother. You will always remain in my heart forever."
24 – "I thought of you with love today, but that is nothing new. I thought about you yesterday and days before too. I think of you in silence, I often speak your name, all I have are memories and a picture in a frame."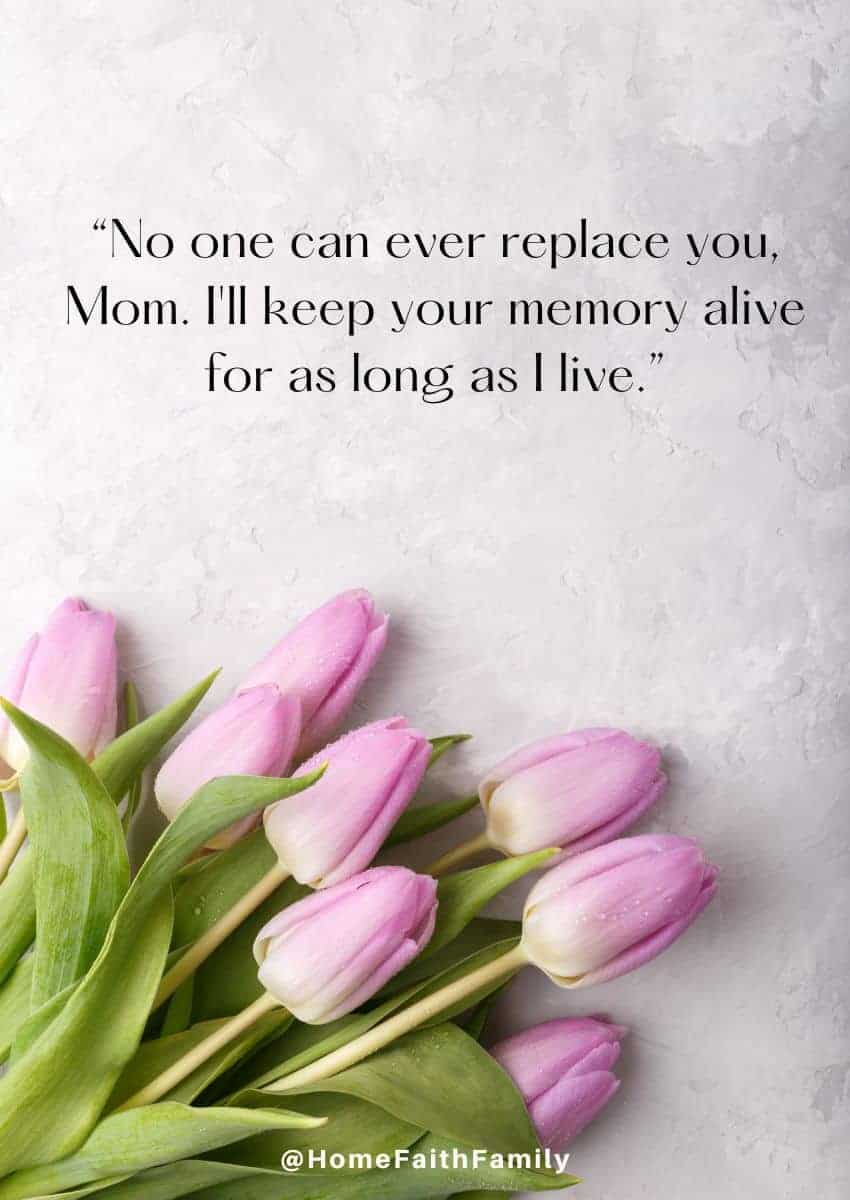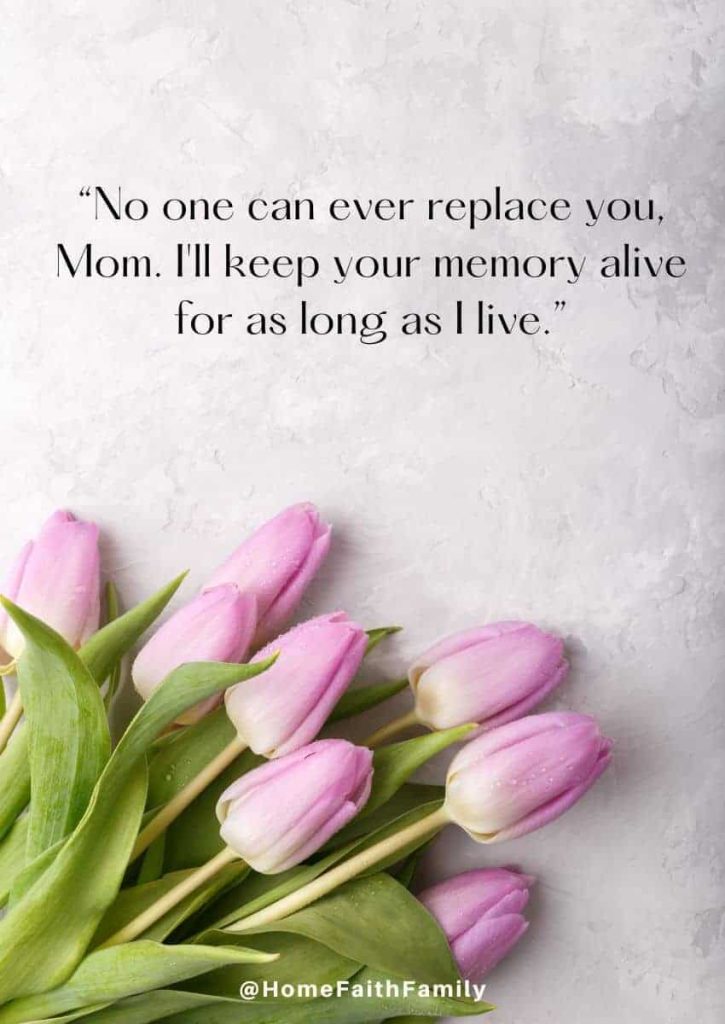 25 – "No one can ever replace you, Mom. I'll keep your memory alive for as long as I live."
26 – "Dear mother, I never got to say goodbye, so instead I must just say how much I miss you every single day."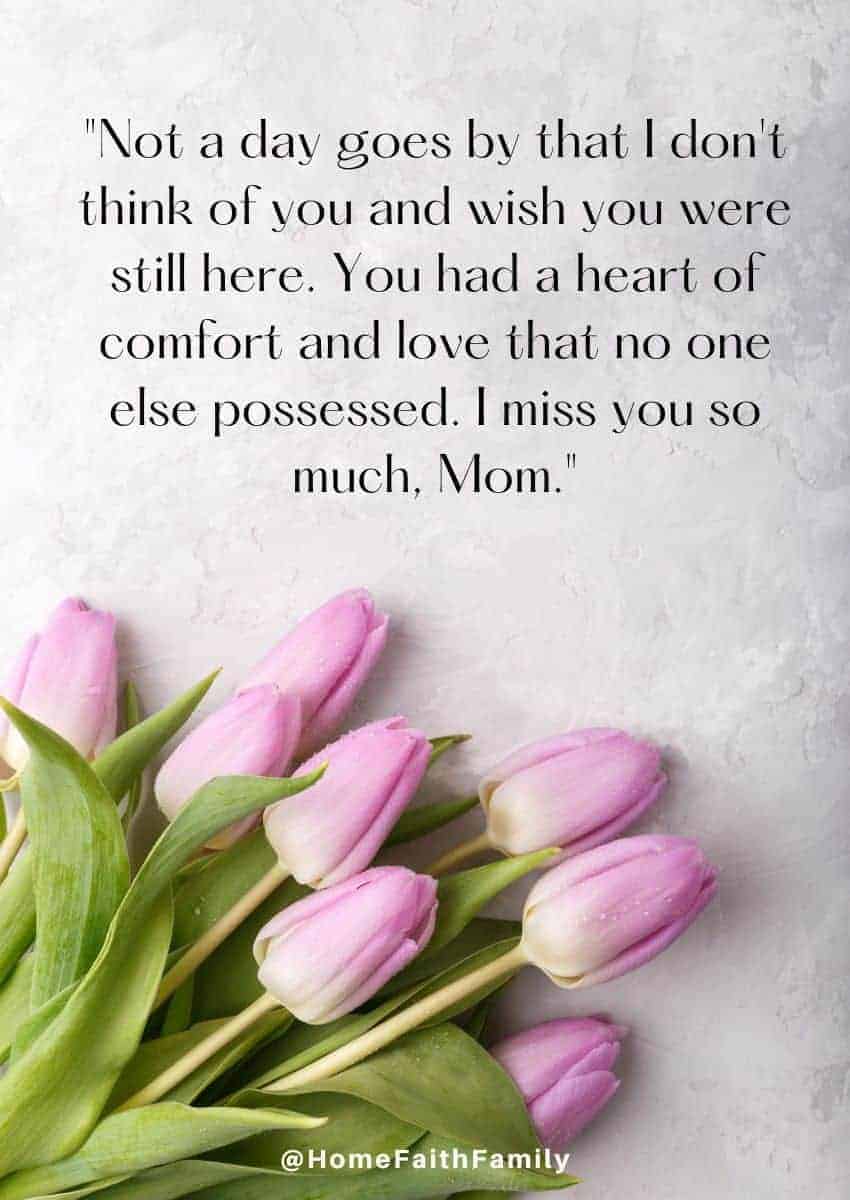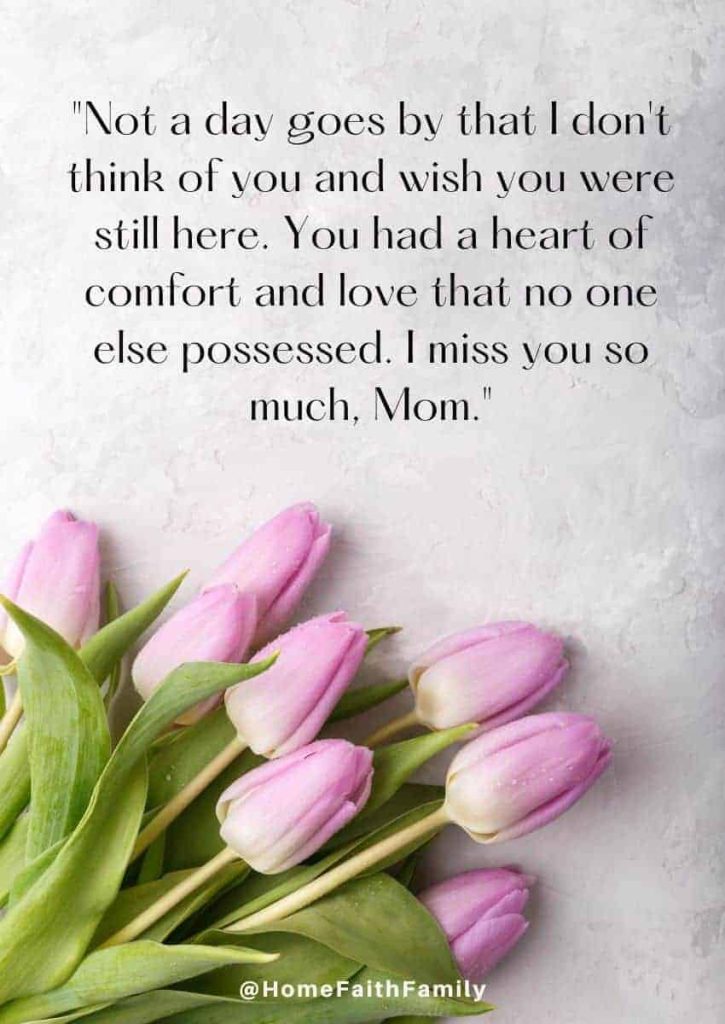 27 – "Not a day goes by that I don't think of you and wish you were still here. You had a heart of comfort and love that no one else possessed. I miss you so much, Mom."
28 – "Mom, you were the first person who ever loved me unconditionally and your never-ending song of love continues to play in my heart, even though you are no longer here."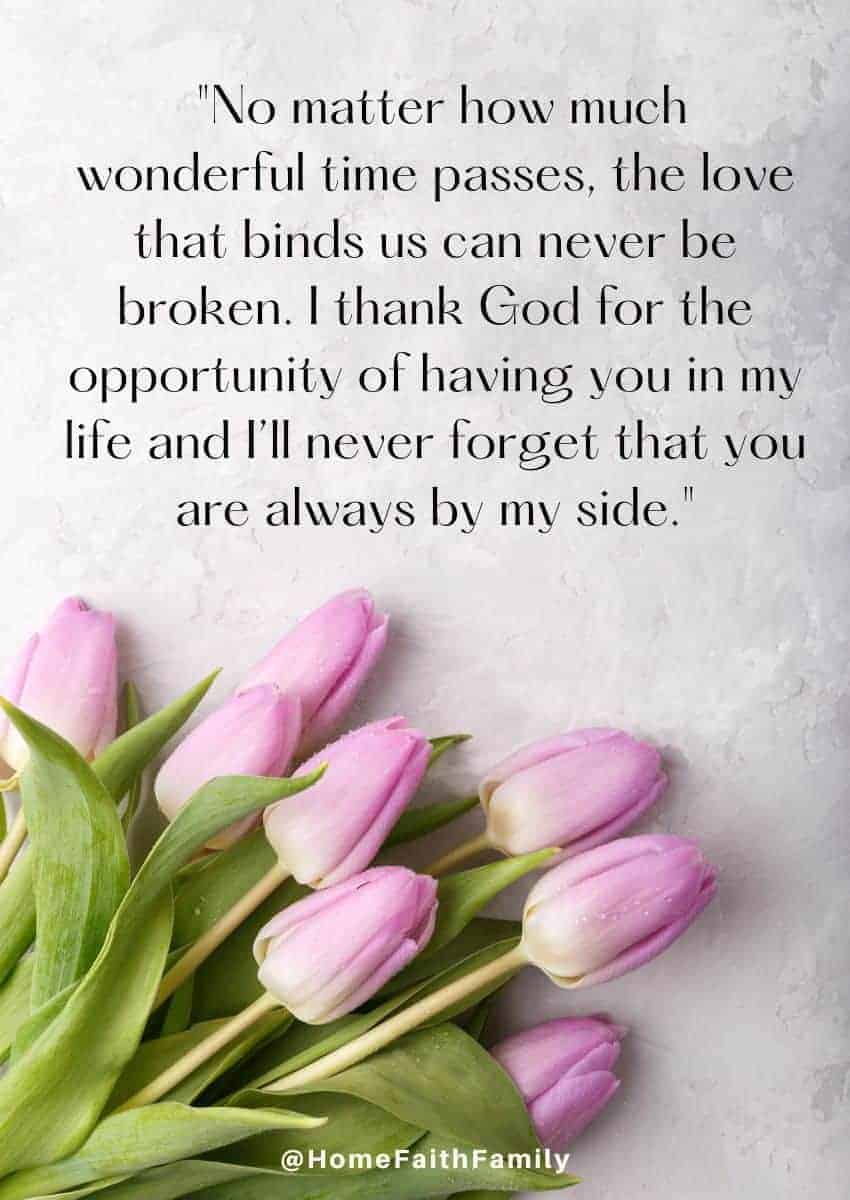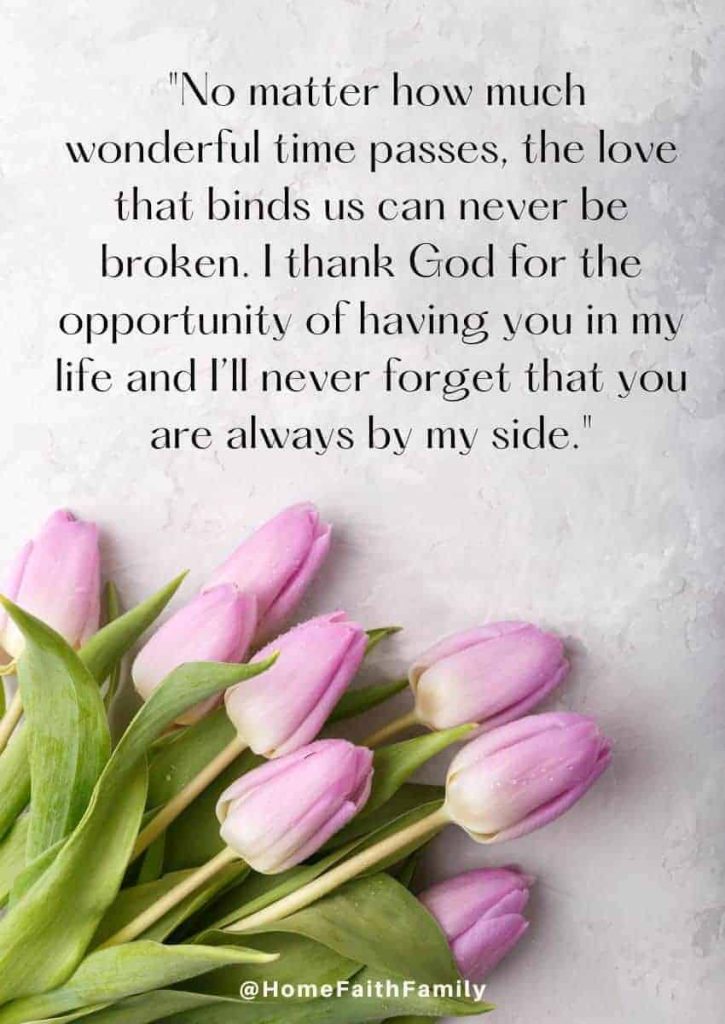 29 – "Mom, I still feel your loving presence around me. You will always be remembered and loved."
30 – "No matter how much wonderful time passes, the love that binds us can never be broken. I thank God for the opportunity of having you in my life and I'll never forget that you are always by my side."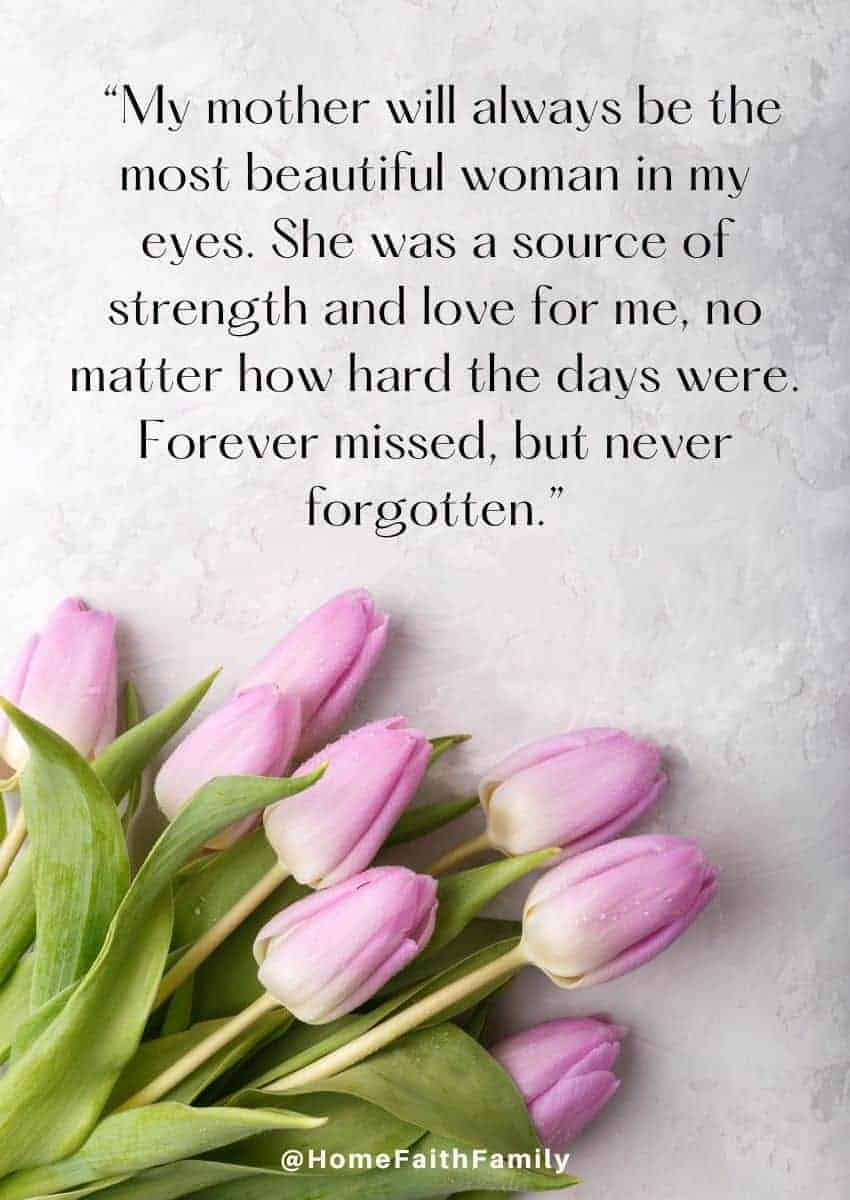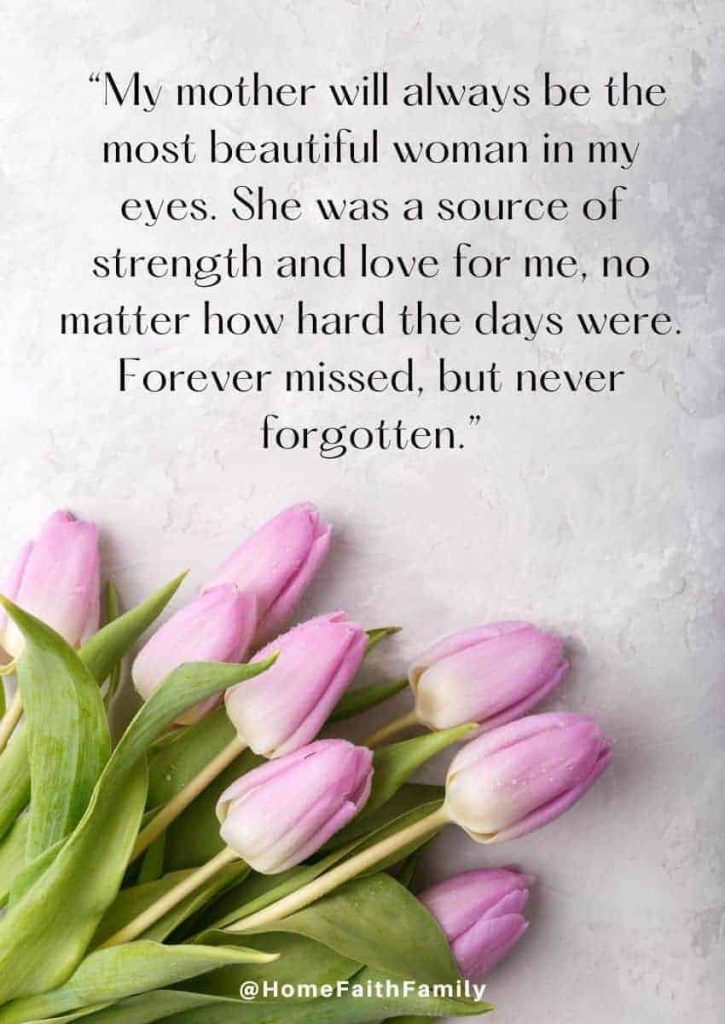 31 – "My mother will always be the most beautiful woman in my eyes. She was a source of strength and love for me, no matter how hard the days were. Forever missed, but never forgotten."
32 – "A mom's hand touches our lives in more ways than we can ever express. May you rest in peace, knowing that your hand will always be guiding us from up above."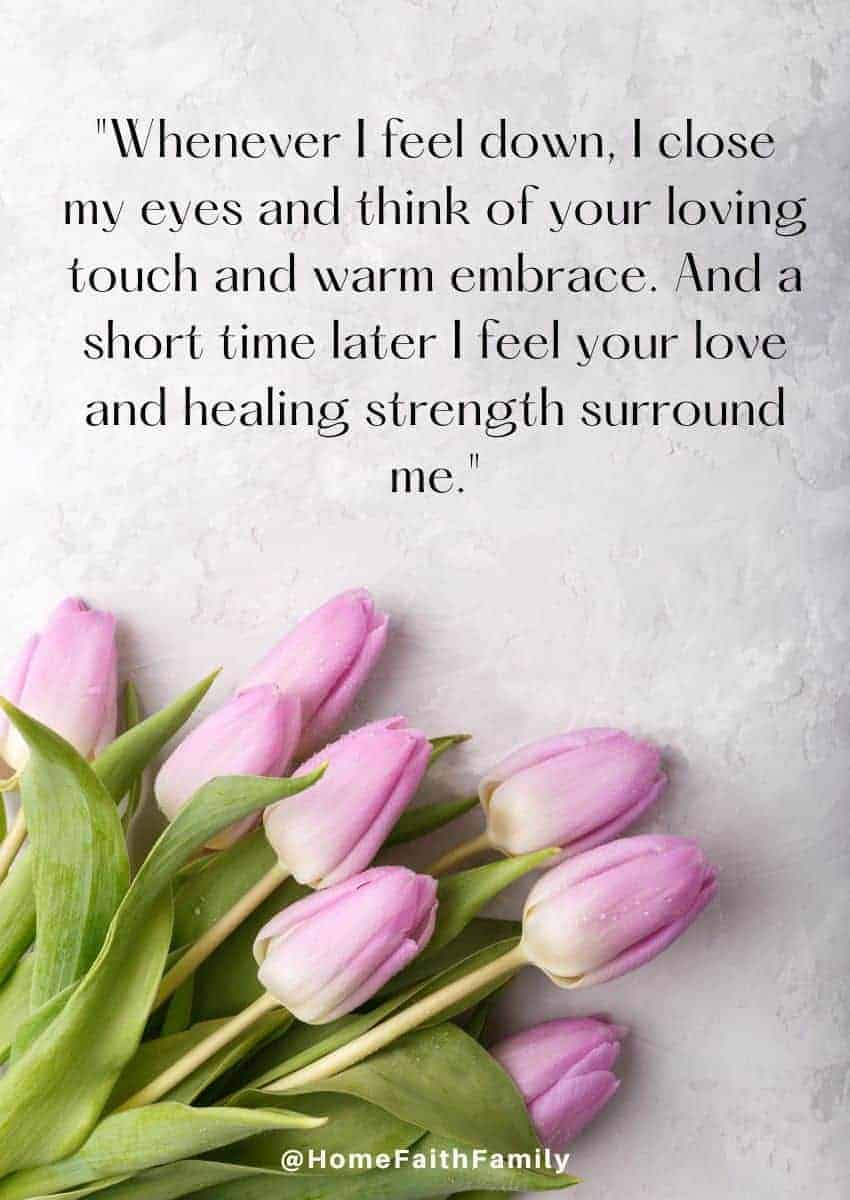 33 – "Whenever I feel down, I close my eyes and think of your loving touch and warm embrace. And a short time later I feel your love and healing strength surround me."
34 – "I may not be able to hear your voice or see your smile anymore but I know you are still with me from above. My love for you will never die."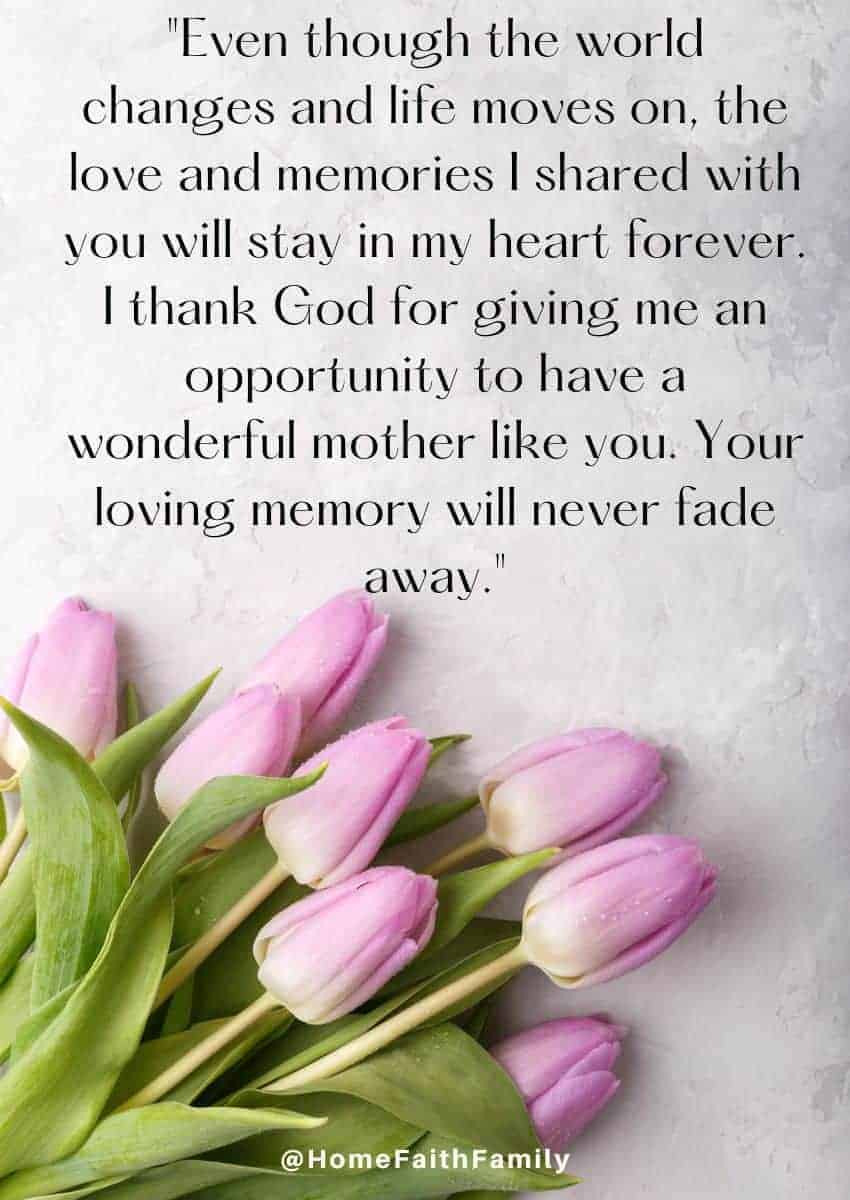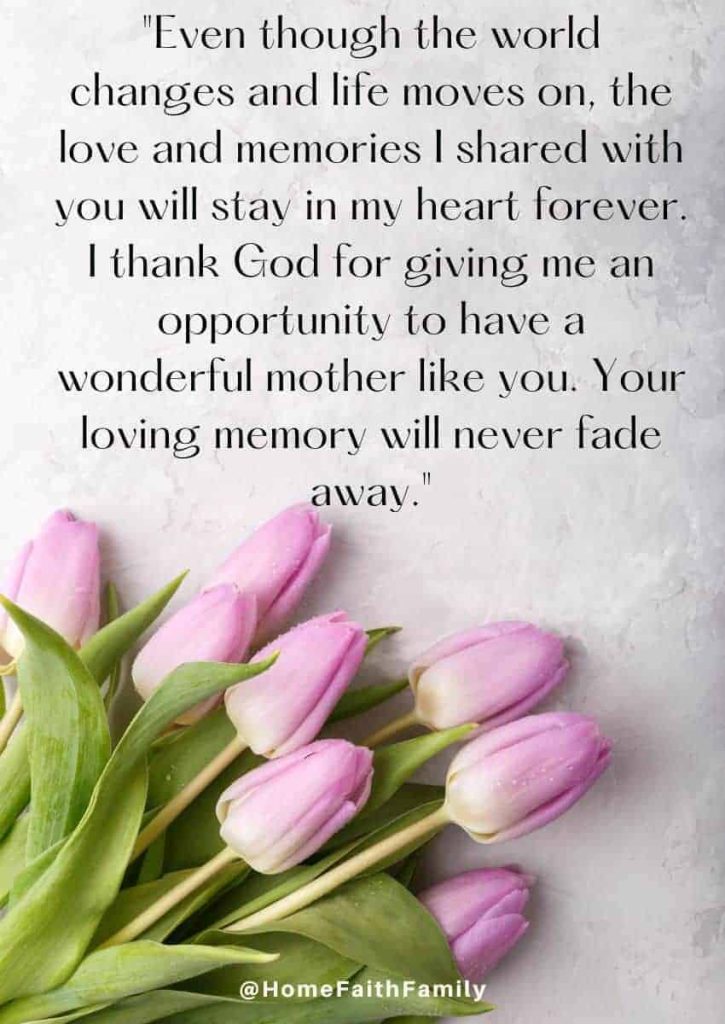 35 – "Even though the world changes and life moves on, the love and memories I shared with you will stay in my heart forever. I thank God for giving me an opportunity to have a wonderful mother like you. Your loving memory will never fade away."
36 – "On this Mother's Day, I want to thank you for being the best mother anyone could have asked for. You were always there with a smile, kind words and lots of love. Even though you are no longer here, your memory will last forever."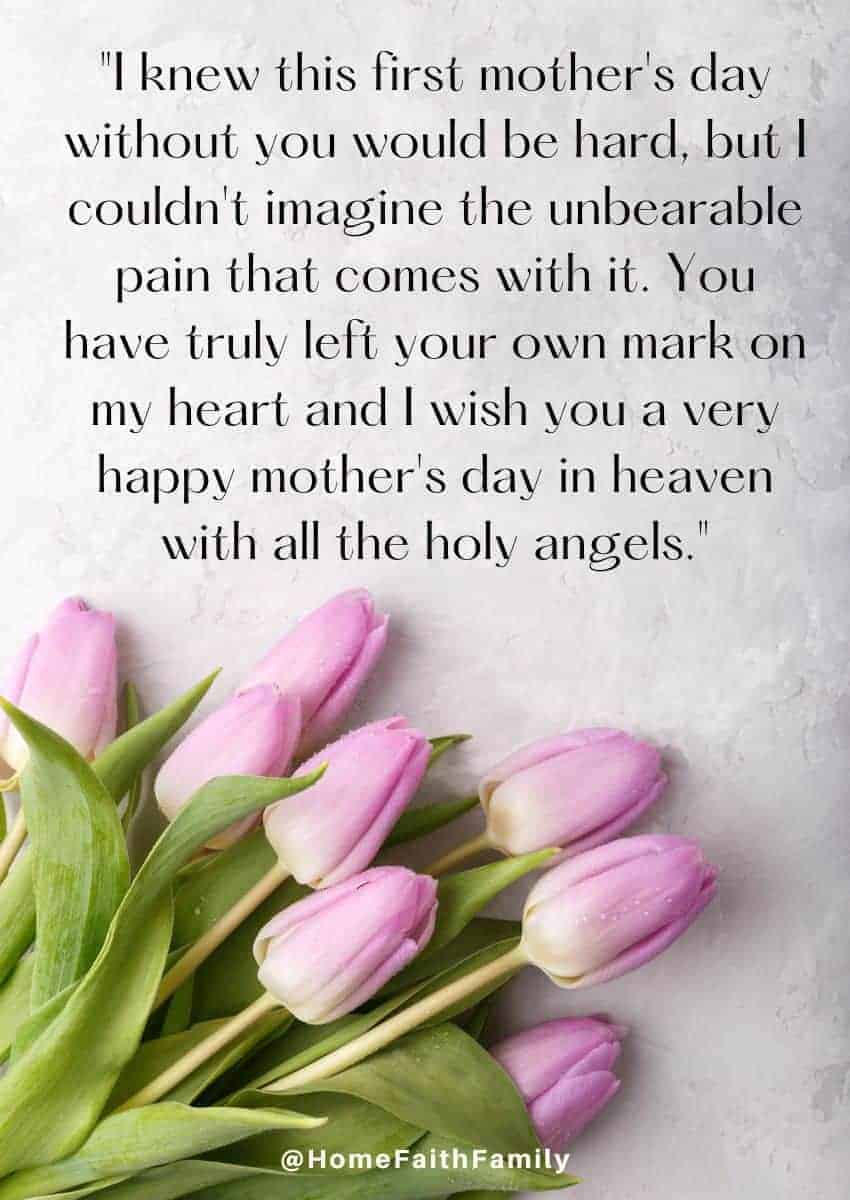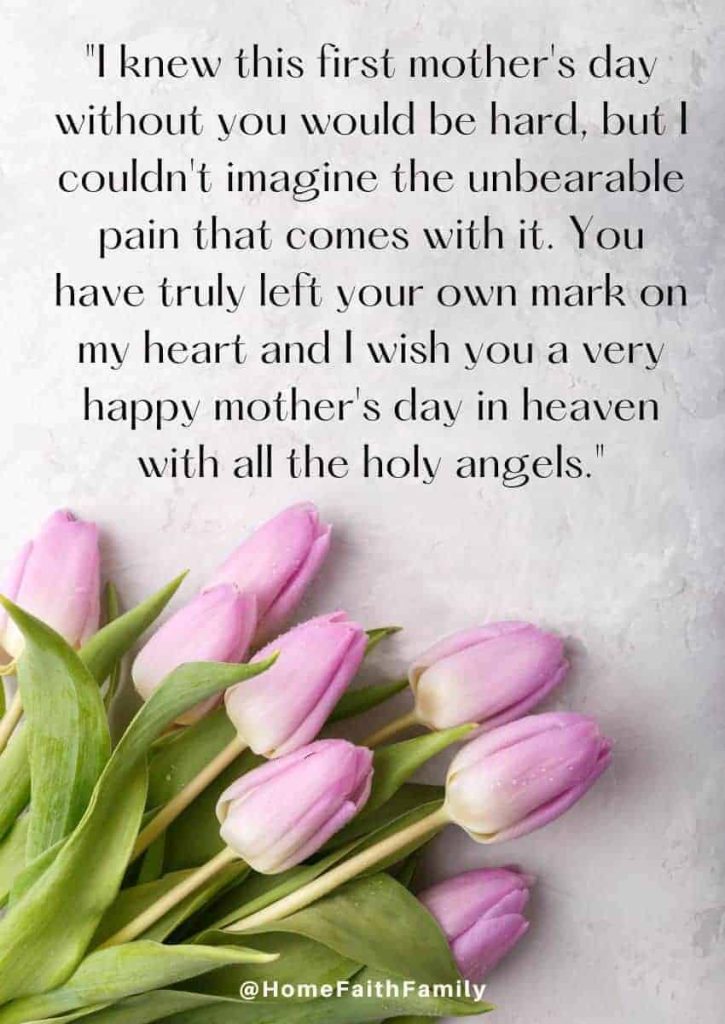 First Mother's Day Without Mom Quotes
If this is your first sorrow day without your mother, the following quotes are intended to bring you comfort during this difficult time.
37 – "There is something about losing a mother that is permanent and inexpressible – a wound that will never quite heal." – Susan Wiggs
38 – "I knew this first mother's day without you would be hard, but I couldn't imagine the unbearable pain that comes with it. You have truly left your own mark on my heart and I wish you a very happy mother's day in heaven with all the holy angels.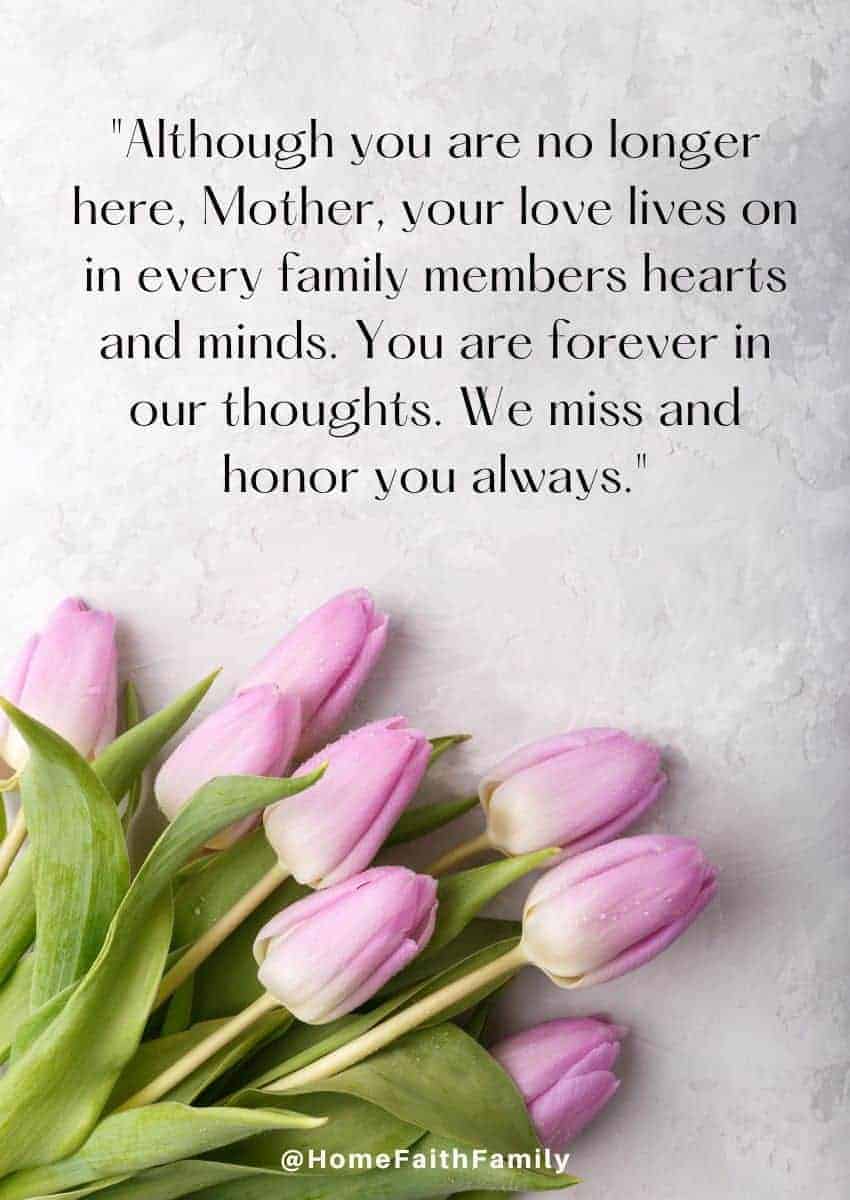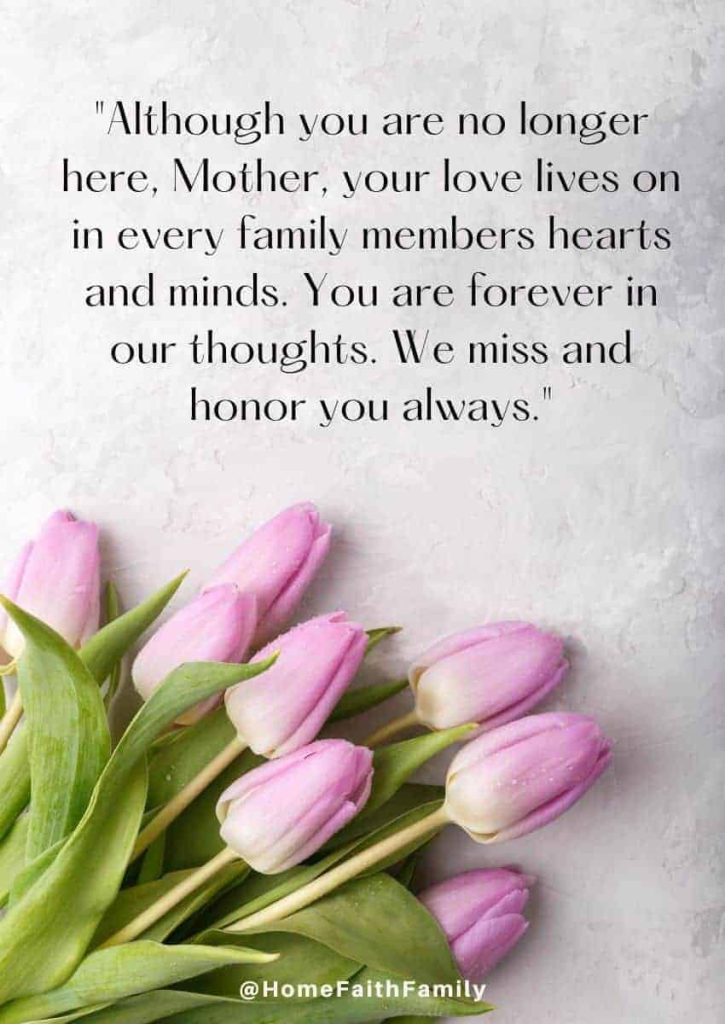 39 – "Although you are no longer here, Mother, your love lives on in every family members hearts and minds. You are forever in our thoughts. We miss and honor you always."
40 – "You hold a special place in our hearts. We will always cherish the memories and love you shared with us. May you rest in peace, Mom. Thank you for being a guiding light to me and so many others."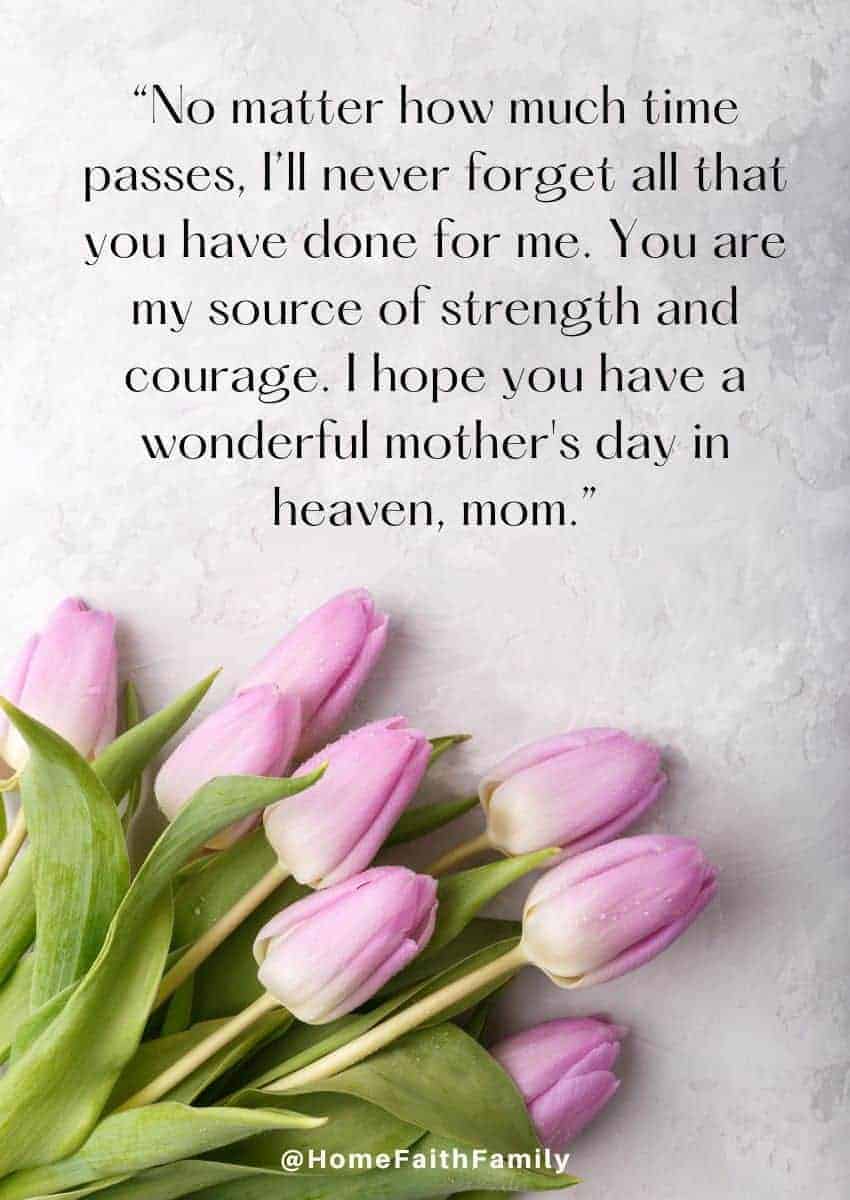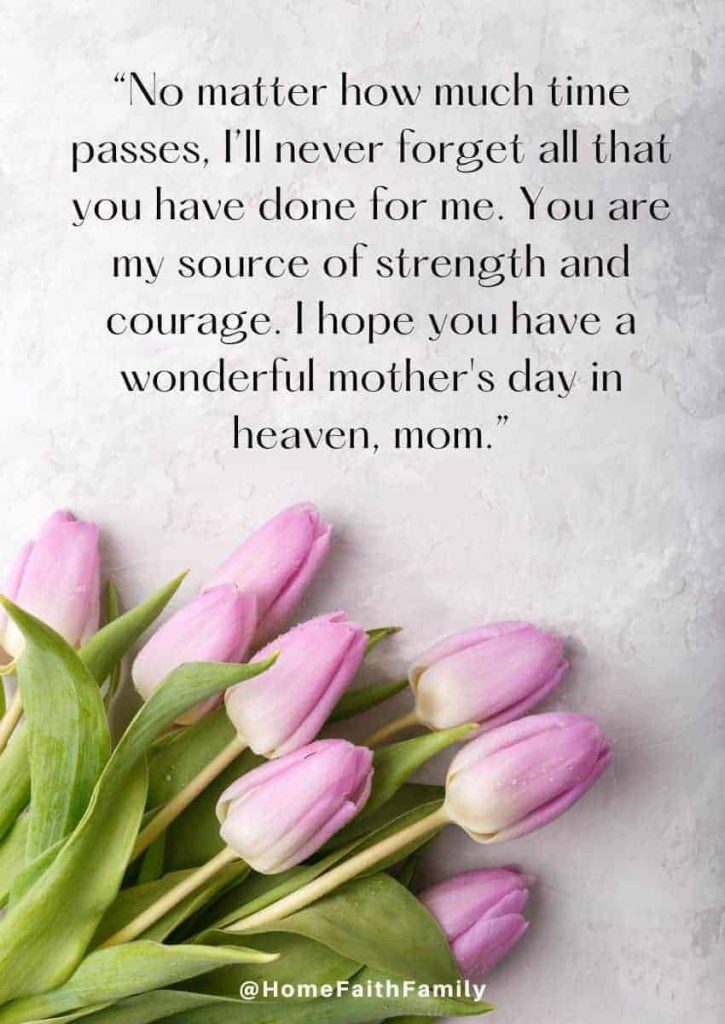 41 – "No matter how much time passes, I'll never forget all that you have done for me. You are my source of strength and courage. I hope you have a wonderful mother's day in heaven, mom."
42 – "The best way to remember a mother that has passed is by carrying on her legacy. Your love and compassion still touches me every day. You are forever in my heart, Mom."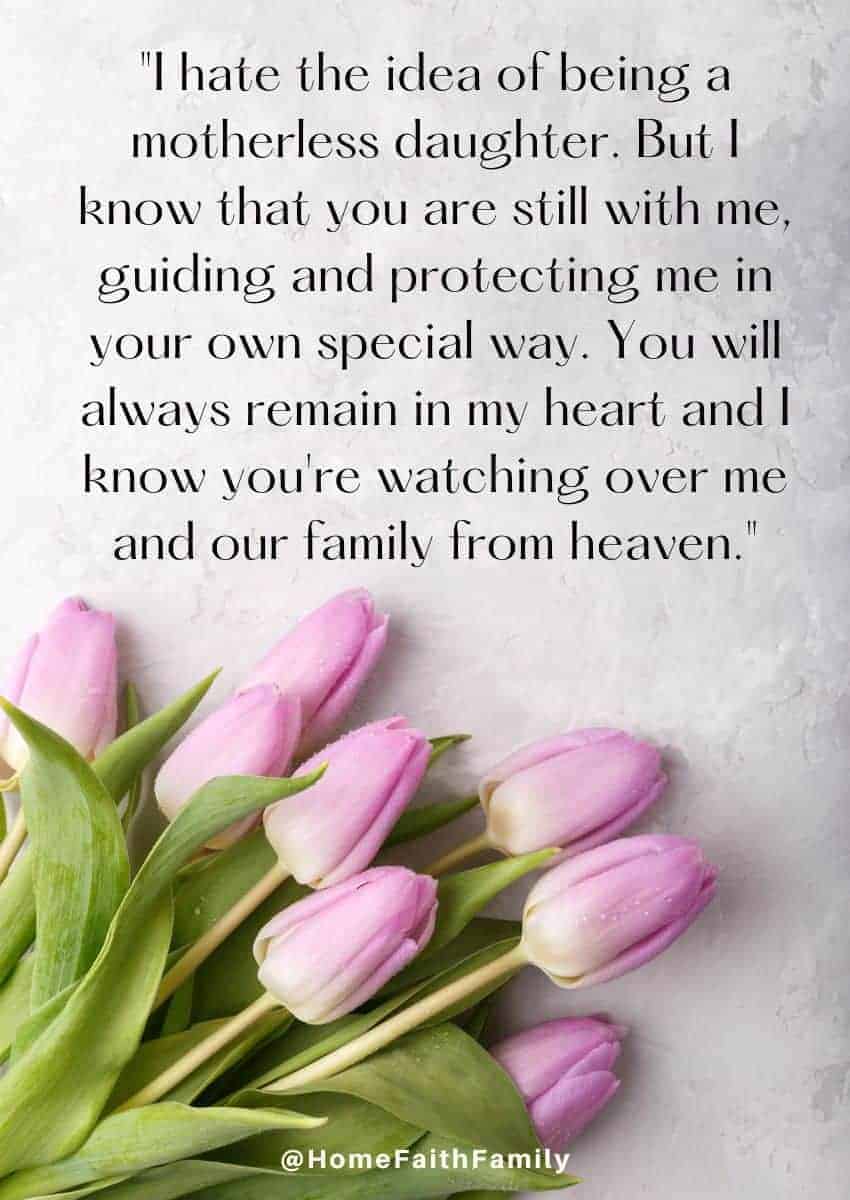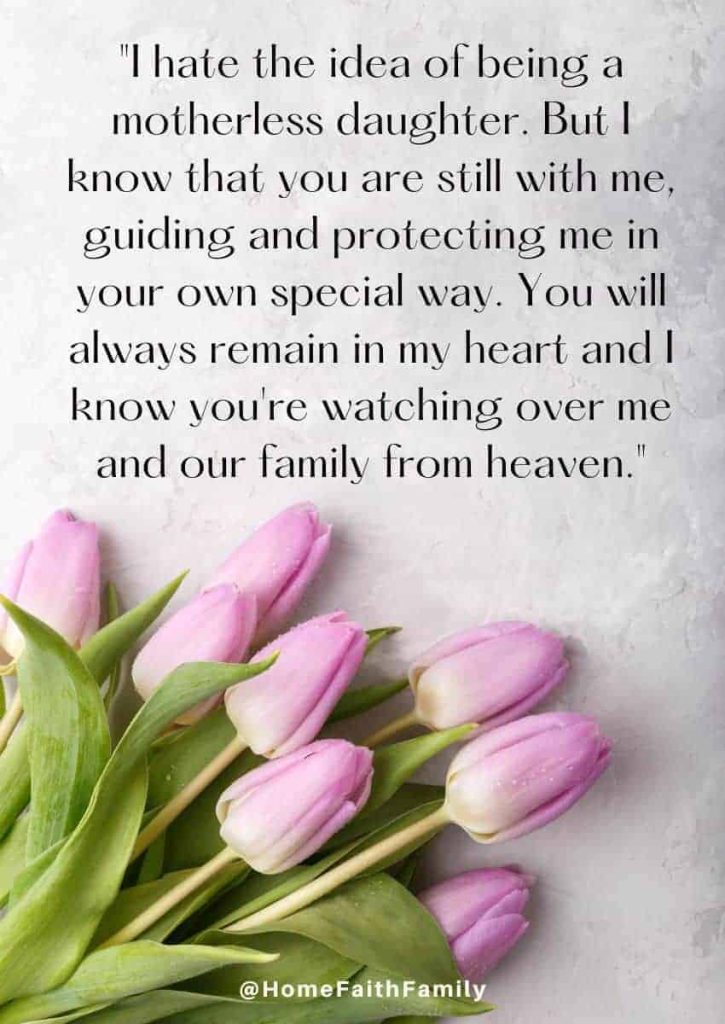 43 – "I hate the idea of being a motherless daughter. But I know that you are still with me, guiding and protecting me in your own special way. You will always remain in my heart and I know you're watching over me and our family from heaven."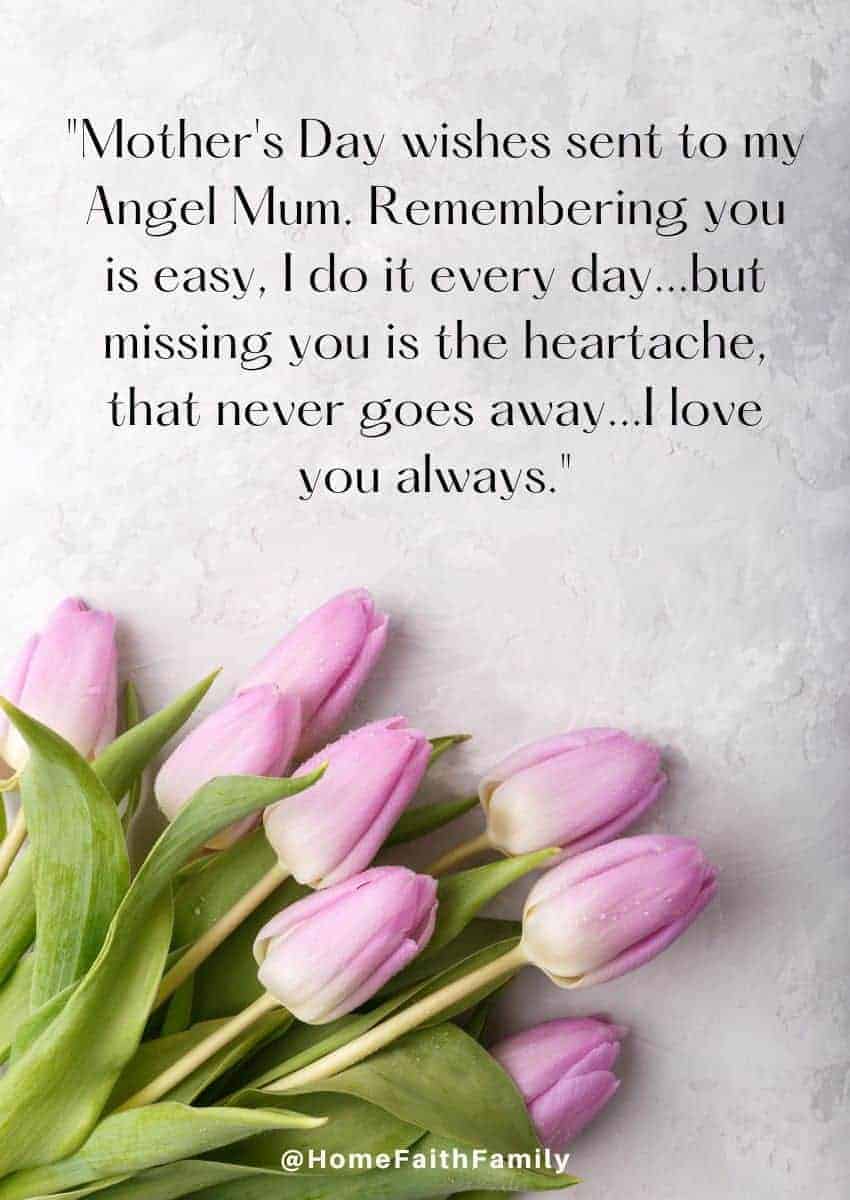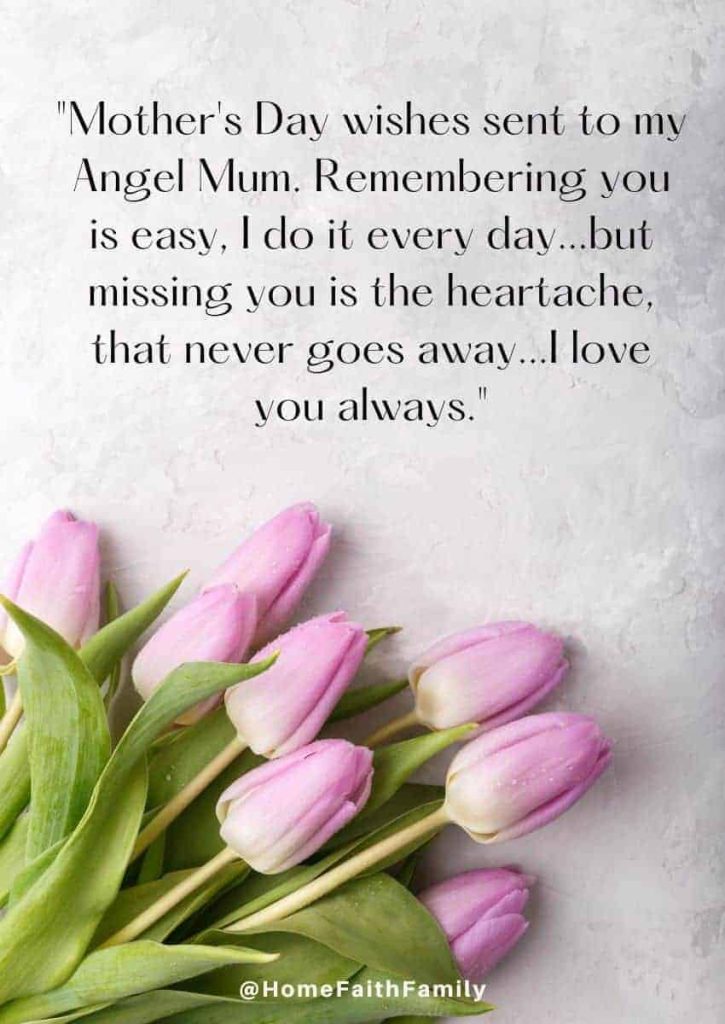 Emotional Mother's Day In Heaven Quotes
Even though this Mother's Day is hard, I still hope these mother's day messages are of comfort to you.
44 – "Mother's Day wishes sent to my Angel Mum. Remembering you is easy, I do it every day…but missing you is the heartache, that never goes away…I love you always."
45 – "You don't go around grieving all the time, but the grief is still there and always will be." – Nigella Lawson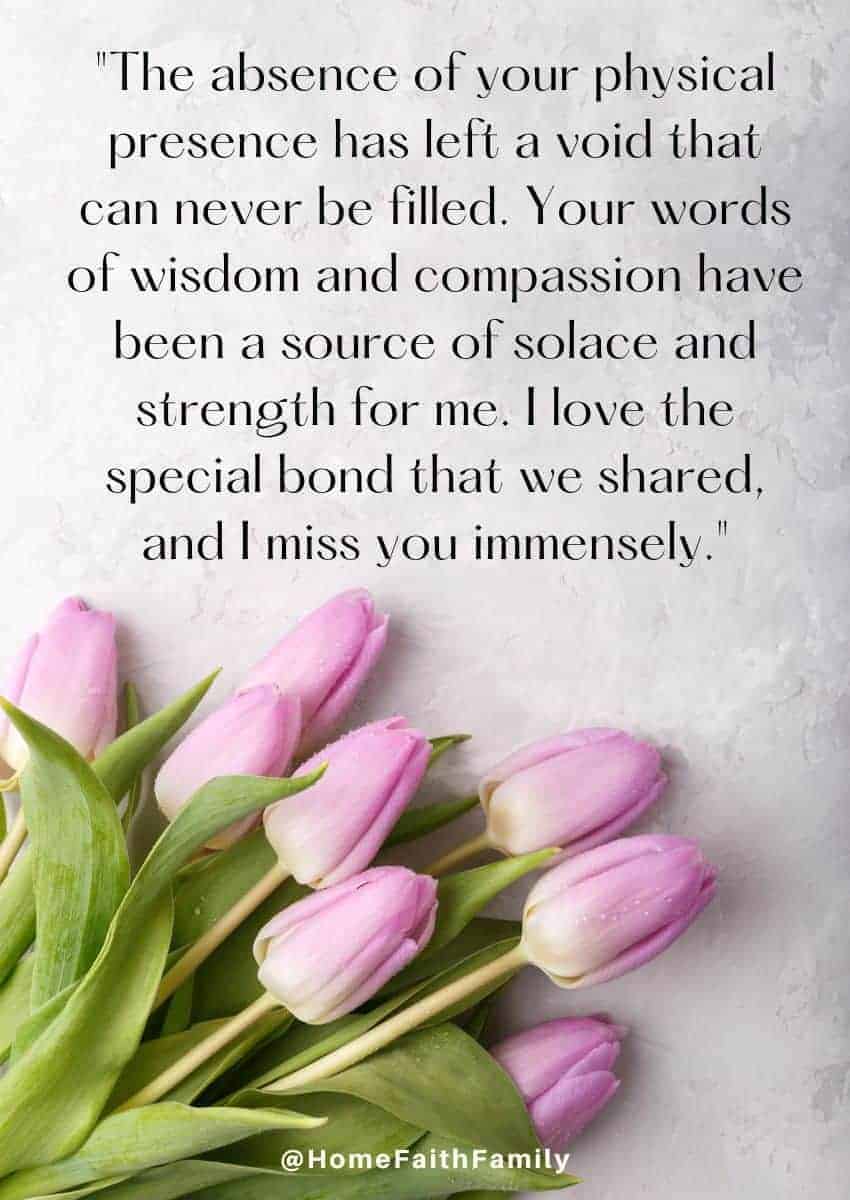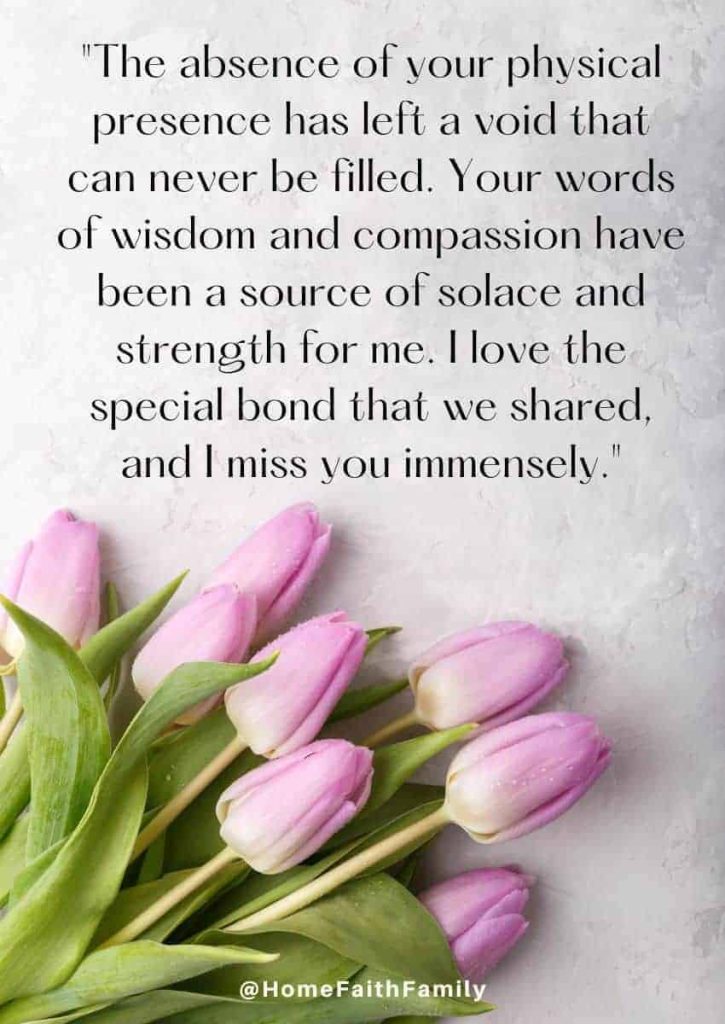 46 – "The absence of your physical presence has left a void that can never be filled. Your words of wisdom and compassion have been a source of solace and strength for me. I love the special bond that we shared, and I miss you immensely."
47 – "Thinking of you on this day makes me smile through my tears. I'll never forget your unconditional love, and the joy you brought to our family. Happy Mother's Day in heaven Mom."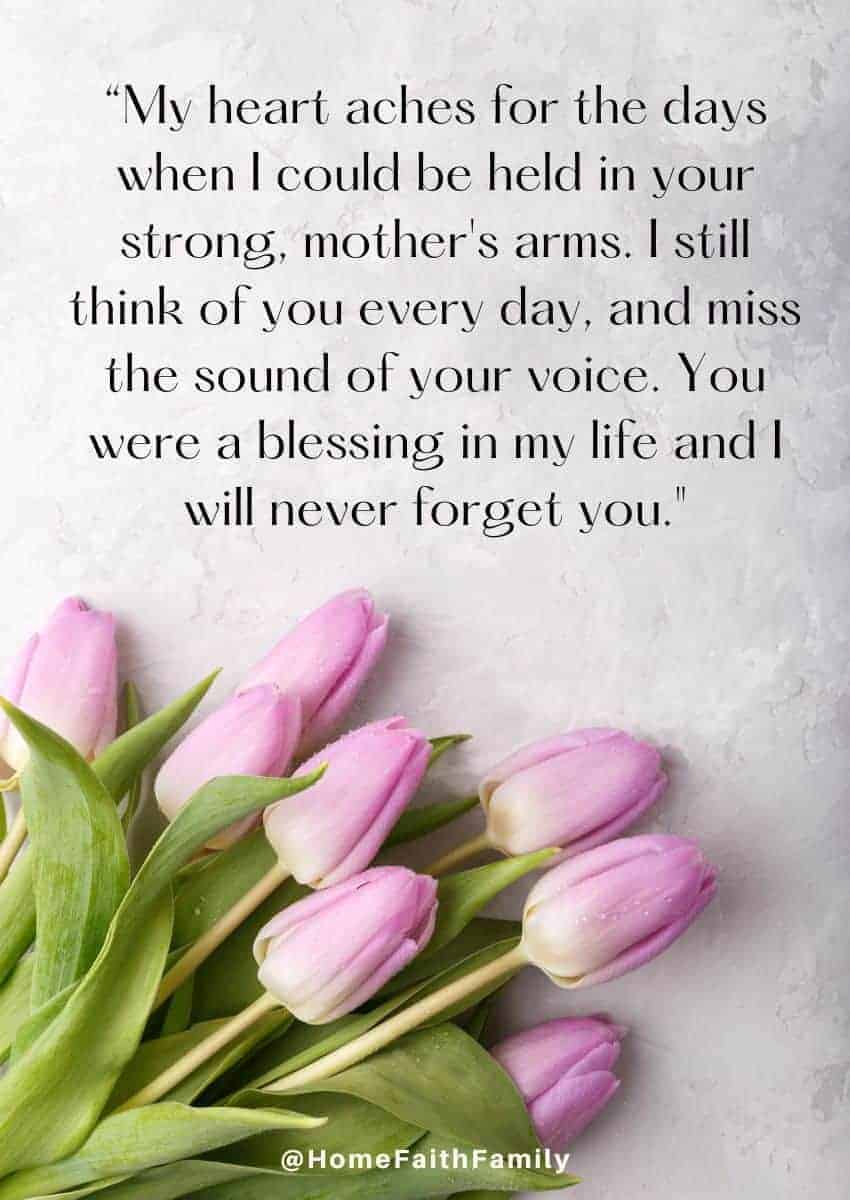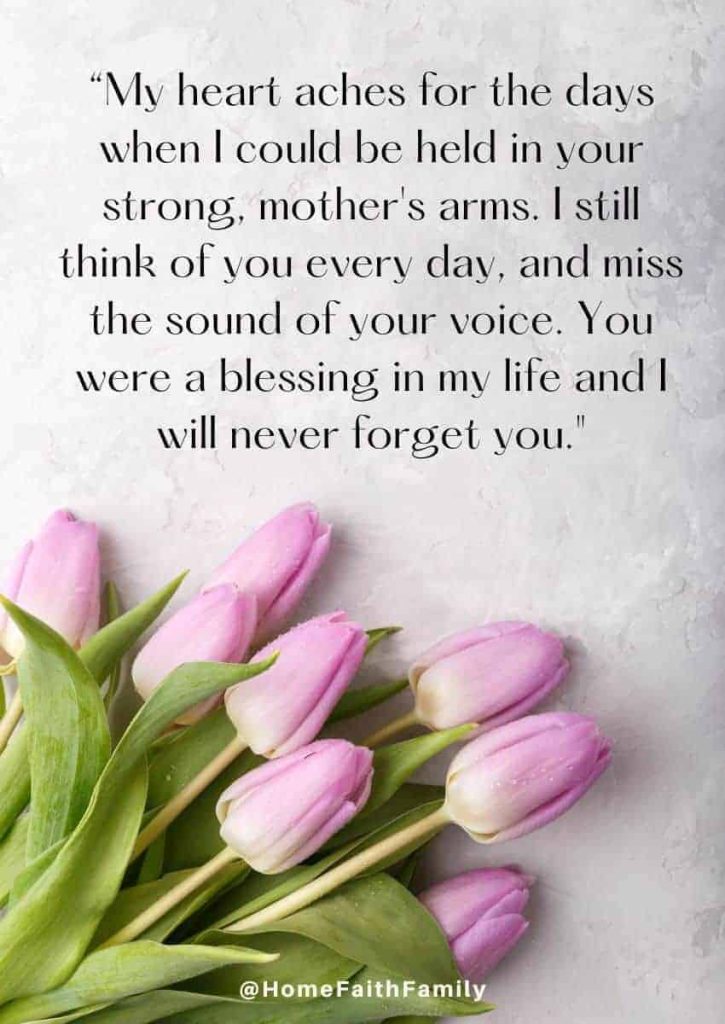 48 – "My heart aches for the days when I could be held in your strong, mother's arms. I still think of you every day, and miss the sound of your voice. You were a blessing in my life and I will never forget you."
49 – "My heart is heavy today, knowing that I can't celebrate this day with you by my side. But I hope that wherever you are, you know how much you are loved and missed."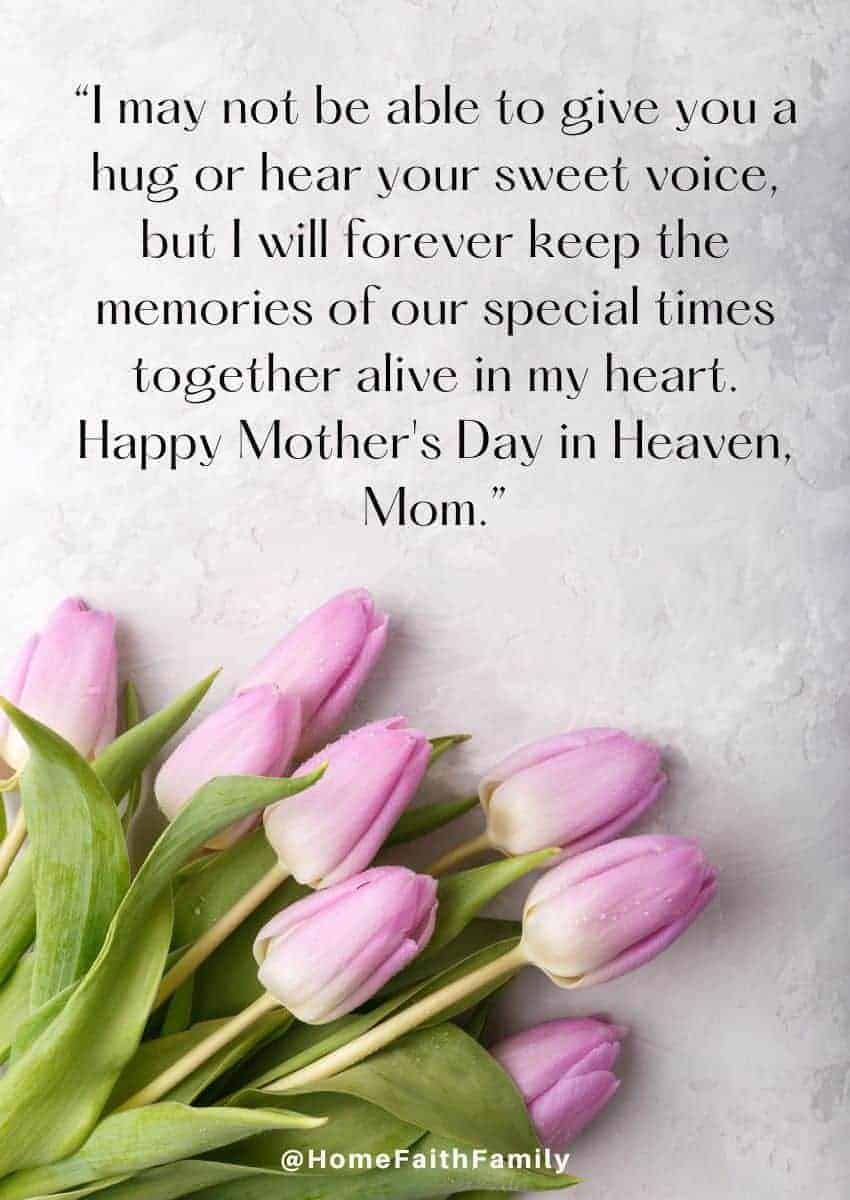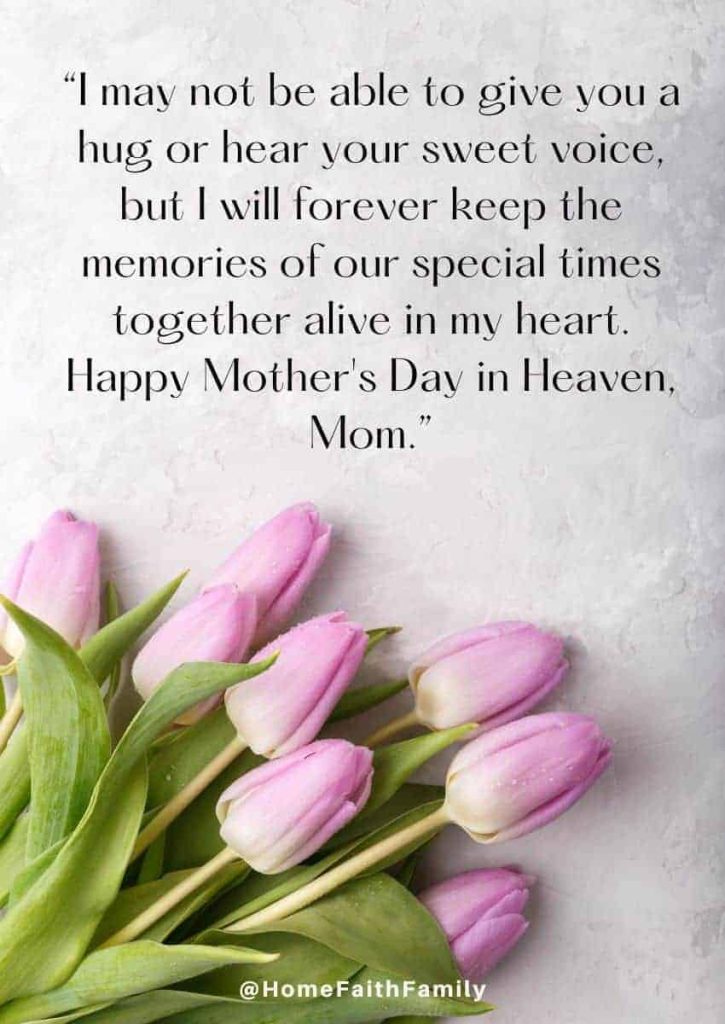 50 – "I may not be able to give you a hug or hear your sweet voice, but I will forever keep the memories of our special times together alive in my heart. Happy Mother's Day in Heaven, Mom."
51 – "Today could be a day of mourning or a day of celebration. For mourning because you have been taken home to that God who gave you life. A day of celebration because you're no longer in pain. Yet, a mother's death is never easy."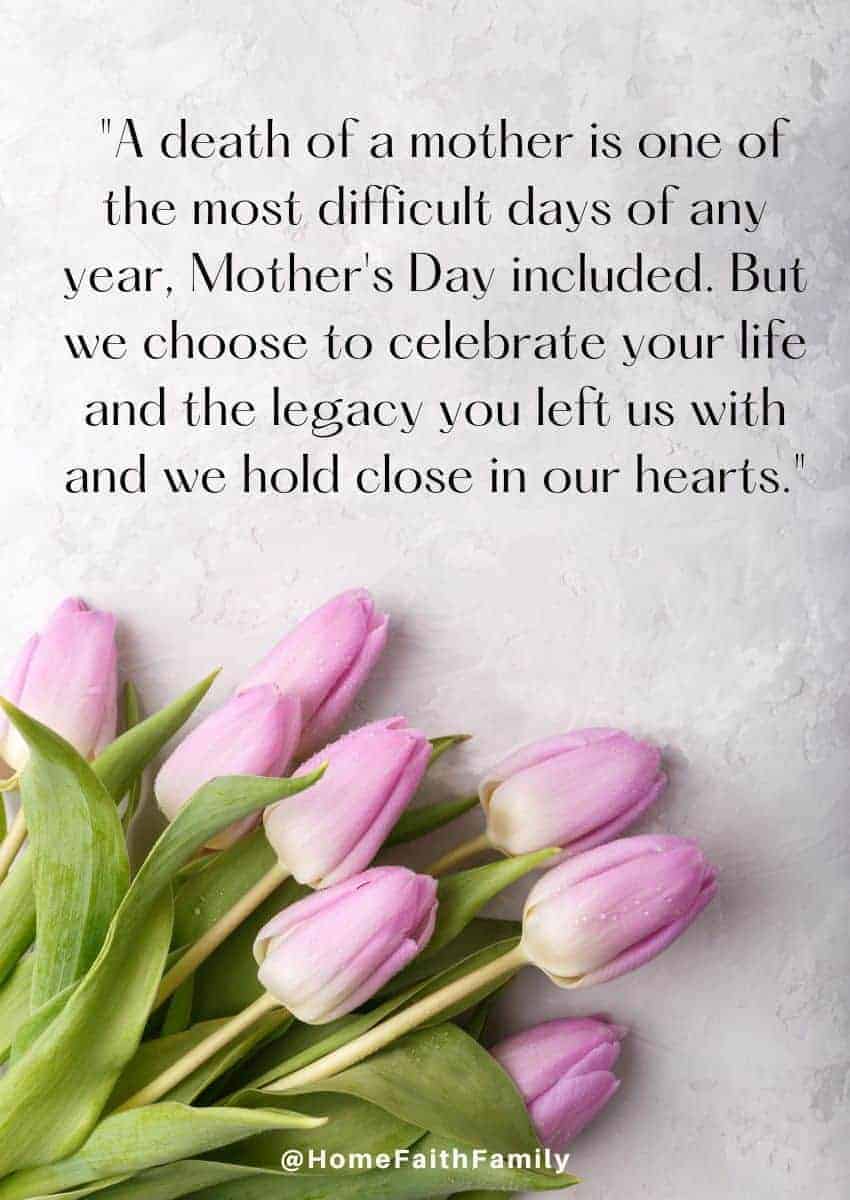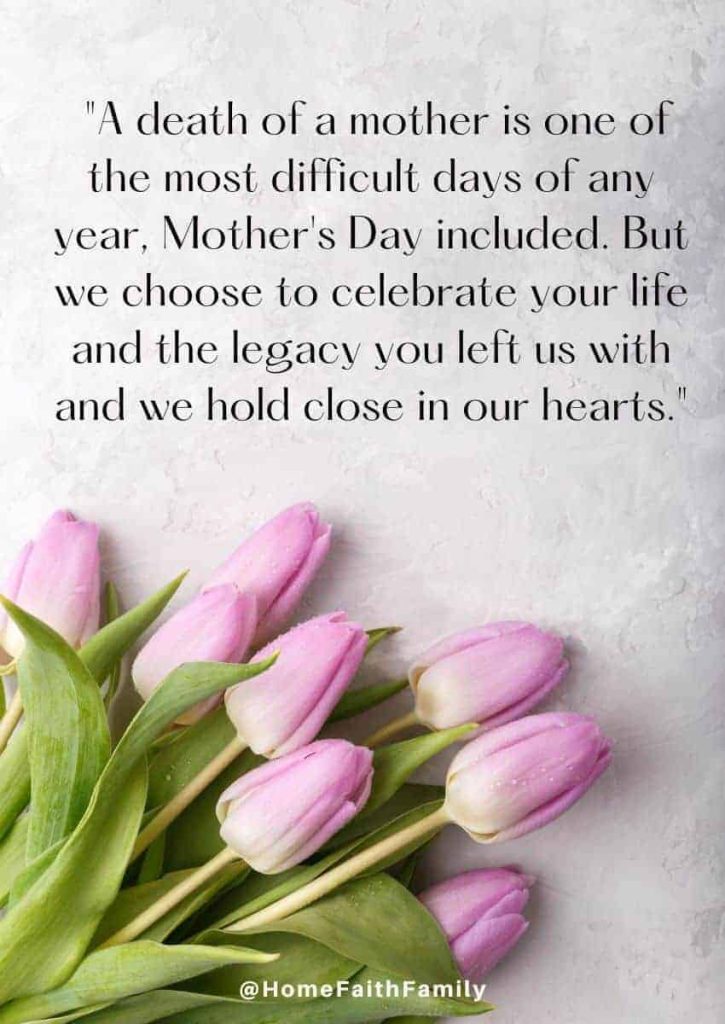 52 – "A death of a mother is one of the most difficult days of any year, Mother's Day included. But we choose to celebrate your life and the legacy you left us with and we hold close in our hearts."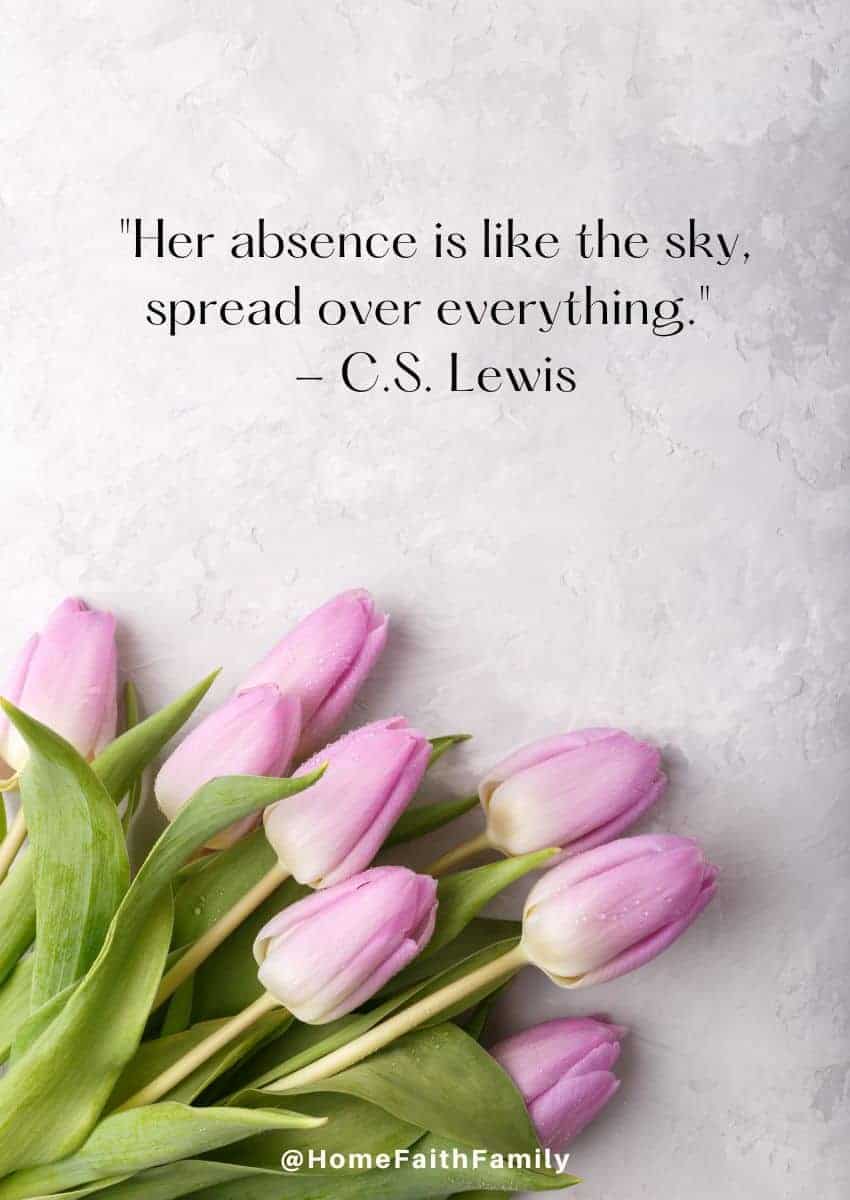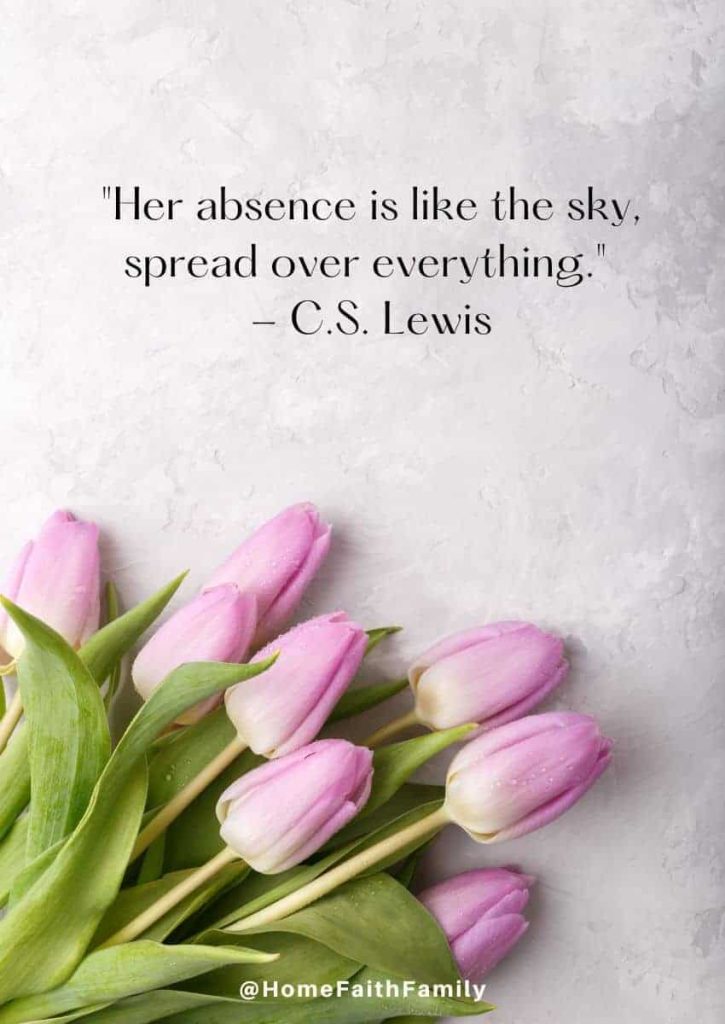 Best Missing Mom Quotes
Missing moms can be especially hard to cope with on Mother's day, when the memories of her love and care can feel more acute than usual. Here are some of the best quotes about missing a mother that will help you through this difficult
53 – "Her absence is like the sky, spread over everything." – C.S. Lewis
54 – "Unable are the loved to die, for love is immortality." – Emily Dickinson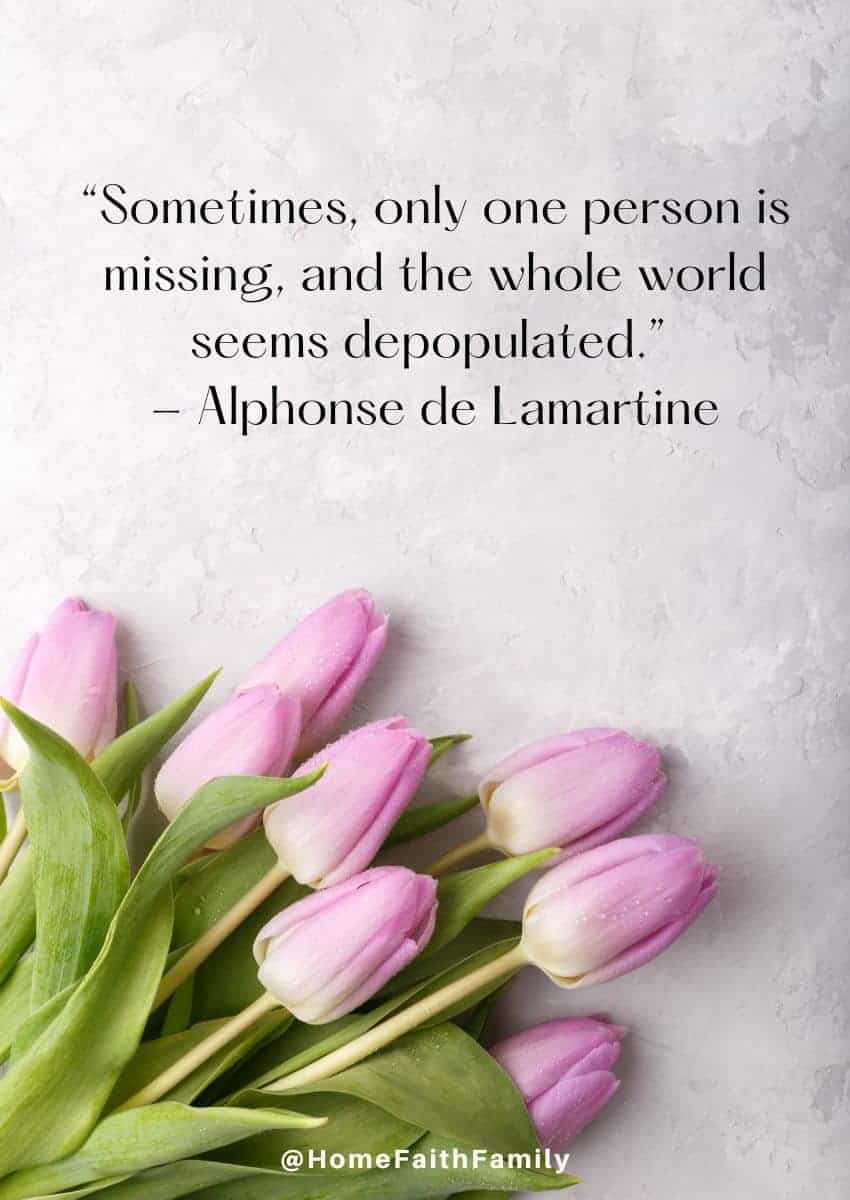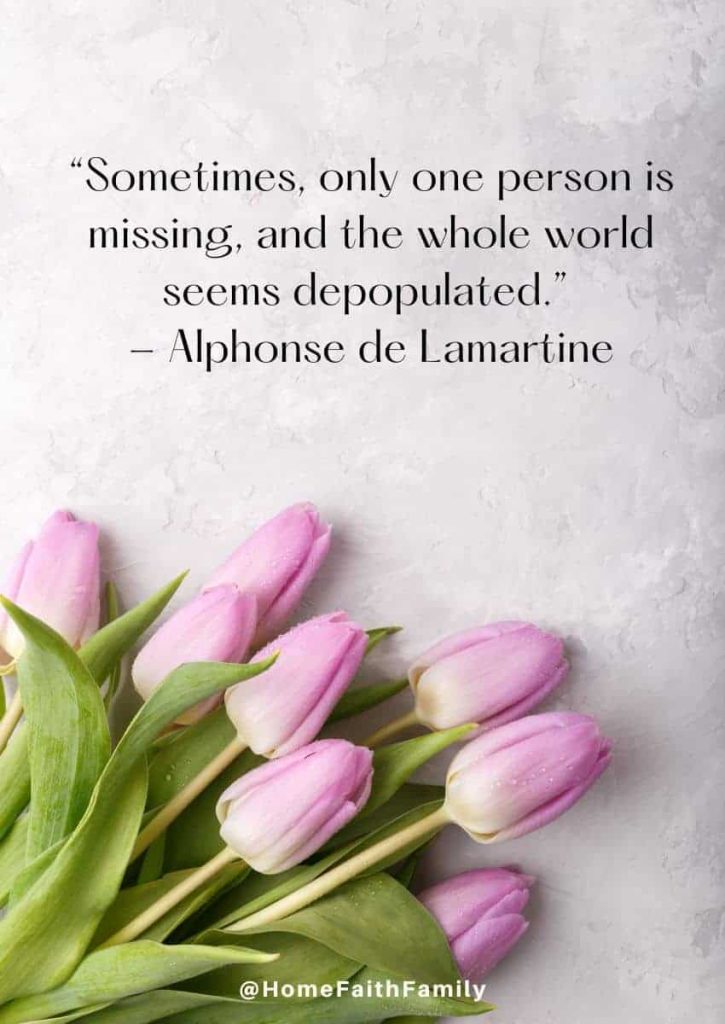 55 – "Sometimes, only one person is missing, and the whole world seems depopulated." – Alphonse de Lamartine
56 – "A difficult time can be more readily endured if we retain the conviction that our existence holds a purpose – a cause to pursue, a person to love, a goal to achieve." – John Maxwell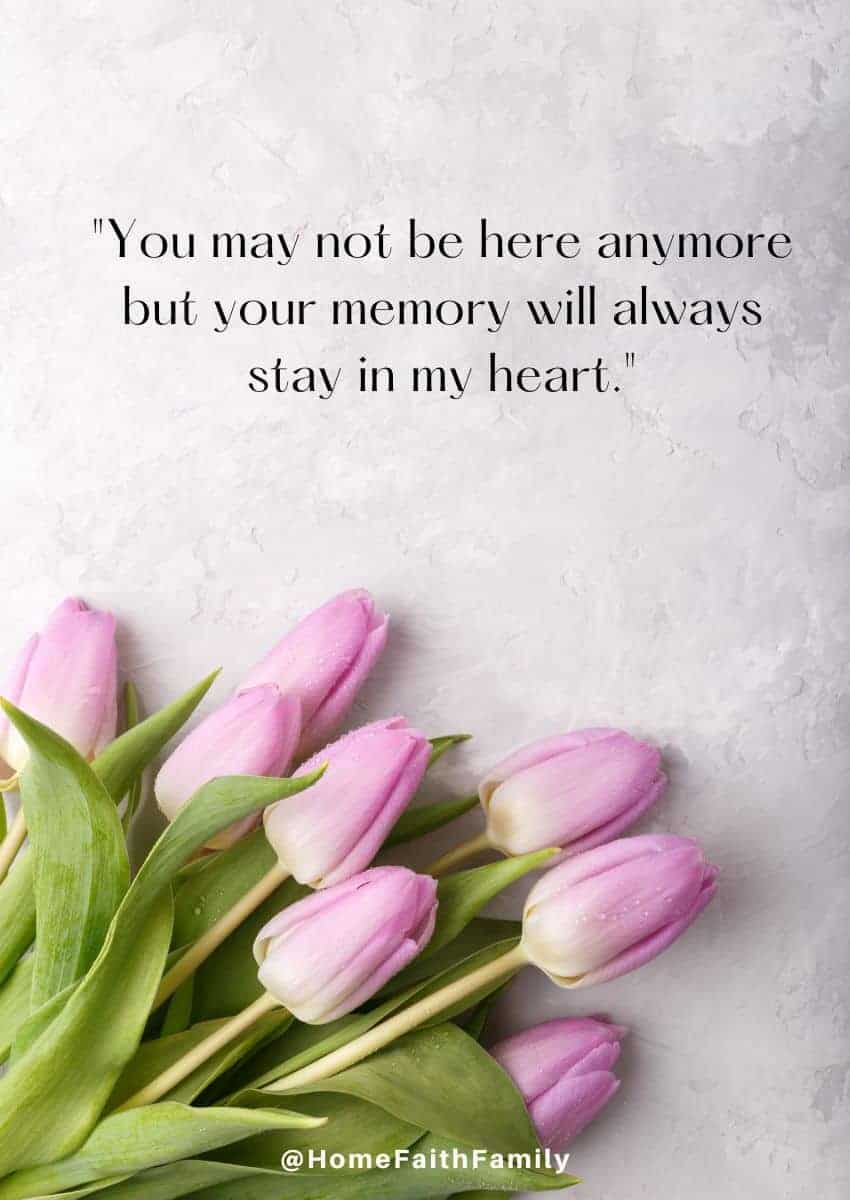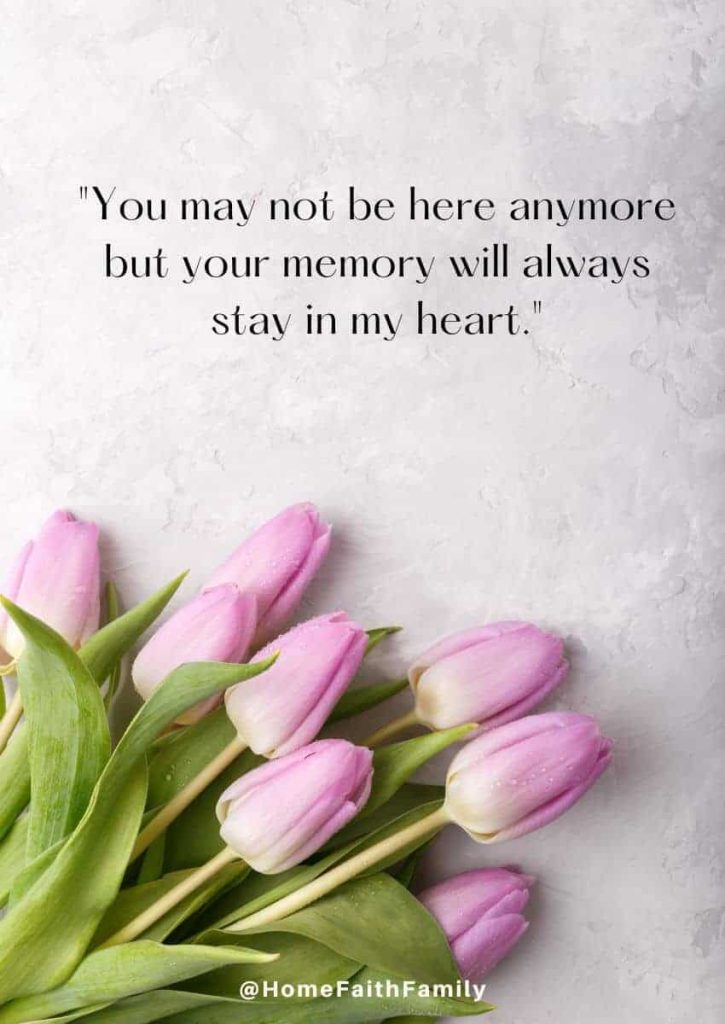 57 – "You may not be here anymore but your memory will always stay in my heart."
58 – "Dearest mother, you will always be missed."
59 – "The best gift is to remember you, mom."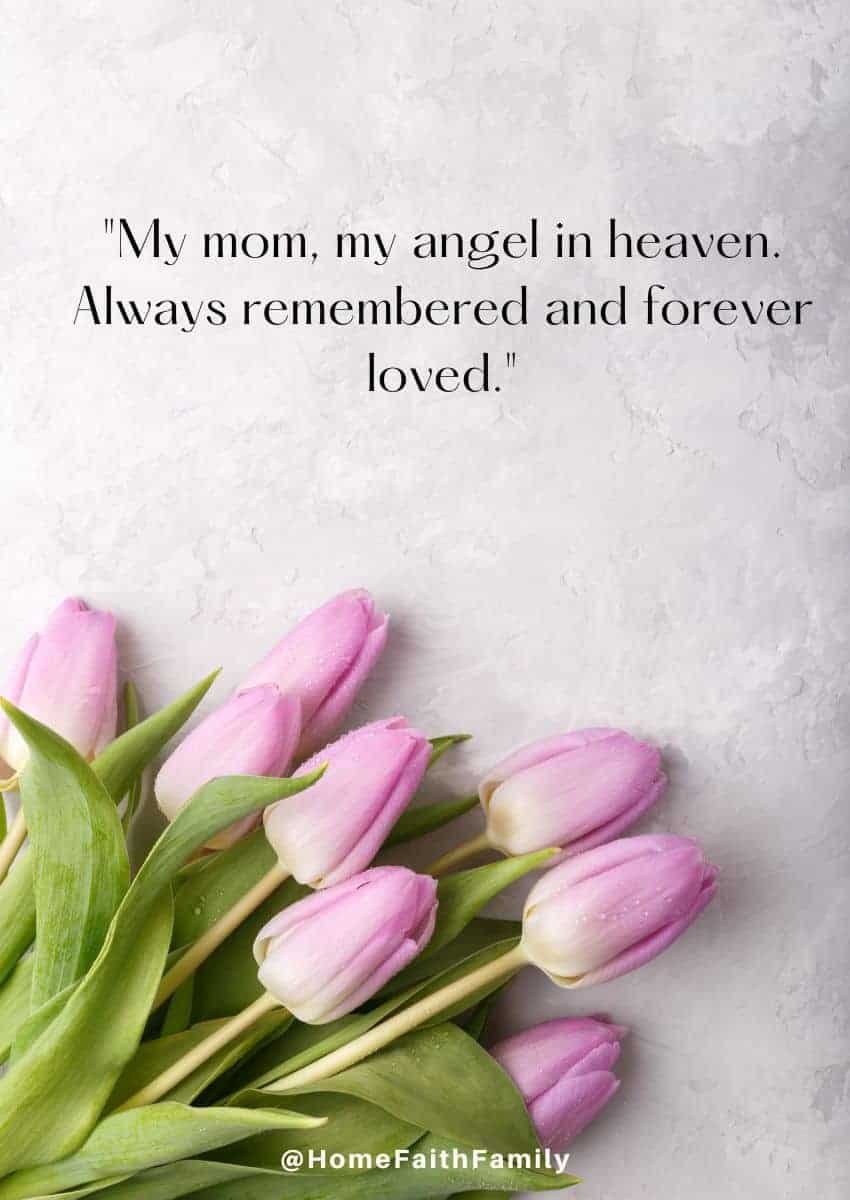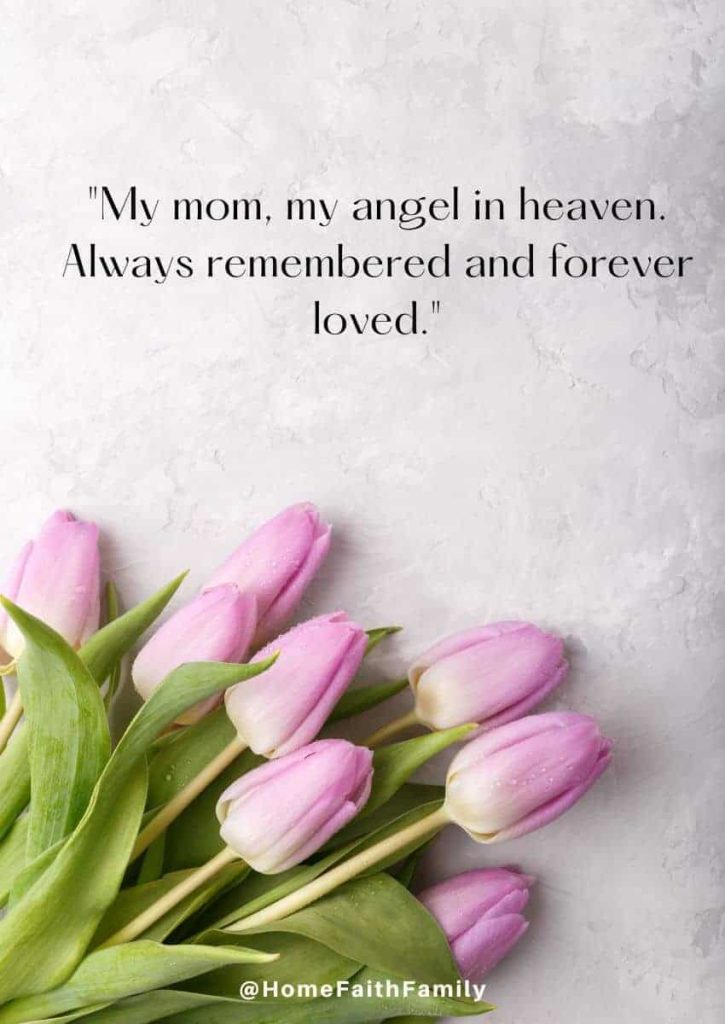 60 – "My mom, my angel in heaven. Always remembered and forever loved."
61 – "You are the beat of my heart and the love that lives on forever."
62 – "I can't hug you today, but I feel your love in my heart."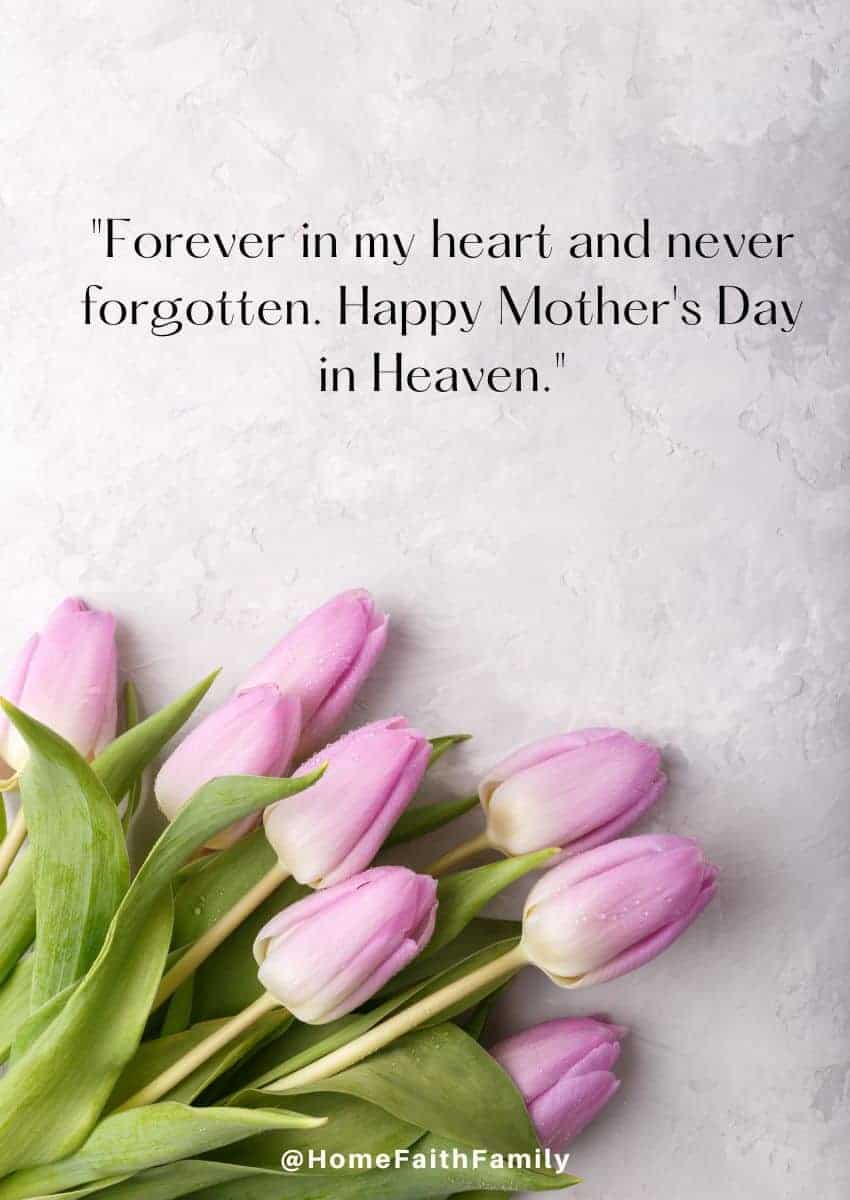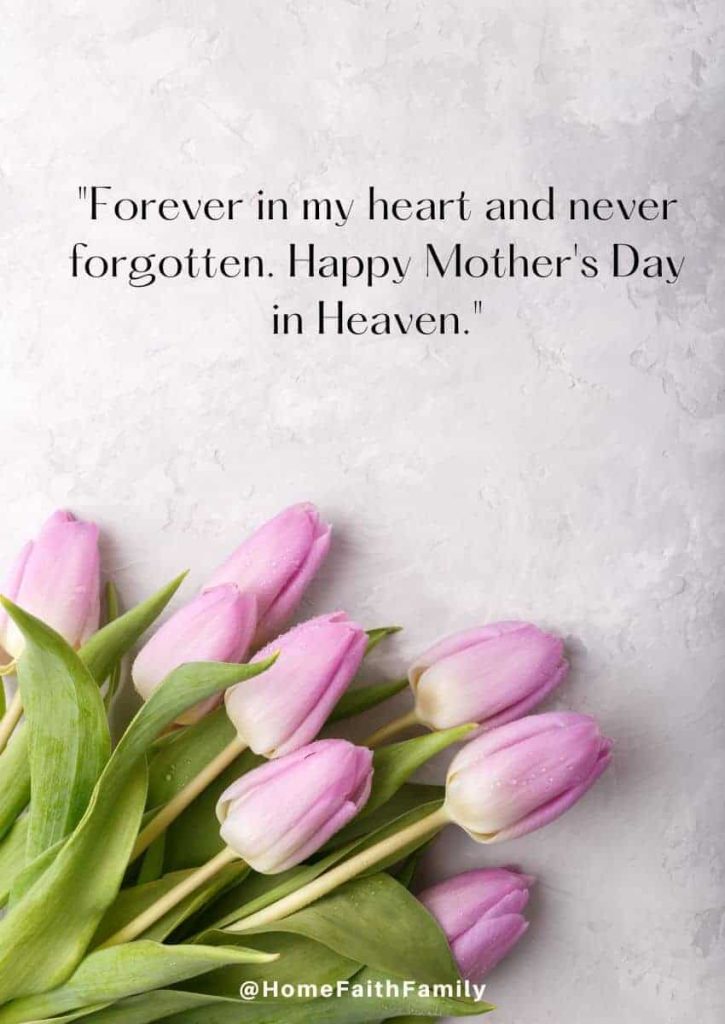 63 – "A mother's memory is eternal, no matter where she is."
64 – "Forever in my heart and never forgotten. Happy Mother's Day in Heaven."
65 – "You will always be my guardian angel watching over us from above."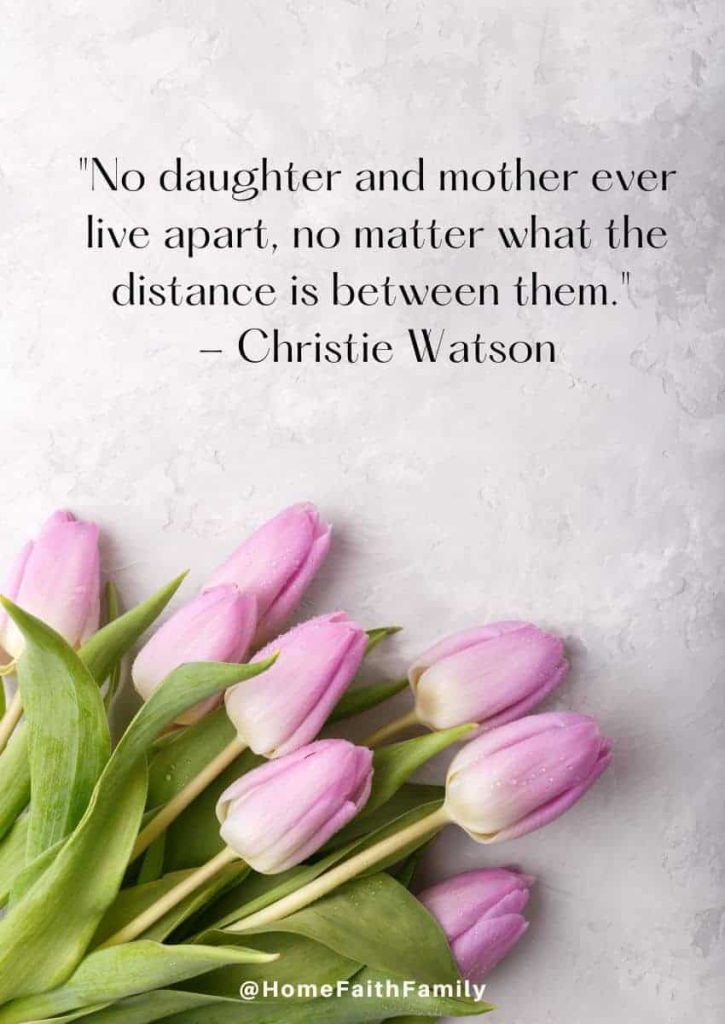 Positive Mother's Day In Heaven Quotes
Your role model, your inspiration, and your loving mother may be gone from physical sight, but she will stay in the hearts of those she has touched.
Here are some positive quotes about Mother's day in Heaven for when you're feeling down:
66 – "No daughter and mother ever live apart, no matter what the distance is between them." – Christie Watson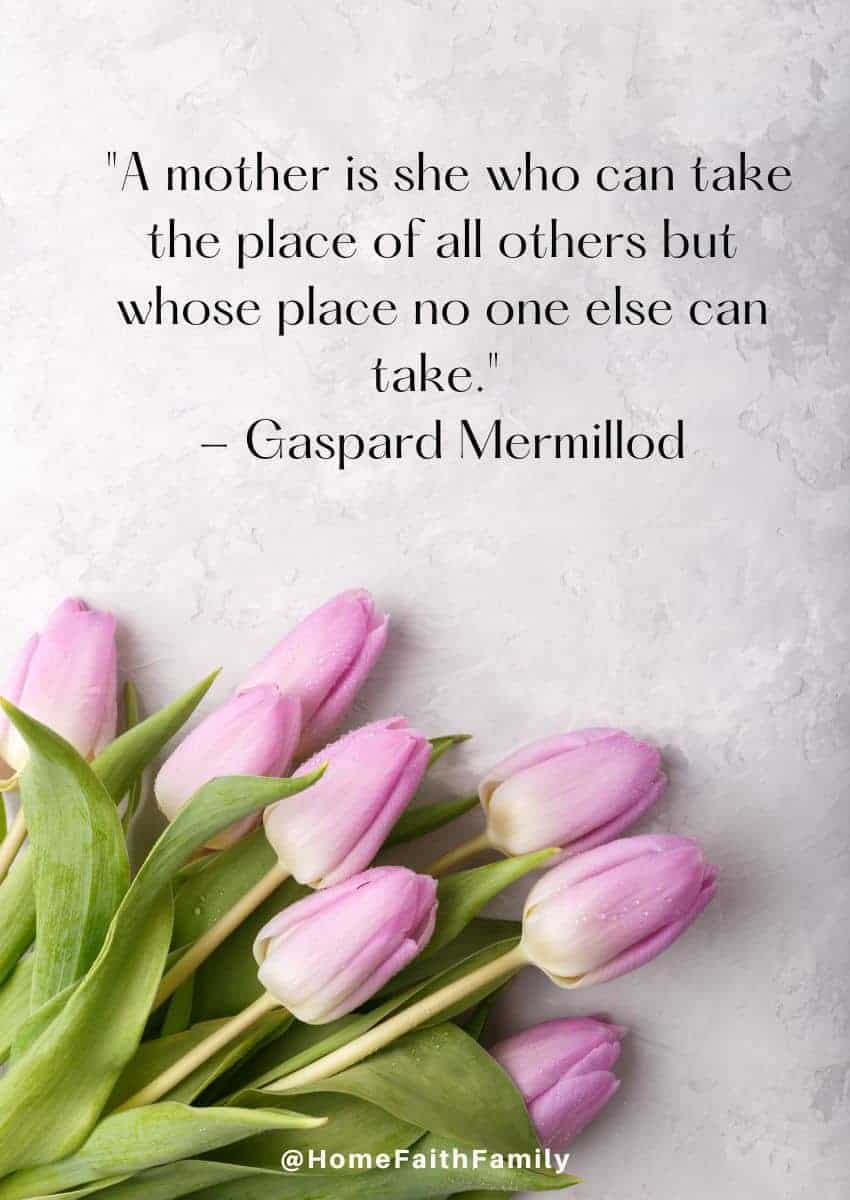 67 – "A mother is she who can take the place of all others but whose place no one else can take." – Gaspard Mermillod
68 – "Thank you for such wonderful memories, for the love you gave me to last the rest of my life, and for the legacy of love you have left behind. I will always remember you."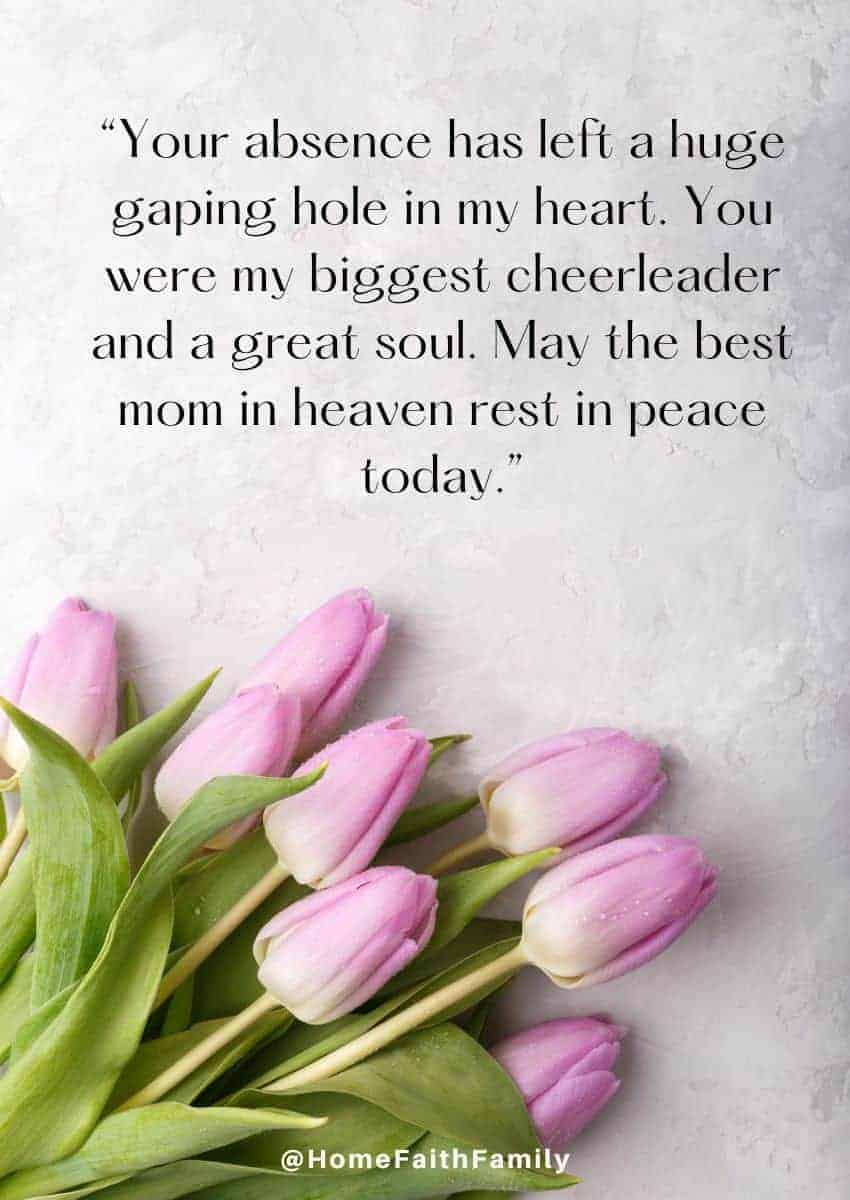 69 – "Your absence has left a huge gaping hole in my heart. You were my biggest cheerleader and a great soul. May the best mom in heaven rest in peace today."
70 – "Mom, you are in my heart like a beautiful rose that blooms forever. I know you're not able to be here in a physical sense, but your spirit is close and will live on forever."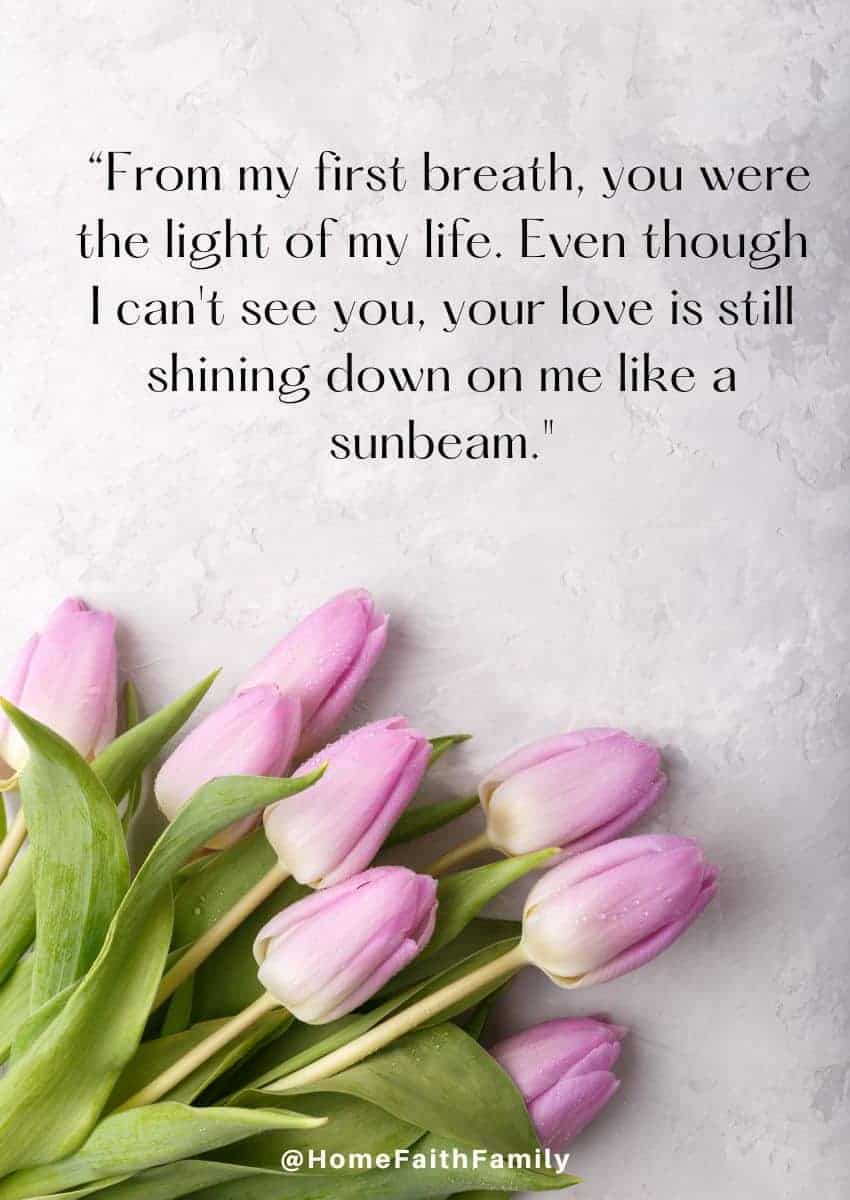 71 – "From my first breath, you were the light of my life. Even though I can't see you, your love is still shining down on me like a sunbeam."
72 – "I know that wherever you are, even if it's just in my heart, you will be sending me your love on this day. Your love is the greatest gift you could have given me. Thank you."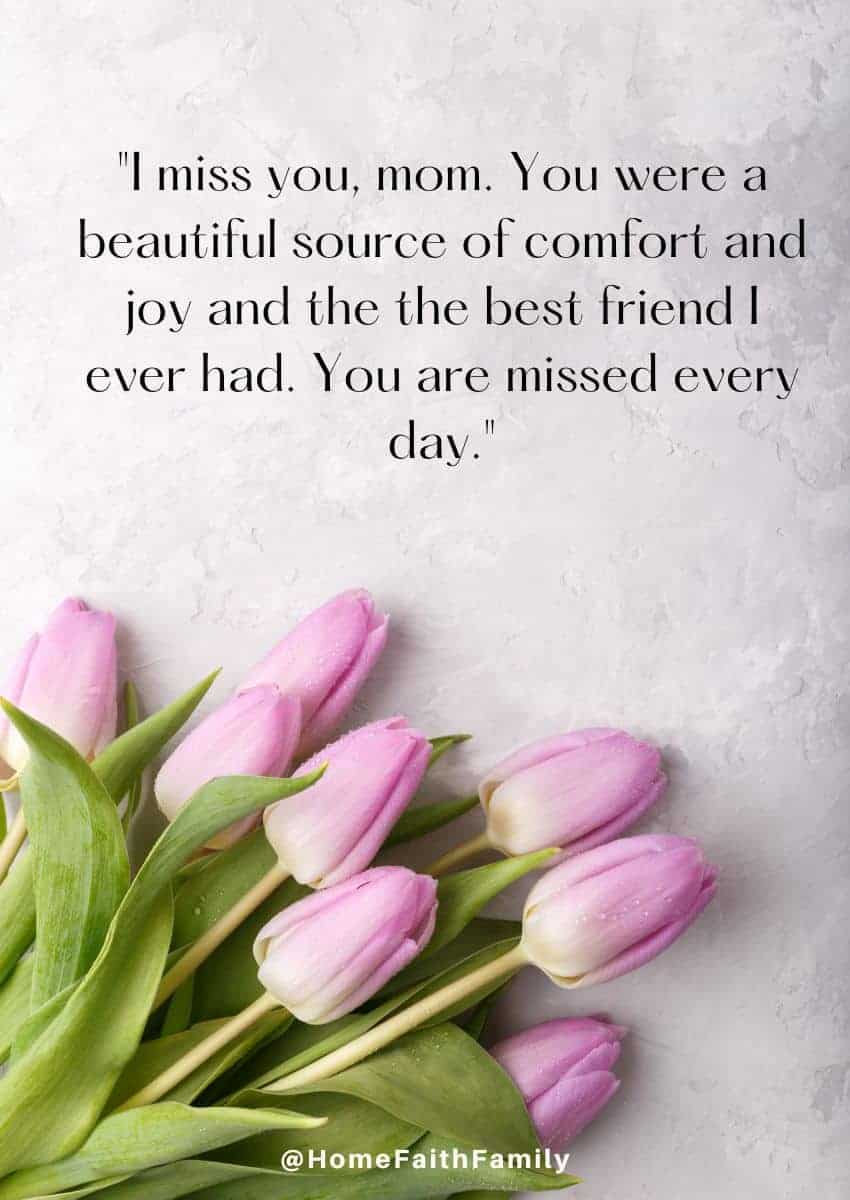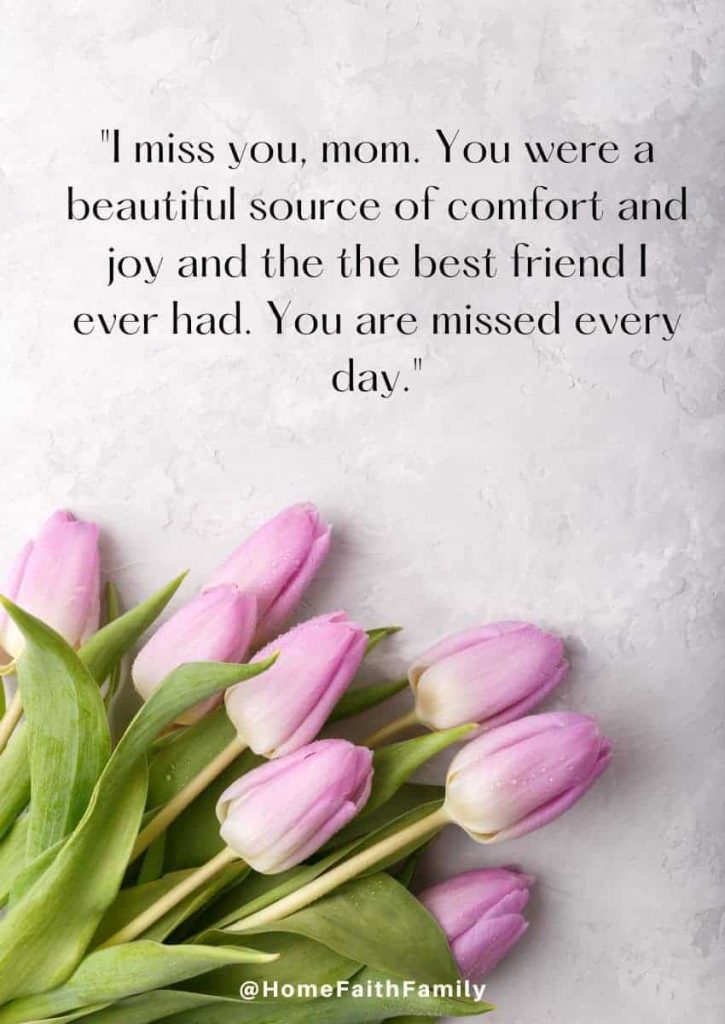 Loss Of Mother Quotes
These short quotes are perfect when you need to express your grief and sadness at the loss of your mom.
73 – "A mother is the truest friend we have, when trials heavy and sudden fall upon us; when adversity takes the place of prosperity; when friends desert us; when trouble thickens around us, still will she cling to us, and endeavor by her kind precepts and counsels to dissipate the clouds of darkness, and cause peace to return to our hearts." – Washington Irving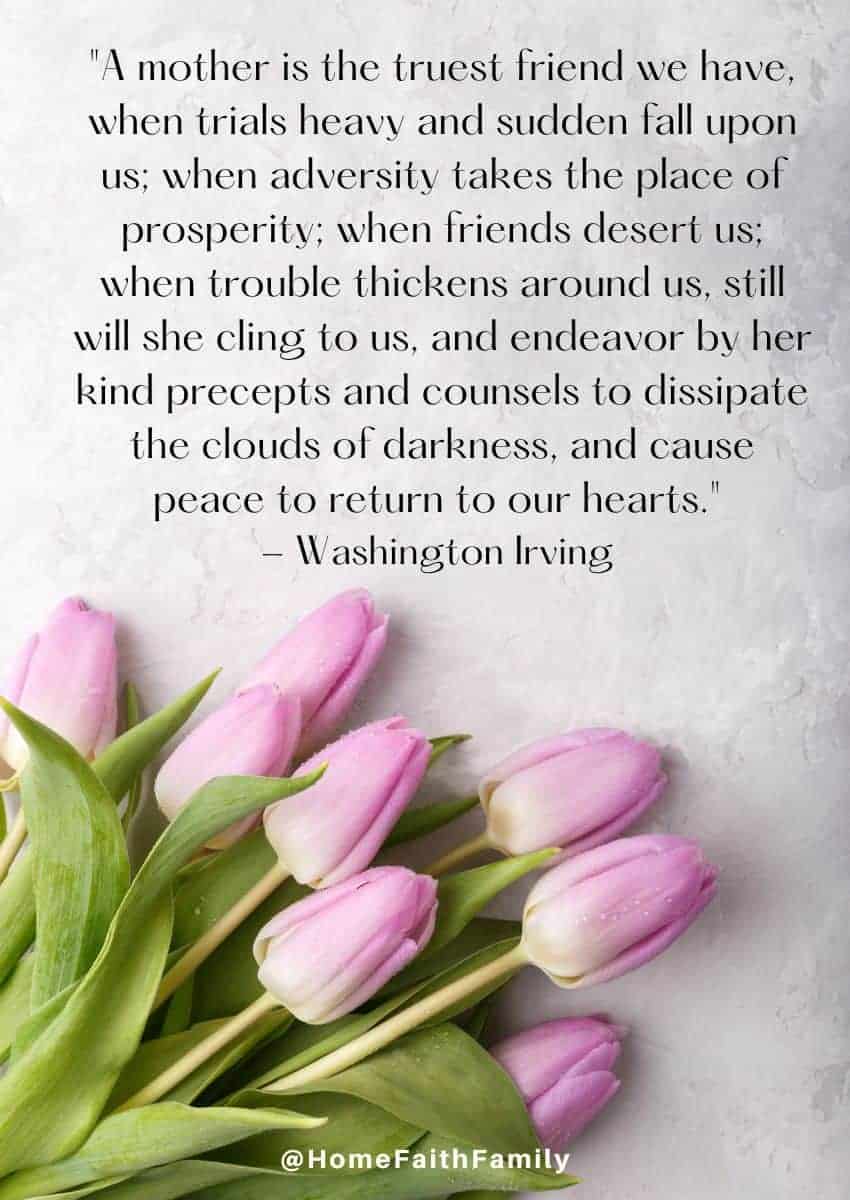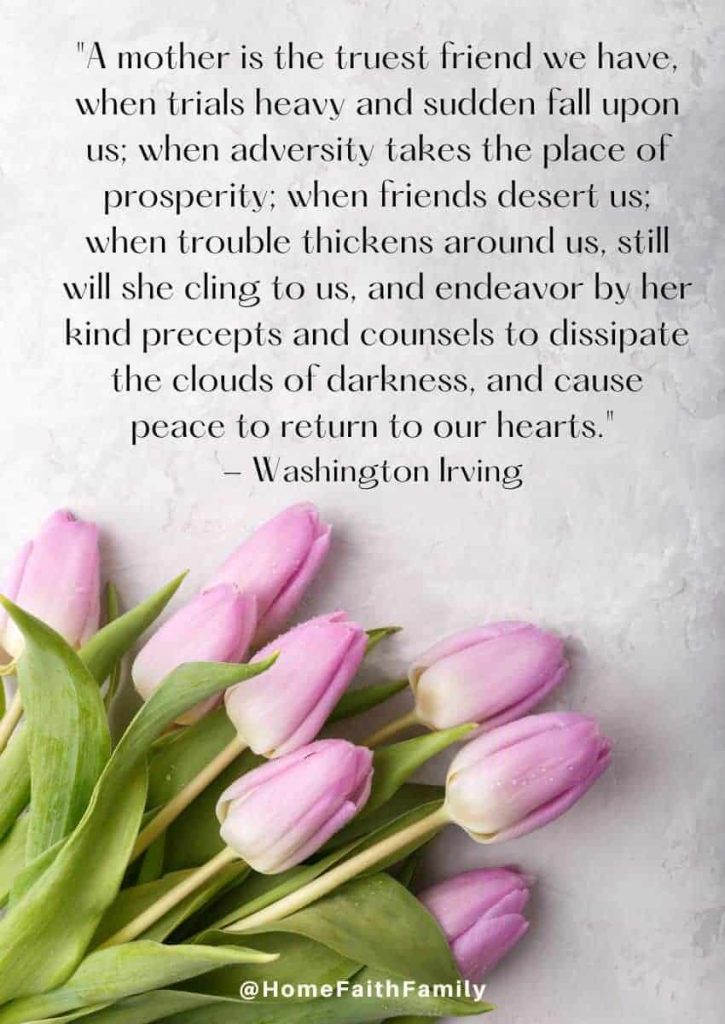 74 – "I miss you, mom. You were a beautiful source of comfort and joy and the the best friend I ever had. You are missed every day."
75 – "My heart aches in sadness and secret tears still flow; what it meant to lose you no one will ever know. No matter where I go or whom I meet, your face and your voice, I will never forget."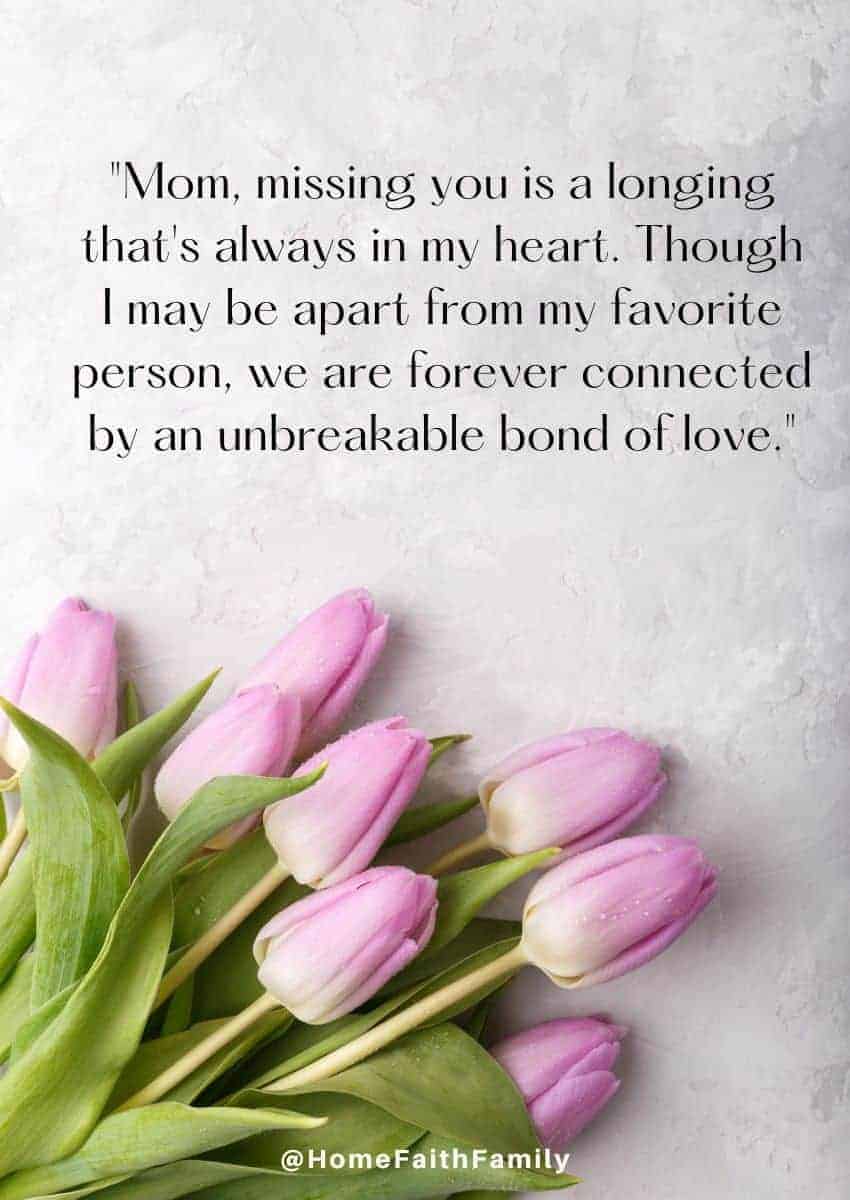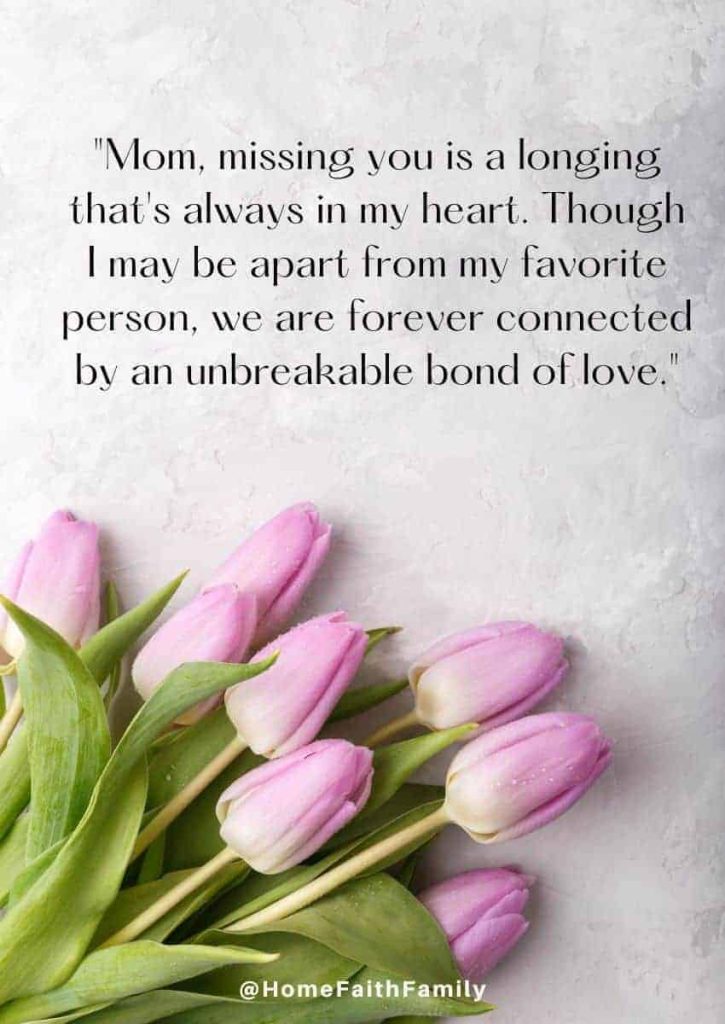 76 – "Mom, missing you is a longing that's always in my heart. Though I may be apart from my favorite person, we are forever connected by an unbreakable bond of love."
77 – "What we have once enjoyed deeply we can never lose. All that we love deeply becomes part of us." – Helen Keller
Mother's Day can be a difficult day for those who have lost their mothers, but it's important to remember that we can still celebrate and honor them every day, including through Mother's Day in heaven quotes.
These quotes can provide comfort, remind you of the eternal nature of a mother's love, and pay tribute to the memory of your mom for a long time.
So this Mother's Day, let's take a moment to remember and celebrate the amazing moms who now watch over us from heaven.
Don't forget to share this post on social media with any of your family members or friend's who also have a mother in heaven.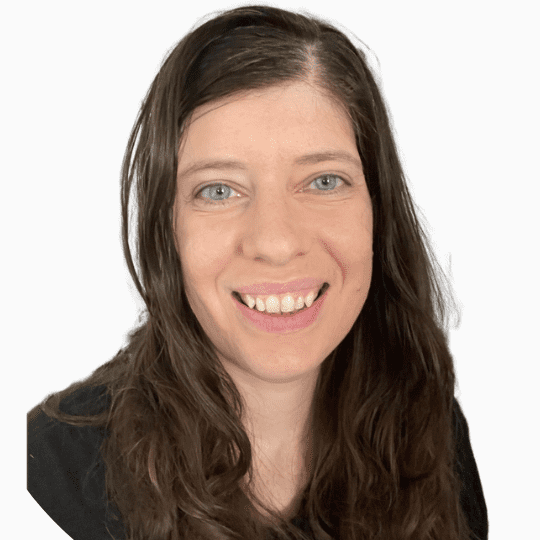 Micah Klug is a wife, homeschooling mother to five children, and author. She teaches time-tested solutions to help parents remember what matters most in life, including strengthening their home, faith, and family relationships. To learn how a child who grew up in an authoritarian home is now creating an environment of peace and joy in her own home visit this page. If you want to contact Micah, send her an email here or email [email protected].