Memorial Day is fast approaching in the United States and everyone is looking forward to the long weekend break.
It's the perfect time to enjoy the summer weather, head out to the beach, and maybe even have a BBQ with friends and family.
But, before the national holiday weekend begins, it is important to take time to remember and honor the brave men and women who have sacrificed their lives for our freedom.
What better way to teach our children about this special holiday and help them appreciate the price that's been paid for their freedom
do so than to teach your kids about the holiday and help them to appreciate its significance?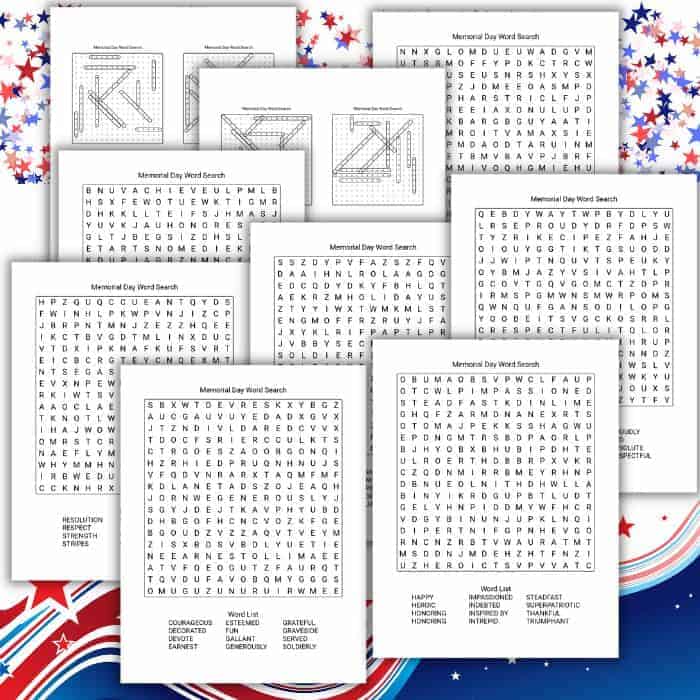 10 Free Memorial Day Word Search Printable Pages
In this blog post, we will share with you a great free activity with these 10 Memorial Day word search printable pages that you can print out and share with your children.
I research, test, recommend, and select only the best products for my readers.
If you click a link on this site and buy something, we may earn an affiliate commission. Thank you for supporting this small family business.
Download Your Memorial Day Word Search PDF Format
You can now download our free Memorial Day Word Search PDF and have a blast solving patriotic clues with your children.
Your kids will have a great time problem solving and finding words like "honor," "freedom," and "sacrifice" among all the list of words, while honoring those who have served and are currently serving our great nation.
So, what are you waiting for?
Grab your phone, click the download button after putting in your email address, download this free printable game, and start enjoying these free printable word searches!
This printable is for personal use only. If you would like to share it with others, please link directly to this article.
Supplies Needed:
Download the free Memorial Day word search puzzles
Printing paper (this is the kind I use with my kids and all their printable games – it's affordable and easy)
Printer (optional) – if you don't have a printer at home, you can print these pages at your local library, church, or printing store.
Reusable Write & Wipe Pocket (optional) – this is the perfect way if you want to reuse the same sheets and share these printable pages among all of your children.
Instructions:
Print the Memorial Day Word Search Puzzle PDF file.
Circle or highlight each word as you find it.
When you've finished, check the answer key to see if you found them all.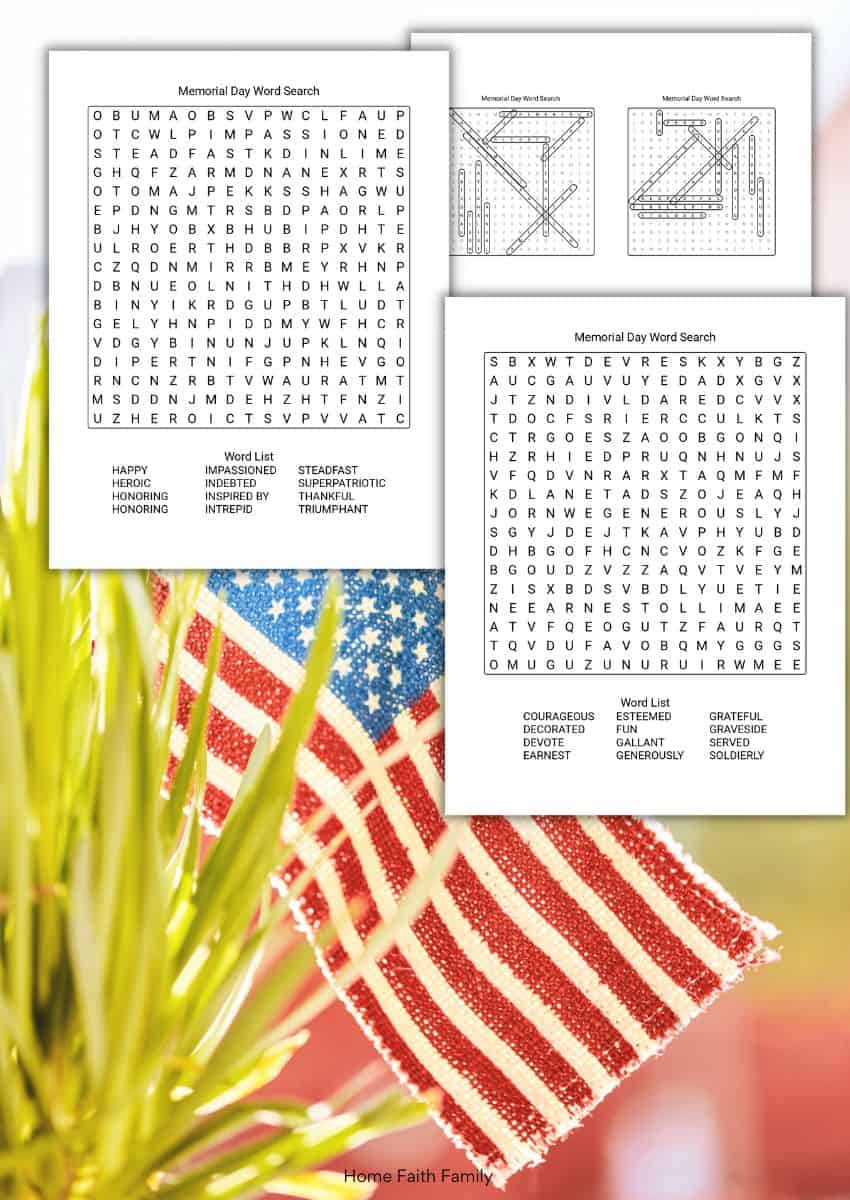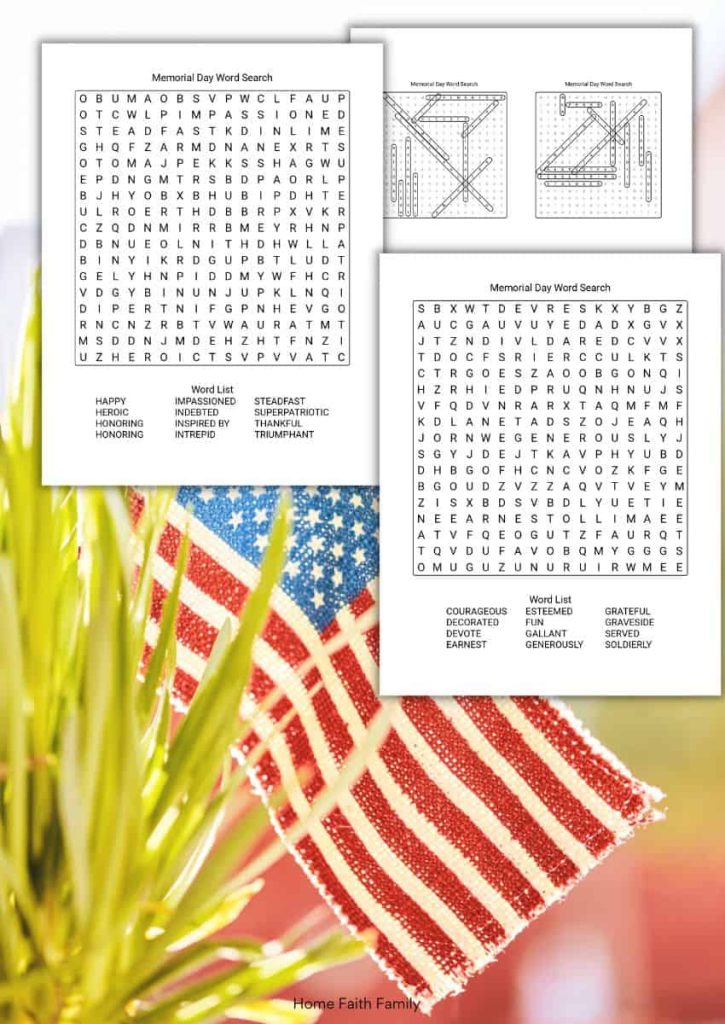 Free Printable Memorial Day Word Search Puzzle
A great way to spend Memorial Day is by participating in a word search puzzle. Our free printable Memorial Day Word Search Puzzle features words related to the holiday.
Some of the vocabulary words in this great activity include:
American
Blessed
Respectful
Patriotic
Proudly
Courageous
Earnest
Grateful
Strength
Victory
Soldier
Stripes
Peace
Remember
Freedom
This fun activity can be used with kids of all ages and can help them learn about the importance of this day.
Get your pencils ready and have fun searching for the words in our Memorial Day
A Brief History Of The Meaning Of Memorial Day For Kids
Memorial Day is always the last Monday of May, and it's a day to remember the men and women who have died in active military service.
This important holiday has been celebrated since 1868 when General John Logan declared it a holiday for Union soldiers from the Civil War.
Since then, people have used this day to honor fallen soldiers of all wars.
Many people take part in parades, volunteer at veterans' organization, or visit cemeteries to lay flowers on graves.
We can also remember those who have passed away by sharing stories about them and celebrating their lives.
Memorial Day was made a federal holiday in 1971 and invites people to reflect, remember, and show gratitude for all those who have made the ultimate sacrifice to protect our country.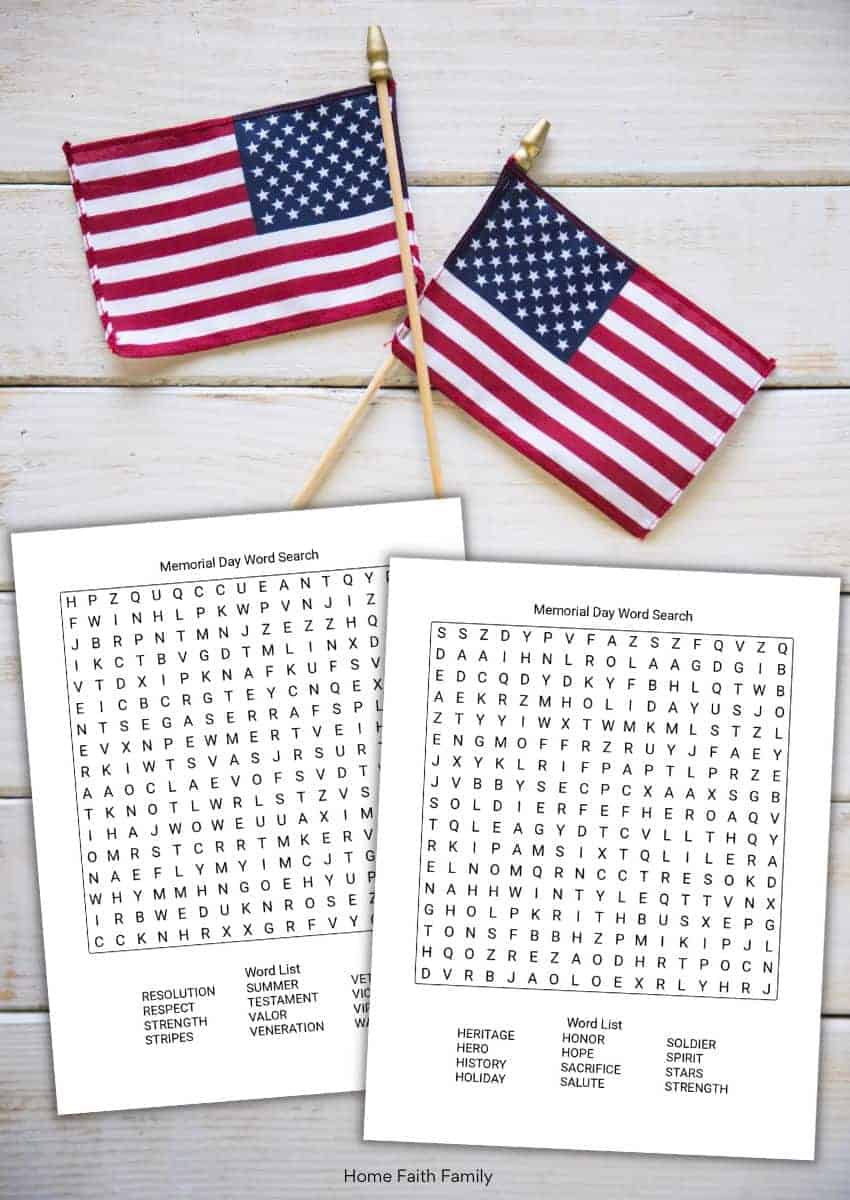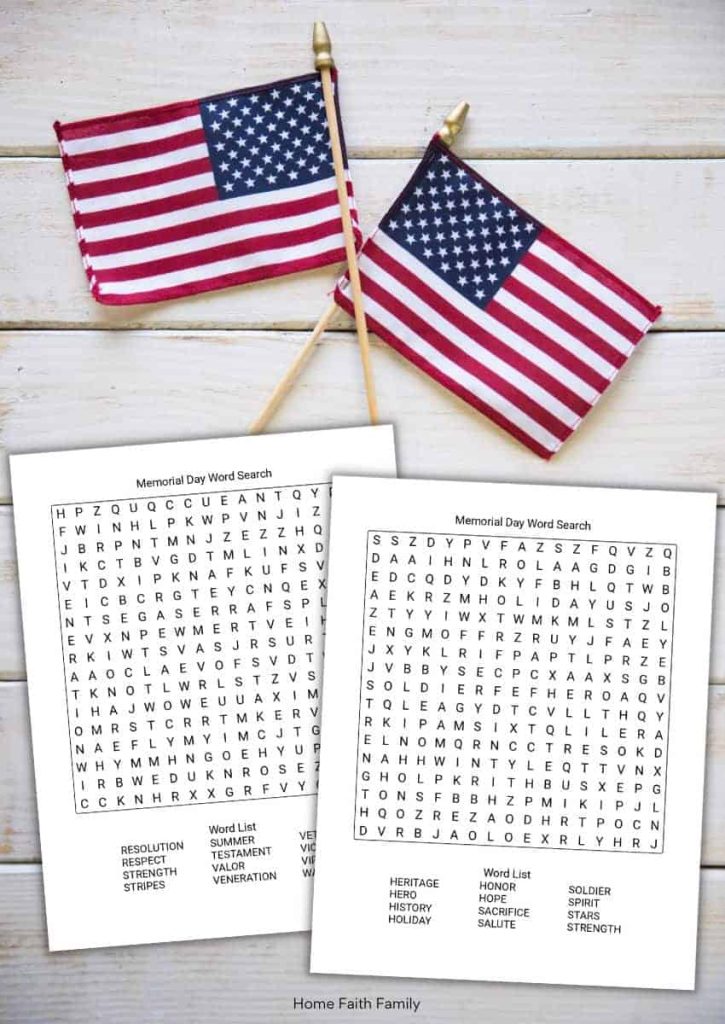 Ideas To Celebrate Memorial Day With Our Family
As parents we need to take the time to teach our kids about the sacrifice of the best people.
You can also use this American holiday to teach your children from one (or more) of these 8 ideas.
Teach the Meaning of Memorial Day
Take the opportunity to educate your children about the significance of Memorial Day.
You can read the brief history in this post to your child to help them remember and honor those who have lost their lives while serving in the military.
Always invite and encourage your children to ask questions and have meaningful discussions about the topic.
Create Memorial Day Crafts
Children can create handmade cards to express gratitude to the veterans in your community or make paper poppies, which are a symbol of remembrance.
These activities allow children to express their creativity while connecting with the holiday's meaning.
Read Memorial Day Books
Children are natural born readers.
These books can cover various aspects, such as the history of the holiday, personal stories of soldiers, or the importance of honoring veterans.
Reading together can be a meaningful way to bond as a family while learning about the holiday.
Write Thank-You Letters
Invite your children to write a thank-you letter or draw pictures for veterans or active-duty military personnel.
These heartfelt messages can be sent to organizations that distribute mail to military members or directly to local veterans' hospitals.
Giving your children a chance to express appreciation in this way helps children develop empathy and gratitude.
Attend Local Memorial Day Events
Scroll on social media with intention to find local Memorial Day celebrations including parades, ceremonies, or memorial services.
Attending these events with your children gives them a chance to witness firsthand the respect and remembrance displayed by their community.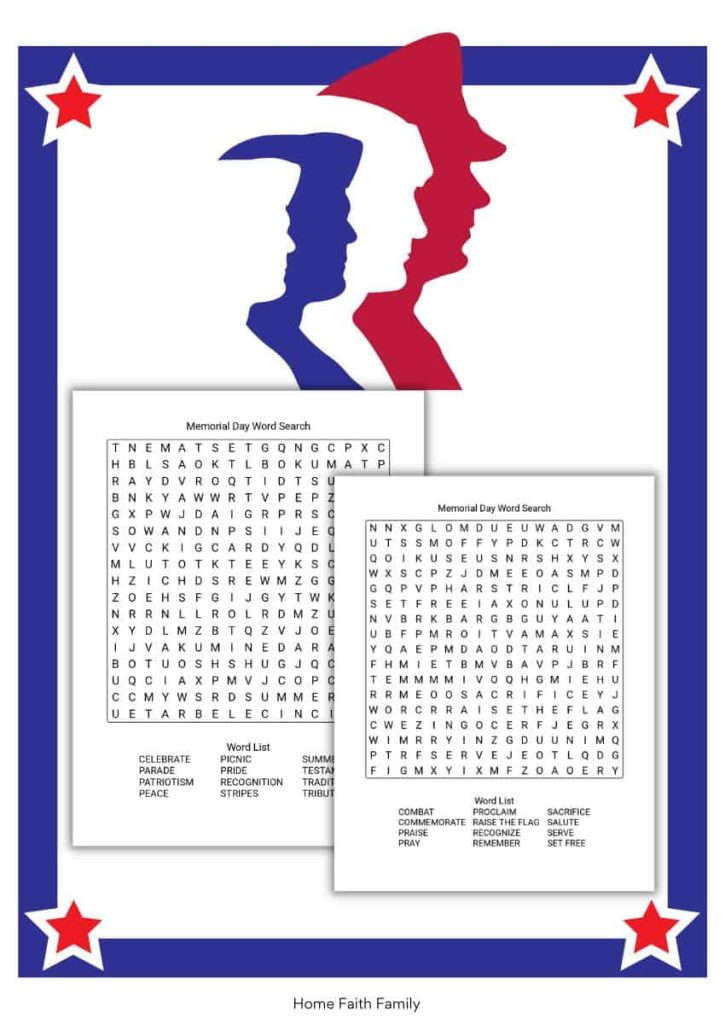 Visit a War Memorial or Cemetery
Suggest visiting a war memorial or cemetery in your local area (or if your schedule allows you to take a road trip, visit a national war cemetary).
This visit can serve as a powerful reminder of the sacrifices made by the servicemen and women from your own hometown.
You and your children can observe a moment of silence or leave flowers or flags at gravesites to show respect to the deceased.
Share Family Stories
Do you have a family member who served and passed away?
Share the story of their life and military service in defense of their country with your family.
This personal connection helps children understand the impact of military service on their own family history.
It also provides an opportunity to pass down family values and traditions related to Memorial Day.
Memorial Day Weekend Game Night
Organize a family game night themed around Memorial Day.
This can include games like charades, trivia or word searches related to the holiday's history and significance as well as patriotic-themed activities such as flag drawing and mask making.
By combining festive fun with learning about the true meaning of Memorial Day, you create an engaging experience that teaches kids about the holiday.
You can even use the themed words from your free word search templates.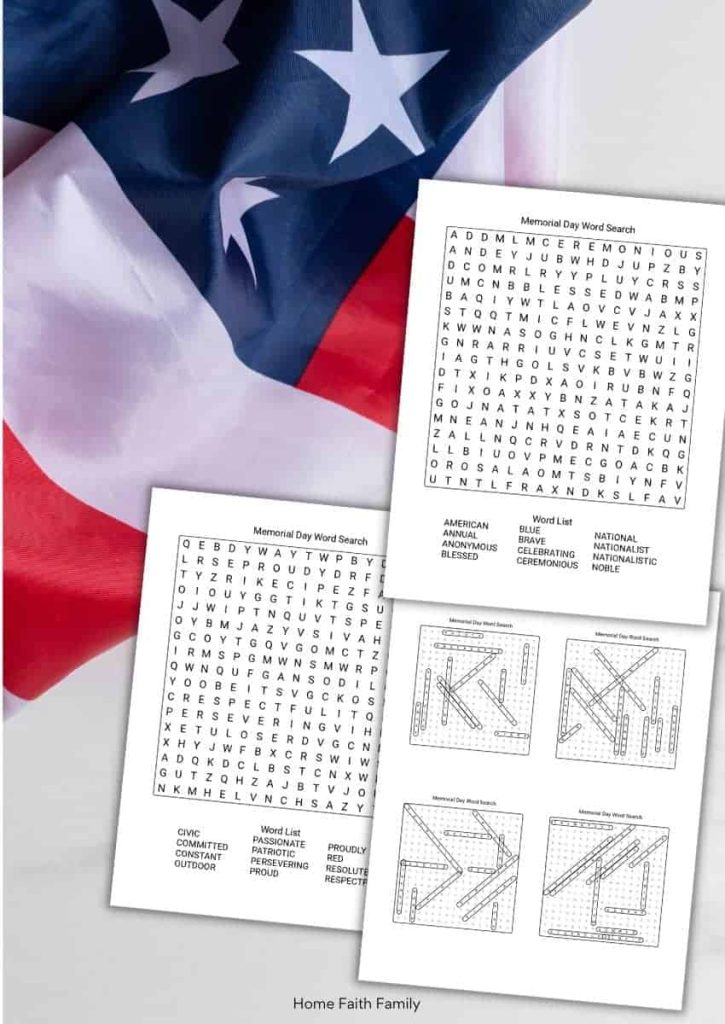 Memorial Day is a day of honor for all those who have served in our military and given their lives so we can live in freedom.
Let us never forget what these brave men and women have done for us.
Let's all take a moment to remember their sacrifices and honor them on this special day.
Because without them our children would not have the freedom they have today.
Our free printable word search pages are an enjoyable way for your family to learn more about Memorial Day while also improving your child's vocabulary.
And who knows, they might even learn a handful of new words!
So come join the effort to remembering Memorial Day by downloading this free printable.
Happy Memorial Day, friend.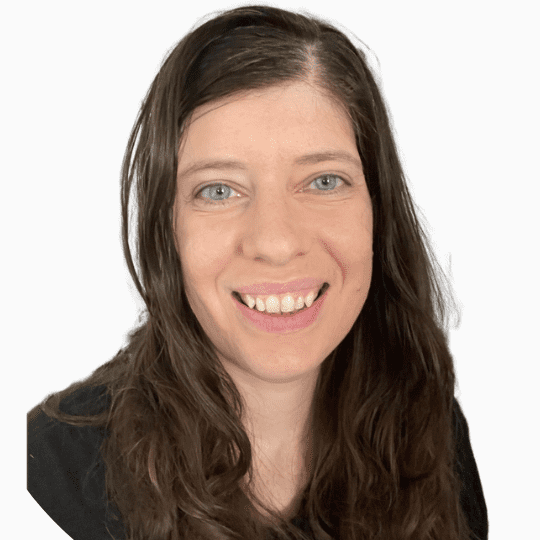 Micah Klug is a wife, homeschooling mother to five children, and author. She teaches time-tested solutions to help parents remember what matters most in life, including strengthening their home, faith, and family relationships. To learn how a child who grew up in an authoritarian home is now creating an environment of peace and joy in her own home visit this page. If you want to contact Micah, send her an email here or email [email protected].