Are you feeling the stress of planning the perfect memorial service to honor Memorial Day for Sunday morning?
Finding songs you know your congregation will love for this holiday can be a difficult task.
But don't worry, we've put together some of our favorite hymns that are sure to make your ceremony meaningful and uplifting.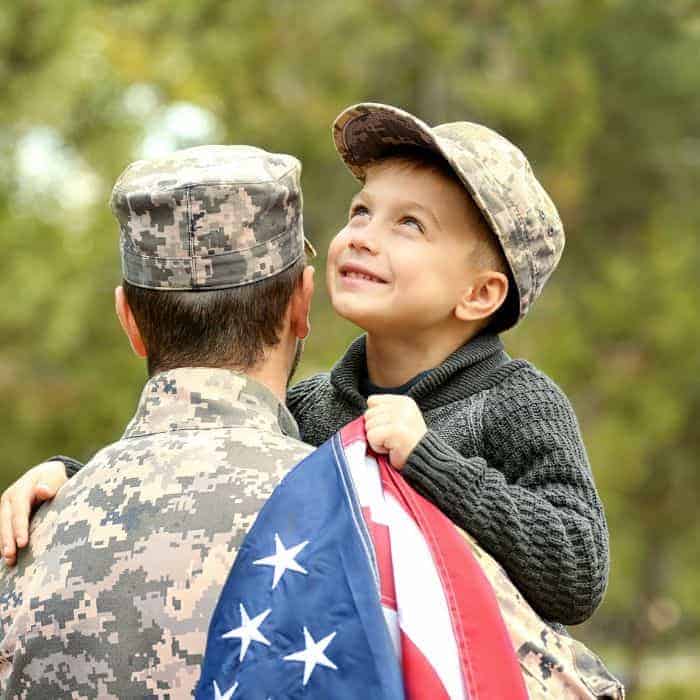 21 Best Memorial Day Hymns For Church in 2023
The power of words can help us to remember those who have passed away, honor their lives, and offer solace in the sorrow of loss.
If you are wanting to include hymns in your gospel reading that are patriotic favorites, then these traditional hymns are perfect for a Memorial Day service.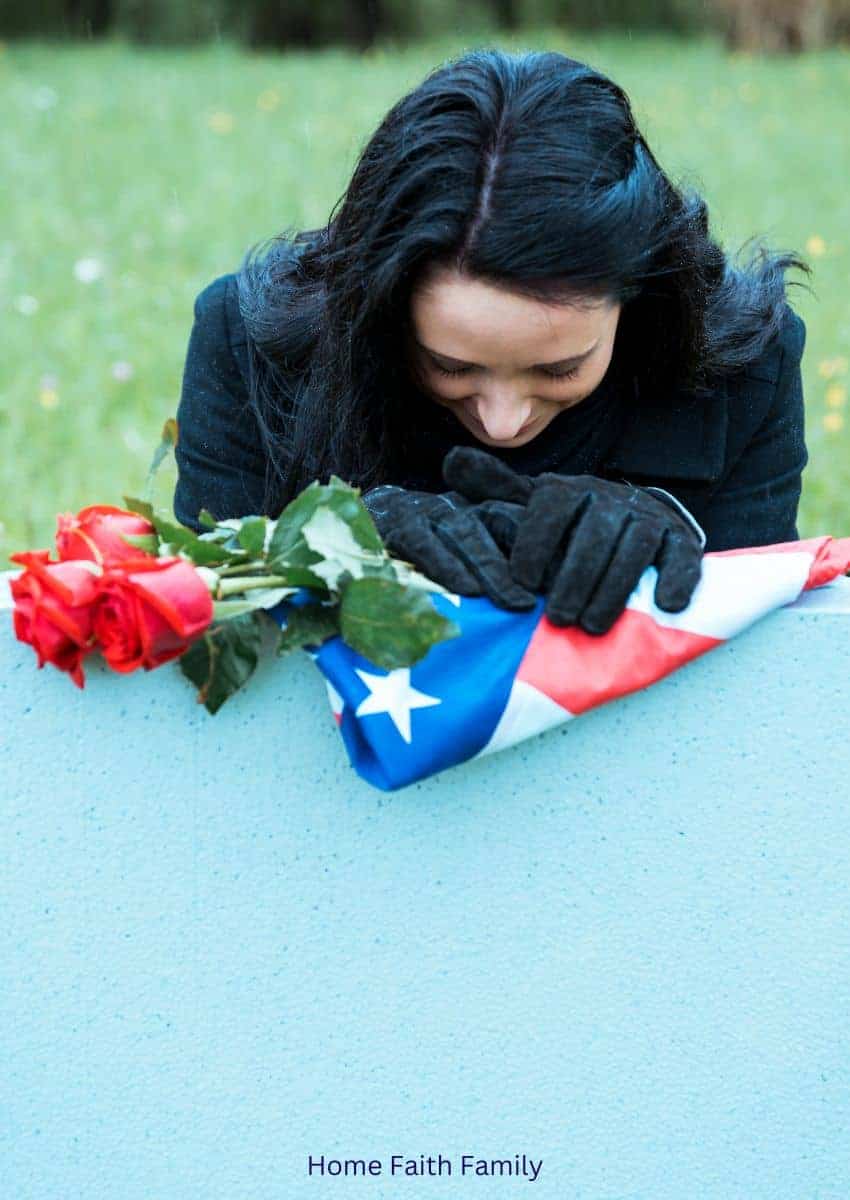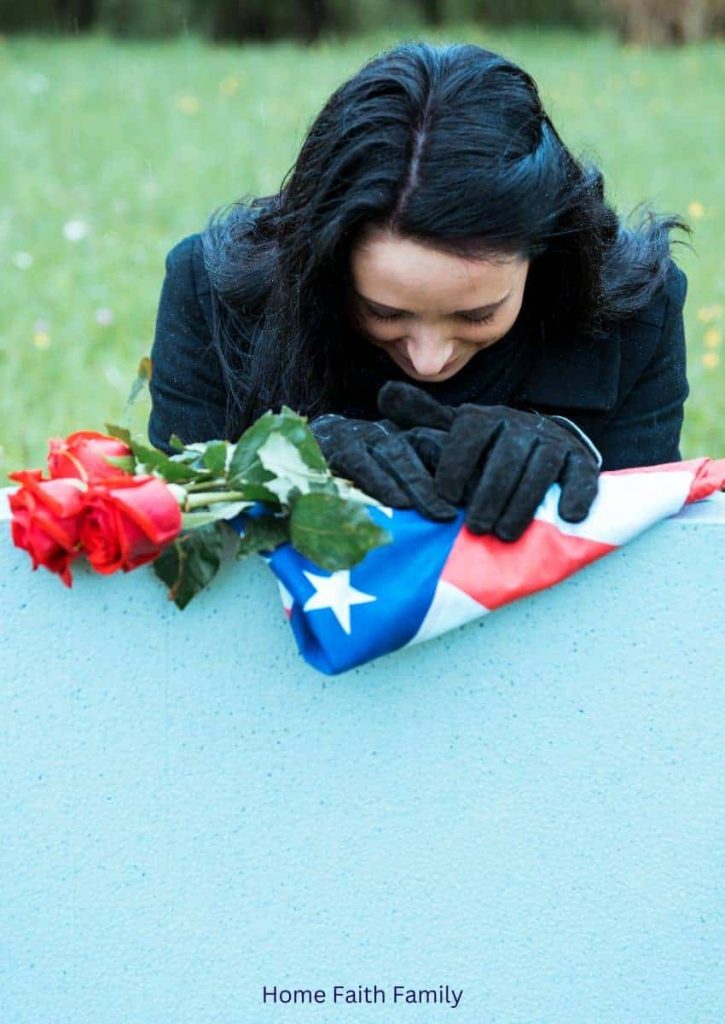 Patriotic Hymns For Church Services
All family members, friends, and loved ones can join in these songs of reflection as they seek after God's comfort for the loss of their loved ones.
"How Great Thou Art," Carl Boberg – 1885
Have you ever stopped to really listen to the lyrics of "How Great Thou Art"?
This timeless hymn has a rich history dating back to the early twentieth century.
Carl Boberg, a Swedish pastor, wrote the original version in 1885 after witnessing an intense thunderstorm over the parish.
The poem underwent several translations and adaptations throughout the years until it was finally set to the melody we know today..
It's no wonder that this moving and powerful hymn has endured for so long, with its message of praise and gratitude resonating with people across generations and languages.
"Amazing Grace," John Newton – 1772
"Amazing Grace" is a timeless hymn that has touched the hearts of many throughout the years.
John Newton wrote this powerful song in the late 18th century.
We need to remember that no matter our past mistakes or sins, we can find redemption and grace through faith in God.
The song's simple yet powerful melody and lyrics have made it a staple in churches and other religious settings.
It has also been covered by countless artists across different genres, solidifying its place in the canon of American music.
Even after all these years, "Amazing Grace" remains a beautiful reminder of the power of faith and forgiveness.
"America The Beautiful," Katharine Lee Bates – 1893
Katharine Lee Bates, the author of "America The Beautiful," penned a poem that has become one of the most beloved patriotic songs in America's history.
Written in 1893, the poem explores the vast and diverse landscape of the country, which millions call home.
Bates's powerful imagery captures the awe and wonder that many Americans feel for their beautiful country.
Her words have been sung by countless voices over the years, evoking a sense of pride and love for America.
"America The Beautiful" continues to be a timeless tribute to the remarkable beauty of this great nation.
"Reign Above It All," Hannah and Paul McClure – Date 2019
The song "Reign Above It All" by Hannah and Paul McClure is a powerfully moving piece of music that inspires listeners to look beyond the challenges of life, towards a higher power that governs all.
Released in 2019, this song has quickly become a fan favorite, with its soaring vocals and stirring melody.
The McClures' lyrics offer a message of hope and encouragement that is much needed in our current times.
Whether you're feeling lost and alone, or simply looking for a way to connect with the divine, "Reign Above It All" is a song that will leave an everlasting impact on your heart and soul.
"Battle Hymn of the Republic," US Army Band and Soldiers' Chorus — 2009
The sounds of patriotism ring clear in "Battle Hymn of the Republic," a stirring tune that has become an American classic.
And the US Army Band and Soldiers' Chorus brings a powerful depth to this already beloved song.
In 2009, their rendition of this iconic piece was captured in a recording that captures all the bravery and boldness of the soldiers who have served and continue to fight for our country.
With soaring melodies and lyrics that speak to the very heart of America, "Battle Hymn of the Republic" is a must-listen for anyone who loves their country.
"A Mighty Fortress Is Our God," Martin Luther – 1529
"A Mighty Fortress Is Our God" is a beloved hymn that has stood the test of time.
Written by Martin Luther in 1529 during a time of turbulence and religious reformation, the song has become a symbol of strength and faith.
The lyrics describe God as a mighty fortress, a bulwark that never fails, offering protection and salvation to those who trust in him.
Luther's words remind us that even in the darkest of times, we can find refuge in God's unwavering love and power.
Its timeless message continues to inspire generations, making "A Mighty Fortress Is Our God" a classic hymn that is perfect to sing this Memorial Day weekend.
"Heal Our Land," Jamie Rivera – 2017
In 2017, Jamie Rivera released her new single "Heal Our Land" and it couldn't have come at a more relevant time.
Our world is constantly experiencing turmoil, from political unrest to natural disasters, and it's easy to feel disheartened.
But through her music, Jamie reminds us that we have the power to heal our land through unity and love.
The song is a beautiful call to action, urging us to come together and make positive change.
As we listen to Jamie's powerful vocals and moving lyrics, we're reminded of the importance of standing together in times of need.
"Heal Our Land" is more than just a song, it's a message of hope and a reminder that we have the ability to make a difference.
"My Country Tis Of Thee," Samuel Francis Smith – 1831
"My Country Tis Of Thee" is a beloved patriotic song, written by Samuel Francis Smith in 1831.
Known as "America's second national anthem," it is sung across the United States during Independence Day celebrations and other patriotic events.
The song's simple yet powerful lyrics evoke a sense of national pride and unity, reminding us of the freedoms and opportunities afforded to us as citizens of this great country.
This gift, which has been given to us through the ultimate sacrifice of the service men and women who have paid the price with their lives.
With its stirring melody and timeless message, "My Country Tis Of Thee" will continue to inspire generations of Americans for years to come.
"Holy Holy Holy," Reginald Heber – 1826
"Holy Holy Holy" is a timeless hymn that has stood the test of time and continues to resonate with people today.
This powerful hymn has been sung in churches and cathedrals around the world for almost two centuries.
The lyrics speak to the majesty and holiness of God, and the haunting melody leaves a lasting impression on anyone who hears it.
Even in modern times, "Holy Holy Holy" remains a staple in many church services, reminding us of the power and glory of the divine.
Heber may be gone, but his hymn lives on, inspiring generations to worship and praise the Lord Almighty.
"The Star-Spangled Banner," Francis Scott Key – 1812
Francis Scott Key's "The Star-Spangled Banner" has become a symbol of national pride and unity in the United States.
Written during the War of 1812, Key watched as the American flag continued to fly even as British bombs burst in air over Fort McHenry.
Moved by the sight, Key penned the iconic lyrics that have been sung at countless events from baseball games to presidential inaugurations.
The song's legacy has endured through American history, recognized as the United States national anthem in 1931.
This emotional song continues to inspire citizens to honor the country and its freedoms.
"Abide With Me," Henry Francis Lyte – 1847
"Abide With Me" is a timeless hymn that has resonated with people for generations.
Its author, Henry Francis Lyte, wrote the powerful words in 1847, just a few months before his death.
The hymn's message of seeking comfort and strength in the presence of God has brought solace to countless individuals throughout history.
Even during difficult times, these words remind us that we are not alone and that God is always with us.
As we continue to sing "Abide With Me" today, we are reminded of the enduring power of faith and the comfort it can bring.
"God Bless America," Kate Smith – 1943
"God Bless America" is a patriotic song that has become synonymous with the United States of America.
It was written by Irving Berlin in 1918, but it wasn't until 1943 and the powerful voice of Kate Smith that the song truly took off.
Her rendition of the song was a huge success, and it has since become an iconic American anthem.
The lyrics invoke a deep sense of pride and gratitude for this great country, and it's no wonder that it's been played at countless important events throughout our nation's history.
Whether you're a born and bred American or a proud immigrant, "God Bless America" is a timeless classic that unites us all under one flag.
Memorial Day Songs For Contemporary Worship Services
When my husband was searching for Jesus Christ in his life there was one thing he noticed that was different in each church.
He discovered that, although people's love for God was the same, the way they expressed it was very different.
One of the ways he noticed this difference was in how churches chose their music.
Whether you're looking for a traditional sheet music or something with a more familiar tune, these Memorial Day songs for contemporary worship services will bring a sense of unity to your congregation.
"God Bless the U.S.A.," Lee Greenwood — 1984
If you've ever had the pleasure of attending a July 4th celebration, then chances are you've heard the iconic patriotic anthem, "God Bless the U.S.A." by Lee Greenwood.
This heartwarming song has been a staple in American culture since its release in 1984 and never fails to evoke feelings of pride and unity.
Whether you're driving down a country road or standing hand-in-hand with friends and family at a bustling city parade, the familiar lyrics, iconic music video, and upbeat melody of "God Bless the U.S.A." have a way of bringing us all together.
As we continue to celebrate our nation's independence year after year, this timeless tune remains a symbol of hope, resilience, and unwavering patriotism.
"Born in the U.S.A.," Bruce Springsteen — 1984
If there's one Bruce Springsteen song that's guaranteed to get you singing along, it's "Born in the U.S.A."
Released back in 1984, this iconic tune has earned a place in the hearts of millions of Americans.
It's a song that speaks to the American experience, with lyrics that touch on everything from blue-collar struggles to the Vietnam War.
And let's not forget that unforgettable riff—once you hear it, you'll be humming it for the rest of the day!
All in all, "Born in the U.S.A." is a true classic, and one that never fails to get us pumped up and feeling proud to be American.
"America," Simon and Garfunkel — 1968
When we think of the word "America," what comes to mind?
Perhaps images of the flag, monuments, or even the hustle and bustle of New York City.
But did you know that the concept of "America" has a fascinating history?
Dating back to the 16th century, the term "America" was used to describe the landmass discovered by European explorers.
Fast forward a few centuries later to the 1960s, and we find the iconic duo Simon and Garfunkel releasing their song "America."
It's a poignant song that speaks to the restless wanderlust in all of us.
Listening to the lyrics, one can't help but feel a sense of longing and hope for something different, something new.
The song has become a timeless classic that captures the spirit of the times and continues to inspire generations to this day.
"If You're Reading This," Tim McGraw — 2007
Do you remember where you were when you first heard Tim McGraw's timeless hit, "If You're Reading This"?
This classic country ballad was released back in 2007, and it quickly became a fan favorite.
But did you know the story behind this song?
"If You're Reading This" was actually inspired by the last letter written by a fallen soldier.
McGraw was moved by the soldier's heartfelt words and wanted to pay tribute to him and all of our brave servicemen and women.
The song's poignant lyrics and powerful melody have resonated with audiences for over a decade now, and it's easy to see why.
Whether you're a die-hard country fan or just appreciate great music, "If You're Reading This" is a must-listen.
"Arlington," Trace Adkins — 2005
In 2005, Trace Adkins released his hit song, "Arlington," which pays tribute to the brave men and women who have made the ultimate sacrifice for our country.
The name "Arlington" holds a significant place in American military history, as it is the location of Arlington National Cemetery.
The cemetery was established during the Civil War and has since become the final resting place for over 400,000 servicemen and women.
Adkins' powerful lyrics and emotional delivery remind us of the sacrifices made by those who have fought for our country and the importance of honoring their memory.
Through "Arlington," Adkins has left a lasting impact on the country music world and created a timeless tribute to all those who have served.
"I Drive Your Truck," Lee Brice — 2012
Picture this: a story of love, sacrifice, and loss all wrapped in the arms of a popular country tune.
That's what Lee Brice's "I Drive Your Truck" represents.
The song is about a man who lost his brother in the war and copes with his grief by driving his brother's truck.
His brother's dog tags hang in the rear view mirror.
The lyrics are raw, emotional, and relatable for anyone who has lost someone close to them.
Even if you haven't personally experienced such a loss, the song's power lies in its ability to make you empathize with the narrator and the pain he feels.
"I Drive Your Truck" has become an anthem for those who have lost loved ones, reminding us of the courage and selflessness it takes to love and serve our country.
"Some Gave All," Billy Ray Cyrus — 1989
Few country music artists have made as big of a splash as Billy Ray Cyrus did when he burst onto the scene with his 1989 debut album, "Some Gave All."
The album not only cemented Cyrus as a force to be reckoned with on the country music scene but also introduced a whole new generation of fans to the twangy, heartfelt sounds of the genre.
Cyrus's raw talent and undeniable charisma shone bright on each and every track, making it clear that he was on his way to something big.
Today, "Some Gave All" remains a beloved classic among country music fans everywhere and stands as a testament to the power of great songwriting and stunning musicianship.
"Star Spangled Banner," Jimi Hendrix — 1969
The history of the "Star Spangled Banner" is fascinating, but perhaps one of the most memorable performances of this iconic song was by legendary guitarist Jimi Hendrix.
Back in 1969, Hendrix took to the stage at Woodstock and delivered a rendition of the anthem that is still talked about today.
His take on the song was a bold and electrifying one, featuring a distorted guitar sound and plenty of improvisation.
Many consider his version to be a tribute to the rock music scene and its cultural significance during that time.
It's a moment in music that we'll never forget and a reminder of how powerful and enduring the "Star Spangled Banner" truly is.
"America the Beautiful," Lee Greenwood — 1992
In 1992, beloved country singer Lee Greenwood released a rendition of "America the Beautiful" that quickly became a hit among Americans.
With its powerful lyrics and touching melody, the song serves as a reminder of the beauty and diversity of our nation.
Greenwood's version, in particular, has become a staple at major patriotic events and is often played to celebrate the glory and strength of our country.
The history of "America the Beautiful" is a shining example of how music can unite us and inspire us to be proud of our heritage.
"Eternal Father," The United States Navy Band Sea Chanters Chorus — 2011
This beloved tune has been a staple in the Navy for over a century, serving as a comforting reminder to sailors that they are always being watched over and protected by a higher power.
The Sea Chanters' rendition of the song is truly stirring, with their harmonies and powerful vocals capturing the solemn and reverent spirit of the original tune.
It's no wonder that this performance went viral and has been viewed by millions of people around the world.
As we look back on this historic moment, we can't help but be reminded of the courage and sacrifice of the brave men and women who serve our country.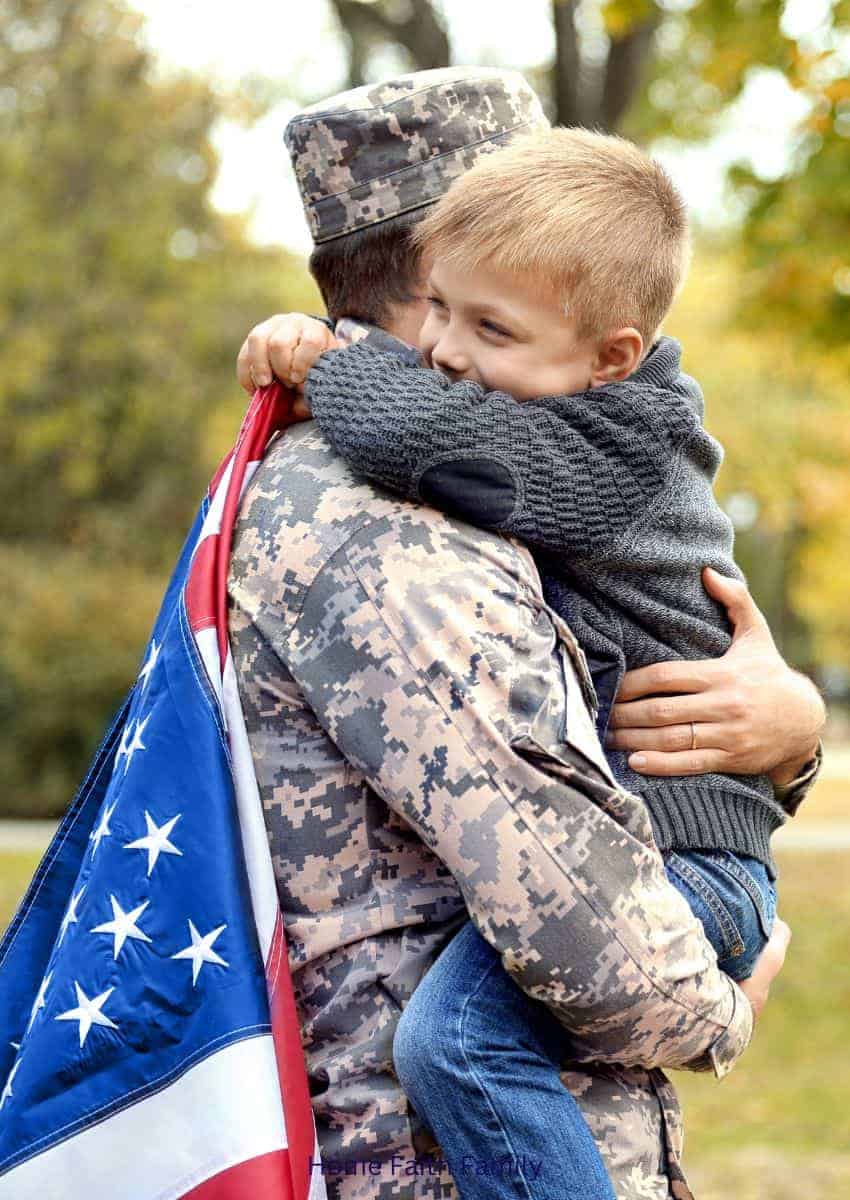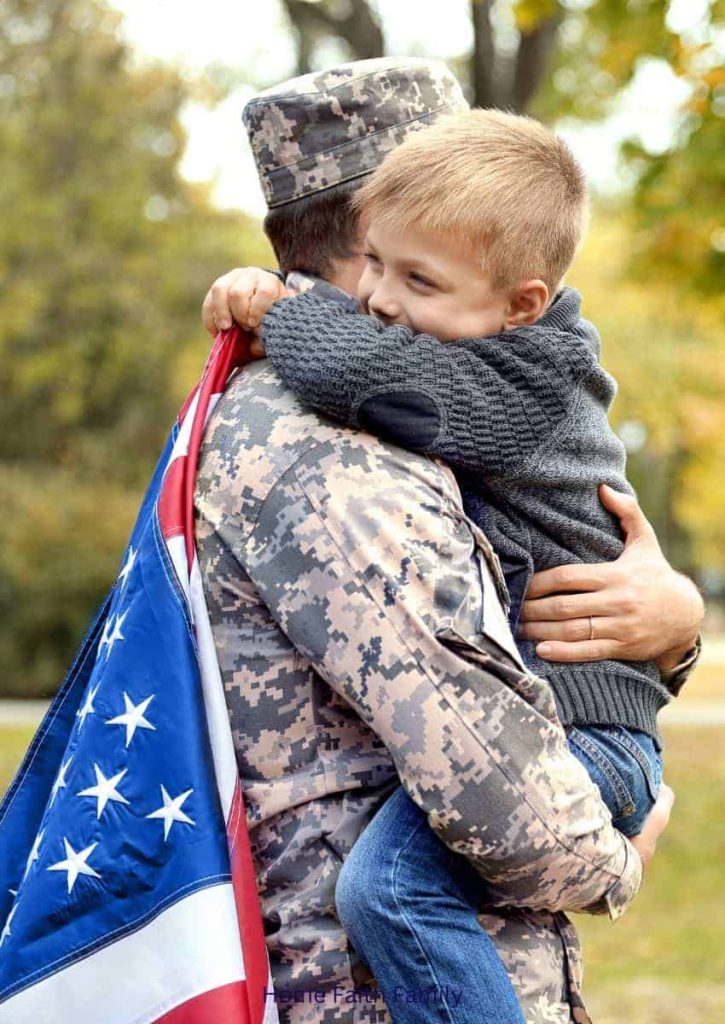 Memorial Day is a special day of remembrance and tribute of, and for, patriotic members of the armed forces.
So, it's important to honor them with prayerful hymns and melodic songs that reflect the true spirit of this national holiday.
With the selection of these Memorial Day hymns for your church offered here, you can begin appreciating our veterans much earlier by using these symbolic melodies in your own local congregation.
May all Americans come together with peace and respect as we continue to celebrate this important day dedicated to those who fought bravely and gave their lives in service.
Wishing a safe Happy Memorial Day to everyone everywhere!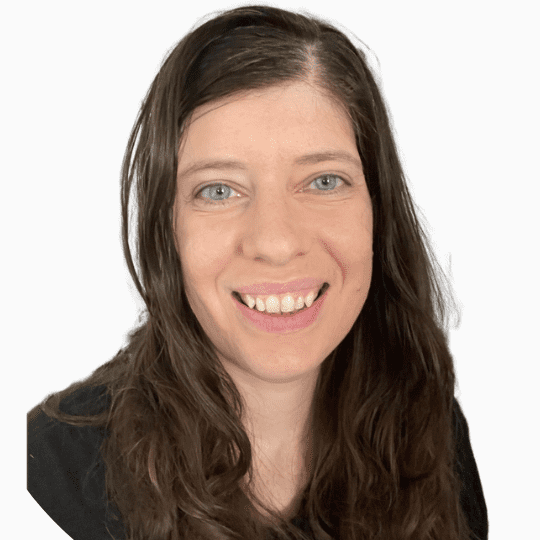 Micah Klug is a wife, homeschooling mother to five children, and author. She teaches time-tested solutions to help parents remember what matters most in life, including strengthening their home, faith, and family relationships. To learn how a child who grew up in an authoritarian home is now creating an environment of peace and joy in her own home visit this page. If you want to contact Micah, send her an email here or email [email protected].