Memorial Day is celebrated the last Monday of May and is a time to honor the brave soldiers who gave their lives in service to the United States of America.
This holiday weekend offers a wonderful opportunity to remember and express our gratitude to those who gave the ultimate sacrifice of their lives.
And what better way to celebrate than by engaging our tweens and teens in an activity that's both creative and educational?
You can download 40+ of the best free coloring pages to print with Memorial Day themes.
Whether you're a parent, a teacher, or a caregiver, you won't want to miss this treasure trove of coloring sheets that will help your kids of all ages enhance their fine motor skills.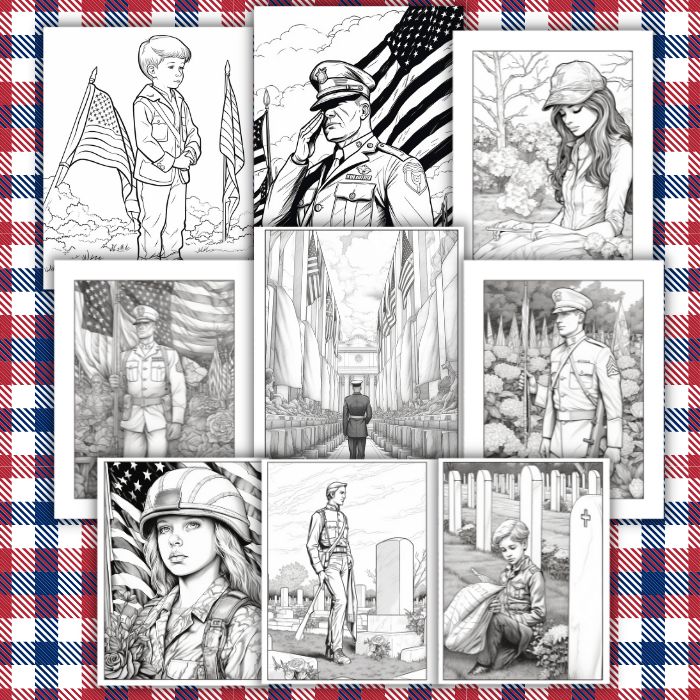 40+ Free Memorial Day Printable Coloring Pages
These coloring pages area fun way to relax this federal holiday.
They also offer a meaningful way to honor those who have served our country and made the ultimate sacrifice.
This instant digital download features designs include:
Women in uniform
Generals and soldiers standing with the USA flag in the background
Young children respecting the American flag
Older kids visiting the graveside of their father
Soldiers paying respect to their fallen brothers in arms
Memorial services
Young soldiers in military service
Patriotic Symbols
and so many more.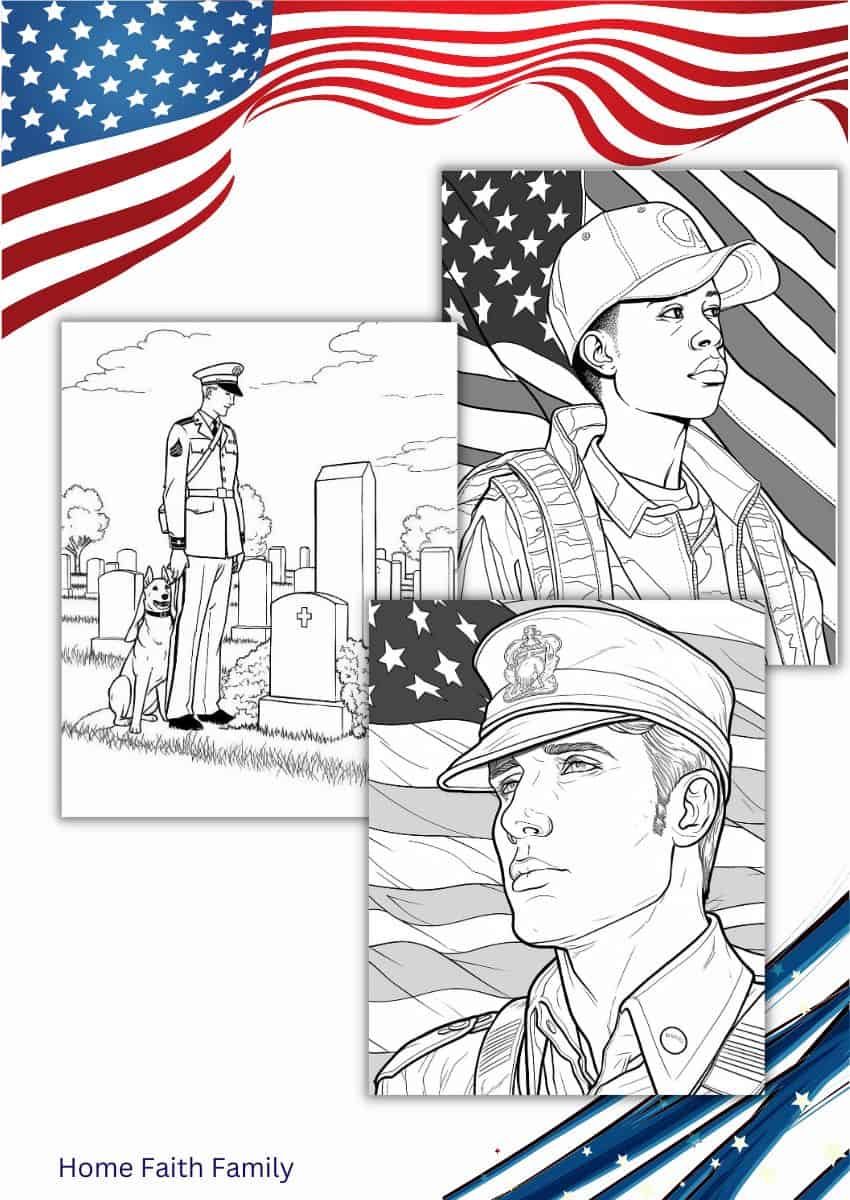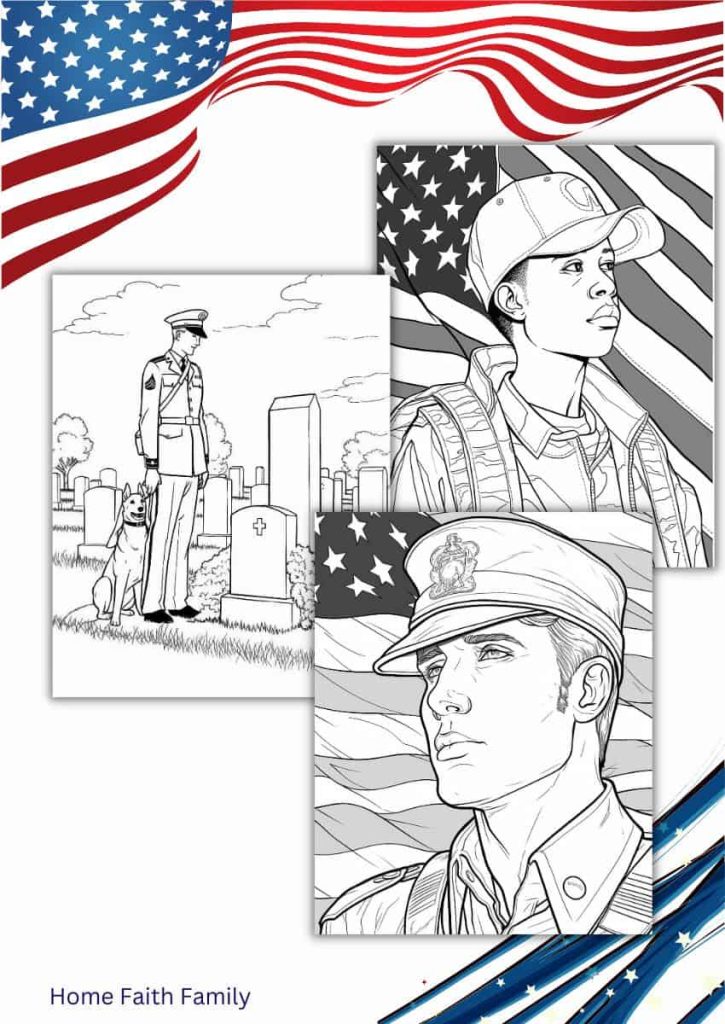 The best part about these printable PDFs is that you can print off as many of these pages as you want and experiment with different colors and techniques.
This digital file is for non-commercial use / personal use, so why not gather your family and friends and spend some quality time coloring together this Memorial Day?
It's a perfect way for your family to connect with loved ones and show your appreciation for our veterans.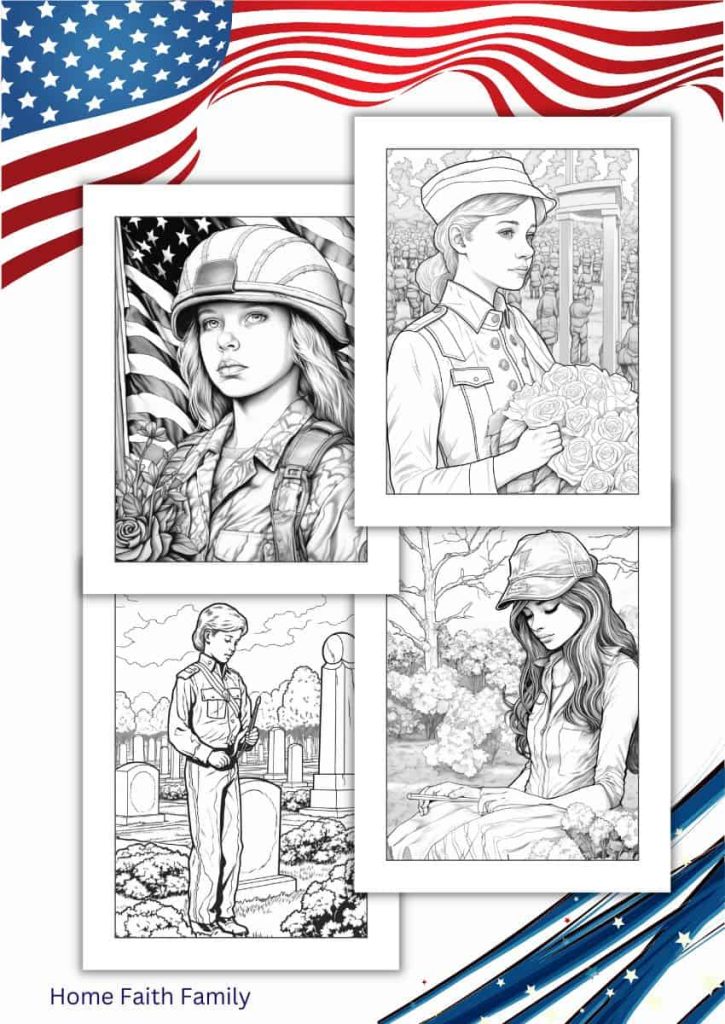 Free Printable Memorial Day Coloring Pages For The Entire Family
Aren't these pictures absolutely beautiful?
It's incredible what people can create when they learn how to trace pictures.
You can download these coloring pages directly to your computer and print them off right away.
Whether you're coloring these pages yourself or printing them for your children, these pages are sure to be the perfect activity and a great addition to your Memorial Day holiday weekend.
Because Memorial Day is a special time to honor the brave men and women who made the ultimate sacrifice while serving our country.
As we turn our thoughts to these fallen heroes, we can also encourage the next generation to remember their sacrifices and understand the value of freedom.
A great way to start this conversation with the younger generation is through coloring pages that feature symbols of patriotism and tributes to those who have served.
As children color, they can learn about the bravery of those who have gone before, the importance of serving their nation, and the significance of this day.
You can guide them through the difficult topics of death and suffering for those in the armed forces in a safe and loving environment.
So let's use these coloring pages as a visual reminder of the sacrifices made, and engage the children in our lives in meaningful conversations about the significance of Memorial Day.
Together, we can help future generations understand the true cost of freedom and the importance of honoring those who gave their lives to protect it.
Download These Free Memorial Day Coloring Pages
Coloring may seem like a simple and straightforward activity for children of all ages, but it actually has a lot of benefits that extend far beyond just filling in the lines.
Encouraging kids to engage in creative activities like coloring can help foster their imagination, boost their problem-solving skills, and enhance their ability to think outside the box.
Not to mention, it's an excellent way for kids to unwind and relax after a long day of school or play.
The sense of accomplishment that comes from completing a coloring page can also help boost their self-esteem and confidence.
This Memorial Day, why not incorporate these coloring pages into your family and friend gatherings?
And you can use these free printables on Veteran's Day or any other day of the year to remember and honor those who have served our country and made sacrifices for us.
It's a meaningful way to spend time together while also expressing gratitude and appreciation for the sacrifices made by our fallen heroes.
So gather colored pencils and markers and get ready to honor the brave with these free Memorial Day coloring pages.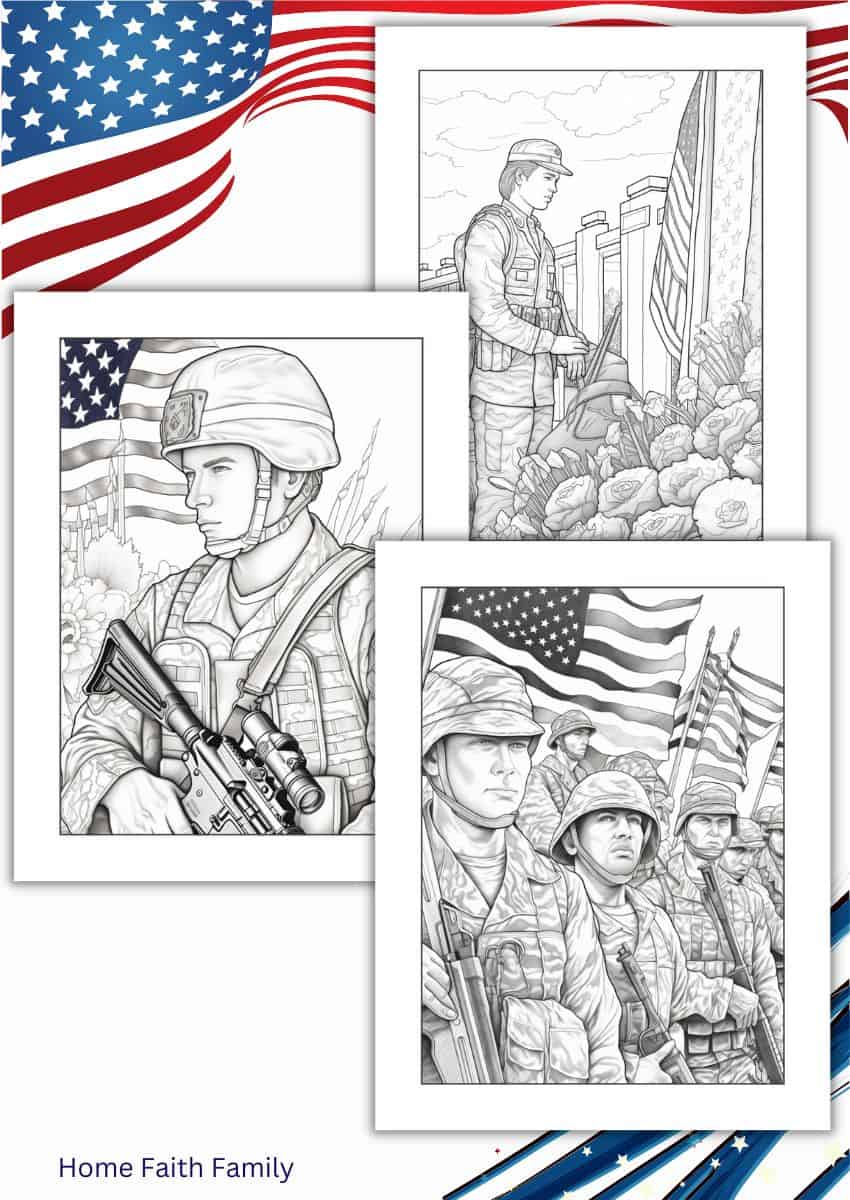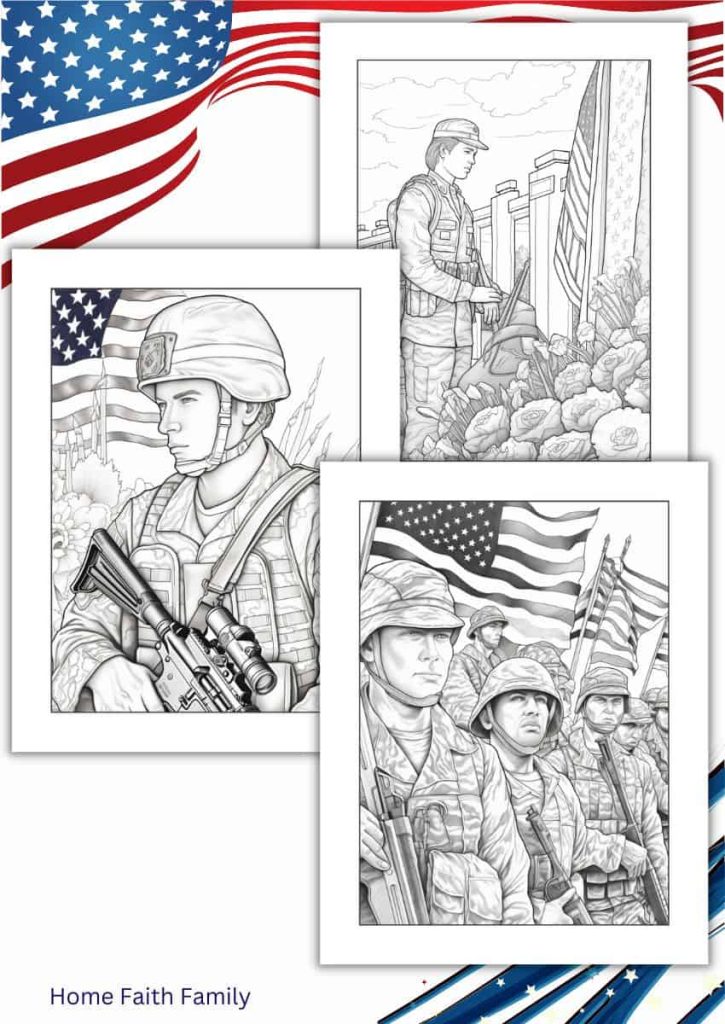 Downloading and Sharing
Downloading these Memorial Day coloring pages is easy.
Simply enter you email in the digital form, click the download button, and the PDF files will be sent straight to your inbox, so you can print these sheets when you're ready to color.
Whether your children love to color with crayons and markers, or you're looking for a way to educate them on the importance of this holiday, these coloring pages are the perfect solution.
Not only are they a great way to bond with your loved ones, but they also encourage creativity and learning.
So go ahead and print out as many copies as you need – and don't forget to share them with your family and friends!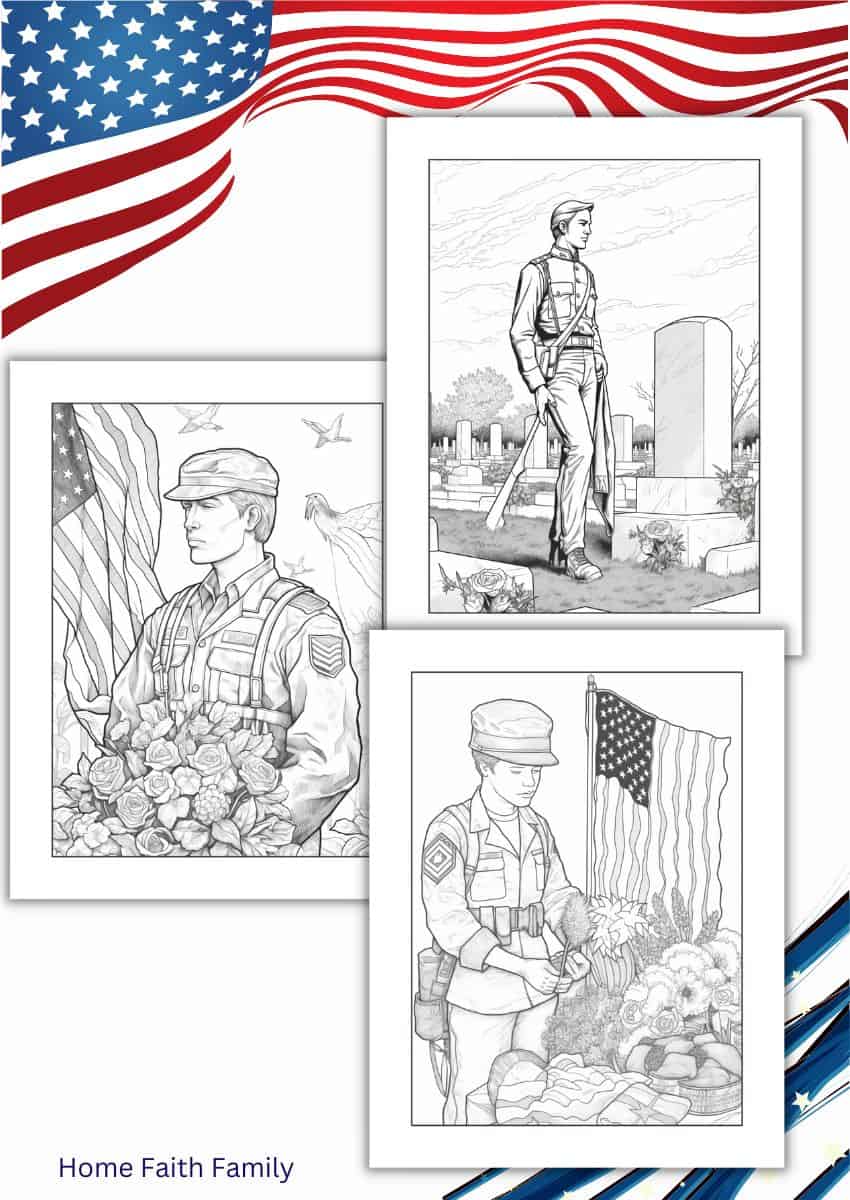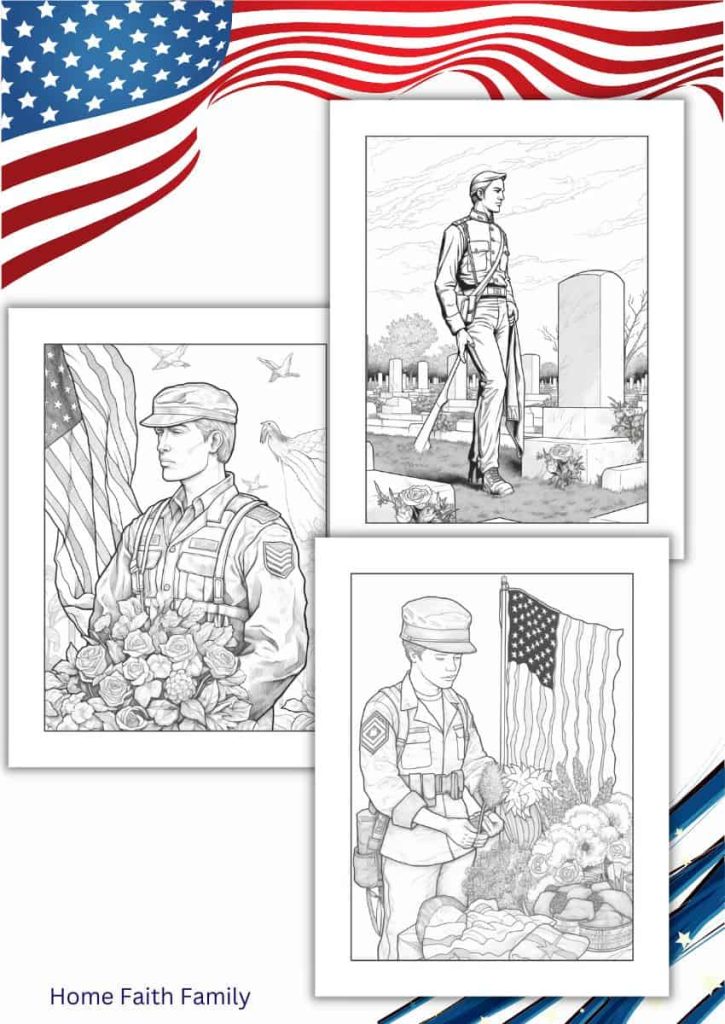 A Brief History Of Memorial Day To Share With Kids
And to help you make the most of this national holiday, here's a brief overview of the meaning of Memorial Day.
The holiday began after the Civil War, when Americans wanted to honor their fallen soldiers and embrace a unified America.
Decoration Day was eventually created in 1868, although it wasn't officially declared a federal holiday until 1971 by President Nixon.
Over time, it eventually became a day of remembrance for all Americans who have died in wars throughout history.
Today, this holiday is a wonderful way we celebrate this important holiday by attending parades and ceremonies, visiting cemeteries to lay wreaths, and flying the American flag at half-staff.
It is also a time for families to gather together to remember loved ones who sacrificed their lives in order to protect our freedoms.
If you feel these coloring pages are too advanced for your younger children, then you'll want to check out these free Memorial day activities, including:
The color by number pages are great for elementary grades from first grade through fifth.
Otherwise download these free Memorial Day printable coloring pages, print them out for your kids, and enjoy the time you have together as a family!
Memorial Day is a time to remember and honor our heroes.
By downloading and using our free printable coloring pages, you can create an enjoyable and educational experience for children.
And don't forget to engage in those hard conversations about the sacrifices made by our brave soldiers, and express gratitude for the freedom we enjoy today.
Let's make this Memorial Day unforgettable by providing children with fun and creative ways to learn about the importance of this special day.
So let's make this holiday unforgettable by providing some fun and creative ways for children to learn more about Memorial Day.
Download the pdf now and start getting ready for an enjoyable tribute filled day!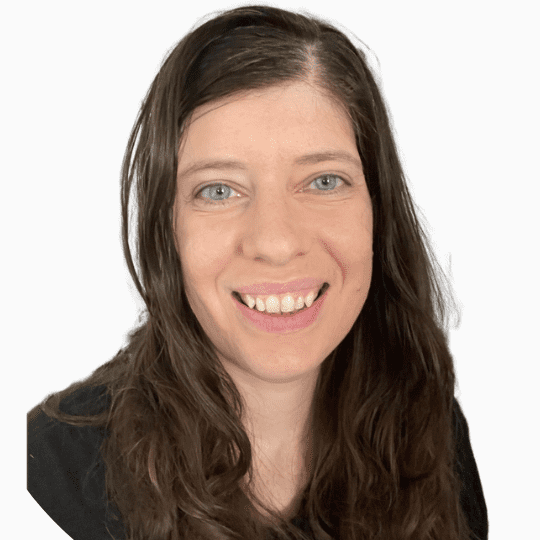 Micah Klug is a wife, homeschooling mother to five children, and author. She teaches time-tested solutions to help parents remember what matters most in life, including strengthening their home, faith, and family relationships. To learn how a child who grew up in an authoritarian home is now creating an environment of peace and joy in her own home visit this page. If you want to contact Micah, send her an email here or email [email protected].