Are you looking for a fun and educational activity for your kids to do this Halloween?
Look no further than these free color by number pages full of spooky-themed images.
These fall festive pages are sure to get your little ones in the Halloween spirit.
From friendly ghosts and pumpkins to witches and a cute vampire, these interactive worksheets will have their eyes glued to the page as they make each image come alive with falls vibrant colors.
11 Free Halloween Color by Number Pages For Kids
You can send this free printable straight to your phone or computer.
Grab your family's free download of this printable pack today.
Just so you know, you will be sent a free printable PDF file that you can print from home, or at your local library.
Don't forget to check on your printer settings before you print, so you get the pages you want.
These cute Halloween color by number pages are for personal use and would make a fun activity for your entire family.
You can make this Halloween activity even more fun by turning it into a game or using this sheets at your next homeschool co-op get-together.
Have each child take turns picking one of the color by number pages and race to see who can finish the math fact problems first!
What's Included in The Halloween Color By Number Pages
When it comes to number recognition and fine motor skills, coloring by number pages can be an amazing tool.
With 11 different pages to choose from, you can use this activity as a simple way to help kids learn numbers and practice counting.
Your young children will love coloring the numbers they recognize from 1-5.
And your older kids will enjoy practicing their addition and subtraction as they solve the math on these number sheets.
You can even try having your kids count out loud while they're filling in each space with the right color.
Plus, let's be honest, who doesn't love a fun way to teach their children?
So go ahead, break out the crayons and get ready to have some spook-tacular fun!
Free Halloween Coloring Pages For Preschool
The math number coloring pages are great to get your older kids learning and having fun at the same time.
But, if your oldest child has a younger sibling, then you know firsthand how often little brother or sister wants to be included.
That's why we've included a number and color recognition pages to help your kids get the most out of their coloring fun time.
Your preschooler or kindergartener can work on their hand-eye coordination and you can enjoy the little bit of peace of quiet this easy activity will get you.
They will see numbers 1-5 and will see the different colors on their color key for each page.
Tips for Helping Kids Make the Most Out of Their Halloween Color by Numbers Experience
To help your kids make the most out of this Halloween season, here are a few tips:
Encourage your child to solve the problems themselves and use their logic rather than relying on you to help
This will help them build problem-solving skills as they work through each page.
Remind them to take their time and focus on coloring the area completely.
It's easy to get excited and want to rush through, but it's important to take your time with this type of activity in order for them to really learn something from it.
If you have multiple children working on the same page, encourage them to work together instead of competing against each other.
This will help boost their collaboration skills and also keep the peace.
Last but not least, encourage them to talk about what they are doing and why.
This will help them make connections between different things and provide an opportunity for further exploration in other activities.
So put away the regular coloring books and get ready to have some spook-tacular fun with these free Halloween coloring pages!
Teach Emotions With The Ghosts
One great way to make learning fun is with the three ghost pages.
You can use these pages as one of the many Halloween activities you'll be enjoying this year.
Thankfully, this one is super easy.
All you need to do is print these free printables.
Then, as your child colors and practices saying the color names, you can have a small lesson on emotions.
One ghost is happy, the other scared, and the third ghost is sad.
You can help your younger and older children identify the different emotions they experience on Halloween.
They might feel happy when they color their Halloween coloring sheets.
Or they might feel sad when this fun time of the year is over.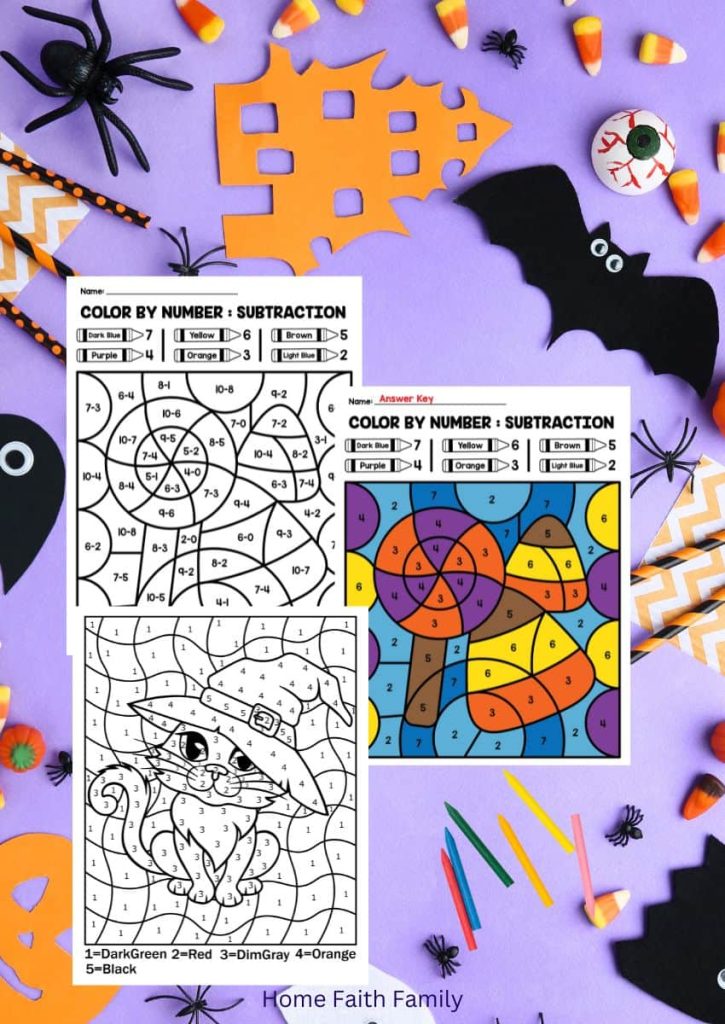 Halloween Theme Cat
A fun Halloween color by number page for kids that will win them all over is the Halloween cat.
Your kids will love grabbing their box of crayons for some spooky fun this Halloween season.
And you will love as they identify the correct number on this page.
Fall Color Pumpkin
Out of all the color by number worksheets, the pumpkin sheets are going to be a popular option for your children.
They'll be able to explore their creative side, while using vibrant colors to bring each printed page to life.
Spooky Season Halloween Decorations
One year my daughter decided she wanted to take over the decorations for the holidays.
Halloween was no exception.
Because we didn't have too much money to spare for decorations or anything fancy, she made coloring sheets for each of her siblings.
Then, she hung the pictures up strategically through the house.
Both boys and girls room doors were covered with pictures and drawings of ghosts, monsters, and witches.
For some extra fun with your kids this Halloween season, try getting them to share these free printable Halloween color by number printables with a friend.
They can work on the activity together, or surprise them at their Halloween party with a colored picture and a sweet note.
We hope that these 11 free Halloween color by number pages for kids have sparked some excitement in your house this fall season.
Let the little ones join in on the holiday fun and fill up the page with vibrant fall colors!
Don't wait, print them out today and spread the spooky spirit with you family.
Kids of all ages can practice their math skills as they work out which number corresponds to each color!
Don't just take our word for it though—print out your copy today and see first hand just how much fun your children will have!
So come join in this fall fun.
And don't forget to come back and comment below what your child's favorite page was after they are finished!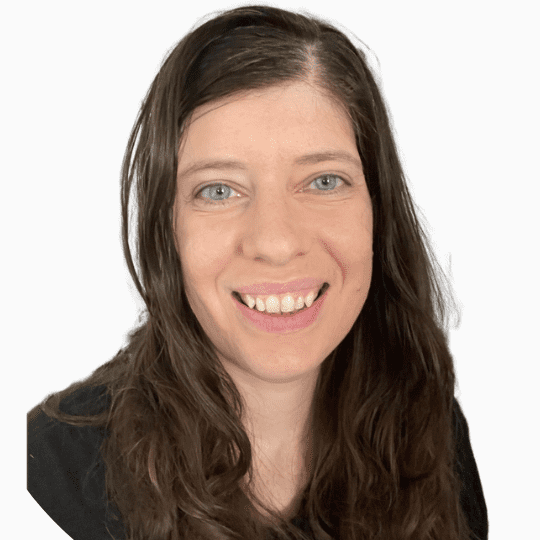 Micah Klug is a wife, homeschooling mother to five children, and author. She teaches time-tested solutions to help parents remember what matters most in life, including strengthening their home, faith, and family relationships. To learn how a child who grew up in an authoritarian home is now creating an environment of peace and joy in her own home visit this page. If you want to contact Micah, send her an email here or email [email protected].