Memorial Day is a special day of remembrance for those who have given their lives in service to our nation.
As Christians, it's important that we take time out of our busy days to remember what Memorial Day stands for and honor the brave men and women who paid the ultimate price.
At church services on this special day, pastors and leaders may want to celebrate the sacrifice made by these heroes through uplifting Christian readings, including from the Bible.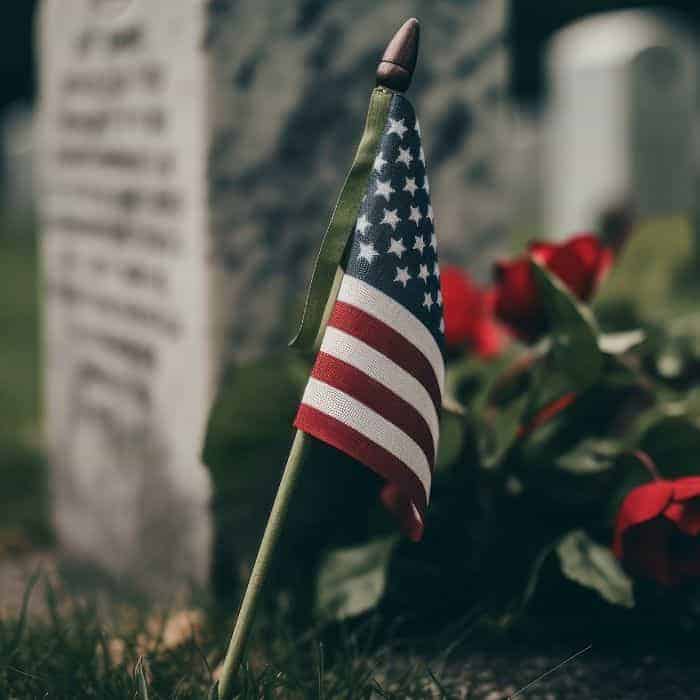 28 Memorial Day Christian Readings For Church in 2023
Here are some suggested readings that can serve as an inspiration during your Memorial Day sermon.
Famous Memorial Day Poetry
Memorial Day is a time to pay tribute to the military service members in the armed forces of the United States who gave the ultimate sacrifice of their life.
The famous poems you will read are written by military personnel as they fought for the cause of freedom.
As you read these powerful words, let them bring to mind the courage and strength of those who served our nation.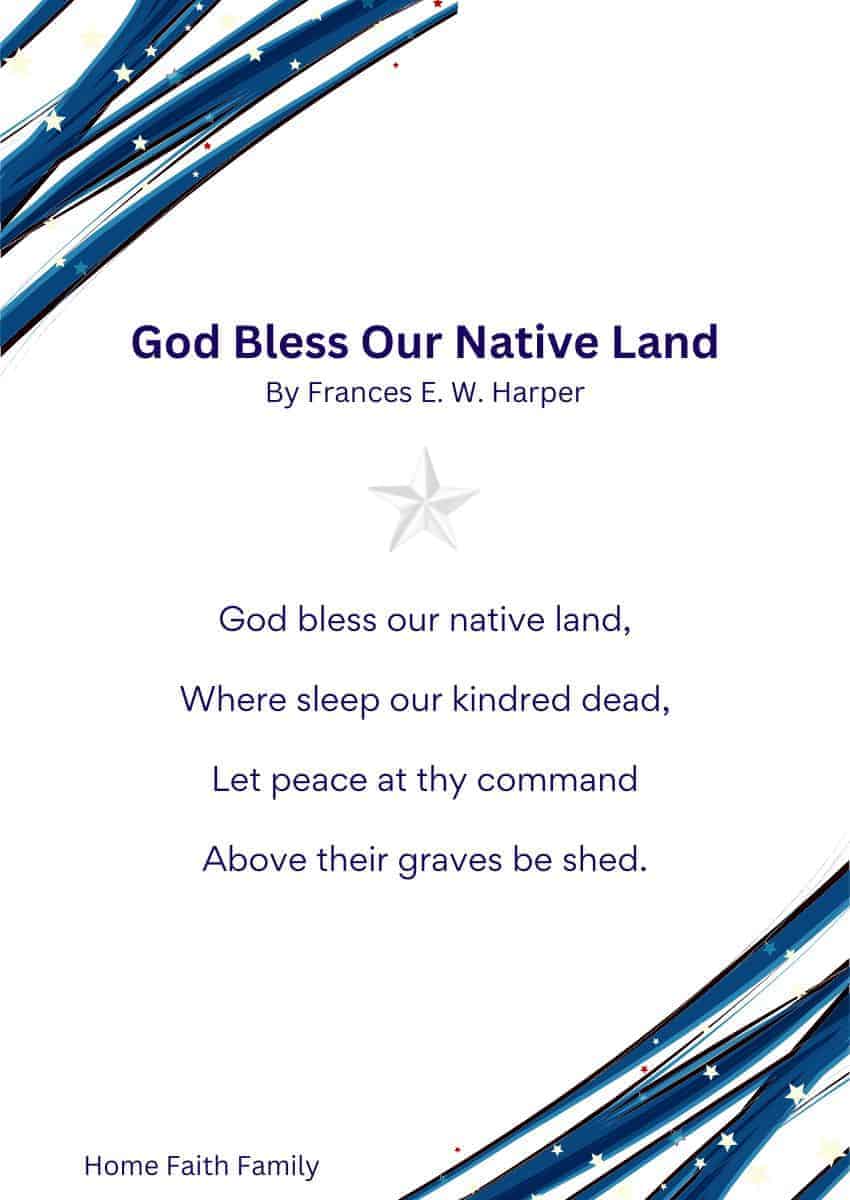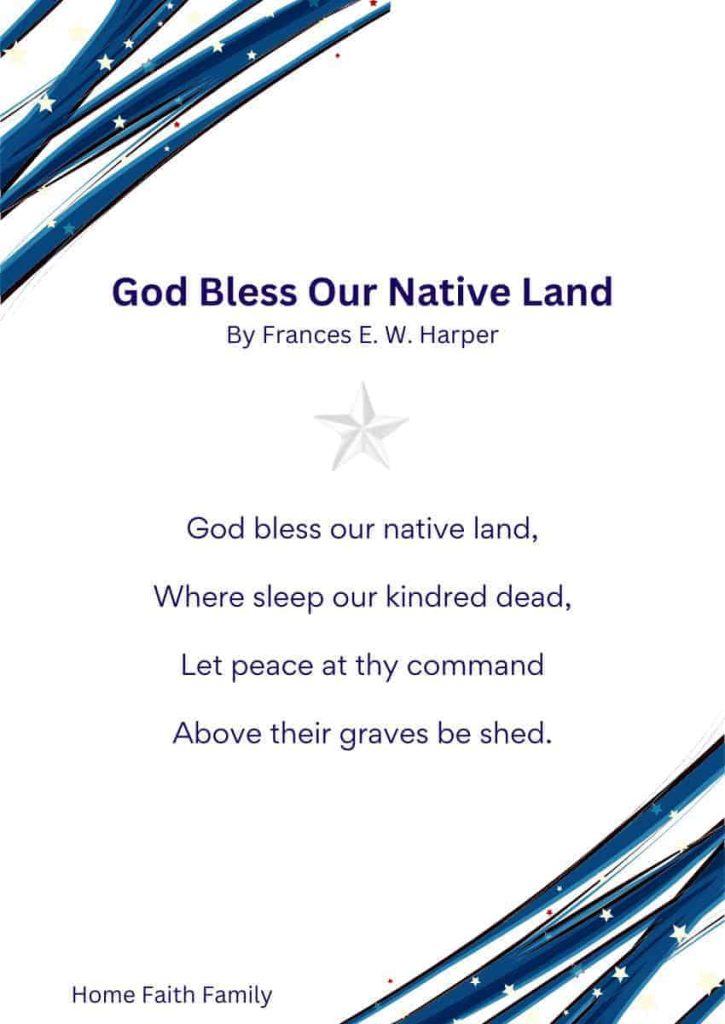 1 – God Bless Our Native Land
By Frances E. W. Harper
God bless our native land,
Land of the newly free,
Oh may she ever stand
For truth and liberty.
God bless our native land,
Where sleep our kindred dead,
Let peace at thy command
Above their graves be shed.
God help our native land,
Bring surcease to her strife,
And shower from thy hand
A more abundant life.
God bless our native land,
Her homes and children bless,
Oh may she ever stand
For truth and righteousness.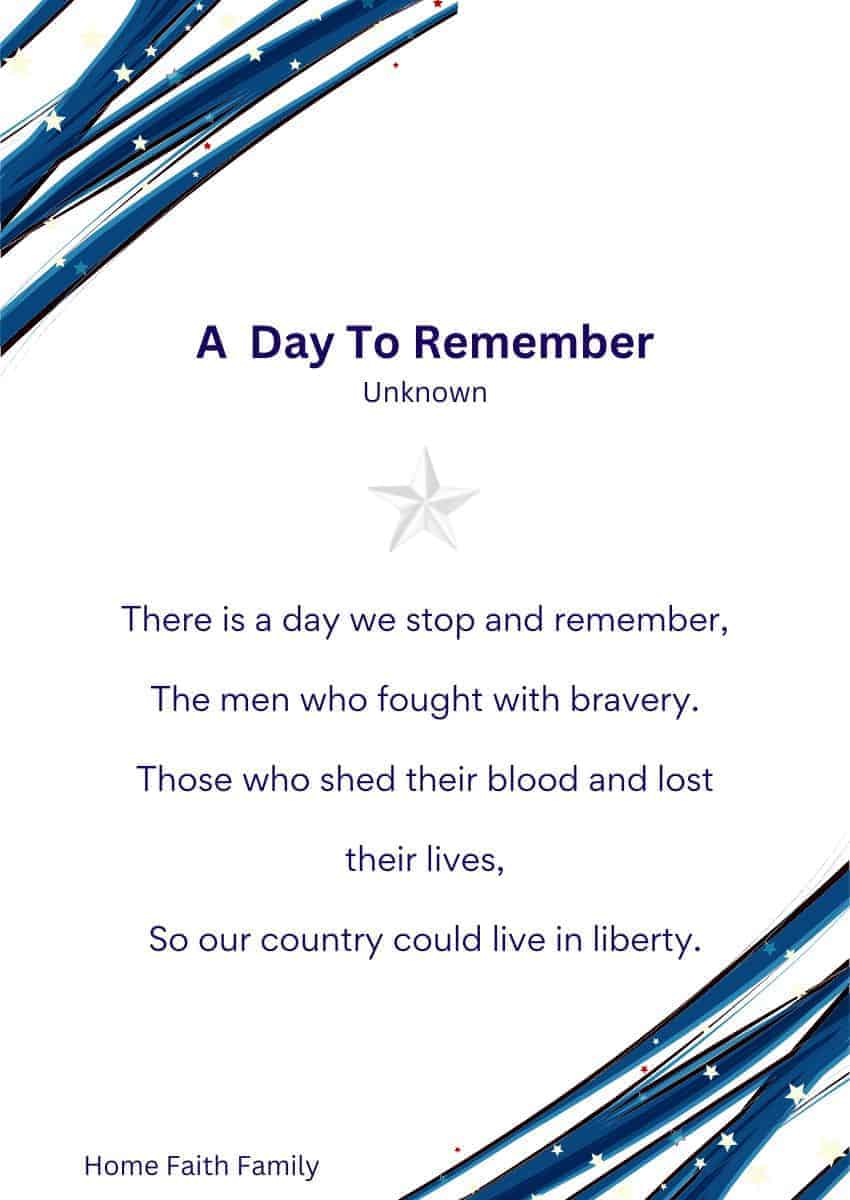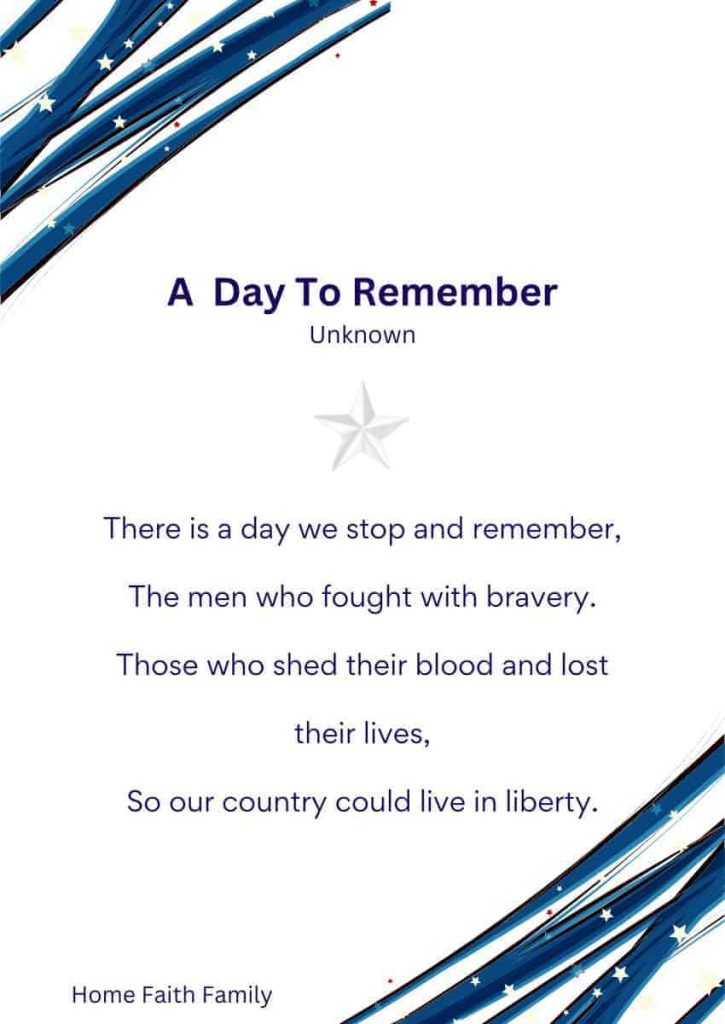 2 – A Day To Remember
There is a day we stop and remember,
The men who fought with bravery.
Those who shed their blood and lost their lives,
So our country could live in liberty.
There is a day we stop and remember
The colors that we love.
The red, white and blue of freedom,
That fit our country like a glove.
White for purity of purpose,
Red for valor during battle,
Blue for justice paid to those who threaten us,
Are the gifts our Lord blessed upon our men.
There is a day we stop and remember,
That our men have not died in vain.
For after every battle is won,
Our country's standards reign.
Wave a flag,
Place a flower upon a grave,
Say a prayer of thanks on Memorial Day.
For the price of freedom was freely paid.
3 – This is Memorial Day
By LTC RET Samuel Lombardo
This is Memorial Day
In our land of the free.
It's because of those who sacrificed
Whose graves you're here to see.
They fought on foreign lands
And across the open sea,
And paid the ultimate price
To keep you and I free.
So put all things aside
And honor this important day,
Which we have dedicated
As our Memorial Day.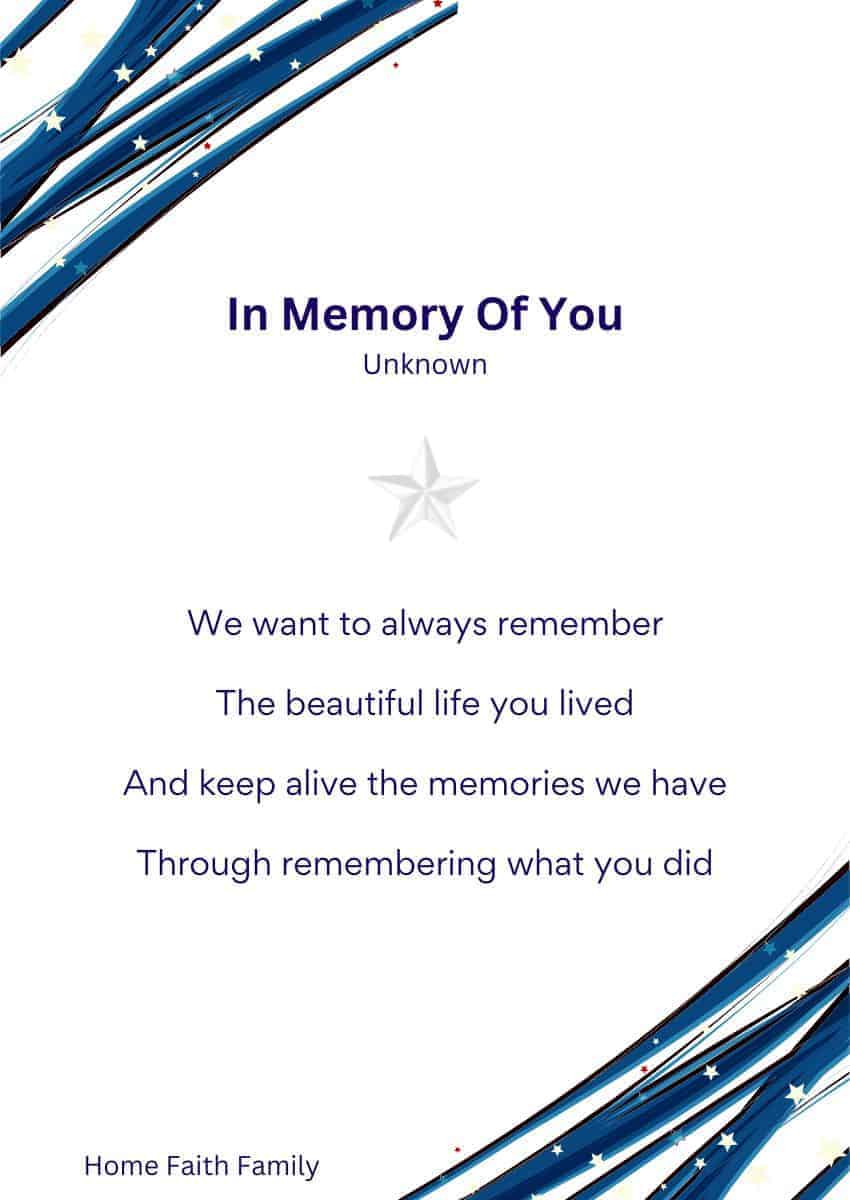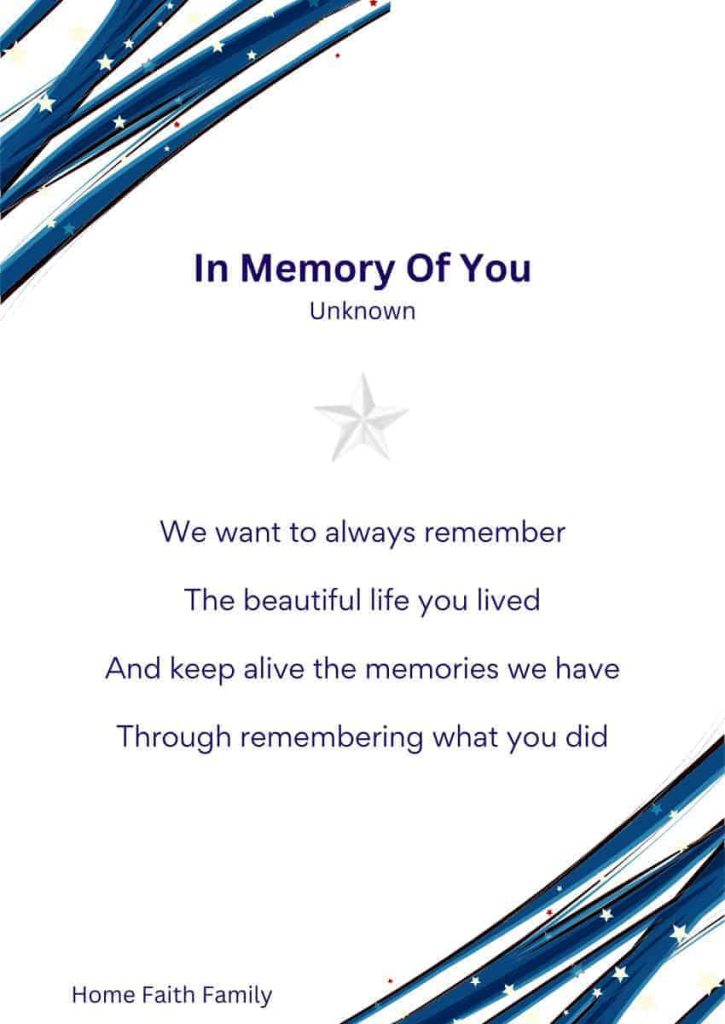 4 – In Memory Of You
We want to always remember
The beautiful life you lived
And keep alive the memories we have
Through remembering what you did
For you're so special to all of us,
A wonderful person indeed
Your love, laughter and warm smile
Reflected a heart that believed
Just in the everyday things we do
We remember your faith and love
In the words you spoke to help us through
Is a continued reminder for us
Although we miss you so very much
We know we'll see you once more,
For this is the hope we have in God,
Being re-united in the Lord
And as we gather we'll continue to share
Special times we went through,
For these are memories that warm our hearts
As we honor the memory of you.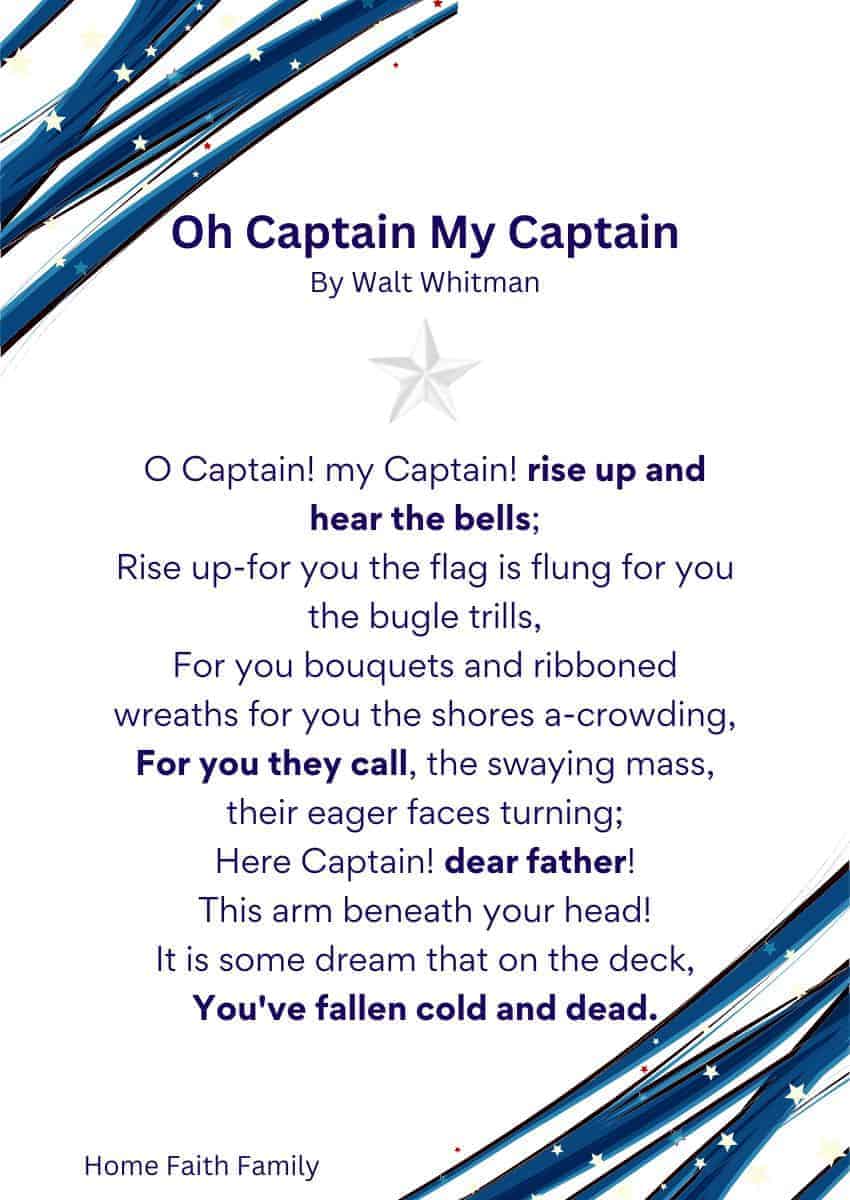 5 – Oh Captain My Captain
By Walt Whitman
O Captain my Captain! Our fearful trip is done,
The ship has weathered every rack, the prize we sought is won,
The port is near, the bells I hear, the people all exulting,
While follow eyes the steady keel, the vessel grim and daring;
But O heart! heart! heart!
O the bleeding drops of red,
Where on the deck my Captain lies,
Fallen cold and dead.
O Captain! my Captain! rise up and hear the bells;
Rise up – for you the flag is flung for you the bugle trills,
For you bouquets and ribboned wreaths for you the shores a-crowding,
For you they call, the swaying mass, their eager faces turning;
Here Captain! dear father!
This arm beneath your head!
It is some dream that on the deck,
You've fallen cold and dead.
My Captain does not answer, his lips are pale and still;
My father does not feel my arm, he has no pulse nor will;
The ship is anchored safe and south, its voyage closed and done;
From fearful trip the victor ship comes in with object won;
Exult O shores, a ring O bells!
But I, with mournful tread,
walk the deck my Captain lies,
Fallen cold and dead.
As you read and reflect on these Memorial Day poems, remember the fallen, and honor them for the courage and sacrifice they have made.
Let this holiday be a reminder of all that has been lost in order to bring peace and safety to our nation.
May we never forget those who have served and continue to serve with honor.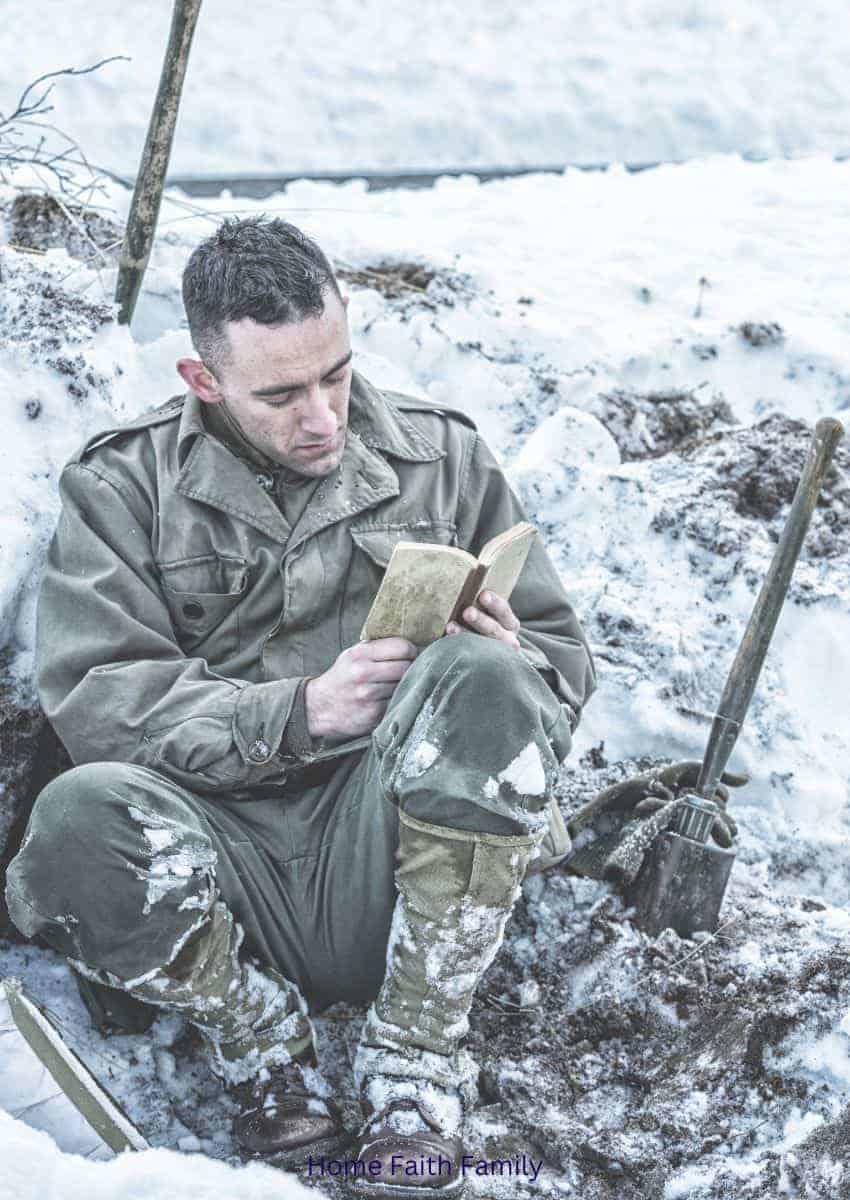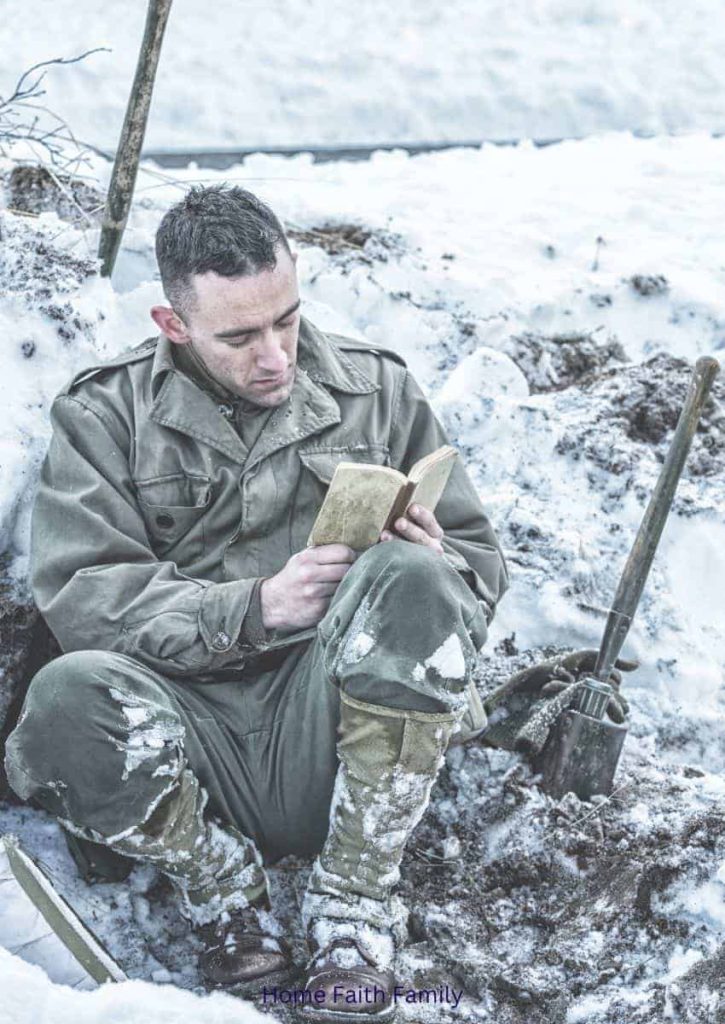 Memorial Day Prayers
It has often be said that Heavenly Father hears and answers the prayers of his children, but it's often through us that He is able to answer those prayers and meet their needs.
As we remember the service men and women, let us also remember the family members they leave behind.
Let us pray for peace and comfort to those who have lost loved ones, and for strength to those still serving.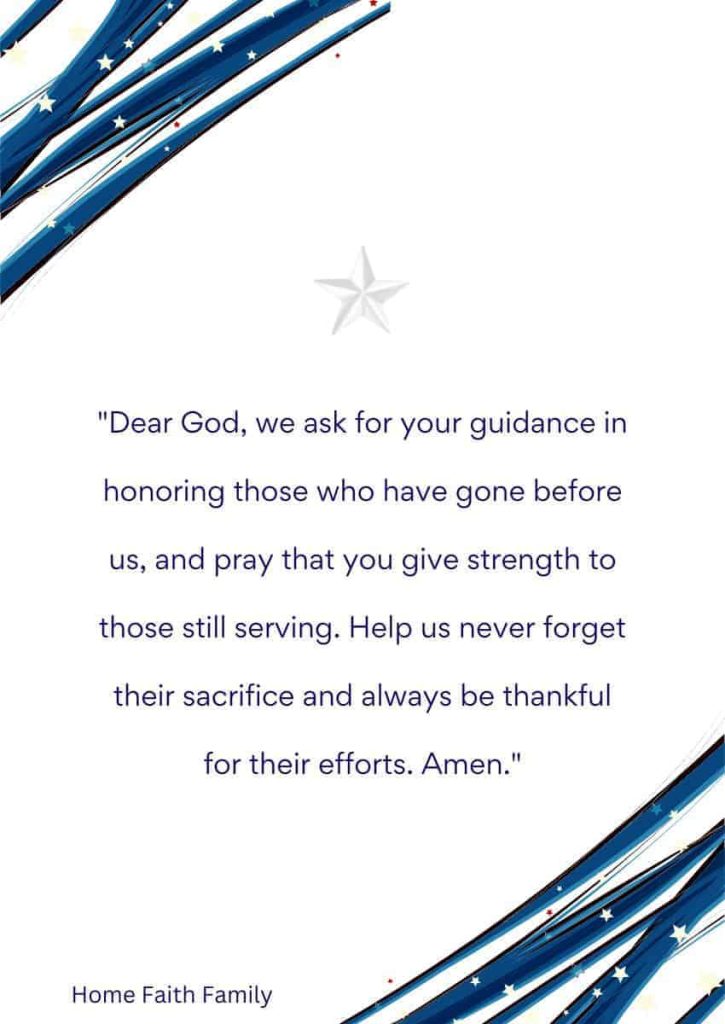 6 – Prayers for Guidance
"Dear God, we are blessed by the courage and commitment of the men and women who have sacrificed their all for our freedom. We are aware of the pain and suffering that this service has caused. We ask for your guidance in honoring those who have gone before us, and pray that you give strength to those still serving. Help us never forget their sacrifice and always be thankful for their efforts. Amen."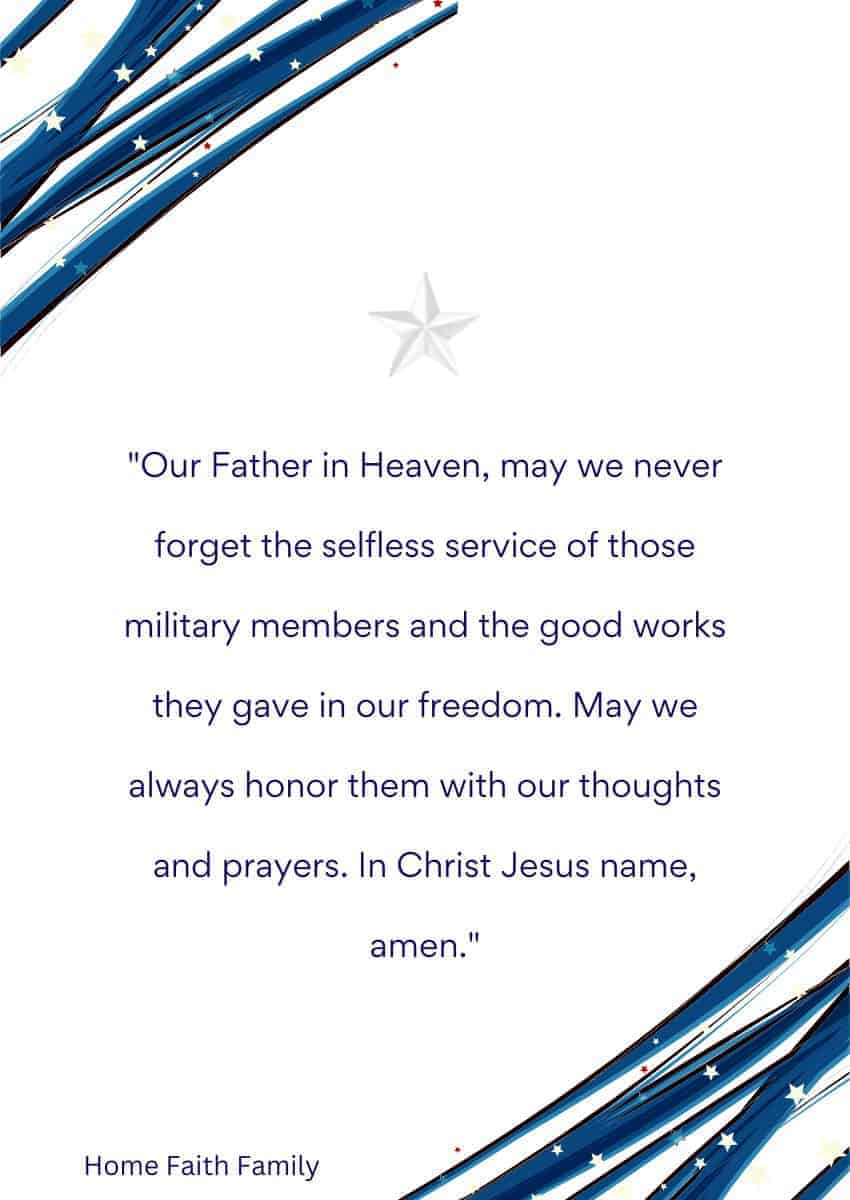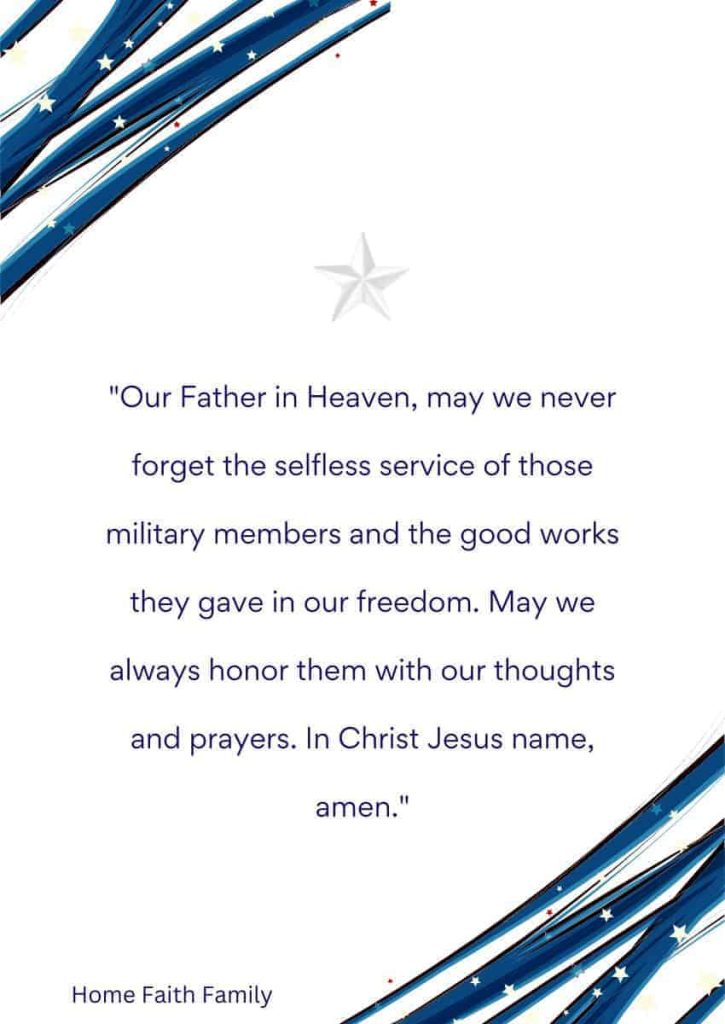 7 – Prayers To Always Remember
"Our Father in Heaven, may we never forget the selfless service of those military members and the good works they gave in our freedom. May we always honor them with our thoughts and prayers. Give us the courage to carry on their legacy of sacrificing selflessly, of taking risks and standing up for what is right even when it seems impossible. In Christ Jesus name, amen."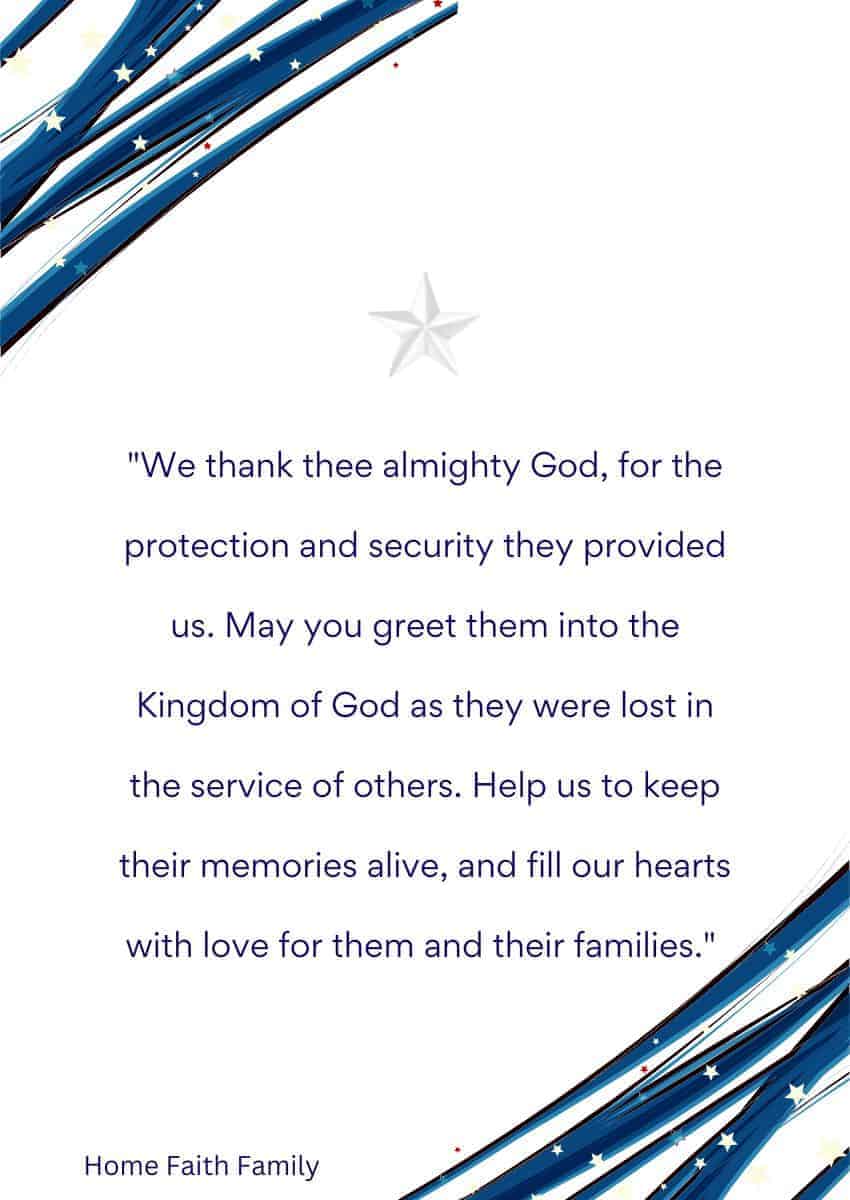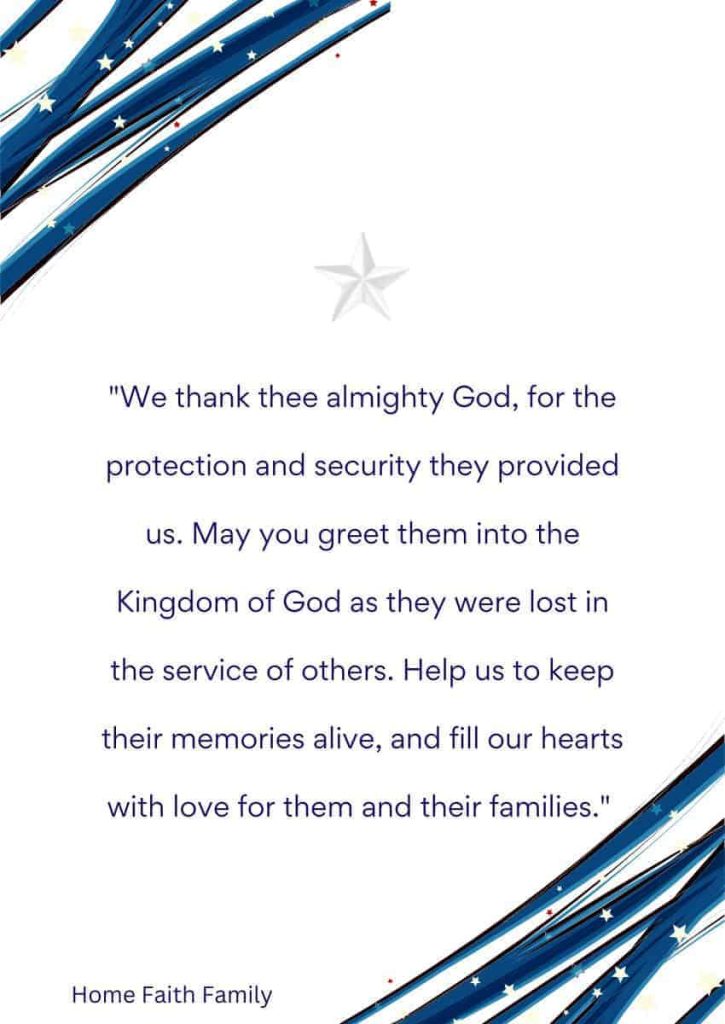 8 – Prayer of Honor
"O God, help us honor the memories of those who have served our country faithfully, let us never forget their bravery and commitment while they were here on Earth. We thank thee almighty God, for the protection and security they provided us. We are forever grateful knowing the cost of their sacrifice. May you greet them into the Kingdom of God as they were lost in the service of others. Help us to keep their memories alive, and fill our hearts with love for them and their families. In the name of Jesus Christ, amen."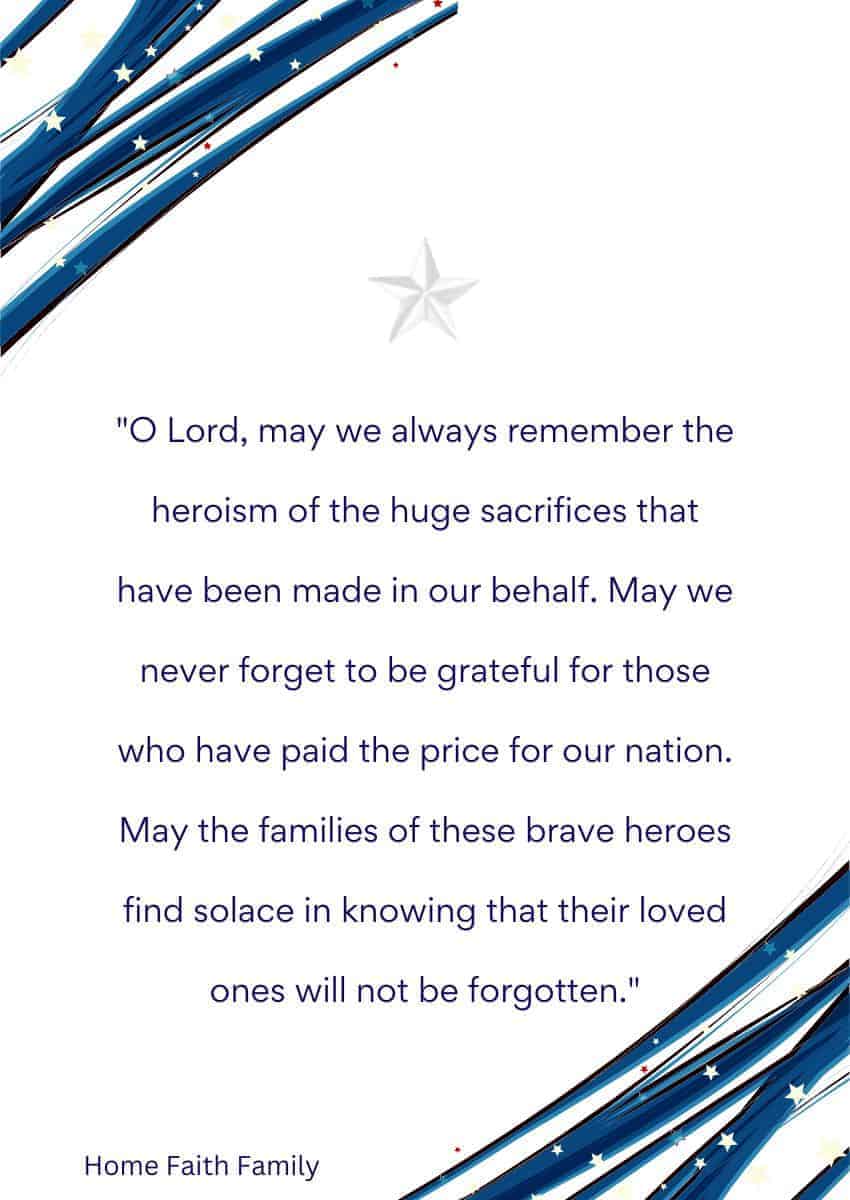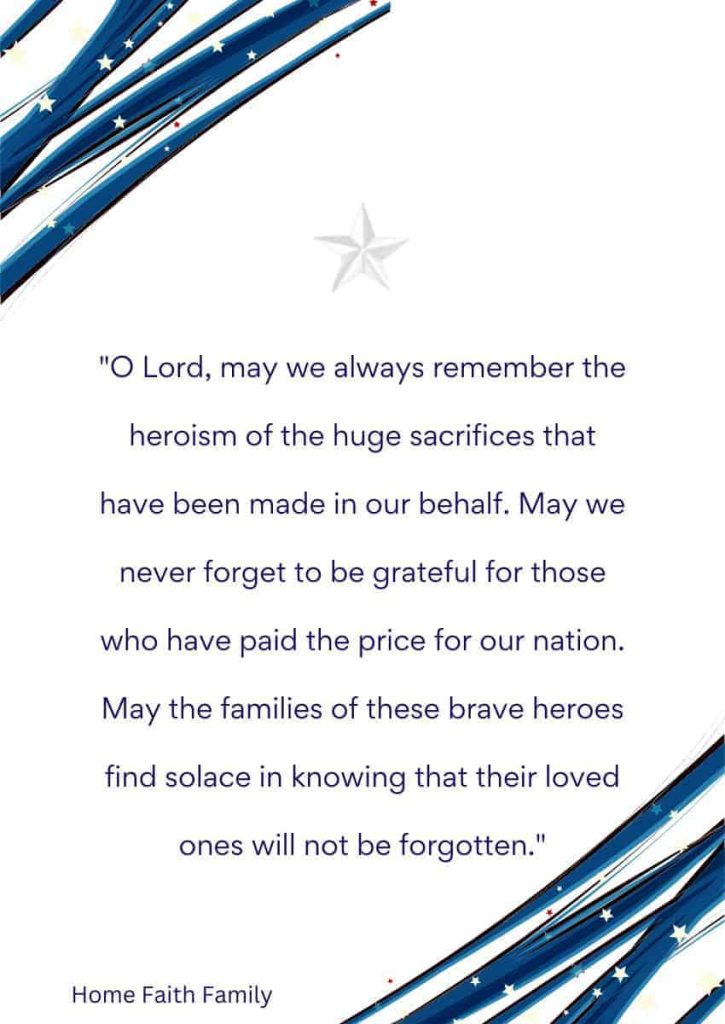 9 – Prayer for Loved Ones
"O Lord, may we always remember the heroism of the huge sacrifices that have been made in our behalf. May we never forget to be grateful for those who have paid the price for our nation. May the families of these brave heroes find solace in knowing that their loved ones will not be forgotten. Father of our Lord Jesus Christ, we love thee and find comfort in your care. And we say these things in the holy name of your son, amen."
10 – Prayer for Surviving Family Members
"God, may you bless the surviving members of the families of the fallen with your holy spirit. We know they are in a better place and there is a significant reason why they were called home to you. May their memories remain forever etched in our hearts and may we never forget the courage of their valor, for it is an example of love and dedication that can never be replaced. Amen."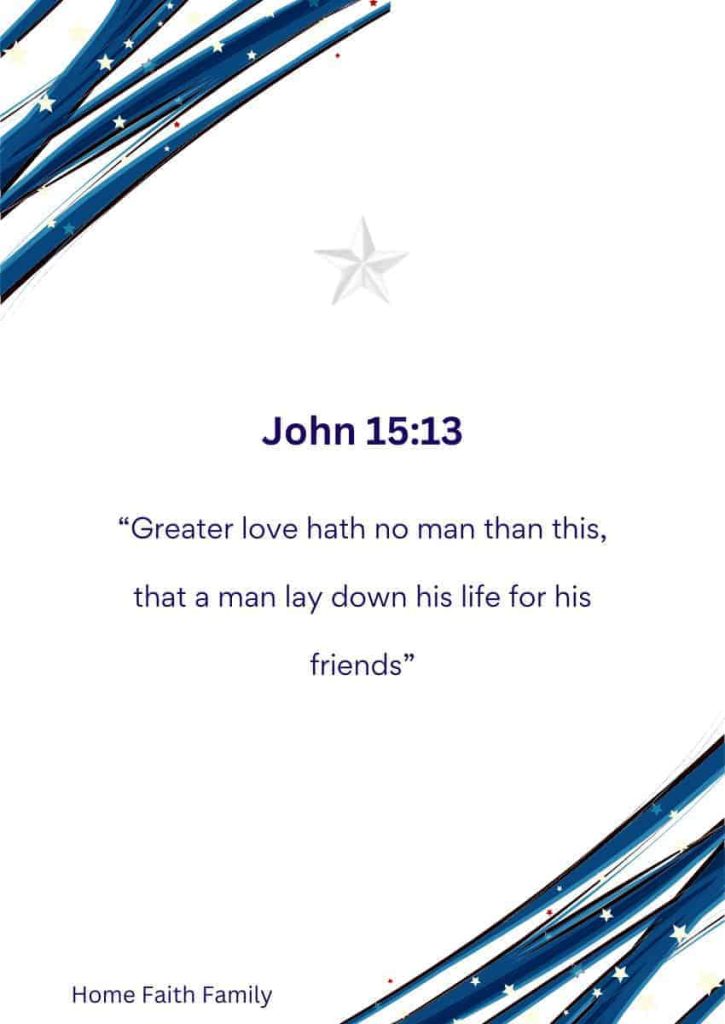 Bible Verses To Read On Memorial Day
As we pause to remember and honor the brave men and women who have made the ultimate sacrifice for our country on Memorial Day, it can also be a time for reflection on the promises and hope found in the Bible.
Many verses remind us of the courage, selflessness, and love that these heroes exemplified.
The apostle Paul wrote to the church in Ephesus one of the timeless verses used in the military: "Greater love hath no man than this, that a man lay down his life for his friends" (John 15:13).
11 – John 15:13
"Greater love hath no man than this, that a man lay down his life for his friends."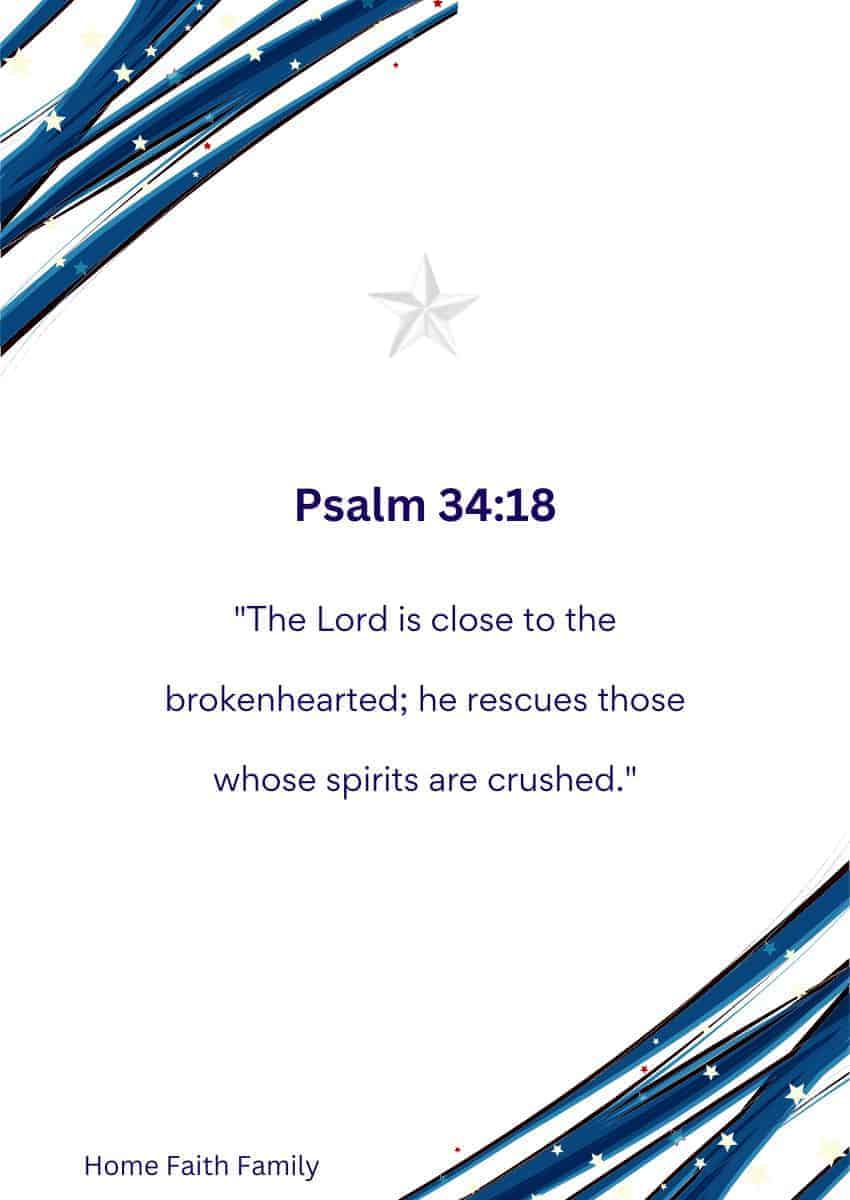 12 – Psalm 34:18
"The Lord is close to the brokenhearted; he rescues those whose spirits are crushed."
13 – Isaiah 40:31
"But they that wait upon the Lord shall renew their strength; they shall mount up with wings as eagles; they shall run, and not be weary; and they shall walk, and not faint."
14 – Psalm 91:15-16
"He will call on me, and I will answer him; I will be with him in trouble, I will deliver and honor him. With long life will I satisfy him and show him my salvation."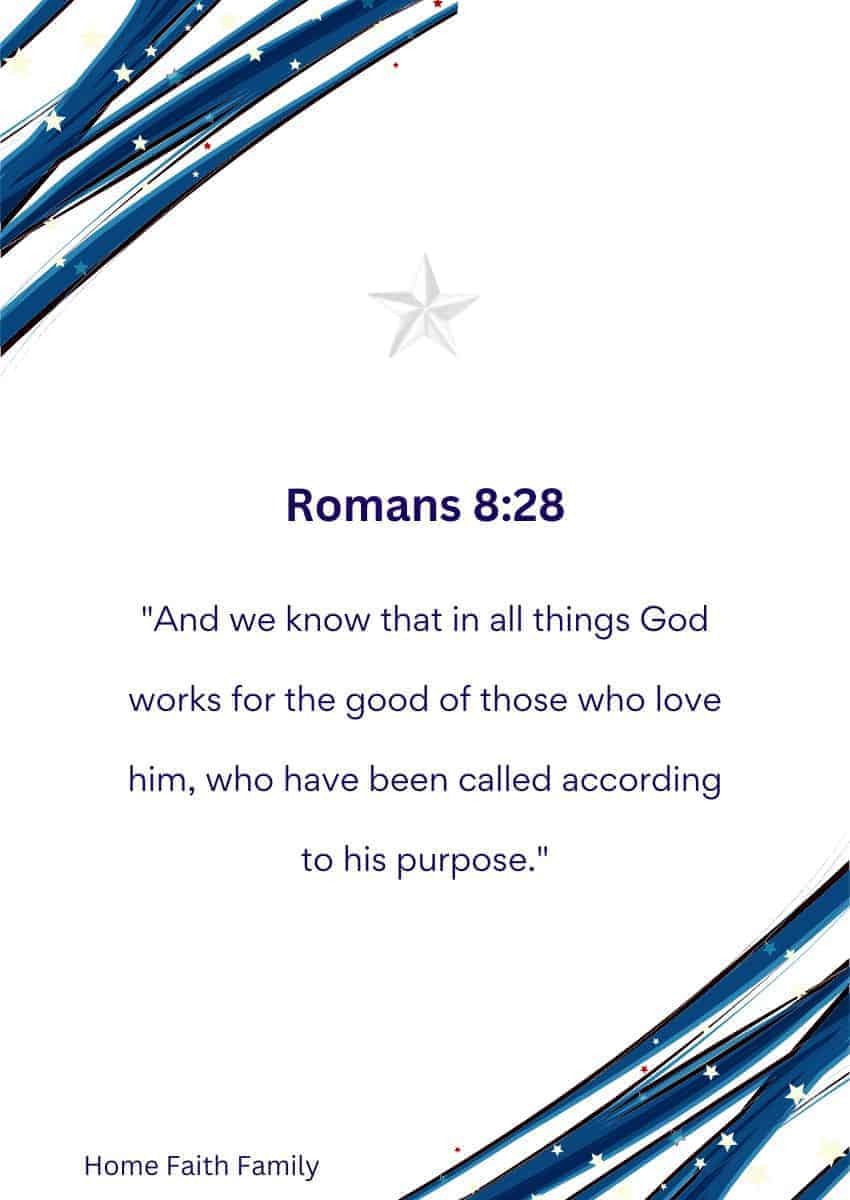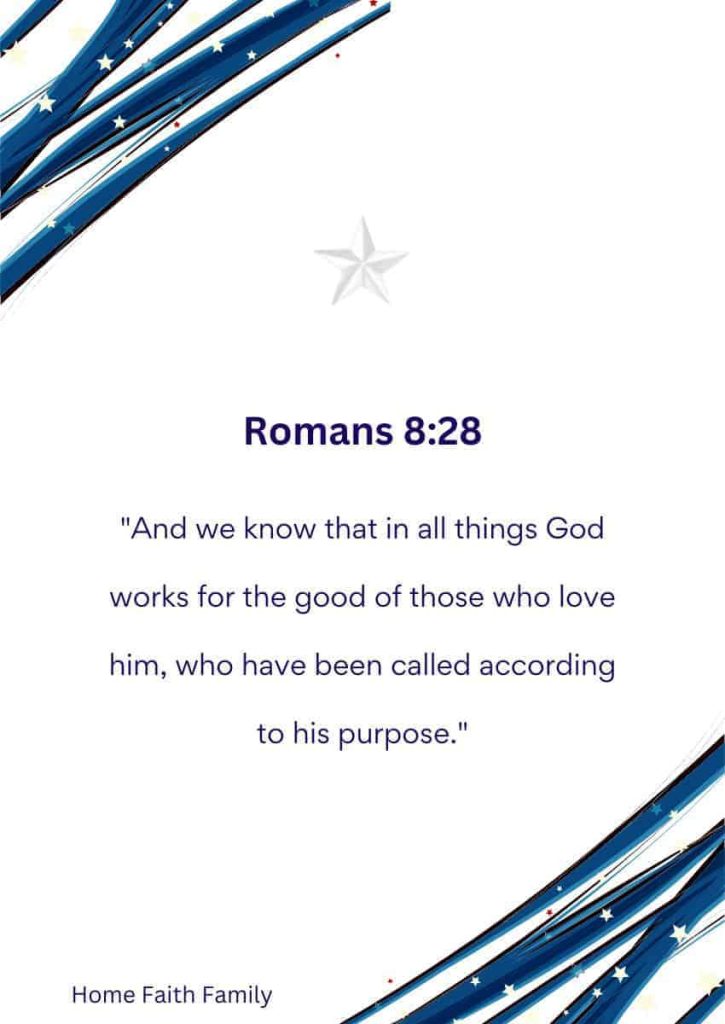 15 – Romans 8:28
And we know that in all things God works for the good of those who love him, who have been called according to his purpose.
16 – Philippians 4:13
"I can do all things through Christ which strengthens me."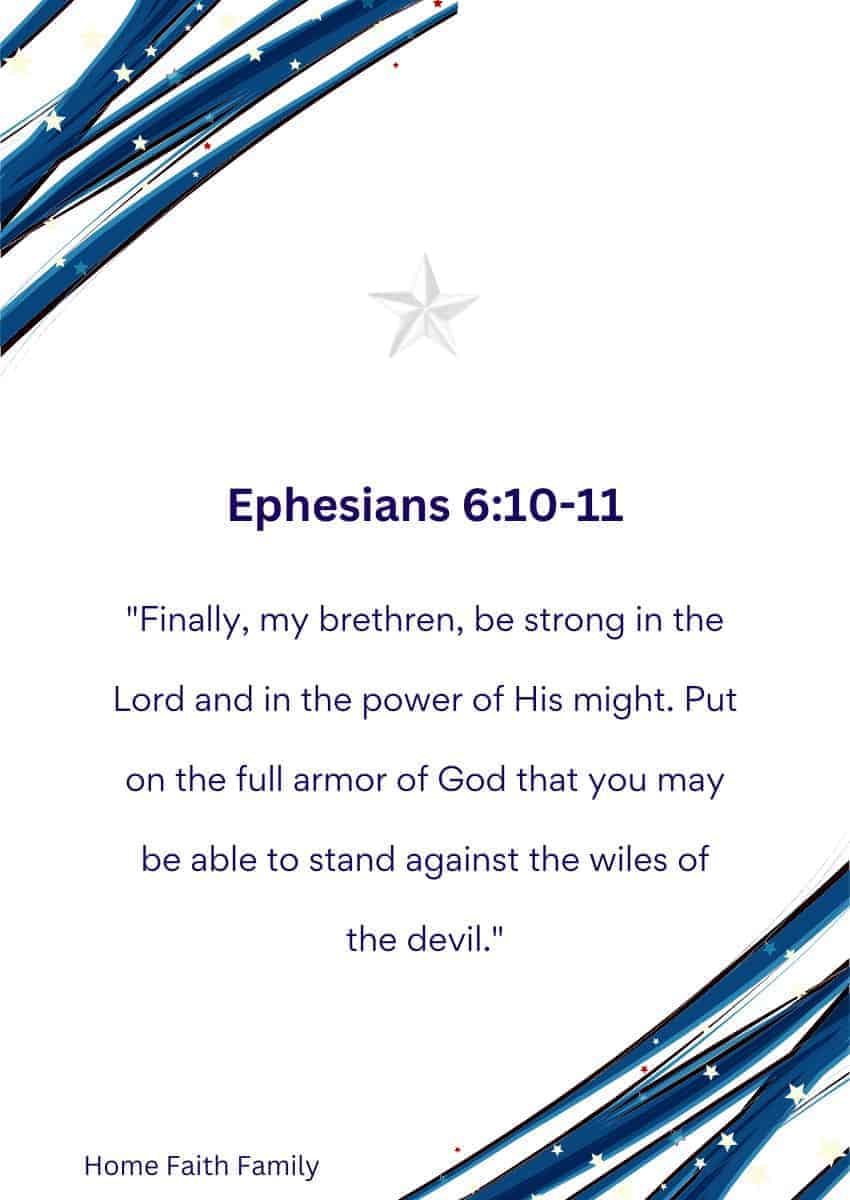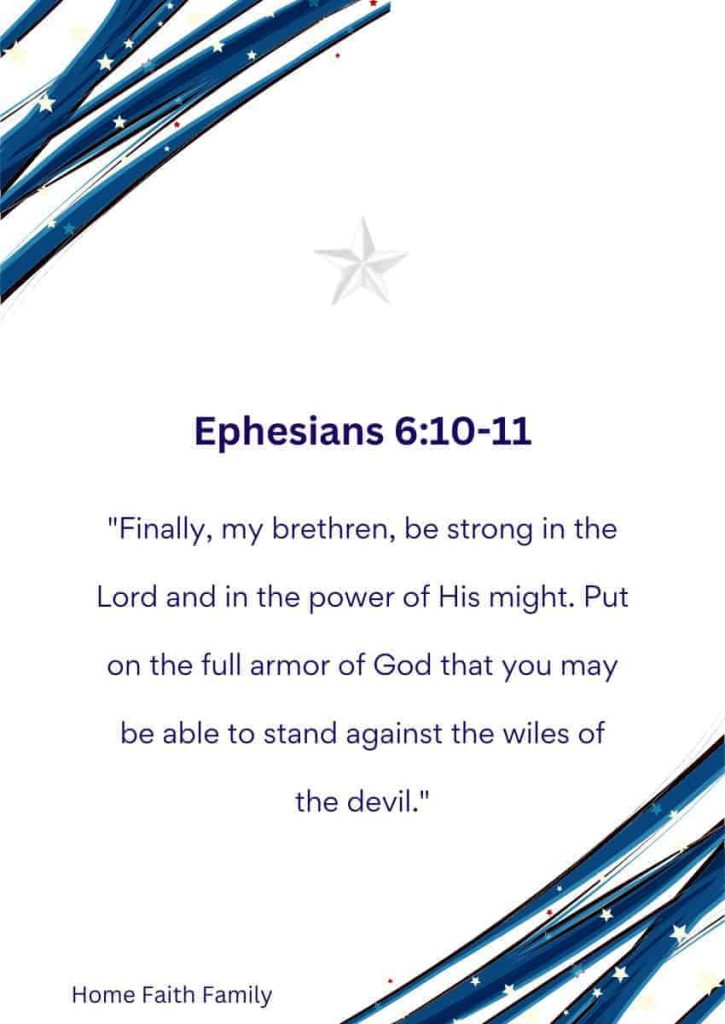 17 – Ephesians 6:10-11
"Finally, my brethren, be strong in the Lord and in the power of His might. Put on the full armor of God that you may be able to stand against the wiles of the devil."
On this Memorial Day, let us take a moment to reflect on the sacrifice of the young men and women who have given their lives for our country, and the hope and comfort we can find in the words of the Bible.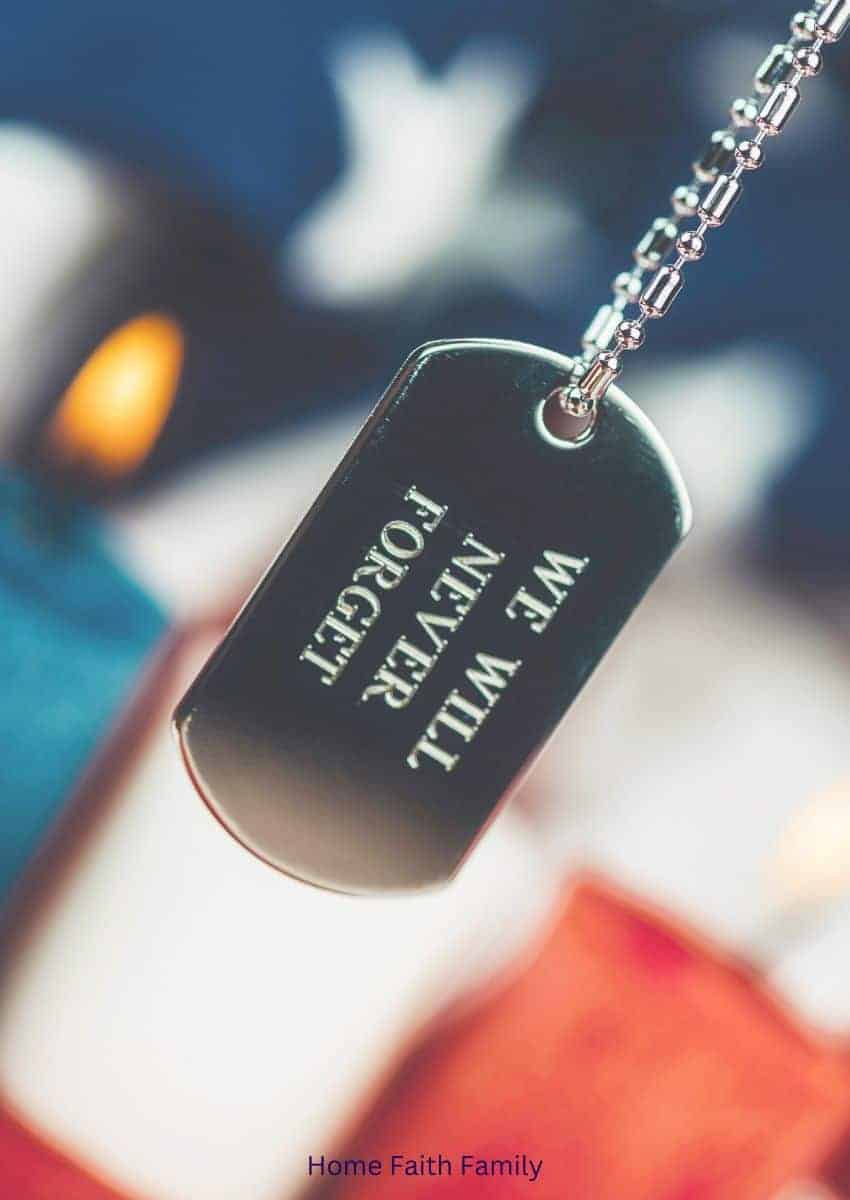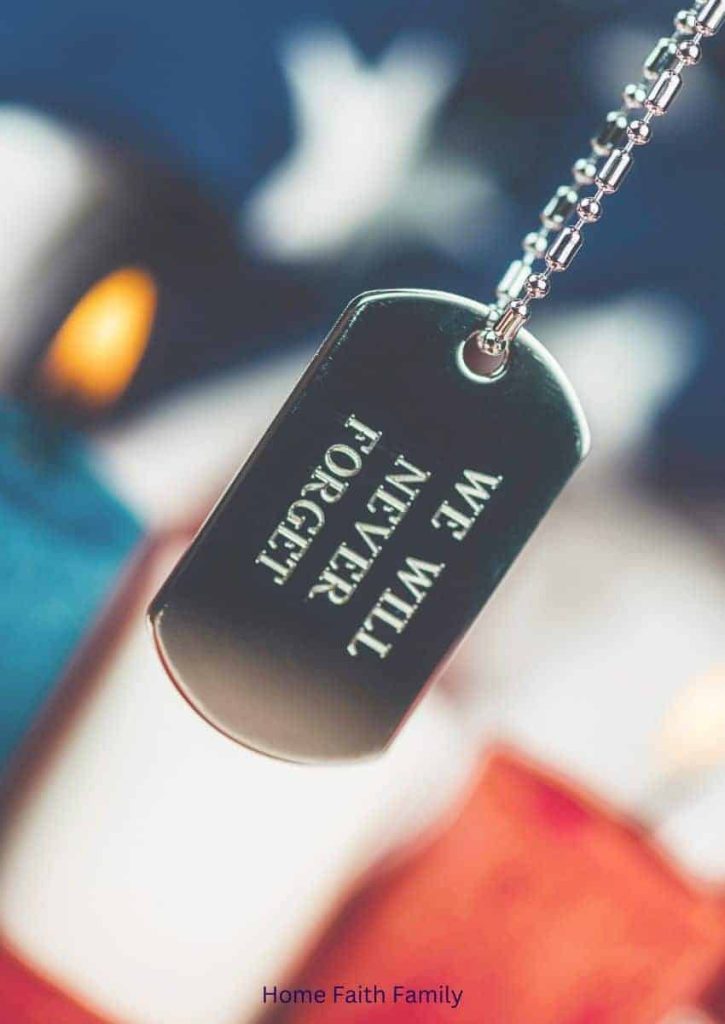 Short Memorial Day Quotes For Church Leaders To Share
18 – "Let us remember those who have laid down their lives for our freedom."
19 – "Love one another and honor the memory of those who have gone before us in service to our country."
20 – "Pray for peace, remembering that so many have paid the ultimate price for it."
21 – "From the first soldier who died in the American Revolution to the ones who have given their lives since, we thank those who have served."
22 – "May their courage, dedication and strength live on forever in our hearts, and not just on this national holiday."
23 – "Let us not forget to remember those who died for our freedom, including the American soldier, the veteran, and their families."
24 – "The great task remaining before us is to keep their legacy alive, by honoring those who have served in the past and showing our respect to those serving now."
25 – "May we never forget the courage and commitment of all who gave their lives for our freedom."
26 – "A safe place in God's word to remember our heroes is Psalm 33:18-22, which reads 'Behold, the eye of the Lord is on those who fear him, on those who hope in his steadfast love.'"
27 – "To the young man, the young soldier, the values for which so many have sacrificed and continue to serve in honor of our country must never be forgotten."
28 – "Our veterans and their families deserve to be remembered for the courage and dedication they have shown in defending our nation. Their legacy should always live on, inspiring us to continue serving honoring those who are no longer with us."
To everyone who has sacrificed so much for our country — thank you from the bottom of our hearts.
May our responsibility as citizens be to keep their legacy alive, never forgetting the price of freedom fought by so many brave men and women.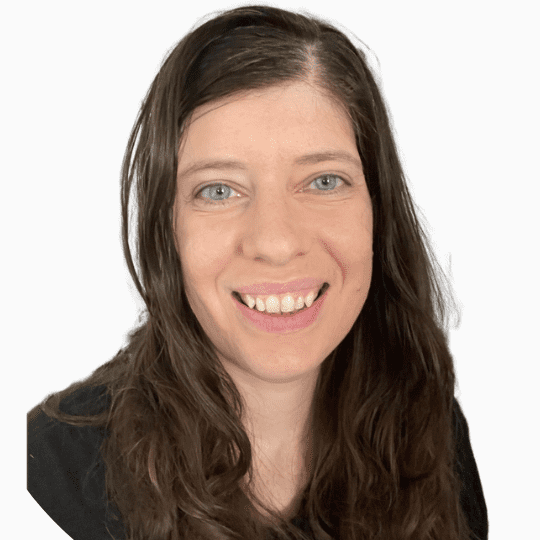 Micah Klug is a wife, homeschooling mother to five children, and author. She teaches time-tested solutions to help parents remember what matters most in life, including strengthening their home, faith, and family relationships. To learn how a child who grew up in an authoritarian home is now creating an environment of peace and joy in her own home visit this page. If you want to contact Micah, send her an email here or email [email protected].