Light the World is a global initiative from The Church of Jesus Christ of Latter-Day Saints that encourages us to serve those around us and make a difference in our communities.
This year's theme is to focus on sharing kindness, just like Jesus Christ did.
Each year, the LDS Church creates an interactive experience to help people get involved and give back.
And the 2023 theme this year is "Let Your Light Shine".
"I marvel at the increased goodwill and human kindness that always emerge during this sacred season. As we commemorate the birth of Him who is the Light of the World, new light is kindled in each of us…As we follow Jesus Christ, we can make this a better world."

President Russell M. Nelson
This Christmas initiative begins every year at the end of November and continues until Christmas Day.
The goal with this world Christmas event is to inspire families to make the world brighter by performing daily acts of service, not just during the holidays but all year long.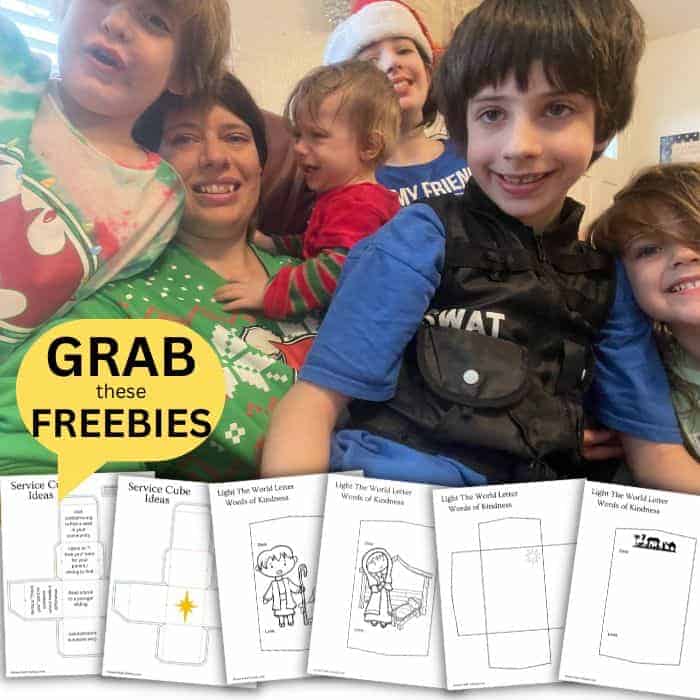 Free Printables and Ideas To Help Your Family Light The World In 2023
My family and I have created a few printables, activities, and ideas that you can use this holiday season to help your family Light the World in 2023.
Giving service is just one of the many ways you can let your light shine and make the world a better place.
Download these free resources below:
Service Cube Game
Gather your family together for a fun round of Service Cube, a creative way to pick your family's next service idea.
With two printables available, one with ideas already listed out and another blank sheet ready for your own custom list of activities, it's sure to be an enjoyable time spent engaging in good deeds as well as quality bonding experiences.
You can download this free printable by clicking on the image or by tapping on this link.
Spread Words Of Kindness
Make this season extra special by sending letters of love and gratitude to brighten someone's day!
For a bit of added fun, you can use one of our five specially-designed letter templates – three with lovely Christmas coloring pictures for the little ones.
You can automatically download the envelope and letters by clicking on the image or tapping on this link here.
Get Ready for Light the World 2023 + Free Printables & Ideas!
Keep reading to learn more about why participating in the 2023 Light the World initiative is such a great opportunity to strengthen your family relationships this holiday season.
And don't forget to grab the free printable goodies in this post.
What Is Light the World?
The official Light the World event is an annual program that encourages everyone to serve those in their community.
Each year the LDS Church releases a new video (which you can watch here) and a calendar suggesting different ideas on how you and your family can make a difference in your community.
Here is the Light the World 2023 list of ideas, which you can download on the Light the World website (no email required).
Just click the picture below and you'll be directed to the LTW page where you can download your daily prompts straight to your phone or desktop.
Light The World Calendar
Or you can click here to receive the daily prompts.
You can also watch past videos on the Light the World's YouTube channel.
How This Initiative Works
Light the World is simple: each day throughout December has its own theme related to service.
For example, one day may be focused on helping out within your neighborhood or another could highlight donating food or money to those in need around you.
But don't feel obligated to participate in service every day.
You may be surprised to find that you're already performing acts of love already.
But if you would like new service ideas you can receive daily encouragement and ideas for how to serve either on your phone or in your inbox.
Depending on your preference, you can subscribe to text updates or email notifications on the Light the World website here.
What Are The Light The World Giving Machines?
Have you seen those really cool red machines that pop up around the holiday season?
These are called the Light the World Giving Machines, and they are a really neat way to get involved in service.
Think of them as a vending machine with fun service twist.
They are interactive machines that let you donate items such as books, toys, food, health care, livestock, or other goods to those in need.
The machines can be found at select places through the United States, so keep an eye out for them!
You can find a Giving Machine near you right here.
So no matter what type of service project you choose, there's something for everyone!
Once you have selected which activity suits your home life and family best, then it's time to get started with some hands-on service fun!
Why Participate with Your Kids?
Light the World is an excellent opportunity for parents and kids alike to have meaningful experiences together while serving others in your community.
Not only will your children learn valuable lessons about giving back, but they will also gain a better understanding of empathy and kindness.
Participating in service activities as a family provides lasting memories that will create lifelong bonds between you and your kids.
You can watch this video and see firsthand how easy involving your children (even toddlers and preschoolers) to join in giving service:
How Can You Get Involved?
One new thing the Light the World campaign is doing this year is hosting a world Facebook group where you can share your experiences, get ideas, and connect with other service minded families around the world.
To join, head over to the Light the World 2023 Facebook group and click "Request to Join".
More Quick Service Ideas For Busy Families
20 Perfect Service Projects For Kids: this list of service ideas are perfect if you have a high energy toddler running circles around you at home. They will love serving and being your helper with this list of service project ideas.
As a mother of five active children from toddlers to tweens, I hope these ideas will help your family make a difference in your community this holiday season!
As parents, we know how important values like charity and compassion are—and how much better our communities become when we all come together as one unit working towards a common goal.
Light The World 2023 provides us with an amazing opportunity to do just that because the world needs your family this Christmas season to help make it a better place.
So let's join together to fill the world with love, compassion and care!
Don't forget to use the hashtag #LightTheWorld to share your family's experiences on social media and encourage others to serve this holiday season.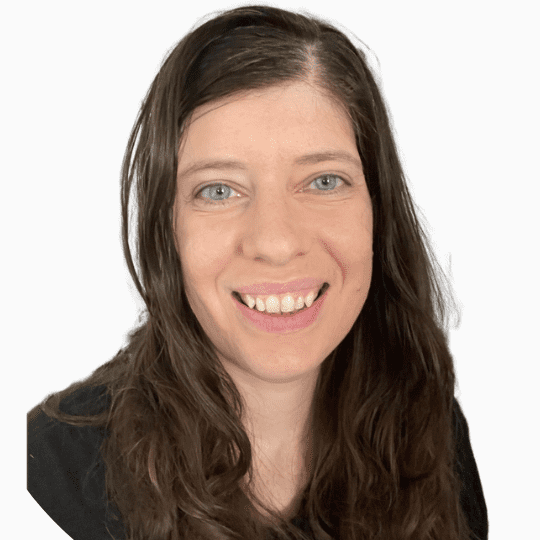 Micah Klug is a wife, homeschooling mother to five children, and author. She teaches time-tested solutions to help parents remember what matters most in life, including strengthening their home, faith, and family relationships. To learn how a child who grew up in an authoritarian home is now creating an environment of peace and joy in her own home visit this page. If you want to contact Micah, send her an email here or email [email protected].