Twinkling Christmas lights on the Christmas tree going up the day after Halloween, Light the World machines scattered across the country, and the best printable LDS Christmas quotes you'll want to slip on top of that plate of homemade cinnamon rolls.
You're in the right place if you're ready to share some holiday magic with your loved ones.
Christmas is just around the corner and there's such a special feeling of love and joy that comes with this holiday season.
The Church of Jesus Christ of Latter-day Saints has a wealth of Christmas quotes that are perfect for sharing your light and testimony with others.
These quotes remind us of the true reason for the season and are a perfect way to bring light and inspiration into the lives of family, friends, and those in your community.
In this blog post, we'll share with you some of our favorite printable LDS Christmas quotes that you can use to decorate your home or give as thoughtful gifts.
38 Free Printable LDS Christmas Quotes For 2023
This file is a free digital download (PDF files) for personal use only.
All you need to do is send this digital file straight to your inbox, so you can print out one (or all) of your favorite LDS quotes about the birth of Jesus Christ.
You can use them for your holiday home decor while you listen to the Tabernacle Choir of Temple Square or to help someone you're close to keep their hearts focused on Christ this holiday season.
Christ-centered Christmas Inspirational Quotes
There's no better time to share the love of Christ with those around you than during the Christmas season.
"Each of us is an Innkeeper who decides if there's room for Jesus."
– Elder Neal A. Maxwell
"Time change, years speed by, but Christmas continues sacred."
– President Thomas S. Monson
"Focusing on the Lord and everlasting life can help us not only at Christmas but through all the challenges of mortality."
– President Russell M. Nelson
"Throughout the year, and perhaps especially at this very Christmas season, it would benefit us to once again ask the question 'How am I seeking Christ?'"
– Elder Dieter F. Uchtdorf
"The precious gift of God's son invites each of us to find peace in this world."
– Elder Douglas Holmes
"The spirit of Christmas illuminates the picture window of our soul and we look our upon the world's busy life and become more interested in people than in things."
– President Thomas S. Monson
Following Christ is not a casual or occasional practice but a continuous commitment and way of life."
– President Dallin H. Oaks
"Heavenly Father gave us the gift of a Savior.
– President Henry B. Eyring
Christmas Devotional Quotes
The greatest gift we can give at Christmas is our love and service to others.
These inspirational picture quotes and their Christmas message from the First Presidency and other church leaders given at the conference center will help you find peace this season.
"The glitter of the season should never prevent us from truly seeing the Prince of Peace."
– Elder Dieter F. Uchtdorf
"Christmas means giving.
The Father gave his Son, and the Son gave his life.
Without giving there is no true Christmas, and without sacrifice there is no true worship."
– President Gordon B. Hinckley
"May we all make the journey to Bethlehem in spirit, taking with us a tender, caring heart as our gift to the Savior."
– President Thomas S. Monson
"We celebrate at Christmas not only that Christ was born but that he lived."
– Elder Craig C. Christensen
"Finding the real joy of the [Christmas] season comes not in the hurrying and the scurrying to get more done or in the purchasing of obligatory gifts.
Real joy comes as we show the love and compassion inspired by the Savior of the World, who said 'Inasmuch as ye have done it unto one of the least of these…ye have done it unto me.'"
– President Thomas S. Monson
"May we all make the journey to Bethlehem in spirit.
Taking with us a tender, caring heart as our gift to the Savior."
– President Thomas S. Monson
"Because he came there is meaning to our mortal existence."
– President Thomas S. Monson
"Because of the birth, the Atonement, and the Resurrection of Jesus Christ, we can all 'sleep in heavenly peace.'"
– Sister Sharon Eubanks, quoting Silent Night
"Christmas is a time for remembering the Son of God and renewing our determination to take upon us His name.
It is a time to reassess our lives and examine our thoughts, feelings, and actions.
Let this be a time of remembrance, of gratitude, and a time of forgiveness.
Let it be a time to ponder the Atonement of Jesus Christ and its meaning for each of us personally.
Let it especially be a time of renewal and recommitment to live by the word of God and to obey His commandments.
By doing this, we honor Him far more than we ever could with lights, gifts, or parties."
– Elder Dieter F. Uchtdorf
Quotes From Church Leaders
The most important aspects of this season are often swept away in the commercialization, candy canes, and materialism of Christmas.
Let this time of year be a reminder to focus on what truly matters – the birth of our Savior Jesus Christ.
The best gifts of Christmas we receive rarely comes wrapped with a bow.
As we sing in choirs, families, and classes…the carols of Christmas remind us of our shouts of joy when we learned that we could come to this world and be given a Savior to redeem us.
Someday we will sing those songs with the hosts of heaven."
– President Henry B. Eyring
"Christmas is a time to eliminate arrogance and provocation, to subdue criticism, to practice patience, and to de-emphasize differences among people.
We have the incentive to extend sincere fellowship to all persons, those who are and those who are not of our faith."
– President Dallin H. Oaks
"May the spirit of love which comes at Christmastime fill our homes and our lives and linger there long after the tree is down."
– President Thomas S. Monson
"The account of the first Christmas in the Book of Mormon helps us to learn and more fully understand that Jesus Christ is the "light which shineth in darkness" (see D&C 10:57–61).
In every season of our lives, in all of the circumstances we may encounter, and in each challenge we may face, Jesus Christ is the light that dispels fear, provides assurance and direction, and engenders enduring peace and joy.
Many of our memorable and enduring Christmas traditions include different kinds of lights — lights on trees, lights in and on our homes, candles on our tables.
May the beautiful lights of every holiday season remind us of him who is the source of all light."
– Elder David A. Bednar
"This Christmas season and always, may we give to him by loving as he loves."
– Elder Dieter F. Uchtdorf
"Just as Jesus, we came down from heaven to do the will of Him that sent us."
– Elder D. Todd Christofferson
"They presented gold, frankincense, and myrrh.
These are not the gifts Jesus asks of us.
From the treasure of our hearts, Jesus asks that we give of ourselves."
– President Thomas S. Monson
"The message of this season that is applicable throughout the year lies not in the receiving of earthly presents and treasures but in the forsaking of selfishness and greed and in going forward, seeking and enjoying the gifts of the Spirit, which Paul said are 'love, joy, peace, longsuffering, gentleness, goodness, faith, meekness, temperance: against such there is no law."
– President James E. Faust
"Christmas is a time for remembering the Son of God and renewing our determination to take upon us his name."
– Elder Dieter F. Uchtdorf
Religious Christmas Quotes
You are a child of God with unlimited potential for good.
May these inspiring quotes help you find the perfect peace that comes through Christ as you reflect on the nativity scene and the baby born in the stable.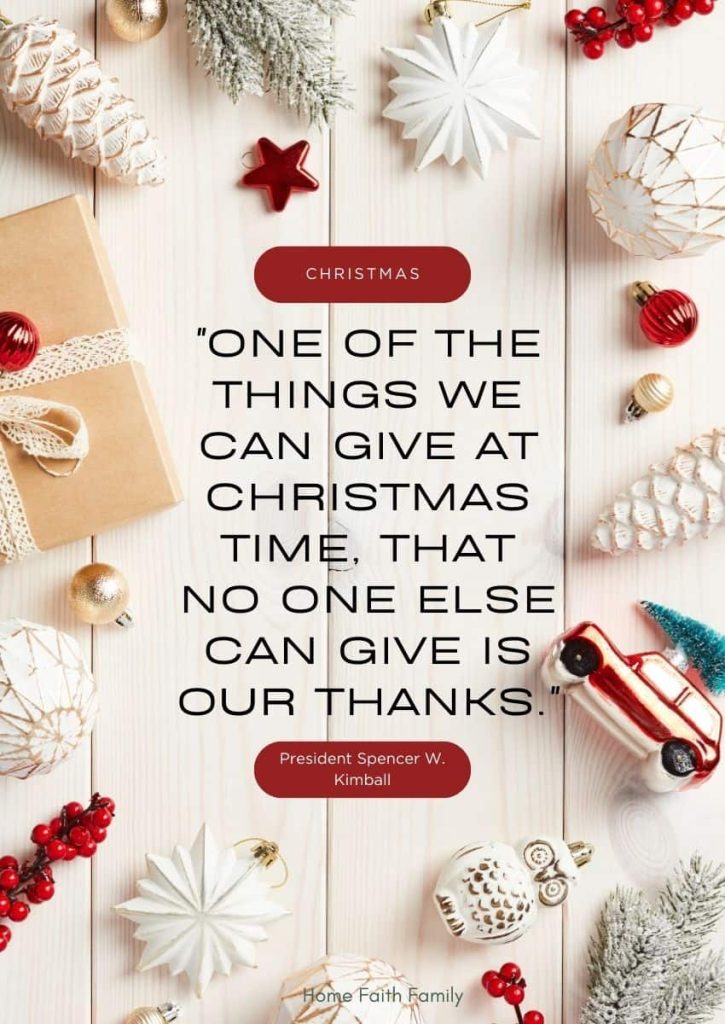 "One of the things we can give at Christmas time, that no one else can give is our thanks."
– President Spencer W. Kimball
Referring to the birth of Christ, President Thomas S. Monson said, "Born in a stable, cradled in a manger, He came forth from heaven to live on earth as mortal man and to establish the kingdom of God."
"The spirit of Christmas is Christlike love."
– Sister Bonnie L. Oscarson
"The Christmas story is a story of a family that connects heaven and earth."
– Elder Richard J. Maynes
"True love is a reflection of the Savior's love.
In December of each year we call it the Christmas spirit.
You can hear it, you can see it, you can feel it."
– President Thomas S. Monson
"Shepherds would soon arrive and later, wise men from the east.
Later yet the memory of that night would bring Santa Claus and Frosty and Rudolph-and all would be welcome.
But first and forever there was just a little family, without toys or trees or tinsel.
With a baby – that's how Christmas began."
– Elder Jeffrey R. Holland
"Like the wise men, we can give gifts of love and peace as disciples of the risen Lord."
– President Henry B. Eyring
"We miss something if we don't see Christmas through a child's eyes."
– Sister Rosemary M. Wixom
"Christmas is the spirit of giving without a thought of getting."
– President Thomas S. Monson
Scriptures of Peace During Christmas Time
You'll find peace in reading these scriptures from the Old and New Testament about our Savior's promised birth.
Reading the scriptures, singing Christmas carols, and focusing on the gift of eternal life given to us by Jesus Christ has a way of helping us in our search of the Christmas spirit.
Be still and know that I am God."
– Psalm 46:10
"For unto you is born this day in the City of David a Savior, which is Christ the Lord."
– Luke 2:11
"For God so loved the world."
– John 3:16
These printable LDS Christmas quotes are just a few of the many that are available to help you find the true spirit of Christmas this season.
They're perfect for a quick dose of inspiration or as a thoughtful gift for family, friends, or those you minister to.
We hope you love how these quotes turn our hearts to Jesus Christ and focus on the wonderful gift of his life!
If you have a favorite Christmas quote that didn't make this list, please share with us in the comments below.
From my family to yours, may your Christmas be filled with joy, love, and peace.
Merry Christmas, friend and have a great time with your loved ones.
And if you're looking for more holiday help before Christmas eve, you'll want to check out these posts.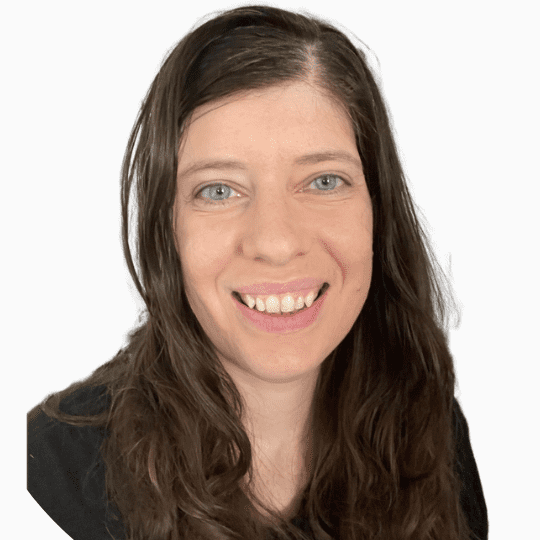 Micah Klug is a wife, homeschooling mother to five children, and author. She teaches time-tested solutions to help parents remember what matters most in life, including strengthening their home, faith, and family relationships. To learn how a child who grew up in an authoritarian home is now creating an environment of peace and joy in her own home visit this page. If you want to contact Micah, send her an email here or email [email protected].