This candy cane reindeer craft for kids is the perfect Christmas craft project. Enjoy creating these reindeer as you give them as gifts (or keep a few for your hot chocolate).
There are a few things that I remember from my childhood Christmases.
One, Christmas decorations and supplies were not displayed until after the Thanksgiving holiday. Two, all of the fun, family-friendly Christmas shows that were played.
And this candy cane reindeer craft.
I remember so many grandmas (before the world of Pinterest) who would make these and give them to the neighborhood children.
This post contains affiliate links at no cost to you. Thank you for your support. If you have any questions, please read my disclosure policy here.
Now I know there are quite a few different ways to make this candy cane reindeer craft. I've seen these made with red noses, brown pipes, and black googly eyes.
And if you know my blog craft schedule, my children are very close to my side helping in these crafts.
Needless to say, they love glitter, anything that sparkles (you can tell one of them is a girl) and they love to help with just about everything.
(So rest assured, these crafts are kid tested before being published on this blog…literally).
Candy Cane Reindeer Craft for Kids
Supplies Needed:
Truth be told, you won't need too many supplies, depending on how you want to make your reindeer.
You'll need:
(If you know you want to do this craft but don't want to hunt down ALL the supplies for it, Amazon has a great sale on a gift combo set that includes googly eyes, pipe cleaners, and pom poms. – over 1,000 pieces right HERE!)
Instructions:
The first thing you'll want to do is gather your supplies in one place.
If you ask your kids to pick out the googly eyes they want to use, I found this to be an amazing trick to buy a few minutes so you can turn on the glue gun and place it out of reach from tiny hands.
Cut the pipe cleaners into 8-inch strips. Having four inches on each side of the candy cane allows you to twirl the pipes on your pinky finger (or on a pencil) for a more "antler" twisted look.
To help you keep your candy canes organized, I strongly recommend placing them in a cup.
You'll want to take your pipe cleaners (our glitter and gold above) and twist tightly on the top of the candy cane. I wouldn't worry about doing the fancy pencil/pinky twist yet. This should be done last as you still need to glue eyes onto these delicious treats.
If you're ever concerned about small children around glue guns, then good. I worry about this same thing all the time, especially when these little ones love to help in the creation process.
Something I found to be especially helpful is to give them an assignment away from the glue gun but related to the craft.
For example, in this step, I asked them to decide AS A TEAM (three opinions kept them busy) which color eyes we should use for each reindeer.
To be fair to my time, I did give them a 30-second countdown if they were taking too long. But this only happened once or twice. Once they found a good groove of working together, they were able to make decisions easier and faster.
You'll want to glue the eyes on each of the candy canes and use the pencil/pinky twist for the antlers.
In no time at all, you'll have a cup full of festive, Christmas candy cane reindeers to give as handmade gifts or to keep a few for yourself to enjoy with your hot chocolate.
You'll also have a floor on which googly eyes (and possibly pom poms) have been scattered everywhere. I promise the clean-up isn't as bad as you might think.
I hope you enjoy making this candy cane reindeer craft with your kids. Please feel free to leave a comment below and share a favorite Christmas memory or something you love to do this time of year with your family!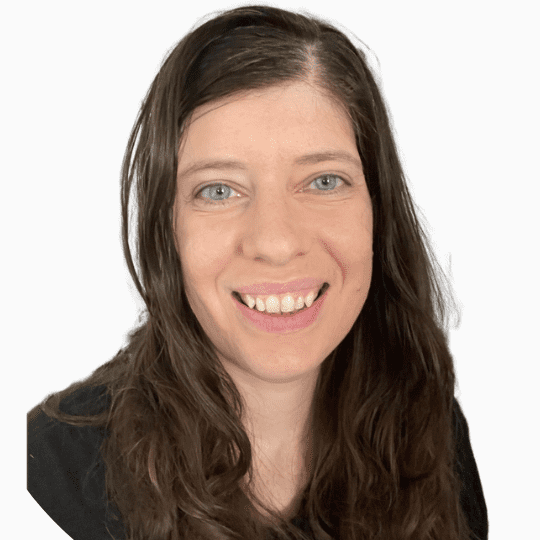 Micah Klug is a wife, homeschooling mother to five children, and author. She teaches time-tested solutions to help parents remember what matters most in life, including strengthening their home, faith, and family relationships. To learn how a child who grew up in an authoritarian home is now creating an environment of peace and joy in her own home visit this page. If you want to contact Micah, send her an email here or email [email protected]