Are you looking for a magical way to get your kids in the Christmas spirit this year?
If you need a way to help center their hearts on the birth of Jesus Christ, then you need to grab these 10 free LDS printable Christmas coloring pages!
With charming artwork and beautiful stories from the scriptures about Jesus Christ's birth, these free coloring pages offer hours of family fun that help introduce children to beloved stories of Him.
Get your trusty crayons, colored pencils, or markers ready!
It's time to cozy up in front of the fire, turn on some festive music, and have an amazing time celebrating Jesus's birth with these one-of-a-kind coloring pages.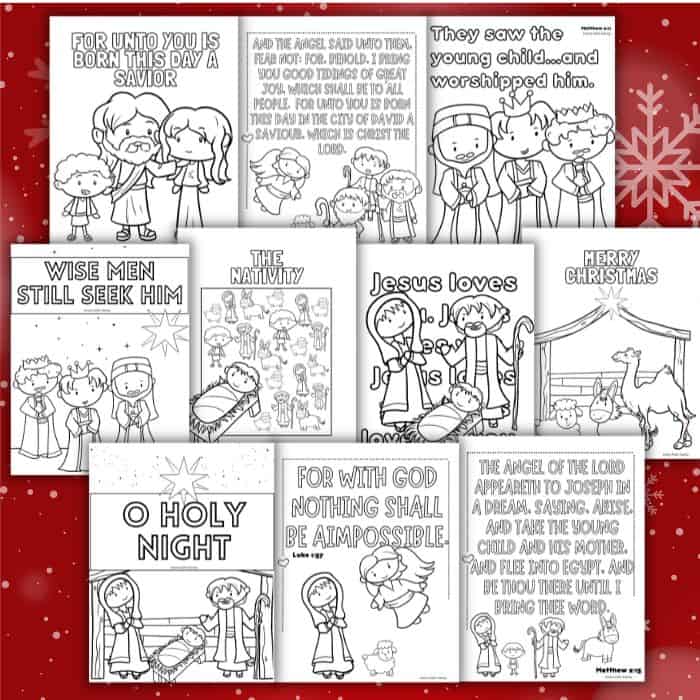 10 Free LDS Christmas Coloring Pages For Kids
These LDS coloring pages are for personal or church use only and are not affiliated with the Church of Jesus Christ of Latter-day Saints in anyway.
You can click the download link to have these religious Christmas coloring pages sent straight to your phone or desktop where you can print as many copies for your children or primary class.
You are going to love the variety of designs portraying the story of Christmas.
"Away in a Manger"
This coloring page depicts the scene of baby Jesus in the manger, surrounded by Mary, Joseph, and the animals.
This page provides an excellent opportunity to teach your children about the humble circumstances of Jesus' birth and how even the lowliest of places can hold great significance in our own lives.
"The Three Wise Men"
This coloring page shows the Three Wise Men bearing gifts for baby Jesus.
As your children color this page this Christmas season, you can talk to them about the significance of the gifts and why they're important.
You can challenge your older children to think of a gift they can give to Jesus this year.
And your younger children will love hearing all about the star of Bethlehem that led the wise men to Jesus.
"The Shepherds"
This coloring page depicts the scene of the shepherds receiving the good news from the angel that Jesus had been born.
You can take a moment to tell your whole family about the importance of sharing good news with others and how the angels announced Jesus' birth to the world.
Because truly, Jesus's birth is the real reason we celebrate Christmas and it's a message that should be shared with others.
"The Nativity"
This coloring page is a classic depiction of the Nativity scene, complete with Mary, Joseph, baby Jesus, the manger, and the animals.
As your child colors this page, you can talk to them about the significance of the Nativity scene and how it represents the true meaning of Christmas.
"The Christmas Star"
This LDS coloring page shows the star that led the Wise Men to Jesus.
You can explain to your children how the star symbolizes the light of Christ and how it serves as a guide for those who seek Him.
"The Holy Family"
This coloring page depicts the Holy Family together.
This is a great opportunity for you to talk to your children about the importance of family, and how Mary, Joseph, and Jesus were a great example of a loving and supportive family.
"The Annunciation"
This coloring page depicts the angel Gabriel appearing to Mary to tell her that she would bear a son.
This page will give you an opportunity to talk to your children about the importance of obedience to God.
I love how Mary's response as a young woman to the angel's news was an act of faith.
She is an example to young women everywhere, teaching them to trust in God and His plan for their lives.
"The Flight to Egypt"
This coloring page shows Mary, Joseph, and Jesus fleeing to Egypt to escape King Herod's persecution.
You can explain to your children how this event shows God's protection of His children and how He always provides a way for them to escape danger.
"The Nativity Animals"
This coloring page is a fun way to teach your children about the different animals that were present at the Nativity scene.
You can teach your children how we each have our own unique characteristics and how God created us to serve specific purposes, just as he created these sweet animals to play a role in the birth of Jesus.
"The Nativity Celebration"
This coloring page is perfect for those who love to color and decorate!
Your kids can color in this page and then cut it out to hang up as a festive decoration.
This page is a great way to get your kids of all ages excited about Christmas and to remind them of the true meaning behind this beautiful holiday.
Do This For Best Print Quality
You just spent time looking through these free coloring sheets to color from the comfort of your own home or for your Sunday school class.
So, now what?
Here are some bonus tips to make the most of these Christmas nativity coloring sheet pages.
Make sure your printer has enough ink and paper.
Use high-quality paper.
Adjust your printer settings to the highest quality setting.
If possible, use a laser printer for crisp lines and clean edges.
Have fun coloring and displaying your beautiful creations!
If you don't have a printer at home, you're more than welcome to take this file to your favorite printing location.
You can try your local print shop or city library during their operating hours.
This Is What You Can Do With Your Free Christmas Coloring Sheets
Once you've downloaded and printed out your desired pages, it's time to get creative!
Here are some fun ways to use these religious coloring pages into your family's holiday traditions:
1. Have a coloring party
Invite friends and family over for a coloring party as part of the Light the World campaign.
You can complete the party with some hot cocoa, Christmas music, and plenty of these coloring pages to choose from.
2. Create a countdown
Print out a different page each day leading up to Christmas, and color it as a family.
You can hide these coloring pages underneath the Christmas tree or in a special designated spot for your older kids to find each day.
3. Use as decoration
Frame your favorite pages and use them as decorations around the house.
4. Give as gifts
Color a page and give it to a neighbor, teacher, or friend as a thoughtful and personalized gift.
How To See Jesus Christ at Christmas Time
Do you ever worry through the chaos and busyness of the season we forget to focus on the reason why we are celebrating Christmas?
I know I do.
So, in the spirit of simplifying and keeping our focus on Christ this holiday season, here are a few ideas to help you see Jesus at Christmas time:
Read scriptures or devotionals about the birth of Jesus.
Attend a Christmas service or musical performance that focuses on the Savior.
Serve those in need during the holiday season (such as the Light the World campaign).
Create a beautiful nativity scene in your home and reflect on its meaning together as a family.
Watch Christmas movies or shows that portray the true message of Christmas.
Remember, it's not about the presents, decorations, or food.
It's about celebrating the birth of our Savior, Jesus Christ, which happened at the right place at the right time for you and for me.
Which festive coloring page will your young children love coloring from the Christmas story this season?
One of the things I love about these coloring pages is the wonderful opportunity you have to teach your children about the true meaning of Christmas.
As your kids color these pages, you can share with them important stories and lessons from the scriptures and help them develop a deeper understanding of Jesus Christ's birth.
So grab your crayons and markers, turn on some Christmas music, and get ready to create some lasting memories this holiday season!
And remember, let's make Him the center of our holiday celebrations and traditions this year.
Merry Christmas friend, and enjoy these free Christmas nativity coloring pages.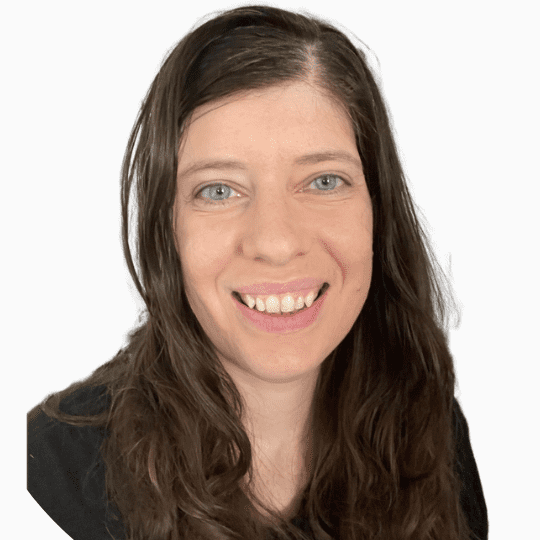 Micah Klug is a wife, homeschooling mother to five children, and author. She teaches time-tested solutions to help parents remember what matters most in life, including strengthening their home, faith, and family relationships. To learn how a child who grew up in an authoritarian home is now creating an environment of peace and joy in her own home visit this page. If you want to contact Micah, send her an email here or email [email protected].