The Christmas season would not be the same without a viewing of Charlie Brown Christmas.
The movie is full of heartwarming quotes that make you feel all warm and fuzzy inside.
60 Heartwarming Charlie Brown Christmas Movie Quotes
I research, test, recommend, and select only the best products for my readers.
If you click a link on this site and buy something, we may earn an affiliate commission. Thank you for supporting this small family business.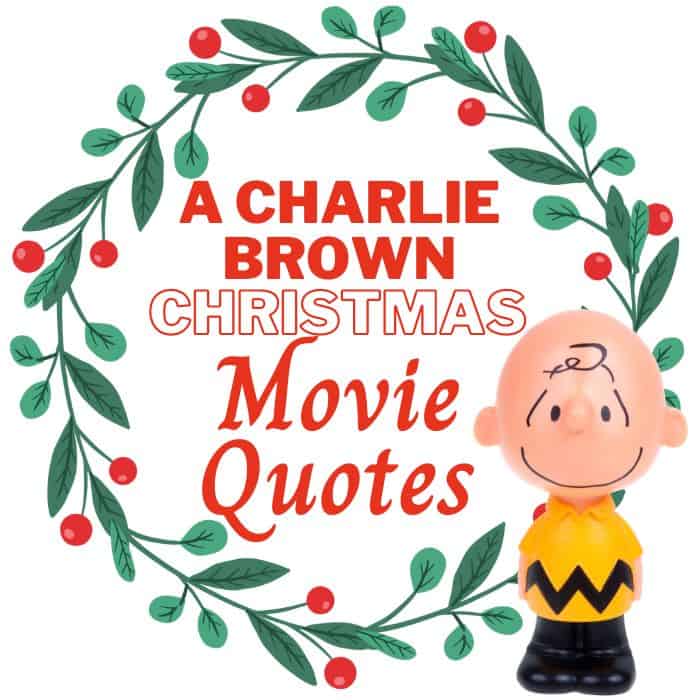 The Charlie Brown Christmas Movie first premiered on December 9th, 1965.
The special was based on the characters from the Charles M. Schulz comic strip, Peanuts.
It was an instant hit and has become a holiday tradition for many families.
Here are 60 of our favorite Charlie Brown Christmas quotes from the movie that will fill you with the holiday spirit!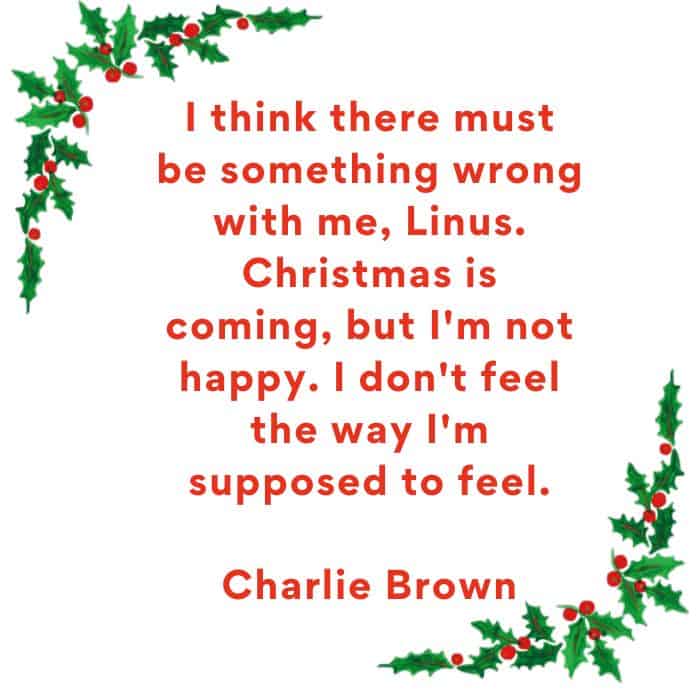 Charlie Brown Christmas Quotes
1. I think there must be something wrong with me, Linus. Christmas is coming, but I'm not happy. I don't feel the way I'm supposed to feel.
2. Don't you know sarcasm when you hear it?
3. What's pantophobia?
4. Oh brother.
5. This little green one here seems to need a home.
6. We'll decorate it and it'll be just right for our play. Besides, I think it needs me. [Picks up tree; a lot of needles fall off]
7. [sarcastically] Man's best friend.
8. Good grief.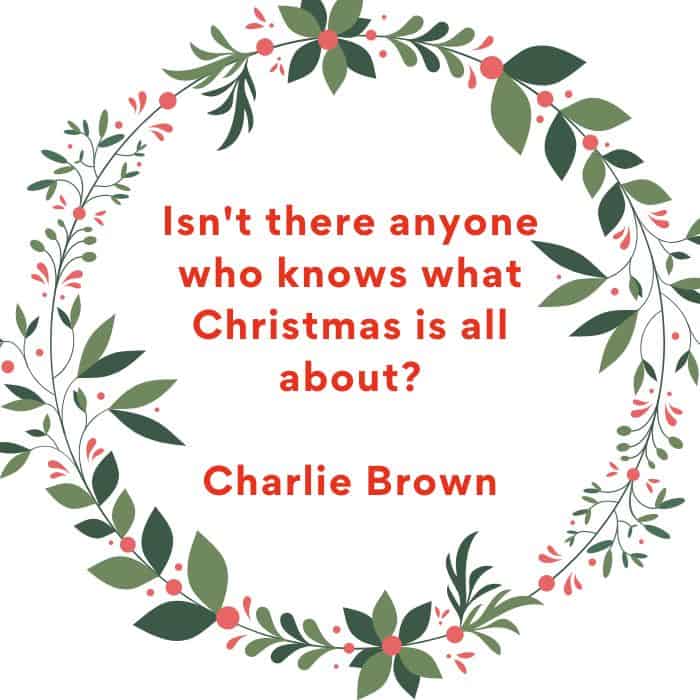 Timeless Charlie Brown Quotes
9. Rats. Nobody sent me a Christmas card today. I almost wish there weren't a holiday season. I know nobody likes me. Why do we have to have a holiday season to emphasize it?
10. Isn't there anyone who knows what Christmas is all about?
11. I guess you were right, Linus. I shouldn't have picked this little tree. Everything I do turns into a disaster. I guess I really don't know what Christmas is all about.
12. I just don't understand Christmas I guess. I like getting presents and sending Christmas cards and decorating trees and all that, but I'm still not happy.
13. Oh, no. My own dog gone commercial.
14. Linus is right. I won't let all this commercialism ruin my Christmas.
15. I am in sad shape. I feel depressed. I know I should be happy, but I'm not.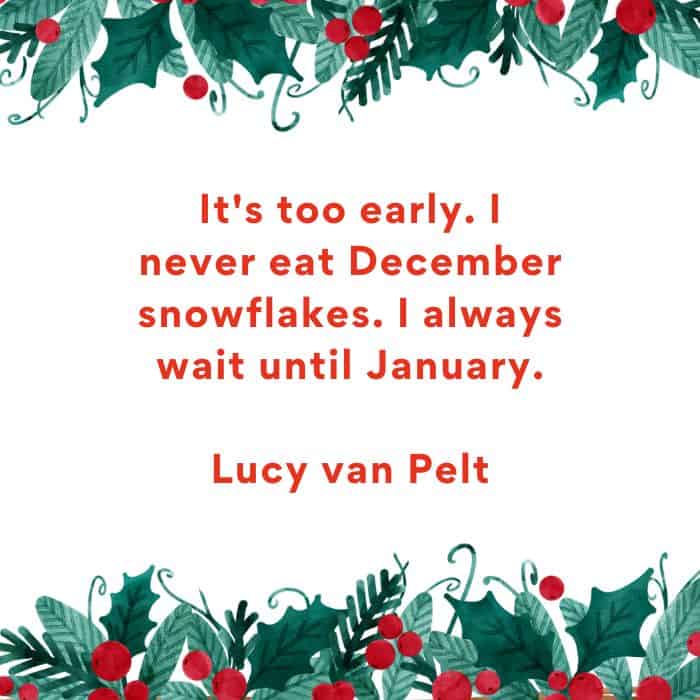 Lucy van Pelt Quotes
1. I know how you feel about all this Christmas business, getting depressed and all that. It happens to me every year. I never get what I really want. I always get a lot of stupid toys or a bicycle or clothes or something like that. What I want is real estate.
2. It's too early. I never eat December snowflakes. I always wait until January.
3. Are you afraid of responsibility? If you are, then you have hypengyophobia.
4. How about cats? If you're afraid of cats, you have ailurophasia.
5. Are you afraid of staircases? If you are, then you have climacaphobia. Maybe you have thalassophobia. This is fear of the ocean, or gephyrobia, which is the fear of crossing bridges. Or maybe you have pantophobia. Do you think you have pantophobia?
6. Here he comes! Attention, everyone, here's our director. [Charlie Brown enters, while everyone applauds]
7. You DO think I'm beautiful, don't you, Charlie Brown?
8. You didn't answer me right away. You had to think about it first, didn't you? If you really had thought I was beautiful, you would've spoken right up. I know when I've been insulted. I KNOW WHEN I'VE BEEN INSULTED.
9. Look, Charlie, let's face it. We all know that Christmas is a big commercial racket. It's run by a big eastern syndicate, you know.
Classic Lucy van Pelt Quotes
10. Listen, all of you! You've got to take direction! You've got to have discipline! You've got to have respect for your director! [notices Snoopy] I oughta slug you!
11. Get the biggest aluminum tree you can find, Charlie Brown, maybe painted pink!
12. You think you're so smart with that blanket. What are you gonna do with it when you grow up?
13. What about the Christmas queen, hmm? Are you going to let all this beauty go to waste?
14. I mean 'Jingle Bells.' You know, Santa Claus and ho-ho-ho. And mistletoe and presents to pretty girls.
15. Boy, what a sound. How I love to hear that old money plink, that beautiful sound of cold, hard cash. That beautiful, beautiful sound. Nickels, nickels, nickels. That beautiful sound of plinking nickels.
16. Ugh. I've been kissed by a dog. I have dog germs. Get hot water, get some disinfectant, get some iodine!
17. Beethoven wasn't so great. He never got his picture on bubble-gum cards, did he? Have you ever seen his picture on a bubble-gum card? How can you say someone is great who's never had his picture on bubble-gum cards?
18. Charlie Brown is a blockhead, but he did get a nice tree.
19. Linus, you've got to get rid of that stupid blanket, and here, memorize these lines.
20. [Answering Linus's question] I'll give you five good reasons. [proceeds to make a fist out of her fingers]
21. And get rid of that stupid blanket! What's a Christmas shepherd gonna look like holding a stupid blanket like that?
Linus van Pelt Christmas Quotes
1. I never thought it was such a bad little tree. It's not bad at all, really. Maybe it just needs a little love.
2. (In response to Lucy saying she waits to eat January's snowflakes): They sure look ripe to me.
3. I don't know, Charlie Brown. Remember what Lucy said? This doesn't seem to fit the modern spirit.
Linus Telling The Christmas Story
4. I can tell you what Christmas is all about. [moves toward the center of the stage] Lights, please. [a spotlight shines on Linus]
"And there were in the same country shepherds abiding in the field, keeping watch over their flock by night. And lo, the angel of the Lord came upon them, and the glory of the Lord shone round about them: and they were sore afraid. And the angel said unto them, 'Fear not:"
[Linus drops his security blanket on purpose]
"for behold, I bring unto you good tidings of great joy, which shall be to all people. For unto you is born this day in the City of David a Savior, which is Christ the Lord. And this shall be a sign unto you; Ye shall find the babe wrapped in swaddling clothes, lying in a manger.' And suddenly there was with the angel a multitude of the heavenly host, praising God, and saying, 'Glory to God in the highest, and on earth peace, good will toward men.'"
[Linus picks up his blanket and walks back towards Charlie Brown] That's what Christmas is all about, Charlie Brown.
Do you want to share other holiday themed stories with your kids? From classic stories to newer titles, there's 80+ Christmas books for toddlers, preschoolers, and big kids on this list. Which means there's something for everyone that will help bring the magic of Christmas to life for your family!
5. Charlie Brown, you're the only person I know who can take a wonderful season like Christmas and turn it into a problem. Maybe Lucy's right. Of all the Charlie Browns in the world, you're the Charlie Browniest.
6. Well, this is one Christmas shepherd who's going to keep his trusty blanket with him.
7. [Answering Lucy's question about his blanket] Maybe I'll turn it into a sport coat.
8. Gee, do they still make wooden Christmas trees?
9. This really brings Christmas close to a person.
10. I can't memorize something like this so quickly. Why should I be put through such agony? Give me one good reason why I should memorize this.
11. One, two, three, four, FIVE! [begins shaking his head emphatically] Those are good reasons. Christmas is not only getting too commercial, it's getting too dangerous.
12. Well, this is one Christmas shepherd who's going to keep his trusty blanket with him. [Lucy raises her fist to strike Linus; Linus puts his blanket over his head like a headdress] See? You wouldn't hurt an innocent shepherd, would you?
13. Good grief!
Violet Christmas Movie Quotes
1. I didn't send you a Christmas card, Charlie Brown.
Snoopy Quotes
1. Whoooooooooooooooooooooo.
Pigpen Christmas Quotes
1. In spite of my outward appearance, I shall try to run a neat inn.
2. It sort of makes you wanna treat me with more respect, doesn't it?
Shermy Quotes
1. Every Christmas it's the same. I always end up playing a shepherd.
Frieda Christmas Quotes
1. Do innkeepers' wives have naturally curly hair?
Sally Brown Quotes
1. [dictating her letter to Santa Claus as Charlie Brown writes it for her] Dear Santa Claus, How have you been? Did you have a nice summer? How is your wife? I have been extra good this year, so I have a long list of presents that I want.
2. Christmas is getting all you can get while the getting is good.
3. [After asking Santa for money] "All I want is what I have coming to me. All I want is my fair share.
4. Try to catch snowflakes on your tongue. It's fun.
5. Isn't he the cutest thing? [Linus hides himself under his blanket] He has the nicest sense of humor.
"Merry Christmas, Charlie Brown!" Full Cast
Charlie Brown Christmas Ornaments
Decorating for Christmas is one of the most enjoyable parts of the holiday season. For many people, it is a time to dust off their treasured collections of ornaments and bring out their favorite decorations.
For others, it is an opportunity to start new traditions with their families. One popular Christmas decoration is the Charlie Brown Christmas ornament.
These ornaments feature characters from the beloved Peanuts comic strip and are available in a variety of styles. Whether you are a longtime fan of the Peanuts gang or you are just looking for a unique addition to your holiday décor, these Charlie Brown Christmas ornaments are a great option.
A Charlie Brown Christmas tree isn't just a symbol for the heartfelt faith in simplest things; it's also an iconic ornament that can be yours to cherish.
Get your very own Charles Schulz-penned tradition today with our selection!
Feeling like Christmas isn't the same this year? Here are the 10 reasons why we celebrate Christmas this year and how you can find joy during this holiday season with your loved ones.
Who doesn't love the classic Charlie Brown Christmas?
This ornament features Snoopy napping atop his iconic doghouse and is decorated for a festive look.
It also boasts an award-winning ribbon from our neighborhood contest to display your lights!
This Linus is so cute – he always has his security blanket with him!
If you're looking for the perfect gift to give your tree, this ornament will be sure not disappoint.
Celebrate the Peanuts special "A Charlie Brown Christmas" with these Decorating Fun miniature Keepsake ornaments.
Set of 2 features Charlie Brown and Snoopy ready to decorate that tree in style this year, so grab this classic ornament today.
Get your hands on the perfect decoration for Christmas!
This adorable little Snoopy and Woodstock figure is dressed up in his dog house, with lights sparkling all around him.
He'll win first prize at this year's festivities without any doubt whatsoever
Charlie Brown Christmas Decorations
Charlie Brown Christmas decorations are a classic holiday favorite. These iconic characters from the Peanuts comics have been bringing joy to kids and adults alike for decades.
Charlie Brown, Snoopy, and the gang are synonymous with the holidays, and their cheerful faces are sure to bring a smile to everyone who sees them.
Whether you choose to put up a Charlie Brown Christmas tree or display Schroder playing the piano, these decorations are sure to spread holiday cheer. So if you're looking for a way to add some extra holiday cheer to your home this year, be sure to check out these Charlie Brown Christmas decorations.
This Charlie Brown tree is perfect for you or someone else who loves Peanuts!
It's an officially licensed product with the original design, made out of durable materials like PVC/wood and glass.
Plus there are multiple colors available so it can fit into any home decor style (even if that means putting up more than one branch).
The best part about this decoration? A blanket skirt surrounds your little bundle on all sides to add aesthetic value. No Christmas baby gate needed.
What better way to celebrate the joy of Christmas than with this classic decoration?
Display it in your yard and you'll be able to enjoy some nice warm nostalgia each time someone visits!
The Lighted Schroeder & Snoopy Peanuts' s decorating idea will make your Christmas feel more special.
It will be sure not only make your yard shine but also remind people what they love about this time period–the simple joys!
Charlie Brown Christmas YouTube
Although there are YouTube accounts that have bits and clips of the Charlie Brown Christmas movie, unfortunately there's no way to watch the full length movie on YouTube. In 2020, Apple bought the rights to this Peanuts Christmas classic, making this movie available only on Apple TV!
Personally, I prefer having my own copy of the movie to watch whenever my family and I want. You can pick up your own DVD of this movie on Amazon.
We hope you enjoy these Charlie Brown Christmas quotes as much as we do. Be sure to share them with your loved ones this holiday season – they're sure to make everyone feel the Christmas spirit. From my family to yours, we wish you a very Merry Christmas.
Before you go…are you a big Peanuts fan? Then you're going to love these Charlie Brown Thanksgiving Movie quotes. See how many of your favorites you can remember!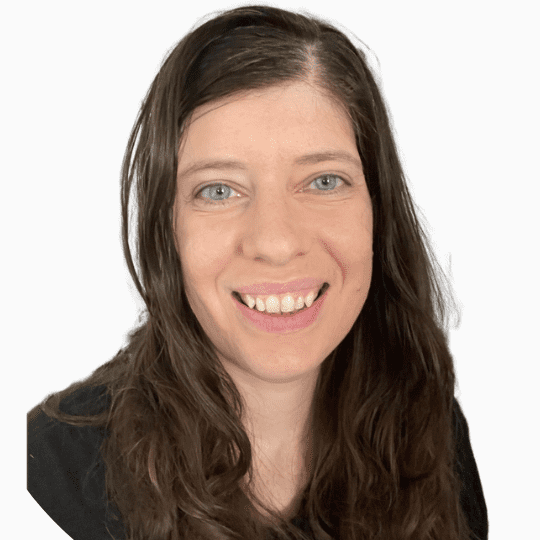 Micah Klug is a wife, homeschooling mother to five children, and author. She teaches time-tested solutions to help parents remember what matters most in life, including strengthening their home, faith, and family relationships. To learn how a child who grew up in an authoritarian home is now creating an environment of peace and joy in her own home visit this page. If you want to contact Micah, send her an email here or email [email protected].