Are you looking for the perfect words to share with your son on National Sons Day in 2024?
Whether your lovable son is a helpless baby boy or a fully grown man, these National Sons Day quotes are sure to make him feel extra special.
Because sometimes it's hard to find the right words to say to those you love.
Especially when that person is your son and you want to make sure that he knows just how much he means to you.
50 Quotes To Celebrate Your Son on National Sons Day 2024
Here are some of our favorite National Sons Day quotes you can send to wish your son a happy sons day this year.
Whether you're looking for a quote about a father-son relationship, a quote about the love between mothers and sons, or even a funny quote about being a child, this list has it all!
Happy Sons Day
"A man knows when he is growing old because he begins to look like his father." – Gabriel García Márquez
"The greatest thing a father can do for his children is to love their mother." – Theodore Hesburgh
"My father gave me the greatest gift anyone could give another person, he believed in me." – Jim Valvano
"It takes someone strong to be a father and someone special to be a dad." – Unknown
"Blessed indeed is the man who hears many gentle voices call him father!" – Lydia M. Child
"A father is a man who expects his children to be as good as he meant to be." – Carol Coats
To a father growing old nothing is dearer than a daughter." – Euripides
READ MORE: You'll discover 80+ wonderful father in heaven Fathers Day quotes that will help you honor your dad where you'll find comforting quotes and inspiring prayers.
"When it comes to fathers, there can never be enough said in praise of them." – Unknown
"Your son will follow your example, not your advice." – Unknown
"Any man can be a father. It takes someone special to be a dad." – Anne Geddes
"Happy is the son whose faith in his mother remains unchallenged." – Louisa May Alcott
Washington Irving Quotes For National Sons Day
"There is an enduring tenderness in the love of a mother to a son, that transcends all other affections of the heart. It is neither to be chilled by selfishness, nor daunted by danger, nor weakened by worthlessness, nor stifled by ingratitude. She will sacrifice every comfort to his convenience; she will surrender every pleasure to his enjoyment; she will glory in his fame, and exult in his prosperity; and if adversity overtake him, he will be the dearer to her by misfortune; and if disgrace settle upon his name, she will still love and cherish him; and if all the world beside cast him off, she will be all the world to him." – Washington Irving
"The tie which links mother and child is of such pure and immaculate strength as to be never violated, except by those whose feelings are withered by vitiated society. Holy, simple, and beautiful in its construction, it is the emblem of all we can imagine of fidelity and truth; is the blessed tie whose value we feel in the cradle, and whose loss we lament on the verge of the very grave, where our mother molders in dust and ashes. In all our trials, amid all our afflictions, she is still by our side: if we sin, she reproves more in sorrow than in anger; nor can she tear us from her bosom, nor forget we are her child." – Washington Irving
Timeless National Sons Day Quotes
"When my son will be born, my first goal will be for him. The rest, will be as always for my grandmother." – Lionel Messi
"Today I am the happiest man in the world, my son was born and thanks to God for this gift." – Lionel Messi
"Mothers all want their sons to grow up to be president, but they don't want them to become politicians in the process." – John F. Kennedy
"Children are the world's most valuable resource and its best hope for the future." – John F. Kennedy
A boy's best friend is his mother." – Unknown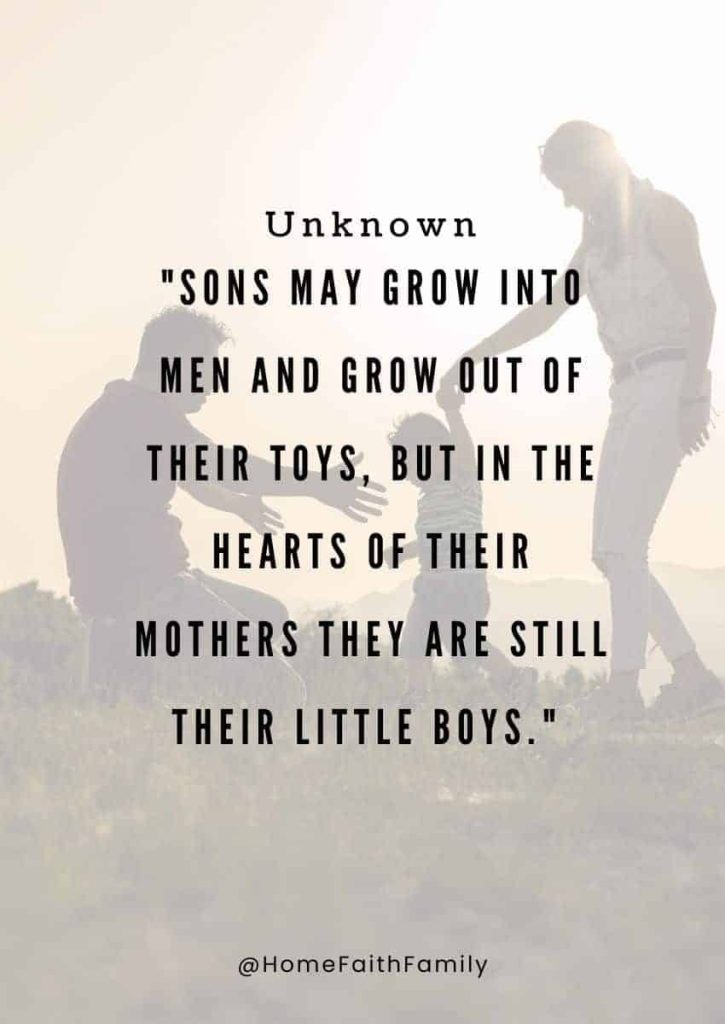 "Sons may grow into men and grow out of their toys, but in the hearts of their mothers they are still their little boys." – Unknown
"Be strong out there, my son. Look for the love and kindness in others. Forgive yourself when you make mistakes, and enjoy the journey." – Kirsten Wreggitt
"To wake up to the sound of my son saying, 'Mama, Mama!' It's the best sound ever." – Miranda Kerr
"You don't raise heroes, you raise sons. And if you treat them like sons, they'll turn out to be heroes, even if it's just in your own eyes." – Wally Schirra
"Do I want to be a hero to my son? No. I would like to be a very real human being. That's hard enough." – Robert Downey
READ MORE: Whether you've been married for just a few years or several decades, these Fathers Day quotes from wife will help you take a moment and recognize your husband's hard work and dedication as a father.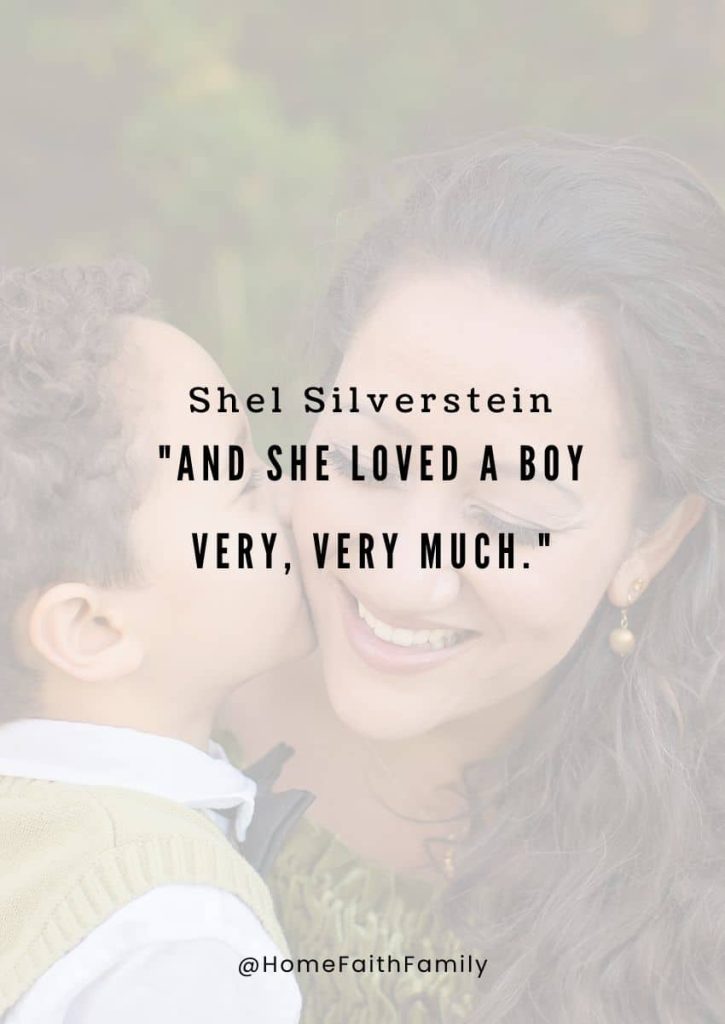 Shel Silverstein Quotes About Boys
"And she loved a little boy very, very much. Even more than she loved herself." – Shel Silverstein
"Tell me I'm clever, Tell me I'm kind, Tell me I'm talented, Tell me I'm cute, Tell me I'm sensitive, Graceful and wise, Tell me I'm perfect—But tell me the truth." – Shel Silverstein
"Listen to the MUSTN'TS, child, listen to the DON'TS, listen to the SHOULDN'TS, the IMPOSSIBLES, the WON'TS. Listen to the NEVER HAVES, then listen close to me—Anything can happen, child. ANYTHING can be." – Shel Silverstein
National Sons Day Quotes And Wishes
"Raising boys is an extreme sport, that's why I wear workout clothes every day." – Unknown
"I have a son, who is my heart. A wonderful young man, daring and loving and strong and kind." – Maya Angelou
"We can kill our son's confidence by making things too easy for him, by hovering, overprotecting, and over-functioning." – Cheri Fuller
"A mother's love doesn't make her son more dependent and timid; it actually makes him stronger and more independent." – Cheri Fuller
C.J. Milbrandt Quotes About Sons
"Have a little faith in your sons. This journey will be the making of them." – C.J. Milbrandt
"Let your boys test their wings. They may not be eagles, but that doesn't mean they shouldn't soar free." – C.J. Milbrandt
"Every day, they gave him new reasons to smile, laugh, worry, and wonder." – C.J. Milbrandt
"You know, I don't think your brother dislikes you as much as you think. After all, he gave up a kingdom to stay with his family." – C.J. Milbrandt
A Mother's Most Important Work Quotes
"The most important mark I will leave on this world is my son." – Sarah Shahi
"My son, a perfect little boy of five years and three months, had ended his earthly life. You can never sympathize with me; you can never know how much of me such a young child can take away. A few weeks ago I accounted myself a very rich man, and now the poorest of all." – Ralph Waldo Emerson
"We find delight in the beauty and happiness of children that makes the heart too big for the body." – Ralph Waldo Emerson
"Every child is an artist. The problem is to remain an artist once they grow up." – Pablo Picasso
"My mother said to me, if you are a soldier, you will became a general. If you are a monk will become the Pope. Instead, I was a painter, and became Picasso." – Pablo Picasso
"My fatherhood made me understand my parents and to honor them more for the love they gave. My sonhood was revealed to me in its own perfection and I understood the reason the Chinese so value filiality, the responsibility of the son to honor the parents." – Kent Nerburn
"Until you have a son of your own…you will never know the joy, the love beyond feeling that resonates in the heart of a father as he looks upon his son." – Kent Nerburn
Parents of Boys Quotes
"One of the greatest gifts you can give your teenage boy is the gift of letting him know you get it. You've been there." – Sebastian R. Jones
"Our sons grow and change, sometimes before our eyes, and we can barely keep up with their active, inquisitive natures." – Dr. Gregory L. Jantz
"It is not flesh and blood, but heart which makes us fathers and sons." – Friedrich von Schiller
"Sons are born to make their fathers better men." – Mekael Shane
"A father is a teacher, a singer, a doctor, a lawyer & every heroic character to his son. But a son is only a son to a father." – Sajal Sazzad
"By the time a man realizes that maybe his father was right, he usually has a son who thinks he's wrong." – Charles Wadsworth
"Children are the anchors that hold a mother to life." – Sophocles
"To be a mother of a son is one of the most important things you can do to change the world. Raise them to respect women, raise them to stand up for others, raise them to be kind." – Shannon L. Alder
"Dad: A son's first hero, a daughter's first love." – Unknown
"A boy does not need a father unless he is a good father, but a good father is indispensable." – Stephen King
We hope these quotes help you celebrate National Sons Day and make it an extra meaningful day for your son.
As a mother of a boy I often think back to the birth of my son.
It was a moment of pure joy and love, where I felt an instant connection with all my sons that has only deepened over time.
No matter how old your son is, let him know just how much he means to you and that you'll always be there for him.
If you want to share a memorable quote with your son or encouraging spiritual words, then check out these uplifting Bible verses, full of wisdom and love.
What Do You Say On National Sons Day?
National Sons Day is a day to honor the amazing and inspiring young men in our lives.
Whether it's a son, stepson, friend, or family member, this special day provides the perfect opportunity for expressing our gratitude for their impact on our lives.
From kind words of encouragement to meaningful gifts honoring them as individuals with unique talents, today is the perfect day to remind all sons that they are valued and cherished.
When Is National Sons Day?
Although the official National Sons Day is on March 4th, many people instead choose to celebrate it on its well-known date of September 28th.
It's a day to recognize and cherish the role that sons play in our lives, from being guardians and protectors of their families to being compassionate and caring friends.
So take this day to make sure your son knows just how much you love him and appreciate all he does for you!
Who Invented National Sons Day?
The creation of this holiday and its roots are often attributed to Jill Nico.
In 2018 she created a movement to celebrate sons and the people who raised them.
Ways To Celebrate National Sons Day
There are many ways to show your sons just how much they mean to you on National Sons Day.
Each year we have the opportunity to thank our sons for being special people who bring so much joy and value into our lives.
Let's take this special day to show our sons how much we appreciate them!
We hope that this list has inspired you to share some of your favorites with the special sons in your life.
If you enjoyed this post, please be sure to share this with others on social media who might also enjoy it.
Want To Read Other Memorable Quotes? Check Out This List Of Quotes: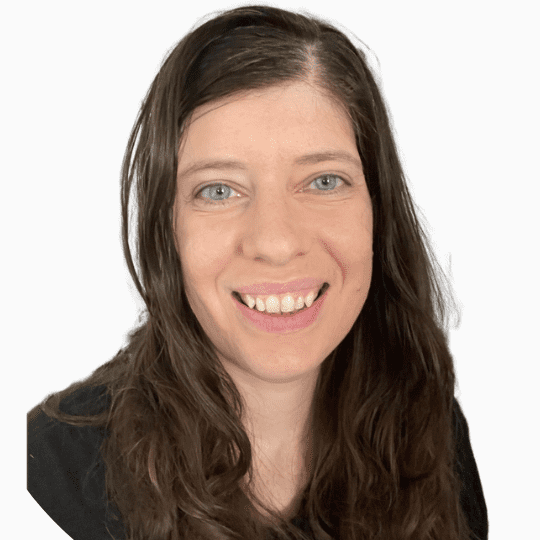 Micah Klug is a wife, homeschooling mother to five children, and author. She teaches time-tested solutions to help parents remember what matters most in life, including strengthening their home, faith, and family relationships. To learn how a child who grew up in an authoritarian home is now creating an environment of peace and joy in her own home visit this page. If you want to contact Micah, send her an email here or email [email protected].