I was driving down Kellogg Street when the excitement escaped my lips, "A firetruck! Woo hoo! Look boys, a firetruck!"
The silence was deafening.
For the first time in what felt like eternity, I was driving alone in our beat-up silver soccer mom mini van to do grocery shopping. And for a split second I had forgotten the boys weren't with me.
Boy was my face as red as the firetrucks (and as a grown woman, I really hoped to high heaven that NO ONE heard my enthusiasm).
It's then that I realized that being a boy-mom means you'll find yourself excited about police cars, firetrucks, ambulances, tractors, or anything that has wheels larger than your kid or louder than his screams of enthusiasm.
You'll also have your heart-strings pulled, you'll cry more tears than you'll imagine, and those moments when their sticky hands wrap around your neck and you don't care about all the dirt and mud? Yea, those are the moments worth living for.
Related: 5 Lessons Sons Can Only Learn From Their Mother
Friend, I want you to know I'm with you in the trenches of raising our sons to be men of honor and respect. I know the pain and worry of wondering if we're doing it *right* and those sleepless nights spent in prayer for them and the struggles they're facing.
Even through all the mess, I want you to know you're not alone in this. Heaven is cheering you on as you raise your sons, and so am I.
Here are the top mother son quotes that will make you smile, melt your heart, and remind you of the sweet bond you have with your boys. Raising boys and watching them grow up is a beautiful gift full of funny moments, chaos, a little mess, and a lot of loud noise.
"All that I am, or hope to be, I owe to my angel mother."

Abraham Lincoln
"To my son as your mother, I promise you that I will always be in one of three places. In front of you to cheer you on. Behind you to have your back. Or next to you so you're never alone."
"A mother's love doesn't make her son more dependent and timid; it actually makes him stronger and more independent." – Cheri Fuller
Bereaved Mothers Day is a day to remember and honor mothers who have lost a child. It is observed on the first Sunday of May. This day provides an opportunity for grieving mothers to come together to support and comfort one another.
"To my dear son, I miss the time when you were a baby. You were as jolly as can be and never shed a tear. I miss reading you story books before bed. And you would say, 'mom, make it funny in my own version'. I miss singing to you our special song, sitting by my side was where you always wanted to be. I missed your first word, I missed your first step. Now you are at your teenage years. Later in life, you gonna become a man. My dear son, I'll be your guidance." – Nagella Jean-Baptiste
"God could not be everywhere, and therefore he made mothers."

Rudyard Kipling
"To be a mother of a son is one of the most important things you can do to change the world. Raise them to respect women, raise them to stand up for others, raise them to be kind." – Shannon L. Alder
"I asked God to send me a man who will always love me. So he gave me a son."
"And she loved a little boy very, very much, even more than she loved herself." – Shel Silverstein
"Happy is the son whose faith in his mother remains unchallenged."

Louisa May Alcott
This post contains affiliate links at no cost to you. Disclosure policy.
"The most important mark I will leave on this world is my son." – Sarah Shahi
"Sons are the anchors of a mother's life." – Sophocles
"Successful mothers are not the ones who never struggled, they are the ones that never gave up despite the struggles." – Sharon Jaynes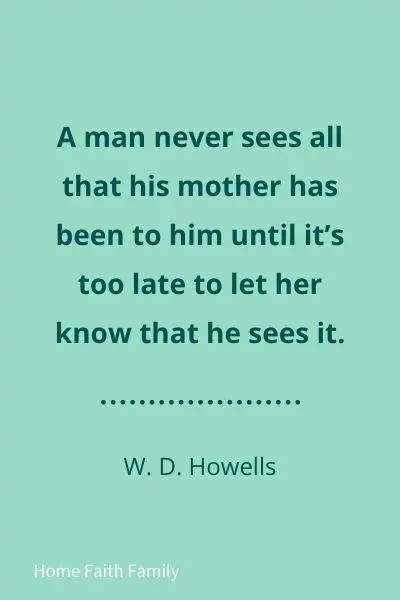 "A man never sees all that his mother has been to him until it's too late to let her know that he sees it."

W.D. Howells
"His little hands stole my heart, and his little feet ran away with it."
"Little boy, you remind me how much depends on days made of now." – Alison McGhee
It can be difficult to know how to say happy Mothers Day to a grieving mom. You may feel like you need to say something, but be unsure of what would be helpful or appropriate. Here are some ideas you can celebrate this mother and show your support on Mother's Day.
"Little boys can test your patience, run you ragged, and make you want to pull your hair out. But they will also melt your heart with just one look, and make you wonder how you ever existed before them." – Katie Bingham Smith
"Everybody wants to save the Earth; nobody wants to help Mom do the dishes."

P.J. O'Rourke
"A man loves his sweetheart the most, his wife the best, but his mother the longest." – Irish Proverb
"I have a son who is my heart. A wonderful young man, darling and loving and strong and kind." – Maya Angelou
"If you have a baby, hug him, carry him, look at him, sing to him. Make him the owner of your time. This doesn't last long, and it never comes back. Everything else can wait."
"If you try singling me out to my mother, she'll be down your throat. She has three sons, and she's equally proud of us all."

Lee Pearson
"I remember my mother's prayers, and they have always followed me. They have clung to me all my life." – Abraham Lincoln
"I loved you before I met you. I felt every move you made. You changed my life in a big way and the best way possible. You are the bone of my bones and the blood of my blood. You grew right under my heart and in it. You are my son."
"To my son. Never forget that I love you. Life is filled with hard times and good times. Learn from everything you can. Be the man I know you can be."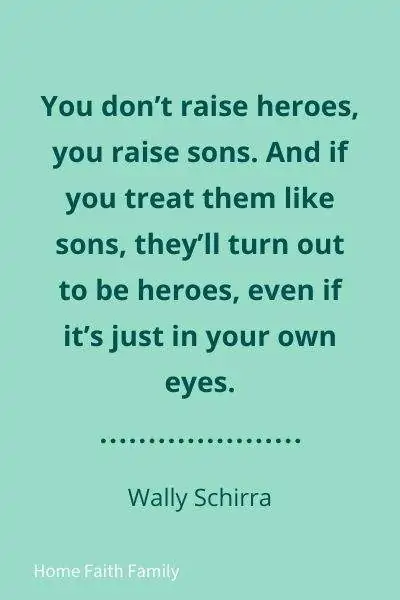 "You don't raise heroes, you raise sons. And if you treat them like sons, they'll turn out to be heroes, even if it's just in your own eyes."

Wally Schirra
"Hold him a little longer, rock him a little more, read him another story, you've only read him four. Let him rejoice in his happy smile. He is only a little boy, for such a little boy."
"A mother is always proud of her son, not because he has achieved something, but because he is her son."
"I adore his smile, I cherish his hugs, I admire his heart. But most of all I love that he is my son."
"If you would have your son to walk honorably through the world, you must not attempt to clear the stones from his path, but teach him to walk firmly over them – not insist upon leading him by the hand, but let him learn to go alone."

Anne Bronte
"Sons may turn into men, and grow out of their toys, but in the hearts of their mothers, they are still little boys."
"Even if you have your own life now, I have never stopped praying for your safety, stability, health, and happiness. I pray for your success in all aspects of your life. I know that you can do anything you set your mind on, but it's good to know that you have the full backing of a mother's prayers!"
Here are 60 of our favorite Charlie Brown Christmas quotes from the movie that will fill you with the holiday spirit!
"Sometimes when I need a miracle, I look into my son's eyes and realize I already have one."
"The heart of a mother is a deep abyss at the bottom of which you will always find forgiveness."

Honore de Balzac
"Yet now in my arms, I was holding a helpless baby boy who would grow into a man. I cannot imagine that soft little face one-day having whiskers." – Rhonda Stoppe
"I adore his smile, I cherish his hugs, I admire his heart. But most of all I love that he is my son."
Related: A Busy Toddler Doesn't Have To Be Hard. Grab These 7 Tips
"Son…all the ups and downs in my life were written off and forgotten, on the day you were born."
"Having a child makes you realize the importance of life, narcissism goes out the window. Heaven on earth is looking at my little boy. The minute he was born, I knew if I never did anything other than being a mom, I'd be fine."

Jenny McCarthy
"Mother's love is peace. It need not be acquired, it need not be deserved." – Erich Fromm
"Maybe, destiny and fate could have given you better parents than us. But nothing could have given us a better son than you. I love you, son."
"My son! I closed my eyes for a moment, and suddenly a man stood where my boy used to be. I may not be able to carry you in my arms, but I will always carry you in my heart. You have given me so many reasons to be proud of the man you have become, but the proudest moment for me is telling others that you are my son. I love you now and forever."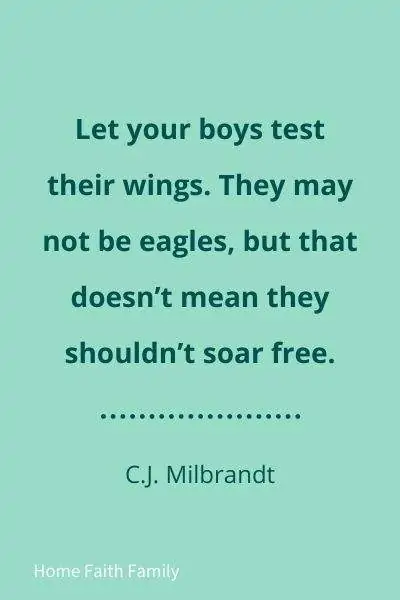 "Let your boys test their wings. They may not be eagles, but that doesn't mean they shouldn't soar free."

C.J. Milbrandt
"My mother was the most beautiful woman I ever saw. All I am, I owe to my mother. I attribute all my success in life to the moral, intellectual, and physical education I received from her." – George Washington
"The best gifts in the world are not always wrapped in boxes. They also come in the form of loving sons like you."
"A man who treats his woman like a princess is proof that he has been born and raised in the arms of a queen."
"The most remarkable thing about my mother is that for thirty years she served the family nothing but leftovers. The original meal has never been found."

Calvin Trillin
"There is an endearing tenderness in the love of a mother to a son that transcends all other affections of the heart." – Washington Irving
"To have a son means to have a protector, a buddy, a support system, and to live out one of life's greatest adventures!"
"A boy is the truth with dirt on his face, beauty with a cut on his fingers, wisdom with bubble gum in his hair, and the hope of the future with a frog in his pocket."
"My mother is my root, my foundation. She planted the seed that I base my life on, and that is the belief that the ability to achieve starts in your mind."

Michael Jordan
"Mother is her son's first god; she must teach him the most important lesson of all – how to love." – TF Hodge
"Mother's love is peace. It need not be acquired, it need not be deserved." – Erich Fromm
RELATED: Let's celebrate National Sons Day with these 50 National Sons Day quotes. Celebrate and wish your son a happy National Sons day!
"Moms are as relentless as the tides. They just don't drive us to practice, they drive us to greatness." – Steve Rushin
"You are my Son shine."

Anonymous
"Son, you will outgrown my lap, but never my heart."
"A mother's arms are made of tenderness and children sleep soundly in them." – Victor Hugo
"A mother's arms are more comforting than anyone else's." – Princess Diana
"So there's this boy. He kinda stole my heart. He calls me 'mom'."

Anonymous
"No man succeeds without a good woman behind him. Wife or mother, if it is both, he is twice blessed indeed." – Godfrey Winn
"To wake up to the sound of my son saying 'Mama, mama!' It's the best sound ever." – Miranda Kerr
"There will be many times you will feel like you have failed. But in the eyes, heart and mind of your child, you are supermom." – Stephanie Precourt
"When you were a toddler you made me smile. When you were a teenager you made me worry. But now you are a man and my son, I am so proud of you and all your accomplishments!"

Catherine Pulsifer
"My mother said to me, 'If you are a soldier, you will become a general. If you are a monk, you will become the Pope.' Instead, I was a painter, and became Picasso." – Pablo Picasso
"When you look into your mother's eyes, you know that is the purest love you can find on this Earth." – Mitch Albom
"A good son will never allow sorrow to befall her mother…and act as if he is an only child that cares…protects when no one dares…serves with his life in return…and most of all finds a wife that will love his mother too." – Helen Rebibis Ramos
"A mother is the truest friend we have, when trials, heavy and sudden, fall upon us; when adversity takes the place of prosperity; when friends who rejoice with us in our sunshine, desert us when troubles thicken around us, still will she cling to us, and endeavor by her kind precepts and counsels to dissipate the clouds of darkness, and cause peace to return to our hearts."

Washington Irving
"Even more than the time when she gave birth, a mother feels her greatest joy when she hears others refer to her son as a wise learned one." – Thiruvalluvar
READ MORE: The Bible is full of verses that are perfect for celebrating your son on his birthday. These 55 Bible verses for your sons birthday will bless him for years to come.
"Men are what their mothers made them." – Ralph Waldo Emerson
"The mother's heart is the child's schoolroom." – Henry Ward Beecher
"Mothers are inscrutable beings to their sons, always."

A.E. Coppard
"Motherhood is the greatest thing and the hardest thing." – Ricki Lake
"Raising boys has made me a more generous woman than I really am. Undoubtedly, there are other routes to learning the wishes and dreams of the presumably opposite sex, but I know of none more direct, or more highly motivating, than being the mother of sons." – Mary Kay Blakely
"A mother is she who can take the place of all others but whose place no one else can take." – Cardinal Meymillod
"If love is as sweet as a flower, then my mother is that sweet flower of love."

Stevie Wonder
"My mother never gave up on me. I messed up in school so much they were sending me home, but my mother sent me right back." – Denzel Washington
"A mother understands what a child does not say." – Jewish Proverb
Related: 15 Fun Activities For High Energy Toddlers
"As the mother of a son, I do not accept that alienation from me is necessary for his discovery of himself. As a woman, I will not cooperate in demeaning womanly things so that he can be proud to be a man. I like to think the women in my son's future are counting on me." – Letty Cottin Porgrebin
"As mothers, our job, if we believe what both Aristotle and Augustine tell us, is to help our sons seek knowledge and truth, because these are the things that bring true satisfaction of the soul."

Meg Meekee
"All women become like their mothers. That is their tragedy. No man does. That's his." – Oscar Wilde
"My father died when I was seven, leaving a widow and five sons, ranging in age from five to seventeen. My mother was the most highly disciplined and hardest working person I have ever known, and this, combined with her love and gentleness, enabled her to make a success of each of her children." – Arthur Lewis
"Bringing up a daughter, a mother pours a part of her soul. Bringing up a son, she gives him her whole soul."
"I want my son to become aware that he is in charge of the choices he makes, and it's good to make thoughtful, good choices."

Karen Salmansohn
"You may take offense at your mother. But always remember: your mother is the only woman who will love you in spite all your disadvantages."
"A child's first teacher is its mother." – Peng Liyuan
"My mother carried me for ten months. I asked her 'Mother, you had an extra month, why you didn't make me a beautiful face?' and mother told me, 'My son, I was busy making your beautiful hands and heart.'" – Mstislav Rostropovich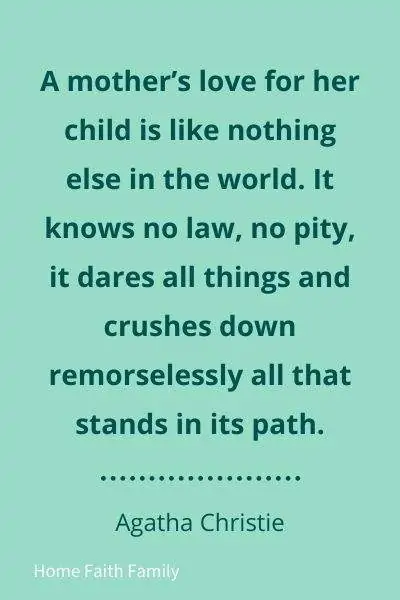 "A mother's love for her child is like nothing else in the world. It knows no law, no pity, it dares all things and crushes down remorselessly all that stands in its path."

Agatha Christie
"To a mother, a son is never a fully grown man; and a son is never a fully grown man until he understands and accepts this about his mother."
"Let France have good mothers, and she will have good sons." ― Napoleon Bonaparte
Looking for the best gardening gifts for mom this Mother's Day? Check out this list of unique gifts for gardeners that will make her smile. From flower seeds and plant pots to garden tools and outdoor furniture, we've got you covered.
"What greater aspiration and challenge are there for a mother than the hope of raising a great son or daughter?" – Rose Kennedy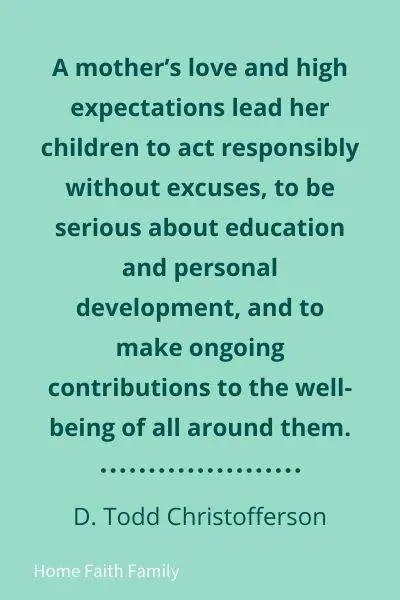 "A mother's love and high expectations lead her children to act responsibly without excuses, to be serious about education and personal development, and to make ongoing contributions to the well-being of all around them."

D. Todd Christofferson
"Of course, my son has been the center of my life and will always be the center of my love. When he was young, I was the rock in his life. Now that I am old, he is the rock in my life." – Hyacinth Mottley
"Sometimes a mother wonders if her son could have a better mother, but she knows for sure that she knows that there doesn't exist a better son."
"Moms are as relentless as the tides. They don't just drive us to practice, they drive us to greatness." –Steve Rushin
"A mother's love doesn't make her son more dependent and timid; it actually makes him stronger and more independent."

Cheri Fuller
"Every mother hopes that her daughter will marry a better man than she did, and is convinced that her son will never find a wife as good as his father did." – Martin Andersen Nexo
"Regardless of the situation you and your son find yourselves in, you, the parent, can always change how you respond to your teen." – Kevin Fall
"Most young men are such bores. They haven't lived long enough to learn that they are not the wonders to the world they are to their mothers." ― L.M. Montgomery
"My compliments go to you proactive mothers who are raising their sons with your eyes on their future."

John Lee
"That strong mother doesn't tell her cub, Son, stay weak so the wolves can get you. She says, Toughen up, this is reality we are living in." – Lauryn Hill
Related: You Need To Know This About The Best Parenting App – Bark App
"You may have tangible wealth untold; Caskets of jewels and coffers of gold. Richer than I you can never be. I had a mother who read to me." ― Strickland Gillilan
"There's no way to be a perfect mother and a million ways to be a good one." – Jill Churchill
"I listen to my mother, and that keeps me out of trouble. I'm a good son."

Mr. T
"Holding my Mother's ashes in my hand. A thunder of pain smashes in my heart. The beauty of her smile, always allowed me to go the extra mile. As thoughts pile up in my mind, the sound of her voice brings comfort. Even though she is gone, she taught me how to be strong. I am thinking of the day you were taken. A Son's memories shattered in silence. But your life is a beacon for my soul. Mother, dearest Mother, no other woman compares to you. You were strong in the darkest hour and you showed me the strength to achieve victory. So at this moment my victories and achievements belong to you." – Mark Frank
"If a man has been his mother's undisputed darling he retains throughout life the triumphant feeling, the confidence in success, which not seldom brings actual success along with it." ― Sigmund Freud
"When you teach your son, you teach your son's son." – The Talmud
"One of the greatest gifts you can give your teenage boy is the gift of letting him know you get it. You've been there."

Sebastian R. Jones
"Mothers yielding Bibles, contemplating smearing the blood of lamb chops over her doorway. Anything to keep her son alive another day." ― Antonia Perdu
"But boys are different from girls and not just physically. Acknowledging, appreciating, and understanding that boys are boys is essential in raising a son." – Catherine Musco Garcia-Prats
"Being a mother to a little boy and helping him discover the world is one of the greatest experiences in a woman's life, which makes objective goals dull in comparison. The connection between a mother and her son opens the gate to a new world of wonder and love."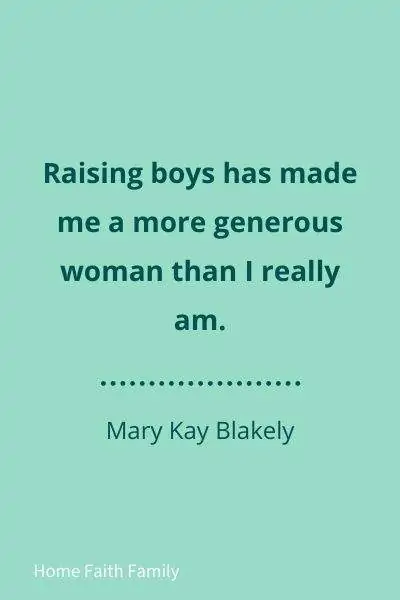 "Raising boys has made me a more generous woman than I really am."

Mary Kay Blakely
"The moment that little bundle of pink, squirming flesh slips into our arms, love touches us. We feel it, not just in our hearts, but also on our skin. He is there. Our son." – Meg Meeker
"The love of a mother is the veil of a softer light between the heart and the heavenly Father." – Samuel Taylor Coleridge
"A boy who cares too little about the future and frets too much about the past: nothing could depress a mother more."― Fredrik Backman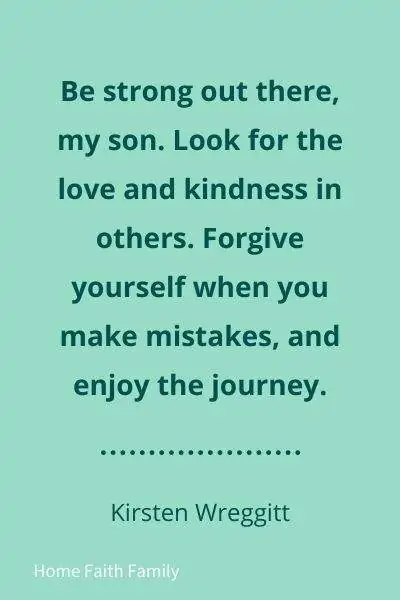 "Be strong out there, my son. Look for the love and kindness in others. Forgive yourself when you make mistakes, and enjoy the journey."

Kirsten Wreggitt
"It's one thing for a child to leave home and live close by but, to me, it is quite another for my son to leave to live in another province where distance prevents me from seeing him more often. Then, I realize that the values and the teachings I have given him over the years are more important than any words that I would say now." – Catherine Pulsifer
"My son makes me smile when he stands up for what he believes in, even if it's his right to have a second portion of dessert."
"Giving your son a skill is better than giving him one thousand pieces of gold."
"No man succeeds without a good woman behind him. Wife or mother, if it is both, he is twice blessed indeed."

Godfrey Winn
"No matter how strong, independent, or 'man' you are, the first thing that comes to your mind when you're sick is, 'I wish Mom was here.'"
"I adore his smile, I cherish his hugs, I admire his heart. But most of all I love that he is my son."
"There is an endearing tenderness in the love of a mother to a son that transcends all other affections of the heart."
"I love my mother as trees loves water and sunshine. She helps me grow, prosper, and reach great heights."

Terry Guillemets
"A woman is not able to re-educate any man. But she is able to bring up her son to be a real man."
"Nothing makes a deeper impression on a boy than seeing his strong mother suddenly girlish and hurt."― Stefan Hertmans
"Little boys can test your patience, run you ragged, and make you want to pull your hair out. But they will also melt your heart with just one look, and make you wonder how you ever existed before them." – Katie Bingham Smith
"You see, mother was remembered. Each boy, every girl, all fathers and husbands seemed to make a silent pledge: 'I will remember that wonderful mother of mine.'"

Thomas S. Monson
"How beautifully everything is arranged by Nature; as soon as a child enters the world, it finds a mother ready to take care of it." – Jules Michelet
"More than mother and son, they were accomplices in solitude." – Gabriel Garcia Marquez
"Sometimes a mother can think that her son could get a better mommy. But she knows for sure that she knows that there doesn`t exist a better son."
Do you have a favorite mother son quote, which holds a special place in your heart? Please share with us in the comments below!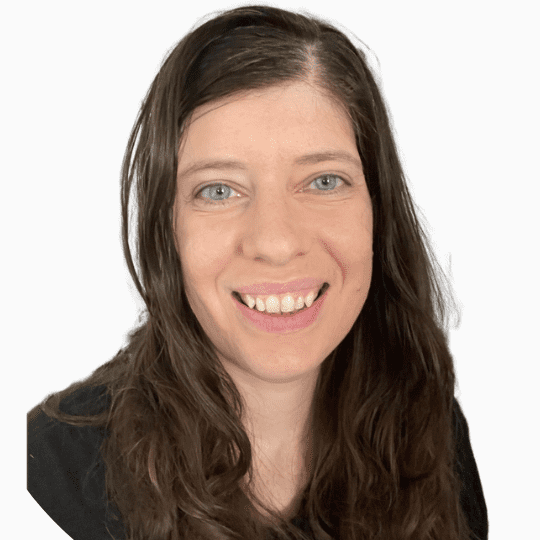 Micah Klug is a wife, homeschooling mother to five children, and author. She teaches time-tested solutions to help parents remember what matters most in life, including strengthening their home, faith, and family relationships. To learn how a child who grew up in an authoritarian home is now creating an environment of peace and joy in her own home visit this page. If you want to contact Micah, send her an email here or email [email protected].