No matter what anyone tells you, being a stay at home mom is one of the most challenging and rewarding jobs out there.
Being a stay-at-home mother is an unparalleled experience, and these 50 inspirational stay at home mom quotes will provide you with the hope and respite from the beautiful and blessed chaos we call home and family.
50 Heartwarming Stay At Home Mom Quotes + Free Images
So if you're feeling down, discouraged, or are questioning your decision to stay home with your kids, read on for some heartwarming inspiration!
And don't forget to download the free images below to accompany the quotes. Happy reading!
Inspirational Quotes For Stay At Home Moms
"Being a stay-at-home mom is not for the faint of heart. It's for those who want to shape the future one little person at a time."
"A mother's love for her child is like nothing else in the world." – Agatha Christie
"The greatest joys in life are found not only in what we do and feel, but also in our quiet hopes and labors for others." – Bryant H. McGill
"You rock a sobbing child without wondering if today's world is passing you by, because you know you hold tomorrow tightly in your arms." – Neal Maxwell
"There is no way to be a perfect mother…and a million ways to be a good one." – Jill Churchill
"There's no greater gift you can give your children than your time." – Michael Hyatt
"Being a mother is an attitude, not a biological relation." – Robert A. Heinlein
"A mother is the one who fills up your tank when you're running on empty. She's the wind beneath your wings, when you feel like you can't fly anymore."
"It takes someone special to be a mom…someone strong to raise a child and someone brave to let them go…"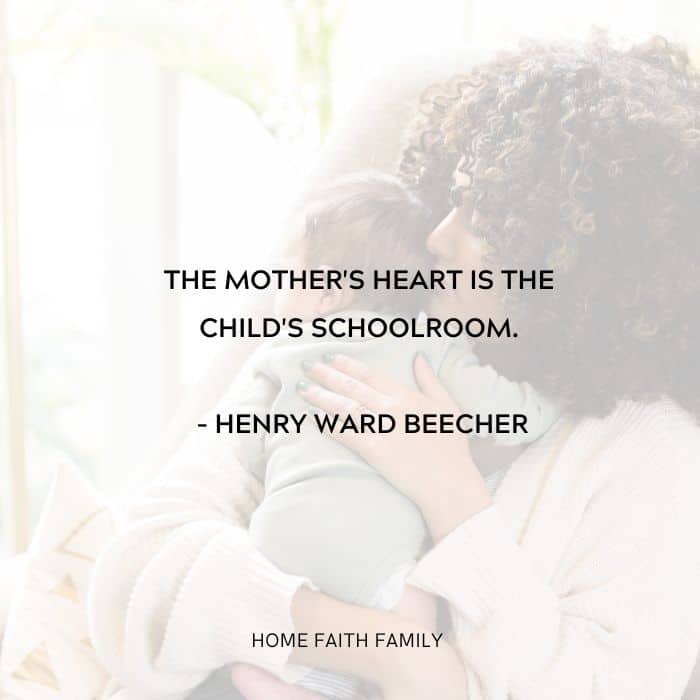 Stay At Home Mom Love Quotes
"'Mother' is such a simple word, but to me it means the world."
"The most important thing a father can do for his children is to love their mother." – Theodore Hesburgh
"The mother's heart is the child's schoolroom." – Henry Ward Beecher
"Children are the anchors that hold a mother to life." – Sophocles
"Most mothers are instinctive philosophers." – Harriet Beecher Stowe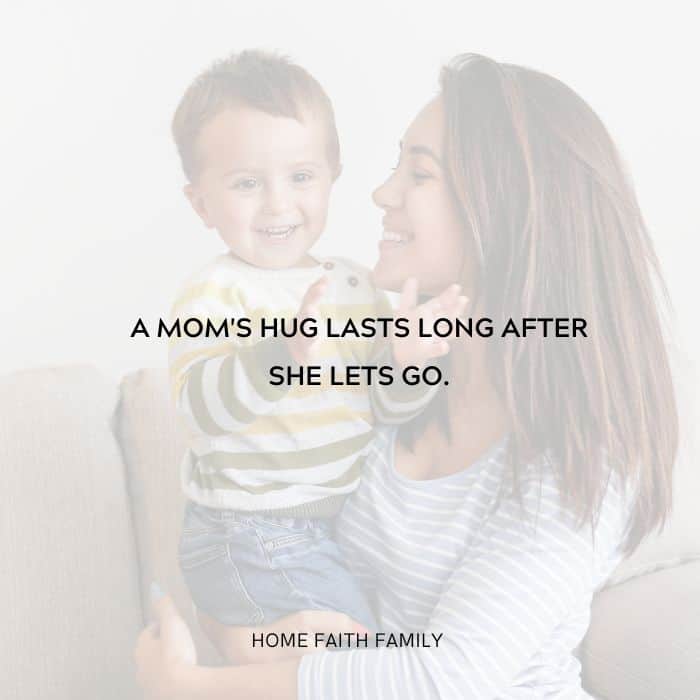 "Biology is the least of what makes someone a mother." – Oprah Winfrey
"A mom's hug lasts long after she lets go."
"You will never look back on life and think 'I spent too much time with my kids.'"
"No one tells you how much you'll love your kids."
"One of the most influential things you can do in this life is become a good role model for your children."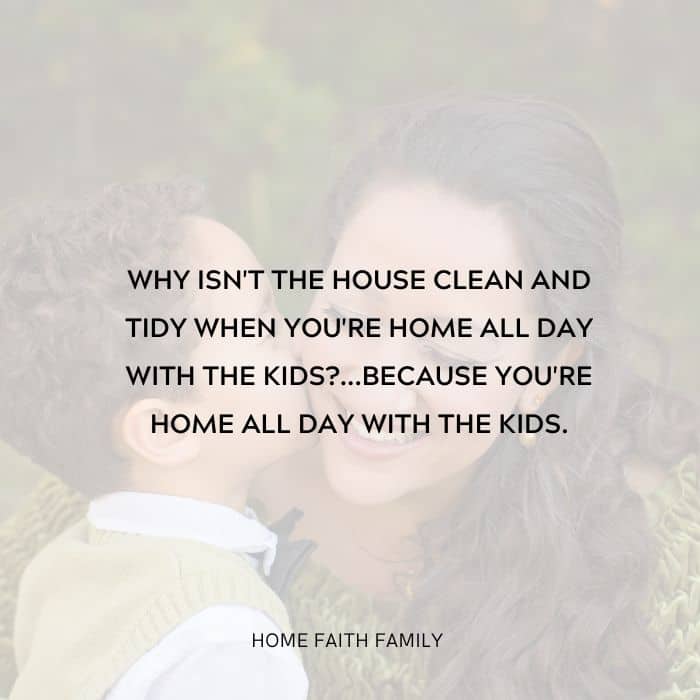 Funny Stay At Home Mom Quotes
"There's no place like home…except maybe the playground."
"As a stay at home mom, half of the time I feel like I'm running an insane asylum…the other half I feel like I belong in one."
"Why isn't the house clean and tidy when you're home all day with the kids?…Because you're home all day with the kids."
"My kids are perfect…on someone else's watch."
"I asked my kids what they wanted for dinner tonight and one said tacos and the other said, 'I don't know, whatever you're making.'"
"One day when my son was about three, he looked up at me and said, 'Mommy, you're the best mom in the whole world.' I was so touched…and then he added, 'But nobody's perfect.'"
"My nickname is 'Mom' but my full name is, 'mom mom mom mom mom mom mom.'"
"Being a mom is hard, especially trying to be patient with little versions of impatient you."
"I want my children to have all the things I couldn't afford. Then I want to move in with them." – Phyllis Diller
"If evolution really works, how come mothers have only two hands?" – Milton Berle
Stay At Home Mom Depression Quotes
"You will come to know that what appears today to be a sacrifice will prove instead to be the greatest investment that you will ever make." – Gordon Hinckley
"Whenever you feel discouraged, just remember, you are the center of the universe to tiny humans you made from scratch. You're kind of a big deal."
"Working with kids means lots of ups and downs, but my wife, a nurse, reminds me that on a heart monitor you don't want a straight line. It's the up and down that let you know you're alive." – Brad Wilcox
"Don't judge the stay at home mom. She needs a break from her kids and she is burnt out. She is lonely but it's a lot of work to leave the house. She does nothing but clean up messes and everything is always a mess. Her entire life revolves around other people. What she is doing is harder than you know."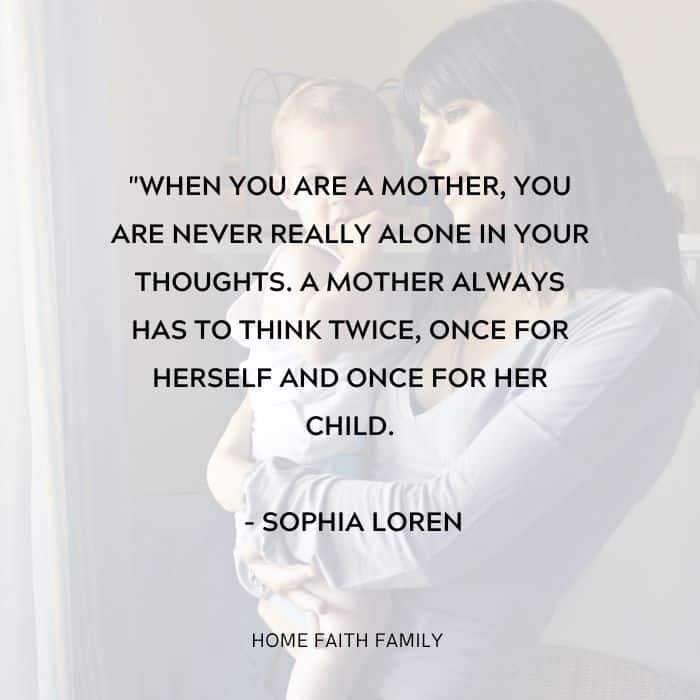 "Stay at home moms don't need judgement, they need recognition. The work they do is hard. It's lonely, overwhelming, exhausting…And yet they show up each and every day, without fail. Pouring their love and time into their kids. The work they do in the four walls is more important than we will ever know."
"When you are a mother, you are never really alone in your thoughts. A mother always has to think twice, once for herself and once for her child." – Sophia Loren
"Stay at home mom is still a job."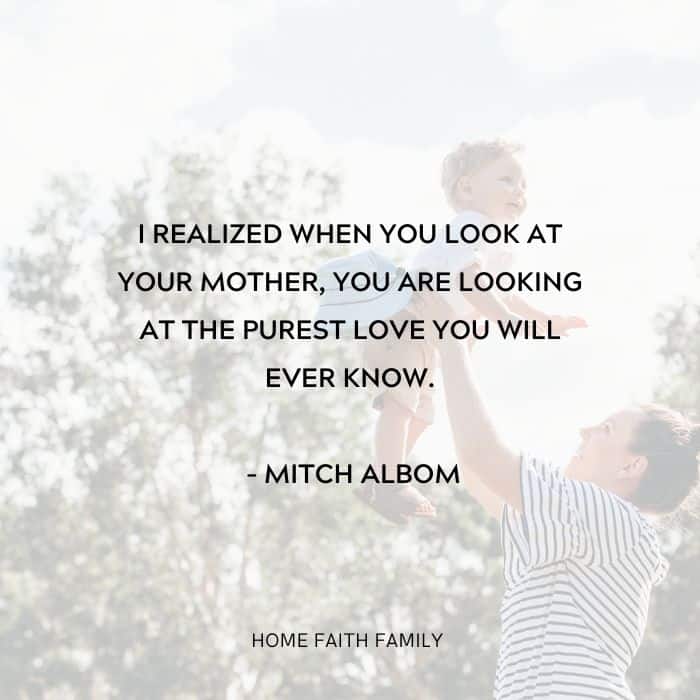 "I think it's a tough road if you're a stay-at-home mom, a working mom, if you have a partner if you don't. It's the best job in the world, and the toughest job in the world all at the same time." ~ Angela Kinsey
"I realized when you look at your mother, you are looking at the purest love you will ever know." – Mitch Albom, 'For One More Day'
"Motherhood: losing my sanity and my sleep, all in the name of love."
"All women should be able to make the best choices for themselves and their families, and no one should be belittled, degraded, or disregarded because of what she chooses to do." – Kirsten Gillibrand
The Best Quotes About Motherhood
"The most important work you will ever do will be within the walls of your own home." – Harold Lee
"A mother's tears can bring the world to its knees and her joy can cause celebration across the globe."
"The best place to find a helping hand is at the end of your own arm." – Swedish Proverb
"Motherhood is near to divinity; it is the highest, holiest service to be assumed by mankind. It places her who honors its holy calling and service next to the angels." – The First Presidency of The Church of Jesus Christ of Latter-day Saints
"One cannot forget mother and remember God. One cannot remember mother and forget God. Why? Because these two sacred persons, God and mother, partners in creation, love, sacrifice, service, are as one." – Thomas Monson
"No love in mortality comes closer to approximating the pure love of Jesus Christ than the selfless love of a devoted mother has for her child." – Jeffrey Holland
"There is no role in life more essential and more eternal than that of motherhood." – M. Russell Ballard
A mother is the truest friend we have, when trials heavy and sudden fall upon us; when adversity takes the place of prosperity; when friends who rejoice with us in our sunshine desert us; when trouble thickens around us, still will she cling to us, and endeavor by her kind precepts and counsels to dissipate the clouds of darkness, and cause peace to return to our hearts." – Washington Irving
"All that I am or hope to be, I owe to my angel mother." – Abraham Lincoln
"The heart of a mother is a deep abyss at the bottom of which you will always find forgiveness." – Honore de Balzac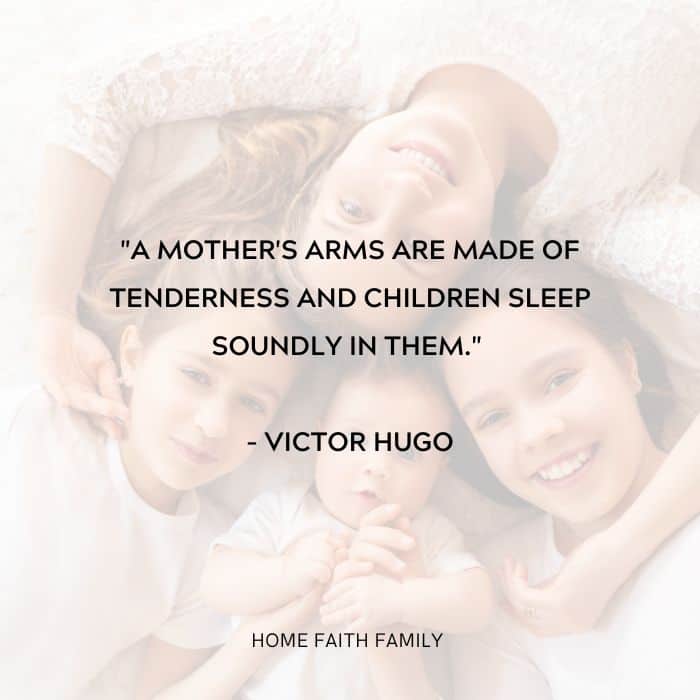 Quotes To Inspire Mothers Everywhere.
"There is no substitute for mother's love." – Cardinal Mermillod
"A mother's arms are made of tenderness and children sleep soundly in them." – Victor Hugo
"Mothers hold their children's hands for a short while, but their hearts forever."
"There should never be two classes of moms. Working moms and stay at home moms are all moms."
"Motherhood – no matter if you're a working mom or stay-at-home mom – is really tough sometimes. It can really leave us each day with a sense of wondering if we're doing it right. You know, it's a long-term investment. You don't see big returns in the short term. Raising a child can easily pull you into being hyper-focused on the tough everyday moments of life." ~ Lysa TerKeurst
"There ought to be a hall of fame for mamas / Creation's most unique and precious pearl / And heaven help us always to remember / That the hand that rocks the cradle rules the world." – Glen Campbell
"Having kids – the responsibility of rearing good, kind, responsible human beings – is the biggest job anyone can embark on." – Maria Shriver
"The time spent on family is not a sacrifice. You are living a life with choice. When you make the right ones, you have a good life." – Laura Schlessinger
Stay At Home Mom Struggles
There are only a few extremely hard jobs that any woman will ever have to do, and being a stay-at-home mother is one of them.
Not only are you responsible for taking care of your children, but you also have to manage the household, cook meals, and handle all of the other day-to-day tasks that come with running a household.
And on top of all of that, you also have to find time for yourself.
It can be difficult to find time to take a shower, let alone go to the gym or meet up with friends.
And when your kids are sick or going through a tough time, it can be even harder.
But despite all of the challenges, being a stay at home mom is also one of the most rewarding jobs in the world especially once you create a routine for yourself and your family.
When you see your children learn and grow, it makes all of the struggles worth it.
So if you're a stay at home mom struggling to find balance, just know that you're not alone. And know that every day, you're doing an amazing job.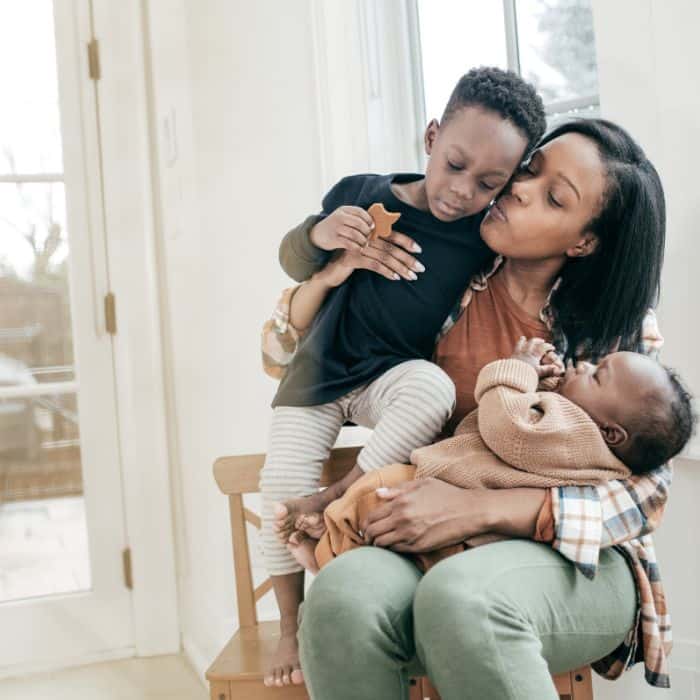 How Do Stay At Home Moms Stay Positive?
Many stay-at-home moms feel pressure to be perfect. They worry about whether they're doing enough around the house, with their children, or with their own personal interests.
It's easy to get bogged down in all of the things you "should" be doing – but it's important to remember that taking care of yourself is just as important as taking care of your family.
Here are a few tips for staying positive and keeping your head up while you're at home.
1. Make time for yourself every day, even if it's just a few minutes.
2. Find a hobby or activity that you enjoy and make time for that too.
3. Connect with other moms – either in person or online – who understand what you're going through.
4. Take a break when you need it. If you're feeling overwhelmed, step away from your to-do list and take some time for yourself.
5. Be honest with yourself about what you can and can't do. You don't have to be Supermom – so don't try to be!
6. Remember that your children are only young once. Cherish the time you have with them, even when it's tough.
7. And finally, cut yourself some slack! You're doing the best you can, and that's all anyone can ask for.
RELATED: From savory to sweet and even reader's favorites, here are 30 snacks for your hospital bag that new moms need to help curve their cravings.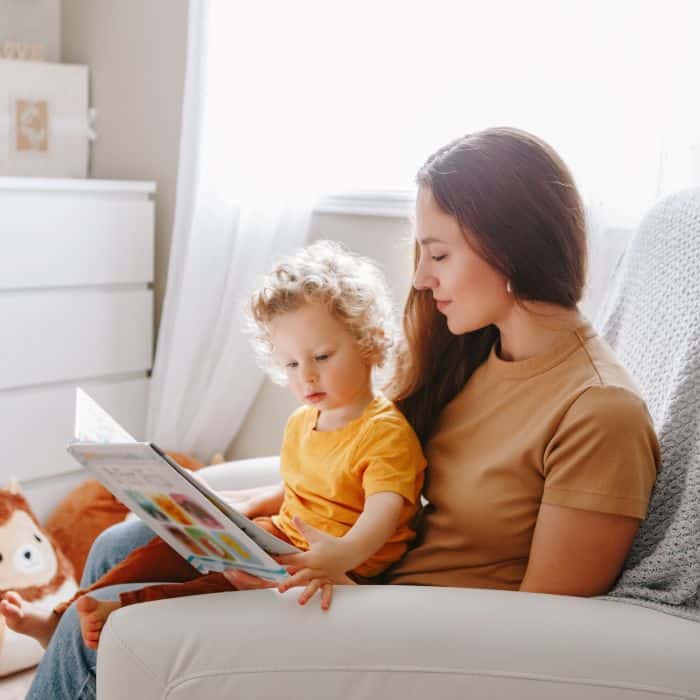 Stay at Home Mom Books
I research, test, recommend, and select only the best products for my readers.
If you click a link on this site and buy something, we may earn an affiliate commission. Thank you for supporting this small family business.
Sometimes the days of being a SAHM are long. And other times we just need to feel like we aren't alone in this journey together.
There are so many great stay at home mom books out there that offer advice, support, and even a little bit of humor.
Whether you're looking for a little help around your home or a bit of encouragement for the mom life, here are some of our favorites:
Peaceful Parenting
Peaceful Parent, Happy Kids: How to Stop Yelling and Start Connecting By Dr. Laura Markham is a must read (or listen if you're an audiobook kind of gal).
Dr. Markham helps parents understand their emotions, including those raw feelings like fear and anger. This book does require you to examine your own past, but the results of a loving connection with your child is worth every honest moment about yourself that you have to face.
Encouragement For SAHMs
In Praise of Stay-at-Home Moms By Dr. Laura Schlessinger reminds mothers that their work has value, even if stay at home moms aren't being paid for the services they provide.
If you're looking for a way to give your kids the best "you" then this book by Dr. Schlessinger is for you!
Christian Motherhood
I love Heidi St. John! And her book Becoming MomStrong: How to Fight with All That's in You for Your Family and Your Faith is a must-read for all Christian moms.
Parenting in a godly manner while living in an ungodly world doesn't have to feel impossible. Heidi provides easy to read chapters that are packed with goodness and Bible references for moms to enjoy.
And the prayer points at the end of each chapter is a great way to focus on your own family's devotional time.
Overcoming Mom Guilt and Loneliness
How I Barely Survive Being a Stay-at-Home Mom: Helpful Tips to Overcome the Mom Guilt, Loneliness, and Daily Struggles of Parenting, with Honesty & Humor by Andie Kingbrum is full of great advice for first time mothers.
Her main focus is on the mom guilt all mothers experience. But Andie reminds all stay at home moms that we are not alone in our thoughts or the craziness that goes on in our houses.
Snarky Mom Coloring Book
Mom Life: A Snarky Adult Coloring Book is a must-have for sarcastic moms to laugh through their day. The book is a bit snarky, but not irreverent. If you're wanting a coloring book with more motivation and flowery designs you'll want to check out this one.
Final Thoughts On Being A Full-Time Mom
Stay-at-home moms are the backbone of our society. Their sacrifices and hard work should be celebrated. We hope you've enjoyed these stay-at-home mom quotes as much as we have.
Check out these other posts made for moms:
? Does Your Mom Anger Make The Hulk Blush? Do you feel frustrated with yourself that you can't learn how to control your anger? These 5 tips will help you recognize what makes you angry and provide a plan of action for you to control your mom anger.
Let's celebrate National Sons Day with these 50 National Sons Day quotes. Celebrate and wish your son a happy National Sons day!
? This list is the ultimate mommy-daughter date ideas with your toddler. From tea parties and dress up to a fun day outside, you'll love these practical and easy date ideas that will make lasting memories.
? Being a stay at home mom isn't easy. The emotional, mental, and physical tolls on your body and in your life are felt daily. These are 10 secrets you need to know to find fulfillment and joy as a stay at home mom.
? I've always been an introvert, even before having children. It was until I realized that my social anxiety as a mom was only getting worse that I learned these coping mechanisms to help me succeed in social situations. If you're feeling stressed or struggling with your social interactions, you're going to love these tips for helping with your social anxiety.
? What characteristics do you think are important for a good mother as described in the Bible? Today we are going to look at 32 characteristics of a good mother in the Bible and dive deep into why the Lord desperately needs good women to be his secret weapon in Israel as godly mothers.
You can also share this post with a friend who is a stay-at-home mom and let her know how much you appreciate her!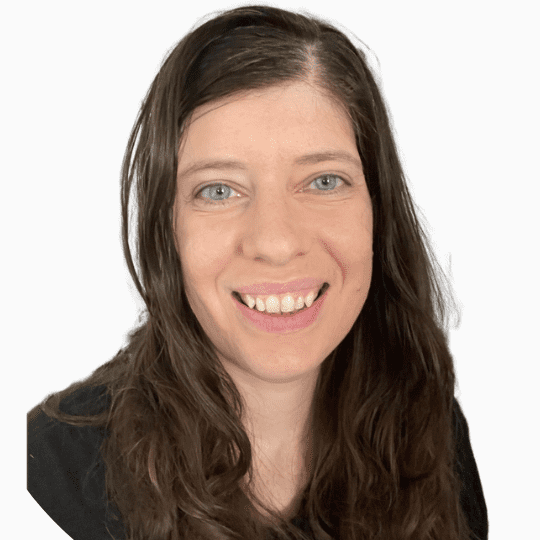 Micah Klug is a wife, homeschooling mother to five children, and author. She teaches time-tested solutions to help parents remember what matters most in life, including strengthening their home, faith, and family relationships. To learn how a child who grew up in an authoritarian home is now creating an environment of peace and joy in her own home visit this page. If you want to contact Micah, send her an email here or email [email protected].