Are you looking for a fun and educational way to introduce the letters of the alphabet to you pre-K learner?
If so, then our free letter V worksheets for preschoolers will give you a variety of worksheets with fun printable activities and is perfect for pre-k and kindergarten children.
Free 15 Page Printable Letter V Worksheets For Pre-K Learner
These easy-to-follow worksheets involve tracing, coloring, identifying objects associated with the letter V, and much more.
Your early learner will love learning the alphabet in this exciting way.
So get ready to help your child learn more about this fun letter and download your free workbook today.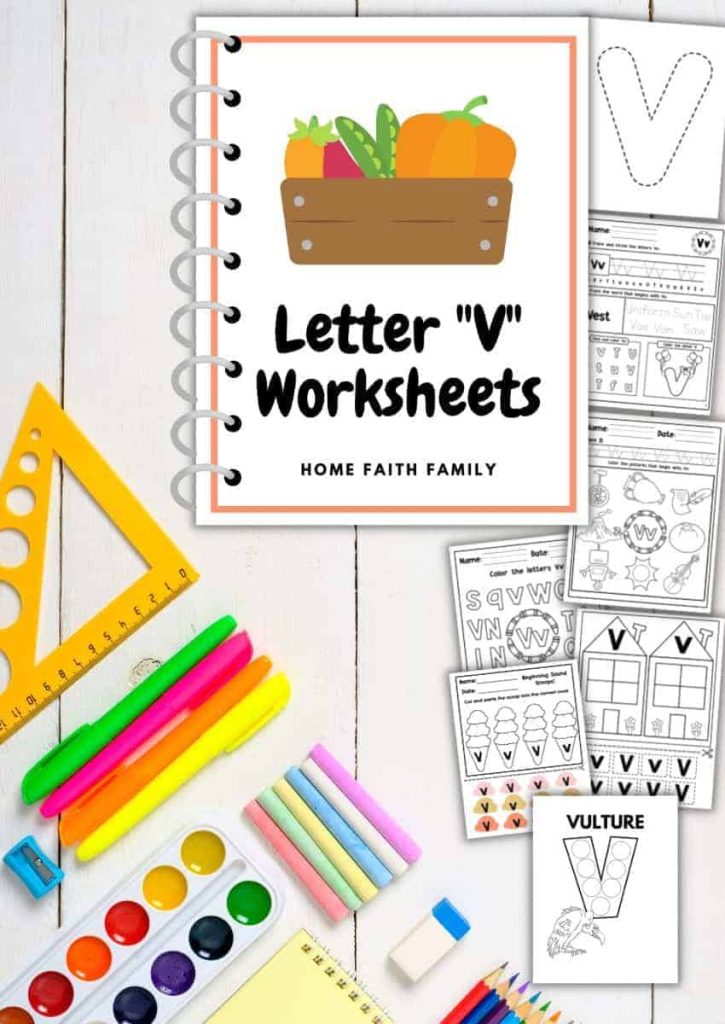 Download and Print These Free Letter V Worksheets For Your Preschooler
You can have this free printable letter v workbook sent straight to your inbox by filling out the form below:
How To Teach The Letter V To Preschoolers
Teaching preschoolers the letter V can be really fun, and a great way to foster their early literacy skills and fine-motor skills.
Not only can you familiarize them with some simple words that start with the letter V such as 'vegetable' and 'vase', but you can also help your child learn new words by showing them pictures of objects or items that are related to the word.
You can also use the printables on this page to practice their letter tracing, letter identification, and letter formation.
Keep reading to explore the additional resources and preschool activities available to help your preschool or kindergarten students master the letter V!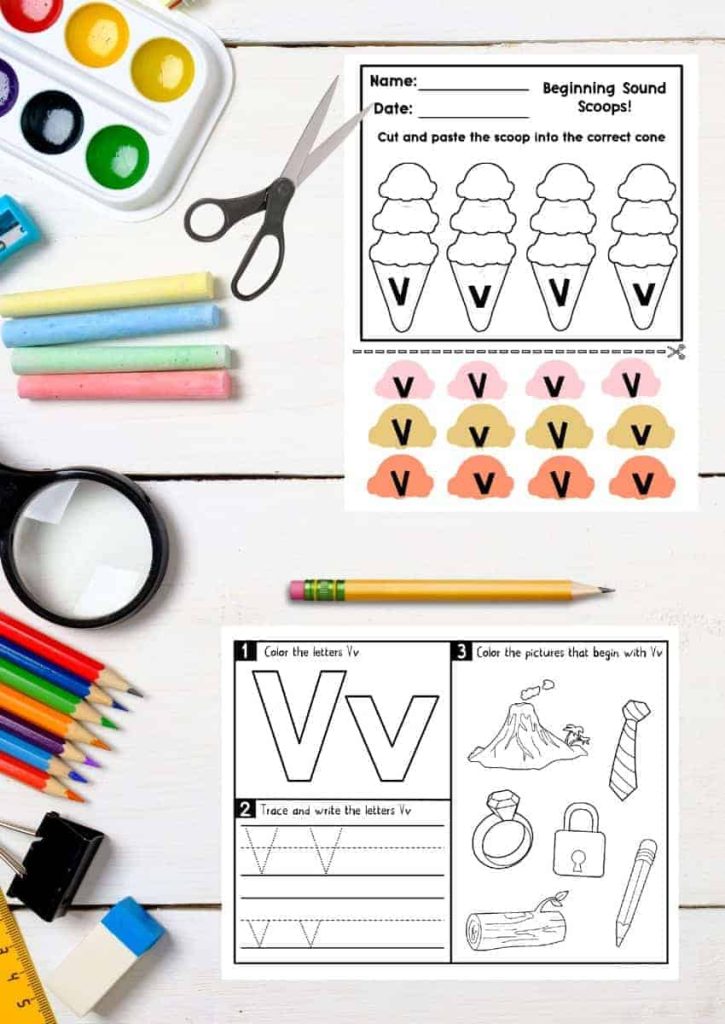 Letter V is For
Letter sounds are an important part of phonemic awareness, which is essential for early reading success.
The letter V is an easier letter of the alphabet to sound out.
The "vivid" letter v makes only ONE sound.
To begin teaching your child to make the sound, encourage them to place the tips of their top teeth on the outside of their lower lip and push out a puff of air.
You can help your preschooler learn how to make the /v/ sound by using these word examples:
Some letter v words younger children may recognize include:
Vase
Village
Vacuum
Vanilla
Volcano
Vegetable
Violet
Violin
Vivid
Vet
Vulture
Likewise you can help your preschooler make connections between the letter V and words that begin with this specific letter by pointing out items in their environment that start with the letter V or asking them questions about objects.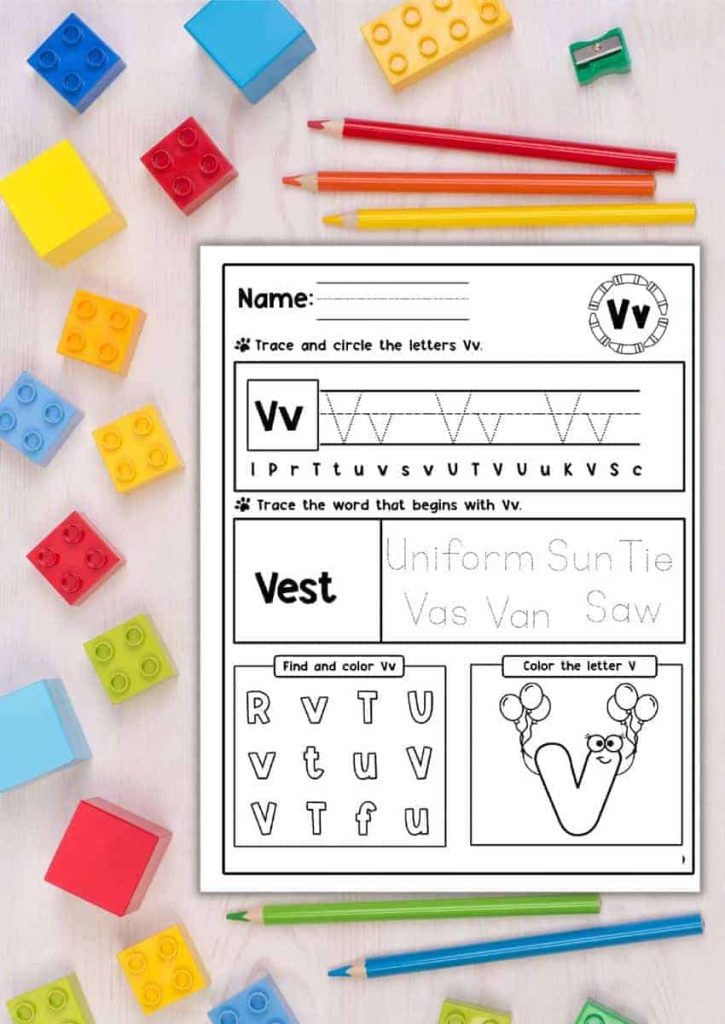 Writing the Letter V Worksheets For Preschool
One of the benefits of the letter v is the lower case v and the uppercase v are nearly identical (except for their size).
This makes it easier for preschoolers to recognize and write the letter.
To practice writing the letter V have your child trace a large uppercase V as well as lowercase letter v.
As they become more comfortable, let them try to write it on their own using smaller line sizes.
You can also use the free alphabet printables on this page for creative activities like making letter V art or decorating the letter with stickers or other decorations.
Tracing the Letter V Worksheets for Preschoolers
Whether your preschooler or kindergarten kids are tracing lowercase letters or uppercase letters, these tracing worksheets will keep them engaged in learning the letter V.
This letter has only two lines and no curves, making it simpler to draw than other letters.
Coloring the Letter V Worksheets For Preschool
My own preschoolers love the fun coloring pages in this workbook.
They love learning how to recognize this letter and find the letter v in the world around them.
If you're wanting to help your child recognize the letter v in a fun way, then these coloring pages are perfect.
Each page is filled with graphics of things that start with this letter including vultures, volcanos and more.
Your children can even practice writing the letter v within the coloring sheet as well!
Fun Letter V Crafts
One of the best things I did for my preschooler was print the dotted letter v worksheet on construction paper and laminate it.
This way, we could keep reusing the same page and use everyday items to make fun letter v crafts.
Ignite your early learners curiosity and spark their creativity by engaging them in any of these hands-on activities listed below!
Place pom poms in the center of a lowercase v
Use play dough and shape inside the dotted lines
Color the capital letter V brown and create a volcano
One glue activity you can also make with the fun letter v is cut out flowers and place them inside the "vase".
You can use a lower case letter v for this craft and a capital letter v for the volcano craft to reinforce the difference between the lower case and upper case letter v.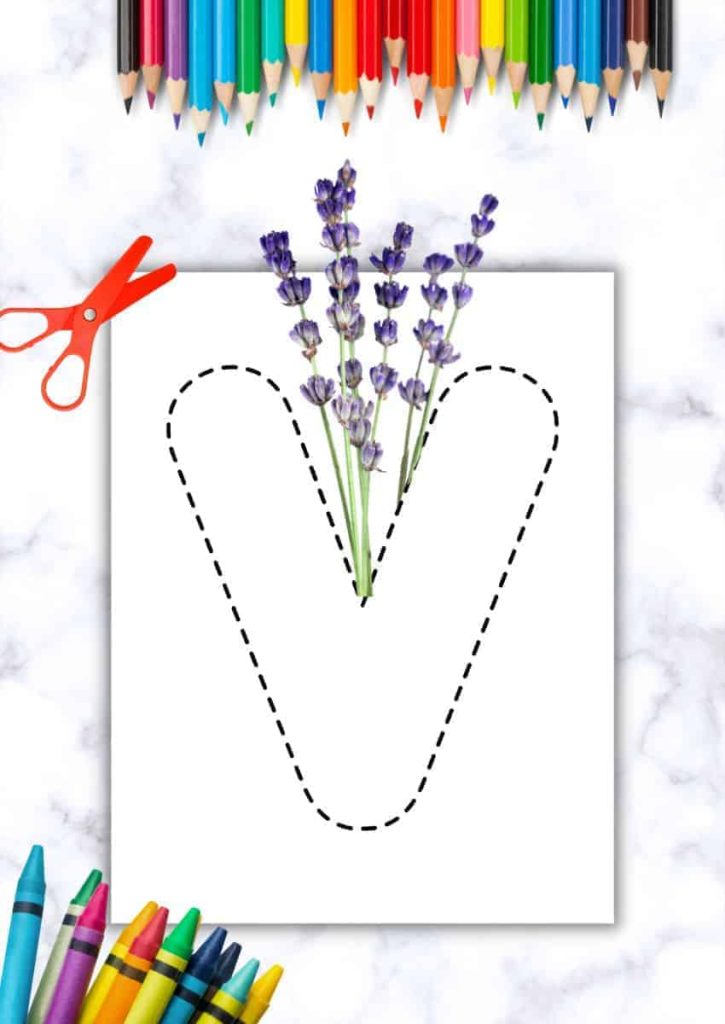 Here Are More Alphabet Activities and Preschool Lessons
For preschoolers, learning their ABCs is just as important as counting to 10!
Alphabet activities and worksheets are a fun way to help them practice recognition of letters and the sounds they make.
Engaging in these activities can greatly improve letter recognition speed, sight word reading, and help build basic comprehension skills.
These skills are important for any beginning reader.
Many of these activities are engaging for young learners and can be adapted to fit any student's level or ability.
With so many digital and printable resources available to parents, and educators (including these letter v worksheets for preschool) – there is no shortage of worksheets to choose from!
Here are more of our reader's favorite alphabet worksheets for you to download:
Free Printable Worksheets for Teaching Letter V
When you download your amazing letter v worksheets you will have the printable pack you need to get started teaching your preschooler the letter v.
This 15 page letter v worksheets for preschool pack includes:
Letter V Tracing Pages and Writing Worksheet
Coloring Page for the Letter V
Printable Craft Template for Stacking Letter V Ice Cream Cones
Scissor Cutting Practice Sheet featuring the letter V with dotted lines\\
Letter Recognition Worksheet
Play dough mats for fine motor skills
Make sure to check out our other printable alphabet worksheets and activities for teaching your preschooler the letter V!
Tips for Parents and Teachers on Teaching Letter V
I hope you don't get so caught up in the lesson plans that you forget to enjoy teaching your child.
There are so many educational activities you can use to enforce their learning, including using this preschool letter worksheets.
To let you know, these letter printables are only a small part of our preschool curriculum. You can learn more about the Smart Little Learners Preschool Curriculum on this page.
If you are only wanting to focus on the entire alphabet for your child, we do have an alphabet curriculum for you to look through. You can find this curriculum here.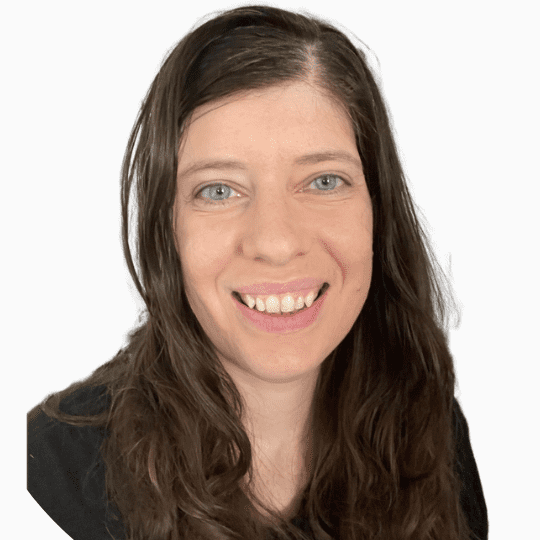 Micah Klug is a wife, homeschooling mother to five children, and author. She teaches time-tested solutions to help parents remember what matters most in life, including strengthening their home, faith, and family relationships. To learn how a child who grew up in an authoritarian home is now creating an environment of peace and joy in her own home visit this page. If you want to contact Micah, send her an email here or email [email protected].