It's time to start thinking about how you're going to spend your school year! Are you looking for some new ideas? One way is to try letter V worksheets for preschool. These free printables are fun and great for your preschooler. You can also find lots of other activities on the blog that will help improve your child's learning skills. Check them out today!
My husband always said I loved teaching the letter V a little too much.
Volcanos, check.
Vegetables (against my children's will), check.
Vacation!?…Kids, we are having an object lesson!
But, in all seriousness, the letter V is one of the most fun you'll have teaching your preschooler their alphabet.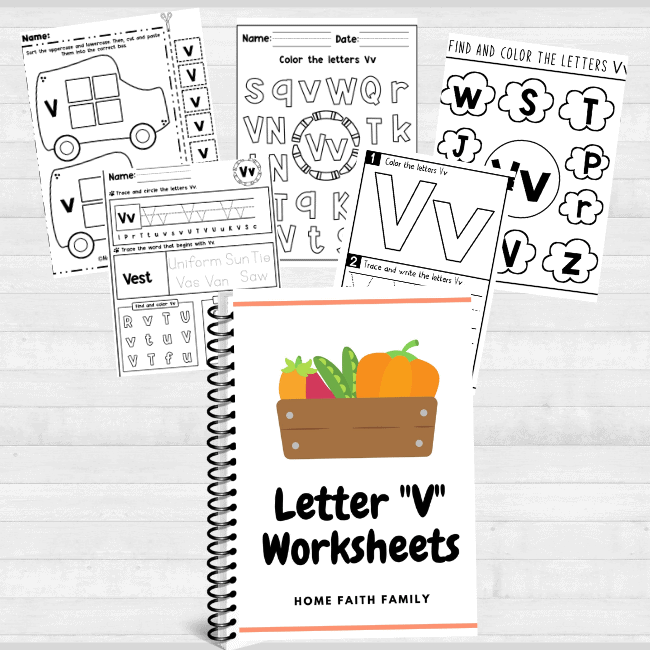 What Are Some Preschool Words That Start With The Letter V?
Van
Vase
Violin
Vegetable
Volcano
Very
Vine
Vacation
Vast
Verb
What are some v-words your preschooler would add to this list?
What Animals Begin With V That Your Preschooler Will Know?
Vulture
Vegetable Owl
What Sound Does The Letter V Make? How To Teach Your Preschooler How To Say The Letter V
The letter v makes a voiced sound. This is when you use your voice to say the letter "v" out loud, like in verbs or violin!
You can help your child practice making the V sound by encouraging them to place their teeth on their bottom lip. Then, have them pretend to be a race car (vroom!)
What Are Some Letter V Activities For Your Eager Learning Child?
One activity that's ready to go for you and your child are these Letter V worksheets for preschool.
You can download them straight to your phone or computer, print, and go!
Your preschooler will enjoy the coloring pages and activities.
This worksheet will make learning fun for your growing and eager learner.
Another Great Printable For Preschoolers You Don't Want To Miss
Once the excitement of the first day of preschool has worn off, the fun learning begins.
But sometimes there's a lack of enthusiasm for learning. (Honestly, who doesn't want to play all day, every day).
Although I firmly believe playing is a great tool for teaching and learning, sometime you have to ask yourself…wouldn't it be amazing if your preschooler looked forward to learning their ABCs?
As a homeschooling mom of five, I get it. You want the best educational resources for your child's growing mind.
This is why The Ultimate Alphabet Learning Bundle is perfect for your child as you help them learn, explore, and understand the alphabet.
Inside this ABC bundle you will find 145+ pages of:
A-Z Placemats
Colorful and beautifully designed A through Z Flash Cards
My Big Alphabet Skills Pack
Alphabet Activities Coloring Sheets
ABC Letters and Line Tracing
Alphabet Letter Recognition
For a limited time you will get 5 BONUS workbooks (62+ pages) to help your child explore and learn
I know firsthand how quick children learn.
Their curiosity and love for learning is unmatched and you want to do everything you can to give them the resources they need. This is why, for a limited time, you will get 5 BONUS workbooks (62+ pages) to help your child explore and learn:
Days of the Week
Shapes
Seasons
Numbers
Months
This bundle is the ultimate ABC resource of fun education for you and your preschooler.
** PLEASE NOTE: THIS IS A DIGITAL DOWNLOAD! NO PHYSICAL BINDER WILL BE MAILED TO YOU. THERE ARE NO REFUNDS ON DIGITAL PRODUCTS. **