Your preschool mission statement will be the cornerstone of your educational environment.
It should be more than just a few words on paper.
Your mission statement should embody your vision for the children in your care, clearly stating the goals and values that guide you each day.
Crafting an effective mission statement can help to ensure that everyone in your program is on the same page when it comes to providing quality care and education to young children.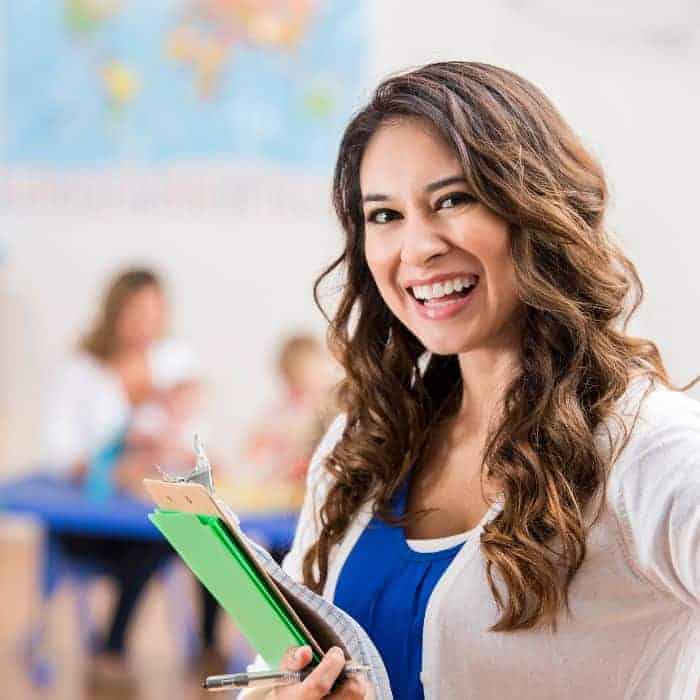 15 Preschool Mission Statements For Daycare & Childcare Centers
If you're an owner of a daycare or preschool, crafting a mission statement is essential to creating a clear vision that will guide your business.
A mission statement outlines the objectives of your center, as well as what values and principles you want to teach children.
It can be used to outline the goals you want to achieve in child development and in your education programs.
You will read some preschool mission statement examples and explore how you can craft an effective mission statement for your preschool.
Preschool Mission Statement Examples
A preschool mission statement serves as a guidepost for teachers, administrators, parents, and students.
It should reflect the core values of the school while also being aspirational in nature.
With a mission statement in place, it becomes very clear what is important to the preschool's culture and how everyone involved should conduct themselves when interacting with each other.
Having an established mission statement also helps to ensure that all decisions made by staff members are aligned with the overall vision of the school.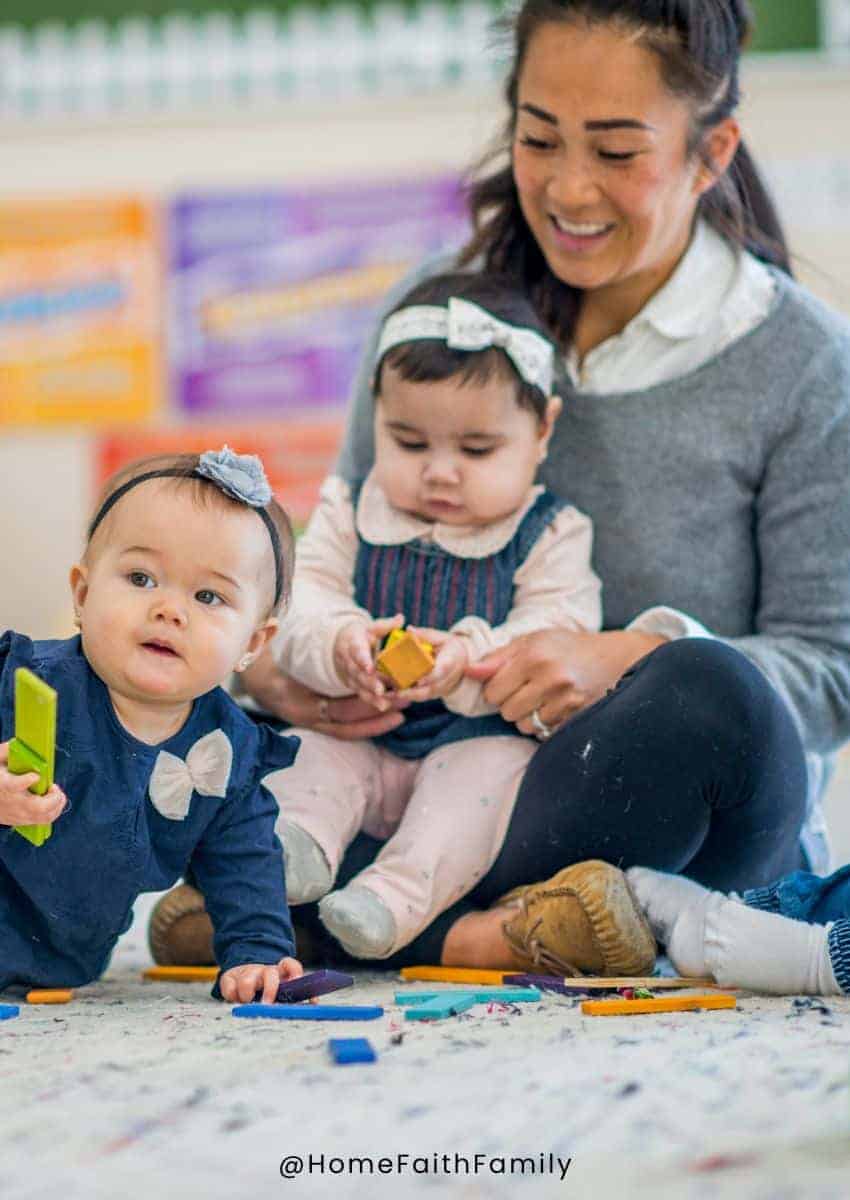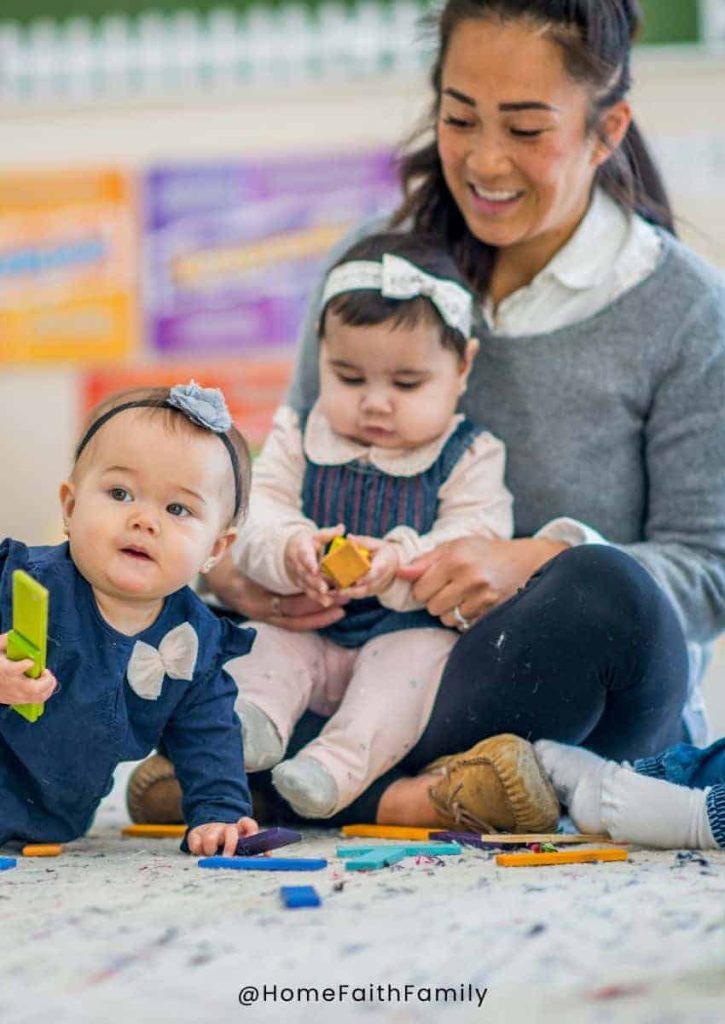 Examples of Preschool Mission Statements
Here are some examples of effective preschool vision statements that you can use for inspiration when crafting your own:
Creative Environment Statement
1. "Our mission is to create an educational environment where children can explore their creativity and nurture social development skills while having fun in a small group of their peers. We strive to provide a safe learning space where every child feels valued and respected as an individual."
Inclusive Learning Experience
2. "Our goal at this preschool is to provide an inclusive learning experience that encourages children to think critically and explore their interests in a nurturing environment. We believe that each child has unique talents and abilities that must be nurtured in order for them to reach their full potential."
Play Base Learning
3. "Our core values is to empower children through play-based learning experiences that foster creativity, collaboration, critical thinking skills, self-awareness, empathy, problem solving skills, communication skills, physical development skills and more! We strive to provide school age children with an engaging learning experience that will prepare them for success later in life."
Encourage Life-long Learners
4. "Our mission is to help young children reach their full potential. We believe that by providing a stimulating and happy environment, children will develop the skills needed to be successful in school and into their adult years. We strive to create a solid foundation of respect, responsibility, and compassion throughout our program."
Quality Child Care Focus
5. "The mission of this learning environment is to provide quality childcare and early education that meets the highest standards. We strive to nurture each child's curiosity, creativity, and desire for learning through a balanced curriculum of play activities, interactive learning experiences, and individualized instruction."
Inclusive Cultural Diversity
6. "Our dedicated team nurtures and provides quality child care needs of all economic levels and cultural backgrounds. We strive to create an inclusive environment that encourages children of all abilities and backgrounds to become a lifelong learner and reach their maximum potential. We believe in nurturing a safe and caring atmosphere, encouraging positive self-image, and a love of learning where every child is respected and valued for their uniqueness."
High Quality Education Statement
7. "Our mission is to provide a high-quality education that meets the unique needs and development of the whole child. We strive to foster encouraging educational experience for each child in collaboration with any family member. We realize that positive social skills, creativity, emotional growth, and critical thinking skills are important in order for children to reach their highest potential."
Early Childhood Education Program
8. "Our mission is to provide a comprehensive early childhood education program that meets the individual needs and interests of each child from their physical growth to their cognitive development. We believe in creating a strong foundation of respect, kindness, and empathy where each school-age children can reach their full potential. We strive to create a supportive environment and enriching learning experience where all children are valued, respected, and celebrated."
Faith Based Preschool Mission Statement
9. "We strive to nurture the Catholic faith [or your preferred demonization] and spiritual growth of the preschool-age children in our care. We believe that each child can be a shining example of the love of Christ to those in their community. Through collaborative relationships of family members, local community, and staff, we seek to provide a caring environment that encourages our children to grow in their faith and reach their full potential at their own pace."
Outdoor Education and Exploration
10. "Our mission is to promote outdoor education and exploration that inspire children's natural active play and learning. Our classroom practices best practices to ensure the safety of our children while they enjoy outdoor play and explore their environment. We strive to foster an appreciation for nature, develop life skills, and create a positive relationship with the natural world during these early years."
If you are stuck on where to start with writing your own preschool mission statement, here are some examples from real preschools across America as inspiration:
11. "Our mission is to provide children with a safe early learning center and classroom environment that foster social emotional development through play based learning in a safe environment where children can explore creative expression and grow intellectually." – Toybox Preschool & Kindergarten
12. "Our goal is to foster self esteem in children by providing quality early childhood education in an environment which promotes security, exploration and discovery." – Little Acorns Pre School & Kindergarten
13. "We strive to instill children with knowledge while cultivating respect for themselves, others and the world around them through play based activities." – Sunshine Pre School & Kindergarten
14. "We are committed to providing an environment where children can grow and develop spiritually, emotionally, socially, physically and academically through fun and engaging activities." – Maple Tree Preschool & Kindergarten
15. "Our mission is to create a supportive learning environment that fosters the development of each child's unique potential. We believe that all children have the right to receive an excellent education in a safe and nurturing environment." – Starlight Preschool & Kindergarten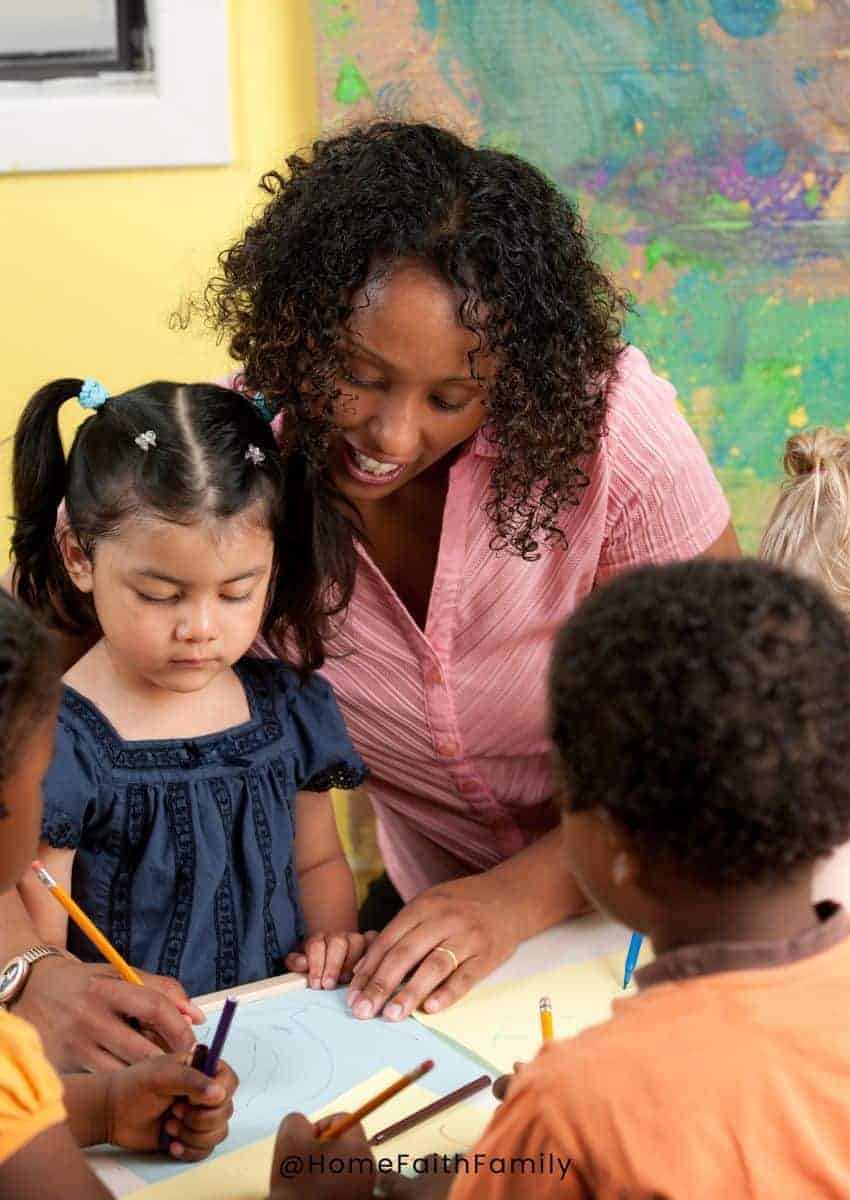 How To Write A Daycare Mission Statement
Creating a clear mission statement for your daycare is essential to define the objectives of your business.
To craft an efficient statement, begin by brainstorming a few answers to questions like:
What services will you provide?
Who are your target clients?
What sets you apart from other daycares?
What significance does social growth, individual growth, or language development in a child's life mean to you?
How do you define lifelong success for the children in your care and for your business?
Once you have established a basic framework of values and objectives, transform those notions into precise and impactful language.
Make sure to communicate the values of your daycare such as safety, kindness and learning.
If learning is one of your core values, you can share the lesson plans and printables your school is using with parents.
You can also feature your preschool mission statement in your preschool newsletter.
Finally, review the final draft of your preschool mission statement to make sure it accurately reflects the purpose of your organization.
A compelling mission statement provides guidance for employees and parents about what you offer and why you provide those services.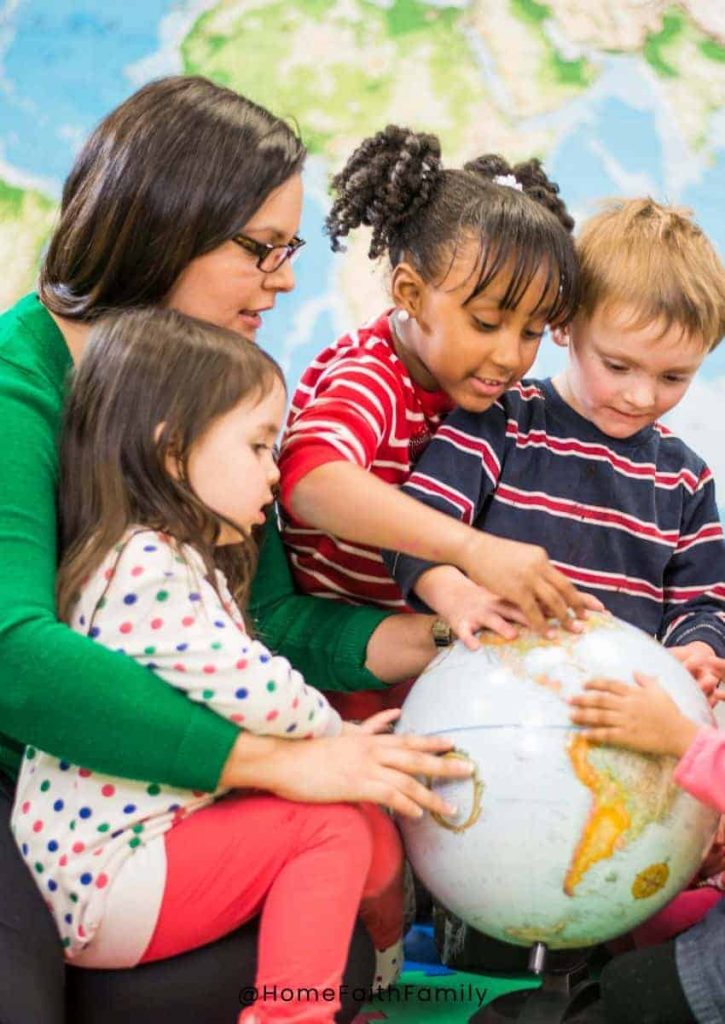 Why Does Your Daycare / Childcare Center Need A Mission Statement
Every daycare or childcare center should have a mission statement because it serves as an important tool for promoting a sense of purpose, structure, and community among its staff and families.
A mission statement is a clear statement of your center's values that has the potential to shape how care is provided and what type of relationships are developed.
Those who have a mission statement are making big strides towards creating a safe, healthy, and nurturing environment for children.
A concise mission statement will firstly express the overall goals and values of the organization – such as providing safe and secure care for each individual child, allowing them to learn and grow in a positive environment.
The mission also can help in communicating the principles to be followed by all parties involved while setting expectations that everyone understands.
For example, if parents are required to volunteer once a month and do a read aloud with these young learners, then this expectation needs to be clearly stated.
Ultimately, having a well thought-out mission statement will ensure that everyone involved is on the same page when it comes to delivering quality care with compassion.
How To Define Your Mission Statement For Your Preschool Or Daycare Center
Defining a mission statement for your preschool or daycare center is an essential part of creating and sustaining a successful early learning environment.
It should be the guidepost for the decisions you make regarding your program, from purchasing new curriculum materials to framing your internal policies.
By establishing clear values and goals for your school, you can ensure that both teachers and parents understand their roles in making the learning experience positive for children.
Start by asking yourself questions such as:
What do I want my center to represent?
How do I want my community to see this organization?
What will I provide above other programs?
Do we offer a wide-range of child care programs? If so, what can parents expect from our organization?
What does age-appropriate play look like in my program?
Developing answers to these questions can help shape and refine your mission statement over time, allowing it to adapt to changing needs while remaining true to its core values.
How To Highlight The Unique Aspects Of Your Program That Make It Stand Out From Others
When trying to highlight the unique aspects of your program that make it stand out from other programs, it is important to focus on what makes your program distinctly different from all of the others.
Think outside the box and consider qualities and features of your program that are not replicated by other offerings available in the same space.
Maybe you share memorable first day of preschool keepsake signs for the children in your program with their parents.
Leverage these unique components in key marketing materials, press releases, and website content.
By focusing on these differences and emphasizing what sets yours apart, you will be able to help prospective customers identify why your program is special and why they should choose you instead of a competitor.
How To Emphasize The Importance Of Early Childhood Education
Early childhood education plays a crucial role in the development of young minds, providing the foundation for success later in life.
During this formative period of growth and learning, children are presented with the opportunity to acquire fundamental skills and knowledge, such as language and literacy, mathematics, problem solving, and more.
These competencies not only set the stage for performance at higher levels of education but also prepare them for meaningful participation in society in an increasingly complex world.
Investing in quality early childhood education helps ensure that each student has the tools necessary to reach their full potential and achieve success as capable adults.
Teachers and parents alike will benefit from recognizing the importance of early childhood education today for promising outcomes tomorrow.
Other Key Features To Highlight
You will also want parents and guardians to know your preschool
Provides a safe, nurturing environment for children to learn and grow
Provide an outline featuring the curriculum and activities offered at your preschool or daycare center
A preschool mission statement is an important tool for setting the tone and guiding the actions of everyone involved in the school, from teachers to parents.
By taking the time to craft a statement that reflects your core values and aspirations, you can create a sense of purpose and unity that will benefit everyone associated with your preschool.
If you're looking for help getting started on writing your own preschool mission statement, or for more guidance on running a high-quality childcare center, check out our preschool curriculum.
This curriculum is well loved and used in daycare and childcare centers across the United States.
You can take a look inside this curriculum here.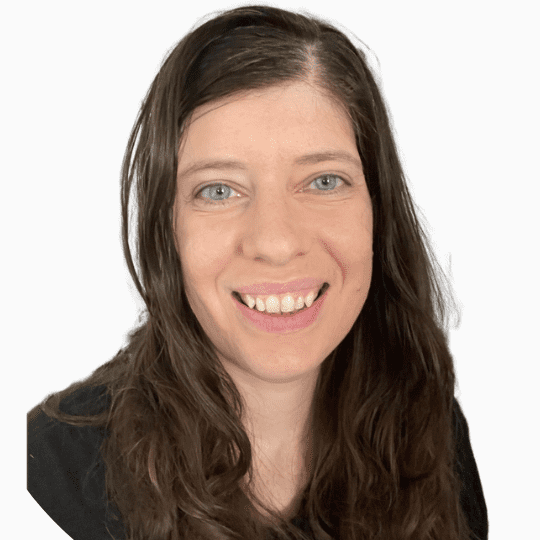 Micah Klug is a wife, homeschooling mother to five children, and author. She teaches time-tested solutions to help parents remember what matters most in life, including strengthening their home, faith, and family relationships. To learn how a child who grew up in an authoritarian home is now creating an environment of peace and joy in her own home visit this page. If you want to contact Micah, send her an email here or email [email protected].