Are you looking for the best way to help your preschooler develop their letter recognition and handwriting skills?
Look no further!
Our free printable worksheets for preschoolers are bursting with fun, interactive activities that your kids will adore!
With 19 pages of exciting content to explore, you won't have a problem keeping them learning (in a fun way of course).
Each page is designed with an adorable illustration and clear directions so your little one can work independently or with the family.
While your preschool or kindergarten students are still young, I highly recommend that you work alongside them.
Your child will be excited to learn the letter w, practice tracing it, and take part in activities meant to help with their eye-hand coordination.
Free Letter W Worksheets For Preschool – 19 Pages (Printable Activities)
You can use these practice pages in combination with other preschool materials you'll find on this website.
You can find letter v worksheets for preschool, letter y worksheets, and letter f printable activities on our website.
This will make sure your young children are being actively engaged in a hands-on learning experience where they have plenty of time to practice different skills!
With this printable workbook, your child will have the opportunity to take part in activities and exercises that are designed to build their skillset.
All preschool lessons are created with their progress in mind – allowing them to learn and grow with each new challenge!
Inside you'll find educational activities such as:
Letter identification
Uppercase w writing practice pages
Cut and paste worksheets
Phonics worksheets
Letter w tracing pages
Letter formation
and more.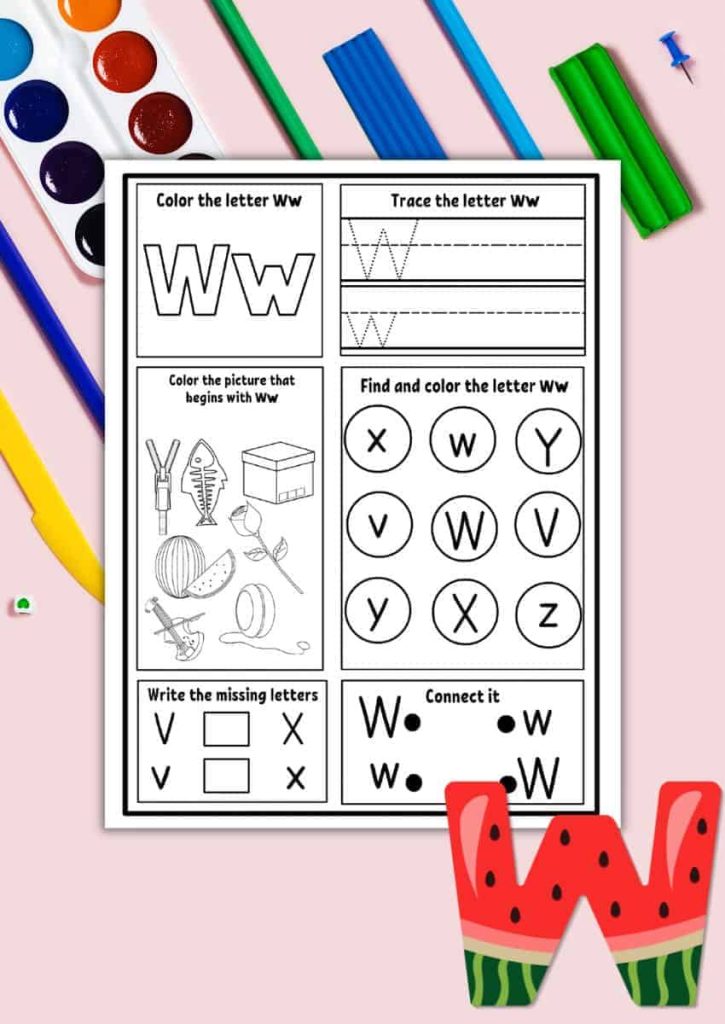 Letter W Activities And Worksheets
These free printable letter W worksheets are designed for parents, teachers, and childcare providers who need extra help teaching the letters of the alphabet to their preschoolers or kindergarten children.
Each page contains a different learning activity that focuses on recognizing the letter W in various forms such as uppercase letters (capital letter w) and lowercase letters, handwriting tracing exercises, matching activities, coloring page, and more.
The variety of activities also allows kids to gain a better understanding of what words begin with the letter W.
Download Your Free Printable Letter Tracing Pages Today!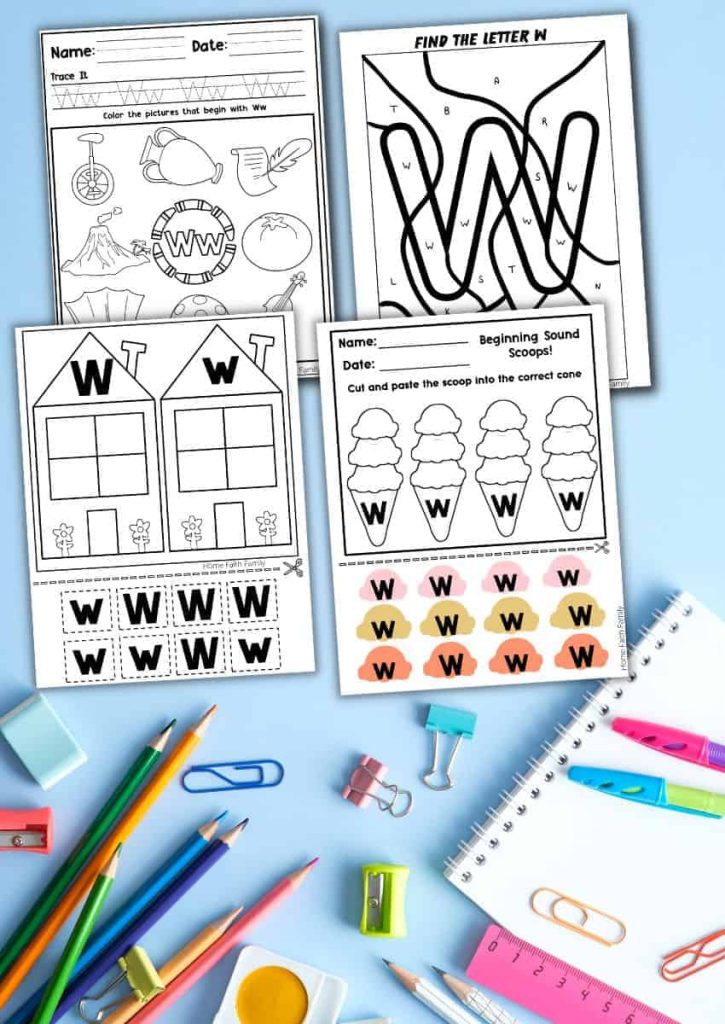 How To Teach The Letter W To Preschoolers
Teaching a small group of little learners how to recognize the alphabet is an important part of early childhood education.
Doing so will help them build a strong foundation for reading and writing.
Children who learn their letters at a young age will be better equipped to tackle more complex literacy tasks later in life such as spelling, grammar, punctuation, and sentence structure.
Additionally, knowing the alphabet helps children understand how words are structured which will increase their confidence in speaking and eventually leading them to better communication skills.
You may teach the letter w to preschoolers using these letter w worksheets.
Start off by showing them the upper and lowercase w, then move onto tracing activities that will help with eye-hand coordination.
Once they get comfortable with the shape of the letter, you can introduce them to words beginning with the letter W such as the ones you'll find listed below.
Letter W Is For…
The letter W is an exciting letter for preschoolers to learn and explore!
From words that start with W, like wild and wonderful, to watermelons and wagons, there are so many objects and ideas to talk about.
Learning this letter and its letter sound can also be done through fun activities such as a scavenger hunt or pretending to be whales in a pretend ocean.
The possibilities are endless when it comes to teaching little ones the potential of the letter W!
Here Are Some letter W words younger children may recognize:
Web
Weather
Watermelon
Wagon
Window
Word
Wool
Wish
You and your child can go over these words together.
One of the easiest ways to teach the letter w sound is by using this letter in silly ways.
You can make a wacky sentence and say, "The wonderful whale went to the wagon and wished for a watermelon."
I would encourage you to remember that your child's hand is still developing.
If they are experiencing difficulty using the free letter w tracing worksheets, that's okay.
You can practice these words using foam letters or the letter tracing worksheets, which you can have sent straight to your inbox:
Writing The Letter W Worksheets For Preschool
Writing the letter W is an important milestone for preschoolers as they learn how to read and write.
It's a fun activity that helps develop fine motor skills and comprehension.
Worksheets make it easy to practice writing a capital w and lower case letter w.
With friendly visuals and playful exercises, young learners can engage in mastering this important skill through coloring, tracing and copying.
Don't feel any pressure for your child to use a pencil.
The bone structure in their hands are still forming.
My little ones are always so excited to get creative with capital letters, utilizing an array of materials such as crayons, markers, colored pencils and even play-doh.
Tracing The Letter W Worksheets For Preschoolers
Tracing the letter W can be a great way for preschoolers to learn how to recognize and write this letter.
These preschool worksheets will help young minds strengthen their fine motor skills as they trace the dotted lines.
Additionally, these worksheets encourage children to practice their coordination as they're guided along each line.
As my own preschooler says, "yay, no curves!"
The letter w is one of the easier letters to learn.
And as preschoolers gain familiarity with the letter W, these tracing worksheets offer a fun and unique way of recalling this fundamental skill.
Coloring The Letter W Worksheets For Preschool Children
What preschooler or kindergarten kids doesn't love coloring?
Coloring using the letter W worksheets are an enjoyable way for children to learn how to recognize and identify the letter.
These coloring sheets offer kids an opportunity to explore animals such as a whale, objects, and words that start with the letter w.
It's also a great way for them to practice their cognitive thinking as they stack multi-colored ice cream cones and shapes with the letter w.
These worksheets will help your child gain confidence in their ability to recognize and write the letter W, while having a blast!
Wonderful Letter W Crafts You Can Do From Home
Preschoolers love getting creative with crafting projects, and with some simple supplies you can easily find around the home, they can have so much fun while learning.
Here are some fun preschool crafts beginning with the letter 'W' that can be done from inside the house.
You can use the letter w printables in this workbook to:
Color the w with green and pink crayons (or markers) to create a watermelon craft. Your preschooler can add black spots for the seeds.
Cut some different lengths of white string and make a "web" over the letter w.
Draw or cut out a large w and draw different weather patterns, such as sunny, rainy, cloudy, or snowing.
Use a straw or a crafting stick to make magic wands. Have your preschooler decorate using ribbons, glitter, and other craft items.
These fun activities will help your preschooler learn about letter sounds and recognition, as well as practice their fine motor skills.
Learning Objectives For The Letter W
Our letter W worksheets for preschoolers are designed to help your own children:
Recognize the letters W w as well as its sound.
Trace and complete words starting with the letter w.
Letter W tracing page and letter activity.
Practice completing words that start with the letter W.
Demonstrate knowledge of words related to the letter W using different activities.
Play activities designed to help with eye-hand coordination.
Handwriting practice of lower case and upper case letter w
We hope you and your little one enjoy these free printable letter w worksheets for preschoolers!
Download them today and get started on helping your child learn the letter w and all its associated words.
These letter printables are only a small part of our preschool curriculum, which has been loved by 1,000+ parents. You can learn more about the Smart Little Learners Preschool Curriculum on this page.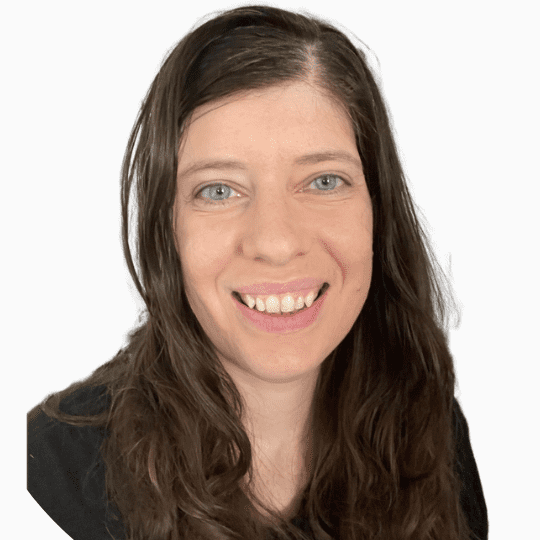 Micah Klug is a wife, homeschooling mother to five children, and author. She teaches time-tested solutions to help parents remember what matters most in life, including strengthening their home, faith, and family relationships. To learn how a child who grew up in an authoritarian home is now creating an environment of peace and joy in her own home visit this page. If you want to contact Micah, send her an email here or email [email protected].