There are so many ways to teach the alphabet to your preschooler. You'll want to start with the basics by teaching them the names of the letters first and some letter sounds next. Once they have a basic understanding of letters, you can move on to teaching them how to read and write. This post is full of fun activity ideas like alphabet songs, games, and books into your child's learning routine and an alphabet curriculum your child will love.
Step By Step To Teaching The ABCs To Your Toddler
Are you looking for a fun way to teach your toddler the alphabet?
The ABCs are an important foundation for early learning, so we've gathered together the best teaching tools for you right here.
You'll find books, games, activities, and printables that make learning alphabet letters enjoyable and exciting for your little one.
We know that kids learn best through play, so our resources are packed with fun activities that will keep them engaged. They'll be excited to learn their ABCs with these great tools.
Get started teaching your toddler the ABCs today with our amazing selection of resources!
When Should You Start Teaching Your Toddlers The Alphabet?
There are a lot of opinions out there about when to start teaching your child the alphabet, (and even more opinions for reasons you need to homeschool your child).
Some people say that it's never too early, while others think that children don't have the attention span for learning until they're older.
The truth is, it really depends on your child and what works best for them!
Children learn best when they are ready to learn, so don't stress about getting started too early.
If you see your toddler showing an interest in reading or writing their letters, then you can start playing alphabet games (you'll find our family's favorite games on this list), work on their gross motor skills, and help them recognize their ABCs when you're both ready.
In all honesty, it all comes down to what works best for each individual child!
How To Teach The Alphabet To Preschoolers
As a homeschooling mom of five kids, I have found that the best way to introduce letters and sounds is through both games, books, and music (specifically songs).
Children love fun activities, so you can incorporate letter learning into playtime.
You can also use books for bedtime story time or as part of an alphabet letter lesson plan.
Below are some of the best ideas, tools, and resources on how to teach the alphabet.
I research, test, recommend, and select only the best products for my readers.
If you click a link on this site and buy something, we may earn an affiliate commission. Thank you for supporting this small family business.
How To Teach Letter Recognition
Teaching letter recognition to your toddler can be done through different games, printables (parents LOVE our ABC Curriculum) and hands on activities.
There are many ways to introduce letters that will also reinforce your child's learning.
You can start teaching letter names with simple flashcards of the uppercase letters and lowercase letters.
Alphabet Fun Flash Cards
I love that these flashcards have uppercase and lowercase letters.
Children are also visual learners, so having the pictures with the letters will help them associate letters with the world around them.
When I first introduced letters to my young learners I would make the letter sound.
This was so they could begin to recognize each letter makes a different sound.
Place them on the floor or table so they are within your child's reach, then talk about where each letter is located on the card.
Give your child a turn to say the letter name and point out where it is on the card.
The Alphabet Game (No Supplies Required)
My children loved playing the "Alphabet Game" when we could go grocery shopping (it's free and such a great way to keep them focused when they're in public).
To play this letter recognition game you will be the first to point out a letter anywhere in the store.
You'll want to make sure the letter's large for them to recognize (and avoid script font) and possibly at their eye level.
The best grocery store isle is the cereal isle, but you'll be able to find large letters wherever there are boxes.
Once you point to a letter and help them recognize their abcs invite them to find the next letter.
You can take turns going back and forth in helping your preschool recognize letters and praising them for their efforts.
Free Printable Activities For Preschoolers With Letter F
As a homeschool mom, one of the most important things I have to do is make sure my kids are learning and developing.
Having these letter Ff activities for my preschoolers helps them learn more words that start with this letter.
It also gives them an opportunity to work on their fine motor skills as they trace lines and write letters!
You'll find these printable activities with the Letter F right here.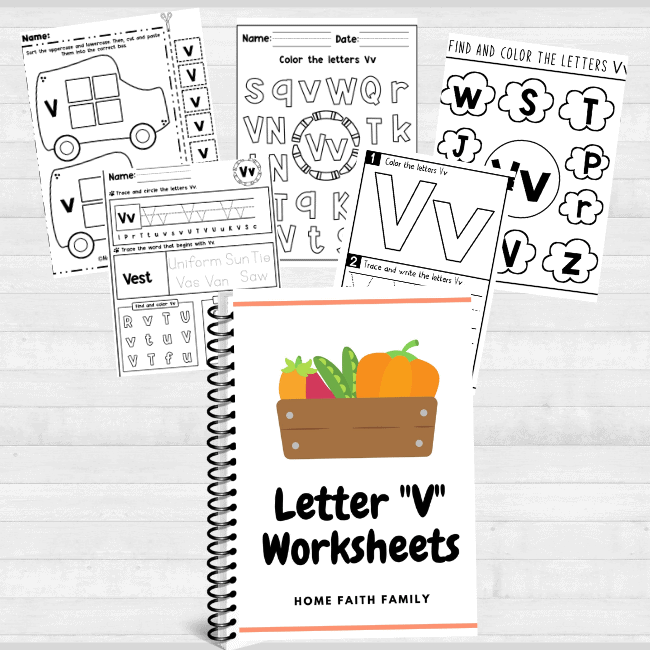 Learning Is Fun With These FREE Letter V Worksheets For Preschool!
One way to teach one of the more difficult letters in the alphabet is to try these letter V worksheets for your preschooler.
This free printable is a fun resource and great for your toddler.
You'll also find other activities that will help improve your child's learning skills. Check them out today!
Free Letter Y Worksheets For Preschoolers – Grab Them While You Can!
These Letter Y worksheets for preschool will provide children with a fun way to learn the letters of the alphabet in an engaging way.
They can match up all of the uppercase and lowercase letters, trace them, or color them in this activity workbook.
You'll find your free copy here.
Top 5 Alphabet Songs
ABC songs are a fun and easy way to teach toddlers their letters. They can sing along with the catchy tunes and learn at the same time.
These are some of my preschoolers and toddlers favorite alphabet songs. They love singing along to these catchy tunes.
And I love that these songs focus on one letter at a time to help with letter recognition.
You can start singing along with your child today!
Jack Hartmann – See It, Say It, Sign It
ABC Letter Boxes – Learn The Alphabet With Blippi
Cocomelon – ABC Nursery Rhymes
Lingokids Songs and Playlearning – ABC Songs For Kids
Cocomelon – ABC Songs For Children (Compilation)
Letter Matching Games
Letter matching games are the perfect way to get your kids excited about learning.
They're simple, engaging and easy-to-use.
Your preschooler will love playing these games over and over again while improving their memory, fine motor skills, vocabulary and more.
It doesn't matter if they can read or not – because it's never too early to start learning!
And now you can play along with them for more intentional parental-child bonding time.
Here Are The Best Letter Matching Games!
LORDSON Matching Letter Game for Kids
This is a fun game for early learners.
Your child will learn to recognize letters in common words (with some cute pictures).
The best part is you can also introduce basic math to them when they're ready.
See & Spell Educational Toys
If you're looking for something simple that will also enhance your child's motor skills this CVC word builder is perfect for your early learner.
If you want to make these cards last forever (and make them sturdier to survive a toddler) then I recommend laminating the cards before giving them to your child.
Wooden Blocks Spelling Game
The cards are super cute for spelling simple letters.
This would be a great learning tool for those who are just introducing the ABCs to their preschoolers.
Alphabet Books For Preschoolers
Are you looking for a fun and educational gift for your preschooler?
Alphabet books are the perfect way to teach your child their ABCs. They will learn the alphabet while also being entertained by colorful and engaging illustrations.
These alphabet books will quickly become some of your children's favorite books to read.
(I love the board books. They last for a long time!)
You can order any of these alphabet books on this list from your favorite store you'll find below!
A is for Apple (Smart Kids Trace-And-Flip)
My daughter loves her copy of this book.
She will take her finger and trace each letter while we read this book together.
And she loves finding the surprises in the flaps for each letter as well.
This book is a must-have if you're introducing the ABCs to your preschooler.
Sing The Alphabet – Mom's Choice Awards
Your child will love having the ABCs sung to them with this interactive board book.
The song lasts about 45 seconds, which gives your child time to look at each letter and follow along with the song.
Plus, you'll love the on/off switch which you can find on the back of the book (so no more "surprise sounds" during nap time).
The Very Hungry Caterpillar's ABC By Eric Carle
You can share your favorite childhood characters with your own early learner.
This board book is full of colorful lowercase letters and animal pictures.
Alphabet Games And Toys For Toddlers
Alphabet games are a great way to help your child learn the alphabet.
These fun and educational toys will keep your child entertained while they learn!
You can easily pick up any of these toys and games, which you'll find at your preferred store on this list below.
LeapFrog Mr. Pencil's ABC Backpack
This is the best ABC toy if you're wanting something simple and small for storage (this learning toy closes into a backpack!)
There are seven learning activities your child can play, which teach phonics and letter writing.
Parents say their children love this toy and the games help reinforce alphabet learning.
Snap-n-Learn Alphabet Alligators
Your child can piece together their alligators by finding the matching uppercase and lowercase letters.
Each alligator measures 5″ long, which is the perfect size for little hands.
Catch The Fish! Magnetic Fishing Game For Toddlers
This 2-in-1 fishing game will keep your early learner playing and learning.
This game quickly becomes a favorite for toddlers as young as 18-months and preschoolers as old as 4.
Going fishing has never been so much fun!
The Preschool Alphabet Curriculum Printable You Need For Your Child
Are you ready for an alphabet curriculum that excites your child and encourages them to learn?
Wouldn't it be amazing if your child looked forward to learning their ABCs? If getting them excited to explore the alphabet didn't feel like a burden or a chore?
Friend. I get it. As a mom of five children, I understand how important teaching these children are, and the blessing of having a simplified system with great educational resources.
This Alphabet Curriculum is a complete 26-week curriculum for your preschooler to learn their letters, understand proper vowel pronunciation, & write upper and lowercase letters.
I GET IT…Creating lesson plans is time consuming…
Your child has an amazing mind that's growing. They're asking questions and they soak up everything you teach them.
But it's so easy to get lost in the world of trying to find printables that will help your child learn the alphabet.
You wonder…
✔️ Is this saving me time?
✔️ Will my child learn from these printables?
✔️ Does this have everything my child needs to learn?
This Alphabet Curriculum was designed with your sweet family in mind, so that your child can easily master their ABCs.
All you need to do is just print and go.
As a homeschooling mom of five, I get it. You want the best educational resources for your child's growing mind.
This is why you'll find 1,275+ pages in this Alphabet Curriculum with each letter broken up into daily lesson plans to help your child learn, explore, and understand the alphabet.
Inside this A-Z curriculum you will find:
Already-done-for-you detailed lesson plans and daily worksheets (for every letter)
Whole letter cards
A-Z placemats
Colorful and beautifully designed A through Z flash cards
Alphabet activities coloring sheets
Alphabet letters and line tracing
Alphabet letter recognition
Letter pronunciation guide (sound training)
Interactive activities and worksheets
Handwriting tasks
Letter assessment
Beginning CVC words
And more!
PLUS: It's all laid out simply for you, one letter at a time with daily lesson plans. Over 1,275 pages of learning activities!
FAQ
What Makes This Alphabet Curriculum Unique?
This alphabet curriculum is mom-created, kid-tested, and most importantly kid-approved!
You won't have to waste your time scrolling on your phone as you try to find that perfect lesson plan.
This curriculum removes that task from you and gives you the most comprehensive way of teaching the letters of the alphabet to your child.
All you need to do is print and go. Your child will learn and explore the letters of the alphabet through hands-on and engaging activities.
What Is Included In This Alphabet Curriculum?
This complete 26-week ABC curriculum is packed full of printables, information and resources to help you teach your children their ABCs. Each week's letter includes…
Already-done-for-you detailed lesson plans and daily worksheets (for every letter)
Whole letter cards
A-Z placemats
Colorful and beautifully designed A through Z flash cards
Alphabet activities coloring sheets
Alphabet letters and line tracing
Alphabet letter recognition
Letter pronunciation guide (sound training)
Interactive activities and worksheets
Handwriting tasks
Letter assessment
Beginning CVC words
And more!
Can I Really Do This?
Yes! This ABC Curriculum is super simple to start using in your home. Each letter has been designed with you in mind and has been broken down into 15-minute activities each day. Simply print and go!
Will This Curriculum Be Mailed To Me?
No physical products will be mailed to you. The curriculum is a digital product full of interactive worksheets that you can print at home as many times as you like.
Can I Get A Physical Copy?
We're thrilled you're interested in a physical copy. At this time the ABC Curriculum is only available in a digital PDF format. You can print the entire curriculum and have it bound professionally or bind it at home.
What Age Is This Curriculum For?
This ABC curriculum is ideally designed for young learners who are eager to learn their alphabet (preschool age). You can also use this curriculum to help your kindergartner review their alphabet.
How Long Does This Take?
Each letter is 7-days full of activities, lessons, and printables. You may complete the day's learning in a single day or focus on multiples days at the same time (anywhere from 20 – 30 minutes) . We encourage families to dive deep into each letter and take your time working on the lessons and activities included.
How Soon Will I Receive My Product?
Immediately after your purchase, you will be emailed a link to access this Curriculum and all the files included.
What Christian Denomination Does This Product Represent?
We know that most of our customers love God and have their own personal religious beliefs. Although we have other printables that are religious based, our Alphabet Curriculum is secular. There are no religious teachings with this specific curriculum.
This is a digital product.
If you are looking for a fun and educational way to help your child learn letters in the alphabet, we highly recommend this printable preschool alphabet curriculum.
It is packed full of activities that will keep your toddler engaged and learning.
This printable is perfect for children who are 2-5 years old.
Plus, it's affordable and easy to use, making it the perfect choice for busy parents.
Grab your child's copy today!
Wife and homeschooling mother to five children. Don't let your daily demands rob you of a strong faith in Jesus Christ, close family ties, and a home you love. Micah teaches time-tested solutions to help you remember what matters most in life, including strengthening your home, faith, and family relationships.