These free printable Christmas Mad Libs are one of the most festive ways to spend some time with your family. This game is never the same twice, and you'll be surprised at how many silly combinations of words can come out of this simple game!
My son told me his English work was boring!
And to be frankly honest with you, trying to encourage him to learn his nouns, verbs, adjectives, and other descriptive phrases became overwhelming.
I felt like we were always fighting over what he needed to learn versus his interests.
In all honesty, friend, Mad Libs was the secret weapon my son never saw coming (and a huge win for this homeschooling momma).
Of the dozens of Mad Libs printables we've played, I can't remember a single one where he didn't want to complete the story and color the pictures.
And encouraging him to do his work this holiday season is no exception.
These Christmas Mad Libs will be our family's go to printable this season (you can download your own copy below).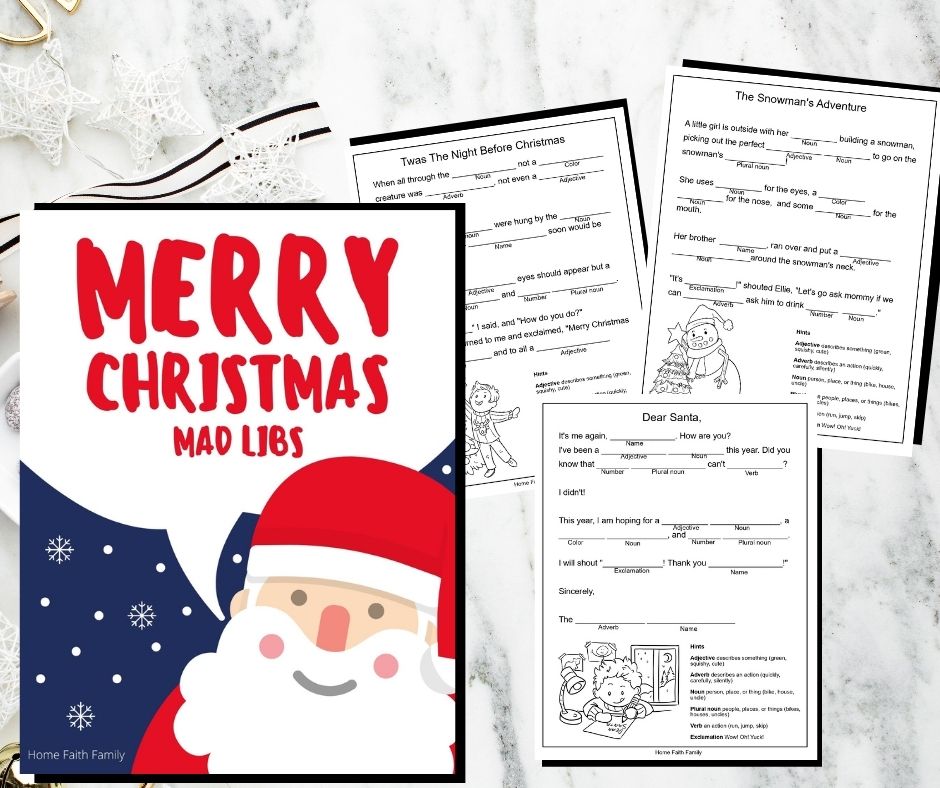 The three free Christmas Mad Libs includes a simple snowman adventure story, a "Dear Santa" letter (that will get really silly, really fast), and your own child's parody of "Twas The Night Before Christmas."
What Is Christmas Mad Libs?
Christmas Mad Libs is a fun topic with a series of words and phrases. These words and phrases are then turned into a funny story.
You've probably given or received Mad Libs as a gift at some point in your life (I know that my mom used to give them to us on occasion).
Christmas Mad Libs is the same idea, but it has a holiday theme to it.
How Do You Play Christmas Mad Libs?
Christmas Mad Libs is a simple game for anyone in the family to play. You can play by yourself, in pairs, or in teams.
For example, as a busy homeschool mom of five, we use Mad Libs to help reinforce what my children are learning in their school work.
It's one of the ways we try to make their education fun and eliminate any unnecessary homework battles.
If you want to play Mad Libs in a group, here's how you can make this season memorable for all:
Have everyone choose a sheet of paper and a pencil/pen from their Christmas mad libs kit. Depending on how old your kids are, you may need to help them with this part.
Go around in a circle and read the story. You can do this by yourself or all together as one large group.
As each blank gets filled in, write down the word/phrase on the sheet of paper.
The person who was given the finished Mad Libs will read it aloud for everyone to enjoy!
Scoring is unnecessary because no one wins or loses. Everyone has fun, and this makes it a great game for everyone.
What Are The Rules Of Mad Libs?
In Mad Libs, there are no rules.
Every story will guide the reader to select the word needed to complete the sheet of paper.
For example, the reader will need to fill in a noun, color, adjective, or verb.
One way to help your child feel in control is to describe what a noun is, or give an example of a verb.
As you read through the sheet of paper and explain the different parts of the English language, you can ask them to pick out their own words.
If you have preschool age children, you may enjoy these Christmas color by number printable worksheets instead.
You can always try to help them with the Mad Libs if you choose.
Are Mad Libs Good For Kids?
Yes! Mad Libs is an excellent way to involve children in the English language.
They get to think of pronouns, verbs, adverbs, adjectives, colors, and more to make their story unique and silly.
It's so much better than sitting down to do a worksheet for their English lessons.
They won't even feel like they are working at all!
How Do You Win Mad Libs?
Again, there are no rules.
If you're looking for a fun and free way to keep your children thinking and entertained this Christmas season, grab the free Christmas printable Mad Libs pages.
You'll be sent 3 fun and festive Mad Lib sheets your children can complete, read, laugh, and enjoy together. You'll find these pages are filled with new and exciting words your family will have fun completing together this holiday season.
From classic stories to newer titles, there's 80+ Christmas books for toddlers, preschoolers, and big kids on this list. Which means there's something for everyone that will help bring the magic of Christmas to life for your family!
What Are Are Mad Libs For?
Christmas Mad Libs is an excellent way to get your kids involved in creative writing while also learning about the English language.
It's a printable activity you can do at any time of day, and it only takes a few short minutes.
If you're busy or looking for easy ways to add some fun into your family's Christmas traditions, you'll want to get your hands on these free printable Mad Libs.
They will help your children enjoy English in a whole new way this holiday season.
What's The Point Of Mad Libs?
Mad Libs is a fun and creative way to help children discover the importance of the English language while also getting them excited about writing their own stories.
Not only can you use Mad Libs for educational purposes, but it's also a great game any family can enjoy together.
You'll be surprised with how different every word combinations and stories your family will come up with, especially when each member of your family works on the same story.
How Do You Play Mad Libs With Kids?
How you play Mad Libs will determine with the age of your child.
For example, if your child is an affluent reader, then you'll probably provide minimal assistance.
However, if your child needs more hands-on help, then the guidance of a gentle parent is always appreciated and will give everyone a positive experience.
READ MORE: These are the hottest Christmas ideas for 11-year olds this year. You'll find ideas for girls, boys, and even some gender neutral ideas.
You can help guide your child by explaining what some parts of the English language mean, provide examples if necessary, and encourage them to come up with their own ideas for their story.
Christmas Mad Libs is a fun Christmas game for everyone. No matter what your age or skill level, you'll be able to have fun and enjoy yourself when playing this festive activity!
If all of the rules seem too complicated, don't worry – you'll find a helpful cheat-sheet guide on each of the pages with simple instructions so that anyone can play without much help from an adult.
If you're looking for more free holiday activities for your children this year, you'll want to get your hands on the Christmas Mad Libs free printables.
Once you get your hands on this printable activity, your children will be able to take part in a family time tradition all year long!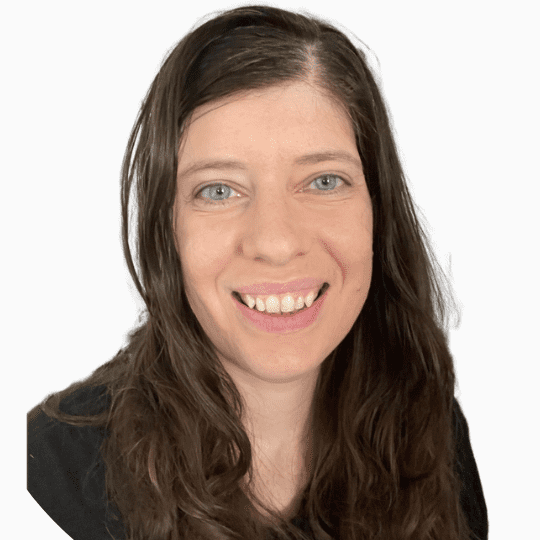 Micah Klug is a wife, homeschooling mother to five children, and author. She teaches time-tested solutions to help parents remember what matters most in life, including strengthening their home, faith, and family relationships. To learn how a child who grew up in an authoritarian home is now creating an environment of peace and joy in her own home visit this page. If you want to contact Micah, send her an email here or email [email protected].