Art is an important art of education for children. It can help them develop their creativity and art skills that will last a lifetime. You want art supplies that are affordable, but also high-quality. The art world is filled with so many options to choose from, and it's easy to get lost in all the art supply hype! Whether you are looking for art supplies for a specific project or just need some art supplies, this list of homeschool art supplies will help you get what you need!
When you're little, it can be so hard to control those little fingers. And when you're a teenager, heaven help those emotions!
I remember how art would feel through my life. From wearing my dad's old work shirt, so I wouldn't get paint on my clothes to sketching a ballerina in my first drawing notebook.
When it comes to art, there's so much information that oftentimes we feel overwhelmed.
I research, test, recommend, and select only the best products for my readers.
If you click a link on this site and buy something, we may earn an affiliate commission. Thank you for supporting this small family business.
I want to help you navigate the art supplies you need (based on grade and skill level), share recommended homeschool art curriculum, books, and our family's favorite art activities.
(Beginning) Affordable Art Supplies For Preschool through Second Grade
Paper plates
Water based paints (this one is washable)
Paper for painting

Construction paper

Card stock
Computer paper
Q-tips
Masking tape
Sponges
Wet wipes
Paper towels
(Beginning) Affordable Art Supplies For Third Grade Through Fifth Grade
Sketchbook
Cardstock
Clay – preferably sculpting clay
White glue
Scissors
Paper bags
(Intermediate) Affordable Art Supplies For Students In Middle School
Middle school students are in a crucial phase of their life and they have many hobbies. One hobby that many middle schoolers enjoy is art.
Art gives them the opportunity to express themselves, learn about new things, and might even make them some money!
Homeschooling your child's art classes is a great option to be more involved in their education, and another reason to homeschool them.
Middle schoolers need supplies for their artwork such as the ones on this list.
Sketchbook
Card stock
Sharpies
Markers
Crayons
Clay – preferably sculpting clay
Tissue paper
White glue
Scissors
Paper bags
Don't forget to grab additional art supplies from the beginning homeschool art supplies lists, which you'll find above.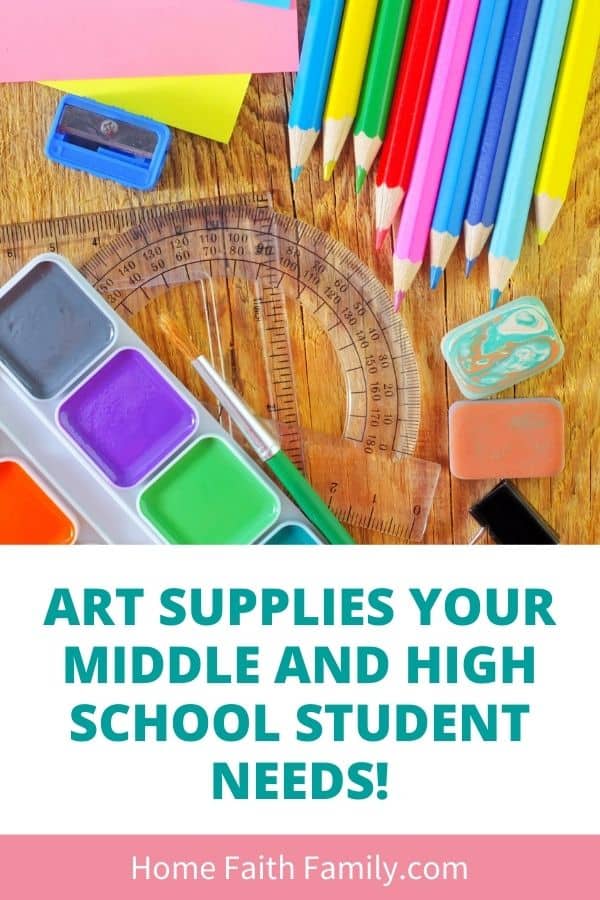 (Advanced) Affordable Art Supplies For Students In High School
The following list is a collection of art supplies that are often used by students in high school. These items can be found at most local arts and crafts stores, or online through sites like Amazon.
Paintbrushes (variety pack)
Paper towels or napkins (to clean brushes)
Acrylic paint set (3 to 5 colors plus white)
Charcoal sticks – pack of 10-12 pieces
Large sketchbook
Drawing pencils
Assorted oil pastels (12 to 24 pieces including black, browns, oranges and reds)
Paints for mixed media art projects – assorted colors, including some metallics and metallic paints
Canvas boards; 18″ x 24″ size with artist's canvas cloth and gesso
12″x12″ stretched canvas squares – several colors
T-shirts, sweatshirt fabric or even small sheets of foam for mixed media art projects
Textile fibers (burlap, fabric scraps and salvaged fabrics)
Small wood pieces, tiles, or blocks
Pottery clay
List of Drawing and Coloring Supplies
Computer paper
Card stock
Drawing pads
Sketchbooks
Canvas – sheets
Crayons
Markers
Highlighters
Homeschooling can be tough, but the days are also filled with hilarious moments. These funny homeschool memes perfectly capture the messy days and the tender moments of homeschooling your children.
List of Paper Craft Supplies
Paper Clips & Scissors
One paper clip and one pair of scissors per person is a good idea. Paper clips are useful to hold together the pieces as you cut them out, while scissors can be used for cutting out shapes or trimming off excess parts.
Lightweight Pencils
Light pencils work well with tracing patterns onto newspaper because they don't leave too much of a mark on the surface. If using charcoal, get some extra erasers just in case (they come in cheap packs).
Masking Tape
Masking tape will help keep everything clean by letting you protect your workspace from stray bits of glue or paint that may accidentally spill over. It also doubles up nicely as an adhesive when needed.
Paper
You can use any type of paper but the thicker, heavier and glossier the better. Paper is necessary for most craft projects and it will help avoid tearing or damage to your work surface.
Paint & Paint Brushes
Acrylic paint (like this paint set here) can be used for a variety of projects.
My children love using their paint to decorate rocks.
You need to read this article if you're looking for ideas with acrylic paint, or if it's your first time using this medium.
On a side note, a good brush should be synthetic as this will give you more control when painting fine details onto your project.
If you're using watercolor then make sure that all brushes are either natural hair or synthetic so there's no risk of bristles coming loose in wet paint and ruining everything!
Glue Stick
Glue sticks are great if you want to do some quick glue art without having to worry about measuring the glue or spilling it all over.
Tweezers
You might find that you need to pick up small pieces of paper, and tweezers are perfect for delicate work like this!
Tape Measure
A tape measure is super useful when cutting out shapes from a large sheet of newspaper. It will make sure everything is an even size so your design looks professional!
Sticky Notes & Scissors
If you want to test out new designs before committing them to actual craft projects then sticky notes can be a lifesaver as they let you try things out without ruining anything else on your desk (just remember not to get too carried away with these though).
List of Painting Supplies
The two most common types of paint are acrylic and oil, which both have their advantages.
Acrylics generally dry faster than oils so if kids want a quick project or they're in a hurry then that's probably your best bet.
Oils tend to be a little more expensive, but they're also better quality and easier for kids to work with.
Here is a list of painting supplies for your eager painter:
Card stock
Computer paper
Canvas sheets
Art Activity Books For Kids
There's so much for a kid to do in an art activity book. They can color, draw, glue and so much more.
There are plenty of pictures and inspiration for kids to follow or come up with their own ideas.
The best part is that you don't have to be an artist to enjoy these books! Kids who are too young to write or color can simply scribble without worrying about being neat.
If you want to do a quick art activity your child will love while you wait for their art activity books to come in, then grab this paper crown template.
Books About Artists & Art Technique For Children
My Art Book for Little Ones by Parents Central
Judy's Ultimate, Creative Activities for Kids by Judy Rashell and Bob Sharp
The Young Artist's Guide to Drawing and Painting by MaryAnn Kohl
A Child's Guide to Drawing Animals by Lars Christian Lunding
Paint a Picture: How Do You See the World? by Fumio Obata
I Can Draw Anything! A Kid's Activity Book with 25 Great Projects by Anna Dewdney
Art Supplies For Developing Fine Motor Skills (Perfect for Pre-K and Kindergarten)
Crayons
Markers
Construction paper
Paper clips
Scissors
Paper clips and stickers are both great art supplies that help develop your child's fine motor skills as they create and explore with these materials.
Learning how to hold a crayon or marker is an important first step in developing the muscles needed for writing later on.
Markers also help develop the muscles in your child's fingers by using them to push out and retract the tip while coloring with it.
This is important for children because you never know when they'll be asked to write their name on something one day, so helping them get used to gripping things tightly now will make that task easier later!
Construction paper can be used as an awesome medium for kids who have issues drawing straight lines without anything but a blank background behind them.
Using construction paper, they can see exactly where their marks will go while still developing those fine motor skills necessary for writing and creating artwork!
You might even find this helpful if you want to teach your preschooler how to draw a straight line on the first page of their journal.
Stickers, like construction paper, are great for developing those fine motor skills because your child will have to use more than just his hands if he wants to peel off the sticker and place it in an artful manner!
Having some sort of creative purpose will help keep little fingers occupied while still providing valuable development time!
Art Books For Homeschooling Lessons
There are many art books that have good lessons for kids, whether they're just starting out or looking to improve their skills. You can find a number of these online.
Drawing With Children by Penelope Burk
The Artist's Way for Kids by Julie Cameron
Watercolor: Learn in 3 Easy Lessons by Kris Murphy
Drawing and Painting Secrets: A Handbook for the Young and Creative by Michael Davis
Homeschool Drawing Curriculum
Kids have a natural ability to be creative, whether it's to draw, paint, color, or craft in another way. If your child feels strongly about learning to draw, then the Atelier curriculum is an award winning and complete, easy to use homeschool art program.
Their curriculum covers the following topics, including:
Artist appreciating
Art history
Multicultural art
Self expression
Media exploration
You can find this curriculum here.
How To Store Your Child's Art Using Portfolios
When children are first learning to draw and paint there's always those pictures that make us smile. The stick figures and the family portraits.
Then, there's the artwork they create that fill our hearts with happiness.
This is the artwork we want to take care of and help last for years to come.
This is why finding the right type of portfolio for your child's artwork is important. There are a few different types of artwork portfolios to choose from.
Each of these portfolios come in many colors and sizes, so you're sure to find the perfect one for your child because choosing an art portfolio is just part of making sure that all their hard-work will last.
Different Mediums Your Child Might Want To Try
There are many mediums that artists use to create their beautiful work, from drawing, painting and sculpting.
Artists use the materials that they need for the effect they are trying to achieve. Some of these mediums include charcoal, oil paints and acrylic paints.
For a child, it's important to get the right tools for their own medium.
If they are using paint then they will need things like easels and watercolor paper.
For drawing art supplies there is everything from pencils, pens and charcoal as well different types of paper. The type you choose really depends on what your child wants to draw.
What Art Supplies Do I Need For Homeschooling?
Art is an important aspect of education for children. It can help them develop their creativity and art skills that will last a lifetime.
You want art supplies that are affordable, but also high-quality.
The art world is filled with so many options to choose from, and it's easy to get lost in all the art supply hype!
Whether you are looking for art supplies for a specific project or just need some general supplies, this list of basic beginning homeschooling arts supplies will help you get what you need!
What Are The Most Needed/Basic Art Supplies?
If you find yourself on a shoe-string budget, or if you're not sure your child will be interested in art right now, here are some basic art supplies to help you start:
What Are Art Activities For Preschoolers?
Heaven knows a preschooler will not sit and listen to art theories, concepts, or techniques. Instead, there are some fun art activities you can do from home with them.
Get out some old magazines and let them cut out the pictures they are interested in.
For younger children, see if they will draw you a picture.
You can also try drawing with them. This is always a popular activity for kids!
A fun craft involving crayons, but not actually coloring! Make your child's hand into an "art station" by drawing their hands on paper and then asking them to make different shapes with their hand while looking at the paper.
Drawing from life: find something in your house that has interesting shapes or a texture and have them draw it without looking at the object directly and then tell you what it is.
What Are Some Creative Activities?
Educators agree that art education is an essential part of a well-rounded curriculum. It's one of the keystones for developing creativity and critical thinking skills, as it emphasizes the importance of looking at things from multiple perspectives.
Art also provides children with crucial opportunities to explore their emotions through creative expression in a safe environment.
This helps them develop coping mechanisms for life's inevitable challenges and disappointments. Art gives kids something they can succeed at when they might not see themselves succeeding in other areas of school or home life.
Furthermore, visual arts are often more accessible than other types of arts like music or dance because they require less physical coordination and expensive equipment to produce quality results (although some parents have found innovative ways to integrate these types of arts into their curricula, too).
Creative Activities May Include:
Drawing what the child sees
Creating a collage from nature
Doing an art journal or sketchbook prompt
Making something with clay, plaster, or found objects
What Are Some Craft Activities?
In all honesty, this really depends on your child and what they want to do as well as the time you have available for them to create their masterpiece!
Some ideas may be: watercolor painting; gluing paper together in different patterns; doing a cut-paper collage of shapes and colors; making homemade greeting cards from cardstock papers and markers.
The list goes on forever! As long as it is fun for both of you then that's all that matters at the end of the day.
I hope you've enjoyed this blog post on the importance of art in education. If you want to start your child on their art curriculum, grab your art supplies from this list and enjoy creating with colors or paint!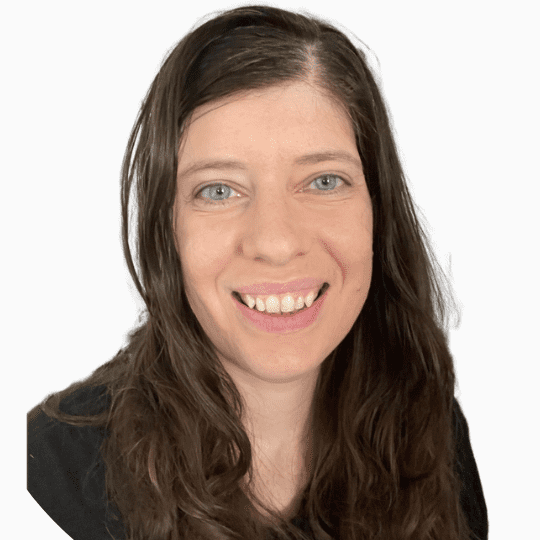 Micah Klug is a wife, homeschooling mother to five children, and author. She teaches time-tested solutions to help parents remember what matters most in life, including strengthening their home, faith, and family relationships. To learn how a child who grew up in an authoritarian home is now creating an environment of peace and joy in her own home visit this page. If you want to contact Micah, send her an email here or email [email protected].