Christmas is just around the corner and already we can sense the special magic in the air!
And the one thing that makes this holiday special is celebrating your love with the one your heart holds dear.
Best Christmas Poems For Your Love This Year
When searching for romantic words to let your significant other know just how much you adore them this holiday season, look no further than these sweet and creative romantic Christmas poems.
You can share any of these original poems over a cup of hot chocolate or while holding hands on the drive to your in-laws Christmas dinner.
You can find your favorite Christmas love poem and have your perfect Christmas message for your very Merry Christmas ready for December 25th.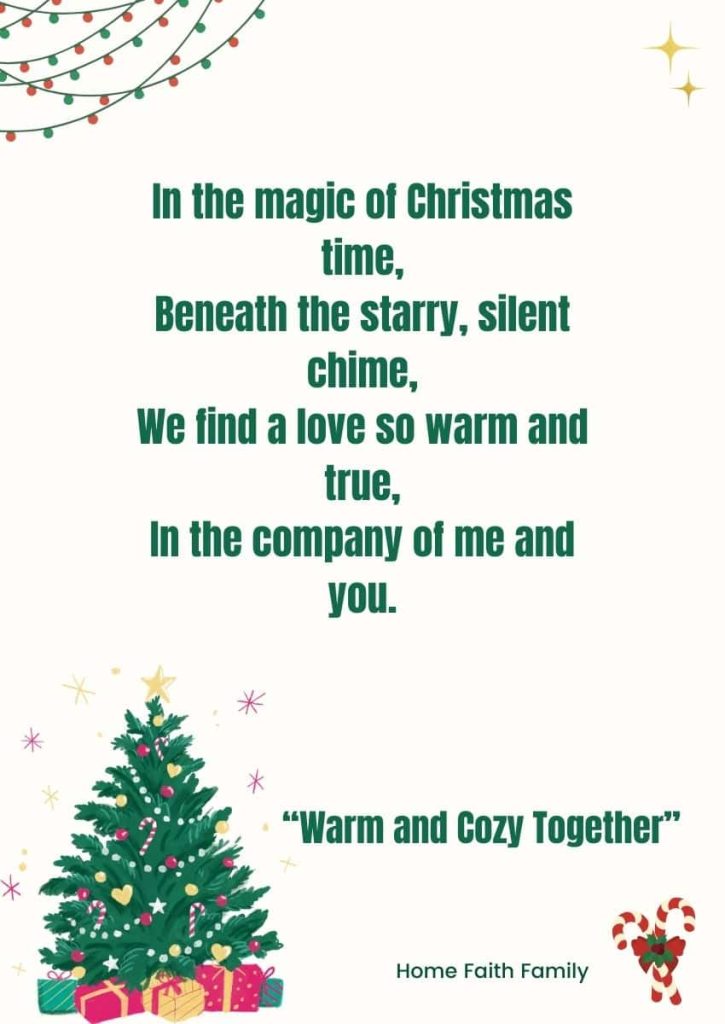 Warm and Cozy Together
In the magic of Christmas time,
Beneath the starry, silent chime,
We find a love so warm and true,
In the company of me and you.
Love's Pure Delight
by Micah Klug
Christmas carols in the air,
A love so sweet, beyond compare,
On this special eve of Christmas night,
Our hearts take flight, love's pure delight.
Nothing To Fear
In the bleak midwinter's snowy grace,
Two hearts find their special place,
Santa Claus and his sleigh bells near,
With you, my love, there's nothing to fear.
Loves Aglow
Christmas bells in the distance toll,
Our love's a gift that fills the soul,
Under the tree and 'neath the mistletoe,
Our romance blooms, our love aglow.
The Greatest Gift
God bless this Christmas, so very merry,
In each other's arms, there's no need to tarry,
The greatest gift is your warm embrace,
In the joy of Christmas, we find our place.
Eternal Together
Amidst the little pine trees, we stroll,
Pink cheeks and laughter, hearts in control,
With the Christ-child's grace, we'll make our stand,
In the company of your beloved hand.
A Familiar Tune
Little romance in the winter night,
A love so pure, a shining light,
True love's found in familiar carols' tune,
Under the pale and silvery moon.
Christmas Eve
by Micah Klug
As the year comes to an end,
With you, my dear, I've found a friend,
The best thing in life, so pure and true,
Is spending Christmas Eve with you.
Christmas Angel
Christmas angel, you've come my way,
In your arms, I wish to stay,
With the snow falling, a silent hush,
Our love, like little children's blush.
Loving Grace
Sleigh bells jingle as we embrace,
In the company of your loving grace,
This Christmas time, so magical and bright,
With you, my dear, it feels just right.
First Christmas
by Judith A. Lindberg
It was just twelve months ago
Since my special wish was made
A wish you thought so simple
For which a fortune I'd have paid
And now it's our first Christmas
In our first little house
But I hope the first of many
With my beautiful new spouse
This year my wish is simpler still
On this Christmas day with you
May our hearts be always filled with love
And the stockings be filled with you
The Best Gift
In this festive season, hearts aglow,
Love's the best gift we'll ever know.
With a Christmas card and a special rhyme,
Our happy Christmas, you're mine all the time.
You can celebrate the magic of wherever you are. Whether you're celebrating Christmas in Saint Augustine or at home. These heartfelt poems for your sweetheart that will warm their heart on this special day.
The Christ-child
As Christmas morning's light appears,
The Christ-child lay away our fears.
With joyful songs and good cheer,
We'll celebrate this time of year.
Hearts So True
Best poems written, our hearts so true,
For you, my love, it's all I do.
With every word, you're my better half,
In the broad face of love, there's no other path.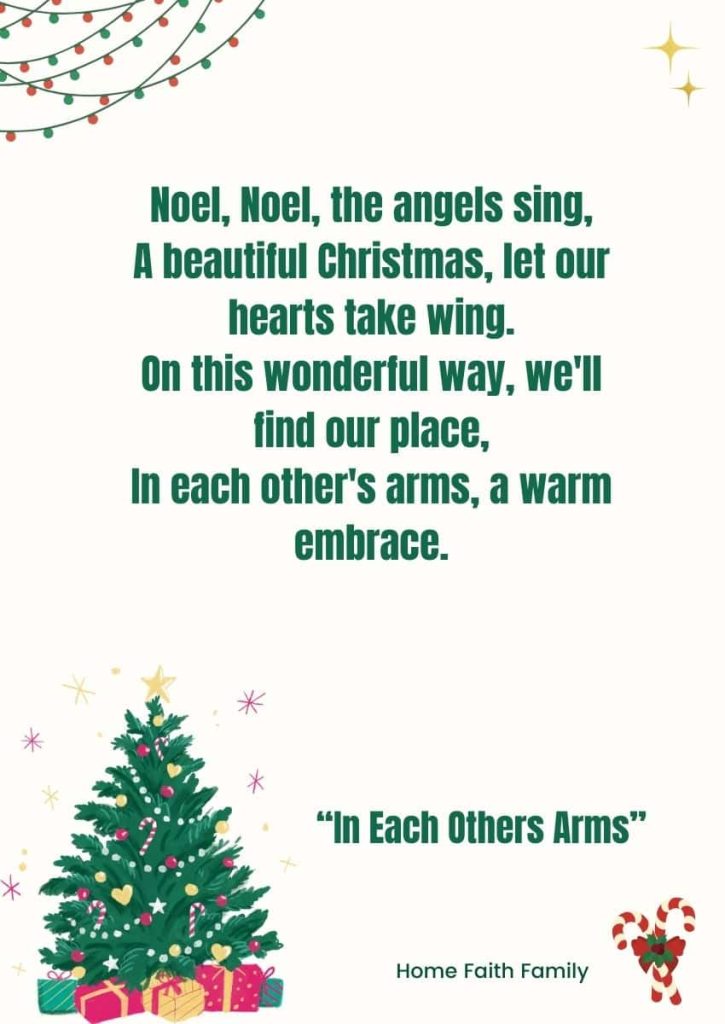 In Each Others Arms
Noel, Noel, the angels sing,
A beautiful Christmas, let our hearts take wing.
On this wonderful way, we'll find our place,
In each other's arms, a warm embrace.
'Tis the Season
Christmas is here,
And I'm filled with cheer,
For this season reminds me
Of all the love I feel for thee.
No gifts can compare
To the love we share,
And through all the years
I'll cherish you my dear.
Meet Me Under the Mistletoe
By Kelly Roper
Meet me under the mistletoe,
And we'll share a tender kiss.
All I need are your lips, my love
To complete my holiday bliss.
Meet me under the mistletoe,
I promise it will be divine,
When I take you in my arms
And press your lips with mine.
Meet me under the mistletoe
With lips that glisten like dew,
And I'll reveal what's in my heart
With the kiss that I give to you.
Steel A Kiss
Good friends and good times, oh so near,
With lots of love, no need for fear.
Under the mistletoe, I'll steal a kiss,
To celebrate the season, our perfect bliss.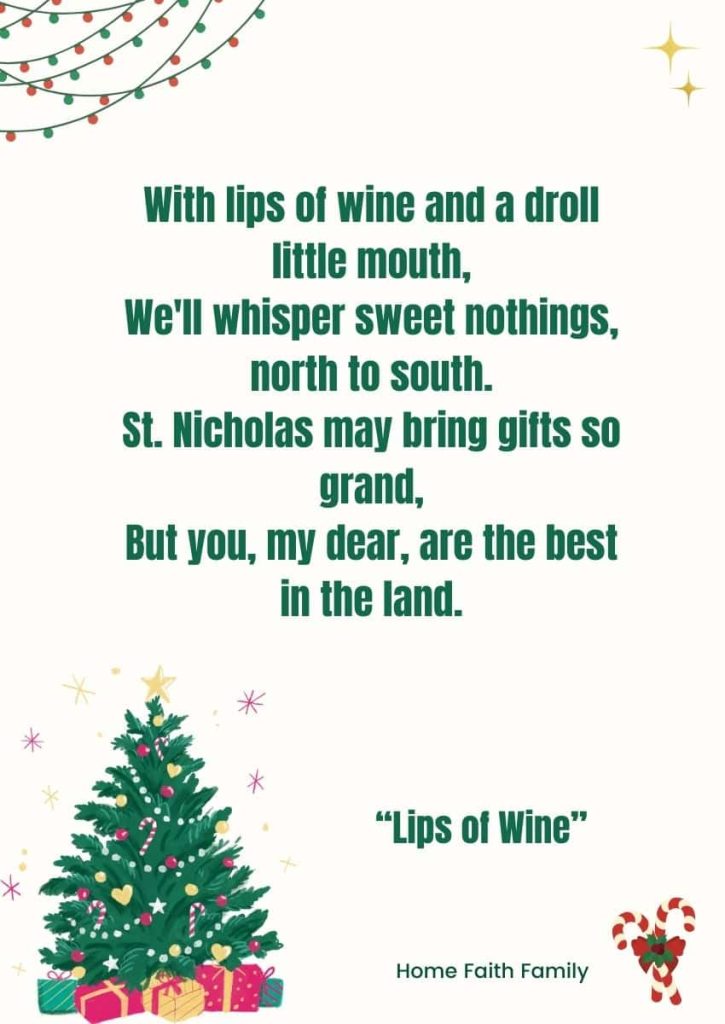 Lips of Wine
With lips of wine and a droll little mouth,
We'll whisper sweet nothings, north to south.
St. Nicholas may bring gifts so grand,
But you, my dear, are the best in the land.
Two Hearts in Love
The last night of the year draws near,
With the promise of a happy new year.
Under the moonlight, our dreams take flight,
Two hearts in love, oh, what a sight.
I Want You To Be Here With Me For Christmas
by Nicholas Gordon

I want you to be here with me for Christmas,
Even if you leave your heart at home.
I know that lately my love makes you restless,
But it's too hard to spend this time alone.

My love for you is like the Christmas season:
Joyful, yet with knowledge of the end.
My need for you has neither hope nor reason:
If not a lover, please, just be a friend.

Please, just be a friend, and come to me
When all the world is bright with love and song.
You are my pillar and my fantasy,
My earth and yet the sky for which I long.

My need for you, of course, is mine, not yours,
Nor need you answer me but out of love.
This is the season when we open doors
To let in those whose need our hearts might move.

And after Christmas you may go your way
To leave me with my sadness and my dreams.
I have no right to bother you to stay,
Knowing how your heart, unaltered, leans.

I want you to be here with me for Christmas,
Even if you leave your heart at home.
What you decide, and why, is not my business,
But still for me it's hard to be alone.
A Guiding Light
Jesus Christ, the reason we celebrate,
His love for us, so truly great.
As the stars twinkle above, so bright,
Our love shines, a guiding light.
Christmas Morn
With a message of love on this Christmas morn,
In the spirit of Christmas, our hearts are reborn.
A special time with the one I adore,
Our love, forever and evermore.
Your Love Is My Gift
"Your love is my Christmas gift,
That no one can ever take away;
You fill my heart with such joy and delight,
In every single way."
When the snow is falling gently,
And Christmas bells ring clear;
I hope you know how much I love you,
With each passing moment of the year.
Your presence in my life means so much to me,
You mean more than words can express;
My love for you has no bounds,
And I thank God for your tenderness.
Merry Christmas, my dearest one,
Our love is the greatest gift of all;
Let us share this joyous night together,
Before we answer destiny's call.
Together on Christmas Morning
Christmas morning, a time so dear,
With you by my side, I hold you near.
In this single place, our love takes flight,
Wrapped in the warmth of a love so right.
A Christmas Greeting
With a Christmas greeting, our hearts entwine,
A message of love, so pure and fine.
Through the dry leaves and winter's chill,
Our love burns bright, it always will.
St. Nicholas and Us
St. Nicholas may bring gifts so grand,
But the best gift I hold is your hand.
In the wonder of us, love finds its way,
Through the years, it's here to stay.
Christmas Kisses
Under the mistletoe
I stole a kiss, so
Sweet and tender
My heart a surrender.
For in your embrace
I find my happy place
And every Christmas
I'll ask for more kisses.
A Winter's Night
On a winter's night
With stars shining bright,
I look up with awe
At the beauty I saw.
But then my gaze
Falls upon your face
And I'm struck with joy
For you're my sweetest joy.
My Christmas Gift
by Karl Fuchs
If you sat beneath the Christmas tree,
You'd sure add to the decor,
But even if you were gift wrapped,
I couldn't love you more.
You have to know that if I had you,
I'd have the gift I'd most adore,
Better than any expensive gift
I could purchase in a store.
If you hug me tight, you wonderful thing,
And be my Christmas gift,
You'll brighten my days forevermore
And give my heart a lift.
Merry and Bright
Christmas is merry,
I feel so bright
For you are my light
In the darkest night.
I love you more
Than any Christmas décor,
And with you, every season
Is filled with love and reason.
Believe in Love
Believe in love,
Like the star above,
That led the wise men
To the baby in Bethlehem.
For love is the reason
For this blessed season,
And with you, my dear,
I have nothing to fear.
Christmas Love
by Joanna Fuchs
At Christmastime I think of all the gifts
That bring me great delight and sweet surprise,
But nothing in this world can bring such joy
As you do, when you look into my eyes.
And when I contemplate what Christmas means,
The caring and the giving–I confess,
You've given me the things I want the most:
Your love, your touch, your kiss, your warm caress.
The Christmas tree reminds me, with its lights
That just the thought of you sets me aglow;
You light me up from deep within my heart,
Because I cherish you, and love you so.
With you it's Christmas all the time, sweetheart.
I treasure every hour and every minute.
Your love is all I'll ever want because,
My life is so fulfilling with you in it.
Mistletoe Kisses
Mistletoe kisses, we all know how they go,
A simple gesture, that's all it takes to show
How you feel, when love is in the air,
Underneath the mistletoe, with the one you love to share
A kiss so sweet, it warms you through and through,
The love that shines so bright in everything you do.
Merry Christmas To The One I Love
by Nicholas Gordon
Merry Christmas to the one I love,
Even on this day of love for all,
Remembering the love of one whose call
Redeemed all those whose hearts his love might move.
Yet only one love does my spirit prove,
Chosen in a passion like a squall,
Having in such ecstasy withal
Rejoiced in what we were created of.
In such love do we find our way outdoors,
So to be drawn to love of flesh and soul,
Traveling beyond our village green,
Moving towards the wash along our shores
As our love joins the greater love unseen,
Shining with dark passion on the whole.
Ring Out, Wild Bells
A Christmas Poem by Alfred, Lord Tennyson
Ring out, wild bells, to the wild sky,
The flying cloud, the frosty light;
The year is dying in the night;
Ring out, wild bells, and let him die.
Ring out the old, ring in the new,
Ring, happy bells, across the snow:
The year is going, let him go;
Ring out the false, ring in the true.
Ring out the grief that saps the mind,
For those that here we see no more,
Ring out the feud of rich and poor,
Ring in redress to all mankind.
Ring out a slowly dying cause,
And ancient forms of party strife;
Ring in the nobler modes of life,
With sweeter manners, purer laws.
Ring out the want, the care the sin,
The faithless coldness of the times;
Ring out, ring out my mournful rhymes,
But ring the fuller minstrel in.
Ring out false pride in place and blood,
The civic slander and the spite;
Ring in the love of truth and right,
Ring in the common love of good.
Ring out old shapes of foul disease,
Ring out the narrowing lust of gold;
Ring out the thousand wars of old,
Ring in the thousand years of peace.
Ring in the valiant man and free,
The larger heart, the kindlier hand;
Ring out the darkness of the land,
Ring in the Christ that is to be.
Christmas Bells
by Henry Wadsworth Longfellow
I heard the bells on Christmas Day
Their old, familiar carols play,
And wild and sweet
The words repeat
Of peace on earth, good-will to men!
And thought how, as the day had come,
The belfries of all Christendom
Had rolled along
The unbroken song
Of peace on earth, good-will to men!
Till ringing, singing on its way,
The world revolved from night to day,
A voice, a chime,
A chant sublime
Of peace on earth, good-will to men!
Then from each black, accursed mouth
The cannon thundered in the South,
And with the sound
The carols drowned
Of peace on earth, good-will to men!
It was as if an earthquake rent
The hearth-stones of a continent,
And made forlorn
The households born
Of peace on earth, good-will to men!
And in despair I bowed my head;
"There is no peace on earth," I said;
"For hate is strong,
And mocks the song
Of peace on earth, good-will to men!"
Then pealed the bells more loud and deep:
"God is not dead, nor doth He sleep;
The Wrong shall fail,
The Right prevail,
With peace on earth, good-will to men.
Why Share A Beautiful Poem This Christmas Season?
Imagine giving your special someone the perfect gift, even if you feel there is nothing you could buy them that they don't already have.
We all have those times when our loves are impossible to shop for.
And when this day lands on Christmas for us, whump.
This is why these holiday poems are the perfect way to show them you care.
It's easy, it's beautiful, and looks like you spent hours piecing together their perfect gift.
There's simply no better way to show your love than with the thoughtful gift of a romantic poem.
With just the right words, you can bring joy to your loved one's heart this festive season.
So, why not get creative with these love poems during this special time of year?
Whether you craft your own beautiful Christmas poems for your partner or use one of the ready-made one that speaks from your heart from this post, Christmas is the perfect time to express your love for the special someone in your life.
Don't forget to share this post with a friend, so they too can sprinkle some romantic holiday cheer this coming Christmas season with the one they love.
Sending you the best wishes this holiday season.
Merry Christmas, friend and a very happy New Year.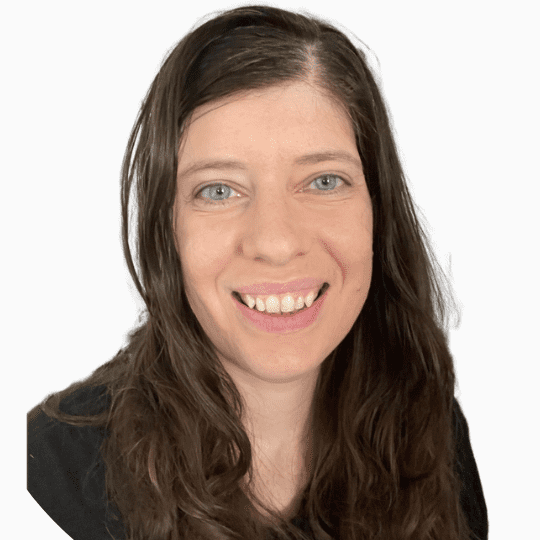 Micah Klug is a wife, homeschooling mother to five children, and author. She teaches time-tested solutions to help parents remember what matters most in life, including strengthening their home, faith, and family relationships. To learn how a child who grew up in an authoritarian home is now creating an environment of peace and joy in her own home visit this page. If you want to contact Micah, send her an email here or email [email protected].