Valentine's Day is a wonderful time to express our love for each other, especially in our families and communities.
But, if you're looking for a fun way to share your love for Jesus Christ and your family's faith this February, why not try these Christian Valentines coloring pages?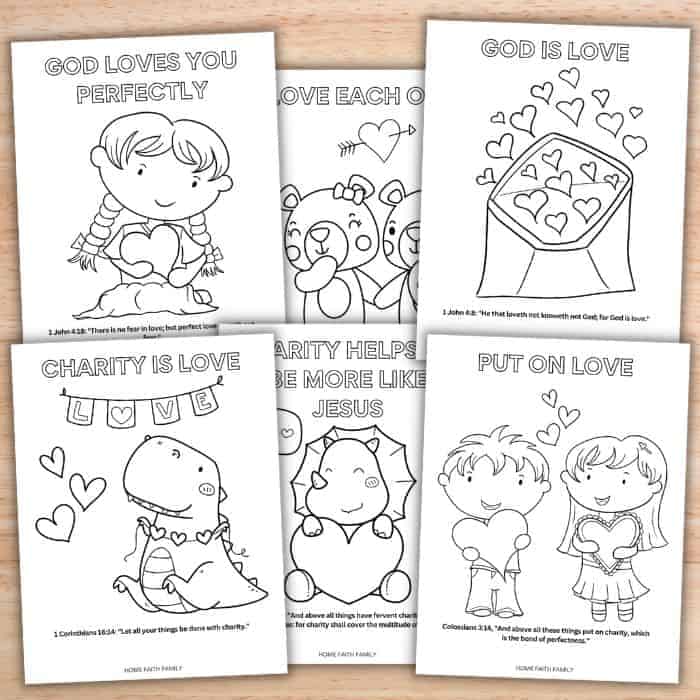 15 Free Christian Valentines Day Coloring Pages For Kids
These Bible themed coloring sheets are a great way for children to learn about their faith in a creative and engaging way.
Take a look at the free Valentine's Day coloring pages you can have sent straight to your inbox.
Supplies Needed For Coloring
I research, test, recommend, and select only the best products for my readers.
If you click a link on this site and buy something, we may earn an affiliate commission. Thank you for supporting this small family business.
Some supplies you may need for these free coloring pages include:
If you have a preschooler or toddler in your home like I do, I recommend also having a few washable markers or crayons on hand.
For the slightly older kids, crayons, colored pencils and markers will be perfect for bringing these Valentine's Day Bible verses to life!
These Christian Valentine coloring pages are going to put a smile on your children's faces as they learn God's word and feel the love of God in their hearts.
15 Valentines Day Coloring Pages With Bible Verses
John 3:16: "For God so loved the world that he gave his one and only Son, that whoever believes in him shall not perish but have eternal life."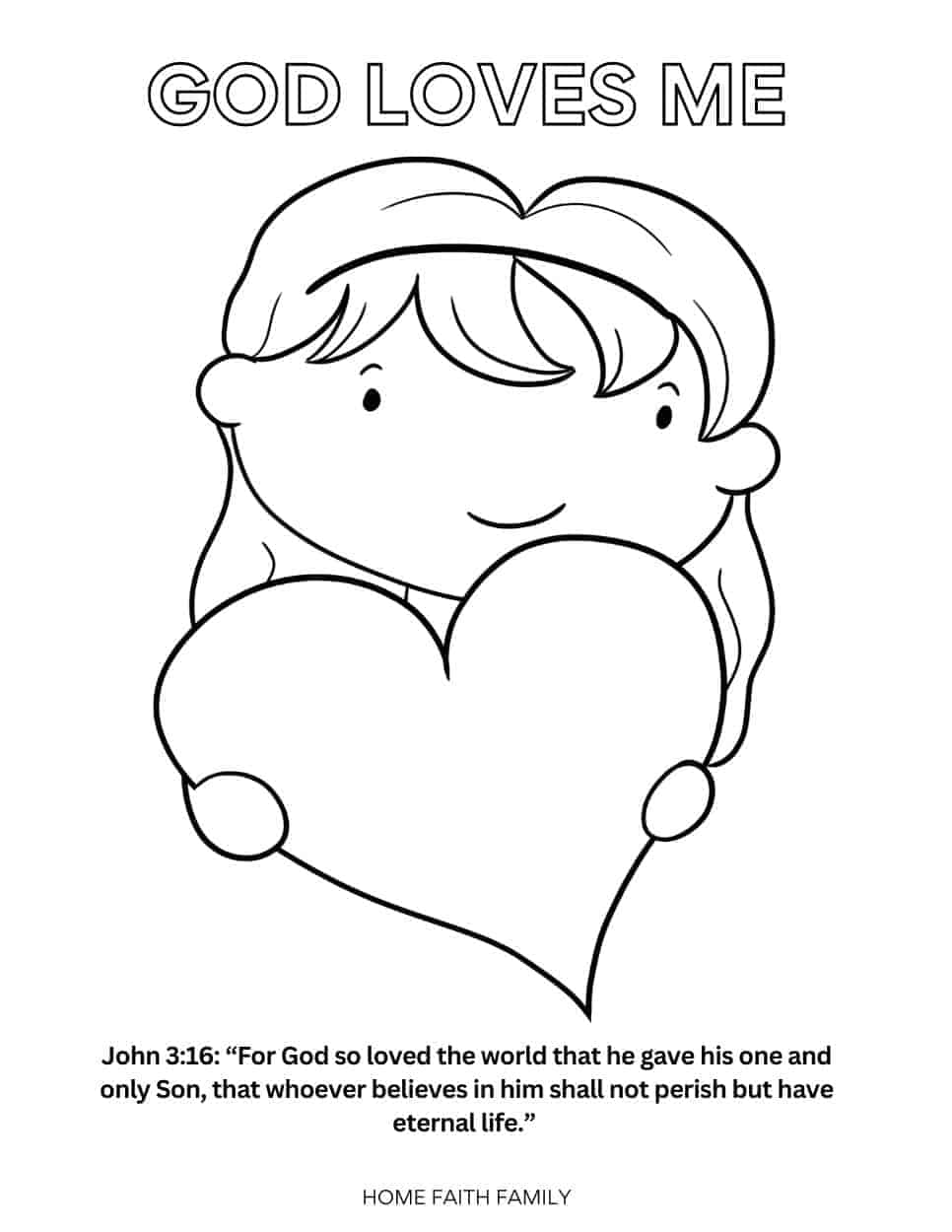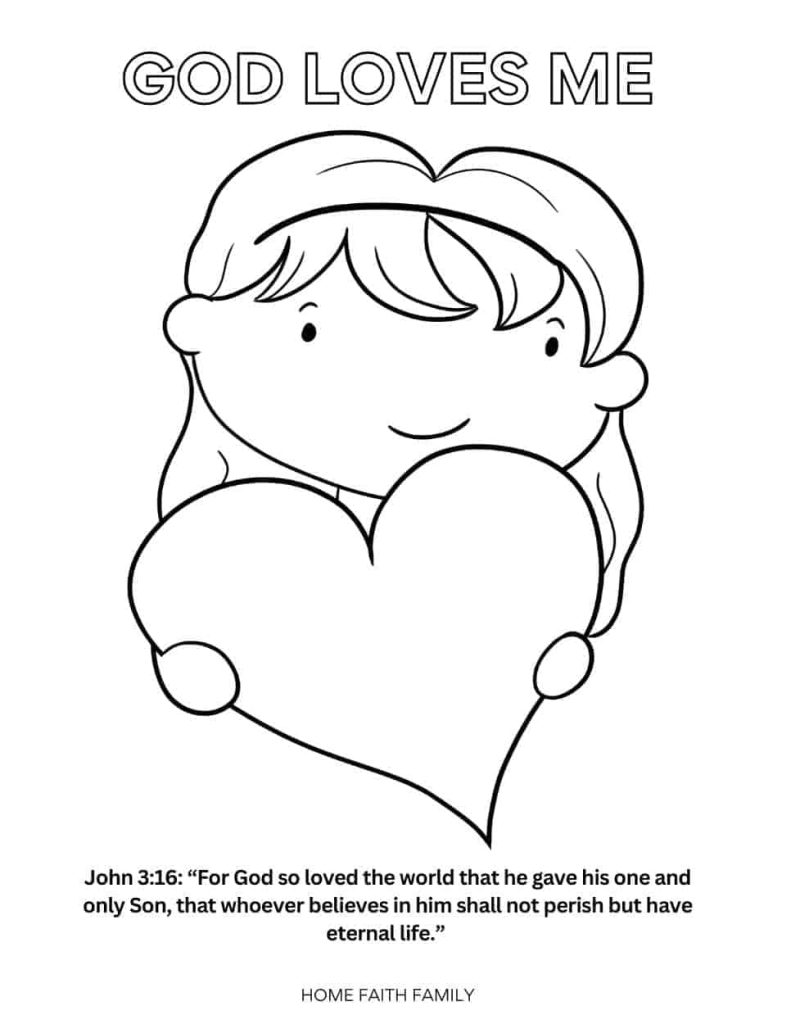 This passage of scripture is a great way to demonstrate that God's love can heal, forgive and bring restoration even when things seem hopeless.
Having our children color this page and meditate on these verses will be a powerful reminder of the power of love!
You can use this passage of scripture to remind your kids about the love of Christ for each of us on Valentine's Day.
1 John 4:8: "He that loveth not knoweth not God; for God is love."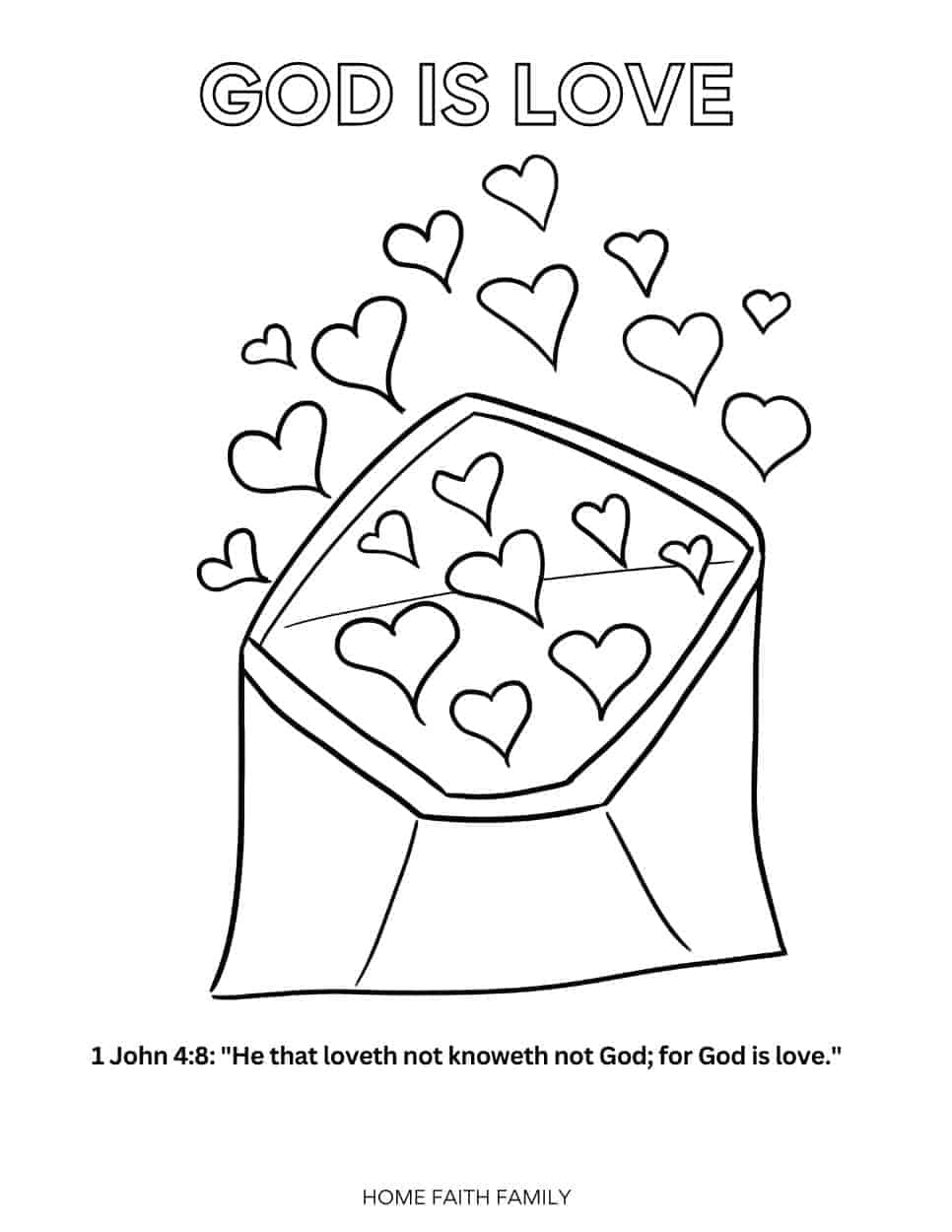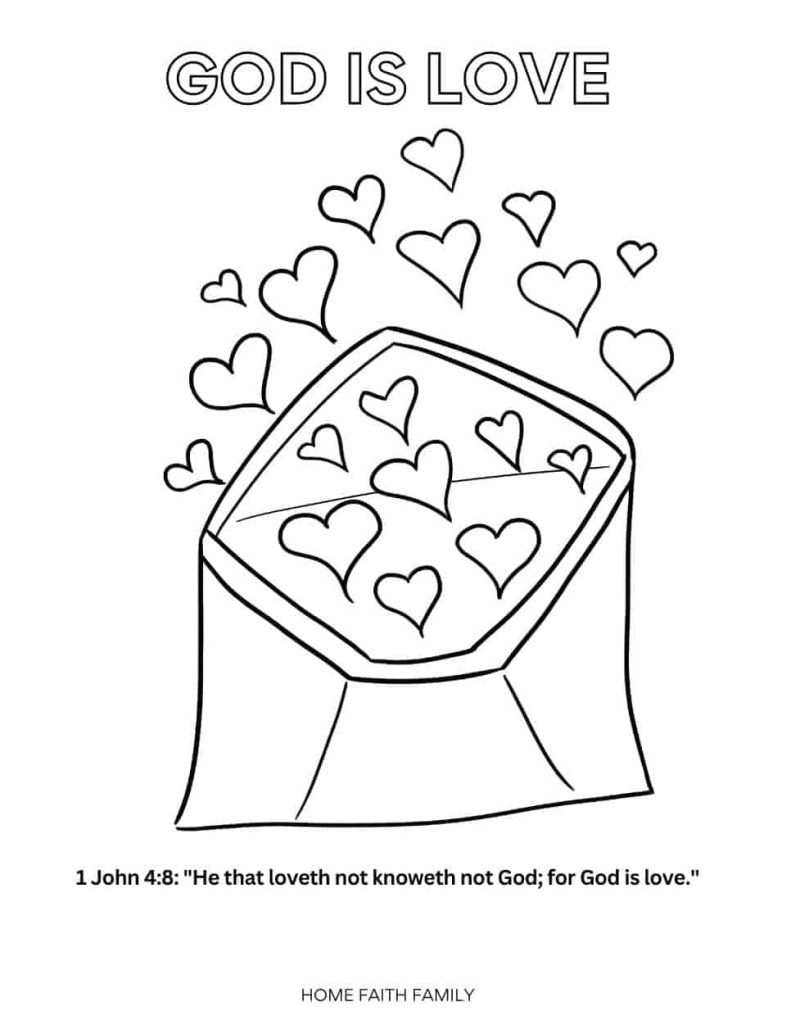 How sweet it is to have kids around on Valentine's Day, with their innocent faces filled with so much love!?!
The activity page reminded us all of the role of love in our lives and why it is so important.
This verse specifies that if we cannot love others, we cannot know God because love is part of His very nature and character.
When nurturing relationships, especially those with our children, we must be examples of God's love for them.
1 Corinthians 16:14: "Let all your things be done with charity."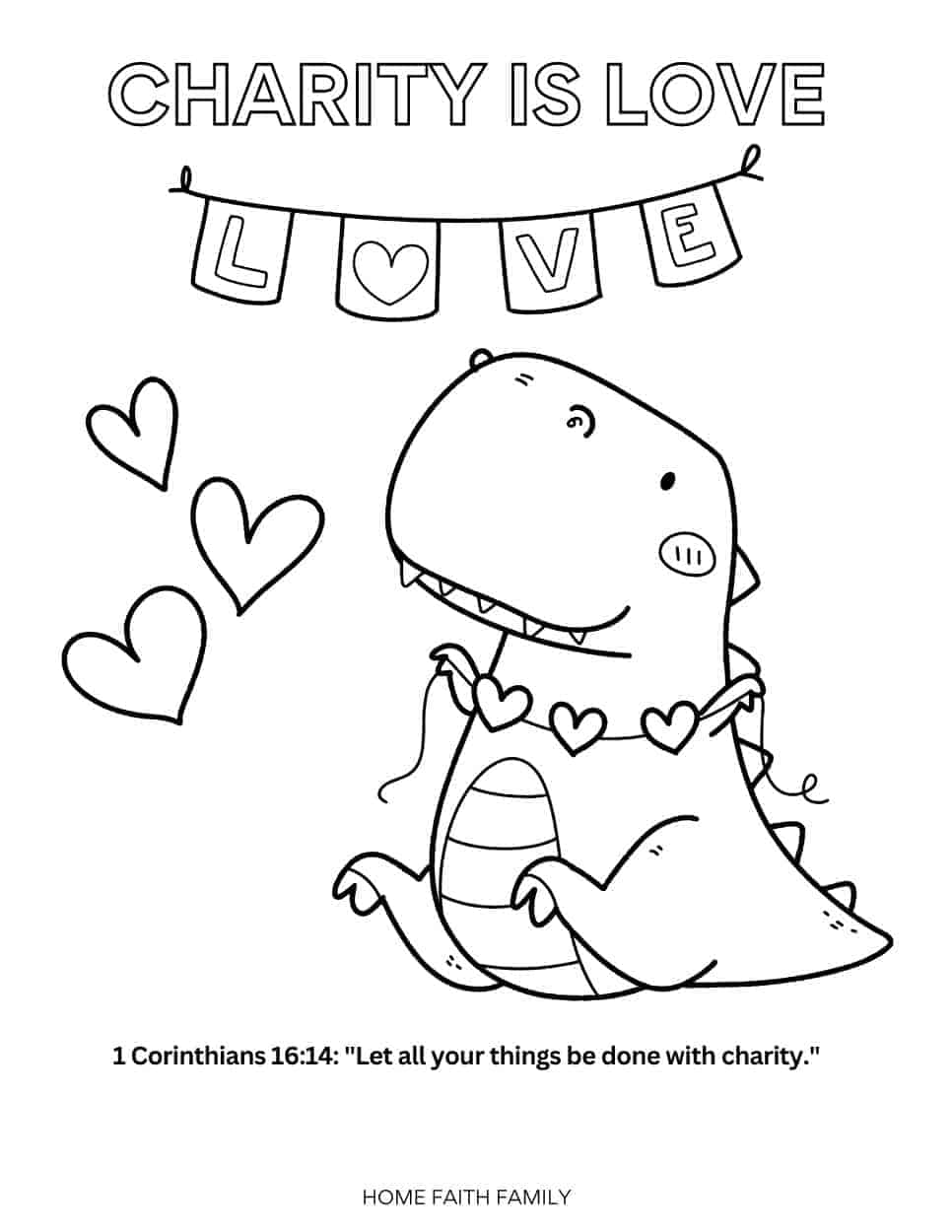 Isn't this such a cute coloring page of a dinosaur?
Not only will your child be encouraged to learn what love really looks like by being kind, generous, and compassionate, but also create a beautiful piece of artwork at the same time.
I know the next time I teach my children about what it means to have charity, this coloring page will be a great reminder of what real love looks like.
1 Corinthians 13:4-8: "Charity is kind…bears all things, believes all things, hopes all things, and endures all things."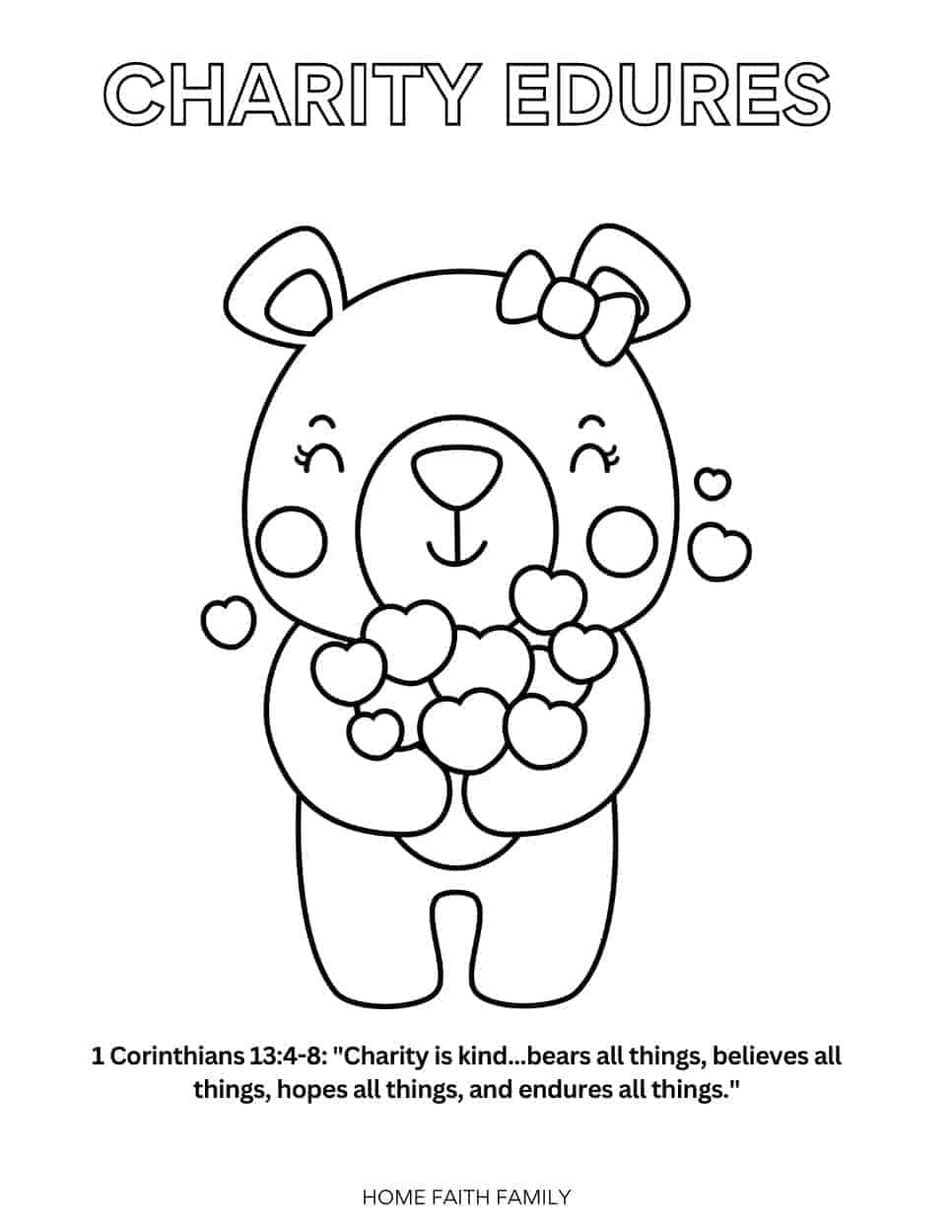 Let this teddy bear-themed page serve as a gentle reminder of how to remain kind, patient, and hopeful even when the world around us may not be!
It's a sweet way to remind your children that the love of Jesus never fails, even when we make mistakes.
John 13:34: "A new commandment I give to you, that you love one another; as I have loved you."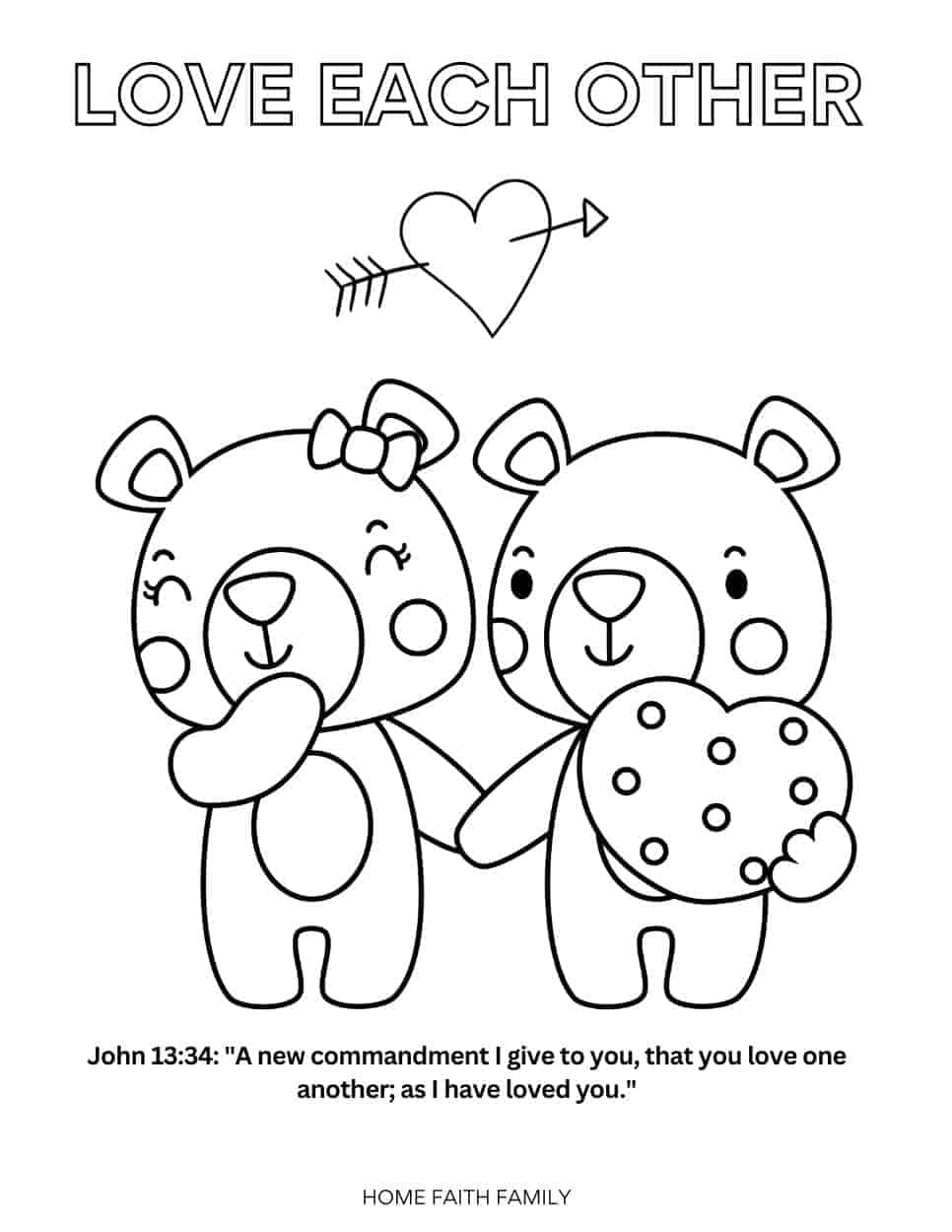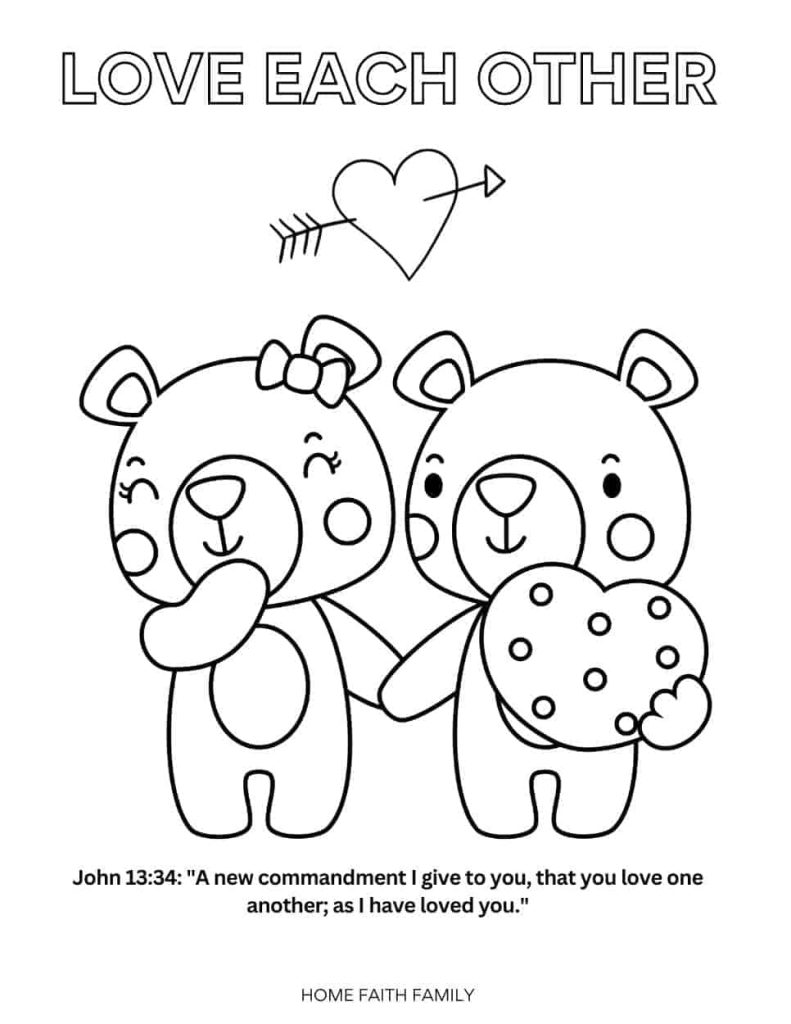 The meaning of Jesus' words are deep and profound, but when you use them in this Valentine's Day themed coloring page, it will be easier for kids to understand.
This is an opportunity to remind our children to show love, kindness, and understanding to others in their lives.
Colossians 3:14, "And above all these things put on charity, which is the bond of perfectness."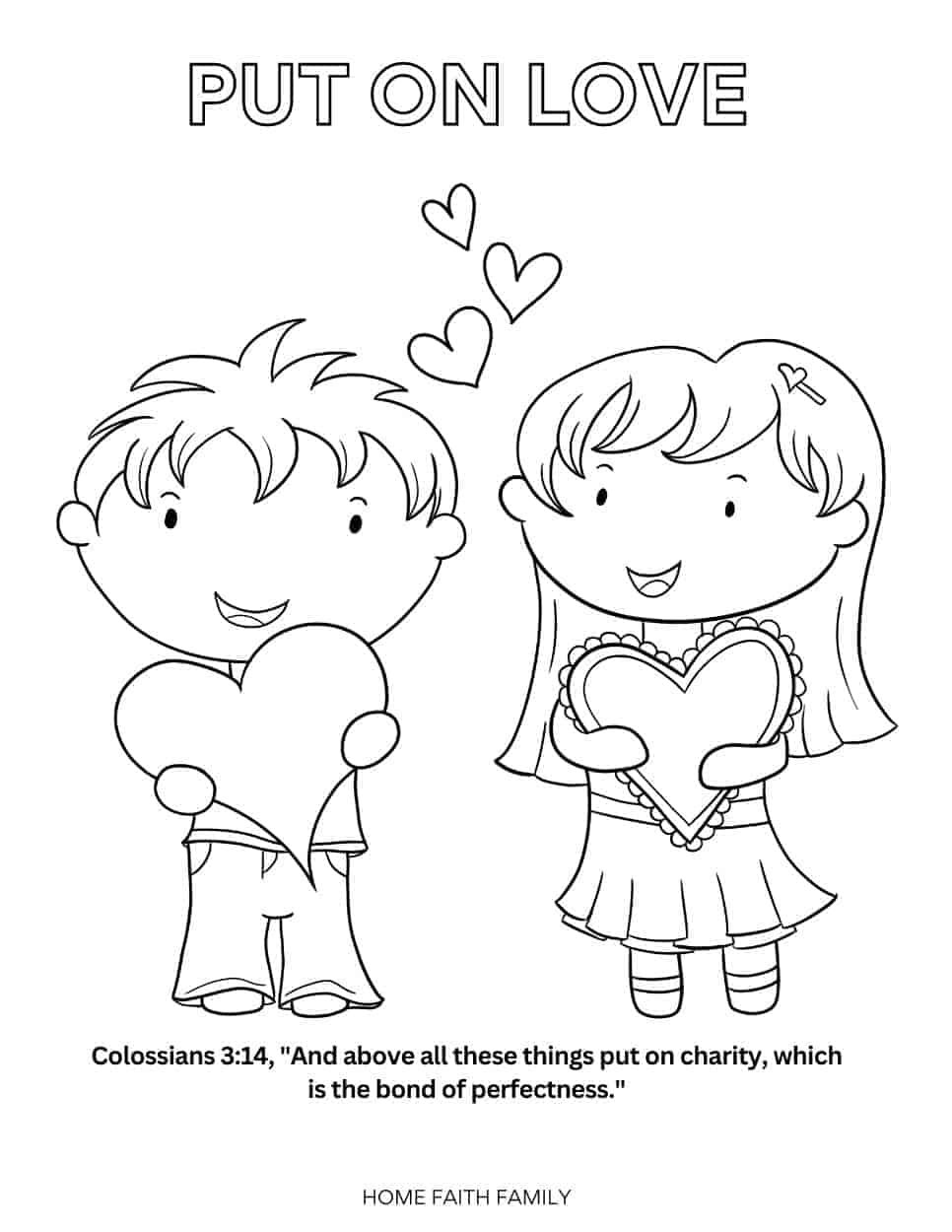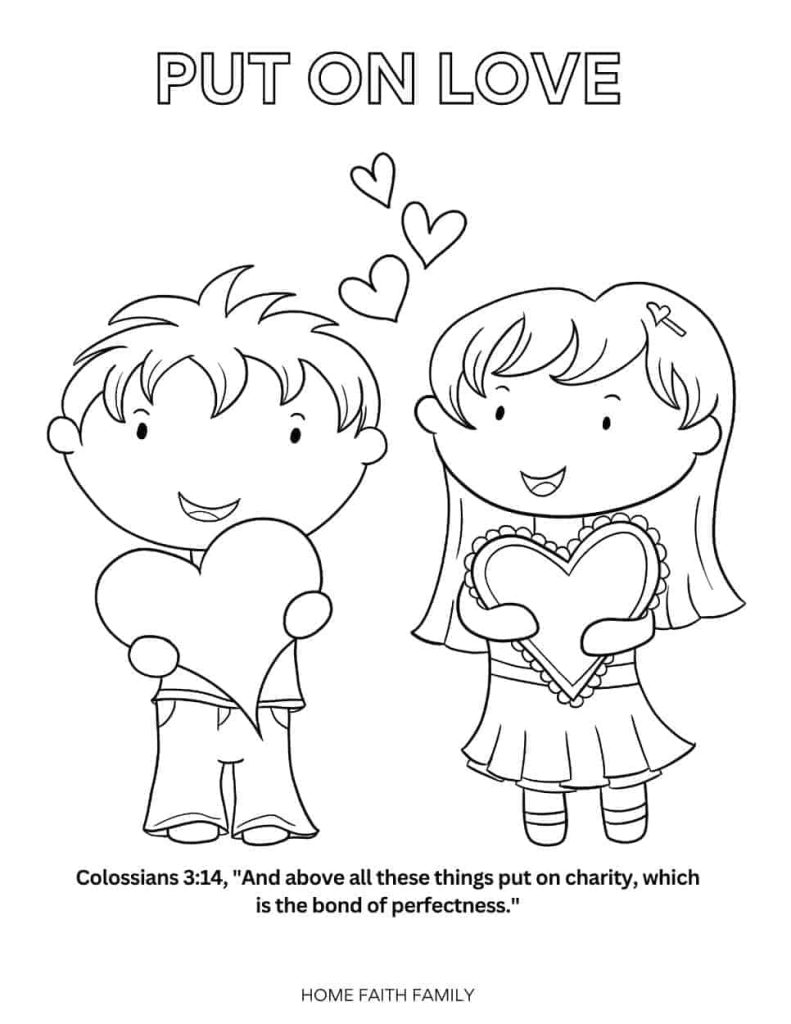 Finally, a coloring page with a heart in the center is a great reminder to all of us about how love binds us together.
It's a simple way to show our kids how Christlike love brings complete joy and contentment in our lives.
John 15:13: "Greater love hath no man than this, that a man lay down his life for his friends."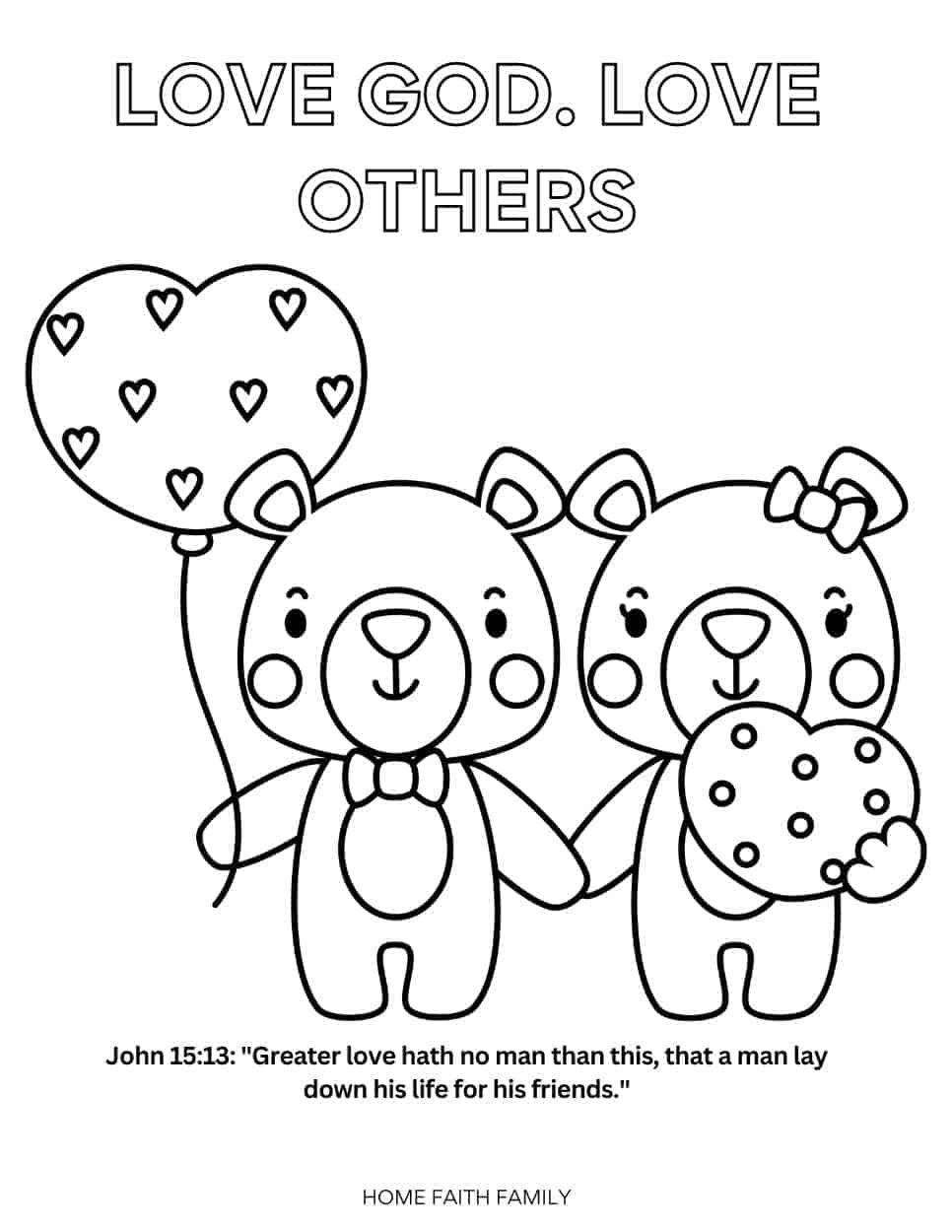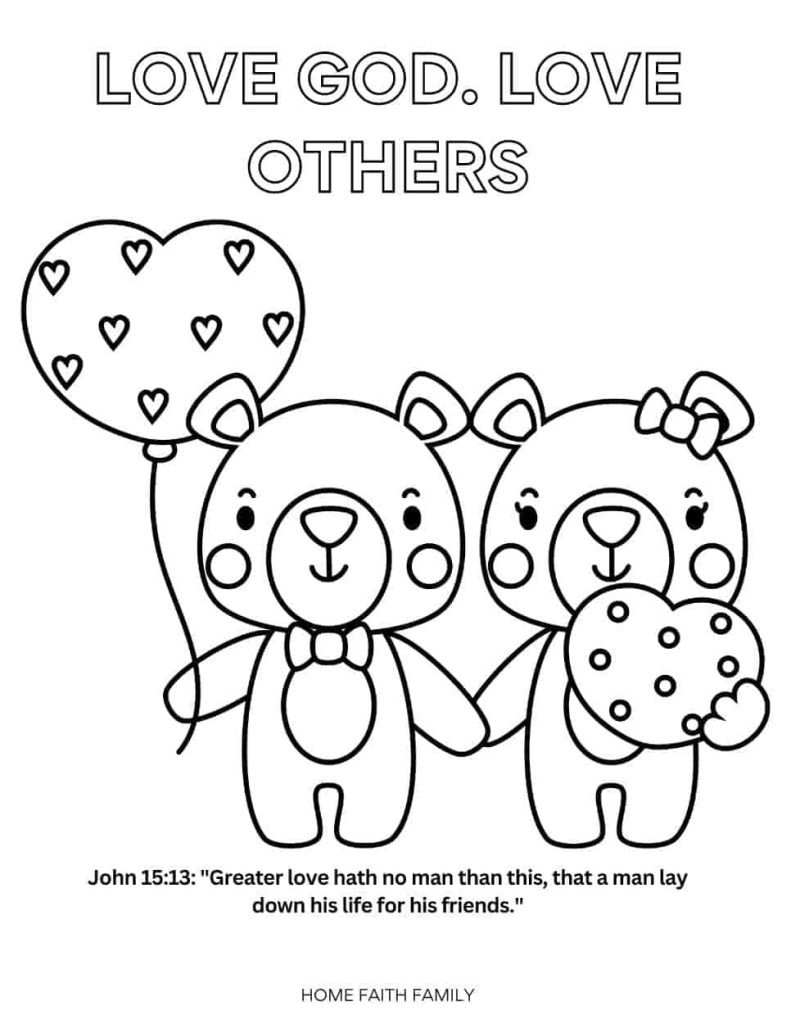 This verse is the perfect reminder of the ultimate sacrifice Jesus made for us on the cross.
It's an important lesson to teach your kids about how we should also be willing to give our lives in the service for others.
1 John 4:19: "We love him, because he first loved us."
I hope you always remember how much Jesus loves you.
Once you discover and embrace this deep love, it's crucial to spread its joy with others.
Having your children color this page will help them to understand the power of God's love in their lives and how they can share it with others.
1 John 4:7: "Beloved, let us love one another: for love is of God; and everyone that loveth is born of God, and knoweth God."
This coloring page is a great way to help children understand that when we share the love of Christ with others, it brings us closer to Him.
It reminds us that it is important to love each other and learn how to recognize the presence of God's love, as a universal symbol of love, in our lives.
1 Peter 4:8: "And above all things have fervent charity among yourselves: for charity shall cover the multitude of sins."
This page serves as a great activity for our kids to learn about how we should always show love, no matter what.
Teaching our children that even in times of disagreement and conflict, there is still room for love and understanding, will help them grow in their faith.
John 14:15: "If you love me, keep my commandments."
This coloring page is a reminder that our love for God should be demonstrated through our obedience to His commandments.
It helps children understand that we are called to show love not only to others, but also to God Himself.
By teaching this lesson and having them color this page, it will help them to understand that genuine love for God goes far beyond words.
It is an important reminder of how our actions can truly demonstrate our commitment and devotion to Him.
1 John 4:11-12: "Beloved, if God so loved us, we ought also to love one another."
One lesson you'll always be teaching your kids is because God loves us, we should also be willing to love others.
I know I'll be using this February coloring page as an opportunity to tell my children that loving their siblings is not only important in their relationship with God, but can also bring peace and joy into their lives.
And when we show love to others, we are ultimately showing love to God as well.
Coloring this page will help kids understand and remember the importance of sharing unconditional love with everyone around them.
1 John 4:18: "There is no fear in love; but perfect love casteth out fear."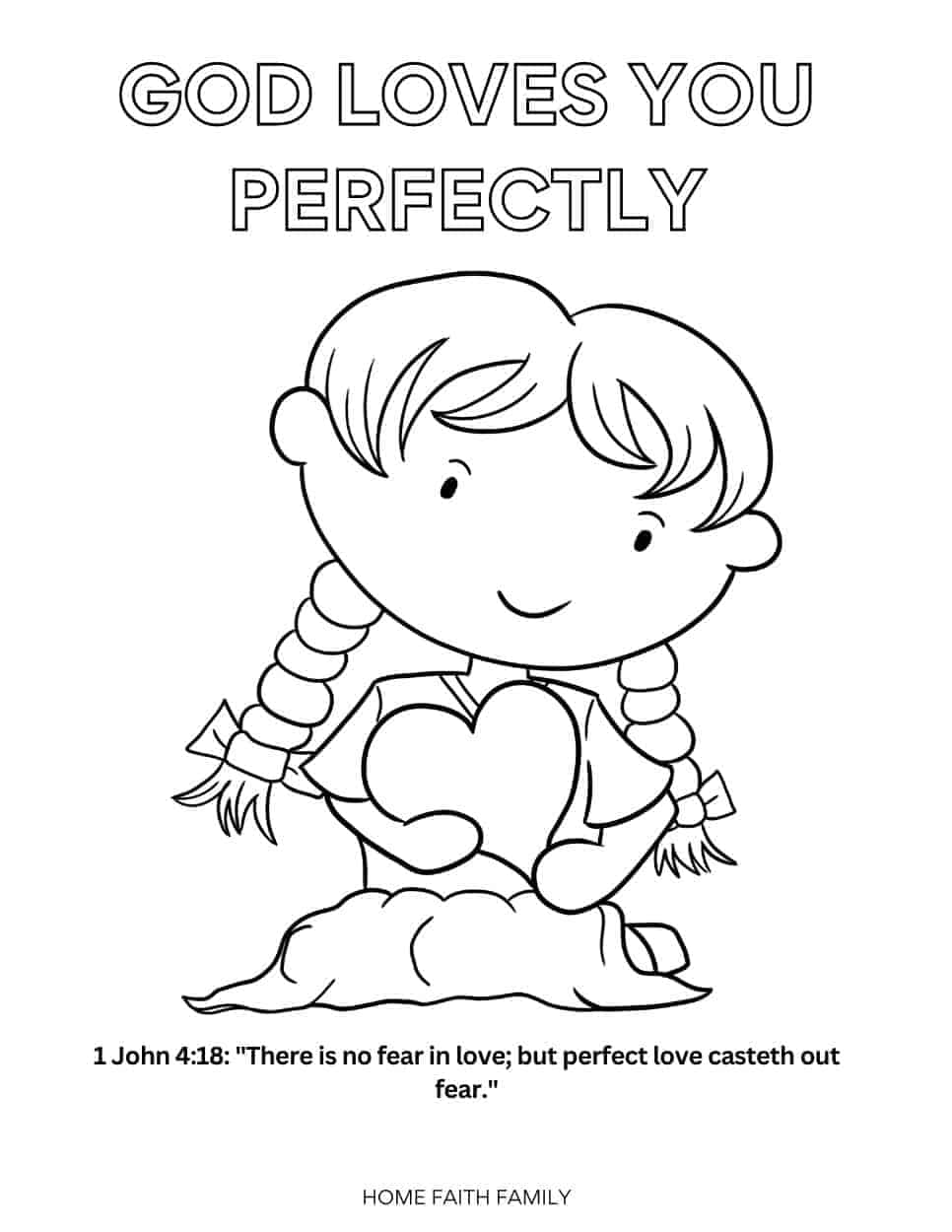 This coloring page serves as a gentle reminder to our children that true love has no room for fear. It helps them understand that when we show others love and kindness, it can help them overcome any kind of fear they may be feeling.
It also shows them that perfect love is something that comes from God alone and can bring us true joy and peace.
Coloring this page will help your kids recognize the power of God's love in their lives and how it can help them conquer any fears they may have.
1 John 5:2: "By this we know that we love the children of God, when we love God and keep his commandments."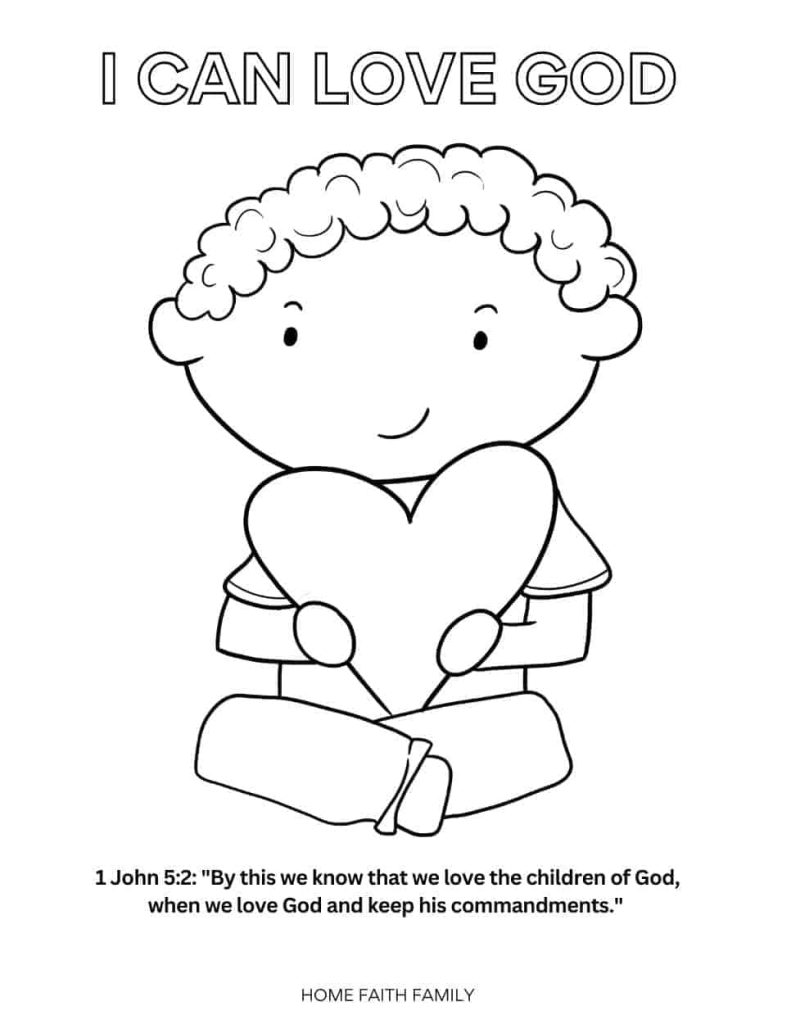 This coloring page is a reminder that loving others starts with loving God first.
It teaches our children that true love comes from keeping His commandments and living in obedience to Him.
Coloring this page will help your kids understand that when we love God and show His love to others, it brings us closer to Him.
Proverbs 8:17: "I love them that love me; and those that seek me early shall find me."
This coloring page is a great reminder to our kids about the importance of always seeking God's love.
It teaches them that when we seek Him earnestly, He will reward us with His unconditional love.
Coloring this page will help your children recognize the presence of God's love in their lives and how it can bring them joy and peace.
It will also help them understand that when we seek after Him, He is always there for us with His loving embrace.
You can have your free printable coloring pages sent straight to your inbox below:
You can color your favorite Valentine's day coloring pages with your family as you teach from your favorite Bible verses.
How To Use These Bible Verse Coloring Pages
Not only can you use these Christian Valentines coloring pages as a way to encourage your children to read and learn the stories and doctrine in the Bible, you can also use them in your primary or Sunday school class.
These coloring pages will remind kids of all ages during this season of love and friendship, how much God loves them.
Because His love is the greatest example of love.
Here are some creative ideas, so you can make the most of these Valentines Day coloring pages:
Have your children color the page at home and then share their artwork with their friends or other family members.
Use the pages for a Bible study or Sunday school lesson with your church.
Have your children color the page and then discuss what it says about God and His love for us.
Use these coloring sheets as an activity with family members or friends this Valentine's Day.
I hope these Christian Valentines coloring pages will be a blessing to you and your children this Valentine's Day.
More Valentine's Day Activity and Inspiration
Are you looking for more fun Valentine's Day ideas for your family?
Take a look at some of my other holiday posts for this time of the year.
Do your kids want to surprise their dad with something fun for Valentine's Day? Check out these Valentine's Day gifts for dad. You'll find 40+ gift ideas.
You can send your family members a sweet message from this list of Happy Valentine's Day messages. Write a quick text or send a sweet greeting card and make Valentine's Day a memorable occasion this year!
I hope you have a happy Valentine's Day!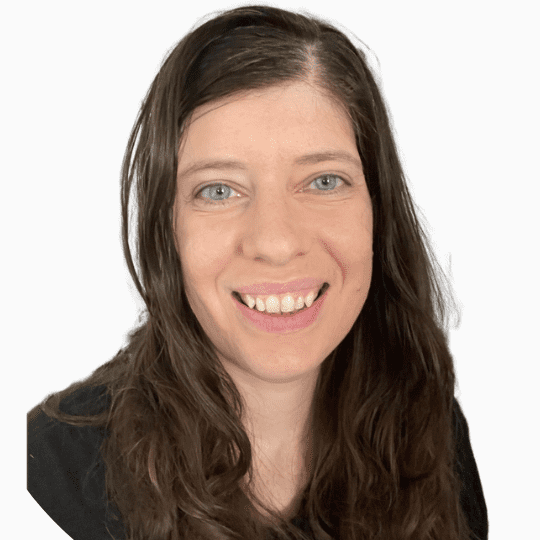 Micah Klug is a wife, homeschooling mother to five children, and author. She teaches time-tested solutions to help parents remember what matters most in life, including strengthening their home, faith, and family relationships. To learn how a child who grew up in an authoritarian home is now creating an environment of peace and joy in her own home visit this page. If you want to contact Micah, send her an email here or email [email protected].