Valentine's Day is the perfect opportunity to show your coworkers how much they mean to you!
Whether you're looking for something funny, heartfelt, or unique, these quotes will show your colleagues just how much you appreciate them.
Read on for some fun and inspiring Valentine's Day quotes that are sure to put a smile on your coworker's face!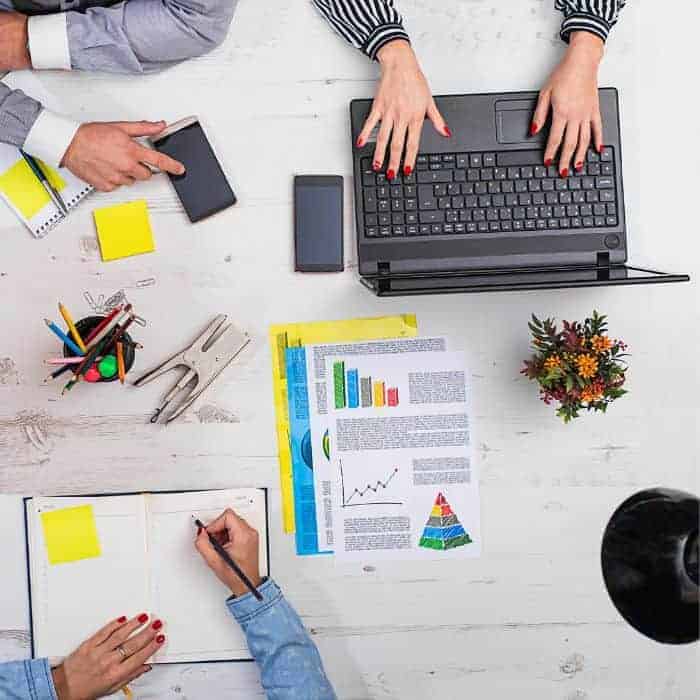 50 Happy Valentine Day Quotes For Your Coworkers
This Valentine's Day, show your colleagues how much you appreciate them with a message from some of the world's most famous celebrities!
Whether it be a funny or inspiring quote to celebrate this day of love and friendship, spread joy around the office and make someone smile.
Valentine's Day Messages From Famous Celebrities
1 – "The only way to do great work is to love what you do." – Steve Jobs
2 – "No one can whistle a symphony. It takes an orchestra to play it." – H.E. Luccock
3 – "You don't have to be great to start, but you have to start to be great." – Zig Ziglar
4 – "Talent wins games, but teamwork and intelligence wins championships." – Michael Jordan
5 – "If everyone is moving forward together, then success takes care of itself." – Henry Ford
6 – "The strength of the team is each individual member. The strength of each member is the team." – Phil Jackson
7 – "Coming together is a beginning; keeping together is progress; working together is success." – Henry Ford
8 – "Alone we can do so little; together we can do so much." – Helen Keller
9 – "Teamwork makes the dream work." – John C. Maxwell
10 – "A successful team is a group of many hands, but of one mind." – Bill Bethel
Best Valentine's Day Quotes From Famous Authors
For Valentine's Day, let the words of famous authors inspire us to show our appreciation for our better coworkers.
From eloquent musings on love and friendship to heartfelt expressions of gratitude, these quotes will help you celebrate those special people in your work life!
11 – "True friends are families which you can select." – Audrey Hepburn
12 – Audrey Hepburn once said, "You can tell more about a person by what he says about others than you can by what others say about him."
Thank you for always saying kind things about your coworkers.
It tells a great deal about your character. Happy Valentine's Day.
13 – "No need to hurry…sparkle…or to be anybody but oneself." – Virginia Woolf
14 – "The greatest gift of life is friendship, and I have received it." – Hubert H. Humphrey
Timeless Valentine's Day Card Messages You Can Legally Steal
When you're stuck for words to say, look no further than these Valentine's Day greeting card messages.
15 – "Happy Valentine's Day to the greatest team member and best friend anyone could ask for!"
16 – "Wishing you a day filled with love and laughter, and all the happiness life can bring. You make our team so special!"
17 – "To great colleagues who brightens each workday and brings out the best in everyone around them, Happy Valentine's Day!"
18 – "To some you might be a coworker, but to me, you're one of the best family members anyone could ask for. Have a beautiful and fun-filled Valentine's Day!"
19 – "I'm grateful to have the friendship of such an amazing person. You always go above and beyond for the team, and I'm so thankful! Happy Valentine's Day!"
20 – "Thank you for being such a great colleague through thick and thin. Wishing you a Valentine's Day filled with love and happiness!"
Valentine's Wishes For A Great Co-Worker
Valentine's Day is a special time to recognize and express appreciation for the people most important in our lives, and that includes co workers.
From one colleague to another, here's wishing you cheerfulness, kindness and enthusiasm all year long!
21 – "I know today isn't your favorite day of the year, but I just want to say, 'Happy February 14th! You make great things happen in our workplace and I can't wait to see what you'll accomplish this coming year."
22 – "Here's hoping you have a perfect day filled with love and joy. May this Valentine's Day be one for the books!"
23 – "We may not always agree on everything, but I'm thankful to have a colleague like you. Wishing you a very Happy Valentine's Day!"
24 – "You bring so much to our team, and I'm so grateful for your hard work and commitment. Wishing you much love on this special occasion!"
25 – "A great way to celebrate Valentine's Day is to remember all the wonderful things you've done for our team. Here's wishing you a day filled with love and appreciation!"
26 – "We value your hard work, dedication and commitment. You are an essential part of our team! Wishing you a Happy Valentine's Day!"
27 – "The best thing about working here is I have a great friend like you. May your Valentine's Day be as wonderful as you are!"
28 – "It's a pleasure to work alongside someone with such dedication and talent. Wishing you a very wonderful year!"
29 – "Thank you for being a good friend. You make the work day so much more enjoyable. Wishing you a truly special Valentine's Day!"
30 – "I hope your monthly review is as awesome as you are. Happy Valentine's Day, and keep up the great work!"
Happy Valentine's Day Quotes To Human Resources
Whether you're crafting Valentine's cards for your Human Resources team or simply looking to spread some love, these quotes are the perfect way to show appreciation and gratitude.
Send them off with a friendly message!
31 – "Your work ethic is inspiring and your commitment to our HR team is admirable. Happy Valentine's Day!"
32 – "Thanks for all the hard work you put in each day to keep our company running like a well-oiled machine. Wishing you lots of love this Valentine's Day."
33 – "Your corporate communication skills are always spot on. Have a wonderful Valentine's Day!"
34 – "Invaluable is the word that describes your contributions to our HR department. Wishing you a Happy Valentine's Day!"
35 – "Your focus, determination and enthusiasm make it easy to keep up with all the ever-changing HR regulations. Enjoy your Valentine's Day!"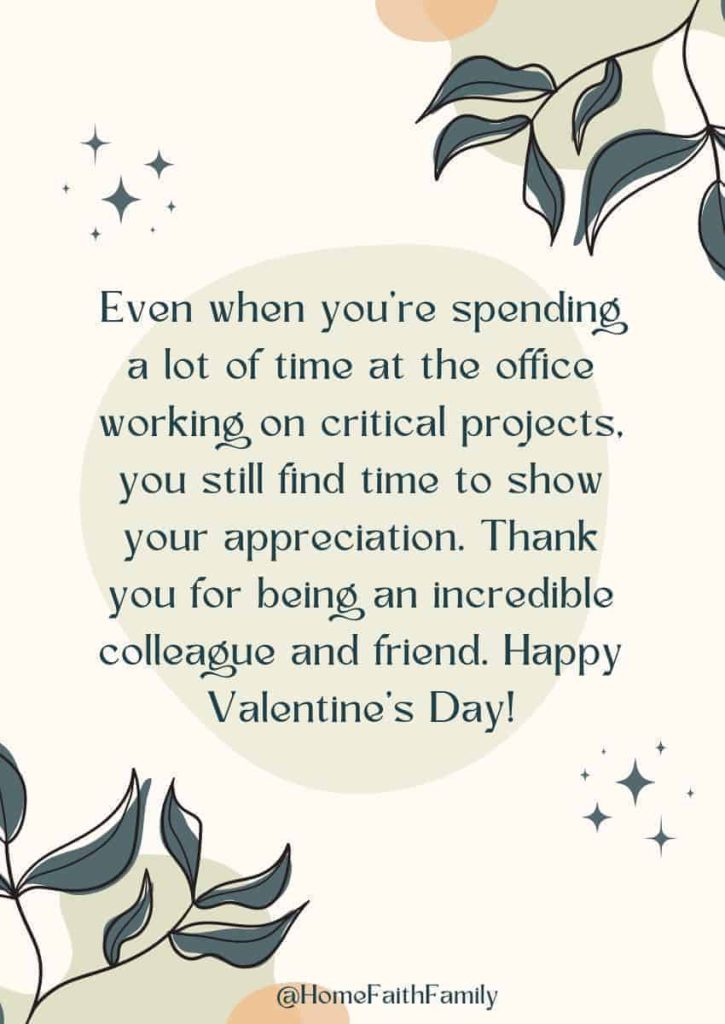 Best Valentine Quotes To Express Heartfelt Thanks
Show your coworkers how much you care this Valentine's Day by expressing heartfelt thanks with one of these inspiring quotes.
Spread love and gratitude throughout the office, making it a place where everyone feels valued!
36 – "Even when you're spending a lot of time at the office working on critical projects, you still find time to show your appreciation. Thank you for being an incredible colleague and friend. Happy Valentine's Day!"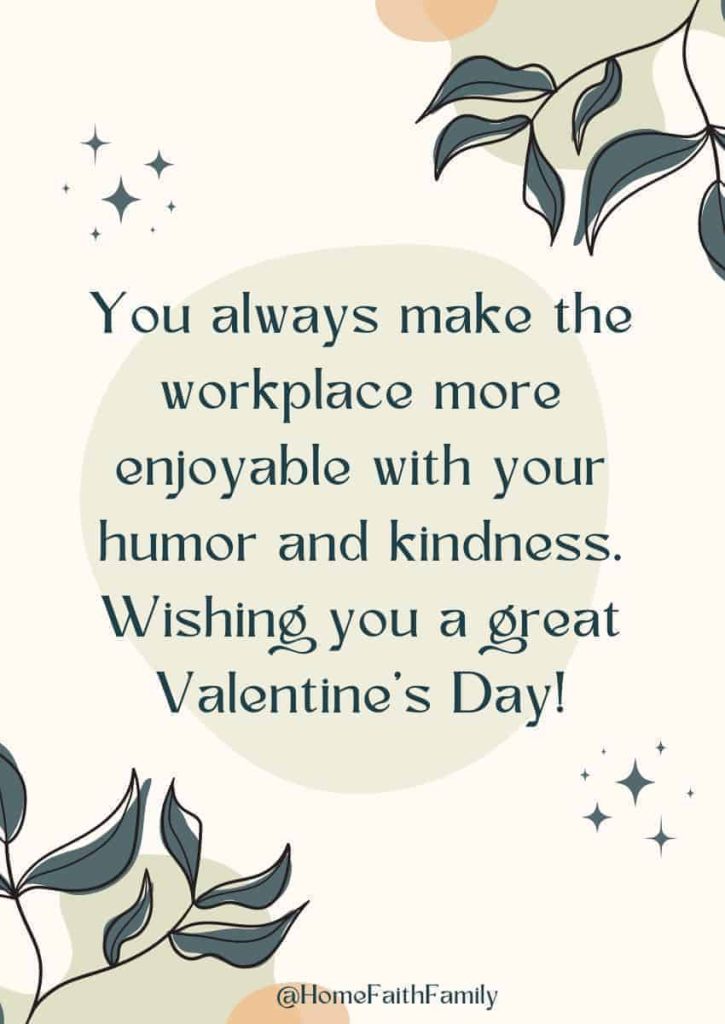 37 – "You always make the workplace more enjoyable with your humor and kindness. Wishing you a great Valentine's Day!"
38 – "You're a wonderful friend, an amazing mentor and a great colleague. Happy Valentine's Day!"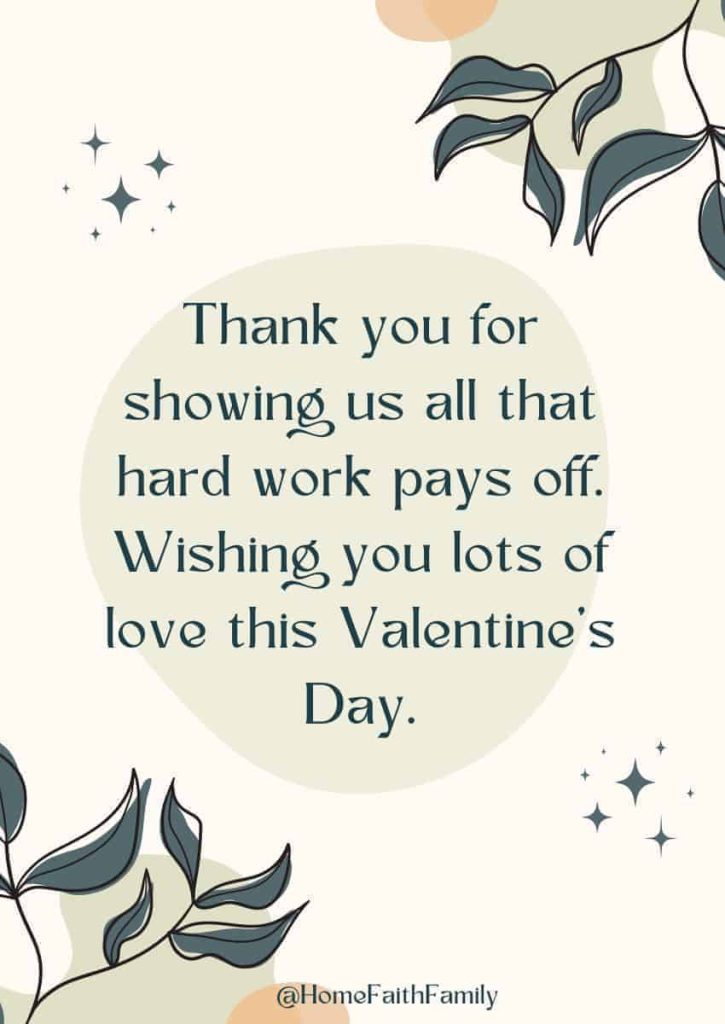 39 – "Thank you for showing us all that hard work pays off. Wishing you lots of love this Valentine's Day."
40 – "Your friendship means so much to me. Have a beautiful Valentine's Day filled with joy, peace and happiness!"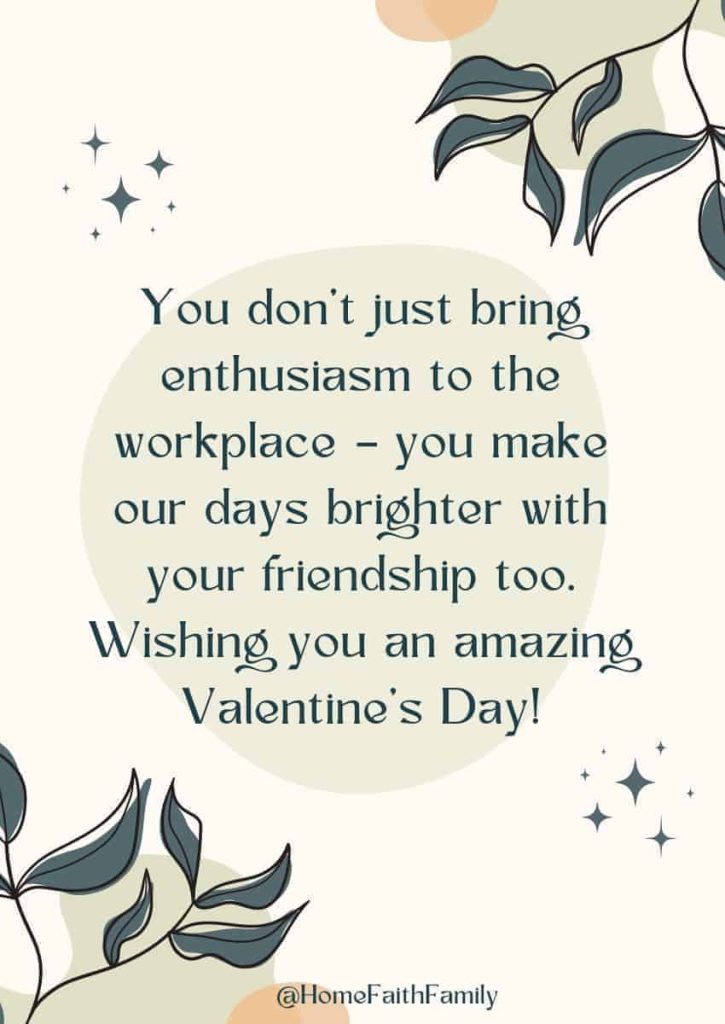 Valentine's Sayings The Best Coworker Deserves
Your hardworking, dependable coworker deserves to be celebrated on Valentine's Day!
Show a little love with a thoughtful card and a special message – they won't soon forget it.
41 – "You don't just bring enthusiasm to the workplace – you make our days brighter with your friendship too. Wishing you an amazing Valentine's Day!"
42 – "Your positivity is contagious and your loyalty is steadfast. You're a great coworker and a wonderful friend. Thank you for sharing so many good times at work!"
43 – "In case you didn't know, you're the backbone of the team. Thank you for everything and have a great Valentine's Day!"
44 – "You make the rest of the world so much better by bringing your unique skills, talents and passion to work each day. Wishing you much success on this special day!"
45 – "It takes a special person to be the kind of coworker you are. Wishing you joy and love on this Valentine's Day!"
46 – "I hope you have a great time celebrating Valentine's Day with the people who matter most. You deserve it!"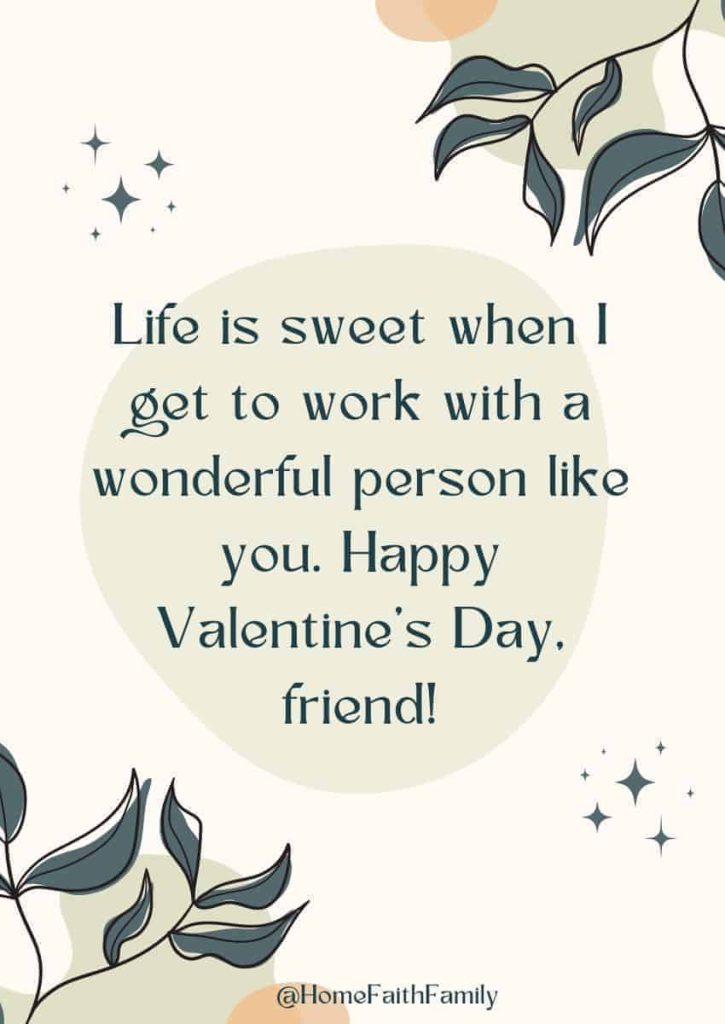 47 – "You don't need good luck or a perfect time on your record. You just need to keep being an awesome colleague and friend. Have a great Valentine's Day!"
48 – "Life is sweet when I get to work with a wonderful person like you. Happy Valentine's Day, friend!"
49 – "Wishing you a happy 14th February and all the love, joy and success you can imagine! I hope you have a very happy Valentine day and a prosperous new year."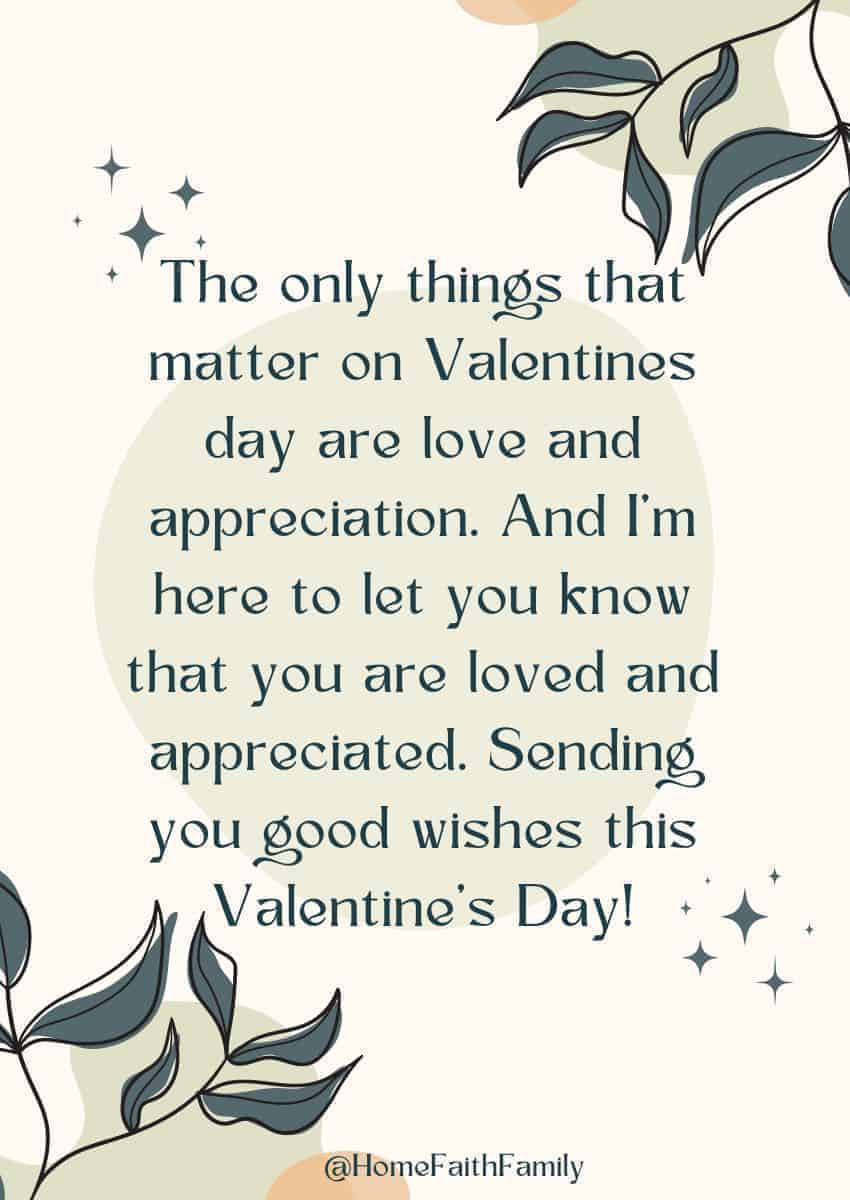 50 – "The only things that matter on Valentines day are love and appreciation. And I'm here to let you know that you are loved and appreciated. Sending you good wishes this Valentine's Day!"
We hope these Valentine's Day quotes have inspired you to show your colleagues how much they mean to you.
Whether you decide to write them in a card, surprise your coworkers with Valentine's Day gifts, or send them through text, we're sure they will appreciate the sentiment!
Happy Valentine's Day!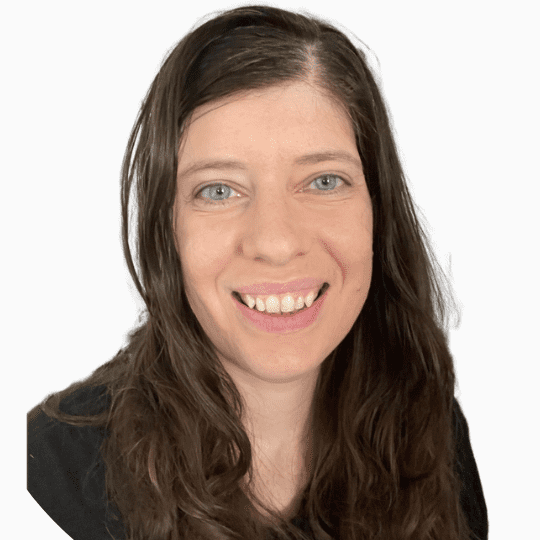 Micah Klug is a wife, homeschooling mother to five children, and author. She teaches time-tested solutions to help parents remember what matters most in life, including strengthening their home, faith, and family relationships. To learn how a child who grew up in an authoritarian home is now creating an environment of peace and joy in her own home visit this page. If you want to contact Micah, send her an email here or email [email protected].