I love these ideas for 20 service projects for kids! They're perfect for kids (even toddlers) to easily do in our community. Continue reading to learn how to teach your children service, empathy, and to find your next favorite service project on this list.
What was your favorite service project from your childhood?
I remember doing a toy drive for our local children's hospital and having my bed covered in stuffed animals. I knew that not even the Queen of England could possibly have that many toys.
In my innocent childlike mind, I was grateful for the generosity of others but proud to have so many toys to contribute to those in need.
I felt like I was making a difference.
Fast forward several years later when I was talking to my grandmother.
This sweet woman and I have been writing letters since I was 5 years old (for almost 30 years!).
She has since passed away, but my grandmother once told me she was grateful for the service and kindness of these letters.
To me, I never thought of my letters to her as service, I simply wanted to write to my grandmother.
Since having kids, and remembering this experience, I wanted to share this same service opportunity with my own children.
This is why Sunday's in our home, you will find my children and I sitting around the table writing letters to family members, friends, or those in our community.
Once my kids fell in love with writing letters, my husband and I wanted our children to keep loving service.
So we came up with several other projects they can easily do (especially with young, energetic toddlers running around).
I want to share this same list with you, today in hopes that your family will find a project from this list you can easily do together.
I research, test, recommend, and select only the best products for my readers.
If you click a link on this site and buy something, we may earn an affiliate commission. Thank you for supporting this small family business.
20 Perfect Service Projects For Kids
1. Visit residents in your local nursing home to brighten their day. You can sing songs, play a board game, or simply say hi.
2. Open the door for someone at church, at the bank, the grocery store, or anywhere where there isn't an automatic door.
3. Clean up their gently used toys and board games to donate to your local child's hospital (please check with your local hospital to find out what types of toys are appropriate).
4. Collect cans to donate to the local food bank.
5. Pick weeds in the neighbor's yard (with parents help, of course).
6. Smile and wave at the crossing guard for school.
7. Go through and handpick some of their best clothing to donate.
8. Donate their stuffed animals to your local children's hospital or homeless shelter.
9. Invite a child who is lonely at school over to play on the weekend. Don't forget to encourage your child to be their friend at school as well.
10. Write letters to friends, family, or community members.
Our family has fallen in love with the new Expressions From Hallmark and Heartline cards found at the Dollar Tree.
My children adored the bright, happy colors of these cards and I loved that the cards were firm and held up to the children's numerous crayons, markers, colored pencils and anything else they found to include in the card.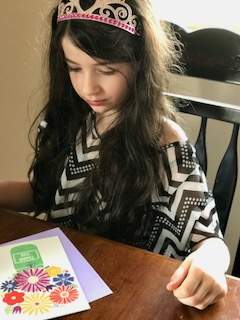 One of the cards my children mailed out came from the Joyfully Yours (A DaySpring Company) collection that is also found at the Dollar Tree.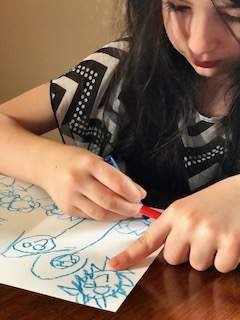 I loved these cards because the Joyfully Yours collection allows family and friends express their faith in just the right way during holidays, special occasions, and moments big and small.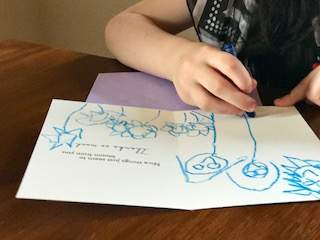 11. With these cards, you can also draw a picture and give to someone who needs a smile.
12. For children who are old enough, go with them and volunteer at your local soup kitchen. Serve with your child.
13. Save up their birthday money to buy and donate toys for children in need at Christmas time.
14. Have your child help you pick out, purchase, and donate school supplies for children in need.
15. Bake cookies to give to others.
16. Give a water bottle (or a sack lunch) to those standing on the street corner.
17. Learn to knit or crochet and make hats, gloves, and scarves for those in need for the winter months.
18. Walk the dogs in the neighborhood (probably not at the same time).
19. Leave cut out hearts with sweet messages all over someone's door. Try to do this without being caught).
20. Have your child help you find baby items (such as diapers, wipes, blankets, clothing, etc) to a new mother.
For more service ideas, and to help in your local community, you can find additional ideas at JustServe.org.
What service projects do you and your family do together? Is there an act of service that's been a blessing in your life? Share with us in the comments below.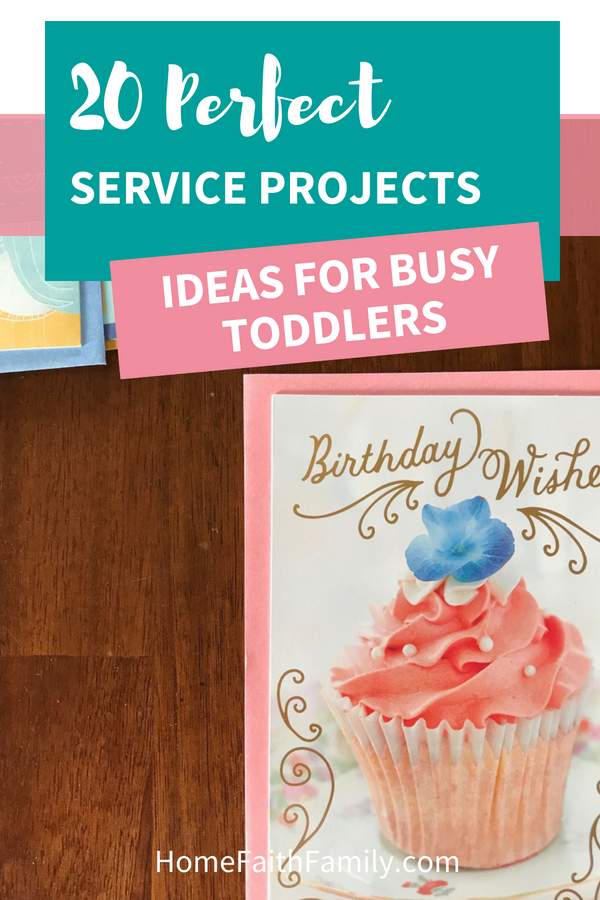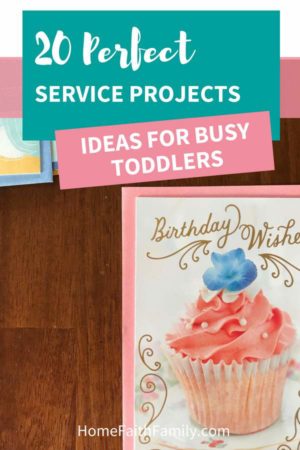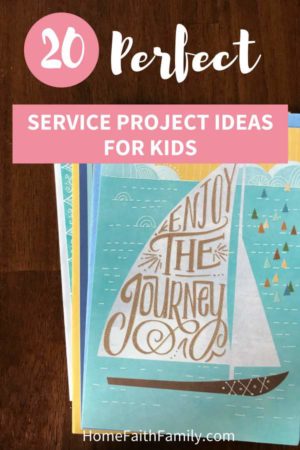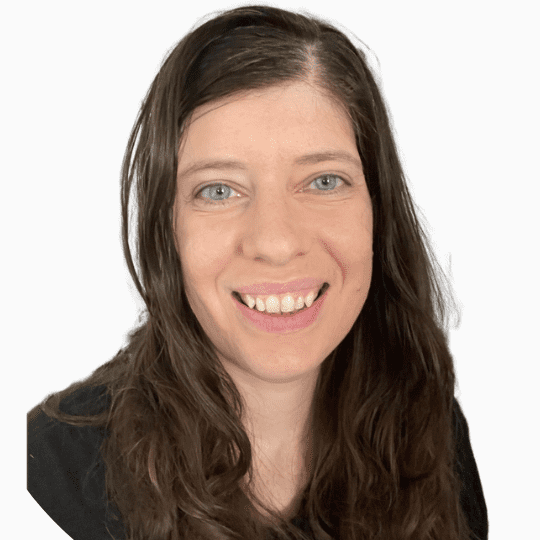 Micah Klug is a wife, homeschooling mother to five children, and author. She teaches time-tested solutions to help parents remember what matters most in life, including strengthening their home, faith, and family relationships. To learn how a child who grew up in an authoritarian home is now creating an environment of peace and joy in her own home visit this page. If you want to contact Micah, send her an email here or email [email protected].