Cinco de Mayo is a holiday loved by millions of people from all around the world.
It is a day to celebrate and remember the Mexican army's unlikely victory over French forces at the Battle of Puebla in 1862.
May 5th has also become a day to celebrate Mexican culture, traditions, and cuisine (yay for tacos!)
If you are a mom looking for fun Cinco de Mayo games to play on this exciting day, then you have come to the right place.
10 Fun Cinco de Mayo Printable Bingo Game Cards For Free
In this blog post, we have created 10 fun Cinco de Mayo Printable Bingo game cards that you can grab for free!
The one thing I love about these unique bingo cards is you will get two different sets of bingo cards – one for your young children and the other set for your older kids.
You will have so much fun and enjoy your Cinco de Mayo celebrations with these bingo cards – and I cannot WAIT for you to to have a great time!
Send this instant download straight to your inbox and print them on your own home printer.
These bingo cards are perfect for parties, game night, or just a fun occasion with family and friends!
You can even laminate the bingo cards to make them last longer or use them over and over again.
Free Cinco de Mayo Bingo Printable
I graduated from a high school where over 40% of the students were Hispanic, so the hallways were vibrant in color and active on Cinco de Mayo.
The amazing thing is, we all had a great time celebrating this holiday in a fun way and the best part was kids of all ages learned about a fun holiday.
To help you make your Cinco de Mayo party even more exciting, here are 10 free printable bingo cards that you can grab right now.
This Spanish bingo game has 10 calling cards with objects related to the celebration of Mexican culture such as mariachi bands, tacos, sombreros, a chili pepper, and much more!
You can have 5 colorful cards designed for preschoolers and 5 different bingo cards for tweens and teens sent straight to your inbox for free!
You are welcome to use the digital files for your own personal use.
Set of 10 Cinco de Mayo Bingo Game Cards – Perfect For Preschoolers Through Teens
The United States is a melting pot, and part of celebrating Cinco de Mayo is teaching our kids about the rich culture and traditions of Mexico.
These unique cards are a great way for preschoolers through teens to learn about the special holiday and have a blast at the same time.
How To Play Cinco de Mayo Bingo
I research, test, recommend, and select only the best products for my readers.
If you click a link on this site and buy something, we may earn an affiliate commission. Thank you for supporting this small family business.
You Will Need The Following Items
This free download doesn't need many materials, but you will need the following supplies:
10 Cinco de Mayo Bingo Game Cards Printable for the perfect game (which you can download these bingo cards – full size for free)
Directions
1 – I strongly recommend that you download or have an Adobe Reader on your device for these Cinco de Mayo activities.
This will make opening the printable cards an easy experience for you, especially if you're accessing these files from your mobile devices.
2 – Print off the Cinco de Mayo Bingo cards on cardstock paper or regular 8.5″ x 11″ letter size paper.
You can print these cards at home or at your local print shop.
If you want your own bingo cards to last a long time, after you print the cards on cardstock, you will want to laminate them.
This laminator is the one I personally use and it's still going strong after many uses from this homeschooling momma.
3 – Cut out each of the bingo boards and hand them all out to your guests (whether you're playing in small groups or large groups it doesn't matter).
4 – For best results, hand each player a few small objects to use as markers on the boards, such as coins, buttons, or beads.
5 – The caller will use the bingo card template answer key to draw a card from the stack and show the picture to the players.
If one of the players has that picture on their bingo card, they will place a marker (a bean, candy, etc.) over it.
6 – The first person who is able to fill up their whole bingo card first will shout out "BINGO!" and win the game.
7 – Have fun, dance, and laugh. Cinco de Mayo is all about celebration!
Now that you know how to play this exciting game of bingo, grab your free download printable cards here and get ready for some fun!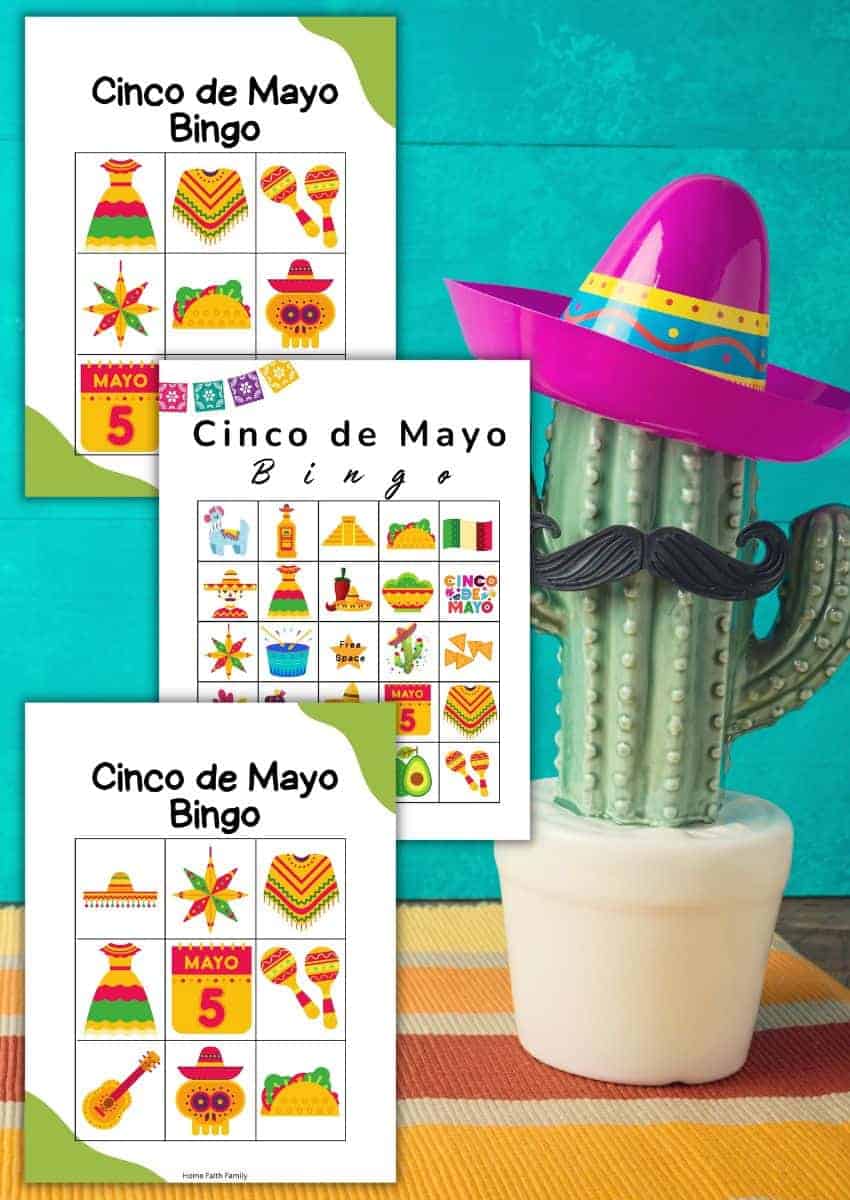 Free Printable Cinco de Mayo Bingo Cards For Preschoolers
What preschooler do you know who doesn't want to be included in a little Cinco de Mayo fun?
Probably none, because all kids love to have fun and join their older siblings.
This is why we created this set of five colorful bingo cards for your preschoolers!
Each card includes simple graphics and images that are familiar to toddlers, such as a sombrero, taco, guitar, cactus, and other popular symbols of Cinco de Mayo.
Your little ones will instantly recognize the images and can easily master this fun activity.
You can also use a little bit of Spanish to explain the pictures for a more complete experience!
Download and print your 5 preschooler printable games (PDF file) below.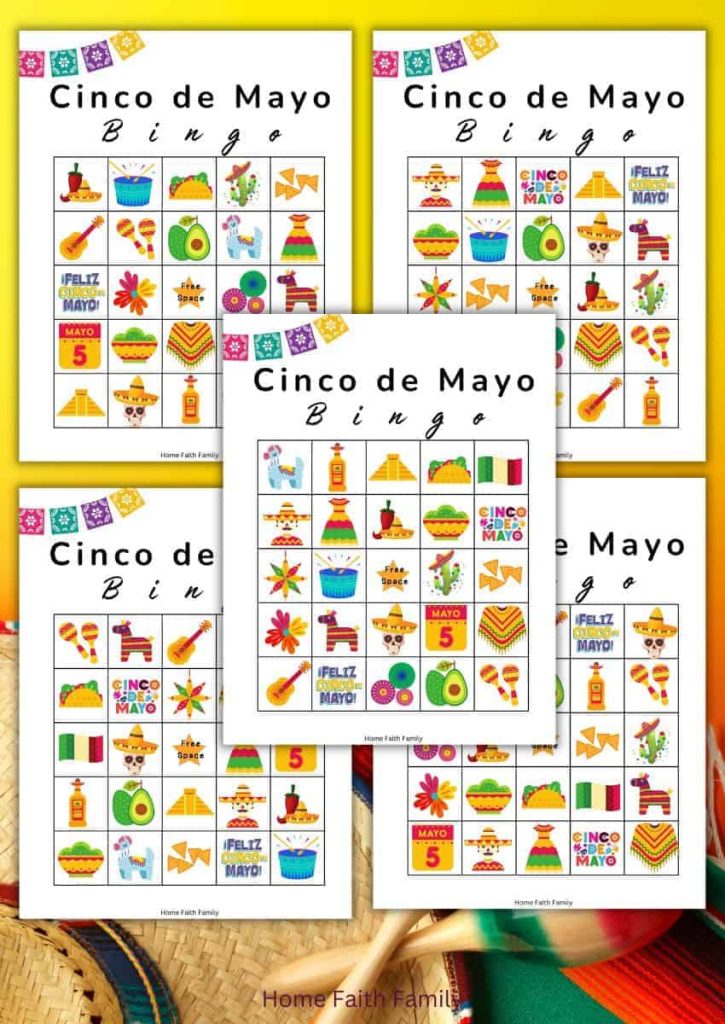 Tween and Teen Cinco de Mayo Bingo Cards
The only difference between the bingo cards for younger children and these bingo cards is the use of the free space and there's more pictures to choose from.
The images used for this set include a mariachi band, guitar, cactus, Mexican flag, guacamole, and more!
This game is perfect for tweens and teens that are wanting to celebrate, but want something a bit more challenging than the preschooler cards.
Download and print your 5 tweens and teens bingo cards below:
And that's it!
Now you have everything you need to get ready for a fun filled Cinco de Mayo party with lots of laughter and Mexican flavor!
Just remember…
Cinco de Mayo is a day full of celebration, fun, and traditions.
It is a great opportunity to gather your family and friends and play some fun games.
And if you want to enjoy another fun craft later this month, then you'll want to do these memorial day crafts for seniors.
I know your children would love to make a craft with their grandparents.
We hope our list of 10 fun Cinco de Mayo Printable Bingo Cards Games has given you some ideas for your celebration.
These games are not only fun but also educational and perfect for teaching children about Mexican culture and traditions.
Give them a try and don't forget to share this free printable pack on social media with your friends and let the fun begin!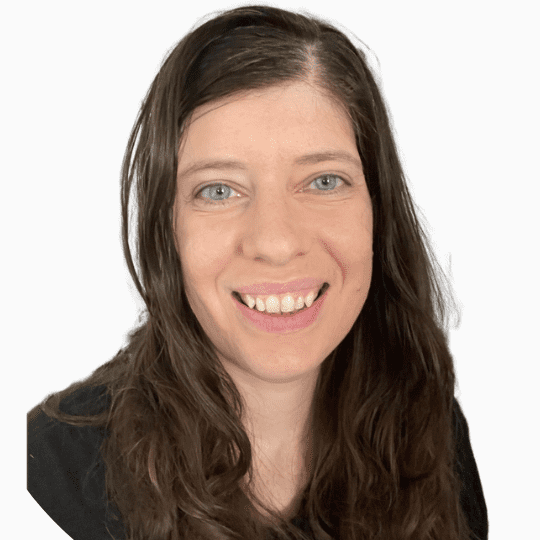 Micah Klug is a wife, homeschooling mother to five children, and author. She teaches time-tested solutions to help parents remember what matters most in life, including strengthening their home, faith, and family relationships. To learn how a child who grew up in an authoritarian home is now creating an environment of peace and joy in her own home visit this page. If you want to contact Micah, send her an email here or email [email protected].