Thanksgiving is a time for family, friends, and, of course, being thankful for all the good things we have in our life.
But when it comes to teaching our children about the importance of gratitude this season, we can't always rely on those classic "count your blessings" type of quotes this time of year.
They need something more for this special day.
That's why having a few inspiring gratitude-infused quotes up your sleeve can make for some equally meaningful conversations with your kids.
You can encourage your little ones to express gratitude for their life's blessings and for the little things that surround them.
Here are some fun yet meaningful gratitude quotes that will surely create a thankful heart, and bring laughter and joy this holiday season!
51 Gratitude Quotes This Thanksgiving For Kids 2023
"If you are really thankful, what do you do? You share." – W. Clement Stone
"Showing gratitude is one of the simplest yet most powerful things humans can do for each other." – Randy Pausch
"An attitude of gratitude brings great things." – Yogi Bhajan
"Thanksgiving is one of my favorite days of the year because it reminds us to give thanks and to count our blessings. Suddenly, so many things become so little when we realize how blessed and lucky we are." – Joyce Giruad
"When I started counting my blessings, my whole life turned around." – Willie Nelson
"If the only prayer you said in your life was "Thank You," that would suffice." – Meister Eckhart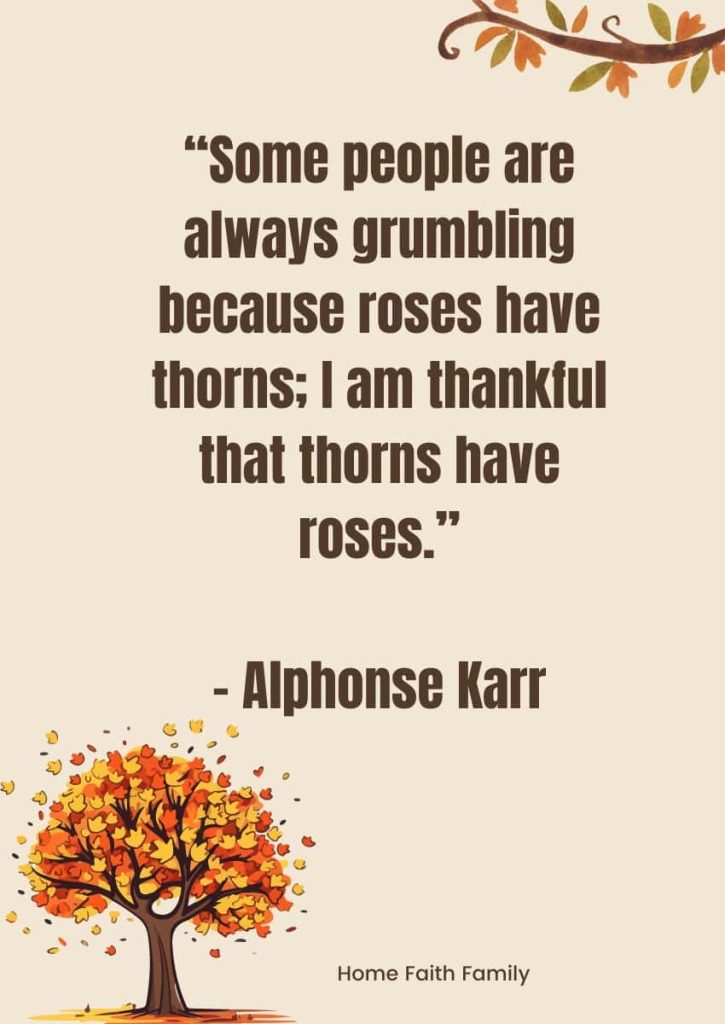 "Gratitude helps people feel more positive emotions, relish good experiences, improve their health, deal with adversity, and build strong relationships." – Giving Thanks Can Make You Happier
"Some people are always grumbling because roses have thorns; I am thankful that thorns have roses." – Alphonse Karr
"Appreciation is a wonderful thing. It makes what is excellent in others belong to us as well." – Voltaire
"In the end, though, maybe we must all give up trying to pay back the people in this world who sustain our lives. In the end, maybe it's wiser to surrender before the miraculous scope of human generosity and to just keep saying thank you, forever and sincerely, for as long as we have voices." – Willie Nelson
"Gratitude is the inward feeling of kindness received. Thankfulness is the natural impulse to express that feeling. Thanksgiving is the following of that impulse." – Henry Van Dyke
Thanksgiving Quotes for Kids
"If a fellow isn't thankful for what he's got, he isn't likely to be thankful for what he's going to get." – Frank A. Clark
"Nothing is more honorable than a grateful heart." – Seneca the Younger
"Thanksgiving is more than eating, Chuck… Those early Pilgrims were filled with thankfulness for what had happened to them, and we should be thankful, too. We should just be thankful for being together. I think that's what they mean by 'Thanksgiving,' Charlie Brown." – from A Charlie Brown Thanksgiving by Charles M. Schulz
"You have been my friend. That in itself is a tremendous thing." – Charlotte to Wilbur in Charlotte's Web (E.B. White)
"Feeling gratitude and not expressing it is like wrapping a present and not giving it." – William Arthur Ward
"Goodnight stars, goodnight air, goodnight noises everywhere." – Goodnight Moon by Margaret Wise Brown
"Cultivate the habit of being grateful for every good thing that comes to you, and to give thanks continuously. And because all things have contributed to your advancement, you should include all things in your gratitude." – Ralph Waldo Emerson
"I'm so glad I live in a world where there are Octobers." – from Anne of Green Gables by L.M. Montgomery
Our Family's Favorite Thanksgiving Quotes
"As we express our gratitude, we must never forget that the highest appreciation is not to utter words, but to live by them." – John F. Kennedy
"Sometimes we should express our gratitude for the small and simple things like the scent of the rain, the taste of your favorite food, or the sound of a loved one's voice." – Joseph B. Wirthlin
"If you're worried and you can't sleep, count your blessings instead of sheep. And you'll fall asleep counting your blessings." – Irving Berlin from the movie White Christmas
"Thanksgiving is a time of togetherness and gratitude." – Nigel Hamilton
"At times, our own light goes out and is rekindled by a spark from another person. Each of us has cause to think with deep gratitude of those who have lighted the flame within us." – Albert Schweitzer
"Wear gratitude like a cloak and it will feed every corner of your life." – Rumi
"Bad things do happen; how I respond to them defines my character and the quality of my life. I can choose to sit in perpetual sadness, immobilized by the gravity of my loss, or I can choose to rise from the pain and treasure the most precious gift I have—life itself." – Walter Anderson
Thankful Quotes Kids Will Love Hearing on Thanksgiving Day
"Let us be grateful to people who make us happy; they are the charming gardeners who make our souls blossom." – Marcel Proust
"Kindness in words creates confidence. Kindness in thinking creates profoundness. Kindness in giving creates love." – Lao Tzu
"Piglet noticed that even though he had a very small heart, it could hold a rather large amount of gratitude." – Winnie-the-Pooh (A.A. Milne)
"Gratitude unlocks the fullness of life. It turns what we have into enough, and more. It turns denial into acceptance, chaos to order, confusion to clarity. It can turn a meal into a feast, a house into a home, a stranger into a friend. Gratitude makes sense of our past, brings peace for today and creates a vision for tomorrow." – Melody Beattie
"Gratitude is the door, the power, the wisdom, the creativity of the Universe. You open the door through gratitude." – Deepak Chopra
"Be present in all things and thankful for all things." – Maya Angelou
"Be thankful for what you have, you'll end of having more. If you concentrate on what you don't have, you will never, ever have enough." – Oprah Winfrey
"Thankfulness is the beginning of gratitude. Gratitude is the completion of thankfulness. Thankfulness may consist merely of words. Gratitude is shown in acts." – Henri Frederic Amiel
"Do not indulge in dreams of having what you have not, but reckon up the chief of the blessings you do possess, and then thankfully remember how you would crave for them if they were not yours." – Marcus Aurelius
Funny Thanksgiving Quotes To Share Over Thanksgiving Dinner
"I come from a family where gravy is considered a beverage." – Erma Bombeck
"Good mashed potato is one of the great luxuries of life." – Lindsey Bareham
"Overeating at Thanksgiving is a case in point. It's a national tradition." – Eric Samuel Timm
"The turkey. The sweet potatoes. The stuffing. The pumpkin pie. Is there anything else we can all agree so vehemently about? I don't think so." – Nora Ephron
"Thanksgiving — when the people who are the most thankful are the ones who don't have to cook." – Melanie White
"It's not too much food. This is what we've been training for our whole lives. This is our destiny, this is our finest hour." – Lorelai Gilmore
"I love Thanksgiving because it's a holiday that is centered around food and family, two things that are of utmost importance to me." – Debby Ryan
"Then we stuff the good food in our tummies." – Thanksgiving Feast, poem
More Gratitude Quotes and Messages To Share
"The discipline of gratitude is the explicit effort to acknowledge that all I am and have is given to me as a gift of love, a gift to be celebrated with joy." – Henri J.M. Nouwen
"Gratitude can transform common days into thanksgivings, turn routine jobs into joy, and change ordinary opportunities into blessings." – William Arthur Ward
"Joy is the simplest form of gratitude." – Karl Barth
"Every Thanksgiving, we all write down three things we're thankful for and put them in a hat. Then we pass the hat around the dinner table and everyone has to guess who wrote what!" – Tinashe
"On the night you were born, the moon smiled with such wonder that the stars peeked in to see you and the night wind whispered, "Life will never be the same."" – from On the Night You Were Born by Nancy Tillman
"He is a wise man who does not grieve for the things which he has not, but rejoices for those which he has." – Epictetus
"In November, people are good to each other. They carry pies to each other's homes and talk by crackling woodstoves, sipping mellow cider. They travel very far on a special November day just to share a meal with one another and to give thanks for their many blessings—for the food on their tables and the babies in their arms." – from In November by Cynthia Rylant
"You simply will not be the same person two months from now after consciously giving thanks each day for the abundance that exists in your life. And you will have set in motion an ancient spiritual law: the more you have and are grateful for, the more will be given you." – Sarah Ban Breathnack
By encouraging your children to develop a discipline of gratitude, you can cultivate a generation of gratefulness and kindness as they face whatever life throws at them.
As you go around your Thanksgiving tables this year, hopefully one or two of these fun quotes will spark a meaningful discussion with your family, children, and friends.
As parents, we should continue leading by example and be profoundly grateful for every single blessing that has come our way over the years.
Let's celebrate this holiday season with our children by sharing our own favorite Thanksgiving quotes on gratitude and showing our appreciation for one another!
If you have a favorite quote or activity to do with your little ones during Thanksgiving, please share it in the comments below.
Happy Thanksgiving!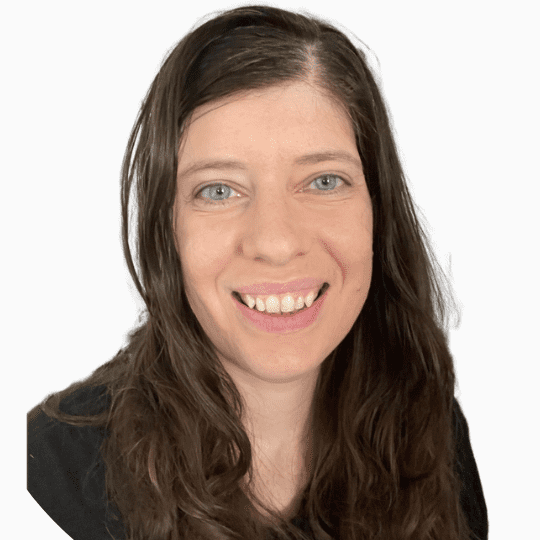 Micah Klug is a wife, homeschooling mother to five children, and author. She teaches time-tested solutions to help parents remember what matters most in life, including strengthening their home, faith, and family relationships. To learn how a child who grew up in an authoritarian home is now creating an environment of peace and joy in her own home visit this page. If you want to contact Micah, send her an email here or email [email protected].