I grew up in a home where my mother read a lot of books. I often remember her sitting in her rocking chair, curled up with a good book, reading away in the evenings after all the work was completed. She shared with me and my siblings the books she was reading. I would always go to her if I needed something new to read.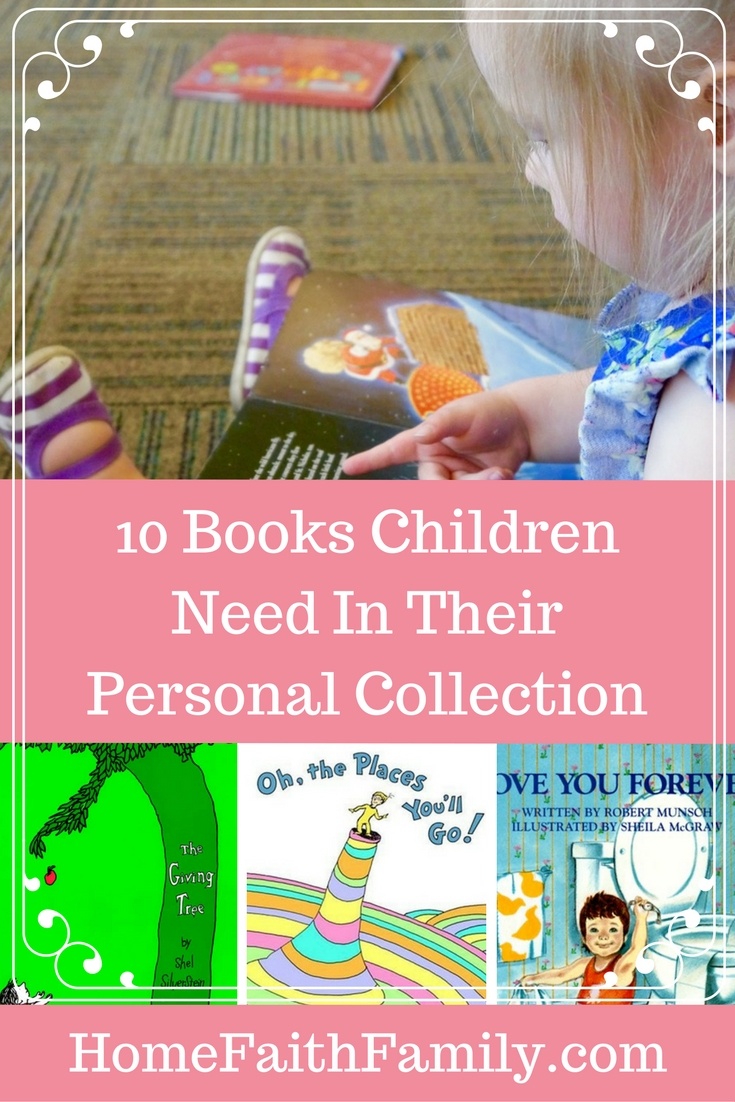 There are certain books that stay with us throughout our childhood and into our adult years. Although this is not an inclusive list, here are 10 books children need in their personal collection to get you looking forward to reading with your children.
This post contains affiliate links at no cost to you. Thank you for your support. If you have any questions, please send me an email or read my disclosure policy here.
10 Books Children Need in their Personal Collection
I cannot read this sweet story to my children without tearing up. Then my little ones look at me like I'm crazy and say, "Mommy is crying, again."
I love this book because there is truth in these pages. We watch these little babies (who change our lives) grow. As parent's we sacrifice and give so much of ourselves and expect nothing in return.
Dr. Seuss is always wonderful. His creative words leave children giggling and open to new and creative ways of expressing themselves. I also love "The Cat in the Hat" because of the fish. The no-nonsense-party-pooper-fish.
As a child, I thought the fish was always ruining the fun. As an adult, I now understand the fish in the balance of childhood and responsibility. Children can't (and should not) run around without understanding choices and consequences. I often tell my little ones, "you may choose your choice, but you don't choose your consequence."
Punchinello is a little wooden Wemmick who believes he isn't good enough because of what others say about him. He gets dots, and dots are bad. One day he meets a Wemmick without dots or stars. These tokens and what other Wemmick's think about her don't stick!
I read this book often to my children to remind them of the origin of their divine worth and value. It's not what other people think of us that matters, but what God thinks of us and what we think of ourselves.
This cute story will find a place in your heart as well as your sweet child's heart as you read and learn together.
The rhyming in this book is fun (just like "The Cat in the Hat"). However, it's the message that is shared with the reader that is important.
Dr. Seuss makes the message very clear in this beloved and timeless book:
"You have brains in your head. And you have feet in your shoes. You can steer yourself any direction you choose. You're on your own. And you know what you know. And YOU are the one who'll decide where to go…"
I cannot think of a better message to share with our children and those we love then the blessing and opportunity of being our own captain. We are the ones who decide, no one else.
This beloved book can be read at bedtime as your little ones prepare to sleep. The understanding and coming of age story as boundaries are pushed, discoveries are made, differences are accepted, and hearts are changed.
Mary Lennox will find a place in your child's heart as they join her on her secret adventure. Your children will love following Mary as she finds and explores the garden.
My heart breaks for the tree every time I read this story to my children. The boy, so innocent in the beginning grows up too quickly. The tree is always gentle, kind and never turns the boy away. She gives of herself over and over without expecting anything in return.
The boy comes, takes and takes, but in the end, returns to the tree because this is where he felt loved and accepted the most. I often compare the tree to parenthood, but more so, I find myself comparing the tree to the Savior, Jesus Christ.
He gave us all and yet expects nothing in return. His love is always there and is given freely.
The sweet bear who didn't know he was missing a button. This innocent story will leave your children's imagination running as they travel with the bear to find his missing button.
This book will also teach them, through the eyes of a little girl, to accept and love people for who they are, no matter their differences.
I remember reading "The Very Hungry Caterpillar" as a child. I love reading
this sweet book to my little ones as well. My children often shout out the different types of food or days of the week as we progress in the story.
Your child will fall in love with the caterpillar while they learn their numbers, days of the week and different types of food. The beautiful butterfly at the end is also a favorite for children to see and say how many different colors they recognize.
"Charlotte's Web" is a bedtime favorite as the little ones go to sleep. Wilbur wants to be special, he wants to live and with the help of a special friend, he learns the true meaning of love and friendship. Your children will come to love these sweet characters.
This book is also great for teaching moments and can give you the opportunity to remind your little ones how special they are to you. We know our children are special and they need to be reminded daily. Let us take the opportunity to do so. As we do, there will be no doubt in our children's mind. They will know what we think of them.
Teaching your children their animals and colors can be easy with repetition. This book allows those teaching moments plus sensory teachings. It's another great teaching book for little ones as they learn more about their world.
I know there are so many other noteworthy and wonderful books we can add to this list. In the meantime, leave a comment and let us know what some of your favorite childhood books are, and those you find yourself sharing with others.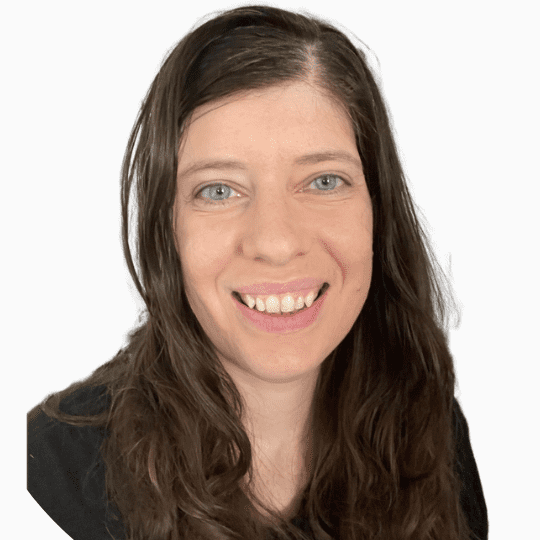 Micah Klug is a wife, homeschooling mother to five children, and author. She teaches time-tested solutions to help parents remember what matters most in life, including strengthening their home, faith, and family relationships. To learn how a child who grew up in an authoritarian home is now creating an environment of peace and joy in her own home visit this page. If you want to contact Micah, send her an email here or email [email protected].