Are you looking for kid-friendly Halloween ideas that don't include anything scary? Then this Halloween bucket list for kids is perfect this holiday. Continue reading how you can have your best family-friendly Halloween.

Do you remember being a kid and going trick or treating without having to worry about pranks or strangers?
I remember going from door-to-door in our neighborhood (sometimes two or even three times depending on who the neighbor was) and we'd come home with a pillowcase full of candy.
The decorations were kid friendly and fun. Halloween was just…awesome. Those were the days when it was great to be a kid.
Today, not so much because Halloween is far from being kid friendly.
But this doesn't mean you can't have fun with your family this holiday season and make some fun memories of your own.
And today we are going to go over how you can have your best Halloween with your kids without having to worry about the scary stuff (the spooks).
This post contains affiliate links at no cost to you. Thank you for your support. If you have any questions, please read my disclosure policy here.
13 Secrets To Having Your Best Halloween With Kids (Without The Spooks)
1. Decorate Pumpkins
Decorating pumpkins is always fun, and the best part is this activity doesn't have to be messy! There are so many other options, such as paint, stickers, or decorating craft kits that make decorating pumpkins mess-free.
As a family, you can easily do a kid-friendly family of pumpkins theme (such your favorite superheroes, goofy faces, polka dots, or something completely different).
2. Watch Kid-Friendly Halloween Movies
Unfortunately, the world is not in short supply of horror movies (another topic for another day). But, this doesn't mean you can't enjoy a Halloween themed movie with your kiddos.
Here are a few kid-friendly Halloween movie ideas that you can watch with your children without having to worry about the content. As with all movies, be sure to do your research on the content, language, etc within a movie.
The movies listed here are ones my family and I enjoy together, so I feel comfortable recommending them to you.
Harry Potter
Hocus Pocus
Monsters Inc.
The Nightmare Before Christmas
Casper
3. Decorate Your Front Door
This activity is perfect for those crisp fall mornings where it's too cold to really go outside and play.
You can easily decorate your door as a friendly Frankenstein, a smiling Vampire, a silly monster, or a happy mummy. There are loads of ideas on Pinterest if you need any help with ideas.
4. Go On A Crisp Fall Walk
Take advantage of the warmer weather after the lunch hour (and before dinner) to enjoy a fall walk together as a family. Most parks come equipped with pathways or nature trails that it's not terribly difficult to find a kid friendly walking path (especially for strollers).
5. Go On A Hayride
If any of your harvest festivals are offering hayrides or picking pumpkins, I strongly encourage you to go and enjoy yourself with your family.
These are such great times to strengthen your family bond, laugh, and spend some real quality time with each other.
Plus, snuggling and being cozy with your kids and spouse on a hayride is so much fun!
6. Visit A Corn Maze
My husband and I took our children to a corn maze one year (about a week before Halloween). We had the children work together to decide which way they felt we should go to get out of the maze.
They worked together really well and when they started showing signs of being frustrated or unsure, we were there to help guide them as to what we (parents) thought our family should do.
First, we wanted to see how lost the kids could get us, but seeing them work together and bounce ideas off each other was such a blessing for this momma's heart. I strongly encourage you to do the same with your kids.
7. Pick Out A Pumpkin At The Pumpkin Patch
I know it's so much easier to go to the store and buy a pumpkin. But, if you really want to bond with your family and have an awesome Halloween, go visit a pumpkin patch and let each member of your family choose their favorite pumpkin.
8. Decorate Your Home For Halloween
Take an afternoon, or a night, to decorate the inside of your home for Halloween. You can easily get supplies from the Dollar Tree or use what you already have at home.
You can make paper spider webs (like the paper snowflakes, but use black or purple construction paper instead of white), little friendly ghosts out of tissue paper, and so much more!
9. Make A Leaf Print
If you can't remember the last time you made a leaf print with a child, then make sure you add this to your list of things to do today.
Leaf printing is so much fun! You can watch your children's excitement as their leaf jumps to life on their paper.
I know to an adult it sounds a bit silly, but it's the small things that make the difference for our children.
10. Go Apple Picking
If you don't have an apple tree in your yard, that's okay.
You can easily look up "U-Pick" farms in your area. I've always found the Pick Your Own website to be very helpful.
Once you find a farm you absolutely love, then I strongly recommend you search for them on Facebook to confirm open times, rates, location, and other information you need.
11. Rake Up The Leaves Together & Jump In
Can you think of a better way to spend your day than having your kids do a little housework with you that's actually fun?!
Enjoy a crisp fall day raking up leaves and jumping in the pile together.
If you really want to make this fun, you can always put the leaves in some jumbo Halloween leaf bags, such as spiders, ghosts, and pumpkins. That way, you have cute Halloween decorations that you throw away when you're ready to toss them out.
12. Make A Halloween Treat
You can make a Halloween treat for your neighbors or for your own family to enjoy. They can be something as simple as chocolate spiders or ghost suckers.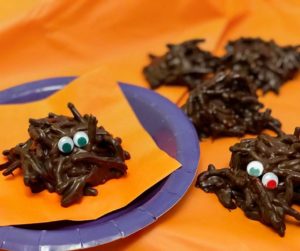 Above are the chocolate spiders my family and I make every year. They are so easy to do in a quick afternoon and only require two easy to find ingredients.
You can also make some of the above fun Halloween treats. The ghosts are so cheap to make, and everything here you can easily buy at the Dollar Store.
13. And Don't Forget To Go Trick Or Treating
If you don't feel comfortable with going trick or treating door to door, I don't blame you. It's important to keep our kids safe on Halloween.
You can look up your city's public library or contact your local church to inquire about any activities they will be doing. There are churches who do a trunk-or-treat or a Harvest Festival Party to give parents and kids a safe place to celebrate the fall season.
No matter how you celebrate Halloween this year, I hope you take the time to strengthen your family bond and spend some needed time with each other.
What do you love to do with your family during the Halloween season? Leave a comment below and let us know.