Marriage requires a lot of communication, compromise, and love. Loving your spouse, even when they're unlovable is so important to grow in your marriage. Keep reading to learn the secret to loving your husband or wife when they're unlovable.
"She's difficult to live with. You might want to think twice before asking her to marry you."
A member of my family told this to my now husband, and although we both chuckled when this dear family member gave my husband this advice, there is truth to these words.
I can be difficult to live with, and so can my husband.
You can even say there are moments when both of us are downright unlovable.
This post contains affiliate links at no cost to you. Thank you for your support. If you have any questions, please read my disclosure policy here.
Think about it for a minute.
You and your spouse love each other, but you're not the same in personality or opinions. You're different in so many ways!
There are times when you're the best of friends and other moments when you'll get on each other's nerves to the point where you want a few feet in between you two.
Marriage can be hard, but the secret to loving your spouse when they're unlovable isn't as difficult as you think.
I'm going to share with you the secrets my husband and I have learned after several years of marriage with loving one another.
And I know you're going to love them!
The Secret To Loving Your Spouse When They're Unlovable
When Was The Last Time You Two Went On A Date?
Dating your spouse is vital to the success of your relationship.
If you have little ones running around and family far away, I completely understand. This is mine and my husband's situation.
It's not easy leaving the home and quite frankly when money is tight, you feel guilty and can feel overwhelmed at the cost of going out.
My husband and I learned we can date while having small children at home and we can even stay home to have a romantic evening together (for free).
Looking for a fun date idea? Grab our 100+ conversation questions for a fun date night together.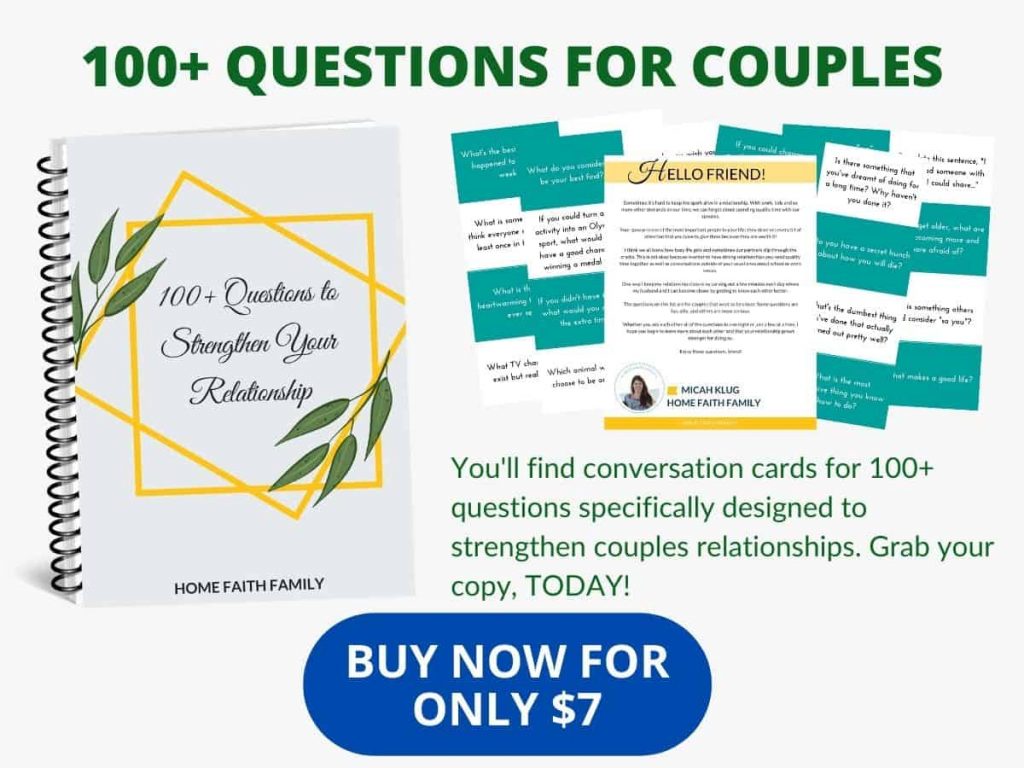 For me, I found when my husband and I stopped dating each other and felt more like roommates, our relationship became shaky.
We were often upset with each other, quick to snap and make rude comments, or completely pass by each other without a friendly smile or kind word.
For fun, cute, and cheap date ideas, check these out:
How Often Do You Really Talk To Each Other?
When was the last time you didn't talk about the weather, work, or the children?
How often do you sit down and laugh with each other?
My husband and I thrive on communicating and laughing. There are so many times when we find ourselves saying, "I thought you said…" or "Didn't you mean this?"
Communication is another key to the success of your relationship. You don't want to talk until you're understood but speak until there is no misunderstanding.
Instead of sitting down and having awkward silence (especially if you haven't spoken about something fun in a really long time), I'm going to give you my husband's recommendation because this has been amazing for our marriage.
Yes, this is a video game, and although I'm not a huge fan of video games, I absolutely love playing this game with my husband because we have to communicate if we want to win.
And coming from two very competitive people, there's no yelling for us because it's a co-op team game. You win together or lose together, but you have to communicate to succeed.
When you do play the game, be sure to grab some tissues because you two will be laughing so hard you'll be crying.
Do You Know Your Spouses Warning Signs?
I know I'm grumpy and really unlovable when I'm hungry.
My husband has his unlovable moments when he doesn't feel like he's in control of life, so when difficult trials come, I know I need to provide extra support and compassion to him.
Another way you can love your spouse when they're actions are unlovable is to pay attention to their warning signs. How are they when they're tired, hungry, stressed, or confused?
In these moments, you need to pay attention to them, be patient with your spouse, and love them that much more.
Because it's in these moments when they need you the most.
Keep loving each other and being patient with one another.
As you intentionally date your spouse, spend time talking to each other, and pay attention to your spouses warning signs, you'll be able to love your spouse in their unlovable moments.
Leave a comment below and let us know your favorite marriage tips and tricks!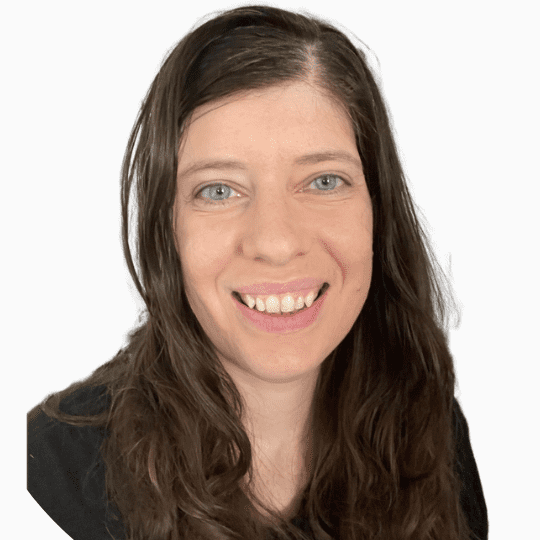 Micah Klug is a wife, homeschooling mother to five children, and author. She teaches time-tested solutions to help parents remember what matters most in life, including strengthening their home, faith, and family relationships. To learn how a child who grew up in an authoritarian home is now creating an environment of peace and joy in her own home visit this page. If you want to contact Micah, send her an email here or email [email protected].