Summer is full of free time and relaxation. And for some families, having your own summer bucket list can be a lifesaver! You will love these cheap or free (and unique) ideas this summer. Find your favorite idea, grab our free printable, and start having fun!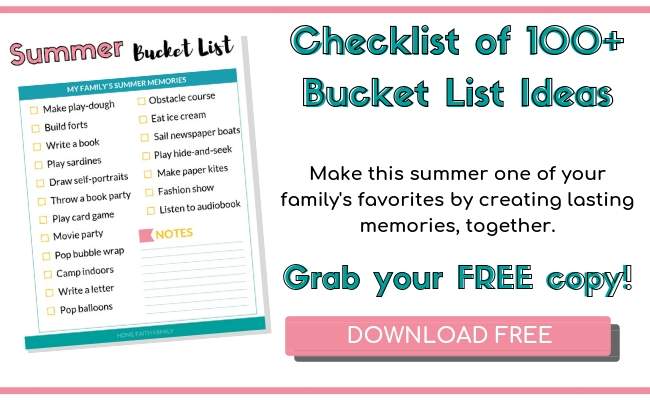 This post contains affiliate links at no cost to you. Thank you for your support.
Disclosure policy

WHAT IS A BUCKET LIST?
A bucket list is a list of goals, ideas, and possibilities you want to complete within a specific time frame. You can have a bucket list for your life, in your marriage, as a family, for the winter months, and in our case, for the summer.
What should be on my summer bucket list?

In order to have your best summer, you need to be willing to do things outside your comfort zone or finally cross that one item that's always been on your personal bucket list.

The best part, is you're doing this with people you love. Some of your adventures on this year's summer bucket list might include:
– Roast marshmallows & hot dogs.
– Shop at a local U-Pick farm.
– Play capture the flag.
– Enjoy a water balloon fight.
– Feed the ducks.
– Watch a sunrise.
– Watch a sunset.
– Go geocaching.
– Donate old toys and clothes.

What are the top 10 bucket list items?

– Make your own play-dough.
– Set up a para cord obstacle course.
– Build a fort using tables, chairs, and other objects throughout the house.
– Enjoy a frozen treat together.
– Blow up balloons!
– Write a book together.
– Play hide-and-seek.
– Draw self-portraits.
– Make paper kites.
– Host a book party.
– Play a card game.
What should I do in summer 2023?

– Give your sweetheart a kiss.
– Enjoy a cold glass of strawberry lemonade.
– Make a themed dessert.
– Spend 5-minutes on a tire swing.
– Enjoy a tech-free day.
– Host a block party!
– Throw rocks into the river.
– Enjoy a game of indoor tag.
– Finger paint on a giant poster board.
– Go puddle jumping!
130+ Ideas For Your Summer Bucket List
There is something about them that sparks happy memories and the possibility of enjoying an adventure.
I'm excited to share these fun ideas for your family's summer bucket list.
Are you ready?
Couples Summer Bucket List
I still remember the day I felt like I had the best roommate, instead of a sweet husband.
This same thing tends to happen to couples who get swept up in the busyness of life and forget this one thing — to keep dating your spouse.
This is why these summer bucket list ideas for couples are perfect for your date nights.
Go dancing
You don't need a formal lesson in a studio. You can save money and use an online tutorial instead.
Take the stress from yourself and have someone else plan your dates with this Date Night In A Box.
Star gazing
Test your knowledge of the constellations and take a look at the millions of stars in the night sky.
Remodel parts of your home
You can learn how to keep your garage gym cool in the summer or update those kitchen cabinets that you've been wanting to remodel.
Make out with your spouse every day.
Have a water fight
Get the water balloons ready for the ultimate water fight!
Learn a new skill together
Whether you want cooking lessons, learn how to woodwork, or learn how to use a new software, you can watch free online courses HERE at CreativeLive.com.
Write your love story
When you find yourself struggling to love your spouse, you need to remember your "why" behind your love story.
I love this Love Story Journals. They document the day you met through your 70th wedding anniversary.
You can find this journal HERE.
Go hiking
It's so much fun to get outside and admire the beauty of nature.
But finding those perfect hiking trails can doesn't have to be a challenge anymore.
These are the best hiking apps, so you can find your perfect trail.
Throw rocks in the river
Try a new flavor of ice cream
Let your husband take you off-roading
Ask each other one of these fun conversation questions.
You'll learn more about each other and start to laugh again in your marriage.
Do a kid's craft and create something fun together
Spend the day fishing
Watch a sunrise together
Outdoor movie night
Grab an at-home projector and snuggle up to watch your favorite summer movie.
This projector is a great option for your home.
Summer Bucket List Inside Activities
Do you remember surviving your hottest summer?
They're not fun, especially when you don't have a way of comfortably cooling yourself down.
I remember my first summer in the South.
I would walk out of an ice cold shower and still be sweating.
If you're going through one of those summers where the heat is blaring, the children are fussy, and you simply want to stay inside where it's nice and cool, then you'll love these fun things you can do from home.
Make your own play-dough
Have the children help pick the colors (and if they're old enough, with the creation process).
Set up a para cord obstacle course
My husband LOVES weaving little "obstacle courses" using paracord and the children spend HOURS going through and playing in them.
This is the paracord my husband uses for our kids.
If you're wanting some really fun and bright colors, then you'll love this selection here.
Build a fort
Use tables, chairs, and other objects throughout the house.
Building a fort doesn't have to be boring.
Enjoy a frozen treat together
Your family can help you make Popsicle, slushies, or another family favorite frozen treat.
Balloons!
Blow up balloons and let your kids have fun.
There's something silly about a child happily playing with a balloon.
Write a book
Grab a cheap notebook or journal and takes turns with your children writing a story together.
You can do one sentence or paragraph at a time (depending on the age of your child).
Sardines, anyone?
One of my favorite games in college was sardines.
If you don't know how to play, that's okay, it's a reverse hide-and-seek game.
One person hides and everyone else finds (and hides) with them.
Hide-and-seek
This classic game never gets old.
I still remember my sides hurting from laughing so hard when I found my three-year-old wrapped up in a blanket and surrounded by his stuffed animals.
We probably never would have found him if he didn't sneeze (he looked so cozy)!
Draw self-portraits
Have your child pick a family member (or the family) to draw.
These pictures are so honest.
Don't forget to put your child's name, who they drew, and date on the back of their picture for future reference.
Create paper kites
Cut out a triangle, attach some string, and have the children make their own mini-kites.
Book party
There's nothing quite like cuddling up with your children and reading books to them.
Fashion show.
Do you have a house full of girls? I know a family that has seven lovely ladies!
For a fun fashion show, you can grab old Halloween costumes, clothes from your closet, or even a few old tablecloths and towels to help make this activity even more fun.
Card games
Grab a deck of cards and have a blast playing games like Speed, Spoons, or Rummy.
You can even start a family competition and play until an ultimate winner is declared.
Listen to an audio book
Kids can get restless spending so much time indoors.
Trust me, my boys were made to be running outside.
But sometimes it's just too hot to go out.
This is why I love turning on an audio book for the children.
They can listen to a story while drawing, doing a puzzle, or helping me cook in the kitchen.
(Audible's kid's selection is great no matter their age. Check them out here and grab your freebies while you're there).
Host a movie party
I remember playing with the kids in my neighborhood growing up, and its such a sweet experience to watch my children have the same opportunity with kids their age. I
nvite your kid's friends over, make a snack and enjoy a movie together.
Pop bubble wrap
You should never get too old to enjoy popping bubble wrap.
Camp indoors
Put up your tents and build a pretend fire (you can place a flashlight underneath a white/yellow paper cone).
You can even make tinfoil dinners to enjoy eating on the floor.
Write letters to family & friends
Get out the paper and crayons and have your children draw or write letters for loved ones. There's something special about getting a letter in the mail.
Indoor puddle jumping
Cut out some puddles from your blue construction paper and tape them to the floor around your house.
Your kids will have a blast bouncing from one "puddle" to the next.
Go on an indoor scavenger hunt
Give your children a list of random items throughout your home to find. For younger kids, instead of a list you can draw the pictures and have them color the image when they found the object.
Guess the animal
This is one of those fun activities where you'll want to record some family videos.
Everyone can take turns making silly animal sounds while everyone else guesses what animal they're pretending to be.
See how creative you can be with your animal sounds.
Karaoke day
Grab a microphone (or make your own) and sing to your favorite songs. You can try Amazon Unlimited Music to find some of your favorite kid-friendly songs.
Enjoy an indoor picnic
Lay out your blankets, make some yummy sandwiches and enjoy a picnic with some of your favorite people.
Decorate a room in your home.
If you have tweens or teens in your home, enlist them to help redecorate their bedroom or another room that's been on your ever-growing to-do list.
You can look through magazines together, "shop" on Amazon for your favorite accessories, and come up with the rooms new "look."
Create friendship bracelets.
Your kids can make friendship bracelets for each other or for their friends.
This hands-on activity is perfect for those cabin-fever days.
Want more ideas for indoor fun?
Here is a list of more indoor activities your children can do at home.
Teenage Summer Bucket List
Who doesn't love FREE (especially when it comes to saving money with your teens)?!
On this list, you'll discover 25 ideas you can do for free with your family.
Check your community's listings.
So many neighborhoods offer free summer programs for families, such as movies, swim days, reading programs, learning opportunities, and more.
Doing a quick search on Google for, "free summer programs near me" might result in your next favorite family activity.
Play in the park.
There is nothing that beats some summer fun than taking your children to the park and allowing them to get their energy out.
You can even have your children go running with your dog.
For those days that are too hot to go outside, you'll have to grab your next favorite idea from our "indoor activities" to keep the family fun going strong.
Bake cookies.
These cookies are some of my favorites to eat or you can gift your children a baking activity kit, which will allow them to bake their own cookies.
Write letters to family members.
Your family can write letters to each other or to extended family members (that will definitely brighten up grandma and grandpa's day).
Do a puzzle.
Enjoy completing a puzzle together and see how long it takes your family when everyone works together.
Go on a nature walk and enjoy the cool summer morning air.
Learn how to surf.
Teens who are learning to surf this summer should consider what to wear under a wetsuit for optimal comfort and performance.
But can you imagine the summer memories they'll create for years to come as they learn this exciting sport?
Do a secret service project.
Do you have a neighbor who needs their lawn mowed?
Want to share those cookies you baked?
Do a secret service for someone in your neighborhood to help put a smile on their face.
Build using cardboard boxes.
There is one thing that is always in our home – and that is diaper boxes.
You can use boxes as-is to stack or find a pair of scissors to cut and build your own tower.
The possibilities are nearly endless.
Learn something new!
You and your family can enjoy taking online classes together.
Learn how to decorate adorable sugar cookies, knit, paint, do woodworking, or another fun and relaxing craft.
Shaving cream table art.
You'll want to lay down some garbage sacks for this one for easier cleanup, but have fun making "art" with shaving cream!
Fish on "Free Fishing Day."
Every summer there is a "free fishing day" that varies pending on the state where you live.
For us in Washington, we are usually the first Saturday in the month of June.
You can visit your local Fish & Game website or do a quick Google search to confirm your date.
Stargazing.
Spend the day learning about the different constellations and then in the night go stargazing and see how many you can find.
If you live in the city, you might need to drive to where you can see the stars better.
Remember to be safe!
Indoor Craft Fair.
Gather together around the table to make paper crafts, paint, or use what you have laying at home. Don't forget to show off your artwork!
Visit the library.
Have everyone pick out their favorite children's book and have story-time together (either at the library or home).
You can share why that book is your favorite.
Play board games.
Enjoy playing board games together.
These are some of our family's favorite board games.
Draw with sidewalk chalk.
You and your family can do self-portraits, draw hopscotch, or play "Pictionary".
The possibilities are endless.
Attend a fireworks show.
Get your blankets, juice bottles, and light jackets ready to enjoy a festive night of fireworks.
Play in the dirt.
When was the last time you and your family spent time in the garden?
You don't have to grow a garden to play in the dirt, but you can enjoy some fun family laughs with this activity.
Build with blocks.
Use the blocks you have at home to spend time talking and building together.
Most of the time it's not the blocks you're building up, it's your family who you're spending time with.
Walk around the mall.
As a kid, going to the mall and walking around in the cool air conditioning was one of my favorite memories with my parents.
I didn't grow up with air conditioning, so anytime I could enjoy that cold air on a hot summer day was a happy moment for me.
Wash the car.
Which kid doesn't love playing in the water on a hot day?
Grab the family and wash the car (don't forget to spend a little time playing in the water and make some memories).
Enjoy a bike ride.
Pump up those bike tires and go on a family bike ride around the block or at your local bike trail.
Don't forget to bring some water bottles to stay hydrated.
Have a paper airplane contest.
You can judge based on the style of the airplane and on the traveling distance. Pair up into teams or go one-on-one for the best airplane.
Plan a photo scavenger hunt.
Your family will need to make a list of outside objects (i.e. something green, flower, animal…the possibilities are endless).
Then, grab your phones and cameras to start taking pictures.
The person (or team) who is able to get the most on the list wins.
Celebrate half-birthdays.
Having a birthday in December is hard (mine is close to Christmas).
So why not have an impromptu half-birthday party!
Gather together to enjoy dinner and some cake.
Mini Golf
Go mini golfing and enjoy a cool summer evening together.
Mini golfing will give your teens a little friendly competition and plenty of laughs along the way.
This is a great summer activity for them to get outside and enjoy a little fresh air.
Summer Bucket List For Kids
Every summer bucket list has the standard "to do's" that seem to come across everyone's list.
These last-minute ideas are ones you HAVE to do before the smell of crisp fall leaves start to sneak up on you.
Lemonade Stand
Encourage your kids to host a lemonade stand.
You can help them with their lemonade business while your family hosts a yard sale.
It's a perfect summer activity where everyone's making money, decluttering the house, and spending time together.
Enjoy a cold glass of strawberry lemonade.
Make a festive 4th of July treat.
This three-layered jello dessert is one of my favorite summer recipes.
Spend 5-minutes on a tire swing.
It's rare to find a sturdy tire swing hanging from a tree anymore!
I remember many fun summers with my brothers and sisters where we all try to find on one of these swings and see how long we can stay on.
Enjoy a tech-free day.
Turn off your televisions and leave your cell phones behind.
Really enjoy and connect with those you love.
Host a block party!
Bring the neighborhood together for an evening of fun and food.
This kind of party is best done in potluck form (bring your own kid-friendly drinks)!
Make a copy-cat recipe.
If you love the restaurant but don't want to spend the money, make the recipe!
Our home LOVES this Chic-fil-A frosted lemonade. I could drink this every day.
Throw rocks into the river.
Enjoy a game of indoor tag.
Finger paint on a giant poster board.
You can use paint, pudding, shaving cream, or whatever else you have at your home.
Go puddle jumping!
If you live in an area with BEAUTIFUL summer storms, then you have to go puddle jumping. (You'd be doing yourself a disservice if you don't go!)
Have a dance party.
It's okay to feel a little silly around your children, especially as they get older.
Show them you have a fun side too and that you can still "bust a move."
Pillow fight!
When was the last time you enjoyed an honest-to-goodness pillow fight? If you can't remember, then put this summer fun on the top of your list.
Grab a box of chalk and have everyone draw a picture.
Vote on creativity, original thinking, most colorful, and silliest (or, pick your favorite categories).
Noodle baseball.
Cut a foam noodle into thirds and place over a PVC pipe.
You'll want to use a hot glue gun to help keep the noodle from slipping off the pipe.
Make sure there is enough PVC pipe for a handle. Then, use a foam ball to play "noodle baseball."
Put on a puppet show for the younger children.
Roast marshmallows & hot dogs.
Shop at a local U-Pick farm.
U-Pick farms are an incredible way to support local farmers and businesses.
My family and I LOVE doing this every summer (and oftentimes into fall).
You can find local farms on Facebook or on Pick Your Own. Simply find your state and the farms near you.
Play capture the flag.
Split your family up into two teams (or you can play against another family) for a fun evening of capture the flag.
Enjoy a water balloon fight.
Feed the ducks.
Watch a sunrise.
Watch a sunset.
Go geocaching.
Donate old toys and clothes.
Take a road trip.
Summer Bucket List With Friends
Some of my favorite summers as a kid involved spending time with my friends.
Here are some incredibly easy and fun ideas you can do as a family with your friends to make a few unforgettable memories together.
Take pictures.
Put on a "themed dinner" for your grandparents from their teenage years.
You might have to make a few poodle skirts or put on a few "Peace Love" hippie outfits.
Enjoy an outdoor concert.
Enjoy the cooler weather and attend an outdoor evening concert in your local community.
There are plenty of outdoor activities your family can enjoy on those cooler summer nights.
Swing on the porch swing or rocking chair.
Make a summer journal together.
Make homemade ice cream.
Help in the garden or with the lawn.
Make a bird feeder.
Fly a kite.
Listen to nature (the birds, squirrels, bees).
Visit the zoo.
Visit a nearby National Park.
Enjoy a drive-in movie.
Make paper airplanes.
Paint rocks.
Make snow cones.
Go fishing.
Make root beer floats.
Catch fireflies in a jar.
Feed the ducks.
Make and sail newspaper boats.
Enjoy a backyard BBQ.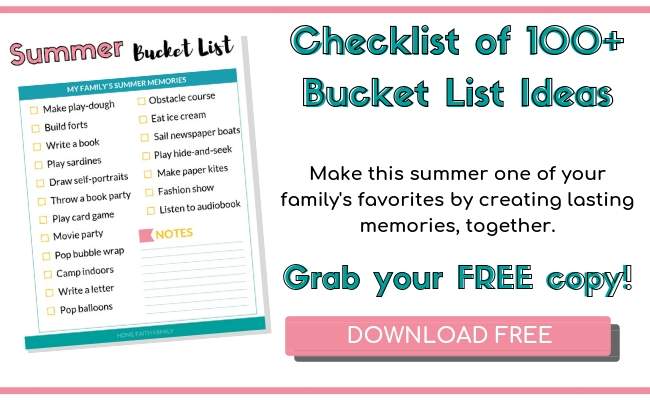 Summer Bucket List Ideas For 2023
If this year has taught me anything, it's that we as a people have a greater need to love and serve each other, and that simplicity in life is one thing that will stop busyness from sweeping your life out from under your feet.
Home-made drinks.
Take time to sit on your back porch and sip on your favorite lemonade with your family.
You can talk about their summer dreams and your family's plans.
Camping.
Whether in a tent or sleeping straight under the stars, it's a wonderful adventure on a warm summer's night.
Don't forget to dress appropriately, especially for those colder nights.
Here are some cute camping outfits to wear.
S'mores.
What's a camping trip without s'mores?
For those of you who choose to camp inside, you can roast your marshmallow over a candle or skip the fire altogether.
Campfire sing-off!
Have a family campfire singing contest.
A lot of classic campfire songs are 'repeat after me songs', making them extremely quick and hilarious to learn.
Rope swing.
Take a family walk through the woods, and find a strong tree with a low hanging branch, and attach a rope swing.
All you need is some strong rope and a stick, and you'll probably even find the stick by the perfect tree.
Family Olympics.
Enjoy some friendly family competition like ultimate frisbee, bike riding, tree climbing, capture the flag and running races.
You can even make your own podium and medals.
Go on a family hike.
Explore new sights, hike to the top of a trail, and enjoy a new view.
Nature is beautiful, so why not enjoy watching the sunrise or sunset with your family as well.
Picnic.
Prepare a picnic as a family, and take a stroll to the park.
You could even bring along extra bread to feed the ducks.
Love thy neighbor.
Small random acts of service to your neighbors can be what your home needs.
Maybe you have an elderly neighbor that you all can spend an afternoon with, or the children could draw pictures and put them in mailboxes.
A simple sign of appreciation from one home to another can go a long way.
Learn a circus skill.
Take time to learn to juggle, hula hoop or gymnastics.
Once you feel confident in your new skill – put on the greatest show!
Have a water fight.
Get the water balloons ready for the ultimate water fight!
BBQ.
Nothing says summer like a BBQ in the yard.
Star gazing.
Test your knowledge of the constellations and take a look at the millions of stars in the night sky.
Blow bubbles.
Sidewalk chalk.
Draw pictures, play hopscotch, write kind messages for future walkers.
There's hours of fun to be had when you have a never ending canvas on the ground beneath your feet.
Dance in the rain (or sun).
Whatever the weather, there's always a reason to get outside and have a dance party!
Capture the family.
Family time is so precious.
Remember to enjoy the moments together, these will be the stories and memories you'll share around the dinner table for years to come.
You'll even get a bonus craft activity, if you're able to capture a few family moments, (maybe even have an outdoor family photo shoot) and turn these into a photo album or collage.
What's on your bucket list this summer?
Leave a a comment and let me know what's on your fun summer bucket list.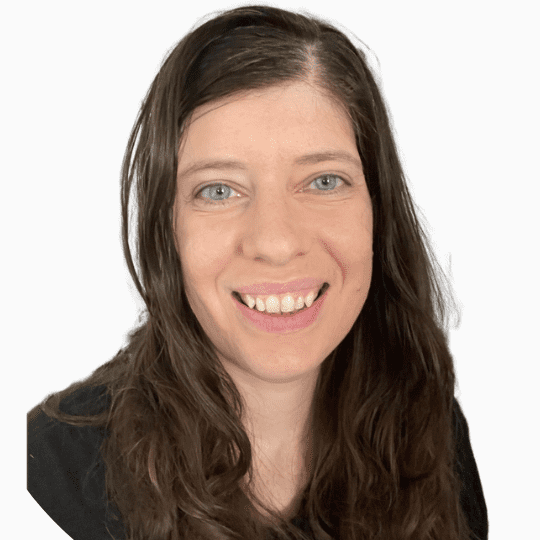 Micah Klug is a wife, homeschooling mother to five children, and author. She teaches time-tested solutions to help parents remember what matters most in life, including strengthening their home, faith, and family relationships. To learn how a child who grew up in an authoritarian home is now creating an environment of peace and joy in her own home visit this page. If you want to contact Micah, send her an email here or email [email protected].